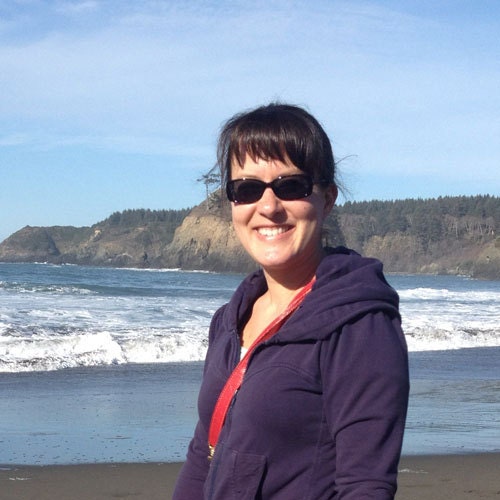 MARKED DOWN 50% (was $1,228.00) -

This lovely ring showcases a gorgeous 5.5mm moissanite with a strikingly beautiful deep aqua green color and plenty of sparkle. I've set this gorgeous specimen in a handmade straight-sided bezel on a 2.5mm wide polished band.

All of the metal used in this ring's construction is 18k palladium white gold from recycled sources.

This ring is a size 8 (US), and is, of course, hand made by me. I would be happy to create this design in any other size you need.

18k palladium white gold, like all varieties of 18k gold, is 75.2% pure gold. Unlike regular 18k white gold, it does not contain any nickel, so is suitable for those with allergies to nickel. It also contains some palladium (a precious metal akin to platinum) to provide a superior, longer-lasting white color over time without rhodium plating.

If you're not familiar with moissanite, allow me to blather on a bit regarding what I've learned about this amazing material. Moissanite was originally born from a meteorite over 50,000 years ago, and was first discovered by Dr. Henri Moissan in 1893 in material collected from a meteor crater in Arizona. These incredibly brilliant sparkling crystals might have been considered "diamonds from space," but Dr. Moissan's research actually identified them as a new mineral find - silcon carbide, whose chemical composition is SiC (diamonds are made from carbon). This stunning jewel is extremely rare, and almost impossible to find in nature. So rare, in fact, that the dream of using it in jewelry was an impossibility until man discovered a way to create and craft these incredible silicon carbide crystals here on Earth.

With more fire than any popular gemstone (including diamond), no other stone or jewel compares to Moissanite. In fact, fire can be measured scientifically and moissanite has nearly 2.4 times the fire of diamond. Moissanite also has 10% more brilliance and luster than diamond. Proven to be harder than ruby, sapphire or emerald and second only to diamond, moissanite is also extraordinarily heat resistant, durable, and tough. It is extremely resistant to scratching, abrasion, breaking and chipping. And because these phenomenal stones are grown in a laboratory, you don't have to worry about the ethical problems involved with harvesting diamonds and other mined gems.

Green moissanite has only recently been made available by Charles & Colvard, the makers of moissanite, and it is not known at this time whether it's something that will be available indefinitely or only for a limited time, so if you love this stone, don't wait too long to add it to your collection!

Due to the value of this piece, shipping costs have been adjusted to include insurance within the United States. I do offer international shipping; if you live outside the US, please contact me for a quote specific to your location. Due to the lack of availability of insurance through the US postal service for international packages, I use FedEx when shipping overseas; this is a more expensive but far safer option. International buyers, please be aware that you are solely responsible for any duties/taxes that your country may charge on imported goods.

As is all my jewelry, this piece is vegan, meaning no animal products (pearls, silk, leather, etc.) were used in its construction.
CLEARANCE - Green Moissanite and Recycled 18k Palladium White Gold Wedding, Engagement, or Right Hand Ring, size 8
Overview
Handmade item
Materials:

white gold, 14k, palladium, moissanite

Feedback: 920 reviews
Ships from California, United States to select countries.
Listed on Feb 18, 2014
3582 views