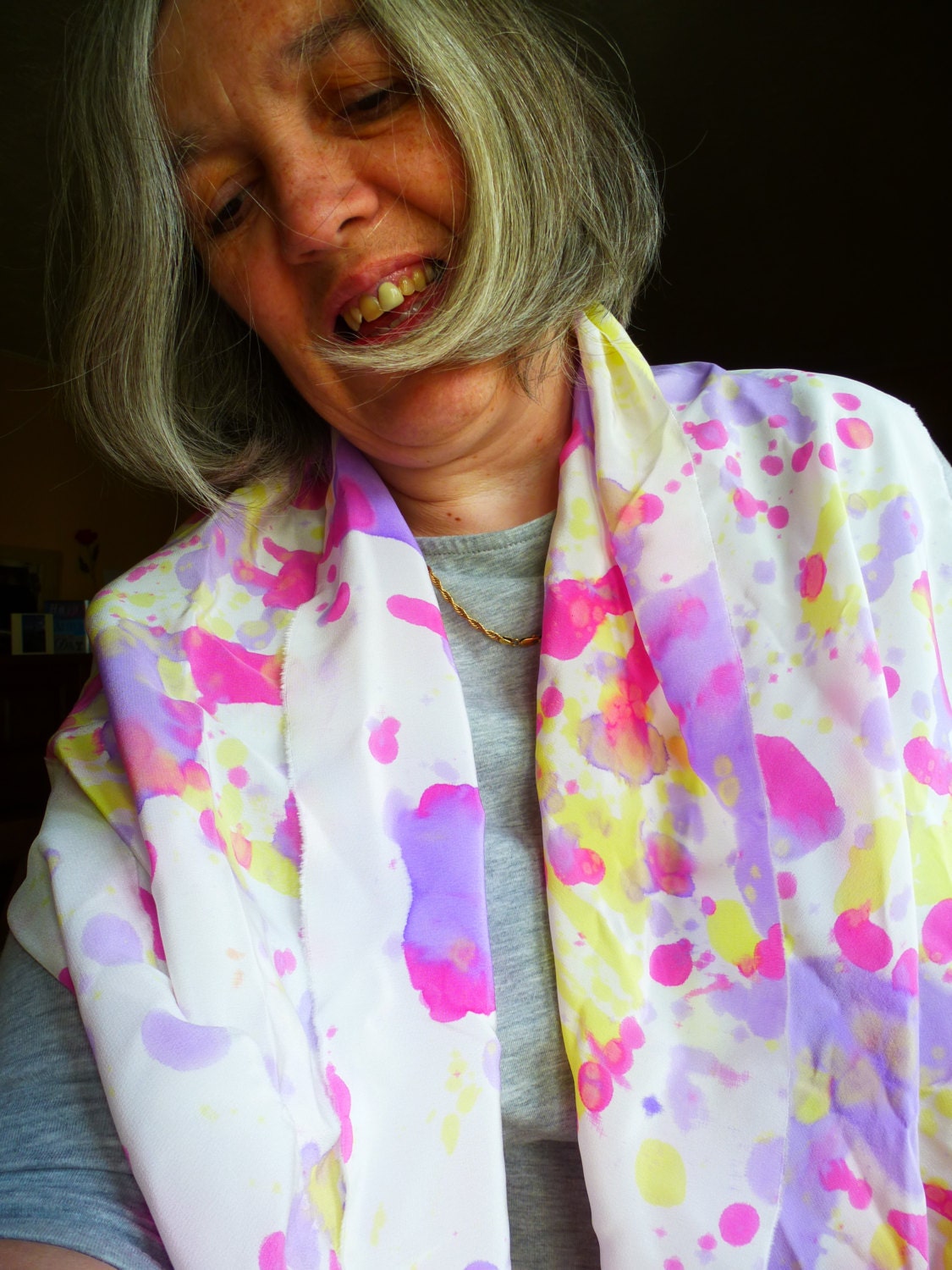 This Long Evening Stole "Love Cherie" was made for an Outdoors Australian Nature Lover !

All our RESORT WEAR is Made To Order - in your Colour and Design choices.

1. Please Select a Background Colour Choice first - for me to Hand Paint your Silk base
eg. Bright Cyan Blue / Turquoise / Pale Sky Silk

2. Then Add the Style of Design you'd like me to draw for you.
eg. Flora Blossom/ Mozaic / GrandLeaf

3. Choose some Colours for flowers and / or the Abstract shapes in the Design.
& Tell me at the Checkout Message box to vendor or Contact me to chat about it.

eg " I'd like Rose Pink & Lilac Mauve flowers & some grass green leaf shapes please. But i don't want a black outline thanks.

The DESIGNs to Choose for 2013/14

1. My very popular Flora Blossom - Peony - Japanese style flowers
(In the Photo - Cyan Blue background - Rose Pink Peony & Black outline )

Please Choose a Colour for Background you like
& I can help you work out Design ideas possible
eg. Pale Sky Blue with cloud like flora in Lemon yellow & Rose Pink

2. Grand Feuille /Large Leaf Design - Spring Green & Autumn Colors available now.
eg. Base colour Emerald Green with Golden & Rust Leaves

3. South Seas Flower - An all Over Design - Choose a background colour
eg. Turquoise Blue, then choose 2 or 3 colours for flower & leaf at Checkout Box

DESIGNs to follow please send me a message - Masculine & Moody African Desert Stripes - please say your chosen colours & thick or thin Stripes you prefer, or some of each.

Stained Glass Geometric Mosaic - Tell me your colours & shapes !
eg. Triangle Shapes in Bright blue, Magenta Pink & Golden brown

Price is for a wide, long Stole approx 50cm x 140cm / 20ins x 55ins
the width of our Certificated Organic Chinese Habotai Silk fabric - Fair trade via Europe

NB: Other sizes or different weight of Silk may add to the price.

We can paint any kind of Silk, Hand Painted to your choice and style.

Please look at the Collection for ideas, Colours & Different kinds of Silk
Habotai to fine Chiffon. Then send me a message in Checkout Box
OR before you Order to Discuss what you'd like us to make.

Limited edition Designs and Individual taste and style is catered for

I love to have truly Happy customers and Individual Clients.

Made to Order 10% Discount at checkout until END November when you use
GOODCUSTOM2013 - Coupon code box -I deal to get ahead for Christmas Season!

WEDDING Clients can Order 3 items or more - sashes, satin slippers or Hair accessories,
Purses or Stoles for Bridesmaids, Ties or Special Design Cravat Silk with matching Hankies for their Bride Groom - at 15% Discount - Please just ask me !

From top photos and all Designs Copyright the Artist ©Rosemary Derwent, Genève 2010/12©

We can also ADD a Simple two or three buttons to Silk Or ties at each side, this will make a Tunic or shorter waist length Jacket without restricting you.. Leave it Simple without seams & the Stole can be draped several ways, with fashion heirlooms in mind.These are NOT throw away items and can last you a life-time of wear in your classic wardrobe. NEVER Wash without advice !

All these Designs are possible for slimmer size Scarves from about 125$ upwards.

Price varies for different Dyes & Silks & fabric choices. Cotton & Linen are available,
Quality Habotai 8 in main pic: "Love Cheri Pink - japanese peony - on Turquoise Sky "
A Heavy Silk Crepe in "MAdrid Laves" pic 3 - NOT See thro'

We can Order Chiffon of lightest quality & opaque Crepe silks -
When you Custom Order- You choose Exactly as you like!
And nothing is too much trouble for us.

Autumnal pallette/colourways are mainly pastel colours: Sky Blues, Subtle Reds,
Apricot Orange, Georgian Green, Chestnut or Light Brown, Peony Pinks, Lilac Purple,
EQUALLY Masculine & Feminine - mono chrome "Subtle stripes for African Desert Skies"
and "Geometric Mosaic Stained Glass" windows, reflecting BUT Never dictacted by fashion.

We can make Cruise wear & bags, Evening Tunics and clutches, KAftans & Scarves will range
PLEASE Send us a Message, and ask !
POSTAGE is Expensive but Trackable, Reliable and Registered soon to be moving so hope it will be less then ! MAke Sure you give us a Person and Daytime Address for Sign on Delivery !

Mono Screen prints/ One off Designs will feature & original HandPainted Traditional BAtik.
Variations on a theme, convo me for Discussion re colours and Styles..........
You can Email me directly & in confidence thro' Website www.DerwentTextiles.com
where we have MEMBERs CLUB with special Offers and Promotions,
many images and a Blog. Thankyou for Looking - Please call back soon! Merci Bien et Au revoir !
Design your Own RESORT WEAR - Floral Blossom - on Sky Silk Stole/ Sarong / Clothing - Design To ORDER
Overview
Handmade item
Materials: using eco friendly techniques, french water based, fabric dyes, Fair Trade Silks, Silk Georgette to order, Silk chiffon in stock, Chiffon, Viscose Satin Silk
Made to order
Feedback: 15 reviews
Ships worldwide from Bourg-en-Bresse, France
Listed on Jan 6, 2014
269 views