leather necklace with pendant
$32.32
Free shipping to
United States
with $35 purchase from Spitzenmanufaktur
Rare find
— there's only 1 of these in stock.
Item details
Material
Copper, Glass, Leather
Dimensions
Necklace length: 54 Centimeters
- bobbin lace pendant
- circle 5,0 cm in diameter
- embroidered with green pearls
- Bronze coloured metallic yarn
- The leather strap is black, 54,0 cm long and with clasp.
- The boxes are assorted in different colours.
- Decoration articles do not belong to the scope of supply.

My leather necklace has a filigree pendant. The chain fits to an airy summer outfit. The pendant I have bobbed and embroidered with green pearls.

My jewellery comes to your home in a small jewellery box. (see last photo)
The box is a good storage box for my jewellery.

Translated with www.DeepL.com/Translator
Shipping & returns
Ready to ship in 1–2 business days
From Germany
There was a problem calculating your shipping. Please try again.
Zip or postal code
Please enter a valid zip code
Sorry, this item doesn't ship to
United States
.
Contact the shop
to find out about available shipping options.
Returns accepted
Exceptions may apply.
Gift wrapping available
Details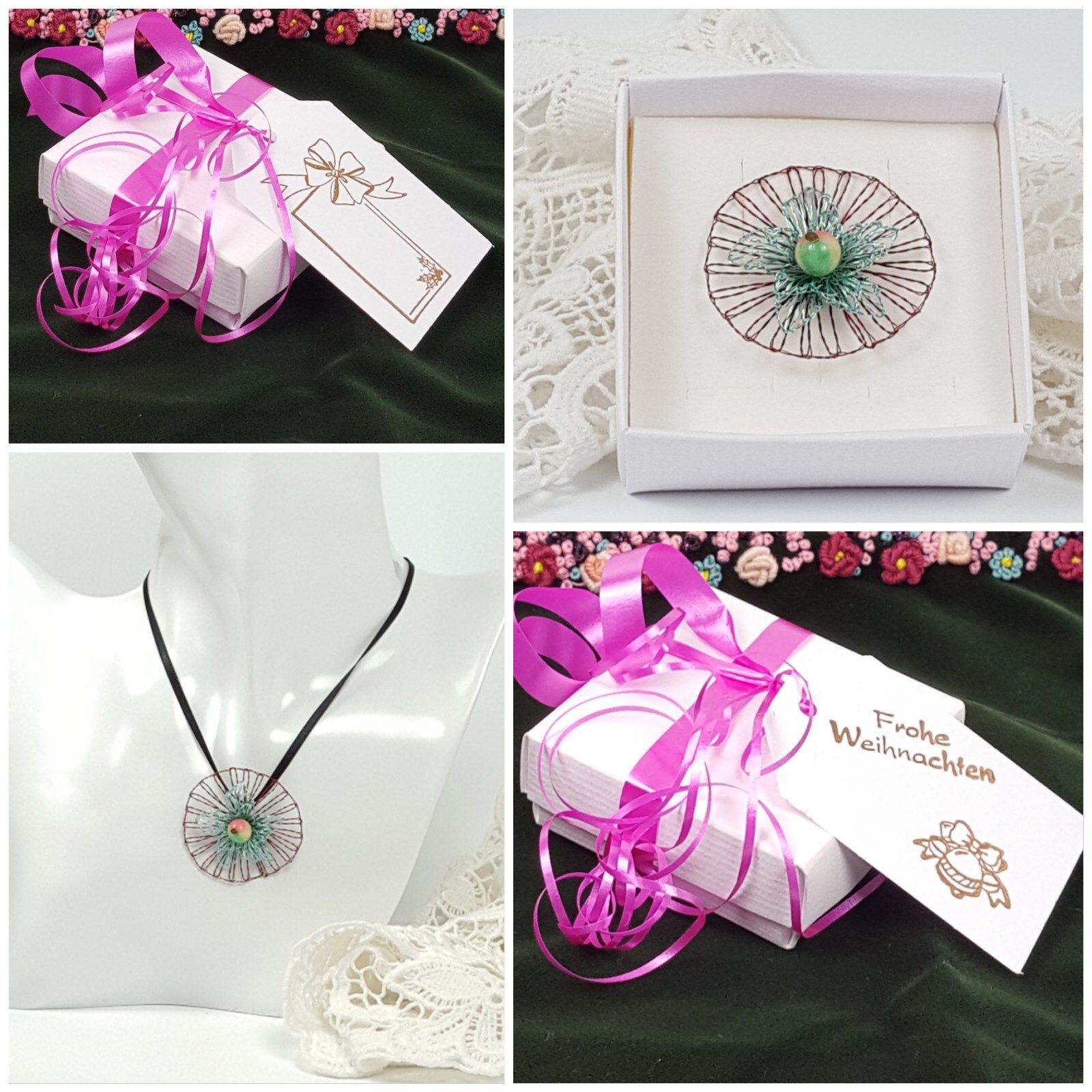 Gift wrapping by Spitzenmanufaktur
meine Geschenkverpackungen bekommen ein Schleifchen und einen Geschenkanhänger wo man den Namen eintragen kann.
Meet Spitzenmanufaktur

Barbara Lenger
Berlin, Germany
This seller usually responds within a few hours.
The European Commission provides a platform for the out-of-court resolution of disputes (ODR platform), which can be viewed under http://ec.europa.eu/odr.
Ja, Mein Schmuck ist mit ein Protecting Spray eingesprüht. und so lange Formstabil.
Beim Waschen wenig Feinwaschmittel benutzen mit der Hand leicht hin und her schwenken nicht drücken. gut ausspülen und auf einem Handtuch liegend trocknen. gegebenenfalls etwas zurecht zupfen. Metallteile (Verschlüsse) bitte gleich gut trocken tupfen. es Besteht immer gefahr von Oxidation. sollte sich die Form stark verziehen biete ich auch Hilfe an. Bitte melden sie sich.
ist bis jetzt noch nicht vorgekommen.
ganz schnell zur Reparatur. :) Handgefertigte Spitze ist sehr Langlebig. schade Drum.
vorsichtig wieder in Form biegen. die Drahtfäden können brechen.
ab zur Reparatur. ich entscheide dann ob noch was zu retten ist oder ob es ausgetauscht werden muss.
Bei Unikaten ist die Entscheidung immer Schwer
Reviews
5 out of 5 stars
(166)
Terms & Conditions and Right of Withdrawal
Impressum/ Widerrufsbelehrung/ Muster-Widerrufsformular/
Allgemeine Geschäftsbedingungen und Kundeninformationen/ Datenschutzerklärung

Impressum

Gesetzliche Anbieterkennung:

Barbara Lenger
Spitzenmanufaktur
Jean-Calas-Weg 49
13127 Berlin
Deutschland
Telefon: 015256132120
E-Mail: barbara.lenger@gmx.de





Aufgrund des Kleinunternehmerstatus wird gemäß § 19 UStG die MwSt. in der Rechnung nicht ausgewiesen.

Alternative Streitbeilegung:
Die Europäische Kommission stellt eine Plattform für die außergerichtliche Online-Streitbeilegung (OS-Plattform) bereit, aufrufbar unter https://ec.europa.eu/odr.

Wir sind seit 01.08.2015 Mitglied der Initiative "FairCommerce".
Nähere Informationen hierzu finden Sie unter www.fair-commerce.de.




Widerrufsrecht für Verbraucher
(Verbraucher ist jede natürliche Person, die ein Rechtsgeschäft zu Zwecken abschließt, die überwiegend weder ihrer gewerblichen noch ihrer selbstständigen beruflichen Tätigkeit zugerechnet werden kann.)

Widerrufsbelehrung

Widerrufsrecht
Sie haben das Recht, binnen vierzehn Tagen ohne Angabe von Gründen diesen Vertrag zu widerrufen.
Die Widerrufsfrist beträgt vierzehn Tage ab dem Tag,

- an dem Sie oder ein von Ihnen benannter Dritter, der nicht der Beförderer ist, die Waren in Besitz genommen haben bzw. hat, sofern Sie eine oder mehrere Waren im Rahmen einer einheitlichen Bestellung bestellt haben und diese einheitlich geliefert wird bzw. werden;

- an dem Sie oder ein von Ihnen benannter Dritter, der nicht der Beförderer ist, die letzte Ware in Besitz genommen haben bzw. hat, sofern Sie mehrere Waren im Rahmen einer einheitlichen Bestellung bestellt haben und diese getrennt geliefert werden;

Um Ihr Widerrufsrecht auszuüben, müssen Sie uns (Barbara Lenger, Jean-Calas-Weg 49, 13127 Berlin, Telefonnummer: 015256132120, E-Mail-Adresse: barbara.lenger@gmx.de) mittels einer eindeutigen Erklärung (z.B. ein mit der Post versandter Brief, Telefax oder E-Mail) über Ihren Entschluss, diesen Vertrag zu widerrufen, informieren. Sie können dafür das beigefügte Muster-Widerrufsformular verwenden, das jedoch nicht vorgeschrieben ist.

Zur Wahrung der Widerrufsfrist reicht es aus, dass Sie die Mitteilung über die Ausübung des Widerrufsrechts vor Ablauf der Widerrufsfrist absenden.

Folgen des Widerrufs

Wenn Sie diesen Vertrag widerrufen, haben wir Ihnen alle Zahlungen, die wir von Ihnen erhalten haben, einschließlich der Lieferkosten (mit Ausnahme der zusätzlichen Kosten, die sich daraus ergeben, dass Sie eine andere Art der Lieferung als die von uns angebotene, günstigste Standardlieferung gewählt haben), unverzüglich und spätestens binnen vierzehn Tagen ab dem Tag zurückzuzahlen, an dem die Mitteilung über Ihren Widerruf dieses Vertrags bei uns eingegangen ist. Für diese Rückzahlung verwenden wir dasselbe Zahlungsmittel, das Sie bei der ursprünglichen Transaktion eingesetzt haben, es sei denn, mit Ihnen wurde ausdrücklich etwas anderes vereinbart; in keinem Fall werden Ihnen wegen dieser Rückzahlung Entgelte berechnet.

Wir können die Rückzahlung verweigern, bis wir die Waren wieder zurückerhalten haben oder bis Sie den Nachweis erbracht haben, dass Sie die Waren zurückgesandt haben, je nachdem, welches der frühere Zeitpunkt ist.

Sie haben die Waren unverzüglich und in jedem Fall spätestens binnen vierzehn Tagen ab dem Tag, an dem Sie uns über den Widerruf dieses Vertrags unterrichten, an uns zurückzusenden oder zu übergeben. Die Frist ist gewahrt, wenn Sie die Waren vor Ablauf der Frist von vierzehn Tagen absenden.

Sie tragen die unmittelbaren Kosten der Rücksendung der Waren.

Sie müssen für einen etwaigen Wertverlust der Waren nur aufkommen, wenn dieser Wertverlust auf einen zur Prüfung der Beschaffenheit, Eigenschaften und Funktionsweise der Waren nicht notwendigen Umgang mit ihnen zurückzuführen ist.

Ausschluss- bzw. Erlöschensgründe

Das Widerrufsrecht besteht nicht bei Verträgen

- zur Lieferung von Waren, die nicht vorgefertigt sind und für deren Herstellung eine individuelle Auswahl oder Bestimmung durch den Verbraucher maßgeblich ist oder die eindeutig auf die persönlichen Bedürfnisse des Verbrauchers zugeschnitten sind;
- zur Lieferung von Waren, die schnell verderben können oder deren Verfallsdatum schnell überschritten würde;
- zur Lieferung alkoholischer Getränke, deren Preis bei Vertragsschluss vereinbart wurde, die aber frühestens 30 Tage nach Vertragsschluss geliefert werden können und deren aktueller Wert von Schwankungen auf dem Markt abhängt, auf die der Unternehmer keinen Einfluss hat;
- zur Lieferung von Zeitungen, Zeitschriften oder Illustrierten mit Ausnahme von Abonnement-Verträgen.

Das Widerrufsrecht erlischt vorzeitig bei Verträgen

- zur Lieferung versiegelter Waren, die aus Gründen des Gesundheitsschutzes oder der Hygiene nicht zur Rückgabe geeignet sind, wenn ihre Versiegelung nach der Lieferung entfernt wurde;
- zur Lieferung von Waren, wenn diese nach der Lieferung aufgrund ihrer Beschaffenheit untrennbar mit anderen Gütern vermischt wurden;
- zur Lieferung von Ton- oder Videoaufnahmen oder Computersoftware in einer versiegelten Packung, wenn die Versiegelung nach der Lieferung entfernt wurde.


Muster-Widerrufsformular

(Wenn Sie den Vertrag widerrufen wollen, dann füllen Sie bitte dieses Formular aus und senden Sie es zurück.)

- An Barbara Lenger, Jean-Calas-Weg 49, 13127 Berlin, E-Mail-Adresse: barbara.lenger@gmx.de :

- Hiermit widerrufe(n) ich/ wir (*) den von mir/ uns (*) abgeschlossenen Vertrag über den Kauf der folgenden Waren (*)/
die Erbringung der folgenden Dienstleistung (*)

- Bestellt am (*)/ erhalten am (*)

- Name des/ der Verbraucher(s)
- Anschrift des/ der Verbraucher(s)
- Unterschrift des/ der Verbraucher(s) (nur bei Mitteilung auf Papier)
- Datum

(*) Unzutreffendes streichen.



Widerrufsrecht für Verbraucher
(Verbraucher ist jede natürliche Person, die ein Rechtsgeschäft zu Zwecken abschließt, die überwiegend weder ihrer gewerblichen noch ihrer selbstständigen beruflichen Tätigkeit zugerechnet werden kann.)

Widerrufsbelehrung für digitale Inhalte

Widerrufsrecht
Sie haben das Recht, binnen vierzehn Tagen ohne Angabe von Gründen diesen Vertrag zu widerrufen.
Die Widerrufsfrist beträgt vierzehn Tage ab dem Tag des Vertragsabschlusses.

Um Ihr Widerrufsrecht auszuüben, müssen Sie uns (Barbara Lenger, Jean-Calas-Weg 49, 13127 Berlin, Telefonnummer: 015256132120, E-Mail-Adresse: barbara.lenger@gmx.de) mittels einer eindeutigen Erklärung (z.B. ein mit der Post versandter Brief, Telefax oder E-Mail) über Ihren Entschluss, diesen Vertrag zu widerrufen, informieren. Sie können dafür das beigefügte Muster-Widerrufsformular verwenden, das jedoch nicht vorgeschrieben ist.

Zur Wahrung der Widerrufsfrist reicht es aus, dass Sie die Mitteilung über die Ausübung des Widerrufsrechts vor Ablauf der Widerrufsfrist absenden.

Folgen des Widerrufs

Wenn Sie diesen Vertrag widerrufen, haben wir Ihnen alle Zahlungen, die wir von Ihnen erhalten haben, einschließlich der Lieferkosten (mit Ausnahme der zusätzlichen Kosten, die sich daraus ergeben, dass Sie eine andere Art der Lieferung als die von uns angebotene, günstigste Standardlieferung gewählt haben), unverzüglich und spätestens binnen vierzehn Tagen ab dem Tag zurückzuzahlen, an dem die Mitteilung über Ihren Widerruf dieses Vertrags bei uns eingegangen ist. Für diese Rückzahlung verwenden wir dasselbe Zahlungsmittel, das Sie bei der ursprünglichen Transaktion eingesetzt haben, es sei denn, mit Ihnen wurde ausdrücklich etwas anderes vereinbart; in keinem Fall werden Ihnen wegen dieser Rückzahlung Entgelte berechnet.

Erlöschensgründe

Das Widerrufsrecht erlischt bei einem Vertrag über die Lieferung von nicht auf einem körperlichen Datenträger befindlichen digitalen Inhalten, wenn der Unternehmer mit der Ausführung des Vertrags begonnen hat, nachdem der Verbraucher

1. ausdrücklich zugestimmt hat, dass der Unternehmer mit der Ausführung des Vertrags vor Ablauf der Widerrufsfrist beginnt und
2. seine Kenntnis davon bestätigt hat, dass er durch seine Zustimmung mit Beginn der Ausführung des Vertrags sein Widerrufsrecht verliert.



Muster-Widerrufsformular

(Wenn Sie den Vertrag widerrufen wollen, dann füllen Sie bitte dieses Formular aus und senden Sie es zurück.)

- An Barbara Lenger, Jean-Calas-Weg 49, 13127 Berlin, E-Mail-Adresse: barbara.lenger@gmx.de:

- Hiermit widerrufe(n) ich/ wir (*) den von mir/ uns (*) abgeschlossenen Vertrag über den Kauf der folgenden Waren (*)/
die Erbringung der folgenden Dienstleistung (*)

- Bestellt am (*)/ erhalten am (*)

- Name des/ der Verbraucher(s)
- Anschrift des/ der Verbraucher(s)
- Unterschrift des/ der Verbraucher(s) (nur bei Mitteilung auf Papier)
- Datum

(*) Unzutreffendes streichen.





Allgemeine Geschäftsbedingungen und Kundeninformationen / Datenschutzerklärung

I. Allgemeine Geschäftsbedingungen

§ 1 Grundlegende Bestimmungen

(1) Die nachstehenden Geschäftsbedingungen gelten für alle Verträge, die Sie mit uns als Anbieter (Barbara Lenger) über die Internetplattform etsy schließen. Soweit nicht anders vereinbart, wird der Einbeziehung gegebenenfalls von Ihnen verwendeter eigener Bedingungen widersprochen.

(2) Verbraucher im Sinne der nachstehenden Regelungen ist jede natürliche Person, die ein Rechtsgeschäft zu Zwecken abschließt, die überwiegend weder ihrer gewerblichen noch ihrer selbständigen beruflichen Tätigkeit zugerechnet werden kann. Unternehmer ist jede natürliche oder juristische Person oder eine rechtsfähige Personengesellschaft, die bei Abschluss eines Rechtsgeschäfts in Ausübung ihrer selbständigen beruflichen oder gewerblichen Tätigkeit handelt.

§ 2 Zustandekommen des Vertrages

(1) Gegenstand des Vertrages ist der Verkauf von Waren, einschließlich Download-Produkten (digitale Inhalte, die nicht auf einem körperlichen Datenträger geliefert werden).

(2) Wird ein Artikel von uns bei etsy eingestellt, liegt in der Freischaltung der Angebotsseite bei etsy das verbindliche Angebot zum Abschluss eines Kaufvertrages zu den in der Artikelseite enthaltenen Bedingungen.

(3) Der Kaufvertrag kommt über das Online-Warenkorbsystem wie folgt zustande:
Die zum Kauf beabsichtigten Waren werden im "Warenkorb" abgelegt. Über die entsprechende Schaltfläche in der Navigationsleiste können Sie den "Warenkorb" aufrufen und dort jederzeit Änderungen vornehmen. Nach Auswahl der Zahlungsart und Aufrufen der Seite "Zur Kasse gehen" oder "Mit PayPal kaufen" erfolgt die Eingabe der persönlichen Daten sowie der zahlungsartbezogenen Daten. Abschließend werden nochmals alle Bestelldaten auf der Bestellübersichtsseite angezeigt.

Soweit Sie als Zahlungsart ein Sofortzahl-System (z.B. PayPal oder Sofortüberweisung) nutzen, werden Sie zunächst auf die Webseite des Anbieters des Sofortzahl-Systems weitergeleitet. Abschließend werden Sie zurück zu etsy auf die Bestellübersichtsseite geleitet.

Vor Absenden der Bestellung haben Sie die Möglichkeit, auf der Bestellübersichtsseite sämtliche Angaben nochmals zu überprüfen, zu ändern (auch über die Funktion "zurück" des Internetbrowsers) bzw. den Kauf abzubrechen.
Mit dem Absenden der Bestellung über die entsprechende Schaltfläche erklären Sie rechtsverbindlich die Annahme des Angebotes, wodurch der Kaufvertrag zustande kommt.

(4) Die Abwicklung der Bestellung und Übermittlung aller im Zusammenhang mit dem Vertragsschluss erforderlichen Informationen erfolgt per E-Mail zum Teil automatisiert. Sie haben deshalb sicherzustellen, dass die von Ihnen bei uns hinterlegte E-Mail-Adresse zutreffend ist, der Empfang der E-Mails technisch sichergestellt und insbesondere nicht durch SPAM-Filter verhindert wird.

§ 3 Nutzungslizenz bei Download-Produkten

(1) Die angebotenen Download-Produkte sind urheberrechtlich geschützt. Sie erhalten zu jedem bei uns erworbenen Download-Produkt eine einfache Nutzungslizenz, soweit im jeweiligen Angebot nichts anderes angegeben ist.

(2) Die einfache Nutzungslizenz umfasst die Erlaubnis, eine Kopie des Download-Produkts für Ihren persönlichen Gebrauch auf Ihrem Computer bzw. sonstigem elektronischen Gerät abzuspeichern und/oder auszudrucken.
Jede weitere Kopie ist Ihnen untersagt. Es ist Ihnen ausdrücklich verboten, eine Datei oder Teile davon zu verändern oder zu bearbeiten und in irgendeiner Weise Dritten privat oder kommerziell zur Verfügung zu stellen.

§ 4 Individuell gestaltete Waren

(1) Sie stellen uns die für die individuelle Gestaltung der Waren erforderlichen geeigneten Informationen, Texte oder Dateien über das Online-Bestellsystem oder spätestens unverzüglich nach Vertragsschluss per E-Mail zur Verfügung. Unsere etwaigen Vorgaben zu Dateiformaten sind zu beachten.

(2) Sie verpflichten sich, keine Daten zu übermitteln, deren Inhalt Rechte Dritter (insbesondere Urheberrechte, Namensrechte, Markenrechte) verletzen oder gegen bestehende Gesetze verstoßen. Sie stellen uns ausdrücklich von sämtlichen in diesem Zusammenhang geltend gemachten Ansprüchen Dritter frei. Das betrifft auch die Kosten der in diesem Zusammenhang erforderlichen rechtlichen Vertretung.

(3) Wir nehmen keine Prüfung der übermittelten Daten auf inhaltliche Richtigkeit vor und übernehmen insoweit keine Haftung für Fehler.

(4) Soweit in der jeweiligen Artikelbeschreibung angegeben, erhalten Sie von uns eine Korrekturvorlage übersandt, die von Ihnen unverzüglich zu prüfen ist. Sind Sie mit dem Entwurf einverstanden, geben Sie die Korrekturvorlage durch Gegenzeichnung in Textform (z.B. E-Mail) zur Ausführung frei.
Eine Ausführung der Gestaltungsarbeiten ohne Ihre Freigabe erfolgt nicht.
Sie sind dafür verantwortlich, die Korrekturvorlage auf Richtigkeit und Vollständigkeit zu überprüfen und uns etwaige Fehler mitzuteilen. Wir übernehmen keine Haftung für nichtbeanstandete Fehler.

§ 5 Zurückbehaltungsrecht, Eigentumsvorbehalt

(1) Ein Zurückbehaltungsrecht können Sie nur ausüben, soweit es sich um Forderungen aus demselben Vertragsverhältnis handelt.

(2) Die Ware bleibt bis zur vollständigen Zahlung des Kaufpreises unser Eigentum.

§ 6 Gewährleistung

(1) Es bestehen die gesetzlichen Mängelhaftungsrechte.

(2) Bei gebrauchten Sachen sind die Mängelansprüche ausgeschlossen, wenn sich der Mangel erst nach Ablauf eines Jahres ab Ablieferung der Sache zeigt. Zeigt sich der Mangel innerhalb eines Jahres ab Ablieferung der Sache, können die Mängelansprüche im Rahmen der gesetzlichen Verjährungsfrist von zwei Jahren ab Ablieferung der Sache geltend gemacht werden. Die vorstehende Einschränkung gilt nicht:

- für uns zurechenbare schuldhaft verursachte Schäden aus der Verletzung des Lebens, des Körpers oder der Gesundheit und bei vorsätzlich oder grob fahrlässig verursachten sonstigen Schäden;
- soweit wir den Mangel arglistig verschwiegen oder eine Garantie für die Beschaffenheit der Sache übernommen haben.

(3) Als Verbraucher werden Sie gebeten, die Sache bei Lieferung umgehend auf Vollständigkeit, offensichtliche Mängel und Transportschäden zu überprüfen und uns sowie dem Spediteur Beanstandungen schnellstmöglich mitzuteilen. Kommen Sie dem nicht nach, hat dies keine Auswirkung auf Ihre gesetzlichen Gewährleistungsansprüche.

§ 7 Rechtswahl

(1) Es gilt deutsches Recht. Bei Verbrauchern gilt diese Rechtswahl nur, soweit hierdurch der durch zwingende Bestimmungen des Rechts des Staates des gewöhnlichen Aufenthaltes des Verbrauchers gewährte Schutz nicht entzogen wird (Günstigkeitsprinzip).

(2) Die Bestimmungen des UN-Kaufrechts finden ausdrücklich keine Anwendung.




II. Kundeninformationen

1. Identität des Verkäufers

Barbara Lenger
Jean-Calas-Weg 49
13127 Berlin
Deutschland
Telefon: 015256132120
E-Mail: barbara.lenger@gmx.de


Alternative Streitbeilegung:
Die Europäische Kommission stellt eine Plattform für die außergerichtliche Online-Streitbeilegung (OS-Plattform) bereit, aufrufbar unter https://ec.europa.eu/odr.

2. Informationen zum Zustandekommen des Vertrages

Die technischen Schritte zum Vertragsschluss, der Vertragsschluss selbst und die Korrekturmöglichkeiten erfolgen nach Maßgabe der Regelungen "Zustandekommen des Vertrages" unserer Allgemeinen Geschäftsbedingungen (Teil I.).

3. Vertragssprache, Vertragstextspeicherung

3.1. Vertragssprache ist deutsch.

3.2. Der vollständige Vertragstext wird von uns nicht gespeichert. Vor Absenden der Bestellung können die Vertragsdaten über die Druckfunktion des Browsers ausgedruckt oder elektronisch gesichert werden. Nach Zugang der Bestellung bei uns werden die Bestelldaten, die gesetzlich vorgeschriebenen Informationen bei Fernabsatzverträgen und die Allgemeinen Geschäftsbedingungen nochmals per E-Mail an Sie übersandt.

4. Wesentliche Merkmale der Ware oder Dienstleistung

Die wesentlichen Merkmale der Ware und/oder Dienstleistung finden sich im jeweiligen Angebot.

5. Preise und Zahlungsmodalitäten

5.1. Die in den jeweiligen Angeboten angeführten Preise sowie die Versandkosten stellen Gesamtpreise dar. Sie beinhalten alle Preisbestandteile einschließlich aller anfallenden Steuern.

5.2. Die anfallenden Versandkosten sind nicht im Kaufpreis enthalten. Sie sind über eine entsprechend bezeichnete Schaltfläche auf unserer Internetpräsenz oder im jeweiligen Angebot aufrufbar, werden im Laufe des Bestellvorganges gesondert ausgewiesen und sind von Ihnen zusätzlich zu tragen, soweit nicht die versandkostenfreie Lieferung zugesagt ist.

5.3. Erfolgt die Lieferung in Länder außerhalb der Europäischen Union können von uns nicht zu vertretende weitere Kosten anfallen, wie z.B. Zölle, Steuern oder Geldübermittlungsgebühren (Überweisungs- oder Wechselkursgebühren der Kreditinstitute), die von Ihnen zu tragen sind. Entstandene Kosten der Geldübermittlung sind von Ihnen auch in den Fällen zu tragen, in denen die Lieferung in einen EU-Mitgliedsstaat erfolgt, die Zahlung aber außerhalb der Europäischen Union veranlasst wurde.

5.4. Die Ihnen zur Verfügung stehenden Zahlungsarten sind unter einer entsprechend bezeichneten Schaltfläche auf unserer Internetpräsenz oder im jeweiligen Angebot ausgewiesen.

5.5. Soweit bei den einzelnen Zahlungsarten nicht anders angegeben, sind die Zahlungsansprüche aus dem geschlossenen Vertrag sofort zur Zahlung fällig.

6. Lieferbedingungen

6.1. Die Lieferbedingungen, der Liefertermin sowie gegebenenfalls bestehende Lieferbeschränkungen finden sich unter einer entsprechend bezeichneten Schaltfläche auf unserer Internetpräsenz oder im jeweiligen Angebot.

Soweit im jeweiligen Angebot oder unter der entsprechend bezeichneten Schaltfläche keine andere Frist angegeben ist, erfolgt die Lieferung der Ware innerhalb von 3-5 Tagen nach Vertragsschluss (bei vereinbarter Vorauszahlung jedoch erst nach dem Zeitpunkt Ihrer Zahlungsanweisung).

Bei Download-Produkten erfolgt die Lieferung entweder als Datei per E-Mail oder durch Versendung der Zugangsdaten zur Ausführung des Downloads per Nachricht über die Plattform bzw. per E-Mail. In letzterem Fall können Sie das gekaufte Download-Produkt unter Verwendung der in der Nachricht bzw. der E-Mail mitgeteilten Zugangsdaten herunterladen und freischalten. Nähere Einzelheiten finden Sie in der jeweiligen Artikelbeschreibung.

6.2. Soweit Sie Verbraucher sind ist gesetzlich geregelt, dass die Gefahr des zufälligen Untergangs und der zufälligen Verschlechterung der verkauften Sache während der Versendung erst mit der Übergabe der Ware an Sie übergeht, unabhängig davon, ob die Versendung versichert oder unversichert erfolgt. Dies gilt nicht, wenn Sie eigenständig ein nicht vom Unternehmer benanntes Transportunternehmen oder eine sonst zur Ausführung der Versendung bestimmte Person beauftragt haben.

7. Gesetzliches Mängelhaftungsrecht

Die Mängelhaftung richtet sich nach der Regelung "Gewährleistung" in unseren Allgemeinen Geschäftsbedingungen (Teil I).

letzte Aktualisierung: 19.11.2018