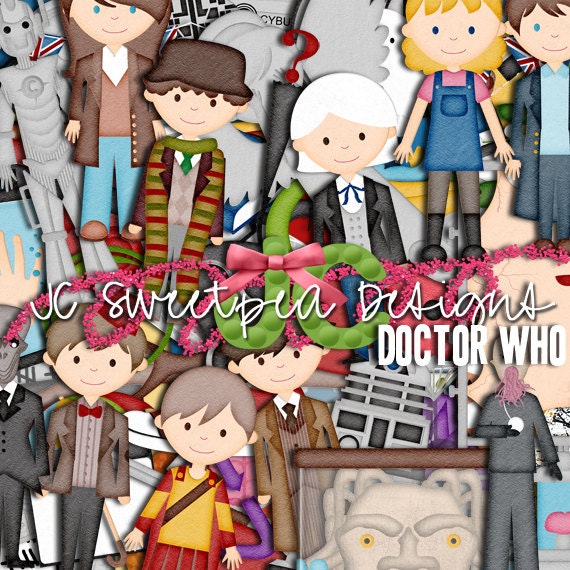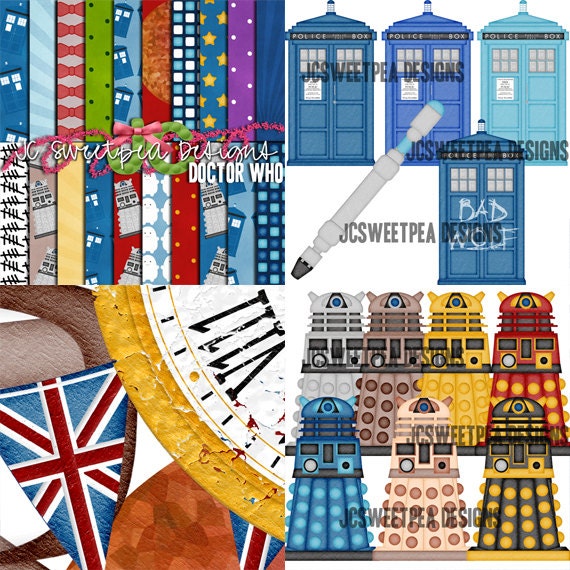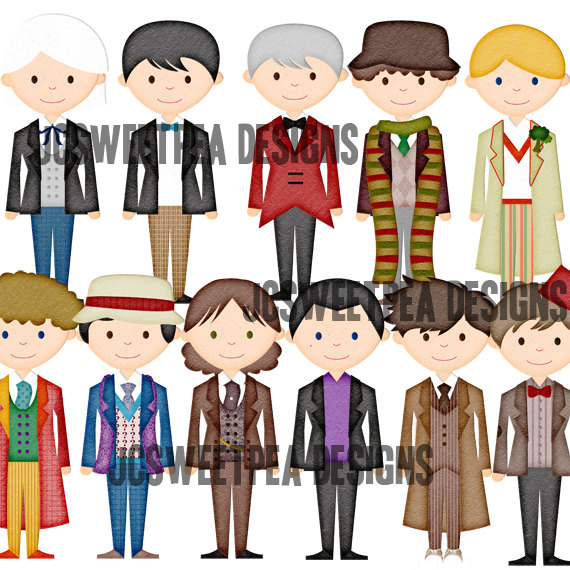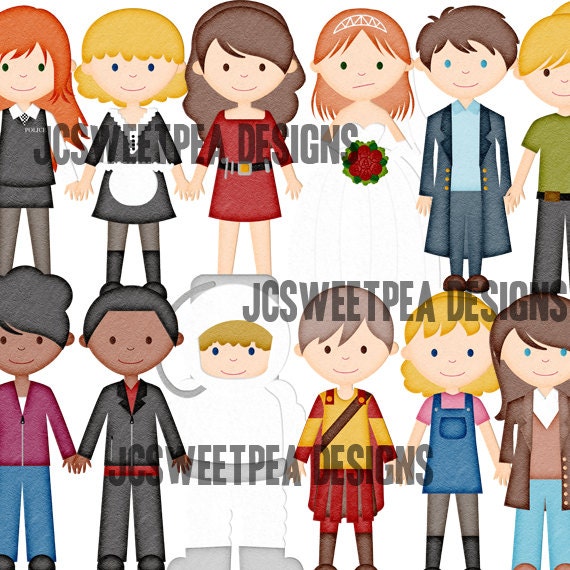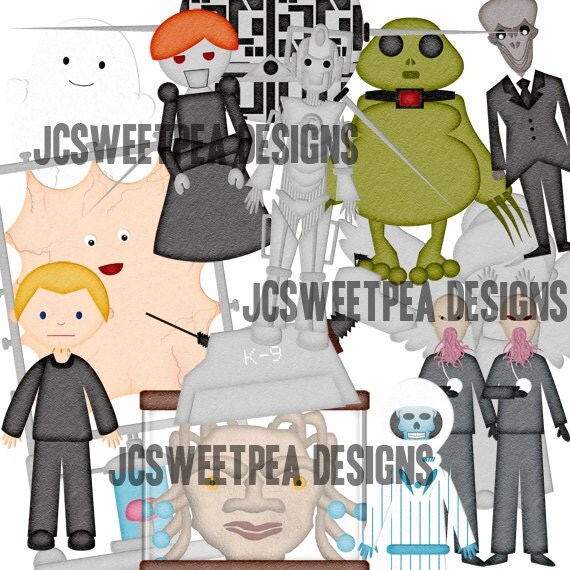 This kit includes 20 papers (12 inches x 12 inches, JPG) and 105 elements (the 1st Doctor, the 2nd Doctor, the 3rd Doctor, the 4th Doctor, the 5th Doctor, the 6th Doctor, the 7th Doctor, the 8th Doctor, the 9th Doctor, the 10th Doctor, the 11th Doctor, 1 pair of 3D glasses, an Adipose baby, 1 Amy Pond, 1 Anne-Droid, 1 Astrid Peth, 1 Atmos logo, 1 banana, 1 Cybus Industries blimp, 1 bow tie, 1 broken clock, 1 Cassandra, 1 Clara Oswin Oswald, 3 cracks in time, 1 Cybermen chest plate, 1 Cyberman, 1 Cybus earpiece, 1 Cybus Industries logo, 7 Daleks, 1 Deffrey Vale School shield, 1 Tenth Doctor's hand, 1 Donna Noble, 1 double hearts, 1 planet earth, 1 emergency protocol martini, 1 Face of Boe, 1 fez, 1 fob watch, 1 planet Gallifrey, 1 gas mask, 1 graphite scribble, 1 idiot's lantern television, 1 infospike, 1 Isolus pod, 1 Jack Harkness, 1 Jenny the Doctor's Daughter, 1 K-9, 1 Koh-i-Noor diamond, 1 Titanic lifesaver, 1 Martha Jones, 1 Mickey Smith, 1 mistletoe, 1 mood patch, 1 healthy Ood, 2 Ood Operations logos, 1 possessed (red eye) Ood, 1 Osterhagen key, 1 poppy, 1 psychic paper, 1 Queen's coronation banner, 1 shoe, 1 recovery truck with the Tardis, 1 River's journal, 1 River Song, 1 Rory Williams, 1 Rose Tyler, 1 Sanctuary Base logo, 1 Sanctuary Base patch, 1 Sarah Jane Smith, 1 Saxon poster, 1 Seventh Doctor's umbrella, 1 Sixth Doctor's umbrella, 1 Slitheen, 1 Slitheen egg, 1 Slitheen destruction solution containing pickles and eggs, 1 Sonic Screwdriver, 1 Sontaran armor logo, 1 Sycorax sword, 3 Tardises in different colors, 1 Bad Wolf Tardis, 2 Tardis keys, 2 Tardis keys as perception filters, 1 pair of the Tenth Doctor's glasses, 1 The Master, 1 The Silence, 1 Toclafane, 1 Torchwood logo, 1 universal hospital symbol, 1 vase, 1 Vashta Nerada, 1 Weeping Angel, and 1 welding helmet, in PNG format), all in 300 dpi for the best quality. There are no drop shadows on these items.

This is a digital item, meaning there is no fee for shipping and handling. Within 48 hours of purchase, you'll receive an email containing the items or a link from which they can be downloaded to the email provided at the time of purchase. If you would like it sent to another address or there is any problem with the download, please contact me.

This is for personal use only. For commercial usage, please contact me. You cannot resell or redistribute these products as is.
Doctor Who Digital Scrapbooking Kit
AU$19.61
GST included (where applicable). 
---
Shop similar items from sellers around the world