Sarah's Profile
About
My name is Sarah. I'm 30. I like to sing, write poetry, play the piano, cook, make jewelry, paint, draw, knit, cross stitch, make dream catchers and make things with polymer clay.

I had heart condition.....I was diagnosed with congestive heart failure in 2005. I had a Defibrillator implanted into my chest in March 2007. I had adult stem cell treatment on my heart on June 1st, 2008. I had a heart transplant march 2nd, 2010. And I'm doing good now!
Female
Born on 04 March
Joined 09 September, 2008
Favourite materials
polymer clay, ribbon, feathers, sinew, leather, glitter, beads, wire, magnets, chain, mica powders, paper, hot glue
Jacksonville, FL, United States
Shop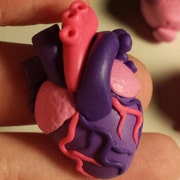 Karoger
♥♥♥Resplendence♥♥♥ Polymer Clay Jewelry...