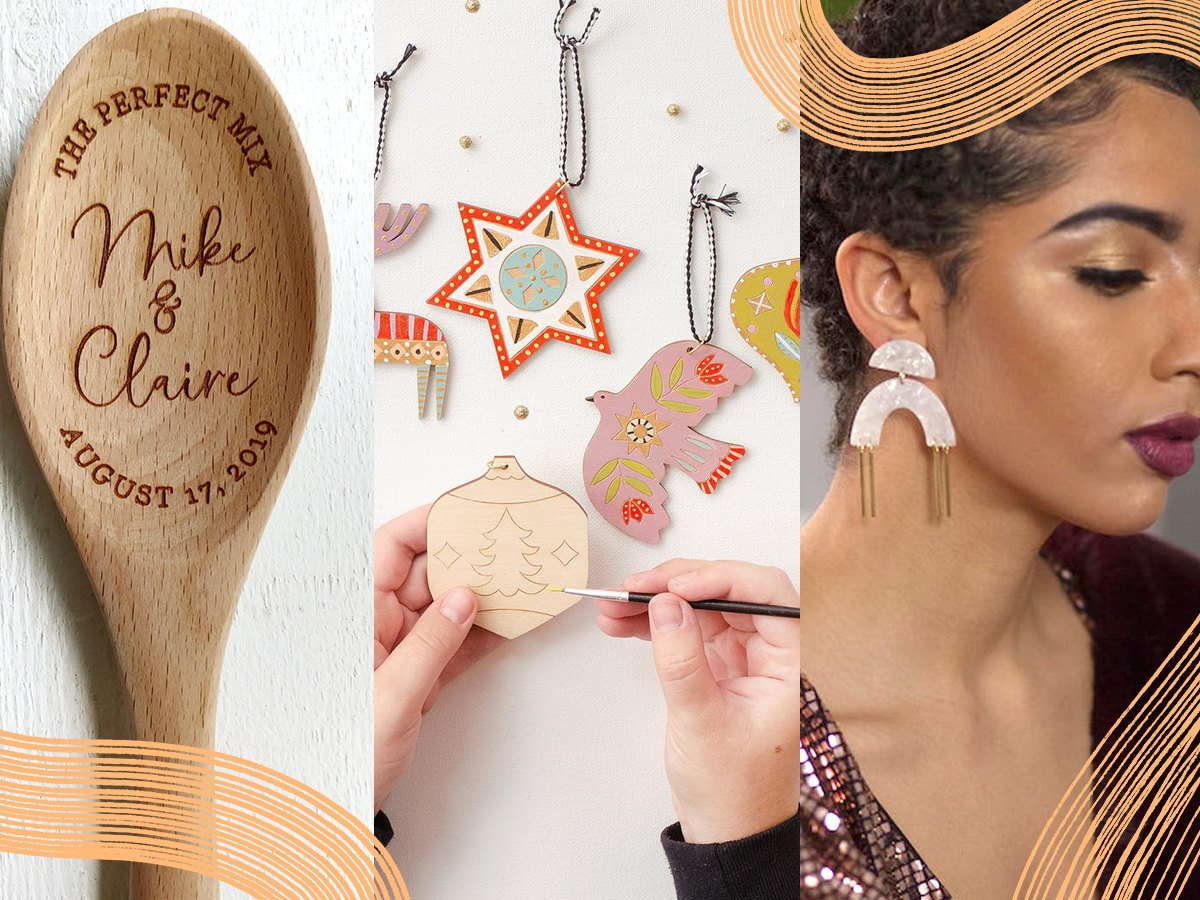 In a year full of ups and downs, seeking out special feels more important than ever—and lucky for us, there's no shortage on Etsy. You'll find it in the illustrated pet portrait ornament hanging front and center on your family's tree. In the gorgeous gold name necklace custom-crafted for your long-distance bestie. In the super-soft, hand-knit beanie you ordered for yourself, just because. In the spirit of special, this Cyber Week we're shining a spotlight on some of our favorite one-of-a-kind, on-sale finds from Etsy's brilliant community of independent makers. Whether they're extra-thoughtfully designed, extra-meaningful to their recipients, extra-useful for everyday life, or just extra-unique, read on to discover 15 standout designs to take home today.
Available in a gold, rose gold, or sterling silver finish, 12 assorted chain lengths, and up to five letters of your choice, this dainty necklace may just be the ultimate personalized pendant. Spell out your name, your kiddos' initials, or your 2020 mantra, be it H-O-P-E, V-O-T-E, or P-I-Z-Z-A.
Keep little hands busy—and get in on the fun, too—with a DIY ornament kit boasting five Yuletide-inspired wooden shapes (we're especially partial to the reindeer!) and eight mini paint pots in fresh, unexpected holiday shades like lavender and teal. Because doesn't every tree deserve a handmade touch?
Help your most fashionable fur-iends stand out from the pack with a vibrant handmade bandana (cleverly dubbed a "dog-dana") sewn from traditional African wax print fabric.
Take cold-weather family selfies to the next level with a matching set of cozy wool beanies—complete with optional fluffy pom-pom—that come in seven sizes ranging from "Just Born" to "Large Adult." Bundle up and get ready to say cheese!
Streamlined. Sophisticated. Sleek. With its classic monogram detailing, carefully constructed card slots, and mini coin pocket for holding parking meter change and lucky pennies, this ultra-slim leather wallet packs an outsize punch.
For virtual holiday shindigs, face-framing statement earrings are an absolute must, and with their sparkly white abstract forms and beautiful brass hardware, these mixed-media stunners are neutral enough to accompany whatever festive above-the-keyboard ensemble you decide to rock. 
The perfect gift for any newlyweds on your list? A personalized wooden mixing spoon laser-engraved with the lovebirds' names and "I do" date to help them whip up home-cooked meals together for years to come.
From her signature hairstyle to the unmistakable print of his most-prized tee, capture all the little details that make your favorite people uniquely them with a hand-drawn custom portrait, delivered digitally for easy at-home printing and framing. 
For a fun and educational option, surprise the little learner in your life with a personalized name puzzle featuring extra-large birch wood letters painted in your choice of eight eye-catching colorways. 
Add a pinch of playful to your laundry routine with a trio of Earth-friendly reusable felted wool dryer balls adorned with friendly sheep faces. (Then tell those one-and-done dryer sheets to take a step baaaack.)
For a wearable reminder of a sentimental place, consider a custom coordinates bracelet. Whether it's the restaurant where you met your sweetheart or the spot that Pops popped the question to Mom, get the degrees of the exact location hand-stamped on a piece they'll treasure every day.
Let the holiday countdown begin—for the whole family, Fido included—with a bowwow-worthy personalized pet advent calendar brimming with 25 tasty dog treats.  
These days, you're never fully dressed without a stylish face mask. Now your smile can shine on safely too, thanks to this ingenious design which incorporates a clear vinyl panel for lip reading—and grinning ear to ear.
Here to save the day in a last-minute present pinch? Meet Bianca, a downloadable paper doll with a her own unique backstory. Just print her out on sturdy cardstock, grab your scissors, and cue the make-believe magic.  
Calling all animal lovers! Let these custom pet portrait ornaments, created from a hand-drawn illustration of your darling dog or cat-baby, add an undeniable dose of delight to your decor.