by Shoko Wanger
Warm someone's heart — and hands — with one of these stimulating finds.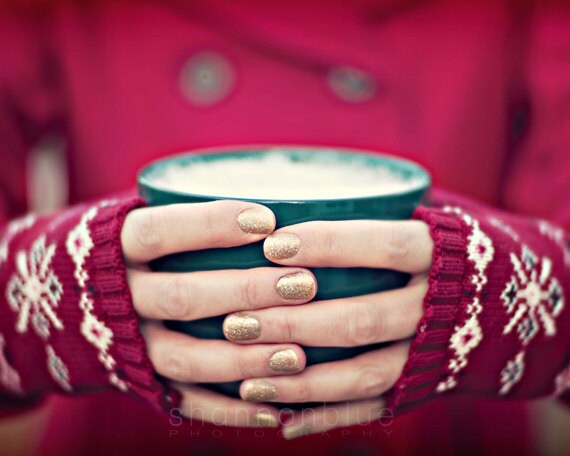 'Tis the season for warm winter drinks (as any
PSL-obsessed pal
has surely already informed you). Fortunately, shopping for holiday gifts for a coffee or tea aficionado comes with one very convenient perk: the options are — to use any java junkie's favorite word — bottomless. From ceramic mugs to stoneware tea pots, cherry-wood serving trays to leather sleeves for mason jars, you're bound to find a gift even the most in-the-know brew buff has yet to get her hands on. Caffeine not your cup of tea? No matter. You can get your fix (or give one) with a candle scented like dark-roast beans; a bottle of Earl Grey aftershave; or a fragrance inspired by Chinese black tea. Jump, jive, see what's for sale.
Things to Drink
Give the globe-trotting coffee lover in your life the opportunity to sample four freshly roasted blends from across the planet — right in the comfort of her kitchen. Satisfy a sweet tooth with an organic loose-leaf tea that blends Earl Grey with hints of vanilla and caramel. This five-piece kit gives aspiring gardeners the tools to cultivate a green thumb
and
 green tea in one go. Wrapped in paper and tied with twine, these one-pot coffee packets are ready for distribution among neighbors, co-workers and classmates. Like magic, these little flower balls unfurl into blooms, creating tiny worlds in the bottoms of tea cups (yes, you can drink the tea when it's brewed).
Brewing and Serving
Order one of these elegant Japanese cafe sets for the friend who prefers a proper tea or coffee service. (Each one comes with a tray, sugar box, and teeny-tiny milk pitcher, all crafted from warm cherry wood.) Yasuko Ozawa's mugs are made to order, so each one differs slightly in texture, color, and shape. They're gorgeous to display and a pleasure to use daily. Present this ceramic pot in deepest blue to a friend who believes you're never too old for tea parties. This sleepy fox makes an adorable addition to any tea drinker's table — his eyes may be closed, but rest assured, he'll keep the sugar safely stowed. Reclaimed barn wood gives every one of these handmade stands — great for design-conscious drip drinkers — its own unique charm. Perk up in punk-rock style with a mug covered in glimmering gold spikes. (Don't fret: They're less prickly than they look.) Help keep commuting coffee drinkers safe from hot surfaces with a handy leather sleeve. Shopping for a minimalist? This black and white tea set manages style, sophistication and sweetness simultaneously. Reduce kitchen-cabinet clutter by keeping tea bags in this tidy wooden box, which harbors a secret garden beneath its lid. For true addicts: a statement-making mug to pull out on those mornings when sleepiness trumps small talk.
Accessories for Enthusiasts
Wannabe scientists will love this recycled-paper notebook, which features a drawing of a caffeine molecule and a reference to the year tea was first discovered. This fragrance, inspired by smoky Lapsang Souchong tea, is made in a London apothecary from tea leaves steeped in oil. Give it to a cosmetics connoisseur who's seen it all (or thinks she has, anyway). For long-lost friends and unrequited loves, a card that says it all — in five little words. Know someone who's recently bid adieu to his Movember mustache? Wrap up a bottle of this Earl Grey Chamomile aftershave to aid in the recovery. Fill any room with the intoxicating aroma of coffee, cinnamon, and clove, courtesy of this candle that's made in Brooklyn and packaged in — what else? — a mason jar.