Get ready to shake things up: This season's signature decorating styles are chock full of vibrant colors and playful patterns.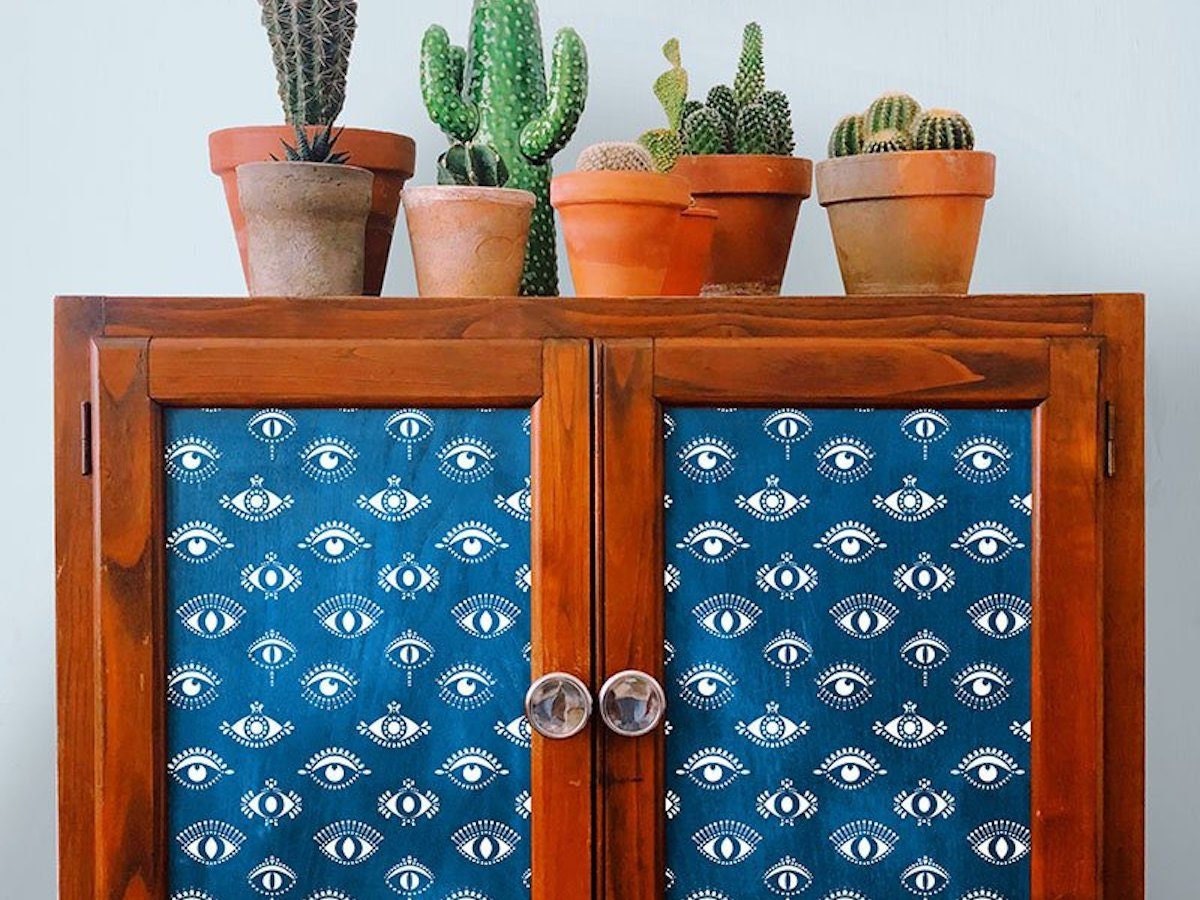 If there's one thing 2019's
maximalist movement
has taught us so far, it's that we all just want to be
more
authentically,
more
unabashedly ourselves. "Maximalism is about embracing who we are, and expressing that fully and freely in the ways we
accessorize
our lives," explains Etsy Trend Expert Dayna Isom Johnson. As spring awakens that excited urge to inject some fresh personality into our living spaces, we welcome you to indulge the impulse, and layer on your favorite mix of this year's
trending motifs
in the way that only you can. "Glam fixtures, playful patterns, desert hues: they're
all
on the table this season," Dayna says.
Whether you're looking to spruce up one corner of your space or completely revamp your home, here are seven standout styles that are all about letting your true colors shine bright. What sort of statement will you make?
Tie-dye revival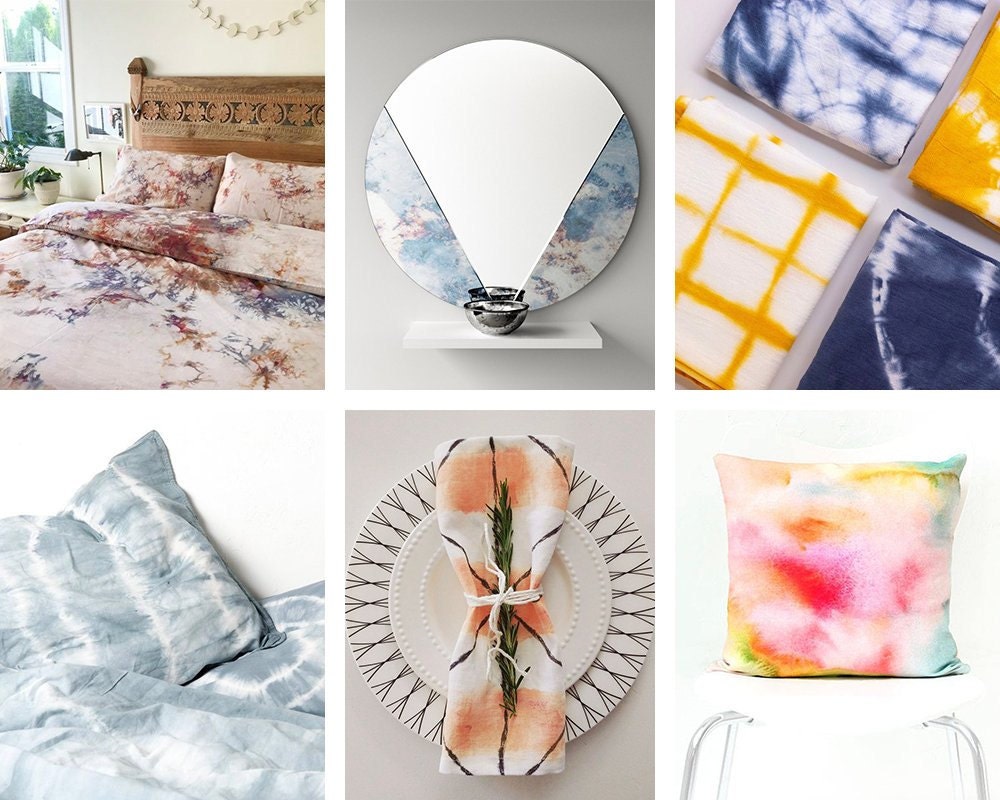 >
We've dipped a toe in with
tie-dye scrunchies
. We've tried out a
colorful caftan
poolside. Now this ultimate '70s standby is finding a new groove in our homes, making a psychedelic splash on everything from
shibori sheet sets
to artfully
antiqued mirrors
. You heard us right: Tie-dye is making a comeback, and its latest incarnation comes in a range of prismatic palettes for your pad. For a sophisticated spin on the super-saturated classic, try muted
peach napkins
or a
dusky blue duvet
. "Think of it as floral's fun and rebellious cousin," Dayna says. "It's a modern twist on tie-dye that's still rich and dynamic."
Art Deco details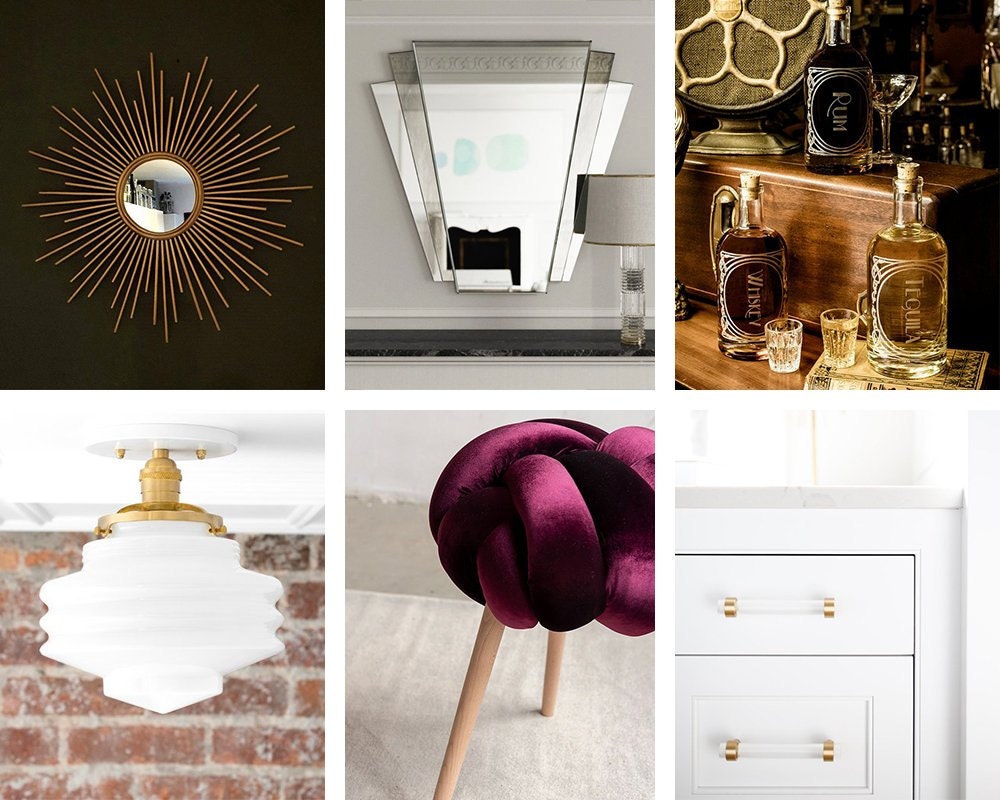 >
If you're a sucker for the retro sensibility of
mid-century modern furnishings
but in the market for a piece with a bit more pizzazz, you're in luck: Etsy sellers are dialing up the drama this spring with a shiny new lineup of
Art Deco
-inspired fixtures and finishes. Known for sleek, stylized compositions emphasizing exquisite materials and craftsmanship, this glam revival is decidedly the most
extra
aesthetic of the moment. "Get the look by introducing luxe textures (looking at you, velvet), geometric patterns, and pops of metallics into your seasonal rotation," Dayna says.
Off-the-wall wallpaper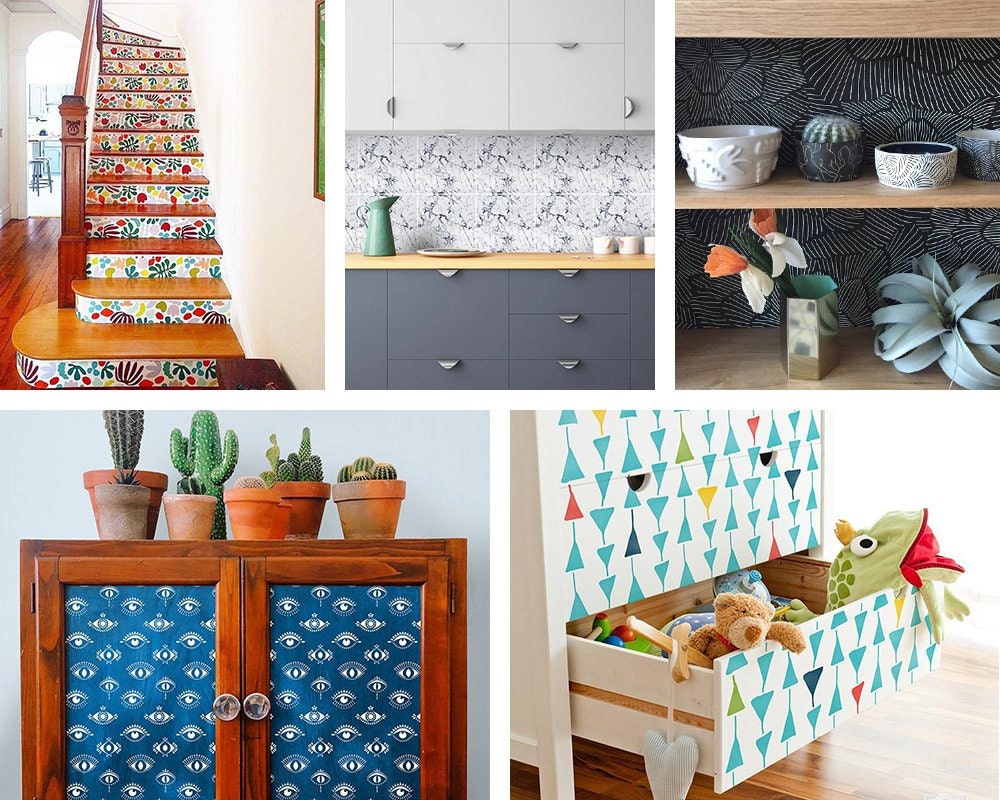 >
"No longer just for papering wild and wonderful
accent walls
, this versatile design essential is bringing brilliant pops of color and pattern to the most unexpected places, from bookshelves and cabinets to staircases," Dayna says. And thanks to the boundless creativity of Etsy sellers, there's no shortage of easy-to-apply DIY options to play with, whether you opt for
peel-and-stick tiles
to marbleize your backsplash, or a
mod triangle stencil
to deliver instant whimsy to your little one's toy chest.
Cut-out shapes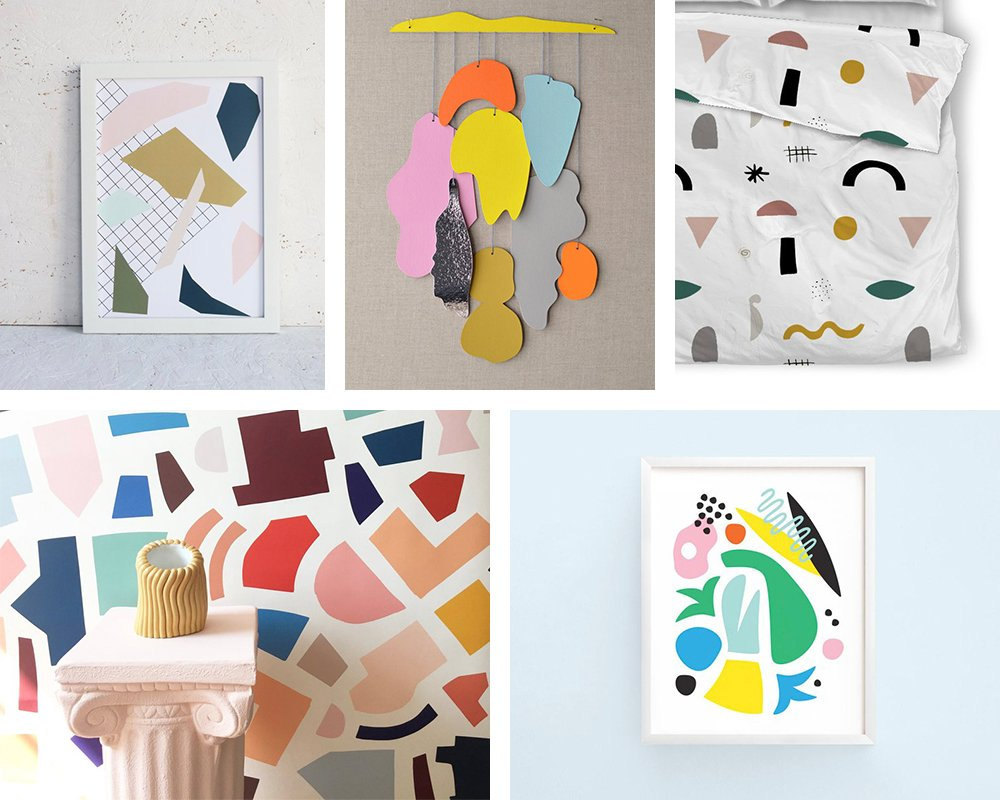 >
Equally at home in a kiddo's nursery or on your carefully curated gallery wall, these abstract, museum-worthy accents are proof that playful can still be poetic. With
mobiles
,
bedding
, and
wallpaper
as the canvas, Etsy sellers are producing a colorful array of confetti-like designs that deliver a serious jolt of energy—without ever taking themselves too seriously. "Plus, they incorporate both geometric and abstract elements, making them the ultimate combination of maximalism and modernism," Dayna says.
Animal accents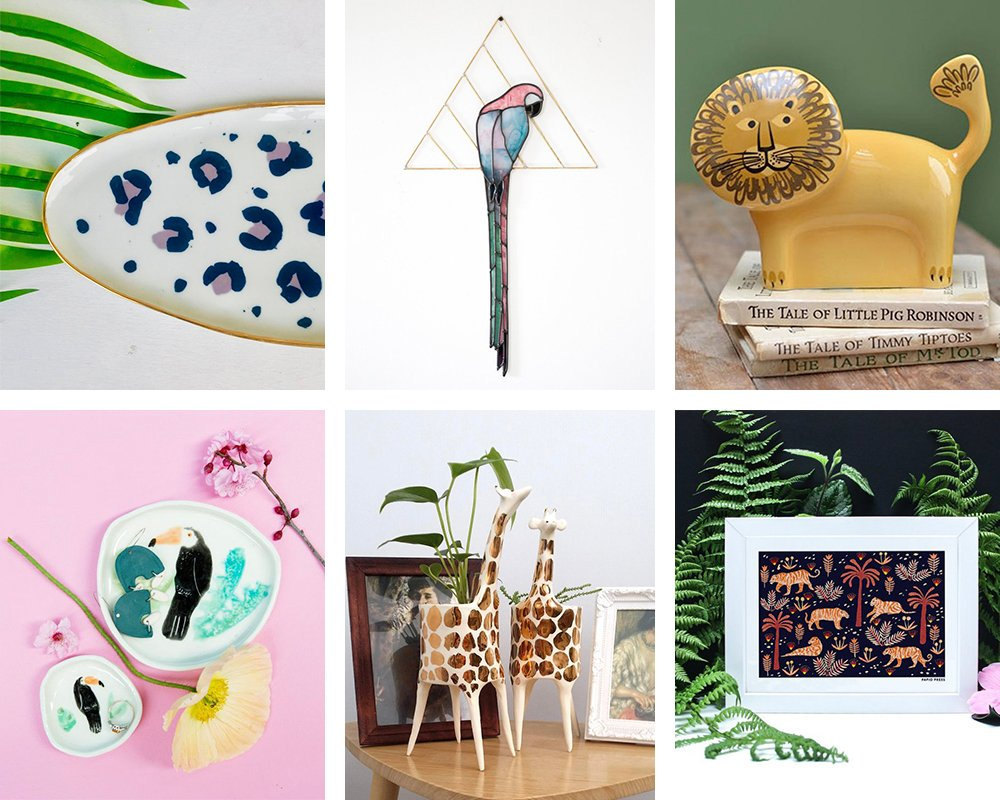 >
Exotic
animal prints
have long been considered wardrobe staples by flamboyant fashionistas, but the look is changing its stripes this year as traditional patterns are reimagined in unexpected colorways—and are joined in lush living spaces by accent pieces that truly put the creature center stage. "From
jungle cat-spotted catchalls
to
perched stained-glass parrots
, the animal kingdom is officially taking up residence in every last nook of our homes," Dayna says. To achieve your own fiercely maximalist vibe, go wild and pile on multiple animal patterns and styles, like ink-drawn illustrations and hand-molded ceramics.
Desert decor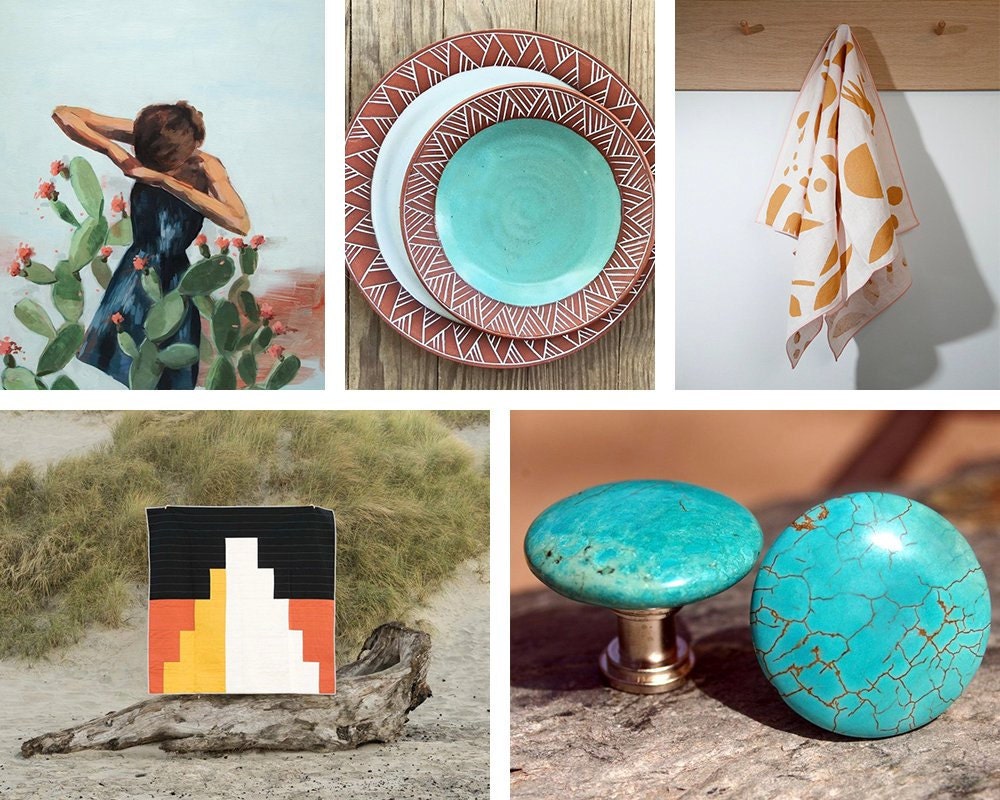 >
"Last year, we named
Southwestern style
one of our top overall trend predictions for 2019 in jewelry, fashion, decor, and more," Dayna says, "and today, we're all-in on this desert-chic look, which is heating up our homes with
burnt-orange tones
and earthy textures." To create your own oasis, choose natural materials like cotton and clay in moody, sunset-inspired hues, and toss in a vibrant turquoise touch or two for visual interest. (And, of course, don't forget to find a prominent spot for your favorite prickly pear.)
Crystal-inspired designs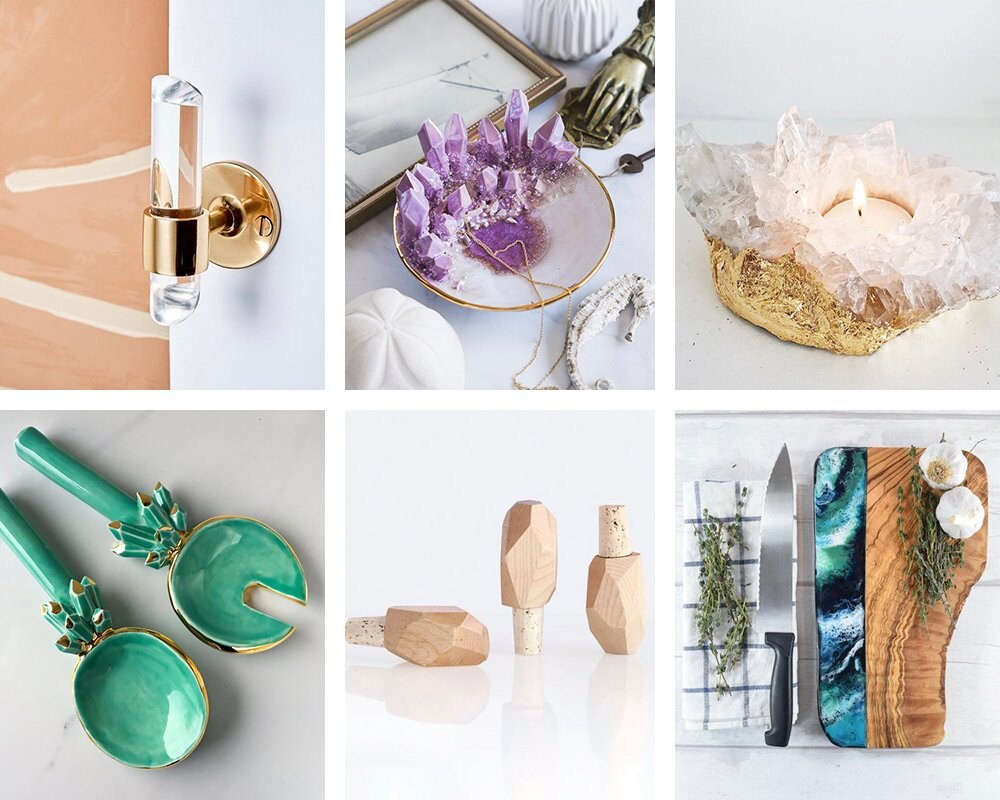 >
"
Self-care
rituals are top of mind as we search for ways to stay grounded and centered in 2019," Dayna says, "so it's no surprise that
crystal-inspired decor
is enjoying a
major
moment." Etsy sellers have begun carving out new territory by incorporating the distinctive motif into sumptuous little handmade home accessories, like
quartz candle holders
and
trinket dishes
adorned with hand-crafted clusters of amethysts. "These eye-catching pieces transform our interiors into havens of multifaceted mindfulness, and serve up a subtle reminder to slow down every now and then, and soak up your home's good vibes."