This year's biggest "I do" moments are all about individual expression, tactile touches, and functional details.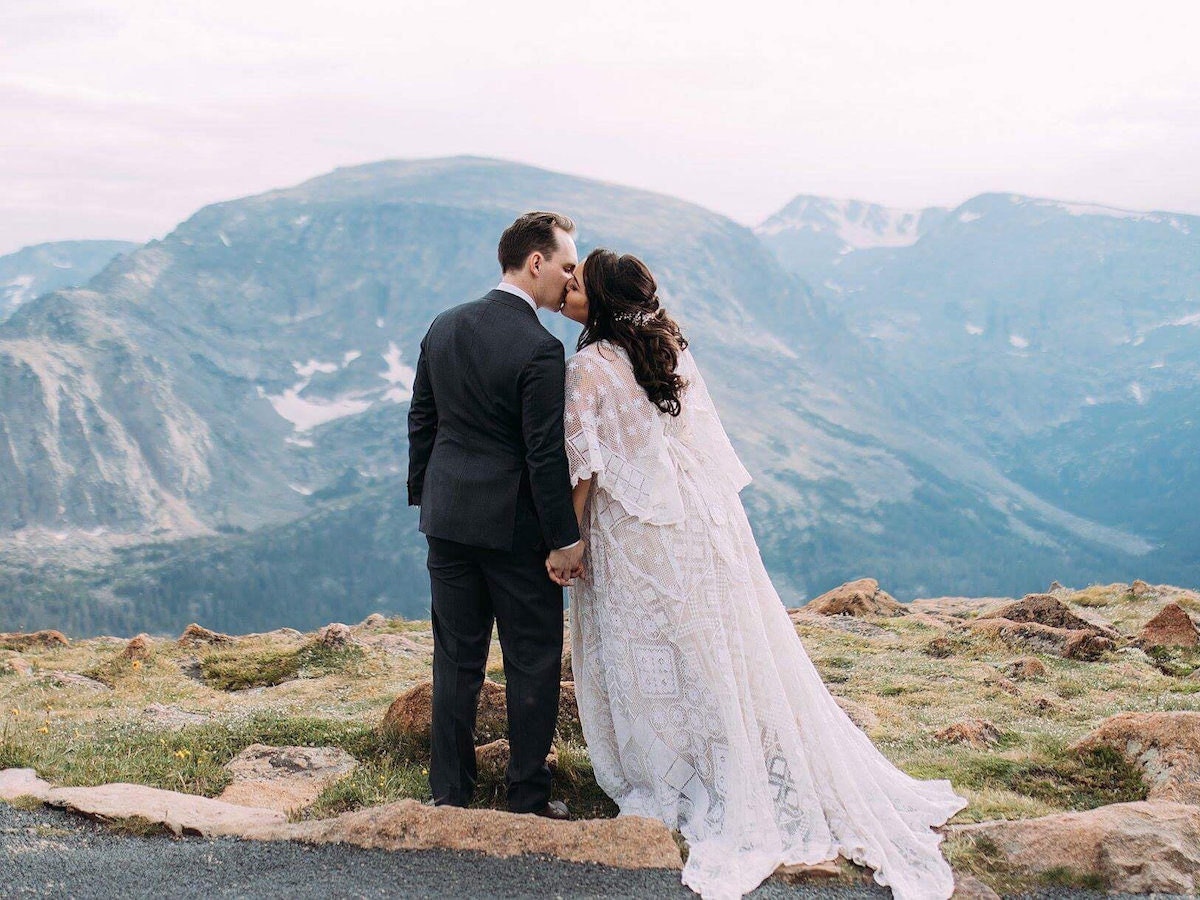 Quick: Think about the most
memorable wedding
you've ever been to. What comes to mind? Was it the bride's stunning bespoke gown? The best man's poignant, precise toast? Or maybe it's the favor you took home at the end of the night that so effectively encapsulated the spirit of the just-married duo? "In 2019 weddings will showcase the couple's individuality in truly unforgettable ways," says Etsy Trend Expert Dayna Isom Johnson. A few of the top tools for brides and grooms looking to make a lasting impression today? New twists on ceremony attire, one-of-a-kind reception decor, and practical-meets-personalized keepsakes they'll eagerly tuck into their clutches and suit pockets.
Read on to discover the top eight ways brides and grooms are showcasing their unique style through their weddings this year, and get ready to start swooning.
Statement sleeves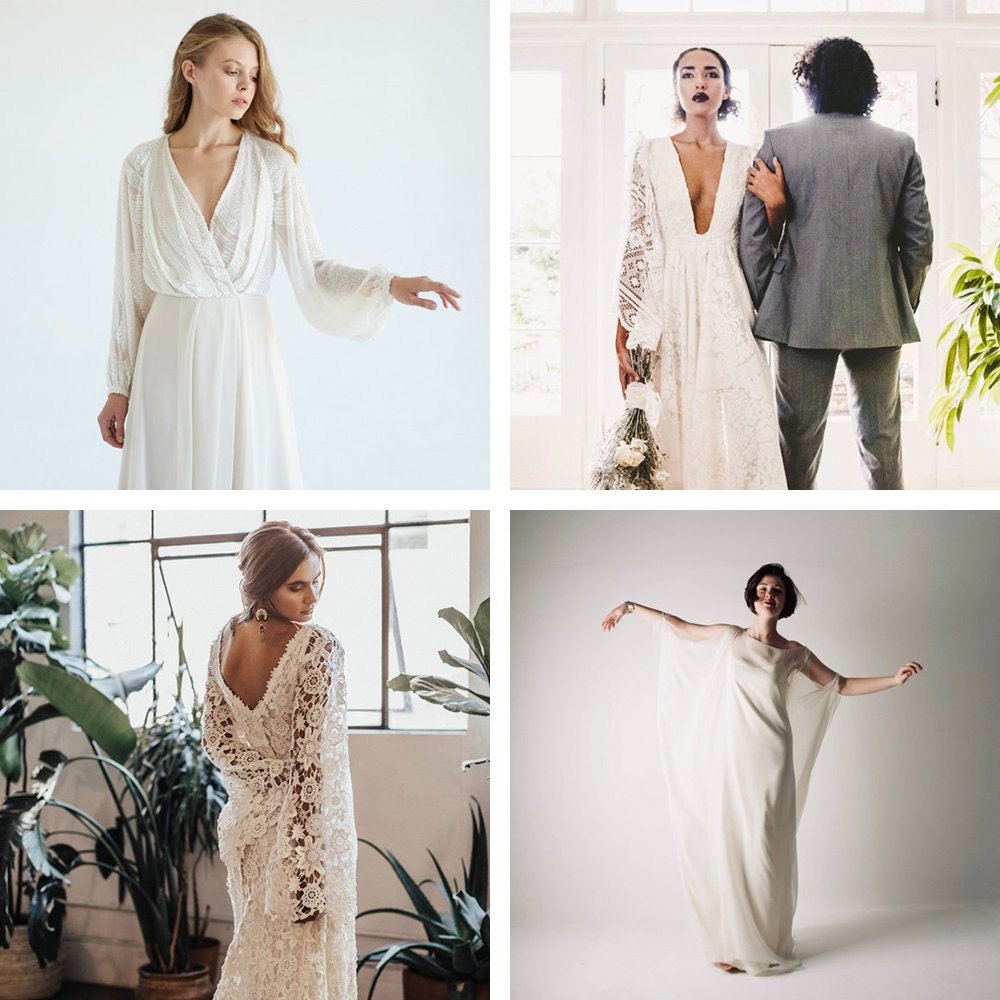 >
Call her clairvoyant, but last year Dayna
predicted
statement sleeves would take the bridal fashion world by puffy, voluminous storm in 2019—and all signs point to an accurate forecast. But before you start conjuring up visions of rigid, restrictive Victorian getups, think again—these sleeves are loose, flowy, and thanks to sheer fabrics and patterned lace cutouts, even downright sexy. Dayna's top picks for a "glamorous, romantic, and completely Insta-worthy" long-sleeved look? Retro 
bell sleeves
and—wait for it—an effortless silk bridal
caftan
.
Veil alternatives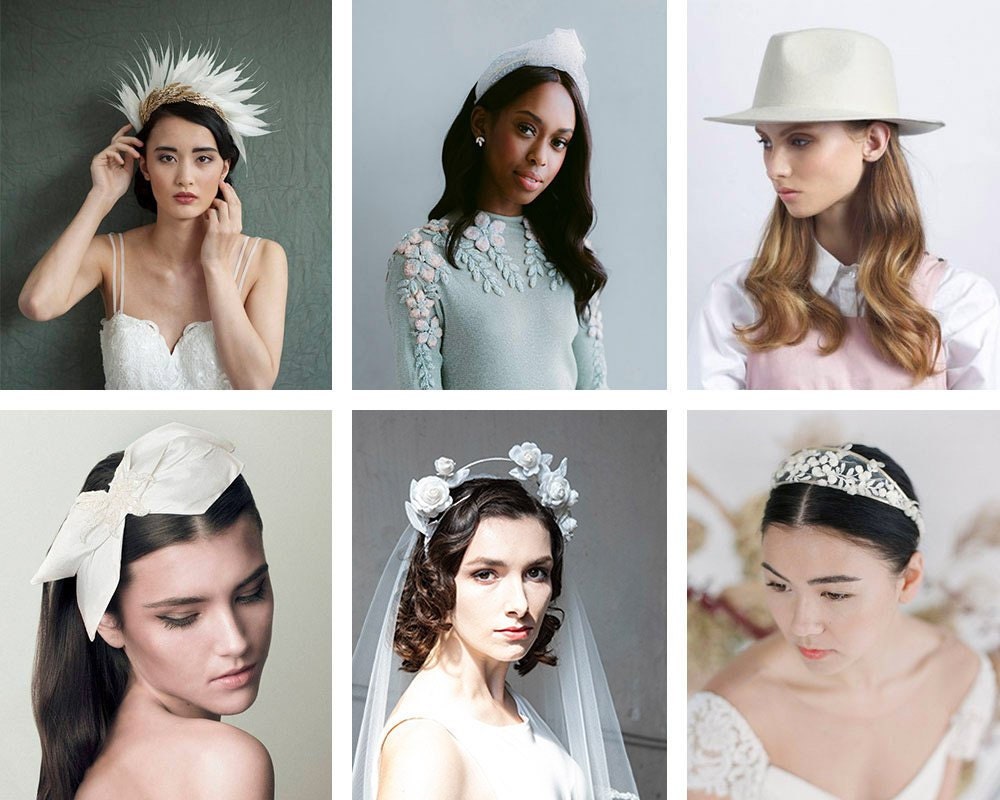 >
One of our favorite games to play, giddy in our seats, while awaiting a bride's first steps down the aisle is "guess the veil." And if
last year
was all about glittery, jazzed-up versions that can affectionately be described as "extra," this year brides are switching things up yet again, often opting to forgo veils entirely. "Brides are turning traditionalism on its head—literally—and rethinking the classic veil with showstopping modern alternatives," says Dayna. From
bridal hats
to
feathered headpieces
, there's a fresh head-topper for every bridal style.
'90s styles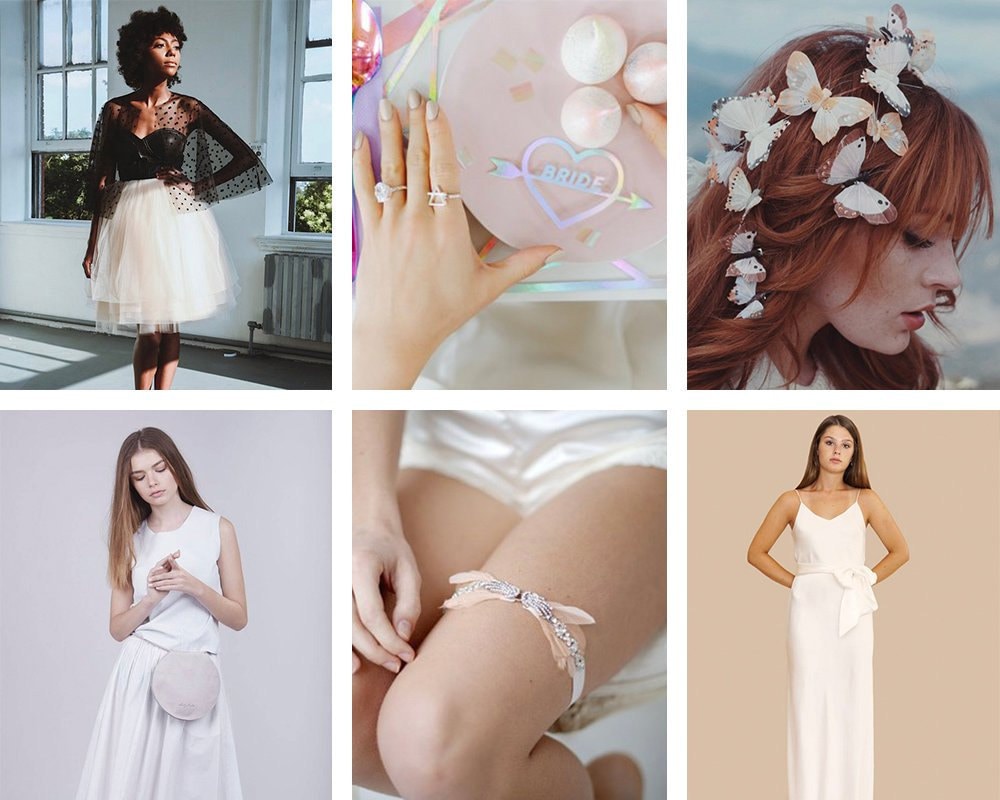 >
Good news for all engaged
Friends
fanatics: "Over the last few years, '90s trends have resurfaced in both the fashion and home decor realms, and now they're taking hold for weddings," says Dayna. Think classic
slip dresses
, dazzling
rhinestone accessories
, reception-ready
fanny packs
, and—a nod to everyone's favorite old-school hair clip—a
butterfly-adorned bridal headpiece
. So whether you were rooting for Ross and Rachel from the get-go (they were on a break!), or more invested in Monica and Chandler's covert affair, celebrate your own love story surrounded by a slew of throwback touches straight out of Central Perk.
Sustainable celebrations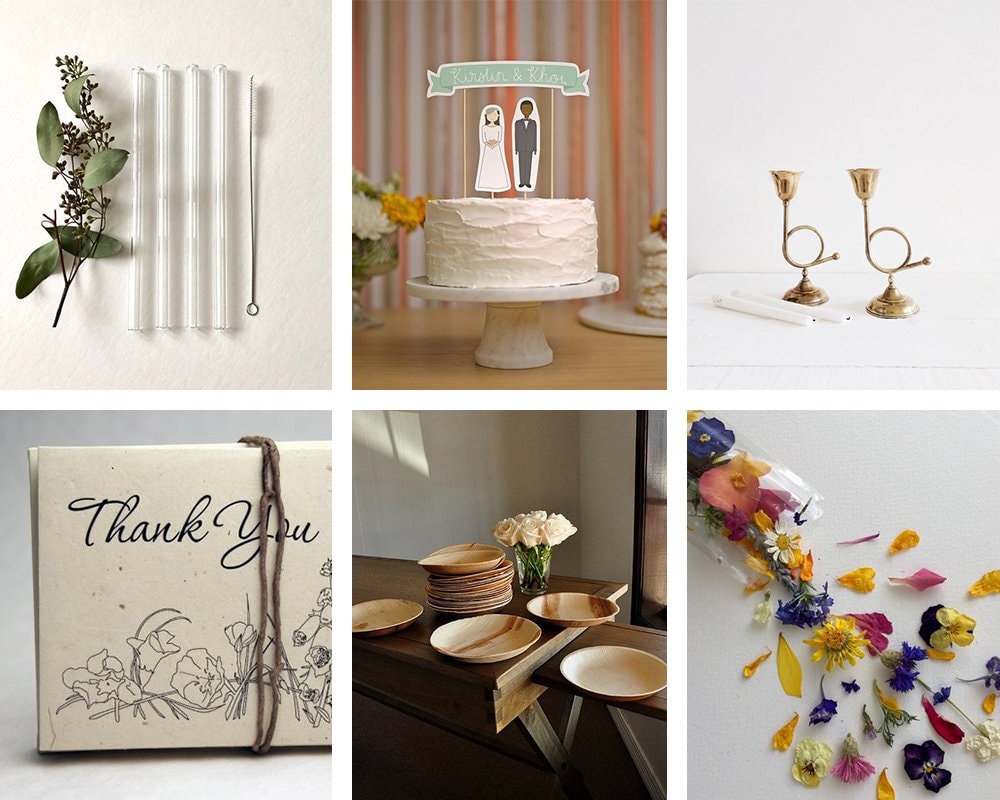 >
"As the world becomes increasingly eco-conscious, couples are choosing stylish and sustainable solutions for their weddings," says Dayna. "Incorporating
biodegradable floral confetti, 
vintage decor
 and even 
reusable straws
 are just a few ways to bring earth-friendly values into your big day." And going green doesn't have to mean skimping on personalized details. Case in point: this super customizable (and thoroughly charming)
cake topper
made from recycled cardstock.
Unexpected materials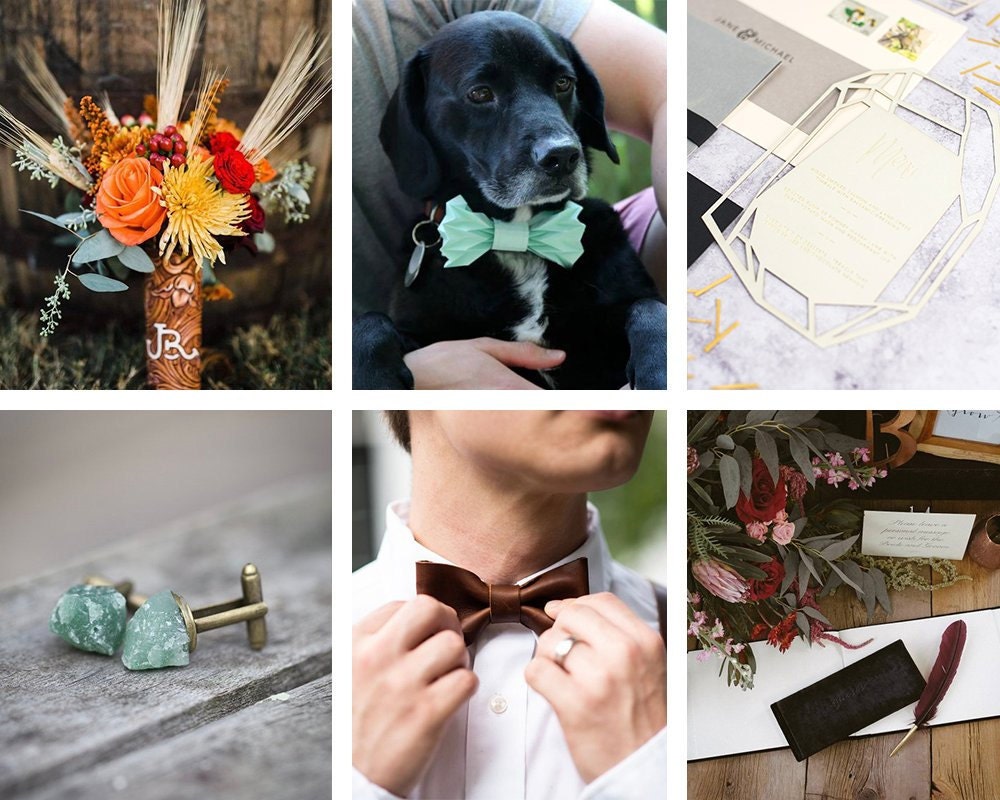 >
Velvet guestbooks
.
Paper bow-ties
.
Raw stone cufflinks
. "Unexpected materials are a clever way to really draw friends and family into your celebration," says Dayna. Keep guests guessing with a range of surface textures and finishes in unanticipated presentations—like this
custom leather bouquet wrap
, which serves as the ultimate rugged complement to any
romantic flower arrangement
. Tactile details that beg for a closer look (and maybe even a hands-on touch) encourage attendees to stay engaged in the moment—because there's nothing wrong with snapping a picture, but some things are best experienced IRL.
Secret messages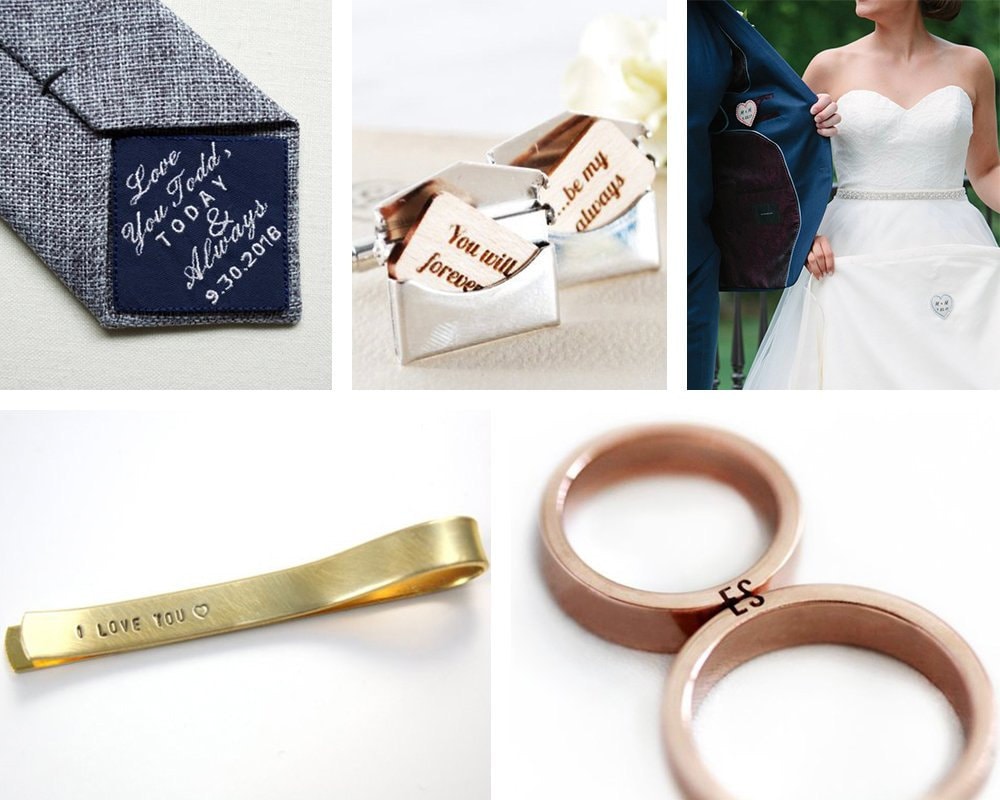 >
Can you keep a secret? "Taking a cue from a
certain celebrity wedding
, this year couples are saying 'I do' with covert messages incorporated into their attire and accessories," says Dayna. Whether you stamp a custom message on a
tie bar
, sew a
sentimental patch
into the lining of your gown, or opt for
matching rings
that come together to form the letters of your choice, these ultra-personalized touches prove that sometimes the most special details are the ones your guests
can't
see.
Unconventional place cards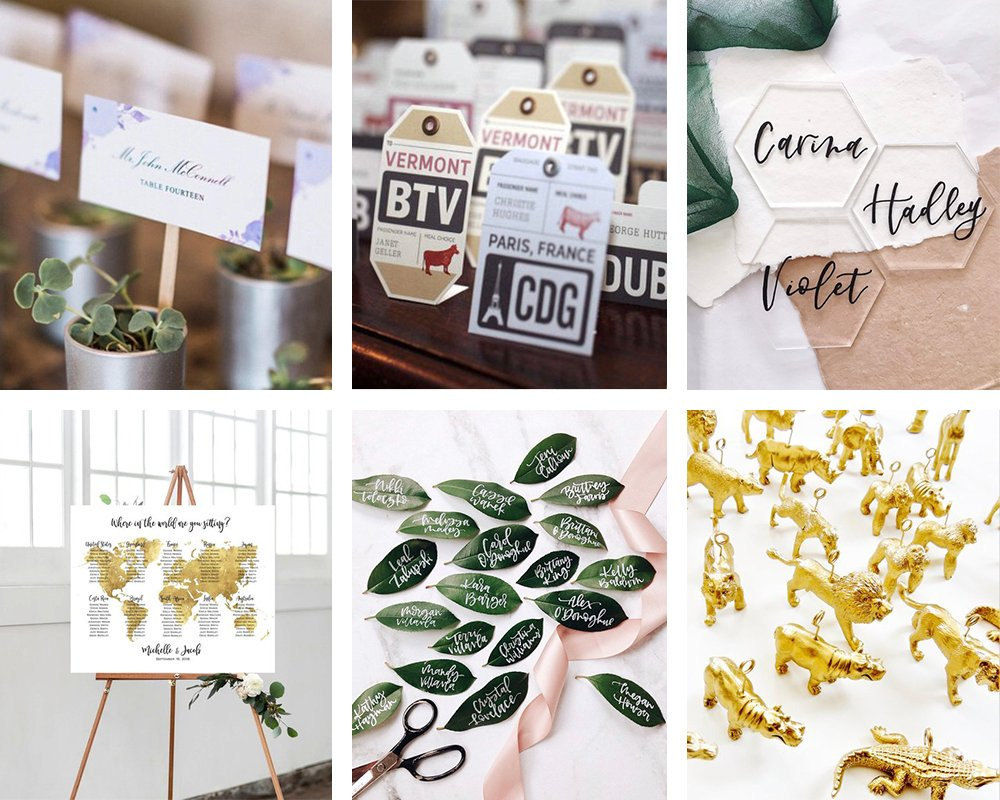 >
First it was brush-lettered calligraphy place cards, then came rustic DIY chalkboards—but this year, designers are upping the ante once more and taking seating signage to new creative heights. "In 2019, guests are being guided to their seats in style," says Dayna—and the options are virtually endless. From vintage-inspired
luggage tags
and
customizable metallic maps
for the couple who loves to jetset, to real
fresh-cut leaves
and
mini planter sticks
for green-thumbed brides and grooms, this year's seating charts are both "personal and playful," says Dayna. "Plus, they make for great keepsakes!"
Functional favors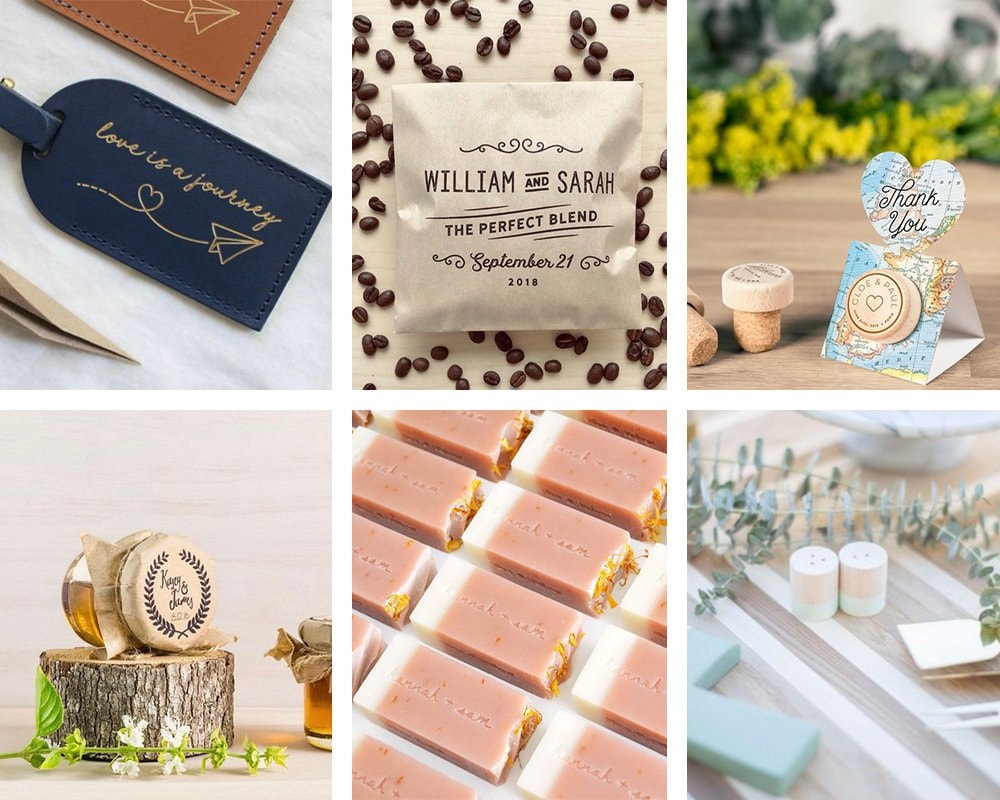 >
Never again will partygoers accidentally leave their favors behind when they head home at the end of the night. "This year, brides and grooms are sending guests away with gifts thoughtfully selected to be utilized and enjoyed in their everyday lives," says Dayna. Because in an age of increasing attention to clutter (thank you, Marie Kondo), functional is the name of the game, and the most popular picks of the moment are the ones designed to be put to use—or even consumed, like these petite, personalized servings of
coffee
and
honey
.