by Katie Hawley
The trick to keeping cozy and looking cool in changing weather? Layers! From linen jumpsuits to chunky knits, shop our go-to styles for the whole fam.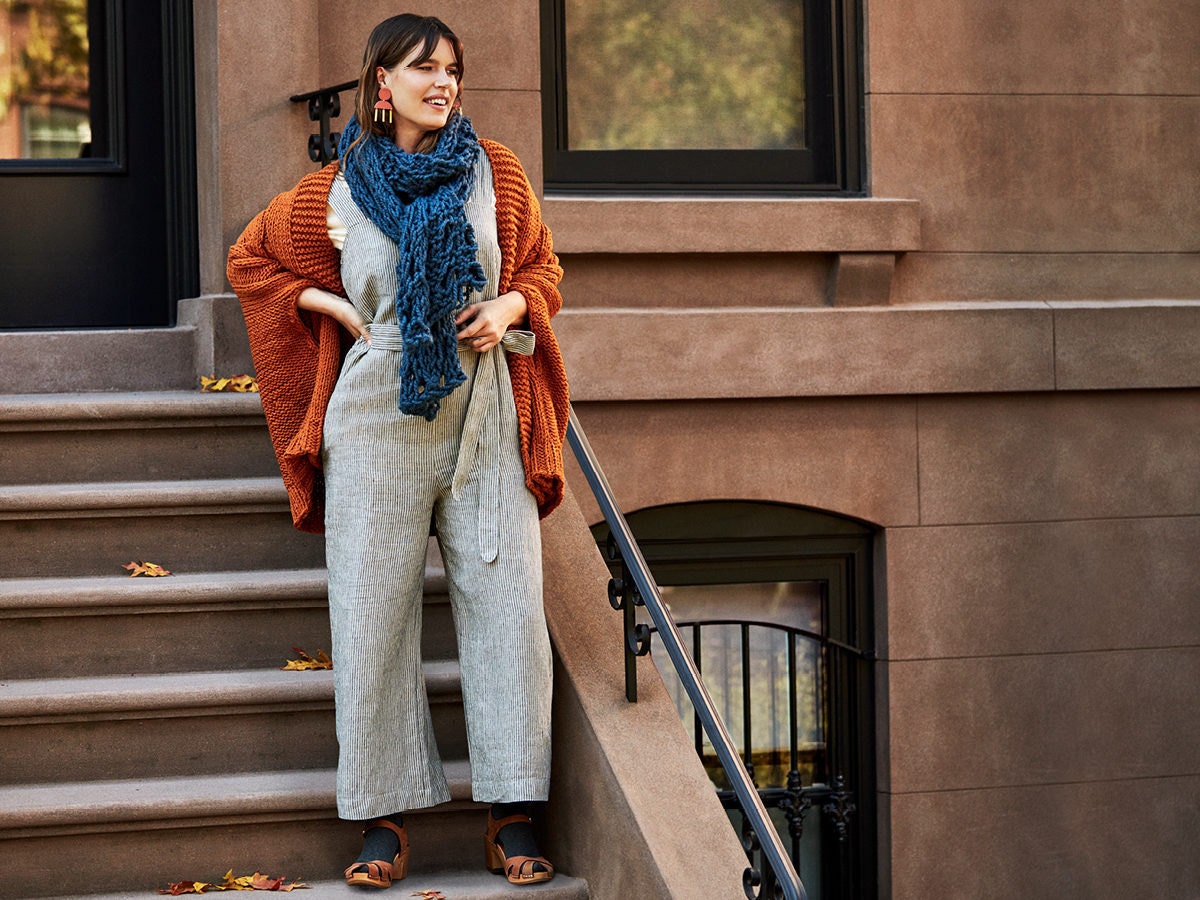 Hooray: It's finally sweater weather! Or make that jacket weather? On second thought, in the afternoon sunshine, perhaps just a T-shirt will do. There's plenty to be said for the magic of early fall—the first changing leaves, a return to hot coffee from iced, weekend apple-picking adventures—but the struggle to properly dress for the unpredictable weather can be real. 
One failsafe way to ensure you're cozy, comfy (read: not sweaty or shivering), and ready to make the most of the season? Embrace layers. Thanks to breathable basics in natural fabrics like cotton and linen, chunky knit sweaters (and hats, gloves, and scarves!), and coats that look equally chic buttoned up or tossed over a shoulder, it's easy to assemble on-trend outfits that can be built up or stripped down to adapt to the quickly changing temps. Read on to discover three of our favorite layered looks for the whole family, and shop the styles below. 
For her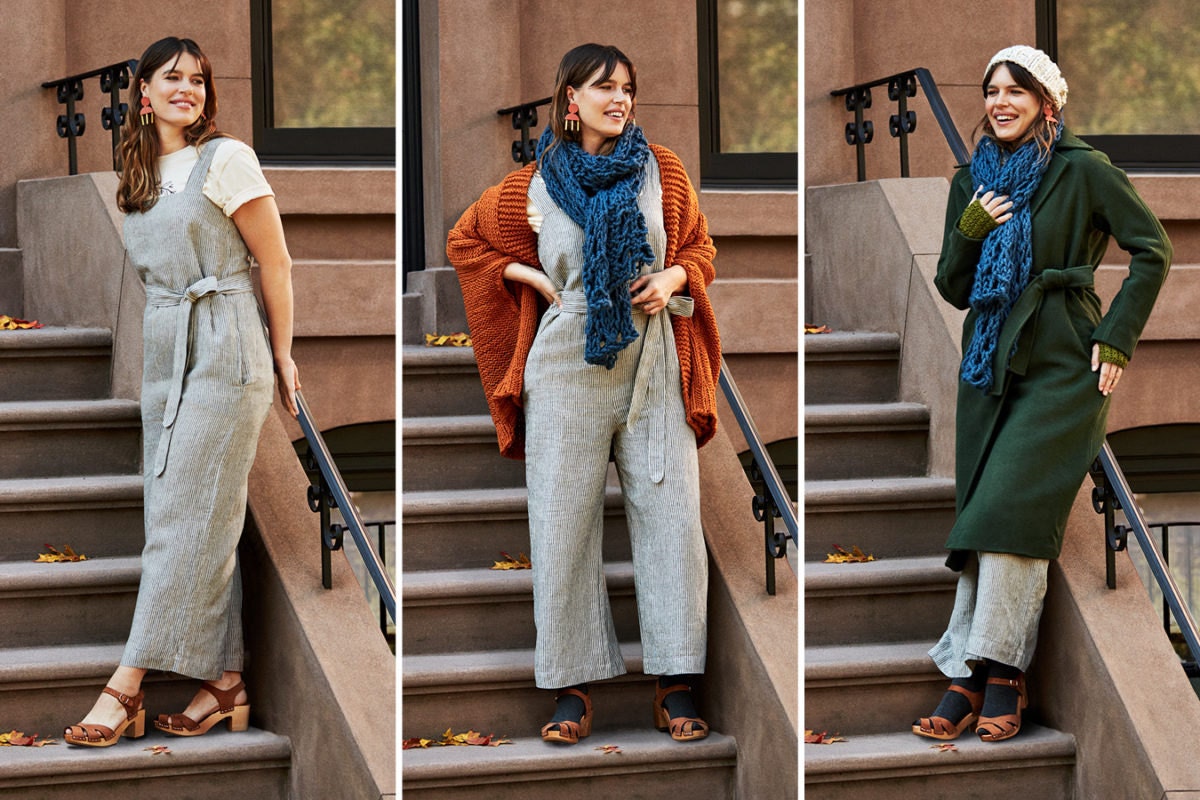 It's no secret that we're big fans of a linen jumpsuit. And our current pick—this medium-weight, Oeko-Tex–certified number from Linenfox—is an effortless choice for early fall when layered over a simple cotton tee or under a roomy hand-knit cardigan (we love this one in Etsy's official color of the year, burnt orange). For cooler days, add a touch of cozy to your ensemble with an oversized wrap scarf made from a super-soft blend of lambswool and acrylic, a textured unisex beanie, and crocheted fingerless gloves that leave your fingertips free for texting. And for the ultimate in outer-layer sophistication, opt for a double-breasted coat in luxe Italian cashmere. Drape it loose for a more casual, unstructured look, or belt it tight to keep you snug (and give your waist some shape) on those extra-cold mornings.
For him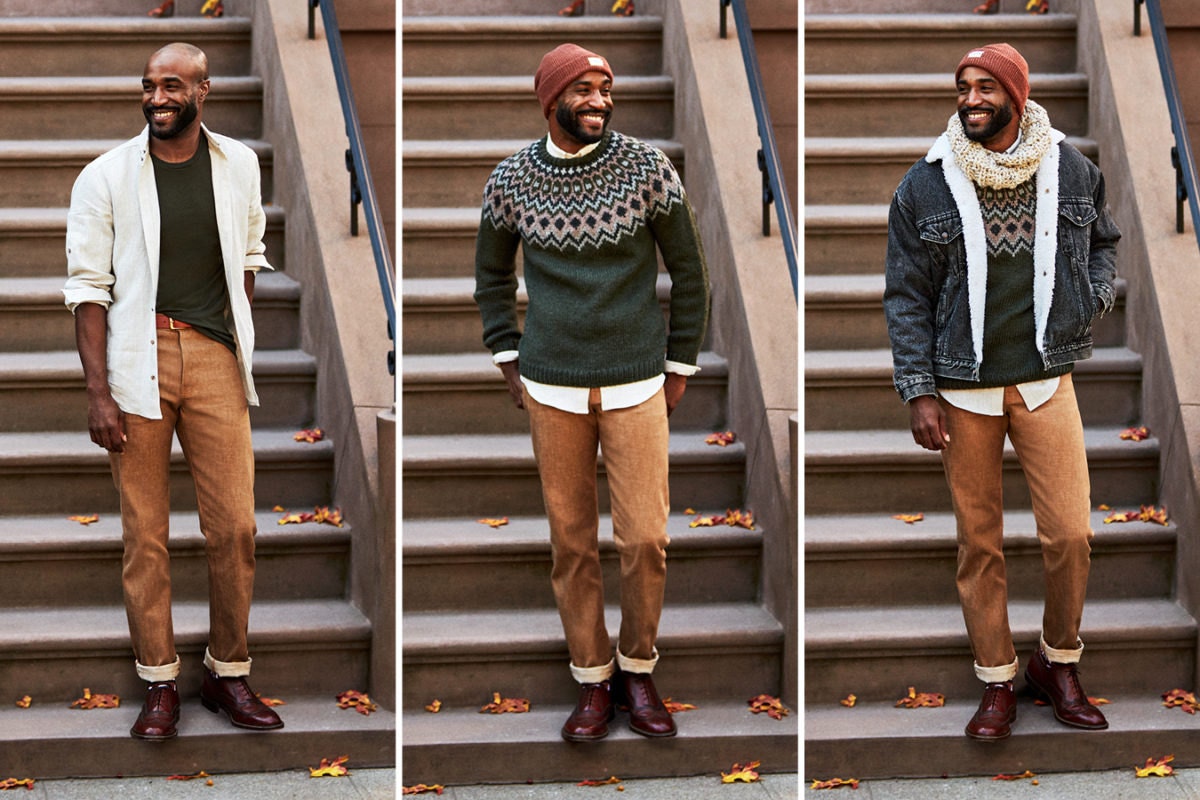 For those golden fall afternoons spent lounging in the sunshine, the perfect no-fuss getup starts with a classic pair of tailored jeans crafted from Japanese denim styled with a breezy button-down linen shirt. (We recommend layering this one loosely over a trusty tee for a laid-back vibe.) When the sun dips below the horizon, slip on a harvest-hued hat (this design from Tenden comes in three seasonal shades), and a handmade Icelandic wool pullover that shows your warm, nostalgic side. And on especially chilly nights—say, sitting around a glowing campfire trading stories—pile on a vintage shearling-lined denim jacket and chunky cowl scarf for an extra-snuggly final touch.
For kids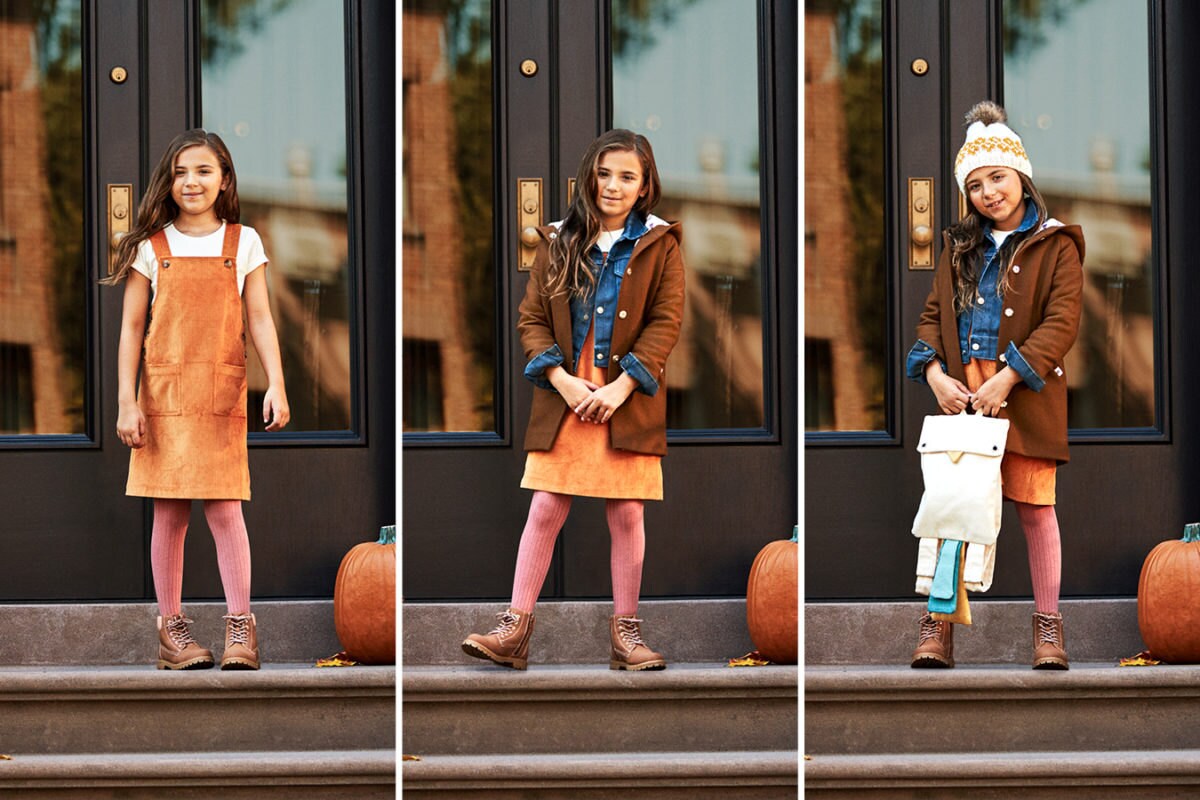 Getting kiddos up, dressed, and out the door on time in the morning can be tricky enough without worrying whether they'll be underdressed on the playground when recess rolls around. Put your mind at ease with comfortable layers that leave them prepared for whatever the day brings, at least weather-wise. A sweet pinafore-style dress made from durable, play-ready corduroy sits beautifully over a basic T-shirt and colorful tights, while a vintage '70s jean jacket with a kid-friendly snap front and hooded wool coat can be worn together or separately. Top it off with an undeniably adorable patterned, hand-knit beanie—complete with oversized faux-fur pom-pom—and consider picking up a matching grownup version for yourself. With pieces this cute, your mini-me just might just be ready to go in record time.
Photographs by Kate Mathis.