Transform your home into a winter wonderland with colorful personalized ornaments, celestial-inspired stockings, and more festive finds.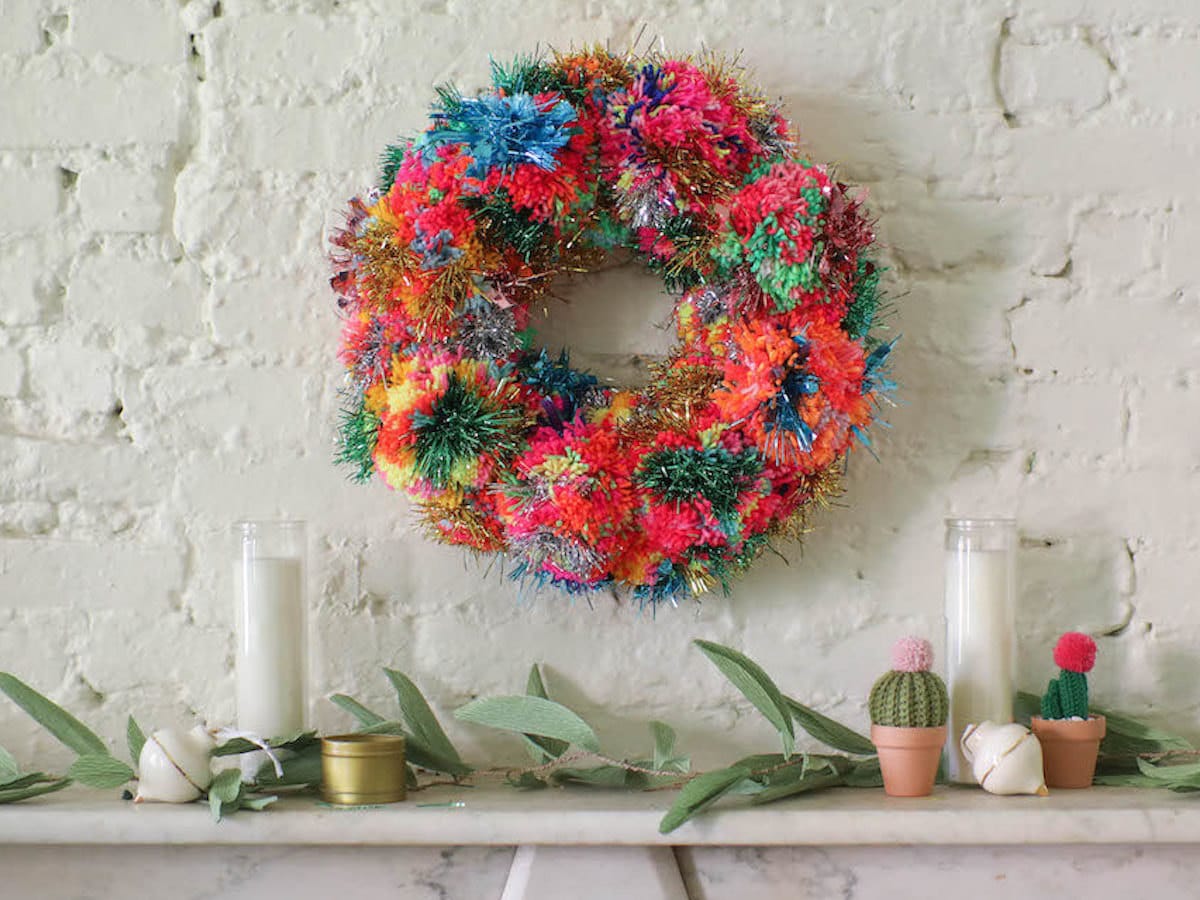 Cue the sequined stockings, kaleidoscope wreaths, and stained-glass menorahs: The time to start decorating has officially arrived, and Etsy's got the one-of-a-kind finds you need to deck the halls for any festive occasion. "One of my favorite parts of the holidays is seeing how Etsy sellers reimagine seasonal staples to create elegant works of art," says Etsy Trend Expert Dayna Isom Johnson. "And this year, they definitely did not disappoint!" The hottest (or should we say, coolest?) holiday trends of the moment build on familiar themes that have been steadily gaining steam throughout 2019, including maximalism and nostalgia. "From vibrant ornaments you can spot across the room to vintage keepsakes brimming with retro charm, I'm so excited to see some of the year's most-loved interiors motifs, materials, and colorways topping shoppers' holiday lists," says Dayna. Read on to discover six inspiring decor trends to try out this season—yule be so glad you did.  
Merry maximalism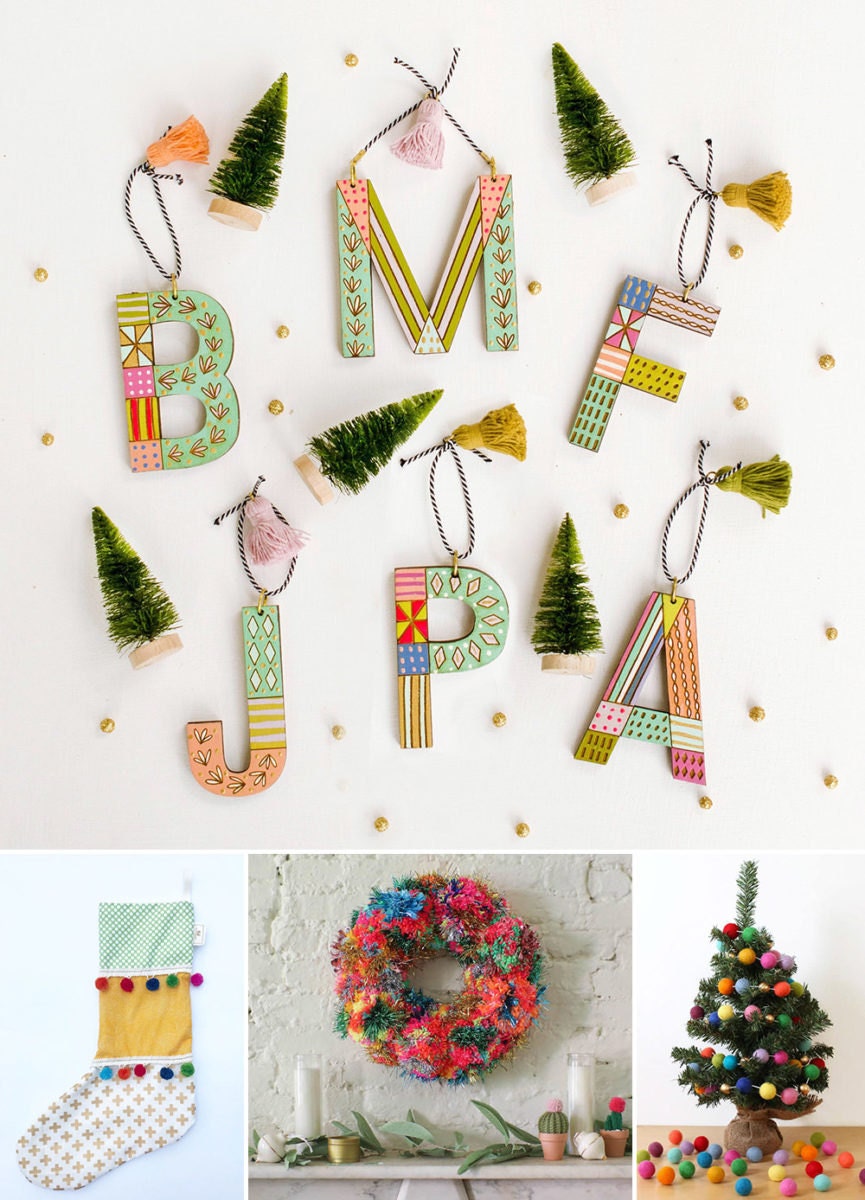 "The biggest, boldest trend of 2019 is all about mixing and matching your favorite colors, prints, and textures," says Dayna. And shoppers who've enthusiastically embraced the more-is-more maximalist moment—ourselves included!—have a green light to keep the party going through December and beyond. Pile on the eye-catching, over-the-top accents (rainbow tinsel wreath, anyone?) and don't be afraid to get creative with details that don't traditionally scream holiday—we're talking multicolored pom-pom stockings, initial ornaments hand-painted in contrasting patterns, and an extra (and we do mean extra) helping of tassels and sequins. Psst: If you're wondering if this is a good time to break out those neon baubles you stocked up on last year, the answer is a resounding yes. 
Seasonal stained glass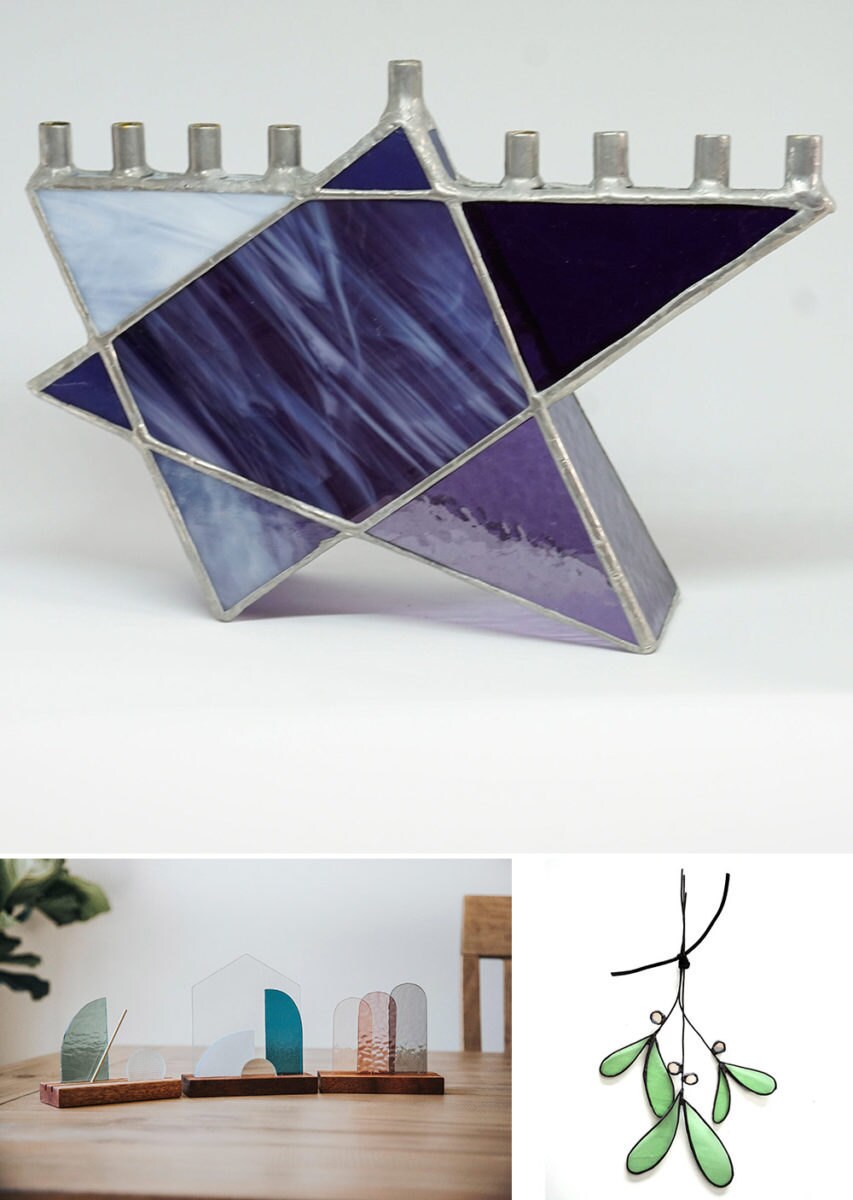 The most surprising and delightful trend to catch our attention of late may just be the resurgence of stained glass, cropping up everywhere from sparkling suncatchers to abstract wall hangings and even jewelry as designers put their own decidedly contemporary spins on the form. Whether you choose a purple, star-shaped menorah, a minimalist sprig of mistletoe, a set of decorative letters, or a beautifully muted nativity set, these modern stunners are equally captivating in daylight, candlelight, or by the light of a twinkling Christmas tree. 
Shimmer and shine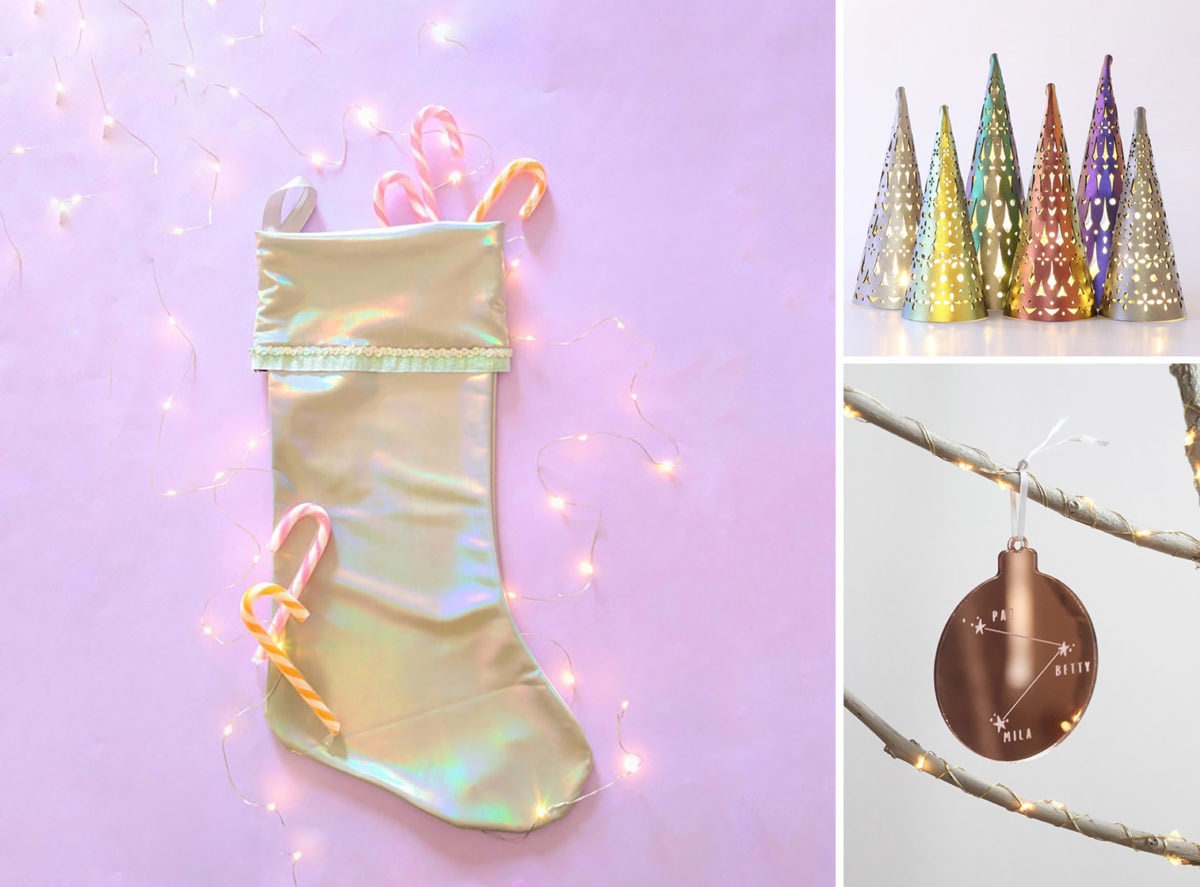 "Consider this trend a not-so-distant cousin of the ever-popular celestial craze," explains Dayna, a self-proclaimed sparkle lover. Characterized by iridescent and holographic materials, night sky motifs, and ample glints of glitter, these shimmering accents range from luminous, mantel-worthy Moravian glass stars to out-of-this-world custom constellation ornaments. Bonus: Thanks to their reflective, color-shifting finishes, these pieces promise to play nicely with fantastically overblown and elegantly pared-down holiday displays alike—in any shade of the rainbow. Talk about merry and bright!
Winter whites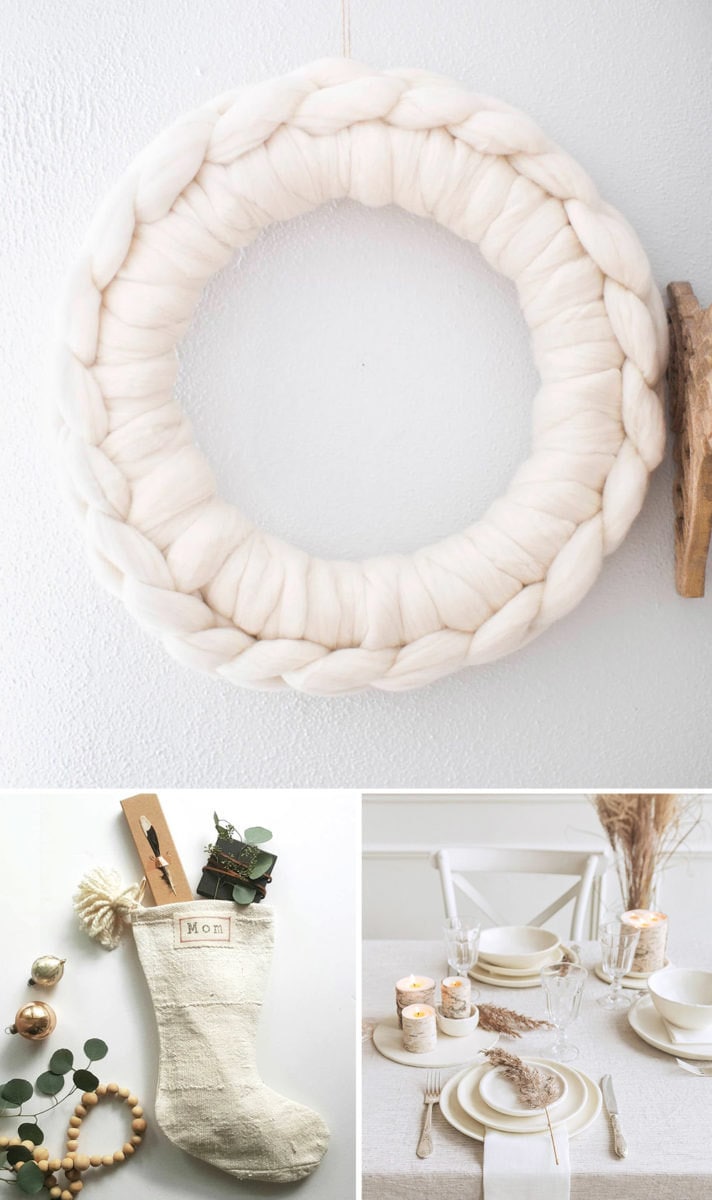 Inspired by dreamy, snow-covered landscapes, this sophisticated scheme is defined by its ultra-understated palette and enhanced with an array of textures to add depth and dimension. From hand-woven merino wool wreaths to custom mudcloth stockings, these chic, neutral picks serve as the perfect calm complements to splashier elements. "I especially love this look for holiday dinner parties," says Dayna, who suggests wowing guests with an all-white tabletop featuring glossy, hand-built ceramic dishware, luxe table linens, and centerpiece decor in a subtle range of creams, oatmeals, and ecrus. The best part? Though their combined effect is magically wintery, these entertaining staples beautifully hold their own year-round.
Log cabin style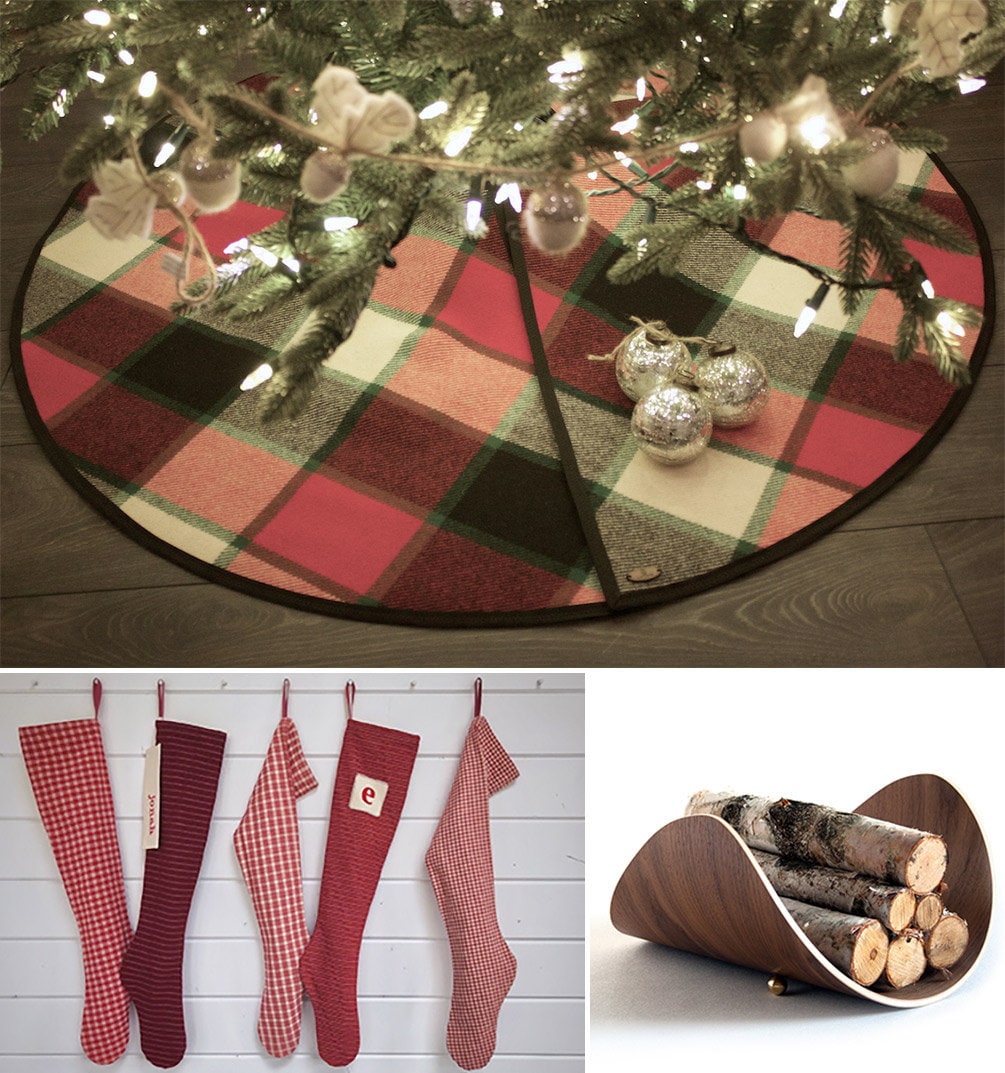 If last year's take on rustic holiday decor conjured visions of a streamlined Scandinavian farmhouse, this year's vibe skews a little more Vermont-ski-lodge (actual skiing 100% optional). "Shoppers are loving woodsy patterns and cozy textures that reflect a retreat from the frenzy of everyday life and make you want to slow down and snuggle up with a mug of cocoa," says Dayna. To get the look, deck out your space with pops of plaid (from tartan tree skirts to buffalo print stockings), bark-edged wood ornaments, and mountain-motif camping mugs.
Retro charm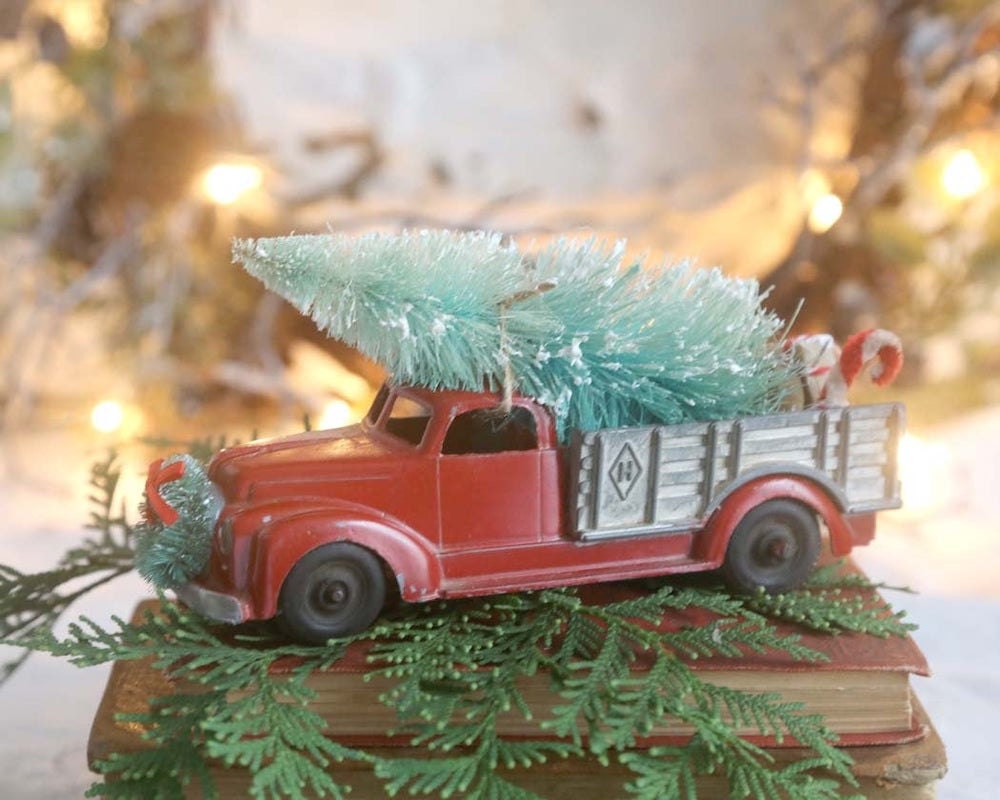 "Some of my fondest memories from growing up revolve around opening presents on Christmas morning surrounded by family," says Dayna, "and I'm not the only one nostalgic for simpler times." If, like Dayna, you're eager to recreate the holiday magic of decades past, you're in luck: Etsy is a treasure trove of carefully curated vintage finds. Some of our current throwback faves? Teeny-tiny putz houses, vibrant, collectible mercury glass ornaments, and iconic decorative pickup trucks, complete with bottle brush Christmas tree cargo. It's your one-stop shop for a heartwarming dose of seasonal cheer from yesteryear.