From activewear to acid-wash jeans, revisit some of the most iconic 1980s fashions—plus expert tips to wear these outfits today.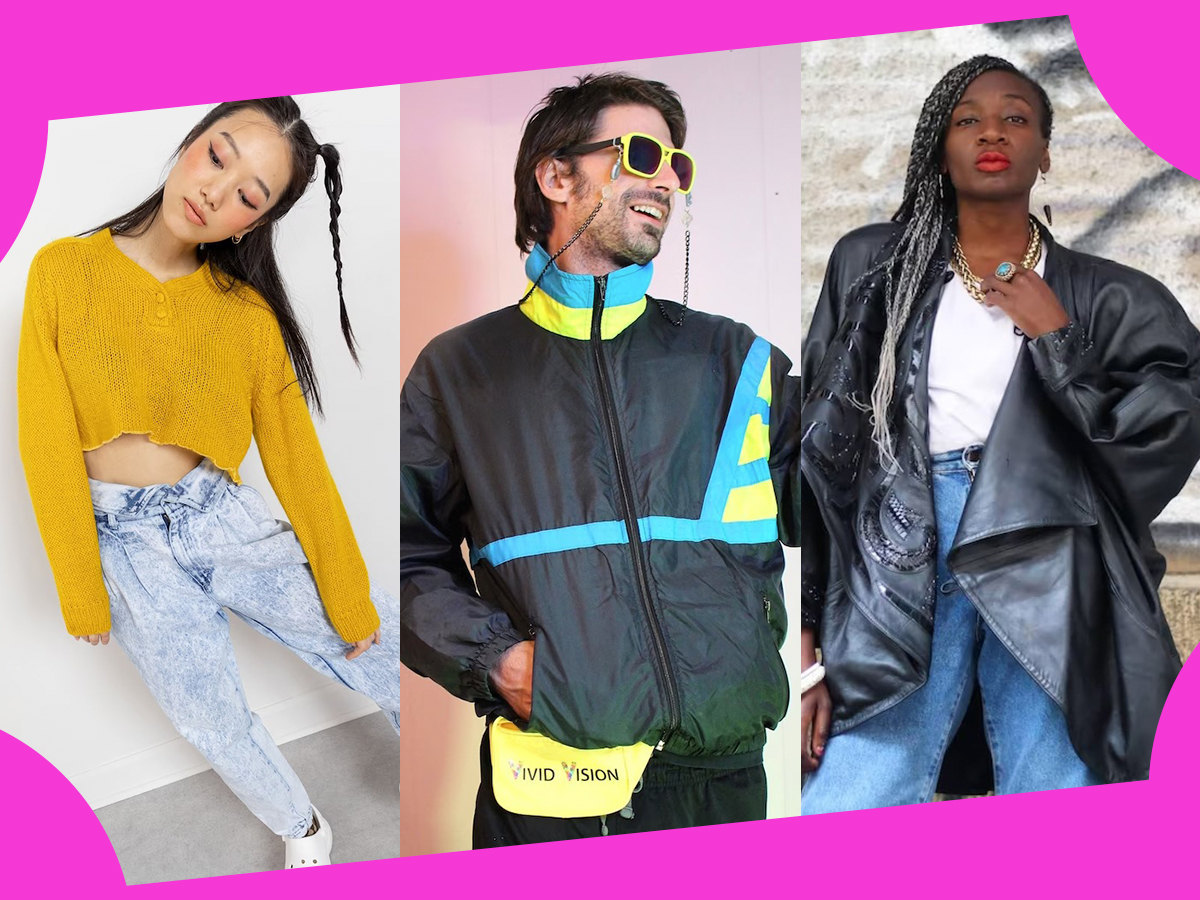 Puff-sleeved party dresses. Studded leather. And all the neon. Welcome to the '80s, a decade defined by big, bold fashion trends—from sky-high hair to voluminous silhouettes to squiggly Memphis patterns. These everyday '80s fashions still loom large in our collective consciousness thanks to the era's enduring pop culture references (we're looking at you, Jazzercise, John Hughes movies, and MTV).
And while working '80s outfits into your wardrobe today might seem like a task that requires a DeLorean time machine, fear not. The totally rad vintage shops on Etsy have carefully curated collections of all the awesome '80s vintage clothing and bodacious accessories you need to style these trends today, no time-traveling ride required. And if you want to give these tubular threads a more modern feel, mix and match them with current-day staples like crisp white button-downs, minimalist suiting, and less-is-more accessories.
So go ahead: channel your inner '80s icon with all the sequins, studs, acid-wash denim, and more. Scroll on for inspiration, shopping tips, styling ideas and more to begin recreating your favorite outfits from the '80s.
Top '80s fashion trends
Neon activewear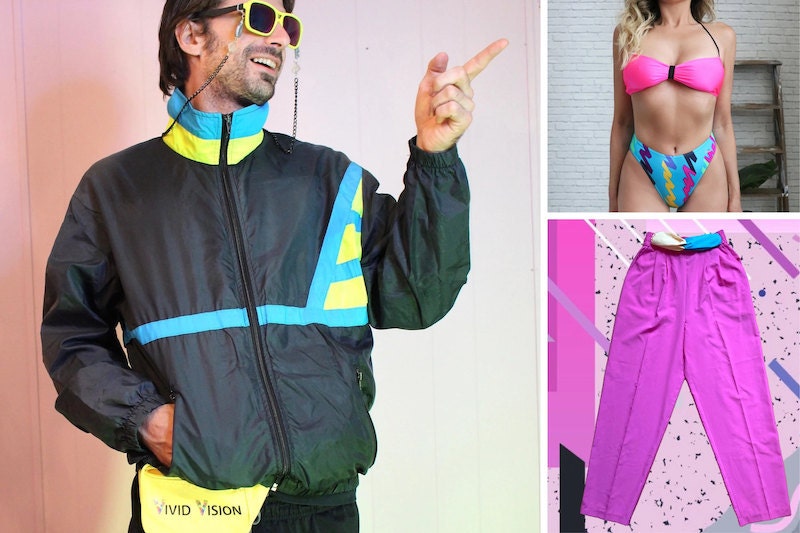 SHOP '80s neon outfits
Whether you're hitting the slopes, the beach, or the gym, neon is the instantly recognizable '80s fashion trend to add some flair to your 'fit. Go for fluorescent yellow, pink, or lime green hues and wear as much or as little as you'd like. Feeling bold? Try a full neon ski suit or a neon leotard layered over leggings. Want something a little more subtle? Incorporate small but impactful pops of these signature '80s hues into your look with a neon windbreaker or a vintage muscle tank.
Acid-wash denim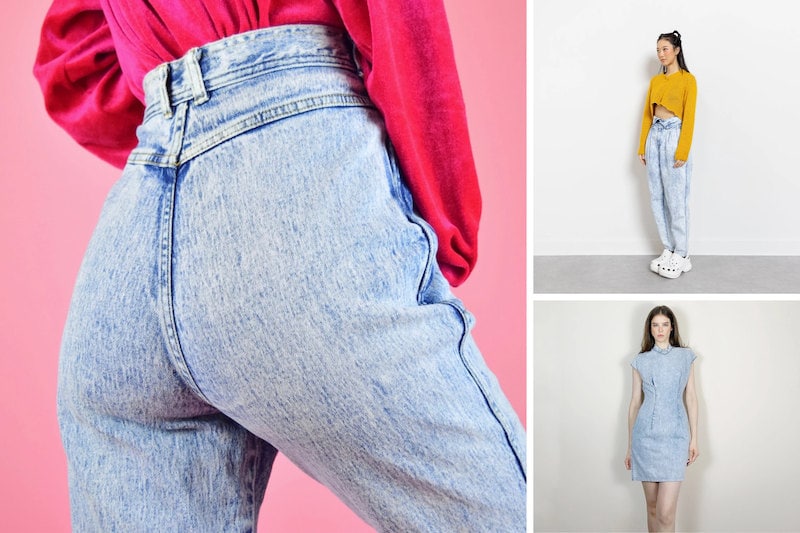 SHOP '80s acid-wash denim
Ah, acid-wash denim, the '80s outfit staple we just can't quit. There are so many ways to work acid-wash into your wardrobe—and so many unique finds on Etsy for your next '80s-inspired outfit. Some vintage acid-wash denim styles we love: boxy jackets, fashion-forward jumpsuits, unexpected dresses, and classic high-waisted jeans.
Crop tops and cutoff shirts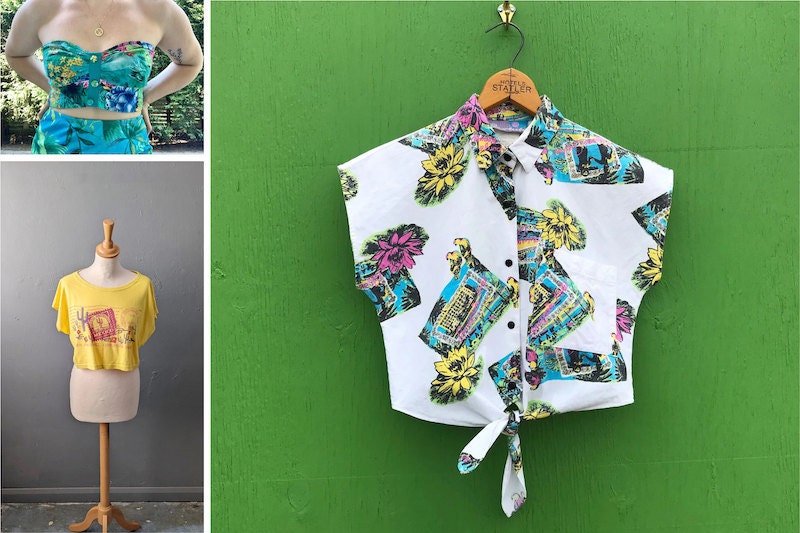 SHOP '80s crop tops
With the boom in at-home workout videos and blockbuster hits like "Flashdance" and "Dirty Dancing," these shoulder- and midriff-baring styles were a staple of the '80s fashion scene. The cutoff styles skew casual; finished, tailored hems make the look more elevated.
Long shorts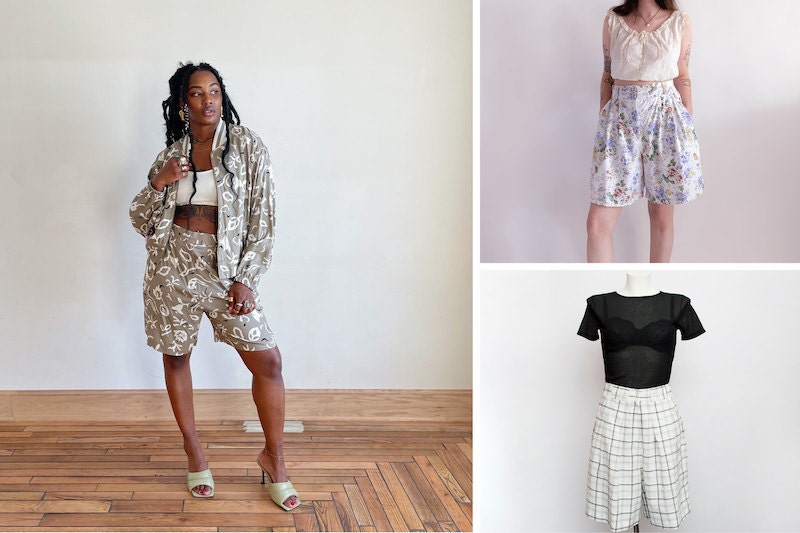 SHOP '80s shorts
The perfect companion to a crop top, long pleated shorts also had a moment in the '80s. The loose cut makes them surprisingly comfortable (and breathable) in warm summer months—all the more reason to work them into your outfit rotation come summer.
Power suits, business styles, and blazers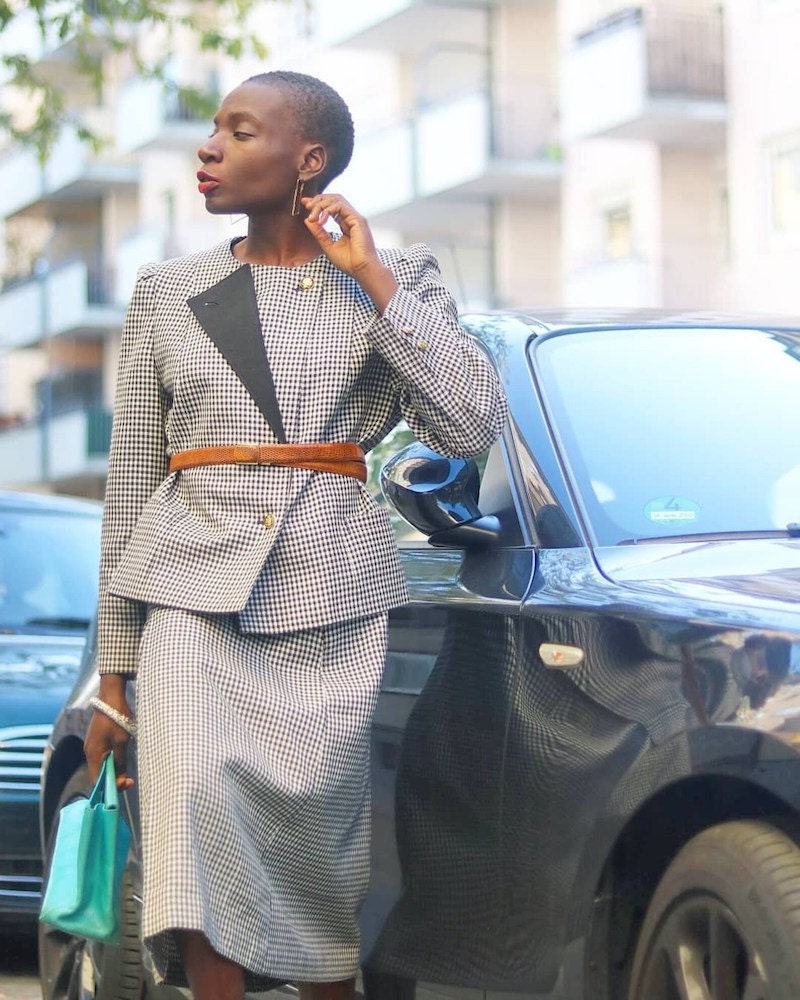 SHOP '80s suit styles
Two words: Shoulder pads. With their strong, boxy shape and all-business attitude, these '80s office-wear styles have major staying power. Add them to your capsule collection and watch them go from day to night with ease.
'80s dresses
Peplum dresses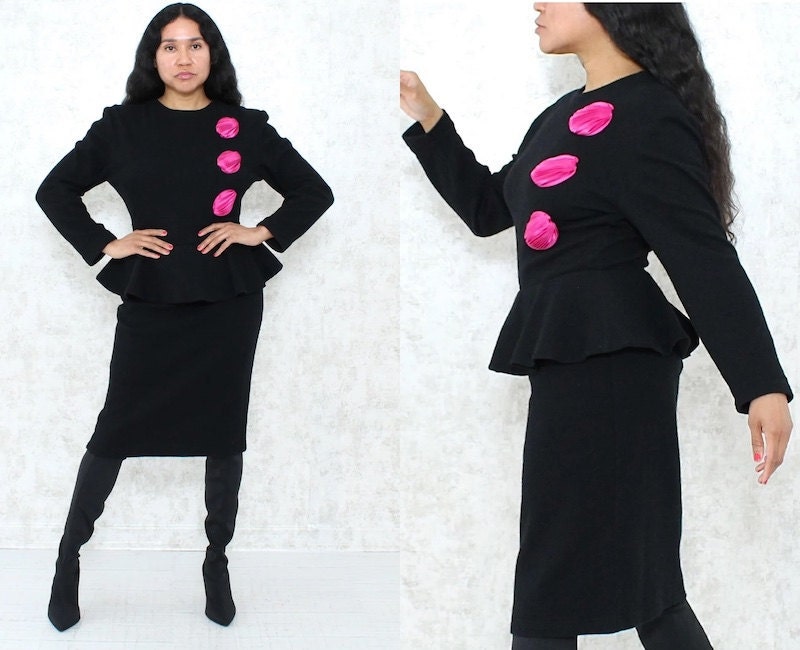 SHOP '80s peplum dresses
With their flattering cut, peplum dresses are still a go-to style for many, but did you know they had a major moment in '80s fashion, too? Peruse a wide variety of vintage peplum dresses on Etsy, including options fit for the office and dressier versions that will help you stand out at your next special occasion.
Drop-waist dresses
Originally popular in the 1920s, drop-waist dresses had a major resurgence in the 1980s, making them a fun option to revisit for anyone looking to achieve the '80s aesthetic. Some of our favorite versions are gemstone-hued with lace and bows and sweet styles in dreamy blooming patterns. '80s shopping tip: As the name suggests, the skirt starts at the hip with these dresses (not the waist), so be sure to check measurements to ensure proper fit.
Romantic floral frocks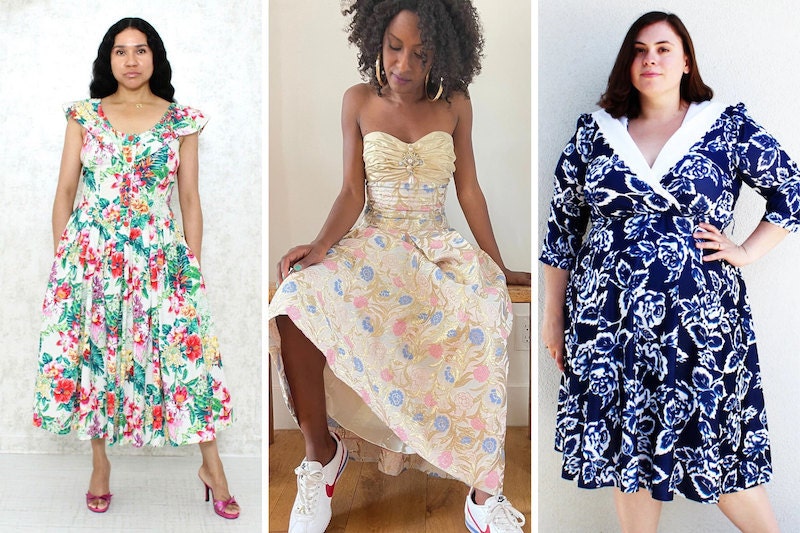 SHOP '80s floral dresses
Fans of today's cottagecore trend may appreciate adding a fabulous flower-covered number to their collection. With their Victorian-inspired shapes, lace collars, and mauve-infused color palette, these '80s dresses pair perfectly with a picnic basket purse for a garden party-ready look.
'80s shirts
Puff sleeves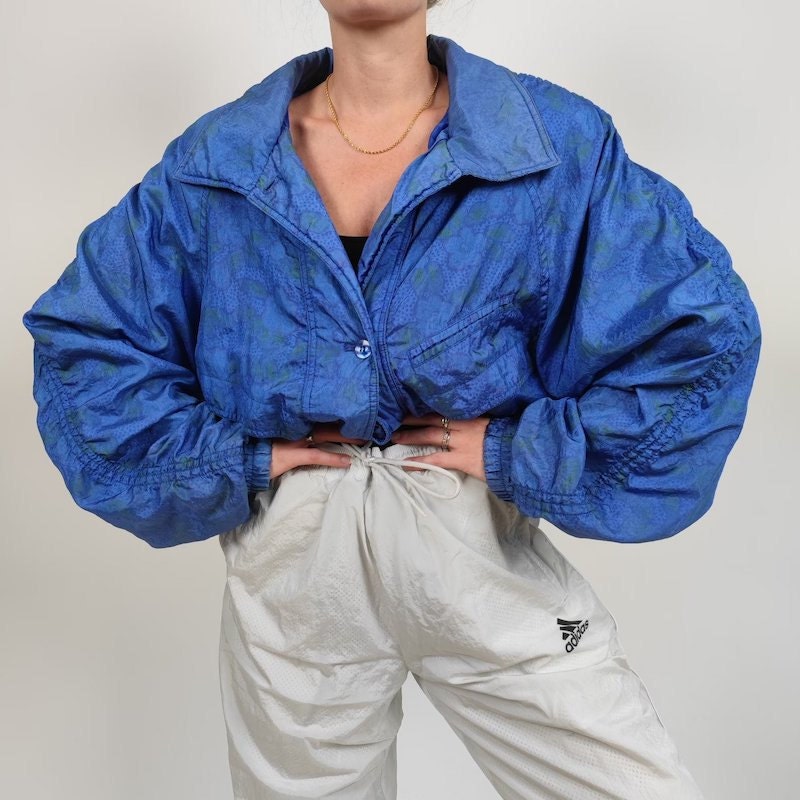 SHOP '80s outfits with puff sleeves
Another prime example of the decade's focus on a "more is more" approach to fashion, puff sleeves were a feature on everything from dresses to blouses to jackets. And while it may seem like one of the harder '80s styles to pull off, you'd be surprised. Pair tops with billowy culottes or your favorite bootleg jeans to bring a sense of balance to this feminine style.
Dolman sleeves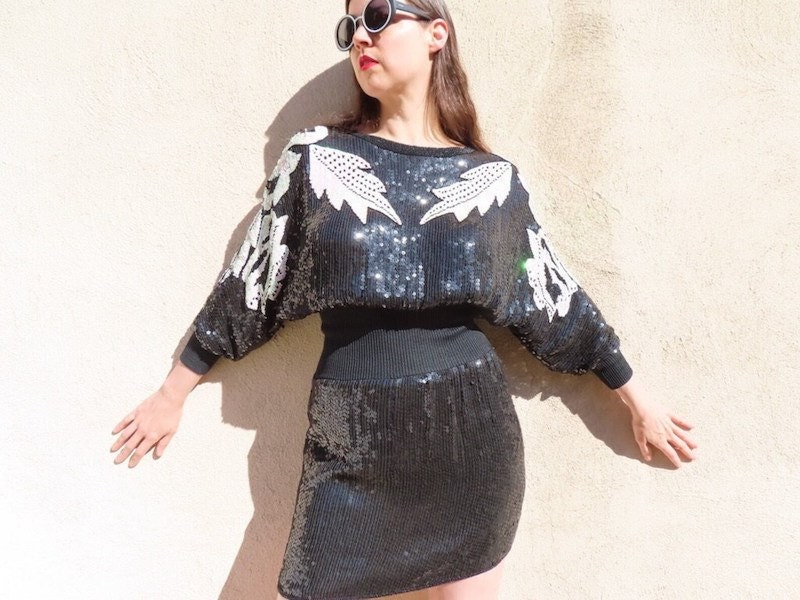 SHOP '80s dolman sleeve tops and patterns
Flip the puff sleeve trend, literally, and you've got dolman sleeve (a.k.a the batwing sleeve), which gives shape under the arm for a look that's equal parts avant garde and easygoing. This '80s-inspired style exists on a spectrum. Ease into the look with simple, subtle rounding under the arm, or go full bat shape for extra drama.
Statement sweaters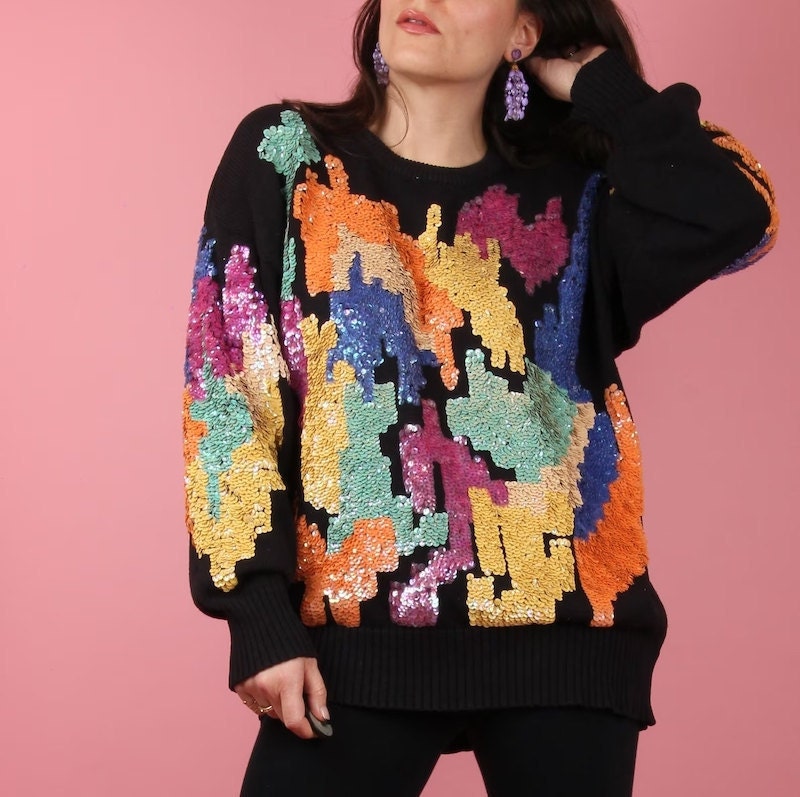 SHOP '80s sweaters
The easiest way to switch up your look this winter? Slip on a novelty '80s sweater that puts your style on your sleeve—literally. Go for graphic black-and-white designs or quirkier versions with sequins, animals, and other motifs. Wear with your favorite pair of worn-in boyfriend jeans, and if you really want to go full '80s, stick a turtleneck underneath.
'80s Accessories and outerwear
Bold belts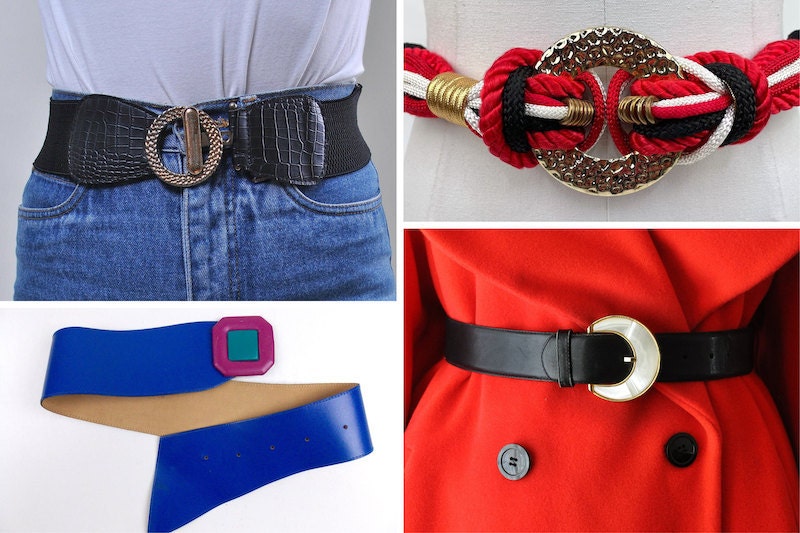 SHOP '80s belts
This everyday '80s outfit accessory can be simple yet structural or make a major statement. Some expressions of this 1980s aesthetic we love: studded leather, woven rope cord, elastic with acrylic buckles, and wide waist-cinchers.
Fanny packs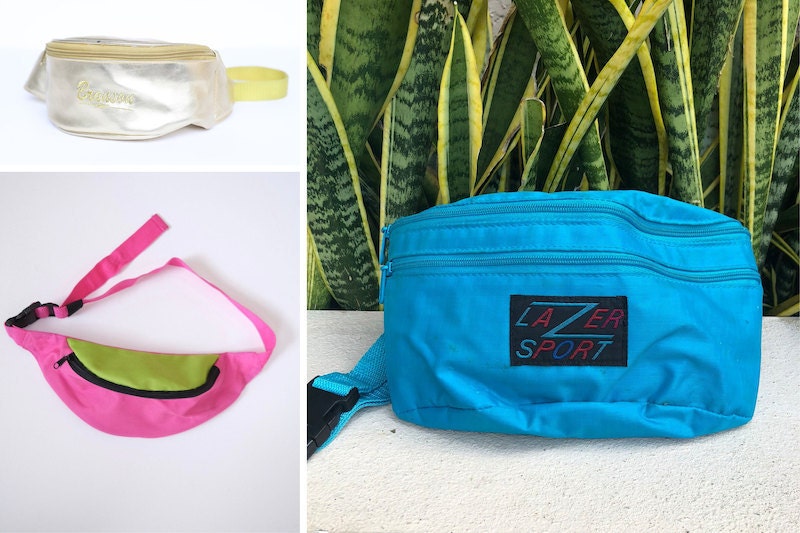 SHOP '80s fanny packs
Another around-the-waist '80s fashion trend? The fanny pack, which blends fashion and function so you can hold your essentials hands-free while adding a splash of style to your look. Iconic '80s styles include ripstop fabric, neon colors, patchwork leather and geometric prints. The look was so fab, it carried over to '90s fashion, too!
Embellished outerwear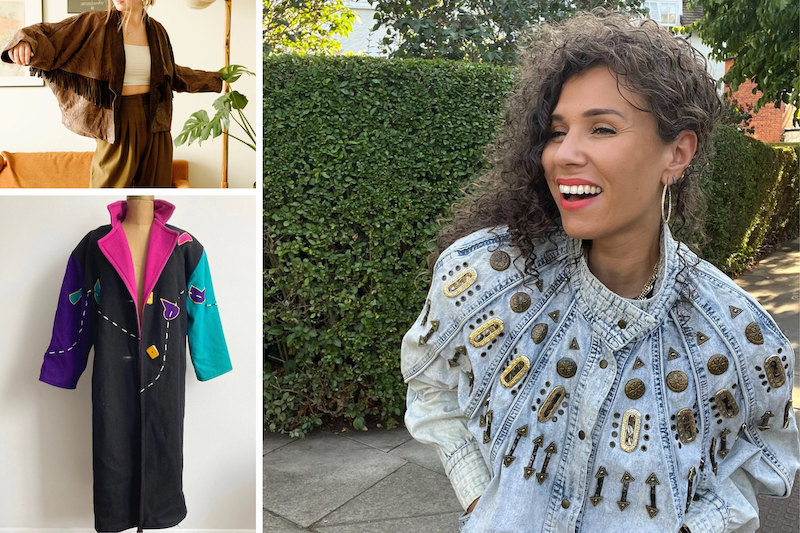 SHOP '80s jackets
'80s jean jackets, leather jackets, and windbreakers had one thing in common, and that was their likelihood of being embellished, whether with rhinestones, metallic studs, fringe, braiding, or embroidery. Outfits in the '80s required major accessorizing, so why not add a little extra bling to your outerwear?
'80s Patterns and fabrics
Abstract patterns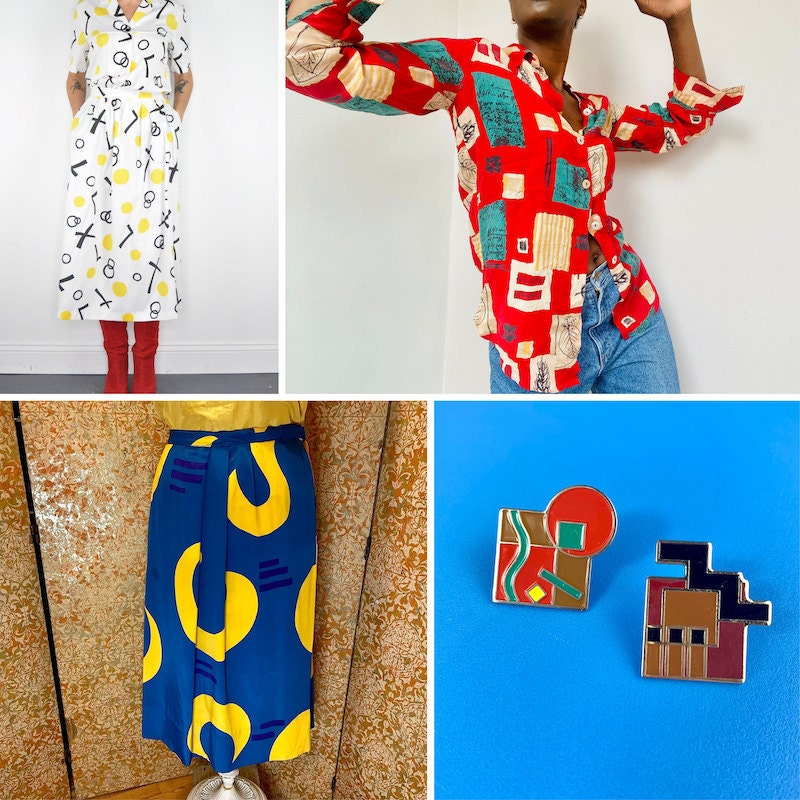 SHOP '80s outfits
Squiggly shapes, graphic grids, and pops of Memphis-inspired prints were all the rage in '80s fashion and they've come back into favor in recent years. Some suggested search terms to surface quality vintage finds include: "terrazzo print," "confetti print," and "80s Memphis print."
Polka dot print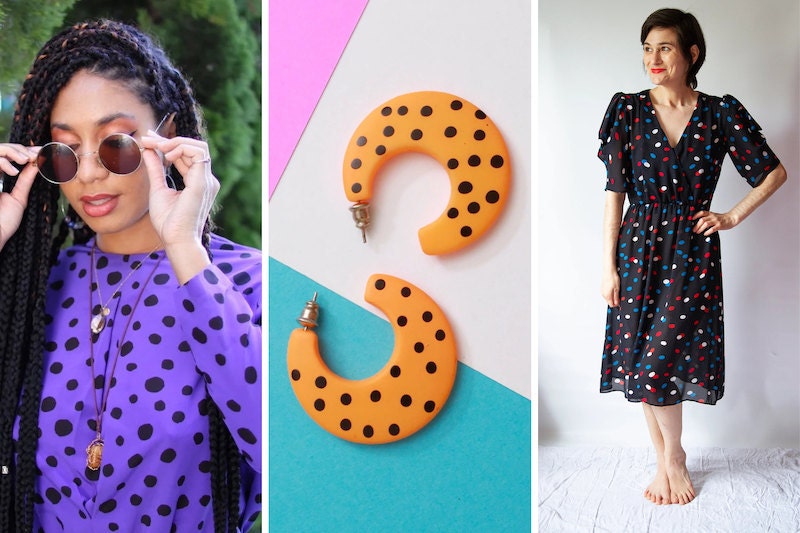 SHOP polka dot fashion
The classic polka dot print had a major moment in the '80s style lineup, adorning everything like drop-waist dresses, batwing blouses, and rompers alike. There's a surprising amount of variety within this look—from the size of the polka dot to the color of the pattern—so it's easy to recreate this '80s outfit in a way that's as minimalist or maximalist as you want.
Lamé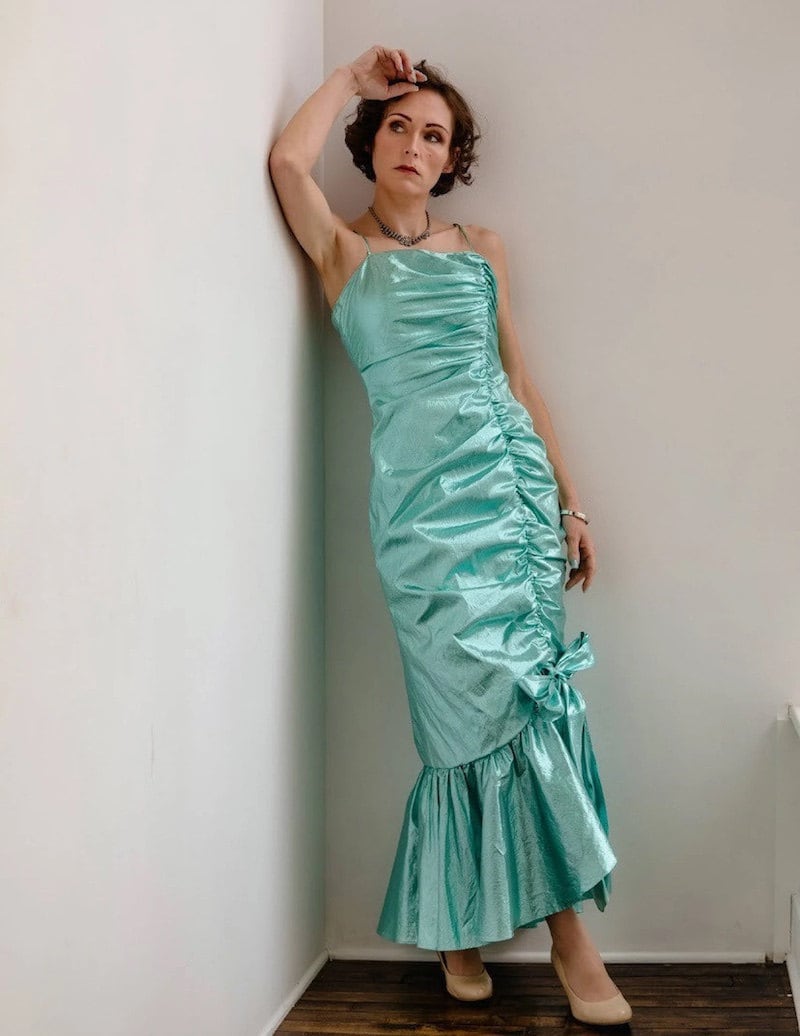 SHOP '80s prom dresses
There's no better fabric for festive functions than the lamé '80s fashion trend, which brings an instant sense of celebration to any ensemble. For the holiday season, look for styles that incorporate velvet; for nights out on the town, go full disco-glam in a head-to-toe lamé look. Heading to a work event? Try a lamé blouse under a menswear-inspired blazer.
Voluminous leather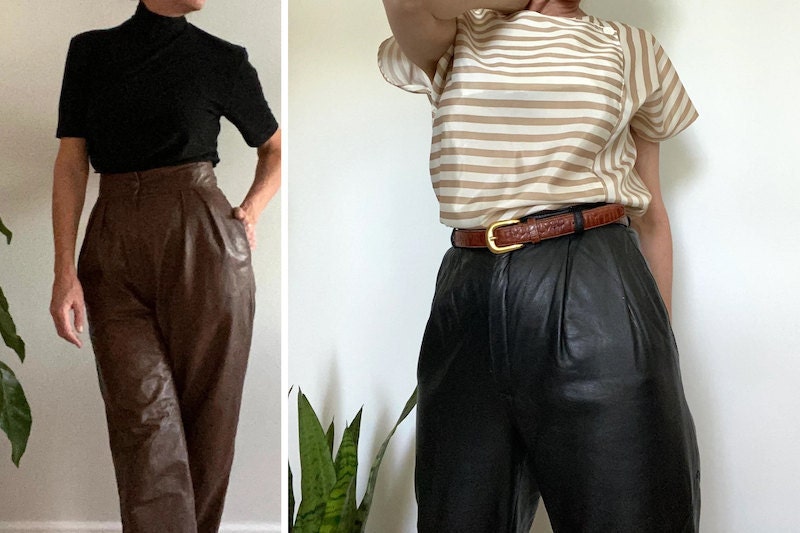 SHOP '80s leather
The '80s was an era known for excess—in the teased hair, the big sleeves, and of course, the leather. From pleated pants to strong-shouldered jackets, the decade's leather looks followed suit, adding serious shape to any silhouette. An oversized leather piece takes an everyday look up a notch, just like it did for outfits in the '80s.
Sequins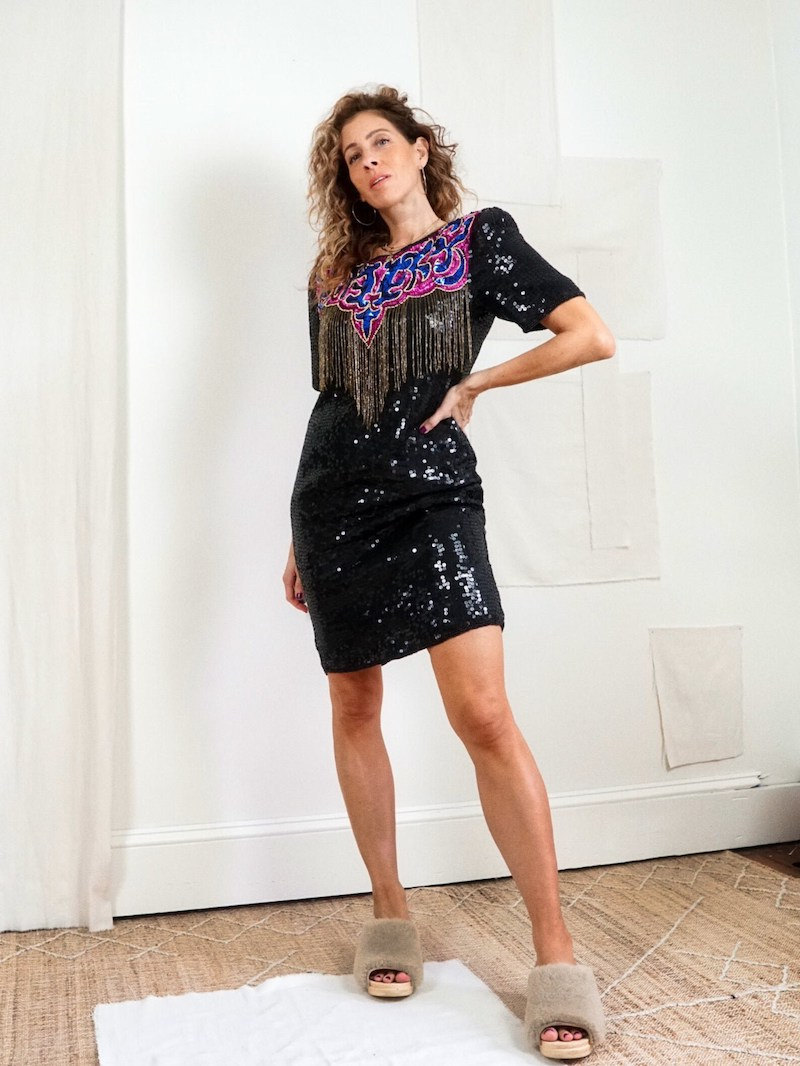 SHOP '80s sequin dresses
Craving some sparkle? You're in luck—the '80s were no stranger to sequined everything: vests, jackets, sweaters, dresses, and accessories. For a more streamlined look, go monochromatic; for a quirkier '80s aesthetic, go for the full kaleidoscope of color.
Taffeta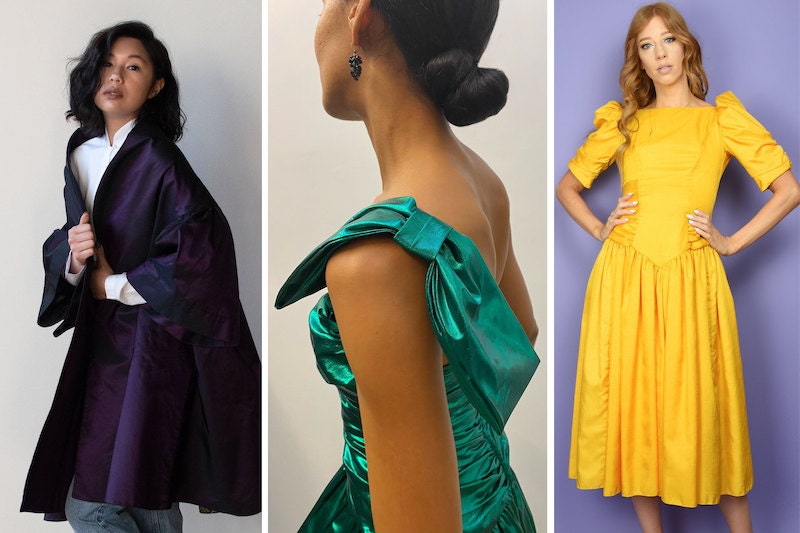 SHOP '80s taffeta styles
Say hello to shiny taffeta—a popular fabric for '80s prom dresses, especially those with ruffles and ruching. Scooping up a taffeta dress today? Make it modern with minimal accessories, keeping the focus on the fabric and the special dress details themselves.
*Etsy has not evaluated vintage items' description, condition and authenticity.