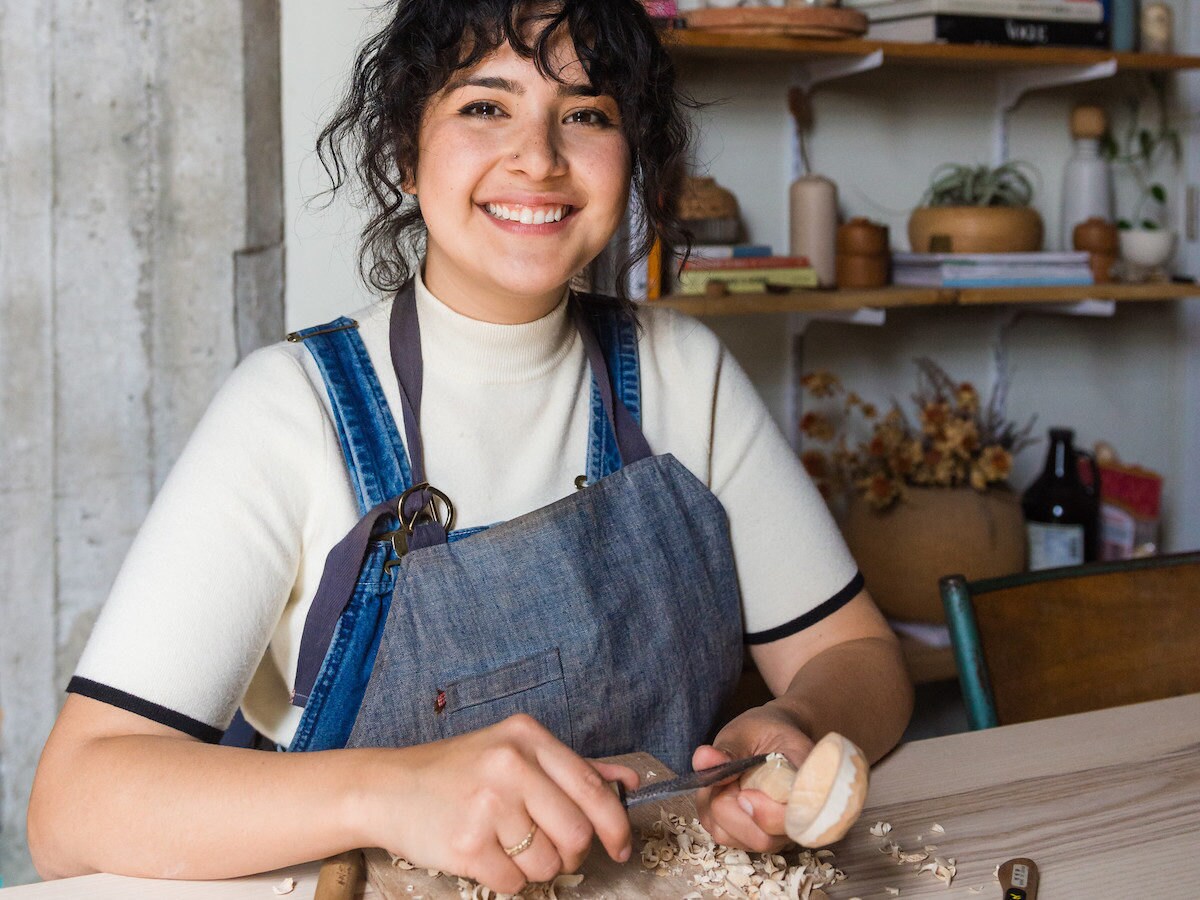 What do a standard wine stopper, the bulletin board in your local post office, and Bay Area–based creative Melanie Abrantes's shapely hand-turned bud vases have in common? Cork, the surprisingly versatile substance behind all three—and the emotional center for Melanie's eponymous line of functional home goods and gifts. "I'm half Portuguese, and in Portugal they use cork for everything," explains Melanie, who grew up visiting her family's homeland, the largest producer of cork worldwide. "I always wanted to work with cork as part of my own heritage—plus, it's such an amazing natural material."
It's also a medium that can be shaped using many of the same tools and techniques Melanie picked up in woodworking lessons as a design student in Los Angeles, a fact the highly skilled maker has happily capitalized on, carving out a unique niche by combining wood and cork in many of her beautifully understated pieces. "I really love the juxtaposition of cork's softness with the hardness of wood. I like combining materials in ways that you don't expect, and playing with what you think materials should do versus what they can do," she says.
From modern hanging planters and stylish canisters to sleek fruit bowls and streamlined candlesticks, Melanie's line exquisitely showcases the possibilities of the two materials she loves most. "I hope I'm making products that can stay with you for a very long time, and that you'll be able to really cherish," she says. And thanks to her popular spoon carving workshops, DIY kits, and pocket-sized whittling guide, those eager to follow in Melanie's footsteps can craft heirlooms of their very own. "I think working with your hands is such a special and powerful thing. It's something I do every day, and I want to encourage others to try it, too."
Read on for a behind-the-scenes peek into an average day in Melanie's life in Oakland.
9:00am Hit the trail
My dog, Rover, goes everywhere with me—he's my second in command. We do a lot of hiking. California has so many beautiful trails and it's a great way to get exercise and see the sights. We love to go to the Berkeley Marina. There's always a million dogs running around off leash and it's right on the water, so you have a great view of San Francisco.
10:00am Produce haul
I love to cook, and lately I've been trying really hard to shop locally and buy food that doesn't come with so much waste. I like to hit up the farmers' market each week; there's one in Temescal that has everything. I'll normally pick up any produce I need, and maybe some snacks for students if I'm teaching a workshop later. I also grab fresh flowers—that's my treat to myself. It feels frivolous, but it's only $5, and I love waking up and seeing flowers in my kitchen and dining room. It brings me so much joy.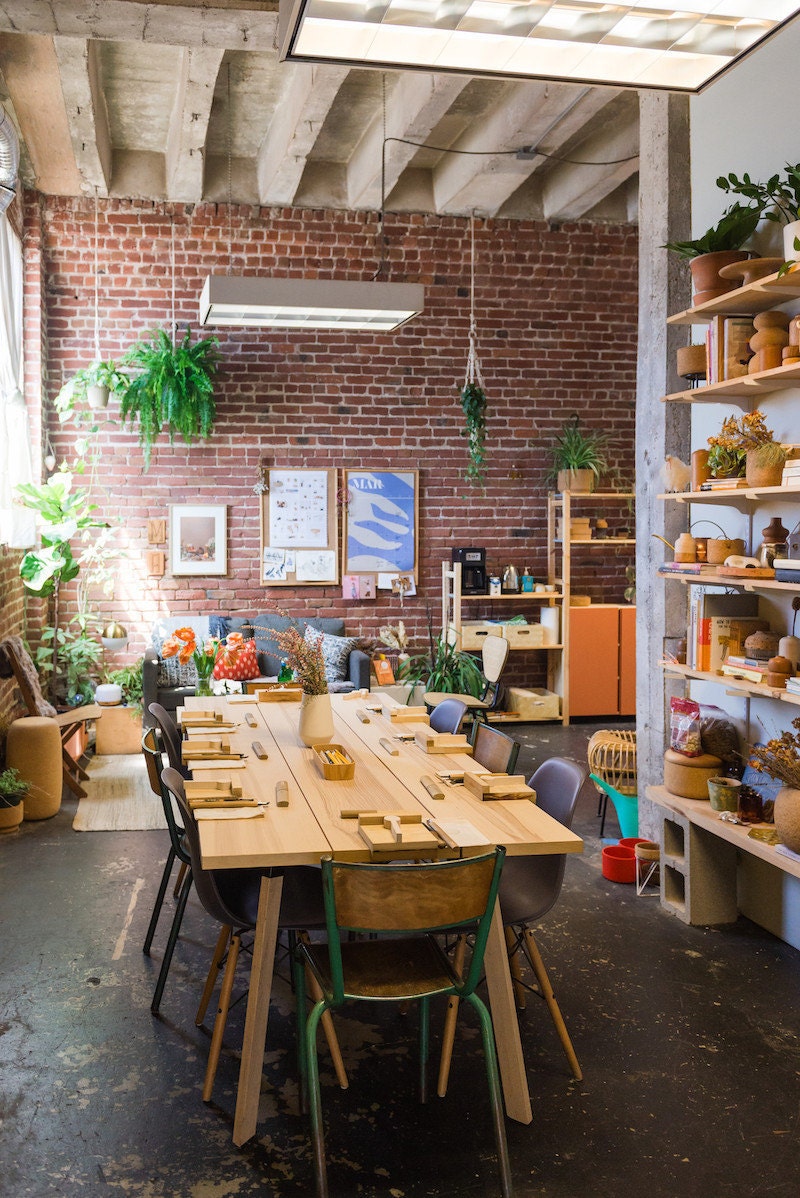 10:45am Into the studio
My studio is in Oakland, in Jack London Square. I have an office space in the front where I teach classes and do computer work and then in the back there's a multipurpose space where I store my big cork blocks—they're 75 pounds each!—and my woodshop with my bandsaws and my lathes. I use the same set of tools whether I'm working with wood or cork. The only difference is that cork is a lot softer, so it's incredibly delicate—I can be working on a piece and it can completely fall apart, whereas wood can withstand a lot more pressure; you can really test the limits of how thin you can get it.
1:00pm Time for class
I teach two or three spoon-carving workshops every month, which is a really fun way to meet people. San Francisco is the tech capital of the world, and everyone is on their phones 24/7—but when you're carving a spoon, it's just you, your tools, and that piece of wood. You get to unplug from technology for a few hours and just have fun. And it's a great meditative exercise, too! When you work with your hands you kind of get lost in the movement and repetition, and then by the end you have something beautiful to look at and take with you. 
3:30 Retail run
A big chunk of my business is wholesale orders, and I'm lucky to work with a lot of wonderful boutiques. One of my favorites, Crown Nine, is super close to my studio. Weirdly enough, it was one of the very first stores I ever visited before I moved to Oakland. I met Kate, the owner, and we struck up a friendship. She's this powerhouse woman who mostly designs custom wedding jewelry, but she also loves supporting local makers; I'm so grateful and honored that she chose to carry my work. She has some of my planters and small bowls that work great for her rings. I'll pop by to drop off an order or see if she needs anything—and also to go shopping myself!
5:00pm Watercolor break
Three or four years ago, I started setting monthly goals as a way of encouraging myself to try new things. Each month can be something as small as picking my clothes up off the floor every night, or taking 10,000 steps, or learning something like meditation. One year, all of my goals were creative things, and I decided to teach myself watercolor. I painted a postcard every day for 30 days and I really enjoyed it, but I didn't pick it up again until last year when I did no social media for a month—and that was really hard! To distract myself, I kind of replaced social media with watercolor, and I got this amazing, giant set of paints. The reality is, I'm not good enough to sell anything, but it's still so satisfying to play with all the pretty colors.
7:30pm Finally, a nightcap 
Nido, in Oakland, is one of my favorite bars-slash-restaurants. They have a great happy hour and some of the best margaritas in the Bay—and I'm from Texas, so I love myself a good Tex-Mex situation. Especially during the summer, I love to hang out on their outdoor patio with friends and just have a drink and enjoy myself.
Photographs by Nicole Morrison.