Build a magical (and fully edible) hideaway using pantry essentials — and a dash of creativity.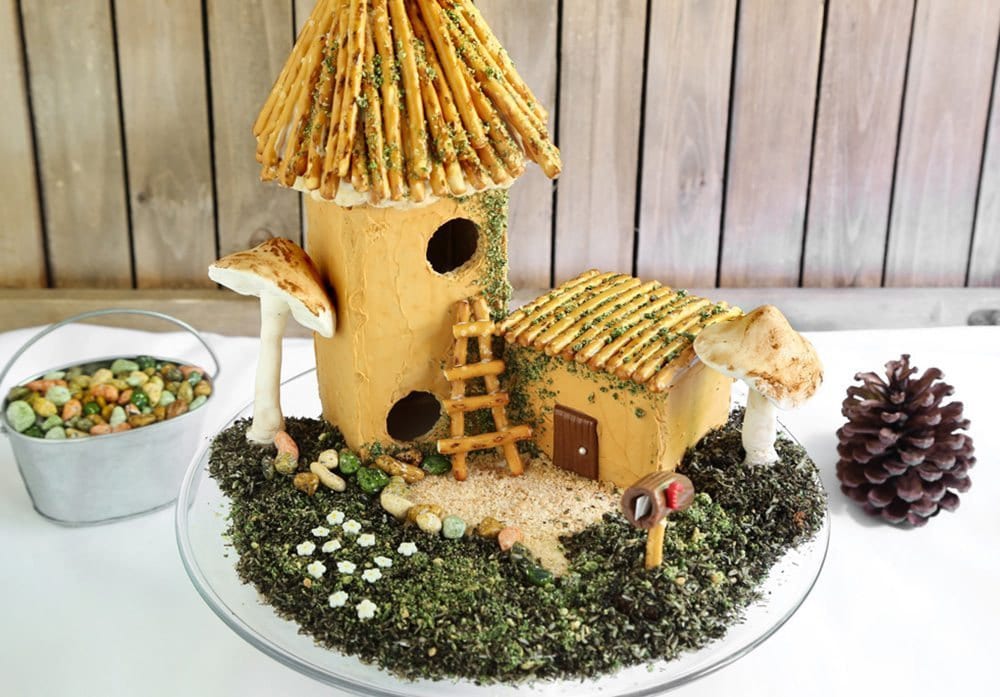 Is there anything more magical than a
fairy house
? These adorable (and tiny!) shelters
ignite the imagination
: Typically made from moss, twigs, acorns, shells, feathers and other objects, many variations of the form can be found 
right here on Etsy
. Today, we're putting our own twist on the trend and building DIY fairy houses that are 100 percent edible. Let this tutorial be your guide, but feel free to improvise; after all, no two fairy houses are ever the same!
Our structure is made from pantry staples like graham crackers and pretzel sticks, while the grass is made of desiccated coconut that has been tinted green with food color. The final — and, in my opinion, most important — element for creating a forest feel are the scattered, to-scale mushrooms. Make them yourself using gum paste, which can be found at craft stores, or gluten-free meringue,
as outlined here
.
You will need:
1/2 box (8.2 ounces) graham crackers 1 bag (12 ounces) candy melts, any color and flavor Disposable piping bag 1 1/2-inch round fondant cutter 8- or 9-inch cake board 1 cup white ready-made frosting Yellow, brown and green gel food color 4 ready-made crispy rice treats Pretzel sticks Piping gel or corn syrup 3 chewy chocolate candies (I used Tootsie Rolls) 1 silver dragée 1 1/2 cups fine-shred unsweet dried coconut 8 ounces ready-made gum paste 2 thin plastic straws 1 teaspoon unsweet cocoa powder Flower sprinkles Chocolate rocks
Let's begin!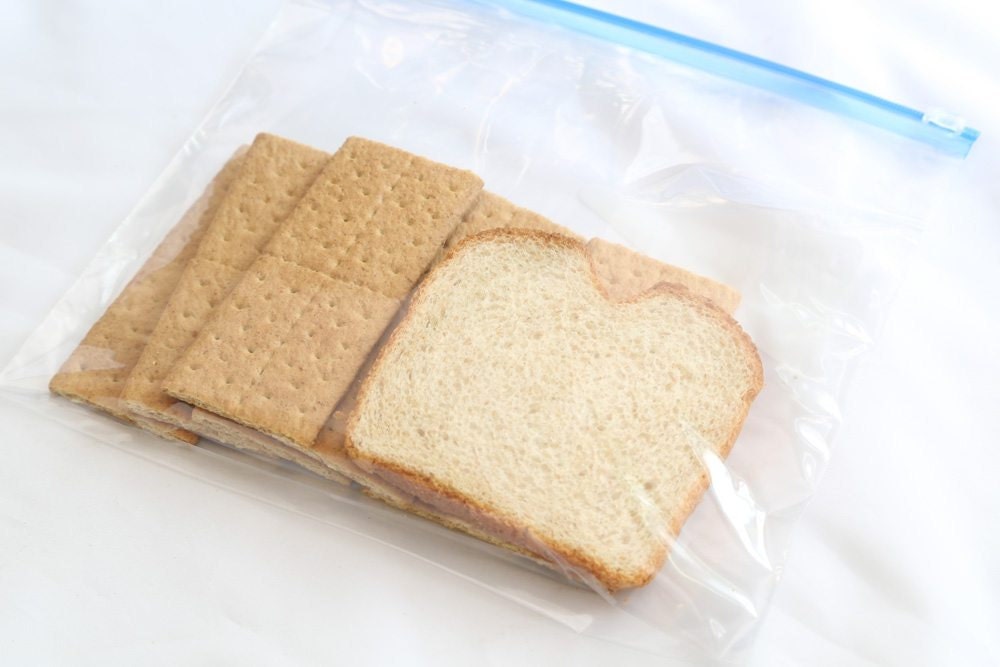 If you're planning to cut windows in your fairy house like I did, place graham crackers in a zip-top bag with a piece of fresh bread. Let it stand for several hours or overnight. This softens the graham crackers so they can be easily cut with cookie cutters or knives.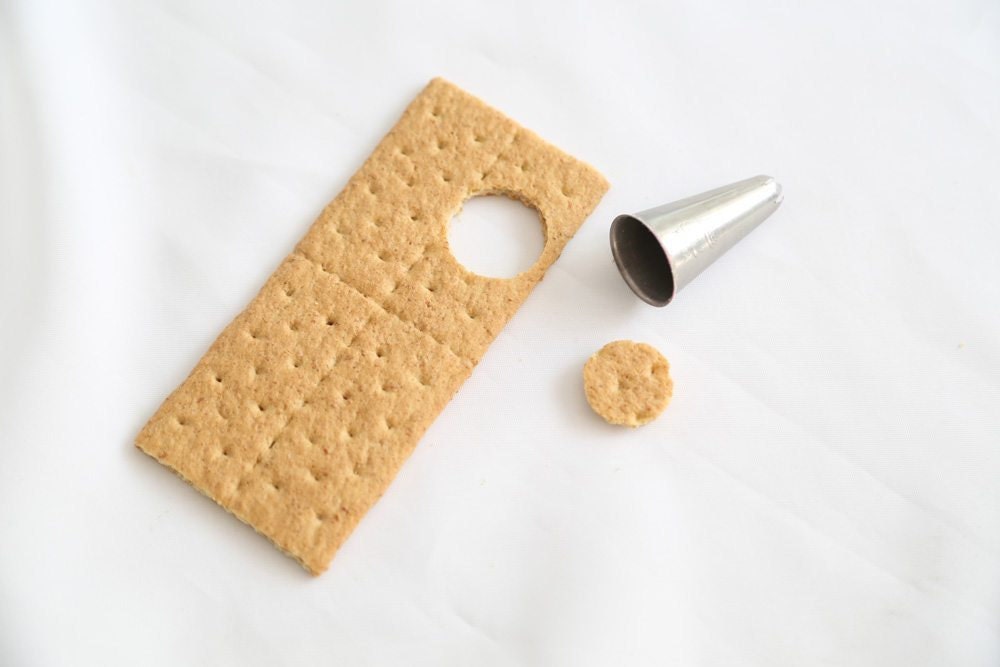 To make the tower, begin with a full-sheet graham cracker (2 1/4 x 5 inches) that has been softened overnight. Cut two 1 1/2-inch holes out of the cracker using a fondant cutter, bottle cap, or the large end of a piping tip (pictured). Allow the graham cracker to stand uncovered until it firms, about 1 hour.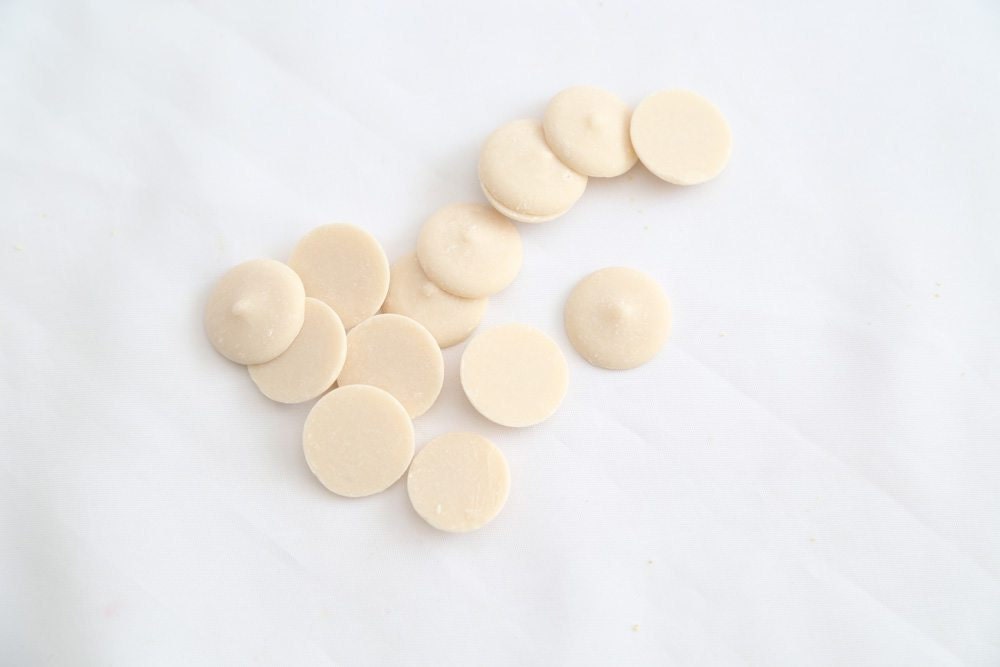 Heat half of the meltable candy disks in the microwave at 100 percent power for 30 second intervals until the candy can be stirred smooth (about 1 minute).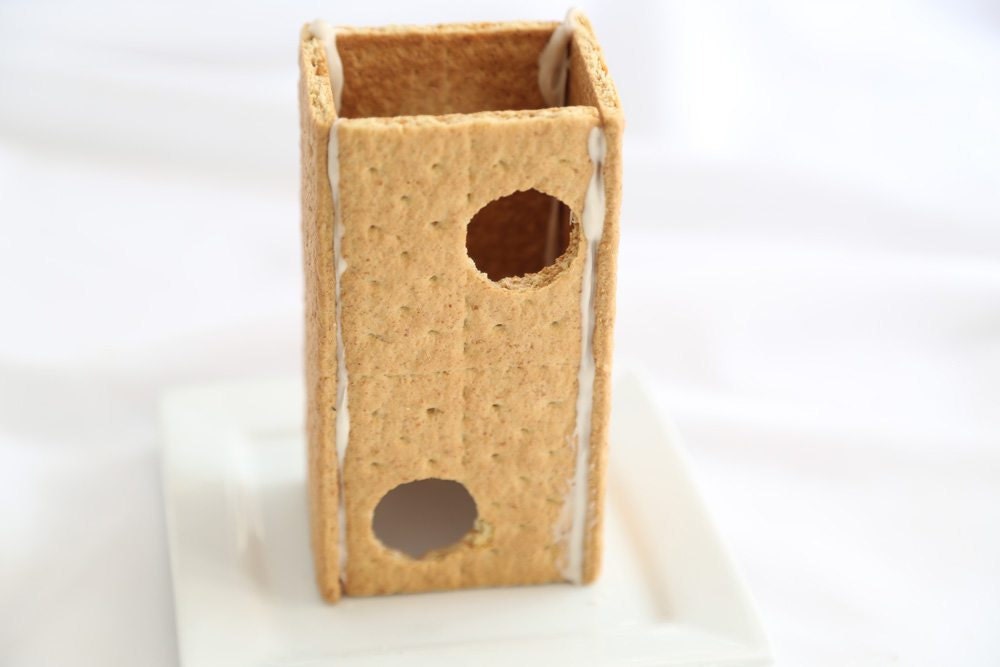 Pipe the candy onto the inner edges of four full-sheet graham crackers, including the one you've cut holes in. Position them upright and stick the edges together to form a tall box. Hold the crackers steady with your fingertips for about 1 minute, or until the candy melts begin to harden and the box stands by itself.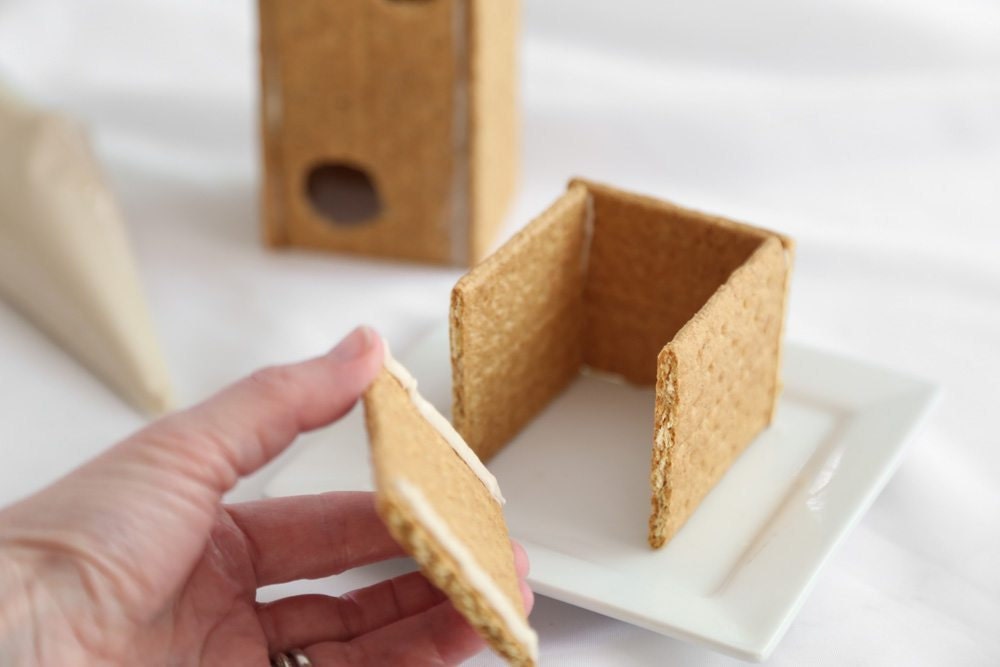 To make the small house, begin with two full-sheet graham crackers and break each in half at the perforation so that you have four square pieces. Glue together the four crackers with the candy melts as before. Let dry completely.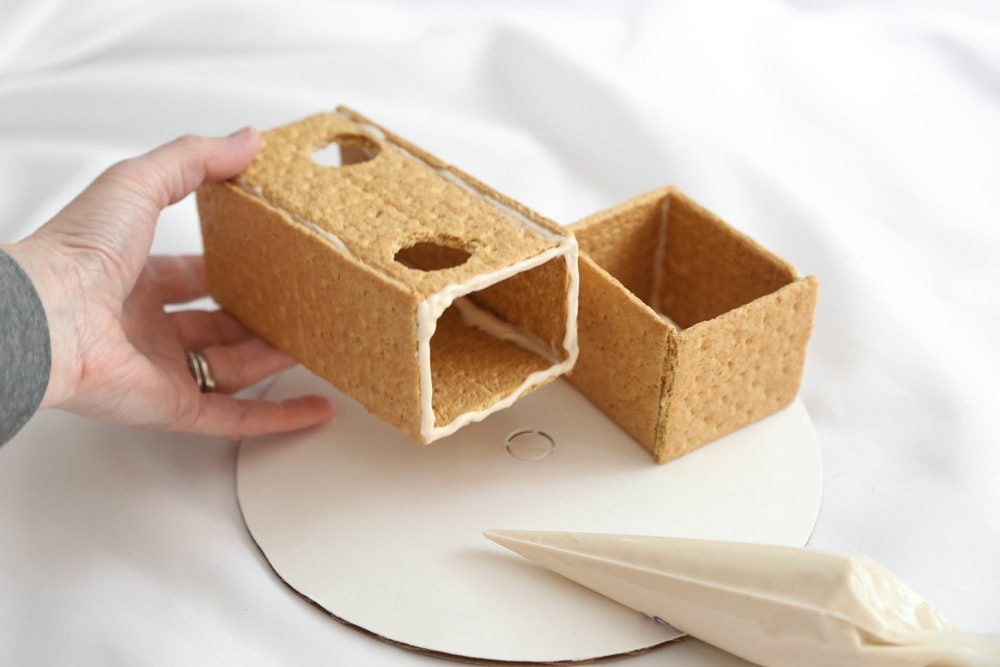 Pipe a line of candy on the bottoms of the two structures and position them on the cake board. If you're making your fairy house exactly like mine, be sure to leave plenty of room for a front yard.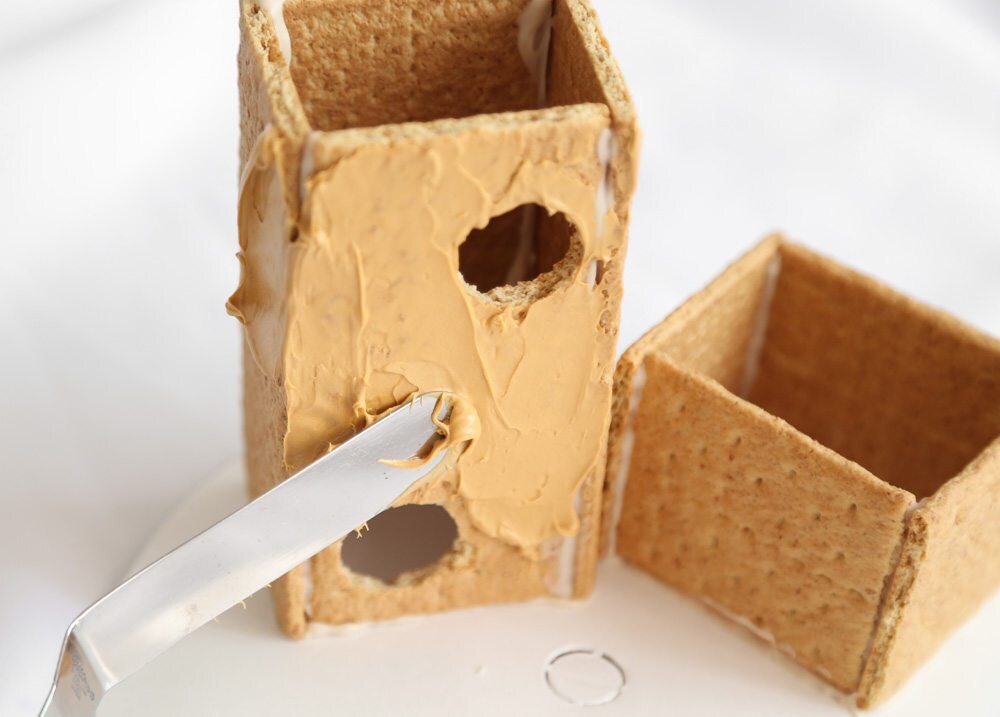 Combine the frosting and one drop each of the yellow and brown food colors. Mix until you have a consistent light-caramel color. Spread the frosting onto the graham houses evenly using an offset spatula.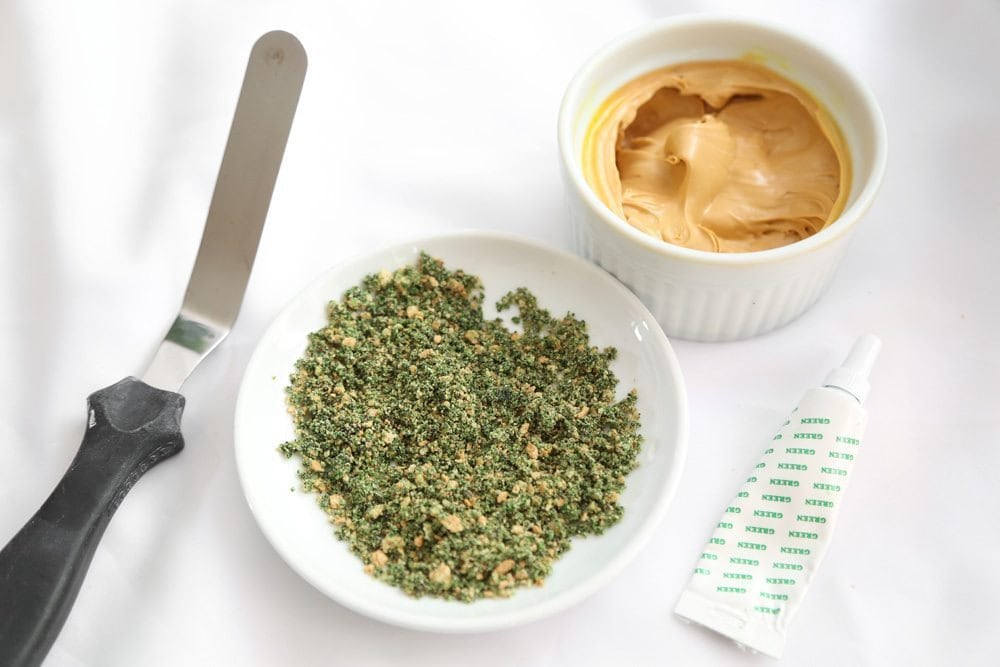 Crumble two full-sheet graham crackers in a bowl and add drops of green gel food color. Mash together with a fork or gloved hands until a consistent mossy color is achieved.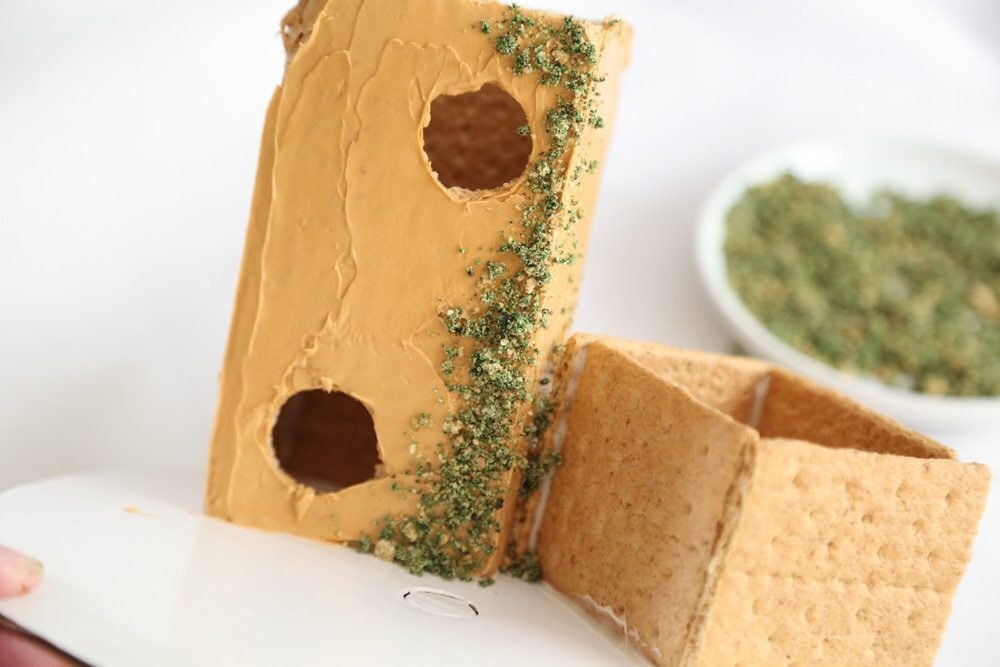 While the frosting is still tacky on the buildings, tilt the cake board slightly and sprinkle the graham cracker 'moss' on the structures as desired. I used it on only one side of the tower to create a climbing effect.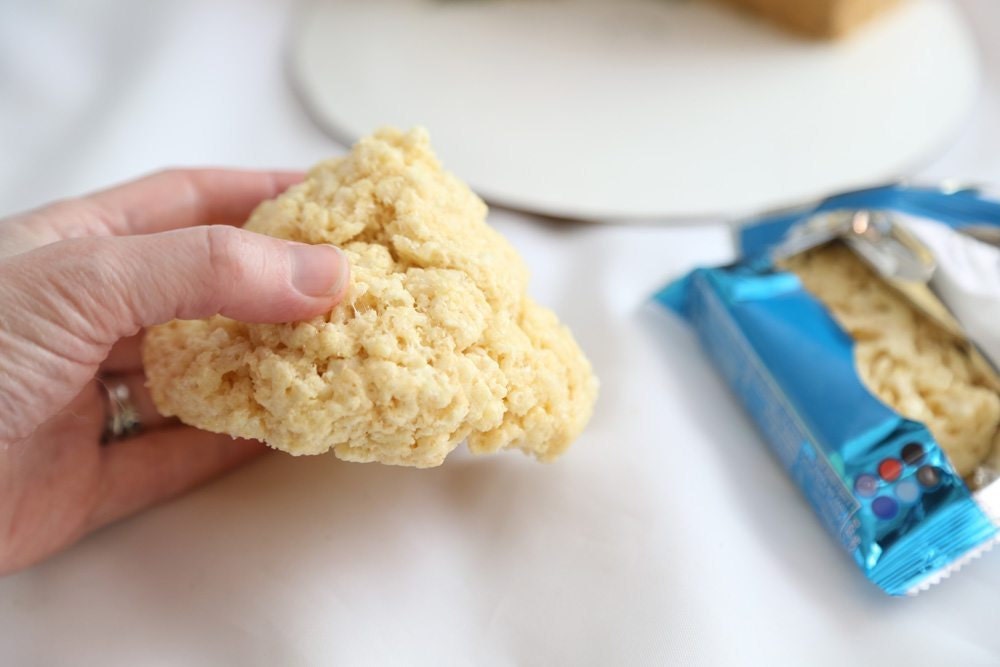 To make the tower's roof, mash together four crispy rice treats, shaping them with your fingers until you achieve a slightly pointed, thatched-roof shape (similar to a chocolate-drop shape).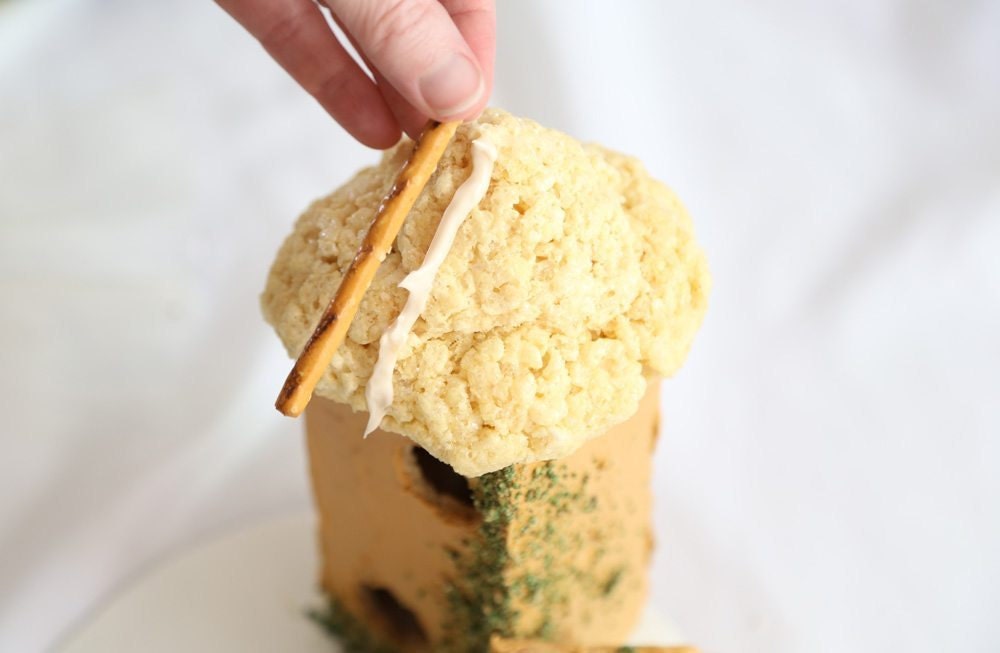 Pipe a line of melted candy around the top edge of the tower and place the crispy rice roof atop it. When the roof is secure, begin covering it with pretzel sticks, gluing them in place with melted candy (reheat and add more candy disks as needed).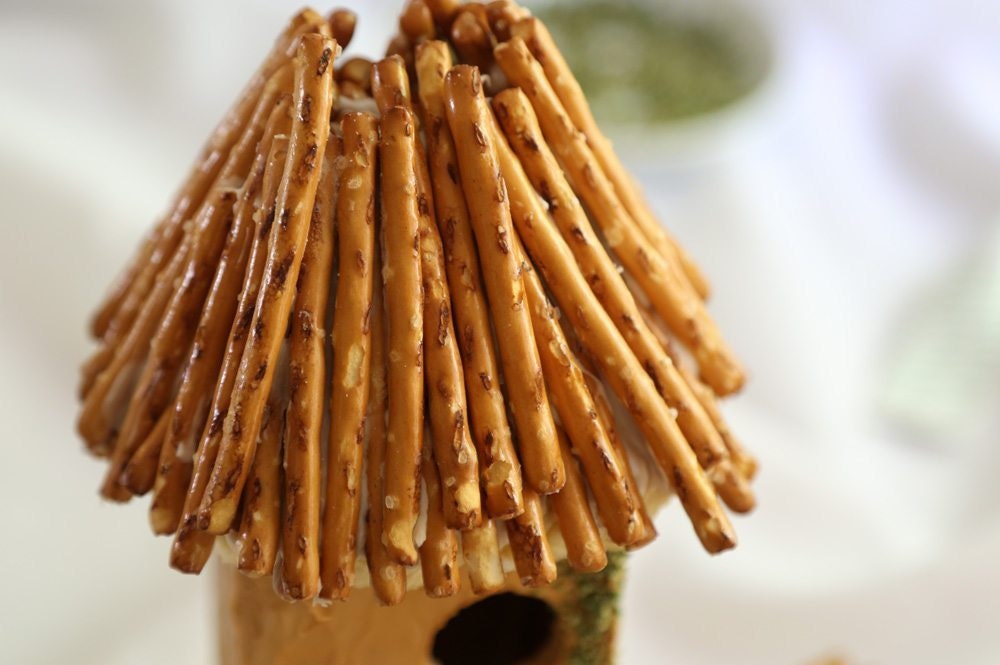 Keep layering pretzels on top of each other until the tower roof looks full and none of the crispy treat shows through from the top.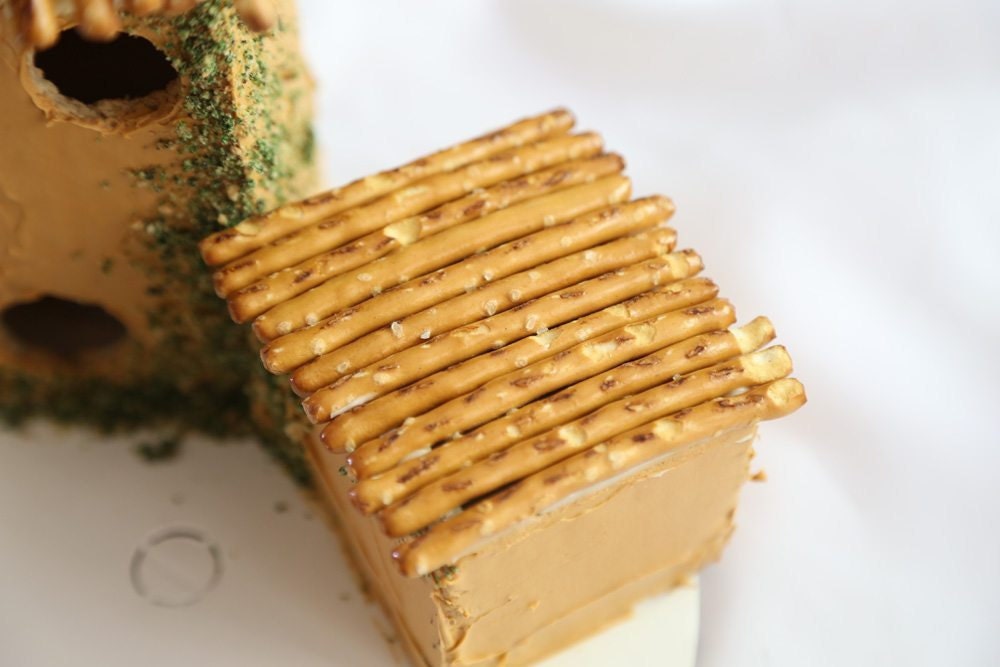 Pipe a line of melted candy around the top edge of the smaller structure. Place a line of pretzel sticks on top to create a roof.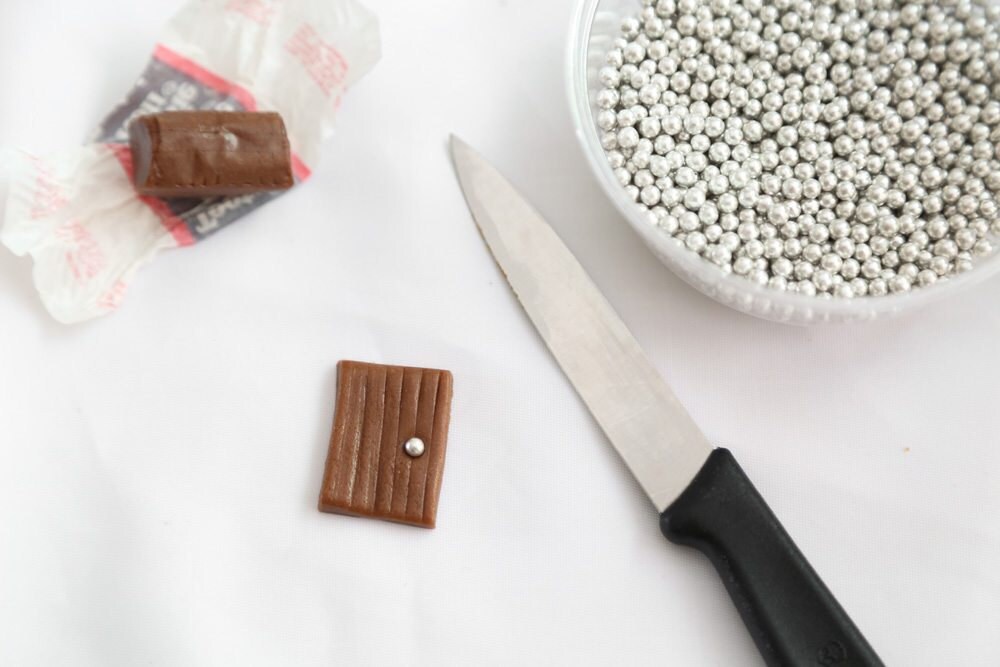 To make the door, flatten a chocolate chew and cut it into a rectangle. Use the back of a knife to create wood striations and press a dragée into the candy to create a doorknob. If your chocolate candy doesn't roll flat easily, microwave it for 5 seconds to soften it.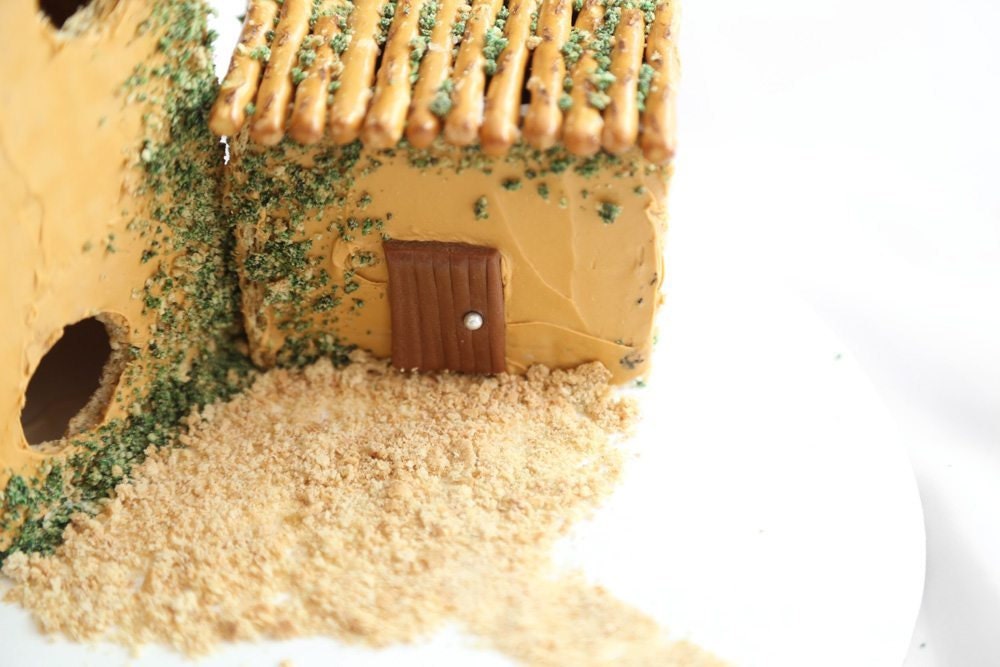 Place the door in the center of the small structure. It should adhere easily to the icing; if the icing has already set, use a dot of corn syrup or piping gel to attach the door. Now, paint corn syrup or piping gel thinly over the cake board in a half circle between the buildings. I also painted a line to the edge of the cake board for a walkway. Sprinkle the corn syrup with graham cracker crumbs and brush away the excess with a pastry brush or large paintbrush.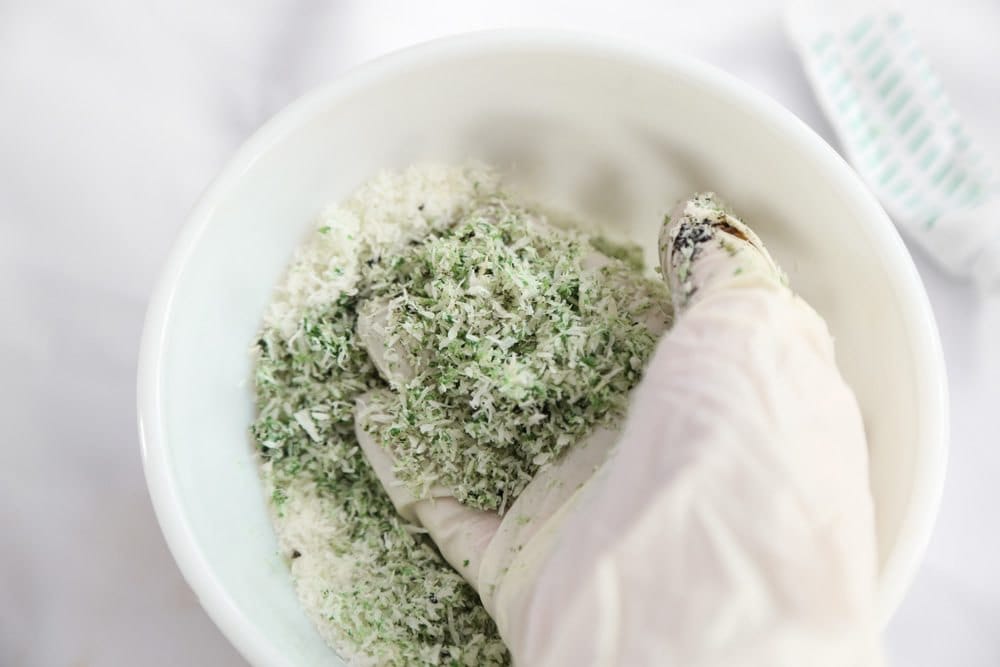 For the grass, place the coconut in a bowl and add brown and green food color; mix until a deep, mossy green hue is achieved.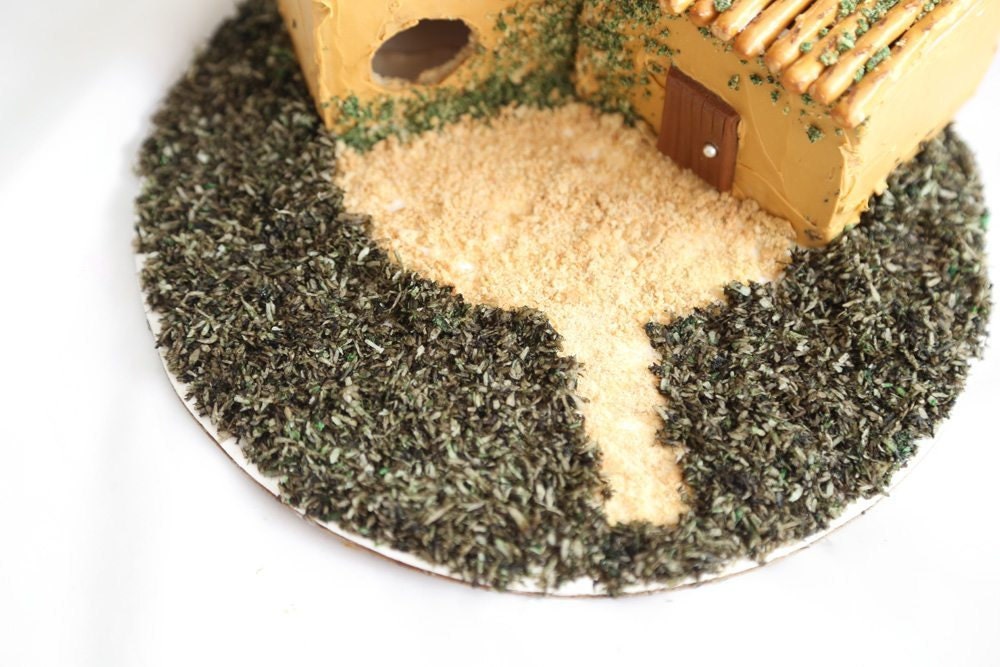 Paint the remaining portion of the cake board with corn syrup and sprinkle on the coconut.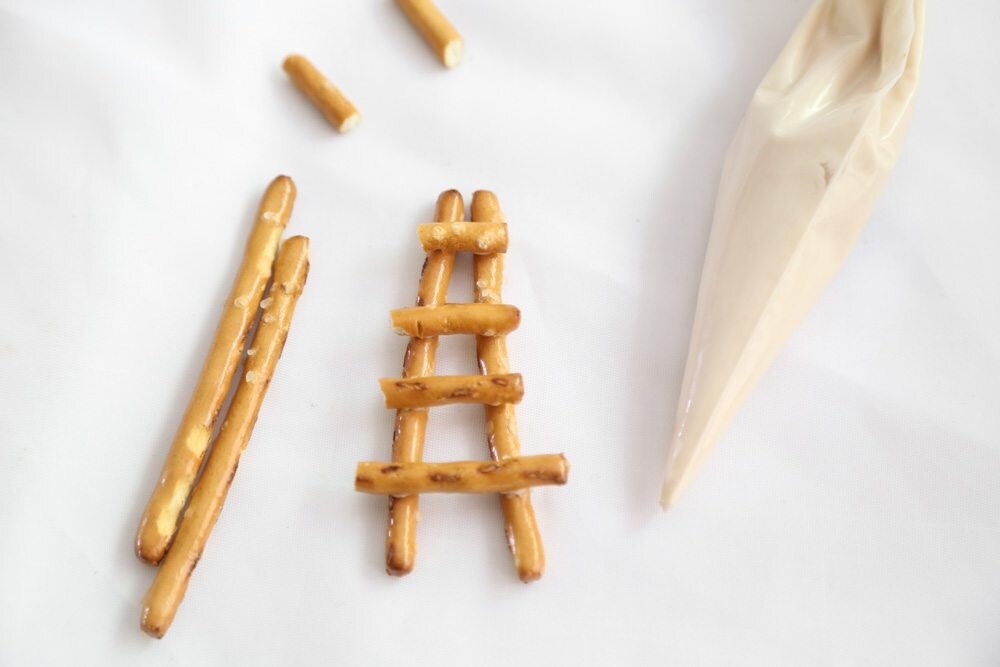 The ladder is a cute finishing touch that can easily be made from pretzel sticks and piped melted candy. Place two pretzel sticks on a surface and angle into a slight upside-down 'V' shape. Use broken pretzel pieces to create the ladder rungs and attach them with melted candy. Allow to dry completely before moving. Prop the ladder against the tower.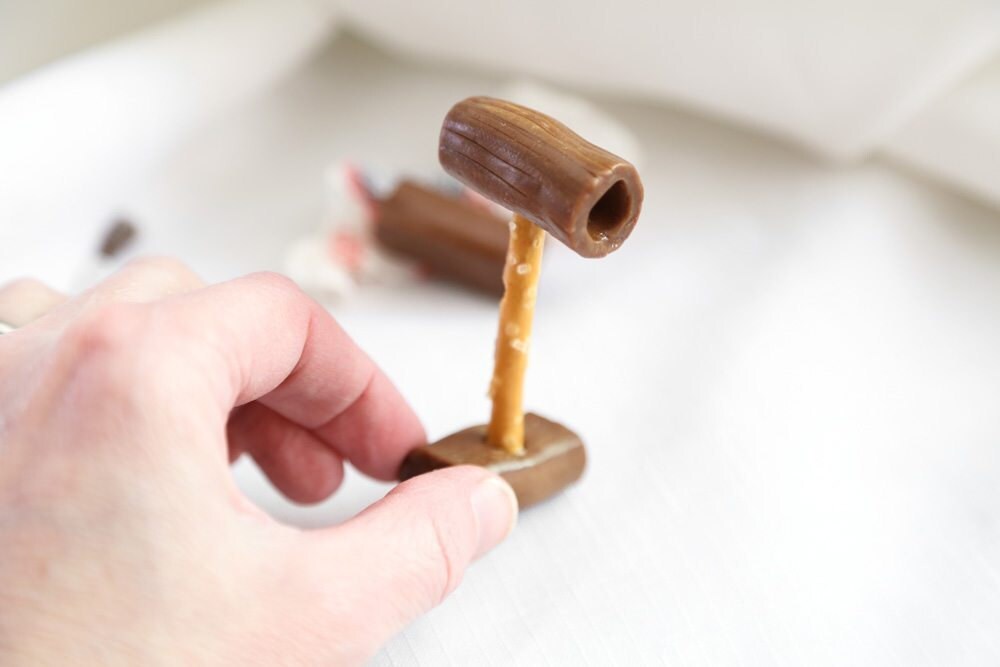 The mailbox is fashioned from two chocolate chews. Use the end of an artist's brush to hollow one chocolate chew, then flatten a second chocolate chew slightly to create a base for the mailbox. Use a knife to create a small hole in the base and press a pretzel stick into the hole. Make another hole in the bottom of the hollowed chocolate chew and thread it onto the pretzel stick.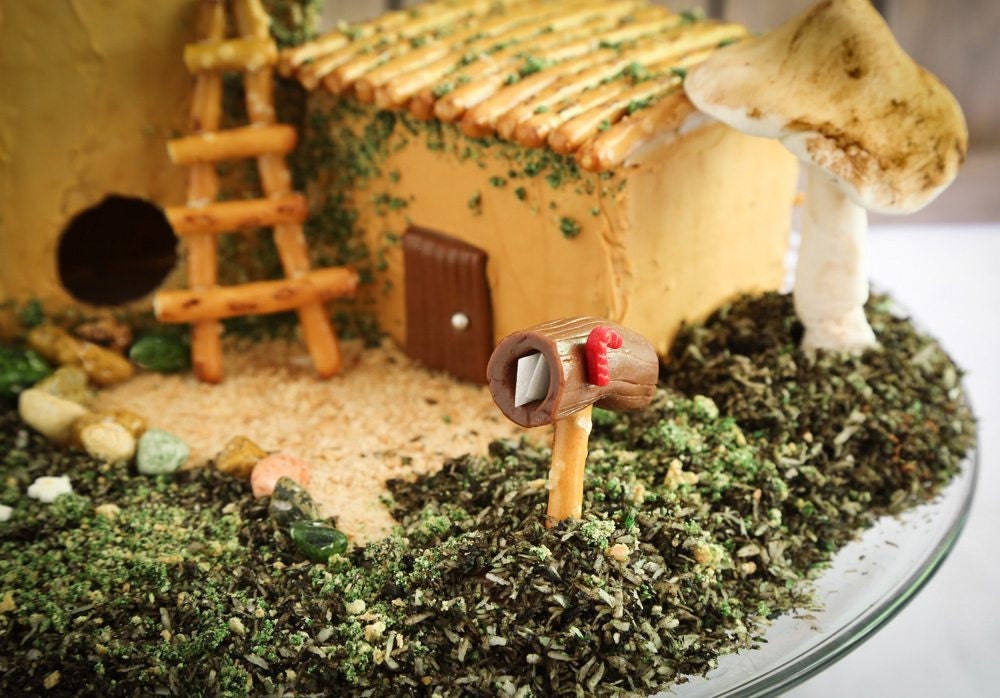 Note:
I embellished my mailbox further by using a red candy-cane sprinkle for a mailbox flag. Not everyone will have this specific décor on hand, but a small piece of red taffy or fondant would be an acceptable substitute. I also had some edible wafer paper on hand and cut two tiny envelopes to go inside the mailbox.
When your mailbox is complete, position it near the end of the walkway and cover the base with green coconut grass.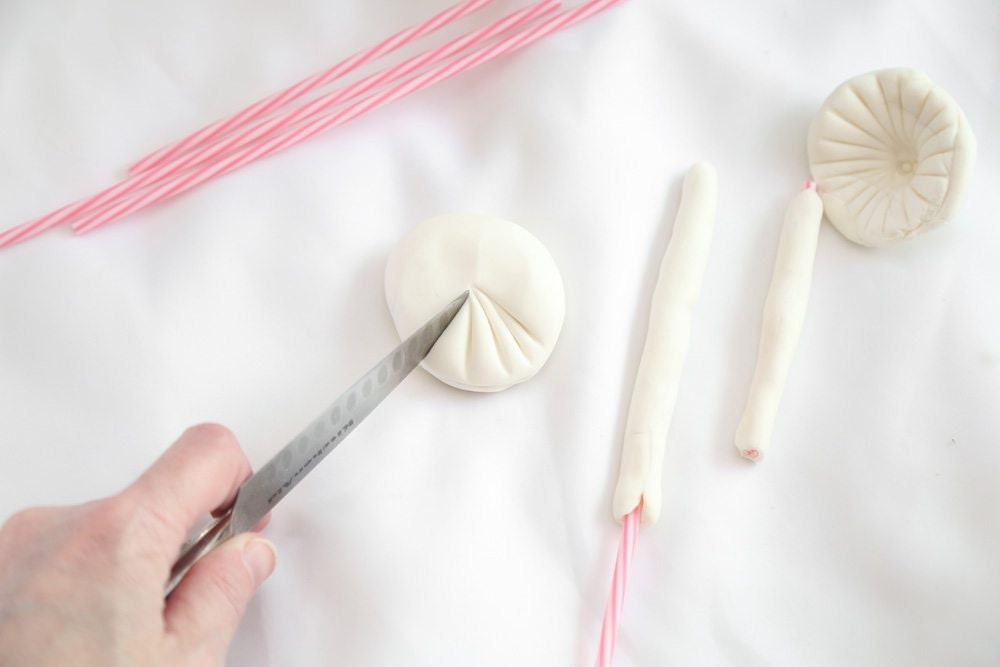 The candy mushrooms serve to establish the scale of the house; they should be rather large and placed near the buildings. To make a mushroom, shape a small piece of gum paste around a straw to create a sturdy stem. The cap can be made from a half-flattened ball of gum paste: Use a knife to score the flat underside of the gum paste to create mushroom gills, then turn the piece over and press it onto a stem. If the cap doesn't adhere naturally, add a dot of corn syrup.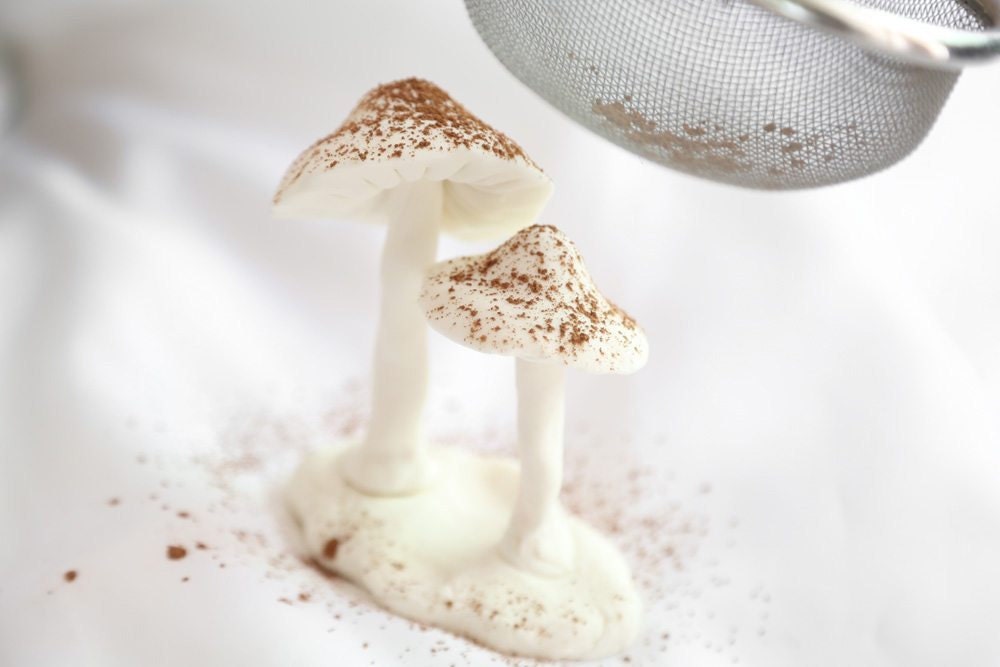 Use more gum paste to create a base on which to stand the mushrooms. Dust the mushroom caps with cocoa powder and blend with a fingertip.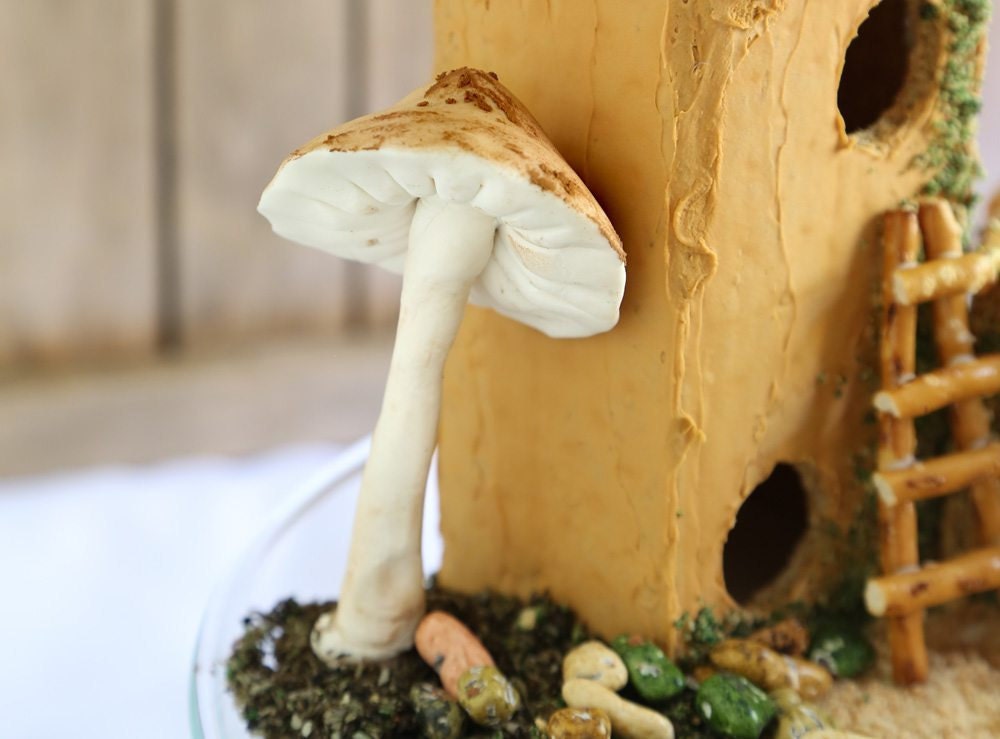 Arrange the mushrooms upright and propped against the houses. Conceal the bases with more coconut grass.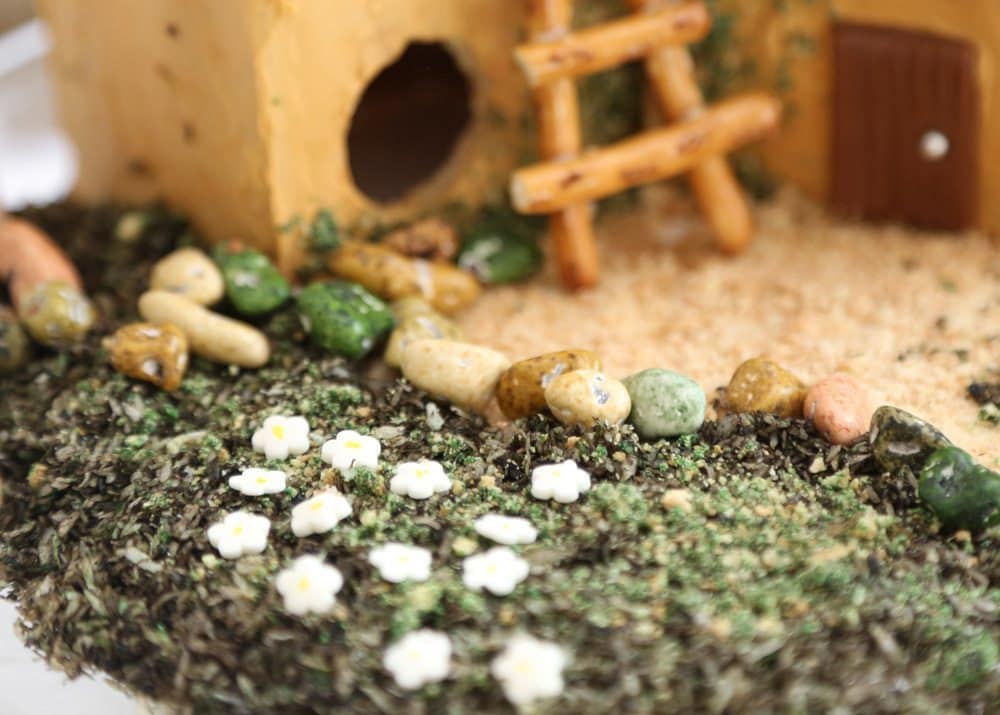 Use flower sprinkles to create a small patch of flowers on one side of the yard. Add chocolate rocks to the landscape as desired.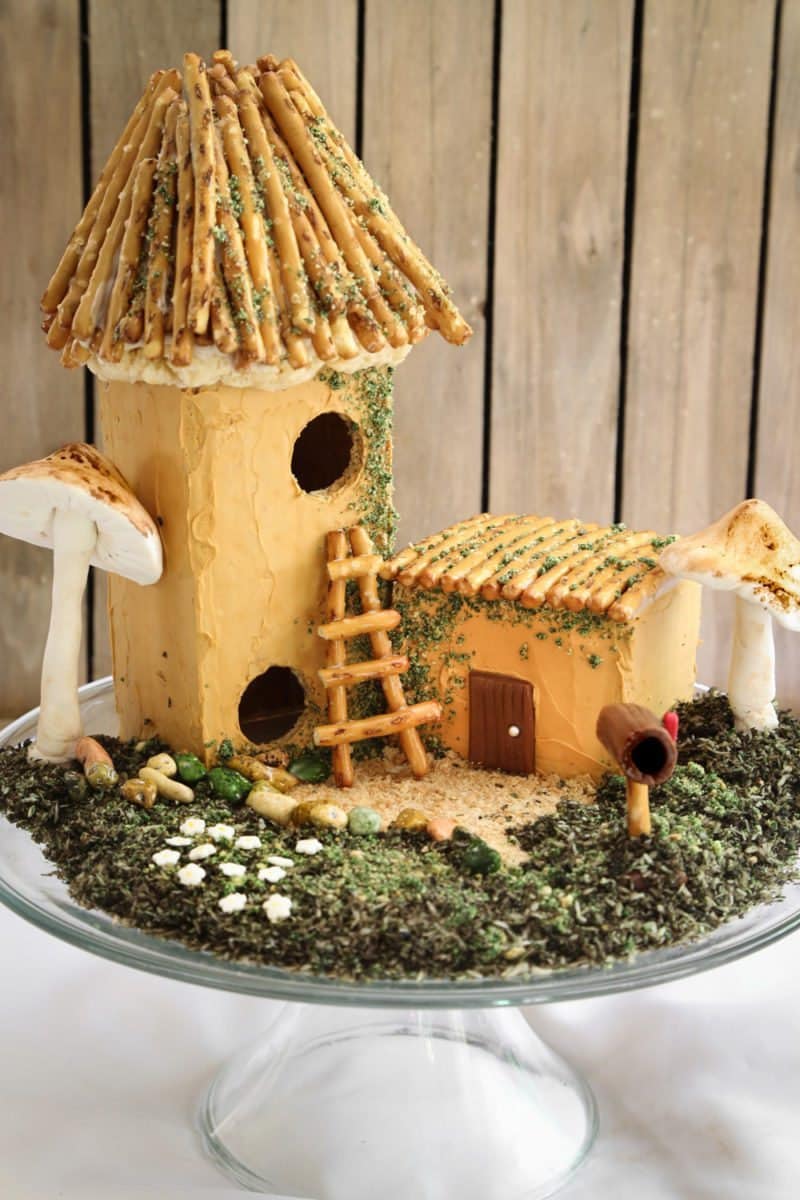 Display the fairy house as a centerpiece anywhere that's easily accessible for hungry guests to enjoy.
All photographs by Heather Baird.
Save
Save
Save
Save
Save