by Kimberley Hasselbrink
Bitter red leaves, sunset-toned citrus, mottled herbs and faintly pink sprouts are balanced with a salty, creamy cheese in this delectable salad.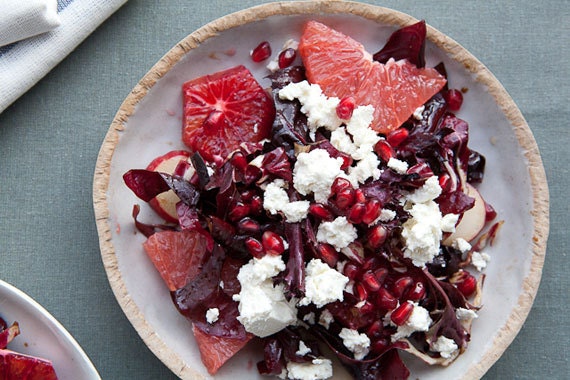 How is it that Valentine's Day has gotten such a bad rap? When we put aside the expectations and romantic obligations and really think about what the holiday is at its core — a celebration of love — it doesn't make any sense to disparage the day. While the holiday may historically be dedicated to lovers, it's no reason not to celebrate love in all its iterations. And making food for people you care about is such a lovely way to express that. One of my favorite cookbooks, Yotam Ottolenghi's
Plenty
, has a bold, vividly-hued red salad that was the inspiration for this dish. Winter is a great time for produce in shades of burgundy, maroon, purple and pink. Part of the fun in this salad is the hunt for bitter red leaves, sunset-toned citrus, mottled herbs and faintly pink sprouts. Check out produce or farmers markets for interesting and unusual red vegetables and fruits. There are no hard and fast rules here, only some basic guidelines: a balance of bitter salad leaves with mild and sweet, one or two types of citrus for brightness, a salty, creamy cheese to balance everything out, and a sweet note on top.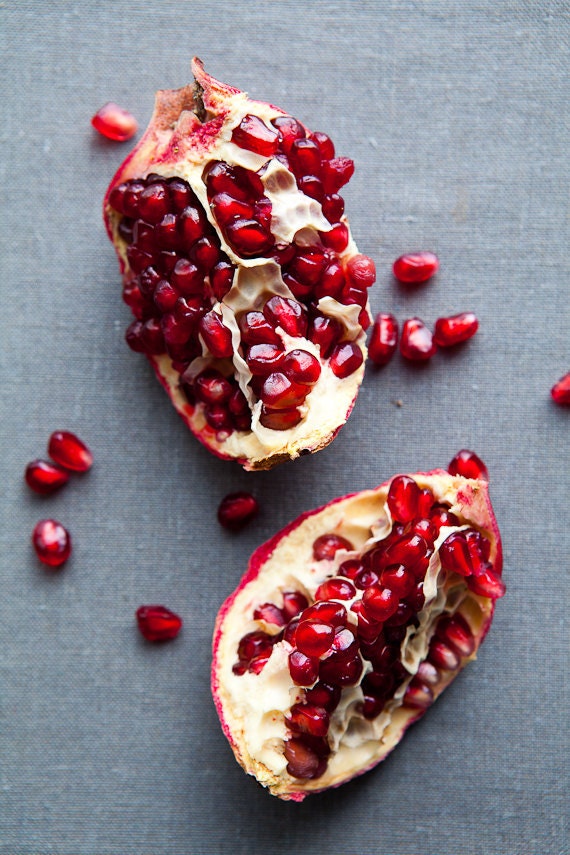 Kimberley%20Hasselbrink
A Red Salad for Valentine's Day
Yield: Two large or four small salads.
1.5 cups chopped radicchio 1.5 cups chopped red lettuces, such as red oak leaf lettuce 1 medium Rio grapefruit 1 blood orange 2 pink radishes, thinly sliced 3/4 cup pomegranate seeds 1/2 cup crumbled Feta cheese 3 tablespoons olive oil 2 tablespoons balsamic vinegar 1/2 teaspoon minced shallot Sea salt + freshly ground black pepper to taste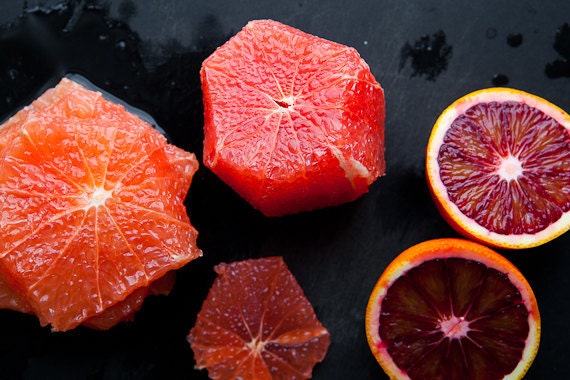 Kimberley%20Hasselbrink
Using a sharp knife, remove the peel from the grapefruit and the blood orange. Slice each fruit horizontally, in fours. Halve the grapefruit slices if large.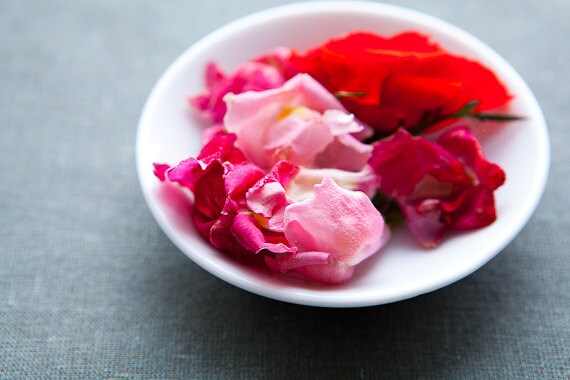 Edible%20flowers.%3Cp%3EKimberley%20Hasselbrink%3C%2Fp%3E
Make the vinaigrette by whisking together the olive oil, balsamic vinegar and shallot until blended. Add salt and pepper to taste. In a large salad bowl, toss the radicchio, red lettuce and radish slices with the vinaigrette. A note about the images: Feel free to experiment with whatever interesting produce you find, balancing bitter, salty and sweet flavors.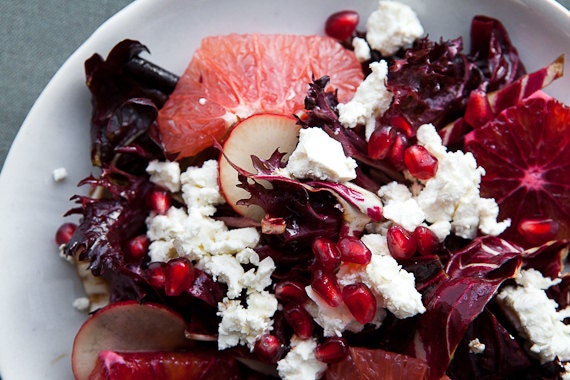 Kimberley%20Hasselbrink
Divide the lettuces among two or four plates. Divide the citrus equally among the salads. Top with the crumbled feta and pomegranate seeds. Enjoy. And in case you can't don't consider Valentine's Day complete without a decadent chocolate dessert, here are two that will no doubt win the hearts of those in your life.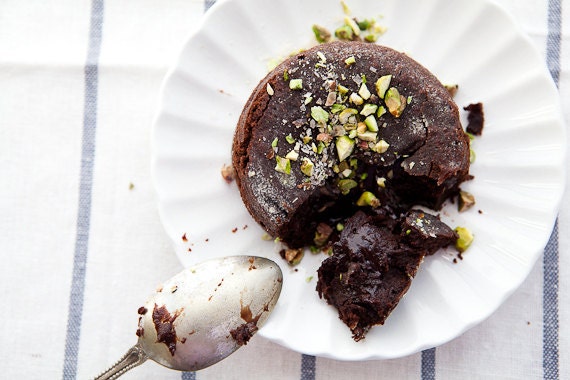 Molten%20Chocolate%20Cake%20With%20Pistachios%20and%20Maldon%20Salt%3Cp%3EKimberley%20Hasselbrink%3C%2Fp%3E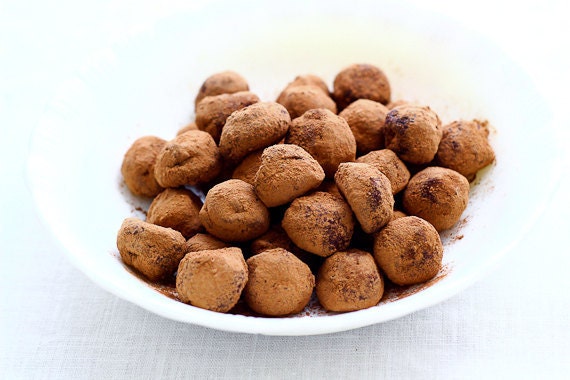 Chocolate%20Truffles%20With%20Sesame%20and%20ChiliKimberley%20Hasselbrink