Hear the rich stories of personal history and heritage that inspire the unique works of these celebrated makers.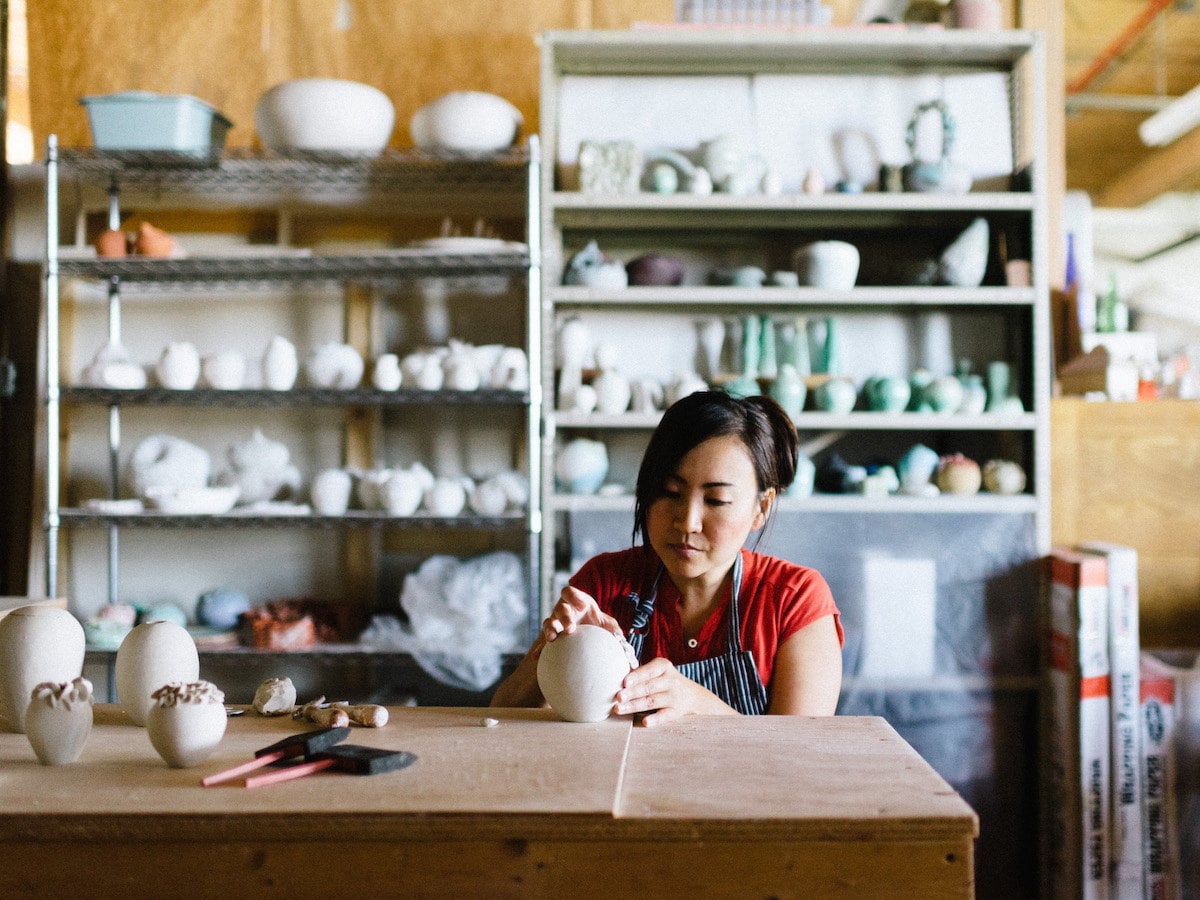 Behind every one-of-a-kind, handcrafted item on Etsy, there's a person with an equally unique story to tell—and that's precisely what makes this marketplace so special. In honor of Asian American and Pacific Islander Heritage Month, we had the privilege of chatting with a few talented sellers from Etsy's AAPI community to learn what inspires them creatively, and how their heritage has influenced their craft. Whether they're sharing the joys of Japanese sand art, bringing people together over homemade Korean mochi, or teaching Indian principles of slow fashion, knowing their stories makes owning a treasure from their shop all the more meaningful. Read on to meet the artists and hear—in their own words—the importance of embracing your identity, and how art can be a journey toward self-discovery.  
Inclusive greeting cards and gifts inspired by South Asian traditions
How has your own personal story inspired the items you make?
Like so many children of immigrants, I grew up caught between two worlds. And while I proudly create products that celebrate my South Asian American identity, I didn't always wear it as proudly. As I grew older, however, I realized the little things about my culture that I had been ashamed of were actually the most special things about me. When I had an opportunity to create a new narrative around my identity with my work, I knew I was going to make it my mission to take these little things and celebrate them in all their glory.
Where did the idea to start a greeting card line come from? 
As a first-generation Indian American, greeting cards that related to my South Asian roots simply didn't exist. A relatable Mother's Day card that captured a special bond with my mom, or a fun Diwali card for my Indian friends, was nearly impossible to find in 2017 when I started. So I decided to make a few and sell them on Etsy. Each creation is a playful ode to the life experiences that so many South Asians share, whether it's a food many of us grew up loving (or really not loving), the chaotic joy of weeklong weddings, the neverending holidays and festivities, or the copious amounts of chai. 
Why is it important to you to honor your heritage in your work?
Building a platform that celebrates my South Asian heritage is a privilege and responsibility I don't take for granted. And especially as I approach motherhood myself, honoring and celebrating my AAPI culture is more important than ever for me. I hope that through my work I can teach my daughter to embrace her roots, her identity, and the little things that make her who she is.
Pottery that celebrates the Earth's bounty and beauty
When did you know that you wanted to make art professionally? 
I grew up in Japan, and my grandmother was a professional kimono maker. Both of my parents worked, so I spent a lot of time with her, and we did a lot of craft projects. There were always pieces of kimono fabric laying around the house; we sewed together, and we also made origami. I think I always knew I wanted to be some kind of artist, but at first I thought I would be a painter or an illustrator. But when I took my first ceramics class during art school, I just fell into the medium immediately. I loved the tactile quality of the clay. 
How did growing up in Japan influence you as an artist?
It definitely influenced my creativity, aesthetic, and affection toward nature. All year round, Japanese ritual events are strongly associated with nature and agricultural harvests. My family celebrates the transient quality of each season with a tasty seasonal delicacy. In the spring, we eat bento boxes under the cherry blossoms. In the summer, we gaze at the milky way and decorate fresh-cut bamboo with colorful papers with children's wishes written on them. In the fall, we offer mochi (sticky rice cakes) decorated with silver grass to the moon in appreciation for the harvest of grains. I think the whole experience of growing up there helped establish my artistic aesthetic. 
What feeling do you hope your pieces bring to your customers?
I would love for my ceramics to bring happiness to their homes by encapsulating the beauty of nature and bringing it indoors. If my art can bring a smile to their faces, my job is complete. 
Eco-friendly hand-dyed apparel and DIY kits 
Sustainability is a big part of what you do. Where does that passion for slow fashion stem from?
In India, I was fortunate to grow up in an environment that incorporated sustainable and simple living, slow stitching, and green fashion. I watched my grandmother hand-stitch quilts out of old saris and my mother sew our clothes. Using our hands to create something beautiful or useful was a natural part of our daily lives. 
My past experiences led me to slow down and pause and to appreciate the simple joys in life, which is widely reflected in what I create today. My patterns are minimalistic, my fabrics are sustainable, and my clothes are versatile and comfortable. And while my shop is evolving each day, my business philosophy and methods are the same principles that I grew up with which have been passed down through generations. I hope to teach the same values to my kids. 
What have been some of the most rewarding parts of owning your own business so far?
Creating something helped me get through difficult times, and I've learned that art is a powerful healing medium. I want others to experience this as well, which is why I started my line of DIY kits. I hope that they inspire my customers' own creativity.
Any memorable customer interactions you'd like to share? 
A customer once said, "This hand-dyed ruana reminds me of the wind and the water, and I use this as a prayer shawl." It's heartwarming to get such wonderful feedback and makes me realize each day why we as Etsy shop owners put in so much effort; in the end it's all worth it!
Powerful illustrations that explore identity
Identity is at the core of so many of your illustrations. How did you decide on this subject matter? 
I think as artists, our lived experiences, our emotions, and the things on our minds inevitably inspire what we create. My favorite pieces usually come from something deeply personal, which range from nostalgic childhood memories to responding to the hyper-visible rise in anti-Asian incidents we're seeing today. An example would be my Model Minority Straitjackets. Art has allowed me to explore my culture and heritage, something I felt was made invisible growing up. I finally learned some of the Asian American history I was never taught, and developed a deep appreciation for who I am. 
Can you tell us about one of your most popular prints? 
When I first launched the large Chinatown NYC art print with the 282 storefronts, both former and current NYC residents shared stories about their favorite spots. Someone shared how the poster was a visual reminder of her different life stages having grown up going to Chinatown, which included the first Vietnamese restaurant her dad took her to over 20 years ago. That art print was a love letter to New York's Chinatown and personal stories like these make my work feel like part of a larger community.
What sort of lasting impact do you hope to make on people who engage with your art?
I hope my artwork makes people feel seen and feel joy, and that it resonates with those who have shared experiences. I also hope people see the time and the layers that go into my work. My process often involves scribbling out my thoughts and then doing some reading or research. These steps all help me arrive at the "why" when I create, help me craft a story, and the "how" usually takes care of itself. 
In your experience, how can the process of creating art lead to self-discovery?
Everyone is on their own journey when it comes to their identity, but I will say that owning and celebrating it is an empowering part of loving yourself. When you pair that with understanding your past and the lives of those before you, you will better understand your present. And from there, it will only make you a stronger advocate for a more just and equitable future for everyone.
Candles inspired by scent memories
What do you want people to know about you through your work?
I'm a first-generation immigrant. Even though I'm building a life here in the US, my roots in Taiwan are deep. I value the culture, history, and beauty of the island, and I endeavor to honor the country through my work. That's one reason why I use ceramic jars made at a historic kiln in Taiwan to house my candles. Each jar is handcrafted by local artisans employing traditional methods. This supports the long-lost craftsmanship of earthenware—a largely forgotten part of Taiwanese culture. Because they're handmade, the candle jars are distinct and may vary slightly. There is beauty in these nuances, and it's one attribute that sets our jars apart. 
As for the candles themselves, each scent is inspired by a memory and tells its own story. For example, I have scents that incorporate Taiwanese culture and tell the stories of my hometown, such as the notes of oolong tea and incense found in No. 51 Secret Garden. 
Where does the name Aerangis come from?
An Aerangis is a type of orchid with a unique fragrance that my grandfather gave me when I was nine. Each time I smell the scent, I'm instantly transported back to that moment. I decided to name my company (and my first scent—No. 1 The Beginning) after the Aerangis orchid as a tribute to my grandfather and that lesson of how powerful a scent memory can be. I wanted to make a product that can help people revisit, or capture, their own special moments in life.
Homemade Korean comfort foods from a mother-daughter culinary duo
What do you want people to know about all the tasty foods you sell in your shop? 
Keum Oak: Each item is an extension of our identity and how it translated to life in America. Our shop is deeper than a means for our livelihood. It's a proud example of our heritage, lineage, and passion. Our spirit is rooted in resilience and adaptation. If we couldn't find napa cabbage, we used watermelon rind or green papaya to make kimchi. We couldn't source the right exact type of rice flour, so we created our butter mochi. 
Minji: As a second-generation kid, I wasn't always too fond of the "stinky stuff" that the other kids would tease me for. I felt so self-conscious growing up about our "weird food," but as I got older, all of this changed. I gained a deeper respect and appreciation for what our food means and the history it carries. My favorite is our mochi. It's so soft and chewy. Each order takes us about two hours to steam and pound out, but it's a labor of love, and precious bonding moments with mom I wouldn't trade for anything. No one makes mochi like mom and we now carry 20-plus flavors that rotate seasonally!
Do you believe that food has the power to bring people together?
Minji: I saw a powerful image that read "love our people like you love our food" and that brought tears to my eyes. Food can serve as such a strong bridge, and we impart so much love into everything we create. It's our hope that whoever tastes our food can feel all that tender care. 
Keum Oak: It brings me so much happiness to share my food with so many people. It's the same food I make for my kids and we enjoy in our home, so it's like sharing a very big dinner table with many guests. I feel it's the best job in the world to make things with my own hands for others to enjoy. 
Minji: Shedding light on our culture through food can feel empowering. We often receive feedback about how someone has never tried this or that new food, and that our shop inspired them and we were able to facilitate and create a pleasant first experience. That makes our hearts happy. No one can do everything, but we can all do something.
Sparkly Japanese sand art and accessories
Can you tell us about the materials you use in your craft?
Most of my artwork is made with shiny colored sand. In Japan, it's called "sunae." Sunae requires so much concentration and is not easy, but once you accomplish the whole piece, it gives you a pleasant feeling. Even my digital work begins as colored sand, which is then scanned. But the original sunae is very shiny and sparkly.
How did you become a sunae artist?
As a kid, I loved reading manga and watching Japanese comedy shows. One day, I came across a book by Mr. Kin Shiotani, an illustrator, writer, and performer. Having been deeply impressed by his freestyle of drawing, his literary talent, and his way of life, I went to meet him. I learned a lot from him, and started my career as a professional artist in 2004.
At first, I was very unsure of what materials I should use to draw my characters. When I found a DIY sunae kit at an art supply store, it made me nostalgic because I made sunae when I was a child. I fell in love with it again! Since then, I have been fascinated with making sand artwork.
Where do you find the inspiration for your whimsical characters?
I get inspiration from things around my everyday life, such as ice cream, candies, cats, plants, the night sky, etc. My characters give me encouragement and make me laugh! When I make sunae, I'm inspired to live life brightly each day. I'm so happy if people also feel that positive power from my art. 
Special thanks to hand-lettering artist Jessica Nam, for giving these sellers' words the emphasis they so deserve.