Amp up the aesthetic atmosphere in your space with one of these bubbly, bendy, wavy, or chunky statement candles.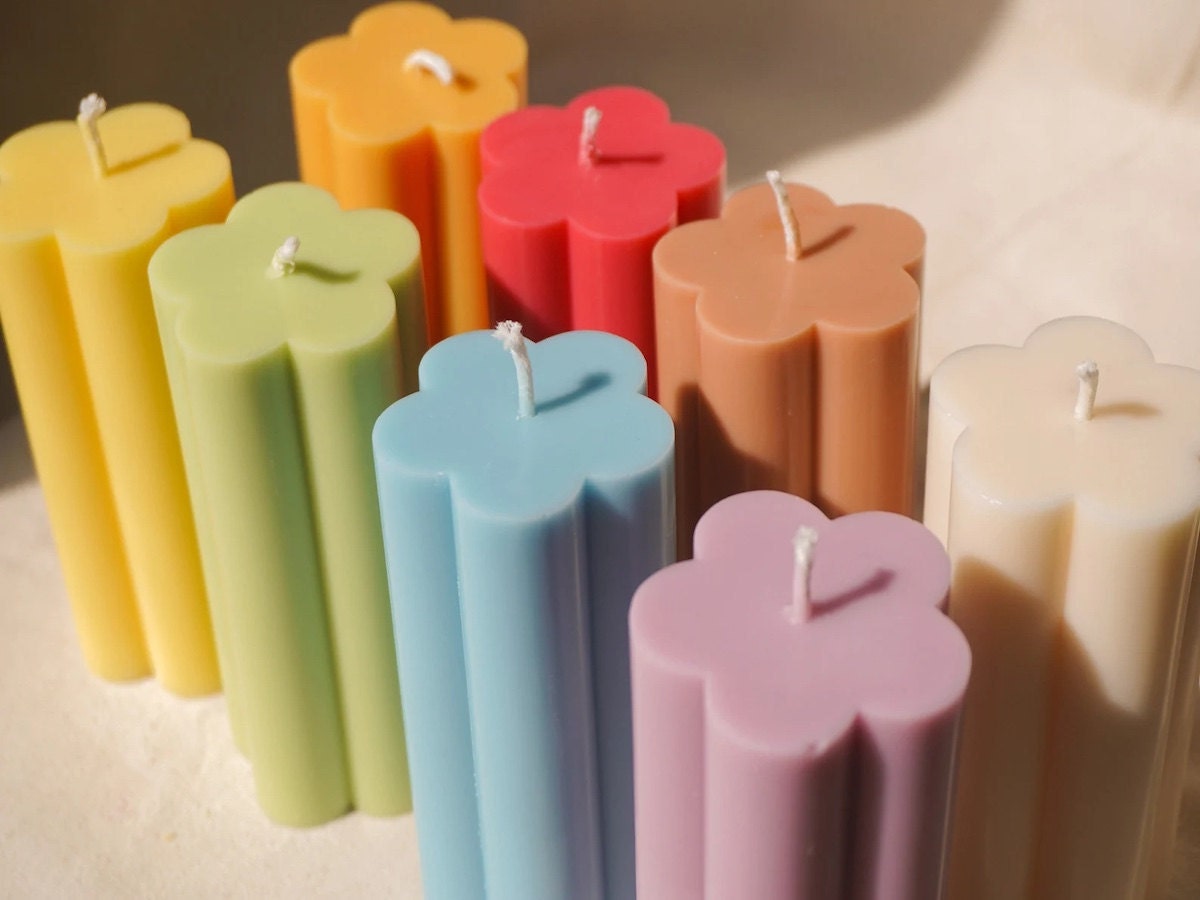 Get fired up: These statement candles are created with serious aesthetic appeal in mind by creative independent artists, so no burning is necessary to appreciate these bold, visually intriguing decor pieces. From bubble cube candles and cube candle holders with dynamic dimensions to bendy candles formed into playful squiggles and waves, aesthetic candles come in all shapes and sizes so you're sure to find one (or a few!) that's the perfect finishing touch to your home decor. Plus, statement candles are always a great gift for new homeowners or the person who loves a quirky new accessory for their space.
Best aesthetic pillar candles
Unexpected color palettes and interesting textures are on full display when you add one of these aesthetic pillar candles to your home. No offense to traditional candles, but these eye-catching pieces were born to take center stage.
1. A twisty braided candle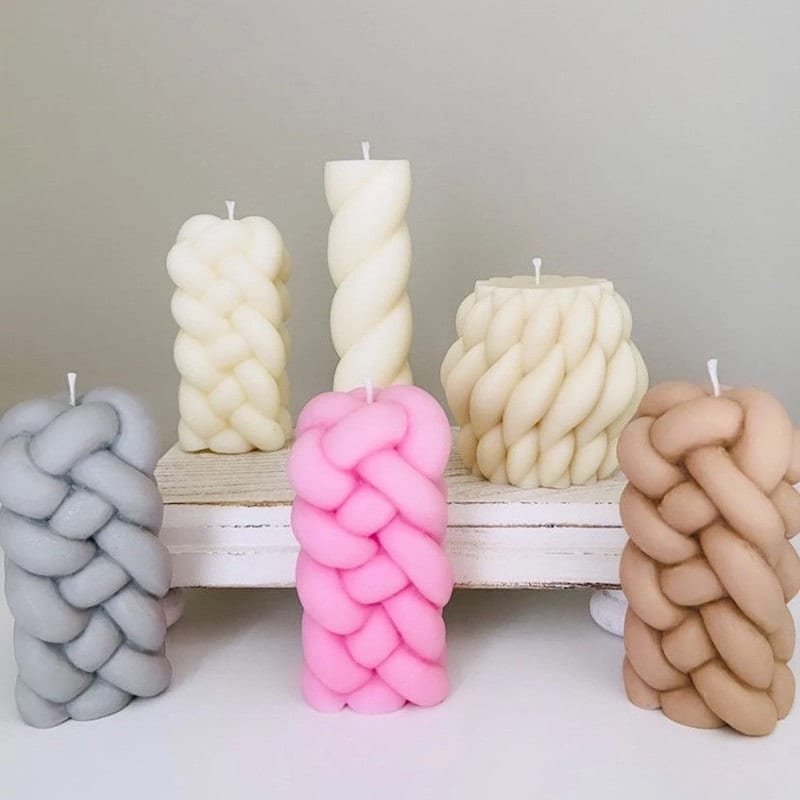 SHOP: Braided boho statement candle from from Over By The Moon, from $9
While this chunky knit texture looks comfy enough to cuddle up with in the winter months, the modern color palette makes it a great pick for sunny seasons too. "Obsessed," "in love," and "too pretty to burn" are just a few of the ways buyers describe these cable knit statement candles.
2. A squiggly narrow pillar candle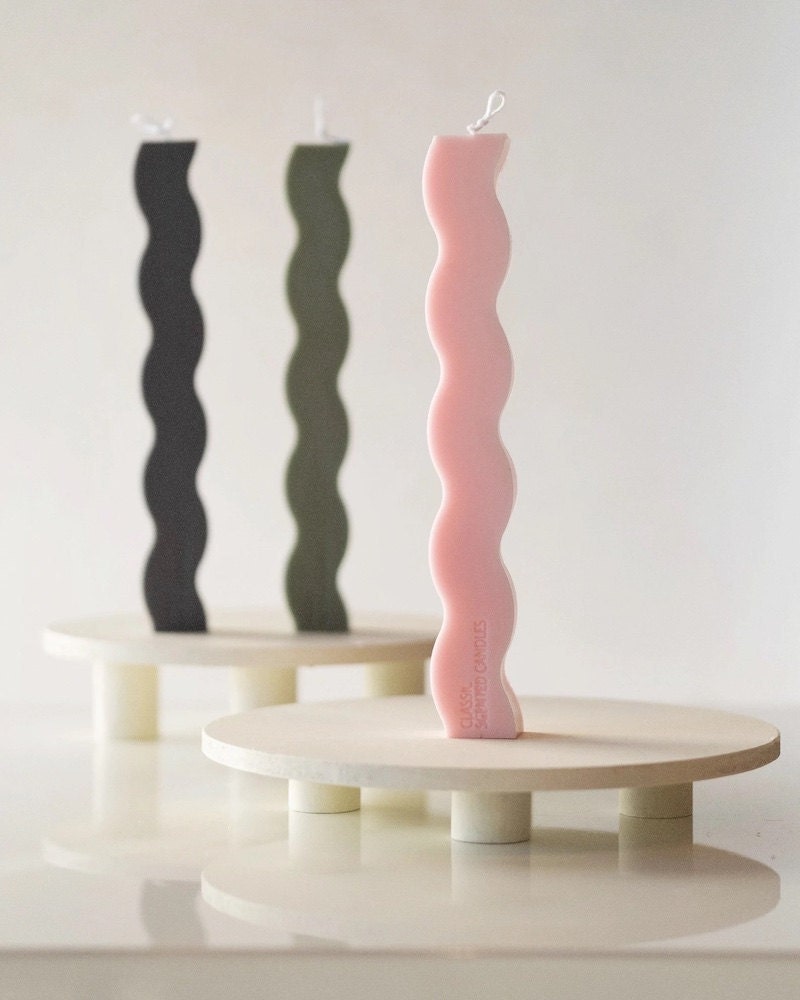 SHOP: Squiggly soy pillar candle from Moderne Aesthetic, from $13
Buyers can't get enough of this spotlight-stealing statement candle, calling it a "piece of art" and "point of interest" for the home. With its unconventional silhouette, you can count on a candle like this to turn heads wherever you squiggle it into place.
3. An accordion candle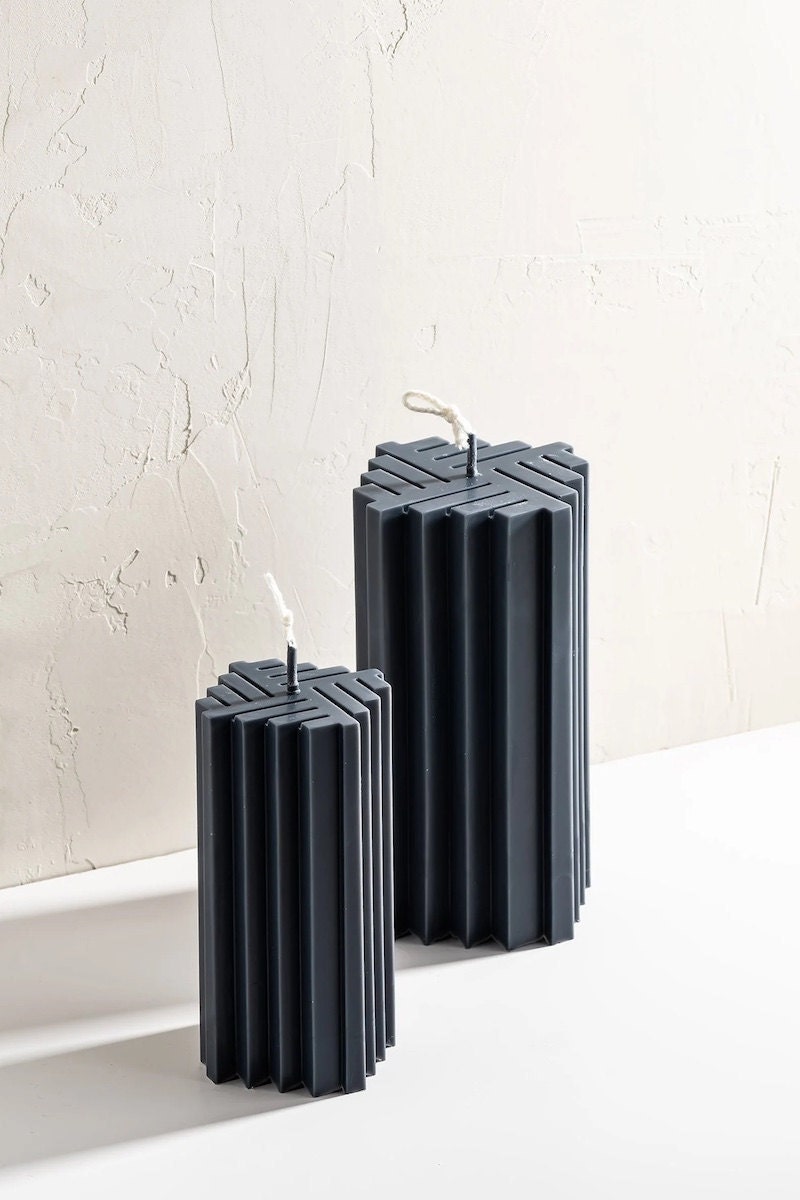 SHOP: Accordion pillar candle from Cai Cai Handmade, from $15
Buyers are thrilled with the unique shape and sleek design of these geometric pillar candles. Not only do they rave about the candle colors and artistic, sculptural quality, but they also call out the seller's thoughtful, gift-worthy packaging.
Best bubble candles
Bubbles, bubbles everywhere! These globular goodies add a little whimsy and wonder to whatever room they occupy.
4. A bubble cube candle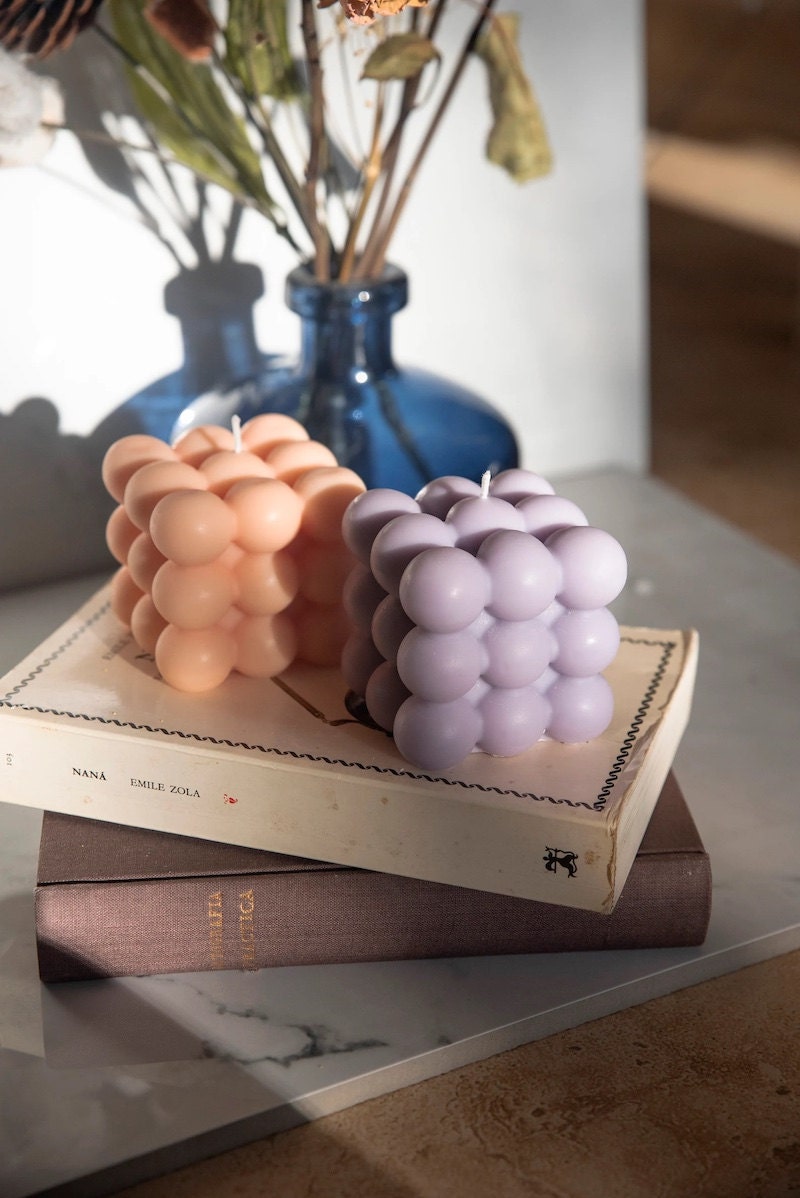 SHOP: Pastel bubble cube candle from Heavenly Earth Miami, $13
The ultimate statement candle gift, these bubble cube candles are a unique wedding favor idea, too. Offered in a range of soft shades, the chunky shape is reminiscent of a 3D combination puzzle but without the stress. In fact, they're more likely to add to a calming atmosphere with soothing scent options like blue spruce and holiday hearth.
5. A bubble taper candle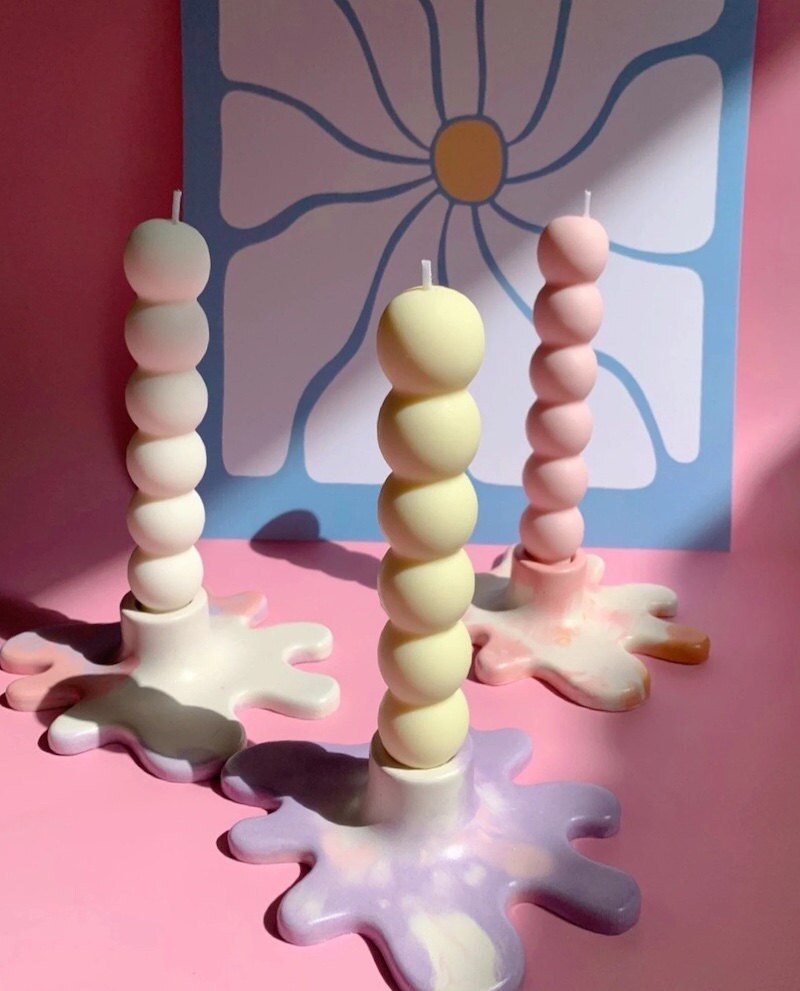 SHOP: Tall bubble statement candle from I Found You Store, $14
Brighten up your tablescape with this bubbly taper candle, or gift it to a hospitable hostess in your life!. These statement candles make dinner a delight with their charming bubbled form and aesthetic allure.
Unique statement candles
In case you forgot about just how creative Etsy sellers really are, these aesthetic candles are your friendly reminder. With original designs and colorful palettes, these are the statement piece your coffee table or favorite shelf has been waiting for.
6. A mystical aesthetic candle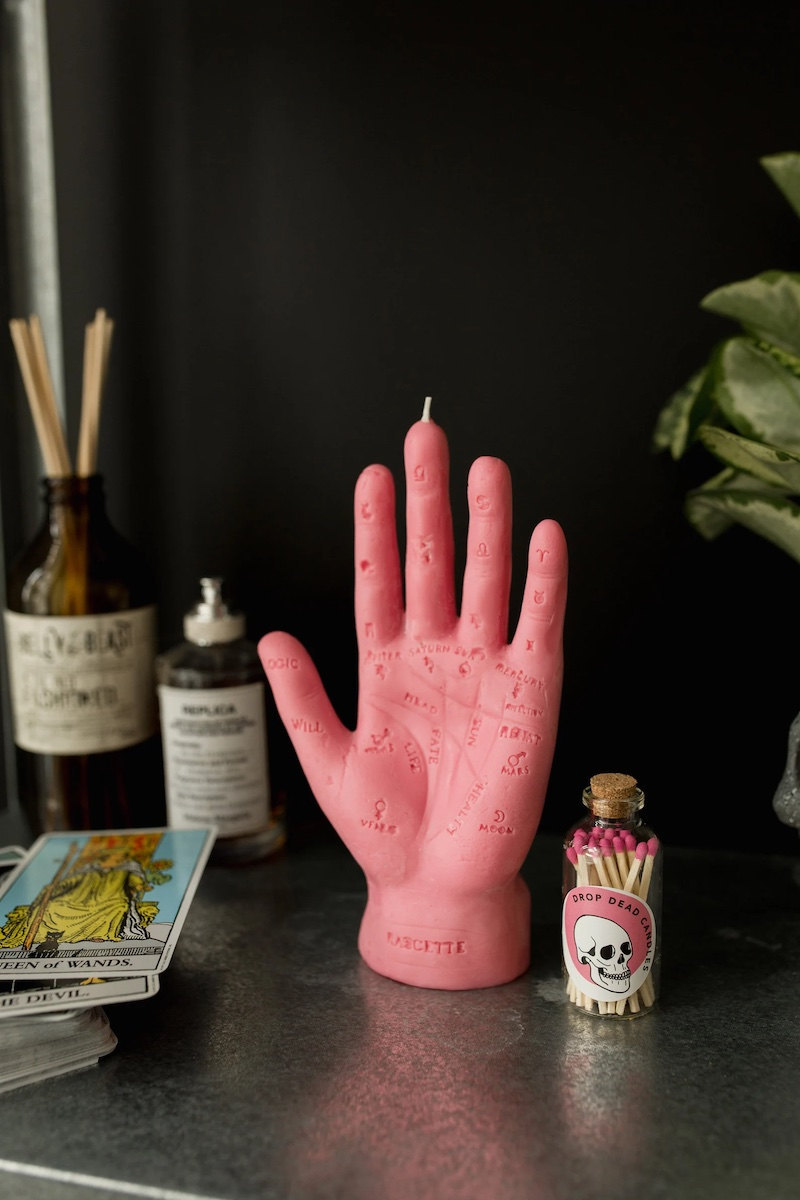 SHOP: Palmistry hand statement candle from Drop Dead Candles, $38
Calling all seekers of the supernatural! With detailed etchings of palmistry lines and astrological symbols, this life-sized hand candle gives a boost of bewitchment to sacred spaces.
7. An abstract candle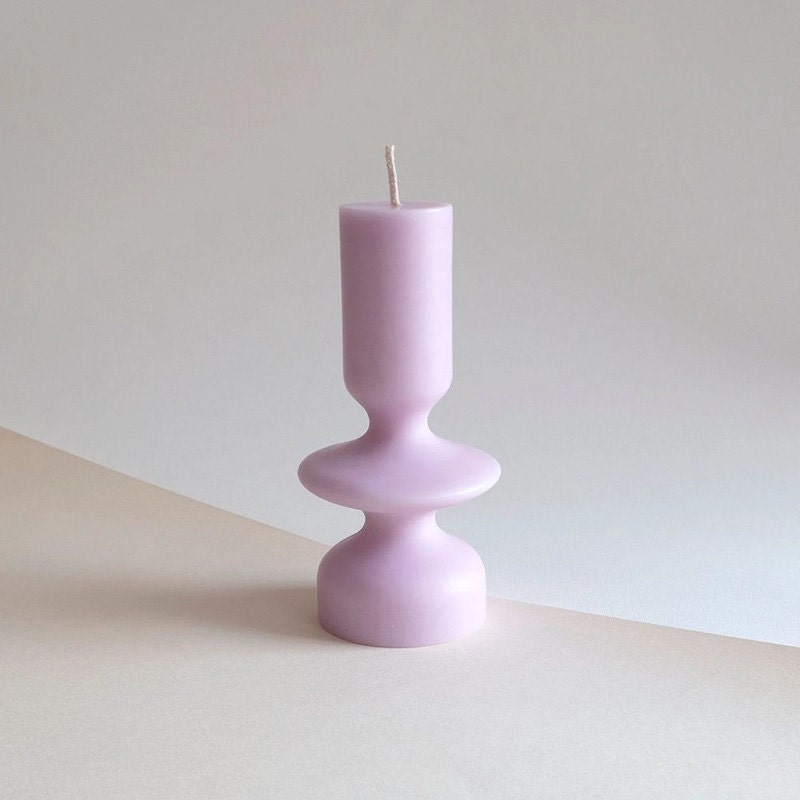 SHOP: Sculptural soy candle from nucandles, $17
This pillar candle brings a dash of funky flair to whatever surface it calls home. The simple design makes it easy to fit in with a variety of home decor styles, from mid-century modern to retrofuturist.
8. A wonky, wavy column candle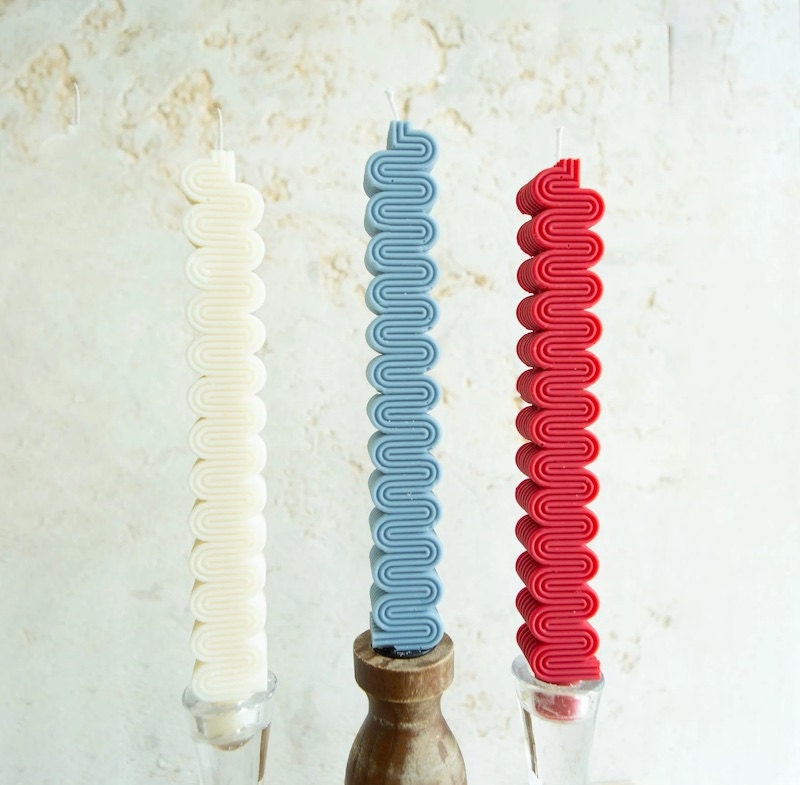 SHOP: Wavy column taper candle from Sculptos, $51
Gorgeous Greek architecture but with a modern twist? Yes please! Geometric lines wrap into tightly stacked waves to form a taper candle that puts a spunky spin on the classic column structure.
9. A curvy candle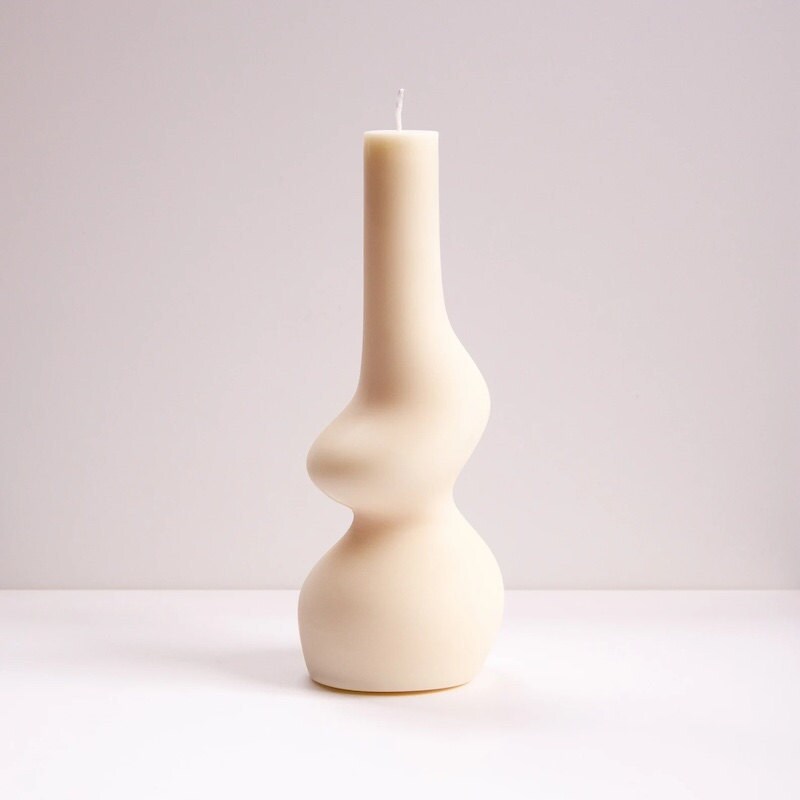 SHOP: Sculptural soy candle from Extra&ordinary Design, $57
Juxtaposing a warped contour with a clean white palette, this undulating structure is both striking and sophisticated. Make it a centerpiece to elevate the vibe of living spaces, dining rooms, or any area where art can be appreciated.
Best aesthetic candle gifts
Got a friend with an eye for daring designs? Whether they've got a hobby they're passionate about or a distinct home decor style, these small shops have a statement candle for everyone.
10. A groovy flower candle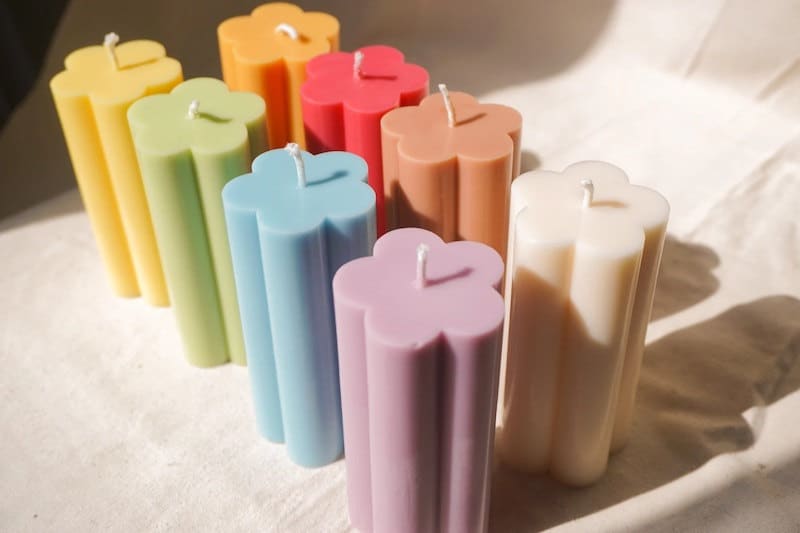 SHOP: Trippy flower candle from For Love Club, $10
Break out the lava lamps and bellbottoms! This '70s inspired statement candle is a funky alternative to flowers as a housewarming gift for vintage enthusiasts looking for home decor that sets the scene.
11. A plant lover's candle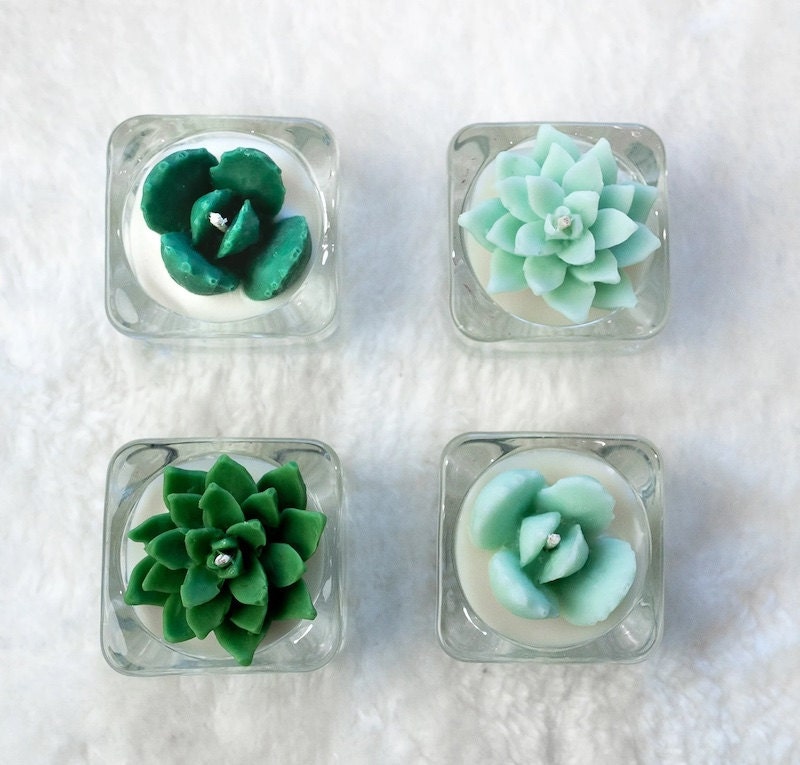 SHOP: Succulent tealight candle from ZOETSTUDIO, $12
Make visitors do a double-take when they spot these cacti cuties hanging out on your desk or nestled together on a shelf. Whether you're looking for a sweet wedding favor, playful stocking stuffer, or a gift for plant lovers, these tealight-ful candles are small but mighty decorative pieces.
12. A knotty candle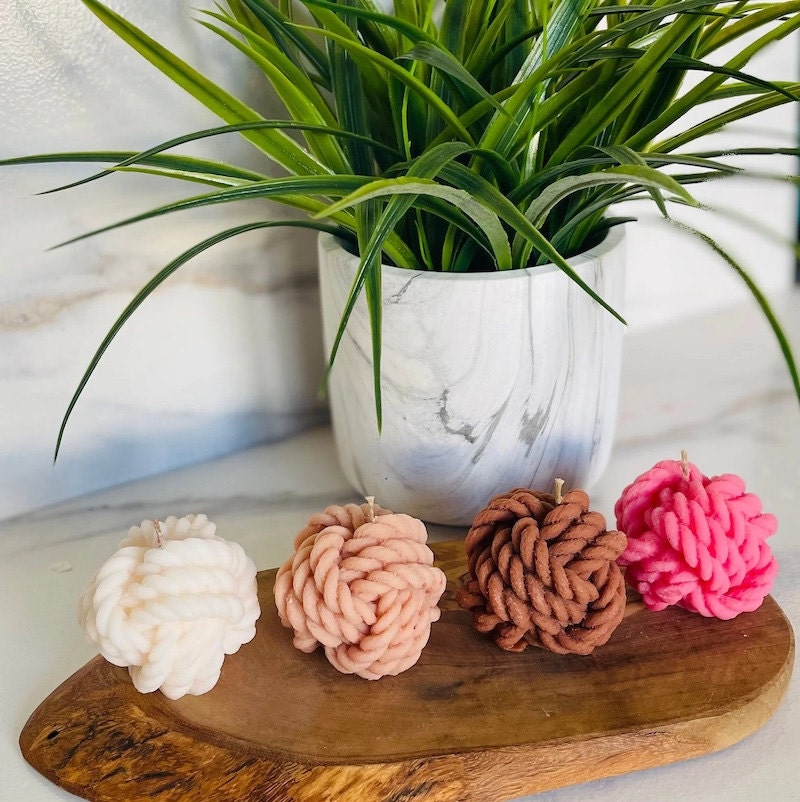 SHOP: Decorative knot-shaped candle from Lush and Lavish Home, $9
You just might fool some house guests with this one! This hyper-realistic rope knot candle is the perfect nautical addition to beachy rooms and a cute gift for the crafter on your list, too.
13. An outdoorsy statement candle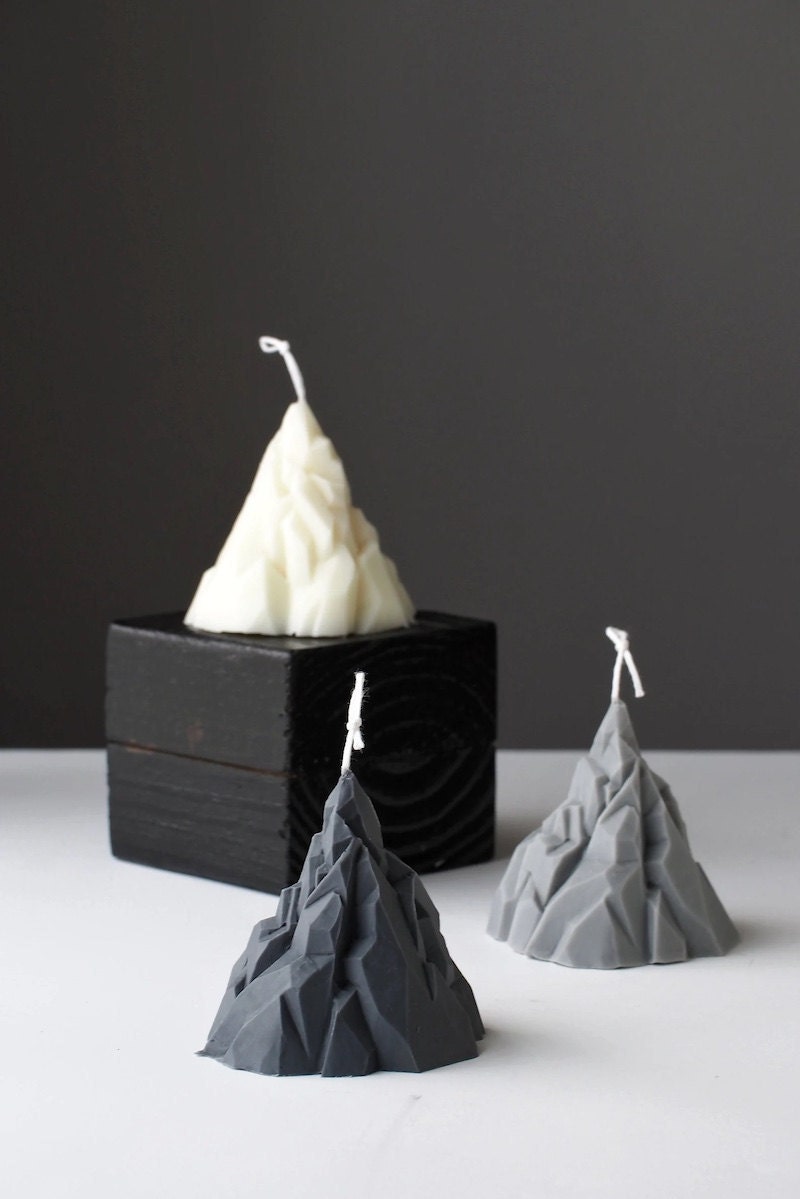 SHOP: Scented mountain candle from Cai Cai Handmade, from $13
Nature lovers will appreciate the various colorways and fragrances offered for this ridged candle that suit whatever environment piques your interest. Combine the snow-capped option with a pine forest scent to take a wintry hike in the woods, or go for gray with high tide and transport yourself to a rocky shoreline.
14. A garden-inspired candle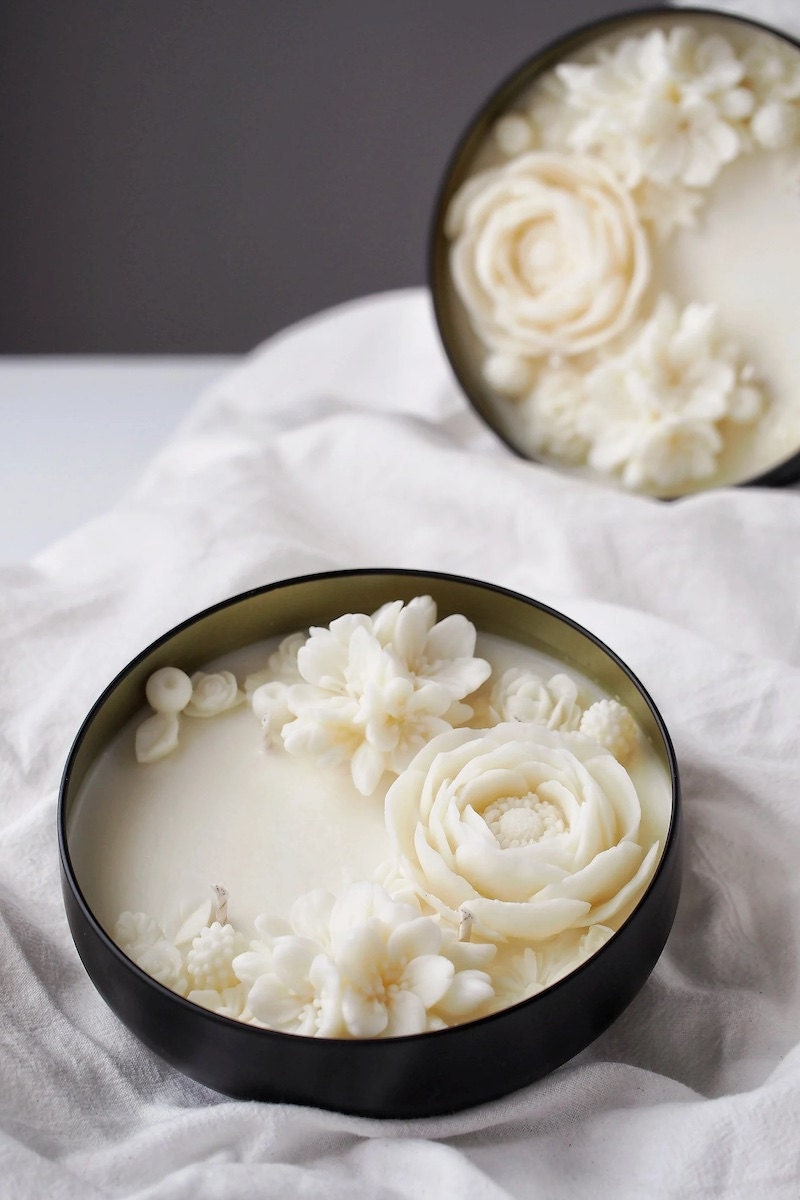 SHOP: Flower garden candle from Cai Cai Handmade, $55
For all the flower fanatics out there, this soy candle features hand-carved peach blossoms, ranunculus, and roses with all the scents to match. Buyers are talking nonstop about the "heavenly" and "divine" fragrance, so this is your warning: angelic aromas ahead!
Best holiday statement candles
'Tis always the season to keep warm and toasty with these holiday statement candles that add some fiery flair to your festivities, no matter the date.
15. A heart bubble cube candle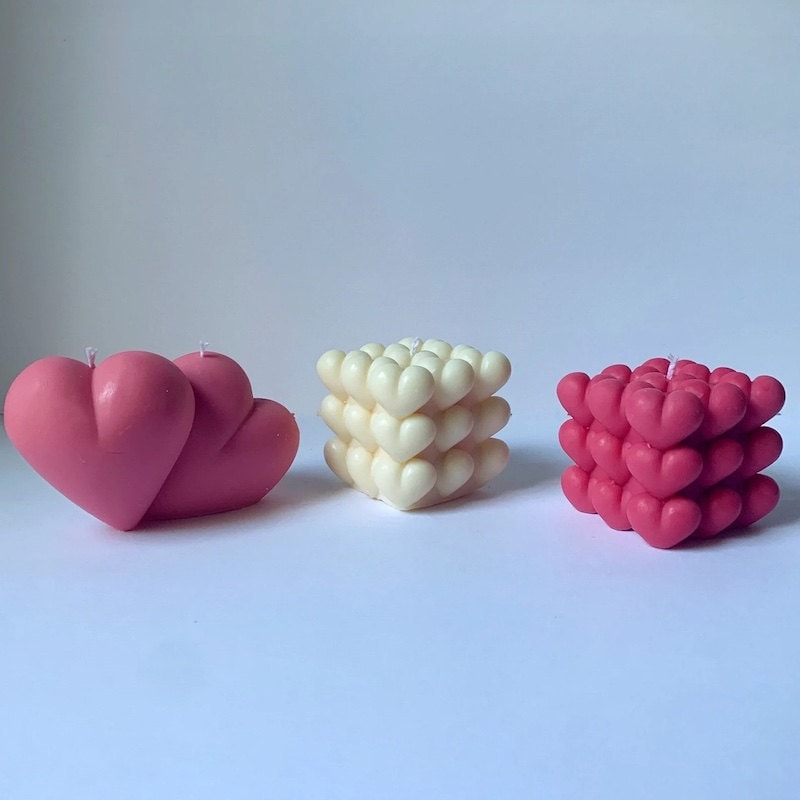 SHOP: Heart-shaped cube candle from Marney Ash, from $18
Love is in the air—literally! Set a romantic mood or give a sentimental gift to a loved one with this bubble cube candle, offered in elegant aromas like Cabernet Sauvignon and Fleur de Provence.
16. A soft goth statement candle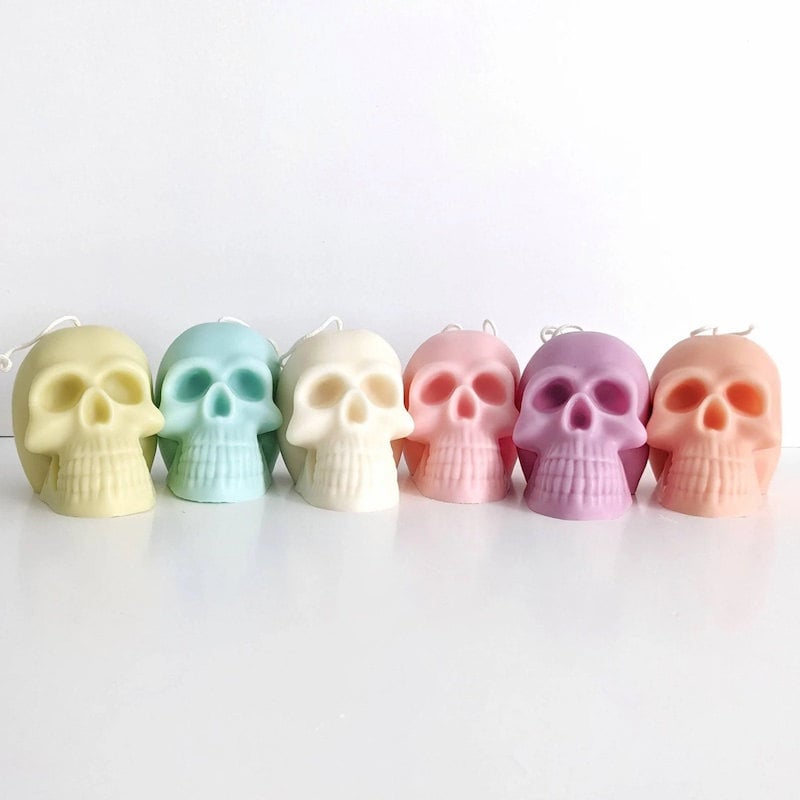 SHOP: Pastel goth candle from Sun Sparrow Studio, $25
Halloween may be just one day but these spooky yet sweet skull candles are a treat all year-round. The pastel shades make their bone-chilling aura just a bit less bone-chilling.
17. A festive fir tree candle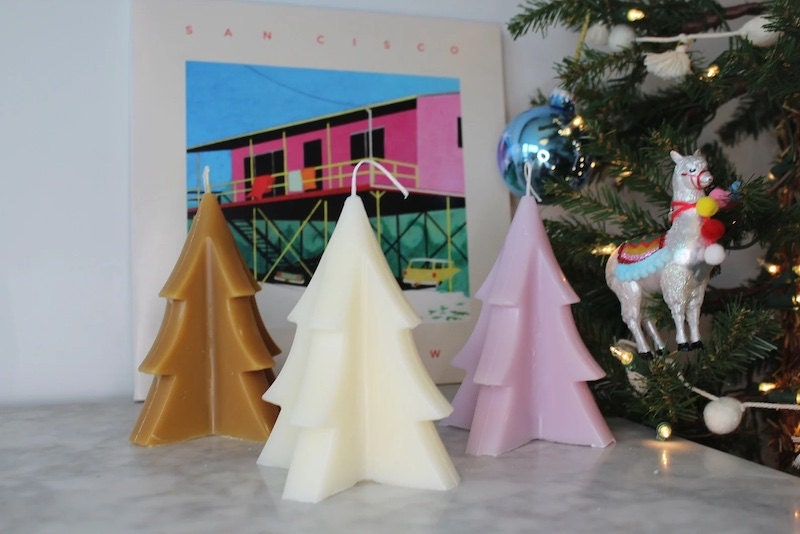 SHOP: Soy fir tree candle from This Candle Is Lit, $19
Get into the holiday spirit with a decorative fir tree candle, complete with equally festive fragrances. Mainstay scents like gingerbread cookie and peppermint get paired with unexpected colors like soothing lavender and rich caramel-brown, bringing a fresh feel to this classic motif.
Statement candle holders
Whether you need a boxy base to house your cube candles or a solid foundation for your towering taper candles, find a trusty candle holder from these small shop owners.
18. A ceramic stone candle holder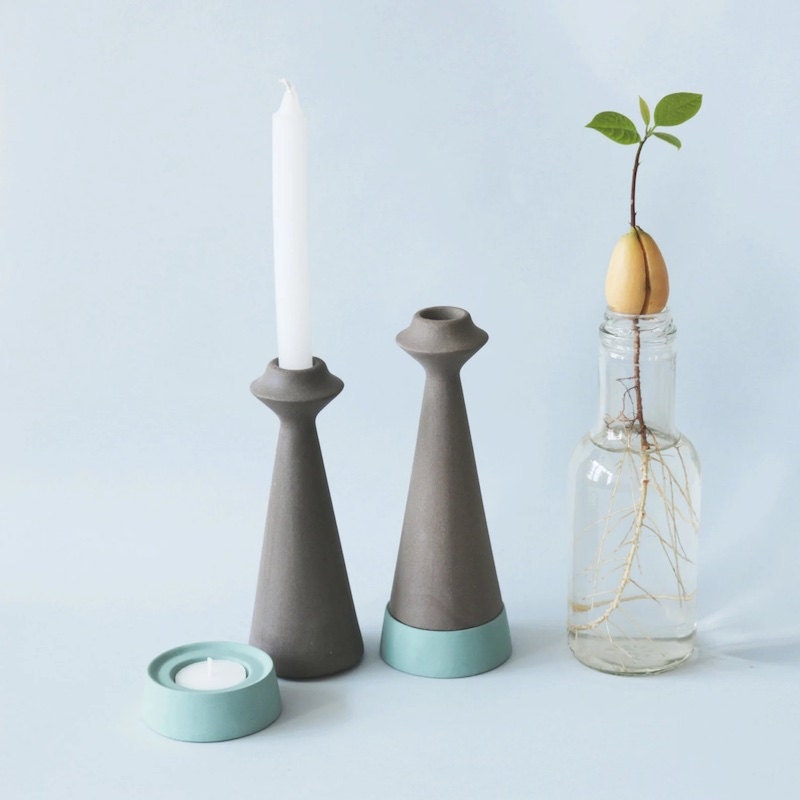 SHOP: Tall ceramic candle holder set from Yahalomis, $169
Keep candlesticks upright and stylish in this sturdy ceramic candle holder. Sculpted from basalt rock clay with a customizable base color, this clean, contemporary shape is a versatile piece that's easy to dress up or down.
19. A wooden votive cube candle holder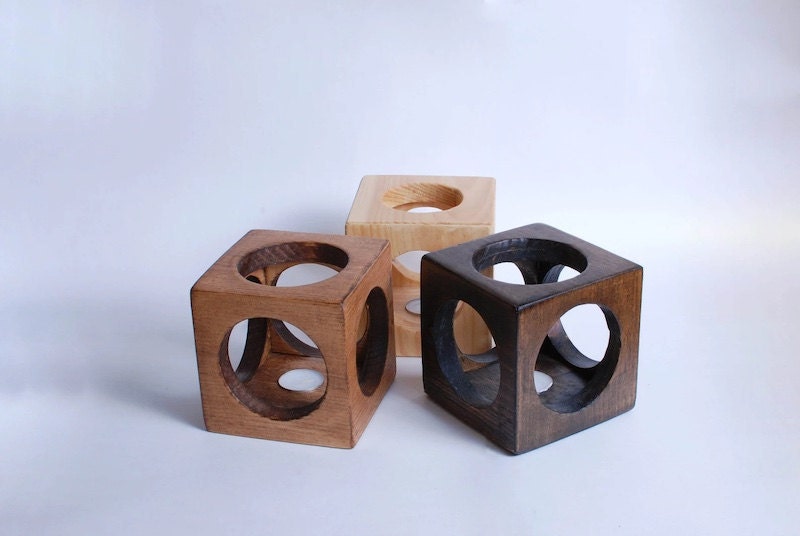 SHOP: Wooden cube candle holder from Owl Designed, $25
Is your style a bit more rustic? This pine wood votive candle holder has an all-natural, homespun quality that brings a touch of country charm to whatever blocky candle you choose.
20. A vintage-style candle holder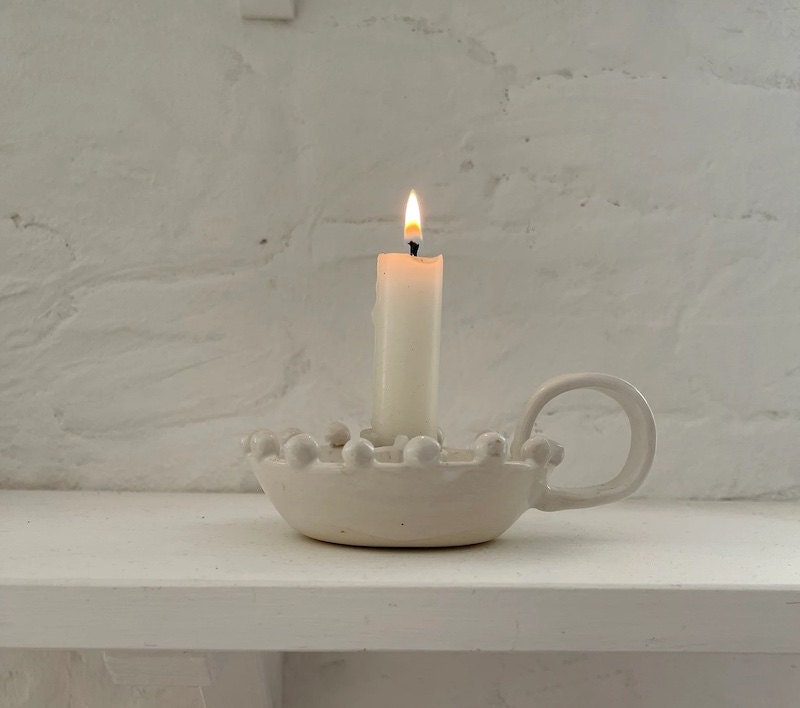 SHOP: Ceramic candle holder with beaded detail from Muddy Heart, $77
Bring a vintage vibe to your taper candles with this handheld ceramic candle holder. Available in a variety of neutral tones and textures, it's easy to pick a version of this old-fashioned silhouette that suits your personal taste.
How do we pick the best aesthetic candles?
As Etsy Journal editors and contributors research and curate shopping guides for some of the best-loved items on Etsy, we thoughtfully consider the creativity, customization, and craftsmanship that go into each product. We also consider buyer reviews, item ratings, and customer service, and tap the expertise of our in-house merchandising and trends experts to uncover high-quality finds for every budget. You can find more information about each item in the seller's listing details and can take a look at their individual shop policies and reviews, too.