by Jeni Sandberg
These kitschy relics of mid-century cheer may have earned Charlie Brown's disdain, but aluminum Christmas trees are making a comeback with collectors.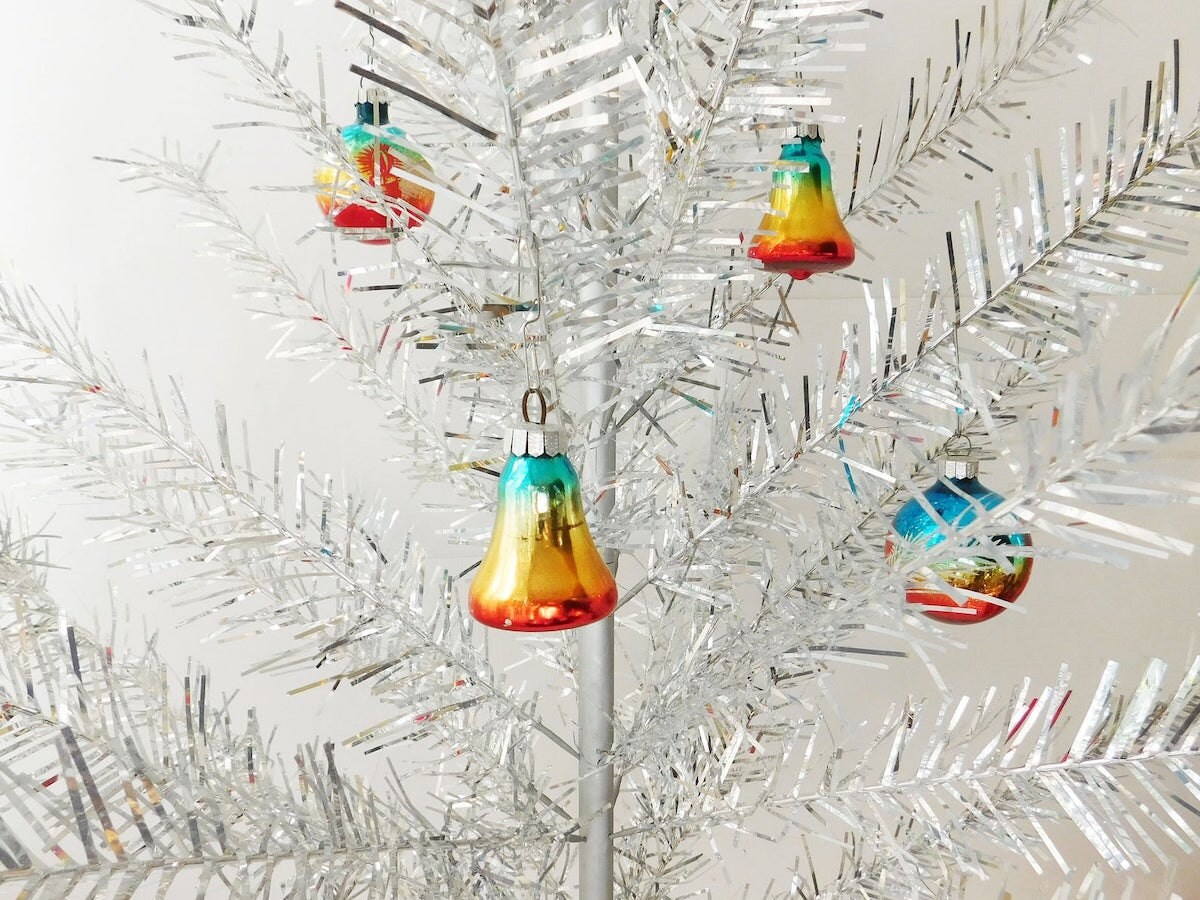 Charlie Brown introduced me to aluminum Christmas trees, though I didn't really know it. A Charlie Brown Christmas has aired on television every year since it premiered in 1965, and when I was young it was a much anticipated part of the holidays. At one point in the show, Lucy sends Charlie out to buy a big aluminum Christmas tree, preferably one that was pink, for their school play. My parents were antique dealers and favored decor closer to Colonial Williamsburg than mid-century modern, so we always had a real tree—there were no other options. A big pink tree was unimaginable, a sort of Christmas unicorn that existed only in stories.
Aluminum Christmas tree origins and history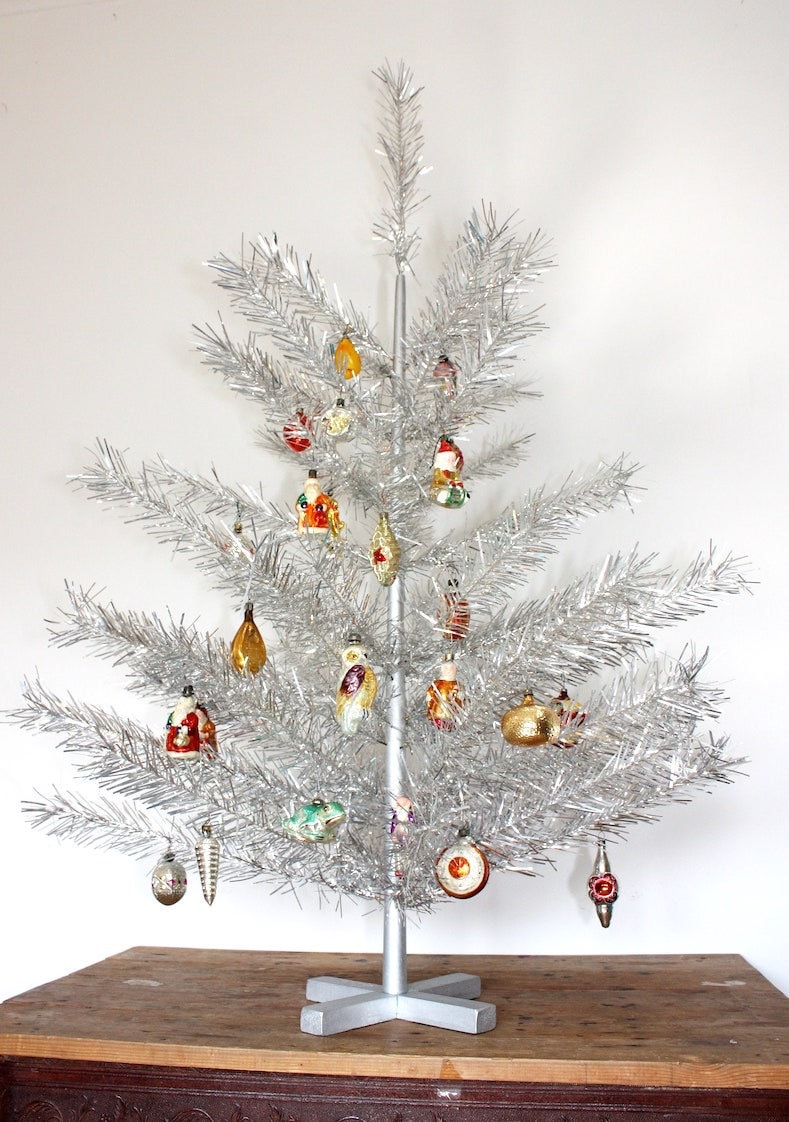 SHOP: Vintage aluminum tree from Aristocratic Vintage, $208
In the 1960s, the aluminum Christmas tree enjoyed a brief but spectacular period of popularity that propelled this item into the realms of classic, kitschy Americana. They were novel and different, something shiny and modern that spoke of a new era. The trees ranged from two to eight feet high, and while most were silver, aluminum trees were available in pink, gold, teal and flocked versions. They could be mechanized and illuminated and ensured that your Christmas decor would be the finest on the block.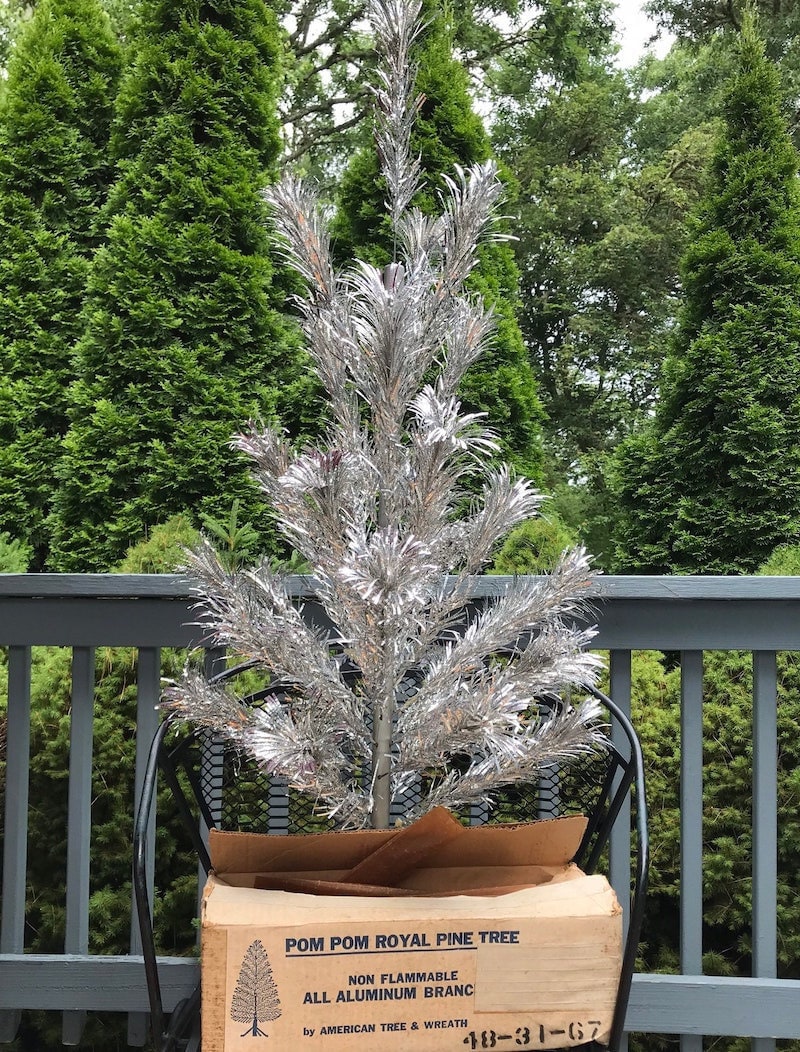 SHOP: 4 foot vintage aluminum Christmas tree from Grey Mermaid, $279
Artificial trees were not unheard of—feather trees dated back to the 19th century and bottle brush trees were patented in the 1930s. Aluminum was considered a rare metal in the 19th century and was more costly than gold or silver per ounce, but mining processes improved and by the 20th century the metal was far more commonly used. Lightweight and reflective, aluminum would prove to be an ideal medium for this Christmas decoration.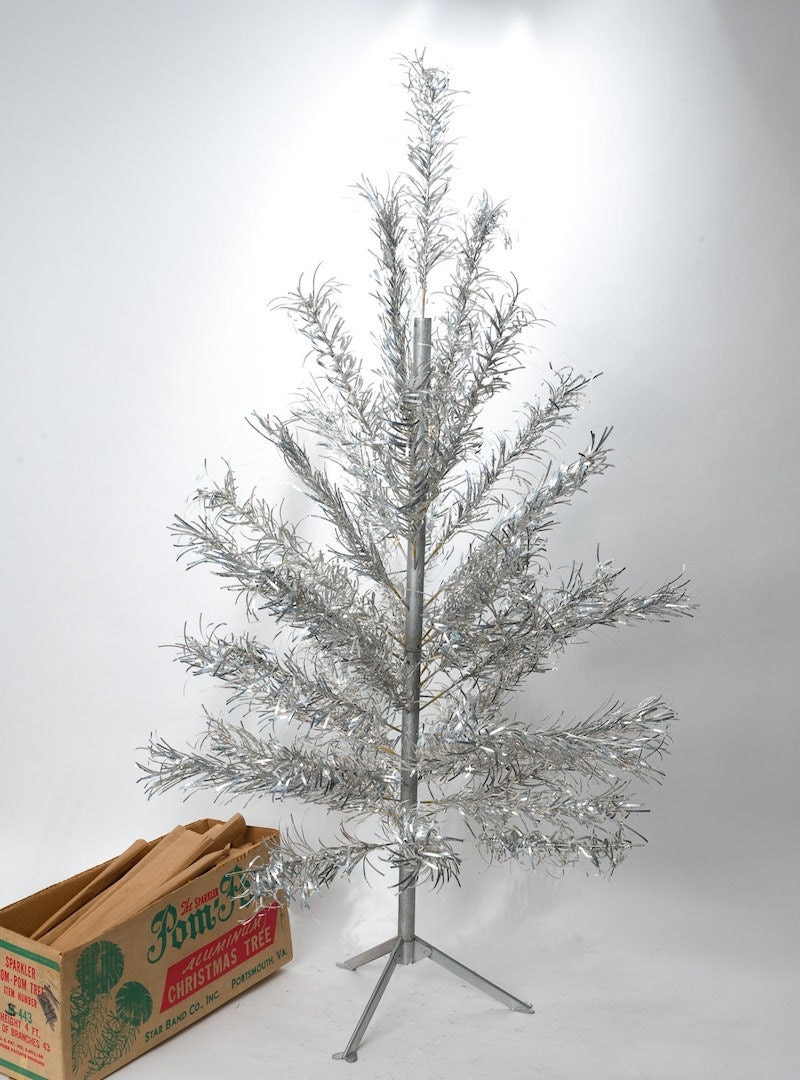 SHOP: Vintage aluminum Christmas tree from Starr Retro, $300
Though there were manufacturers in several parts of the United States—including reports that Modern Coatings, Inc. of Chicago was the first to manufacture the tree in 1958—the great preponderance of commercially-made aluminum trees were created by the Aluminum Specialty Company of Manitowoc, Wisconsin. When their "Evergleam" line debuted in 1959, many embraced the shiny trees as an expression of the new Atomic Age. The trees were made from a slim wooden trunk and with aluminum "branches" notched into holes and feathering out into spindly aluminum "needles." The trees appealed to a Jetsons-style notion of modern living where life was clean, automated, and easy; with an aluminum tree, needles never fell, it could be stored compactly and re-used every year, with none of the fuss of a real tree. As the aluminum trees gained popularity, they were even sold in the popular Sears catalog.
Decorating an aluminum Christmas tree
Aluminum Christmas trees were festive enough to stand alone, but they were often decorated with sets of brightly colored glass ornaments made by manufacturers such as Shiny Brite. Wide hooks on the ornaments were recommended so as to not crush the aluminum needles.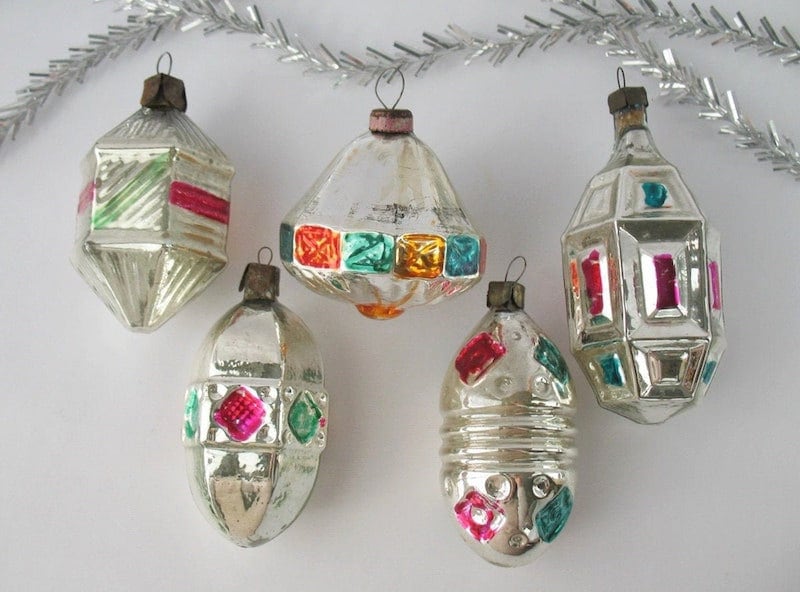 SHOP: Vintage ornaments from Xmas Vintage Items, prices vary $2 and up
Another important accessory was the color wheel. Because adding strings of lights to an aluminum tree was a fire hazard (metal tree + electrical sockets and wiring = not safe), another means of lighting and decorating the tree was developed. The color wheel was a device that sat on the floor next to the tree and shone a spotlight on the branches. A slowly spinning panel of translucent colors created a constant variety of effects on the reflective surface of the tree. Two wheels could be used simultaneously to heighten the effect.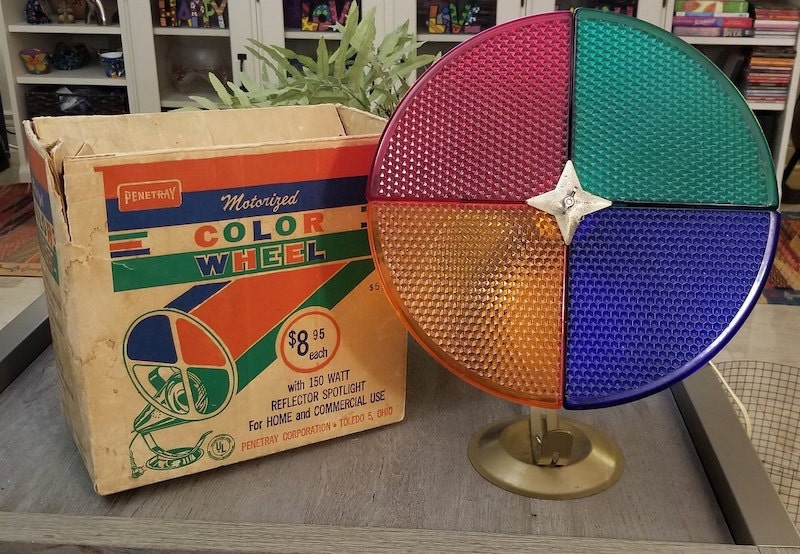 SHOP: Restored vintage color wheel from Aluminum Christmas, prices vary $160 and up
If deluxe lighting were not enough for you, the color wheel could be coupled with a special base that slowly rotated the entire tree. Some bases were mirrored or included music boxes with a favorite Christmas carol for a full multimedia experience.
Charlie Brown and the aluminum Christmas tree decline
Charlie Brown may be in part to blame for the decline of the popularity of the aluminum Christmas tree. His small, scraggly evergreen was seen as superior to the gaudy aluminum version: a triumph of the true and authentic over the fake and commercial. The 1965 airing of his Christmas special, A Charlie Brown Christmas, occurred at the peak of aluminum tree production, as the trend was reaching its saturation point.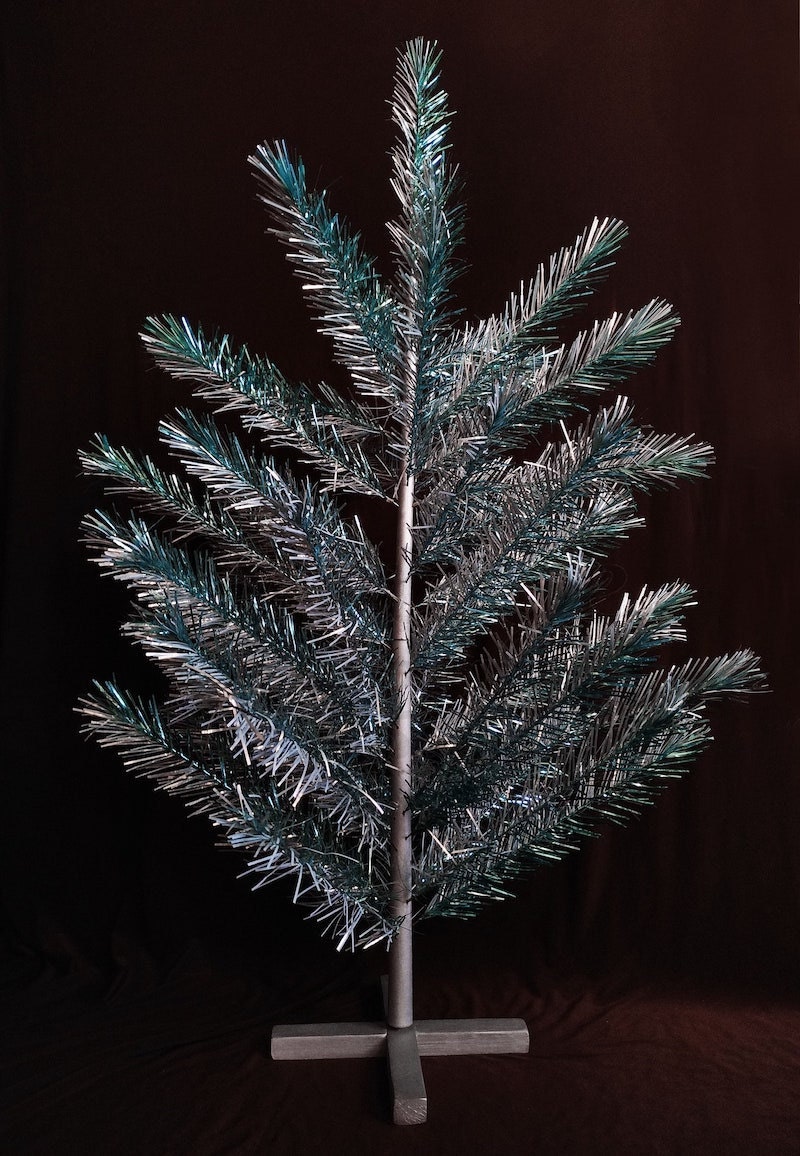 SHOP: Vintage silver and green aluminum Christmas tree from VintageDreamUSSR, $250
Certainly, the more extreme a style, the shorter its life span, and aluminum trees were decidedly not subtle. As the 1960s progressed, tastes changed towards an earthier style and the manufacture of aluminum trees slowed. Evergleam ceased production in 1969, and by the early 1970s aluminum trees were a thing of the past.
A nostalgic reemergence
Appreciation for the trees has increased in recent years, though, and they have become very collectible, especially when found complete and in good condition. Vintage aluminum Christmas trees have more recently been proudly displayed in places such as the Children's Museum of Indianapolis (which also displayed a color wheel in full effect) and the Wisconsin Historical Museum. Outside of museums, vintage aluminum Christmas ​​trees are widely available—some even feature the iconic color wheel that gave these trees such appeal. Once purchased, take care selecting beautiful, handmade glass Christmas ornaments to decorate your tree. Then enjoy the nostalgic beauty of your tree with warm cookies and a festive countdown to Christmas. 
Love vintage holiday trimmings? Learn more about all kinds of antiques and collectibles in our vintage holiday ornaments guide and our vintage holiday decor guide.