Celebrate each year of your relationship with these traditional anniversary gifts, all crafted with care to celebrate your unique love story.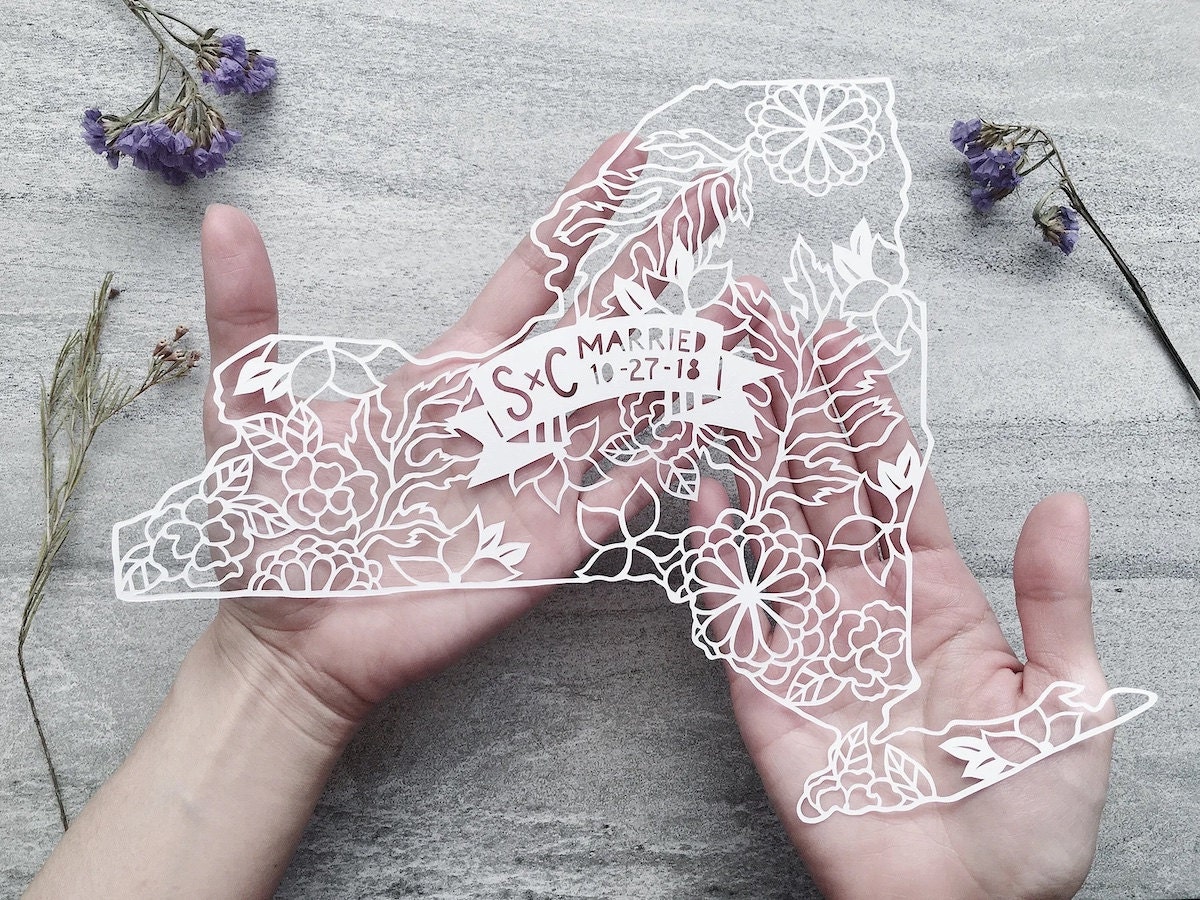 Your love may grow stronger with each passing year, but that doesn't necessarily make gift-buying any easier! Luckily there are traditional wedding anniversary gifts by year that can serve as a guide. From timeless ruby rings to elegantly engraved leather belts, small shops on Etsy have unique anniversary gift ideas for every year, from traditional gifts to more modern picks.
Traditional and modern wedding anniversary gifts by year
As you start shopping for this year's treasure, consider both the traditional anniversary gift theme as well as the more modern spin. Etsy sellers are masters at reimagining these fairly common guidelines, like "paper" for your first wedding anniversary or "silk" for your twelfth anniversary, and handcrafting beautiful, heirloom-worthy gifts that celebrate your relationship while giving a nod to tradition. Skip to the end of this story for a peek at the traditional wedding anniversary gifts by year and their modern anniversary idea counterparts, or keep reading to see our picks for the most unique anniversary gift ideas for each year.
1st anniversary gift: Paper
This versatile material allows lots of room for creativity, whether you want to keep it simple with a sentimental letter or go for something hyper unique like a paper sculpture or other artwork.
An anniversary journal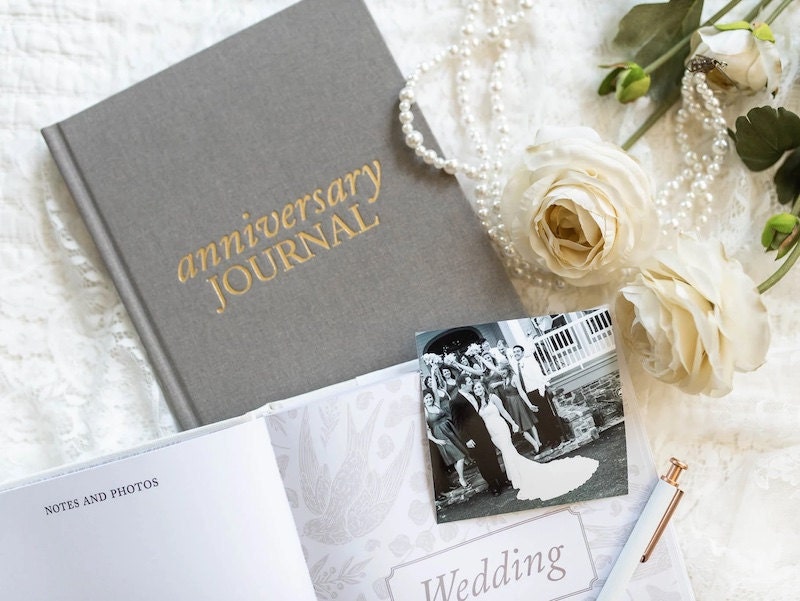 SHOP: Wedding milestone journal from Duncan and Stone, $45
Start your next year off on the right (handwritten) note with a detailed journal created to document your personal love story with sections for every year, including space for photos and helpful prompts to help you get started. This traditional first wedding anniversary gift idea can be referred back to year after year, too!
A personalized paper cut-out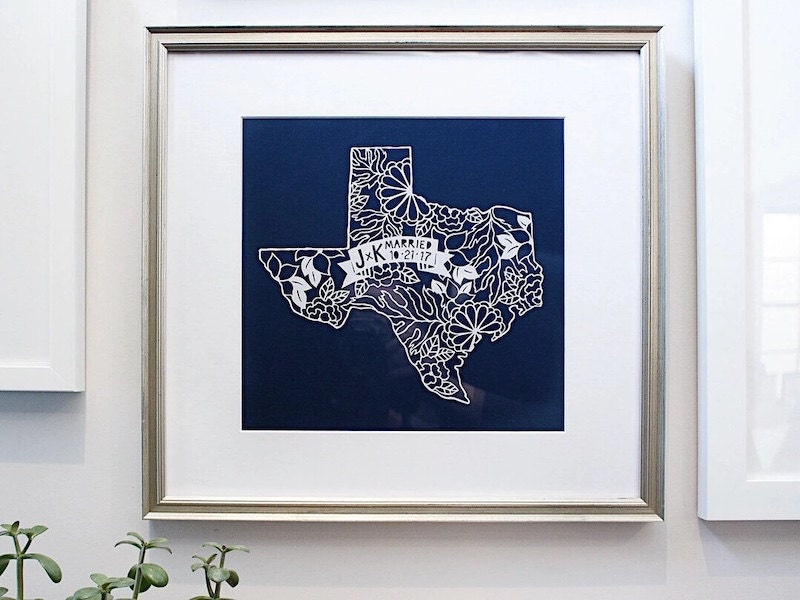 SHOP: State-shaped paper artwork from Paperhugger Studio, $110
Make a loving state-ment with this intricate work of art featuring gorgeous florals meticulously cut by hand in the shape of your wedding location.
2nd anniversary gift: Cotton
From heirloom-quality cotton quilts to tees and socks with playful designs, options are endless for traditional second anniversary gifts on Etsy.
A custom cross-stitch design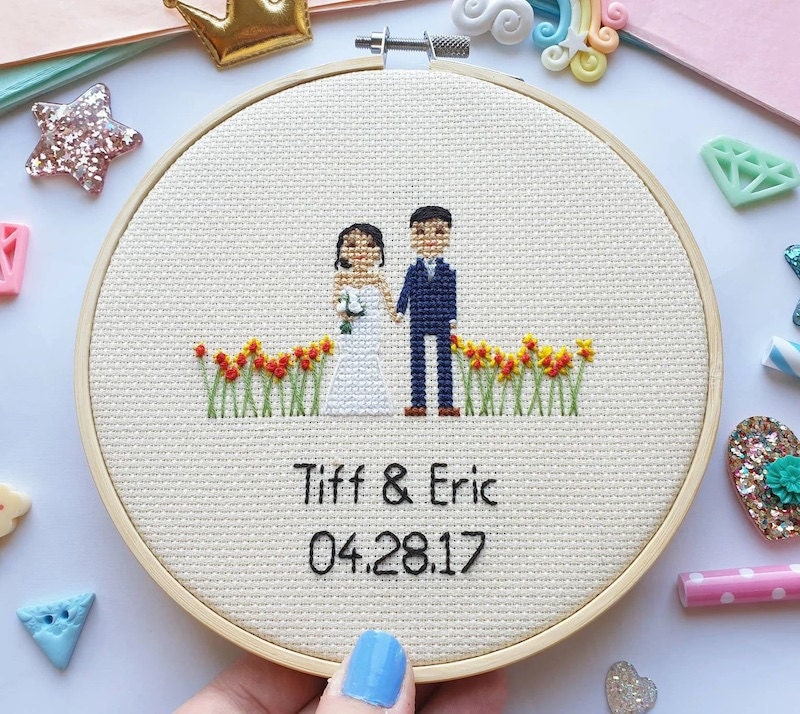 SHOP: Personalized embroidery artwork from Sew Cross Handmade, from $16
Stitched on cotton fabric for a subtle nod to the year's traditional gift item, this ultra-personalized embroidery is a creative way to mark your second anniversary. The background can be customized as well, whether it's the archway you got married beneath or the picturesque mountain range where you popped the question.
Cotton lounge pants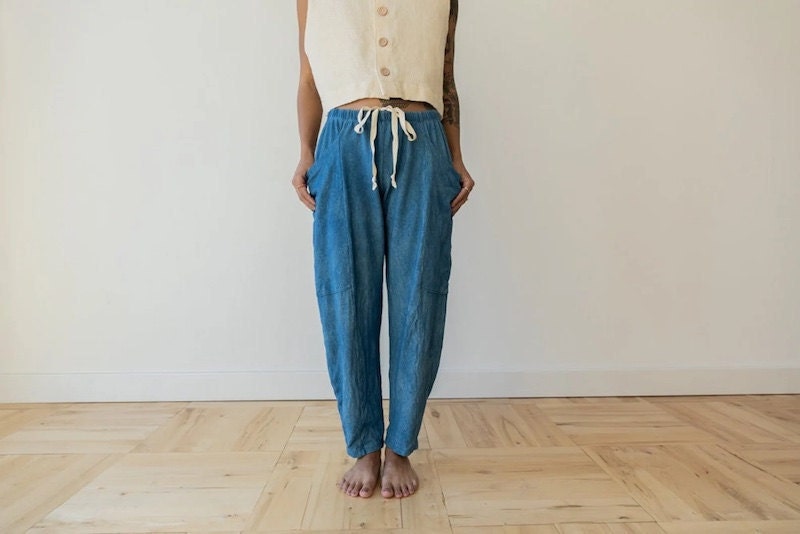 SHOP: Indigo sweatpants from Object Apparel, $186
Hand-dyed with plants for a beautiful blue indigo hue, these soft hemp sweatpants offer maximum comfort and snuggle-ability—perfect for a second wedding anniversary date night at home.
3rd anniversary gift: Leather
Leather accessories like bracelets and belts are sure-fire hits for a traditional third wedding anniversary gift, especially when you buy from makers on Etsy who can personalize them with meaningful dates and initials.
A leather wine tote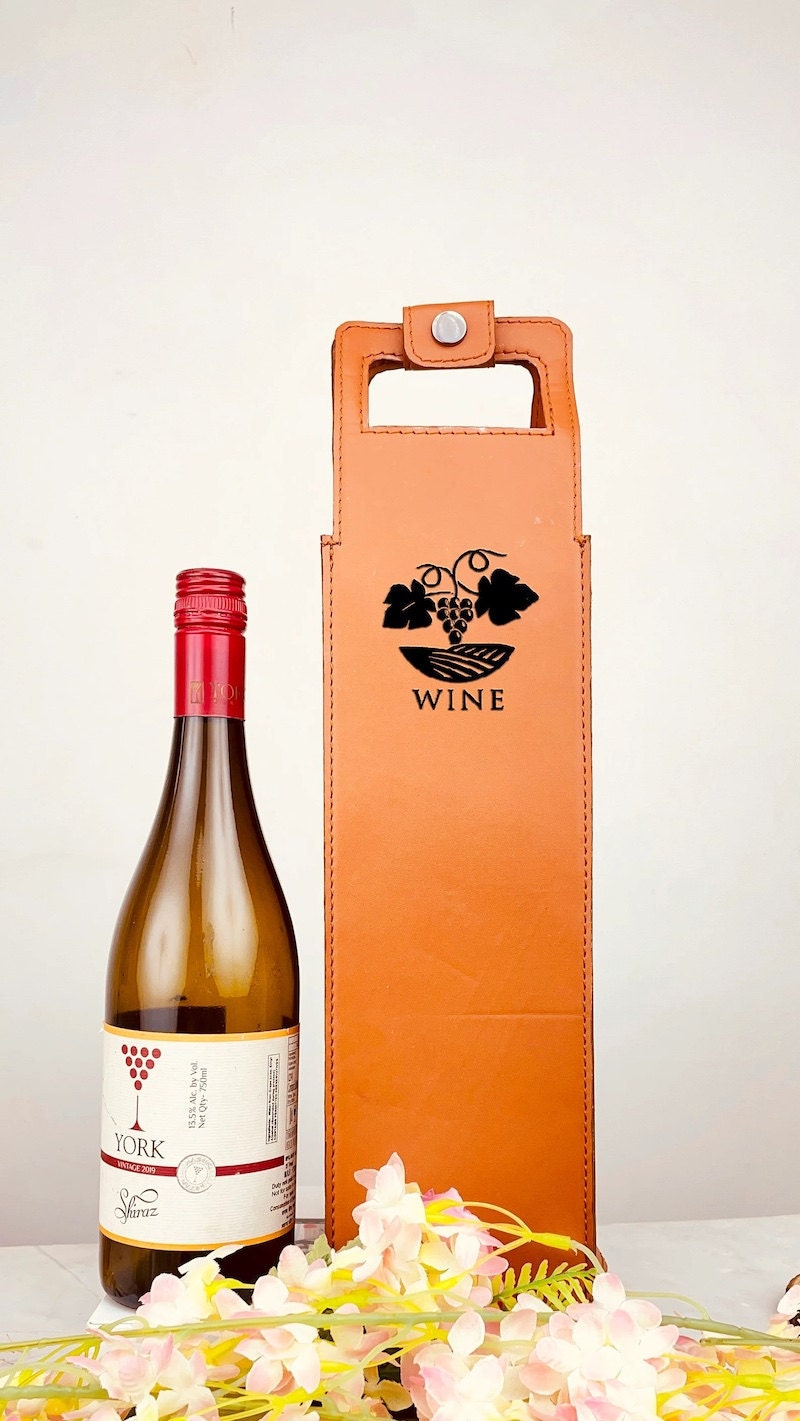 SHOP: Leather wine bottle carrier from Hidemade Craft Store, $233
Paint the town red with their favorite red, lovingly wrapped in this full-grain leather wine tote.
An engraved leather belt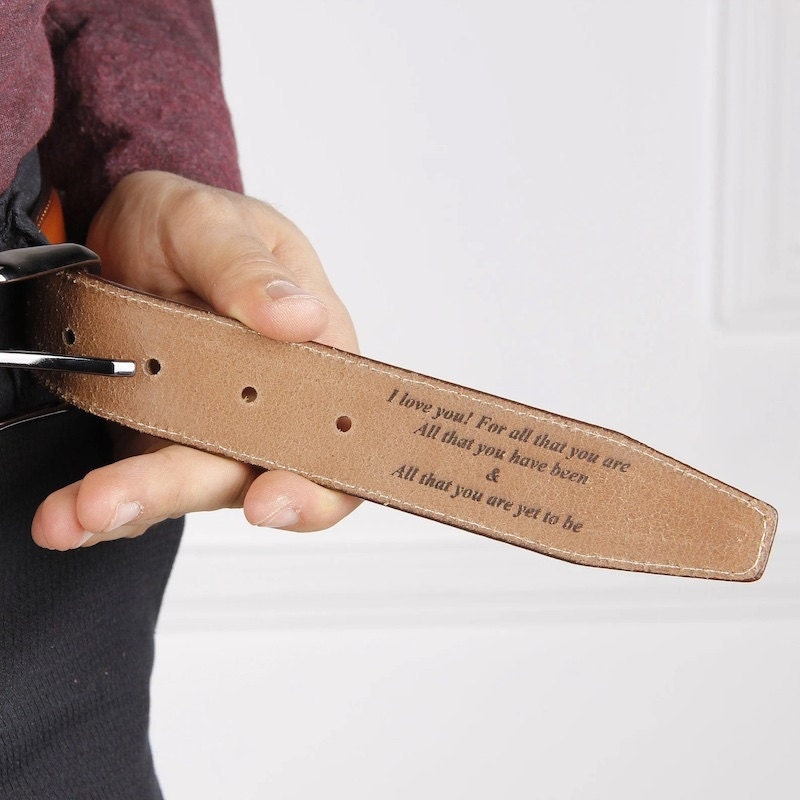 SHOP: Handmade leather belt from Nova Leather Goods, from $22
Engrave a meaningful quote or sweet love note on the inside of this genuine leather belt for a 3rd anniversary gift that's as thoughtful as it is stylish.
4th anniversary gift: Fruit or flowers
Traditional fourth wedding anniversary gifts can be either fruit- or floral-themed. Skip the standard bouquet that can wilt away and opt instead for a one-of-a-kind treasure featuring these botanical motifs.
Stained glass artwork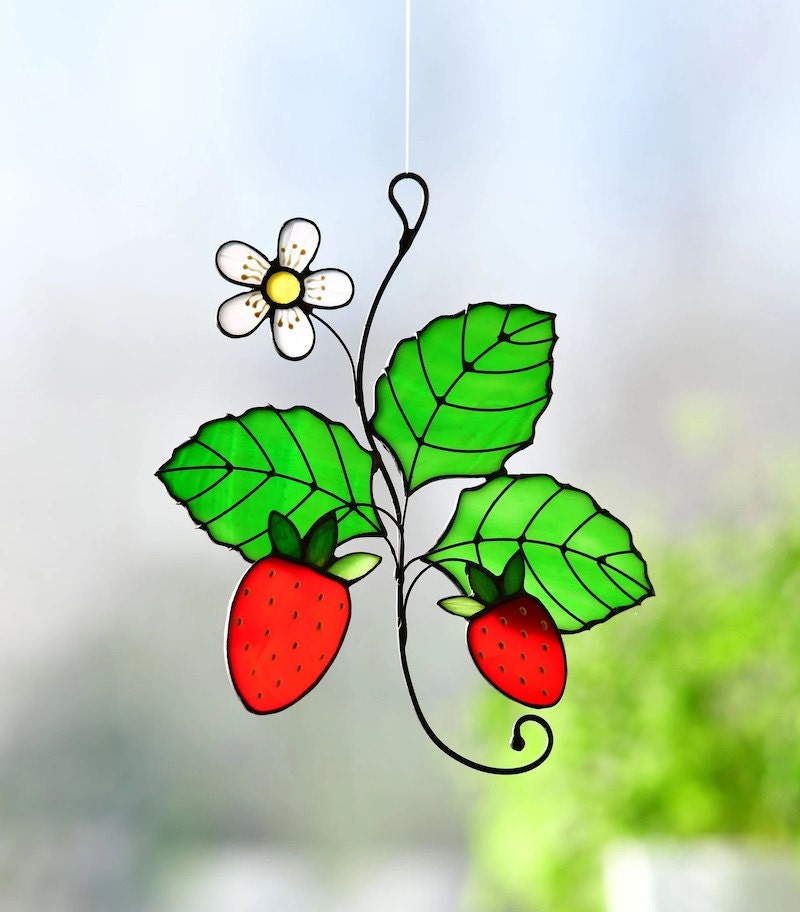 SHOP: Strawberry suncatcher from Kolibri Art Glass, $58
Your spouse will be so "berry" thankful for these sweet fruits and flowers to brighten up the kitchen on your fourth wedding anniversary.
Tangerine kitchen linens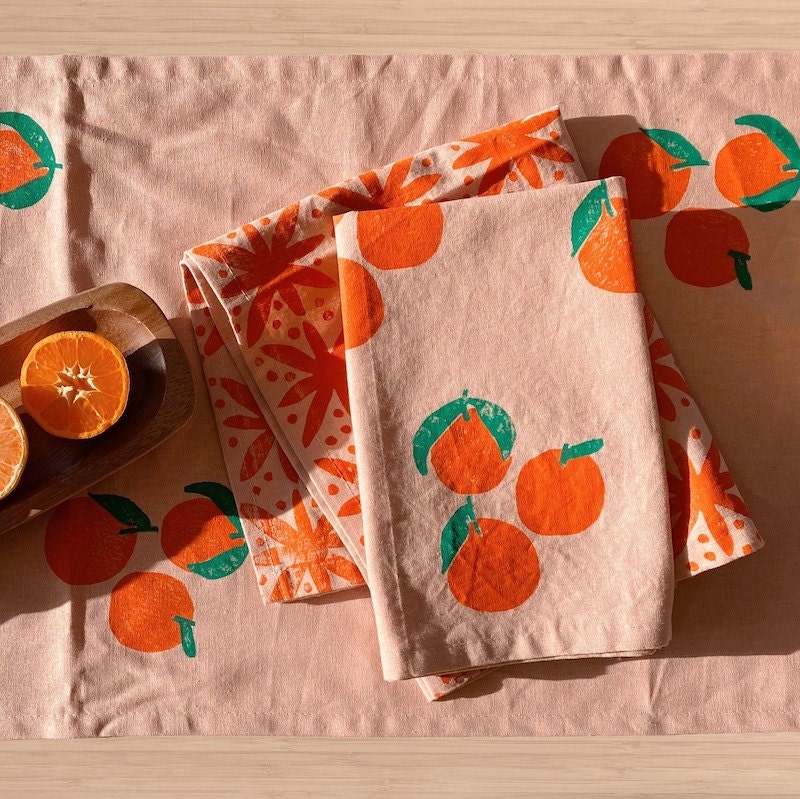 SHOP: Block-printed linen napkins from Julie Peach, from $28
Perfect for picnics, summer garden parties, or everyday breakfasts together, these sunny, citrusy kitchen linens can be used as napkins, placemats, or tea towels.
5th anniversary gift: Wood
Cutting boards and picture frames are unique twists on the traditional fifth anniversary gift: wood. If you're looking for an activity to complete together, try a set of wooden date night dice or a personalized puzzle.
A wooden photo print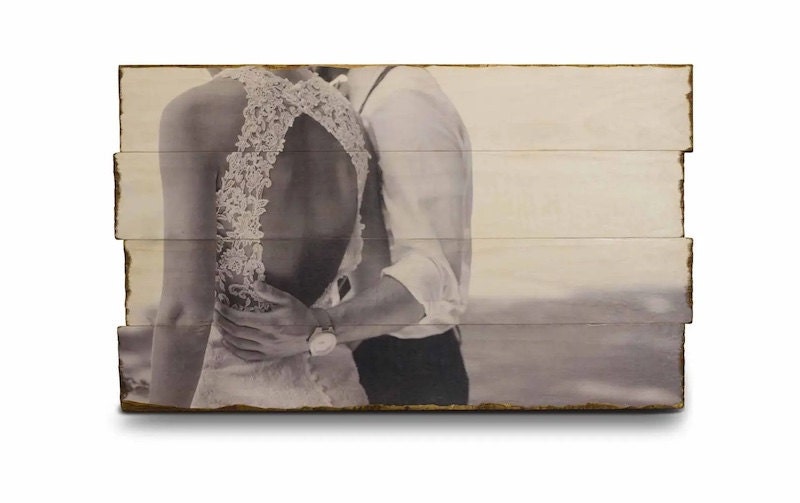 SHOP: Wooden pallet photo print from Boaz Fields, from $89
Have a favorite photo of the two of you? Turn the moment into a one-of-a-kind piece of art by getting it printed on real wood for a rustic and romantic fifth anniversary gift.
A wooden keepsake box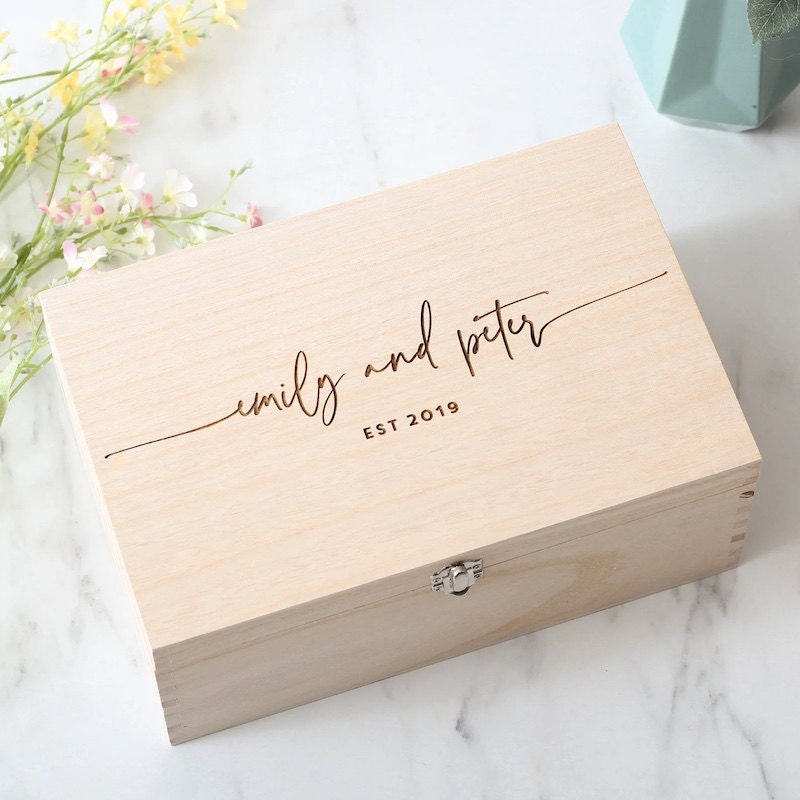 SHOP: Custom wedding keepsake box from That's Nice That UK, from $30
With five years of marriage under your belts, you've likely accumulated a few keepsakes along the way. Save all those little reminders of the memorable moments in your journey together in this personalized keepsake box.
6th anniversary gift: Iron
Celebrate the time-tested strength of your love on our sixth wedding anniversary with unique gift ideas from personalized cast iron skillets to bookmarks and bottle openers.
A heart-shaped dish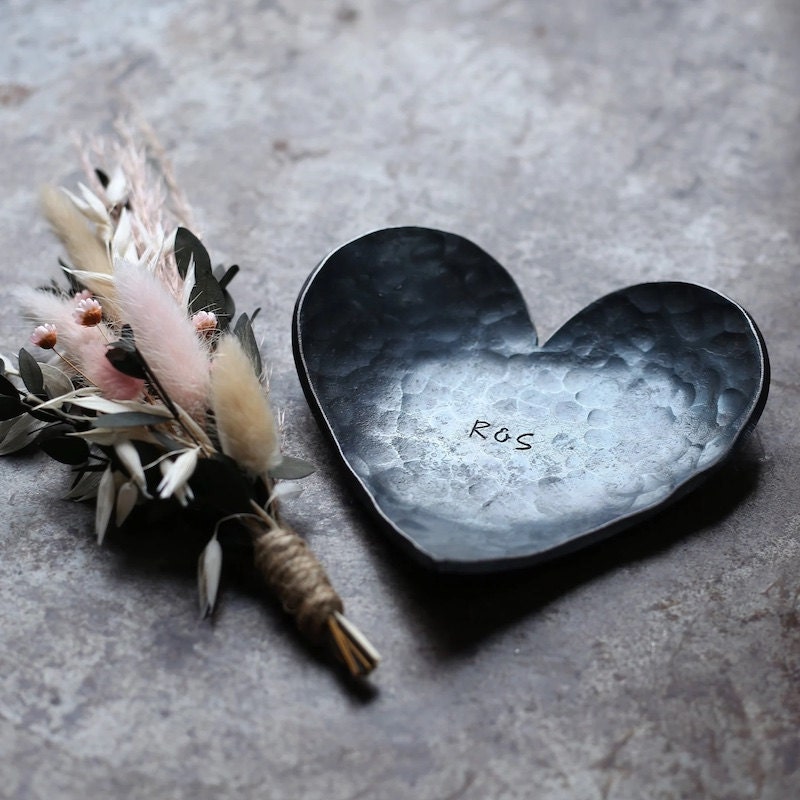 SHOP: Iron catch-all tray from Coach House Forge, from $69
This hand-forged iron catch-all bowl is customized using vintage letter and number stamps for an extra-special touch.
A solid steel fire pit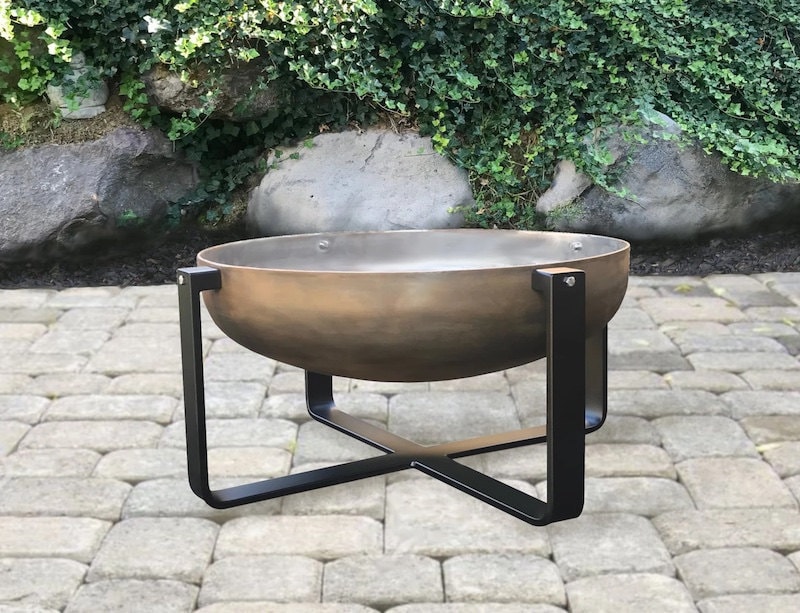 SHOP: Industrial-style fire pit from Knox Elements, from $435
The perfect excuse to cuddle up together, this sleek, heavy-duty fire pit is built to last.
7th anniversary gift: Wool
For your lucky seventh wedding anniversary, incorporate the traditional gift of wool into their present by opting for a snuggly sweater or a fun felted work of art from a small shop on Etsy.
A wool flower bouquet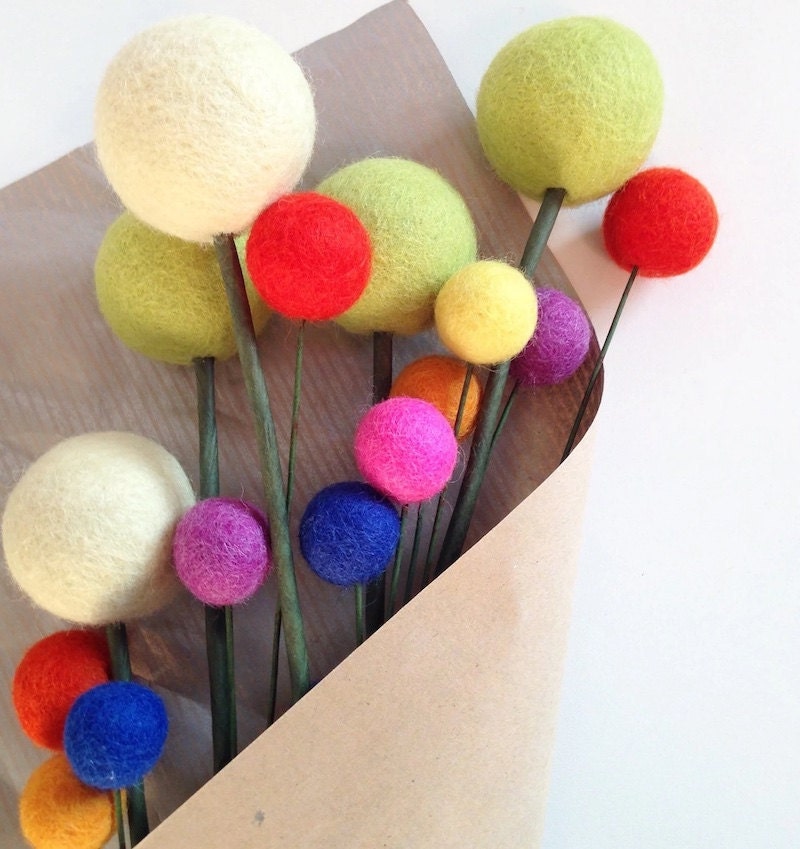 SHOP: Colorful felt flowers from Hoppsy Daisy, from $44
There's no doubt that love will be "felt" when you give this vibrant forever bouquet that will last far longer than real flowers.
Wool slippers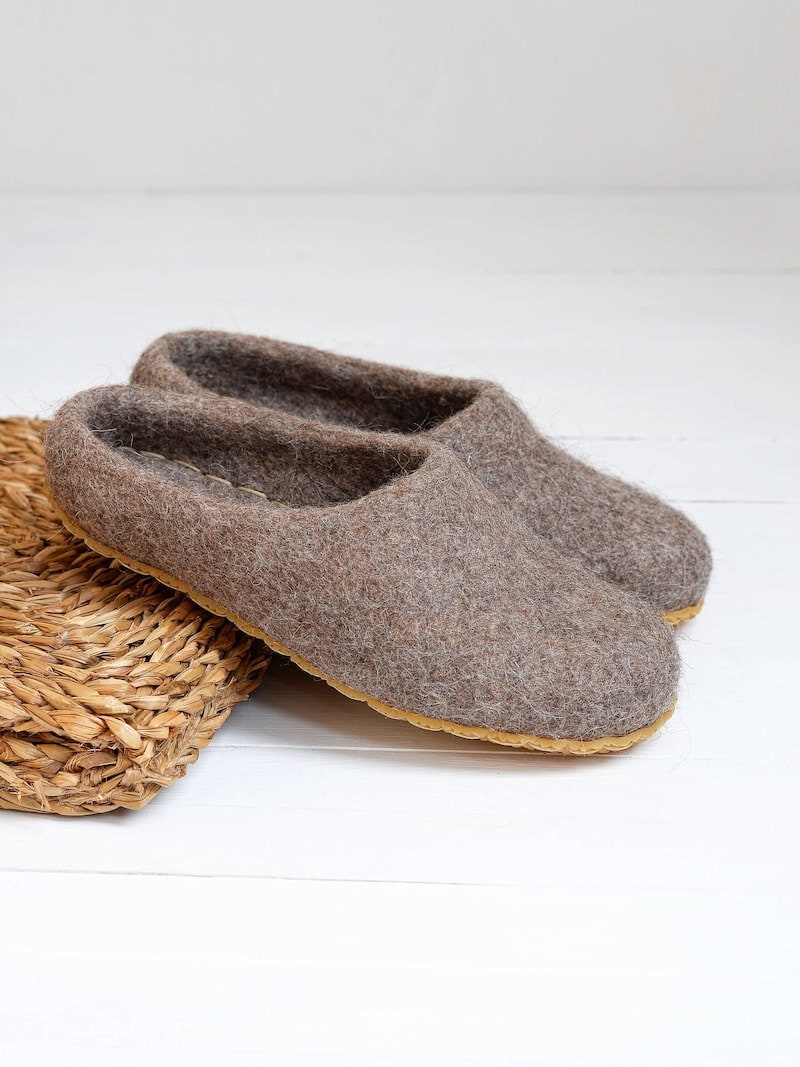 SHOP: Boiled wool house shoes from VA Slippers, from $70
Help your sweetheart keep cozy in these warm and comfy slippers made from natural, unprocessed sheep wool.
8th anniversary gift: Bronze
Bronze is the traditional material for eighth wedding anniversaries, making pendant necklaces, belt buckles, and barware excellent choices for this celebration.
A botanical sculpture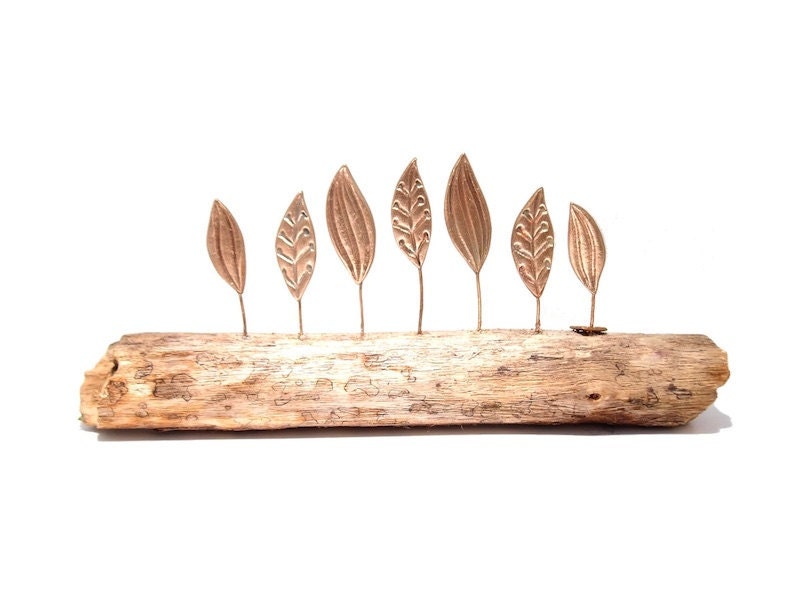 SHOP: Bronze leaf decor from Les Bijoux De Bull, $71
Delicate bronze leaves adorn a piece of driftwood to bring the forest straight to your nature-loving lover.
A bronze pint glass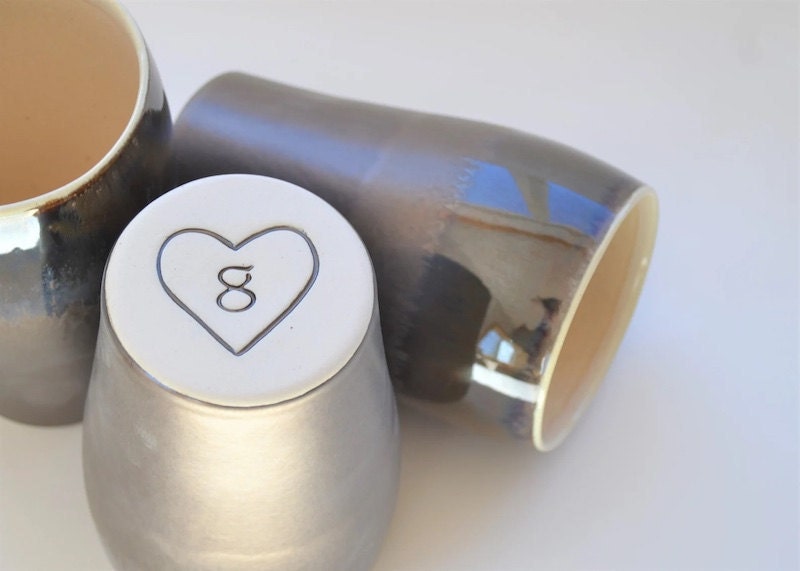 SHOP: Bronze beer stein from Sarah Welch Pottery, $44
Beer buffs will be "hoppy" with this hand-glazed stoneware stein, stamped on the bottom with an "8" inside of a heart to signify this year's milestone.
9th anniversary gift: Pottery
With all the talented ceramicists on Etsy, there's plenty of room to get creative with the traditional 9-year anniversary gift of pottery. Find the perfect mug, vase, sculpture, candle holder, planter—you name it! These pottery pieces are sure to put a smile on your partner's face.
A ceramic vase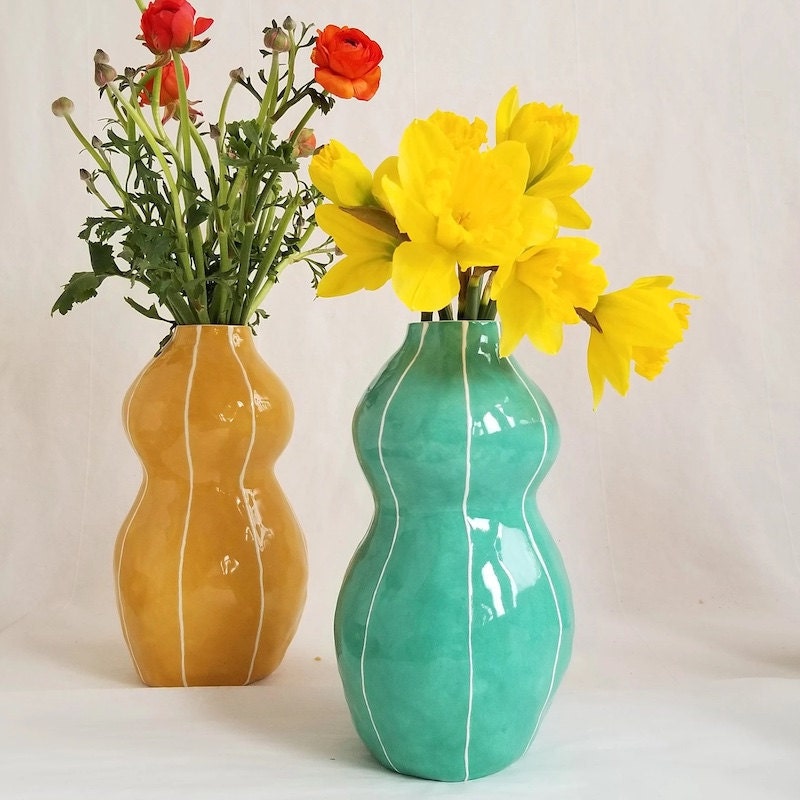 SHOP: Glossy handmade vase from Kri Kri Ceramics, $76
Perfect on its own or with their favorite florals for bonus points, this tall pottery vase looks just as great with a single blossom as it does with a full bouquet.
A ceramic tumbler set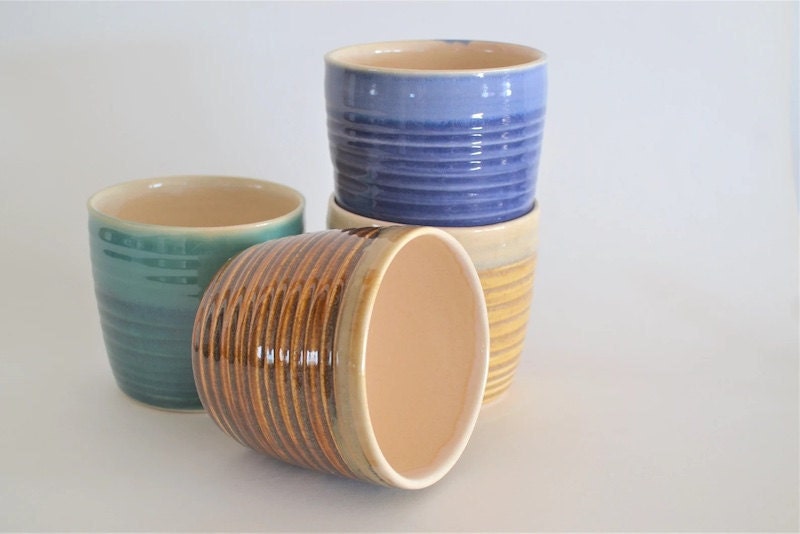 SHOP: Handmade whiskey glass set from Copitas De Mezcal, $96
Cheers to all the joyous years ahead with this set of four earthy, textured whiskey tumblers—a perfect gift for the bourbon lover who only has heart-eyes for you.
10th anniversary gift: Aluminum
Celebrate a whole decade together with a special piece of jewelry or a personalized sign that you can hang in your home and admire for years to come.
A custom coordinates bracelet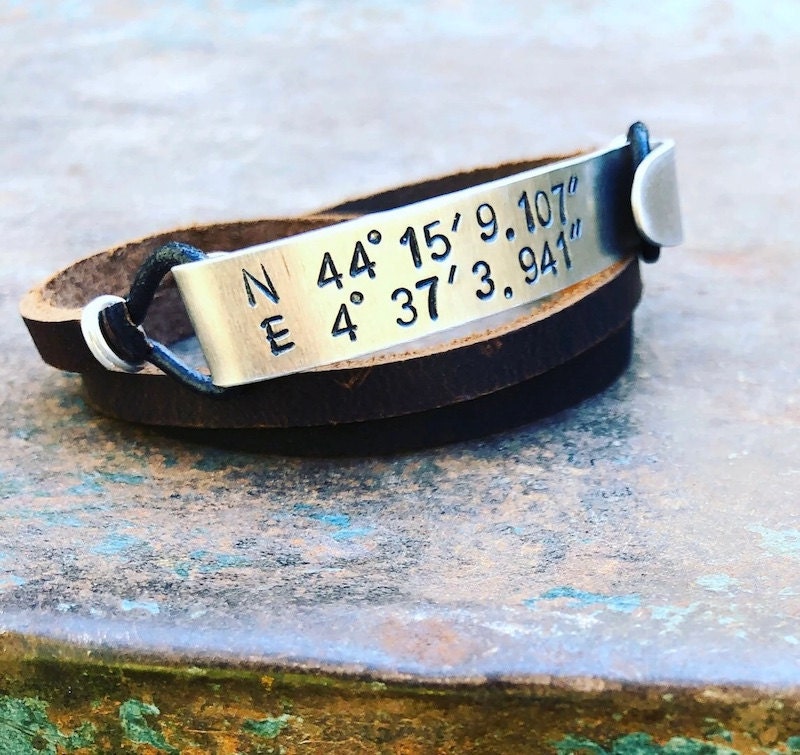 SHOP: Leather and aluminum cuff from Dada Lela, $39
Get this authentic Spanish leather and stainless zinc-plated aluminum cuff engraved with the coordinates of where you met, got married, or bought your first home.
An aluminum crystal necklace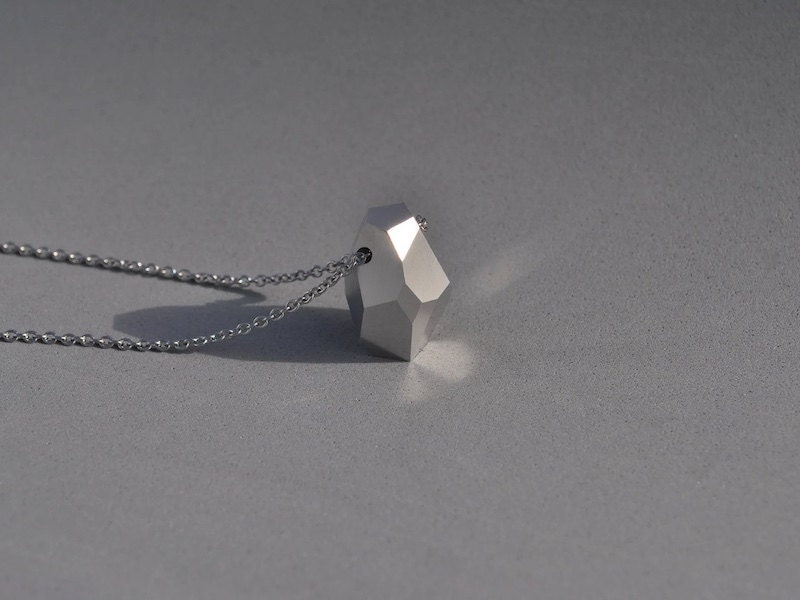 SHOP: Rock pendant necklace from Fus13on Fine Art, $210
Hand-sculpted from aerospace-grade aluminum, this faceted rock crystal pendant necklace is the perfect way to remind them that you're their rock.
12th anniversary gift: Linen
For your twelfth year, give them luxurious linens they can wear or use or get a piece of custom textile art from a skilled maker on Etsy.
Luxe linen sleepwear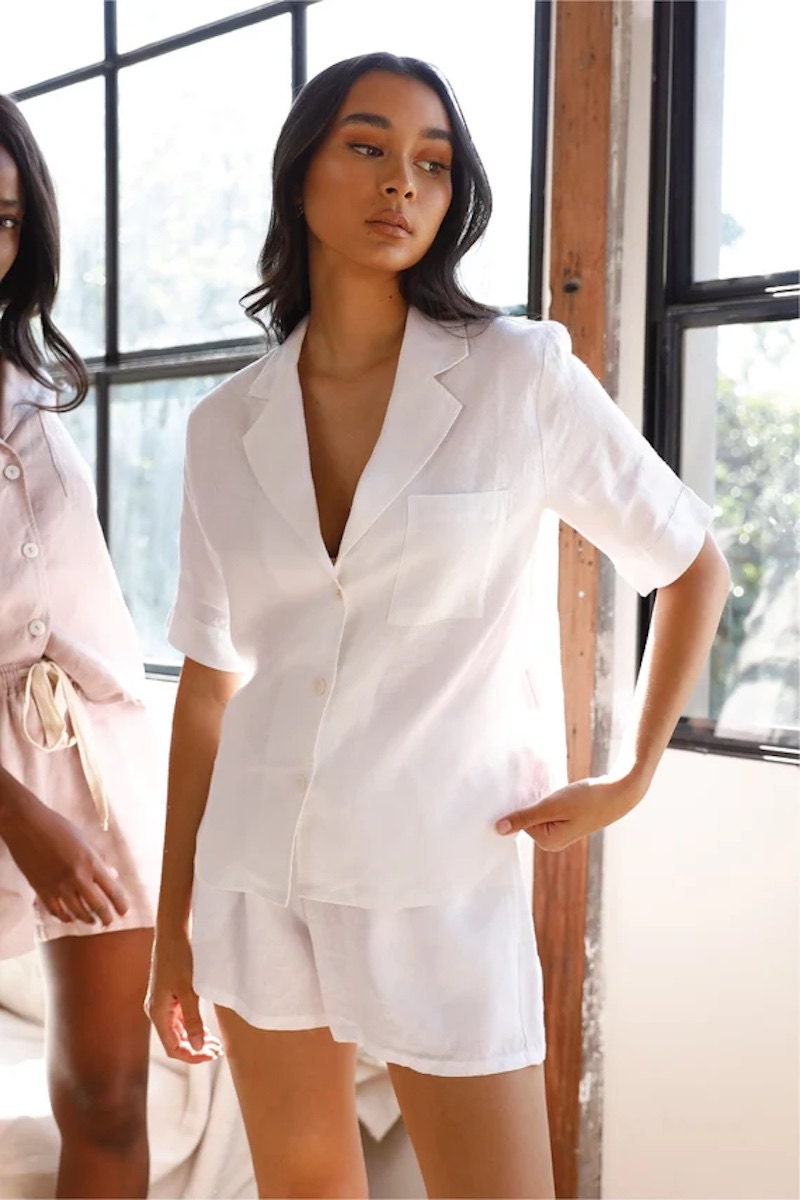 SHOP: Linen pajama set from The Bridal Thread, $80
Hearken back to those bridal whites with this luxurious linen sleepwear set perfectly designed for the sweetest of dreams.
A plaid picnic blanket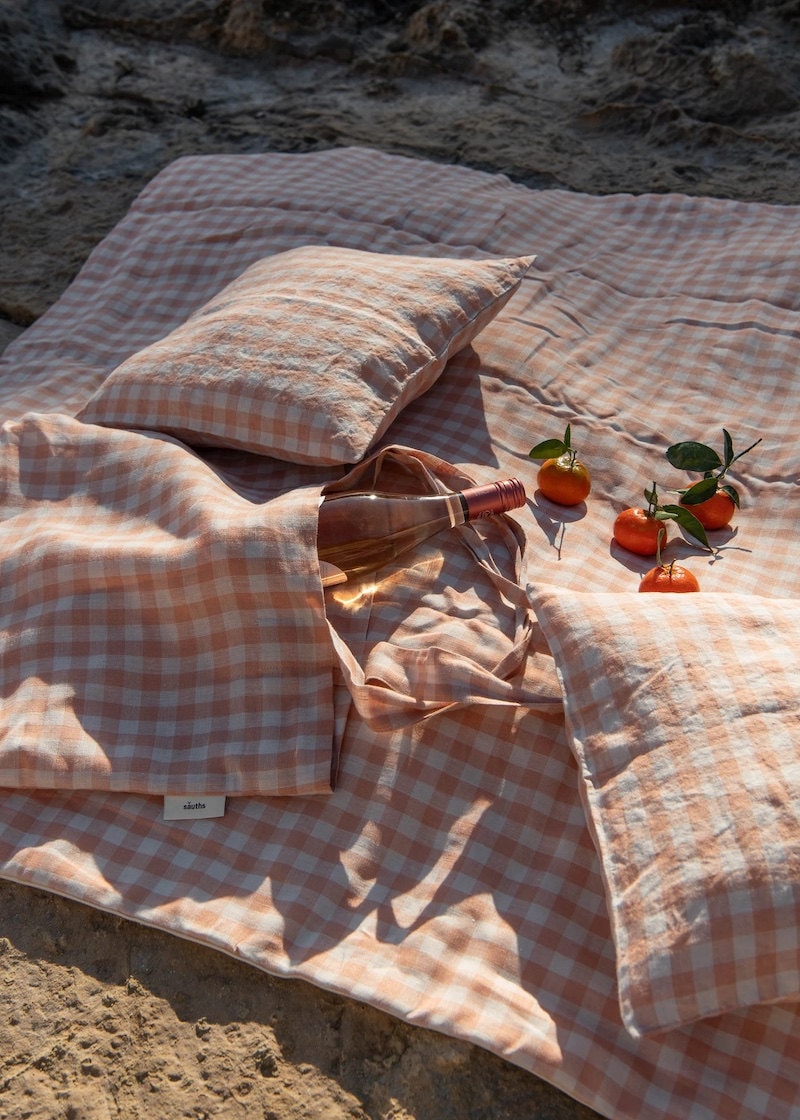 SHOP: Handmade linen blanket from SAUTHS, $152
Spice up your next picnic date or beach trip with this cheerful linen blanket and matching carrying bag.
15th anniversary gift: Crystal
Crystal is the traditional gift of choice to celebrate 15 years of marriage. Toast this milestone with an opulent set of wine glasses or surprise them with a stunning piece of glass artwork.
A crystal sun catcher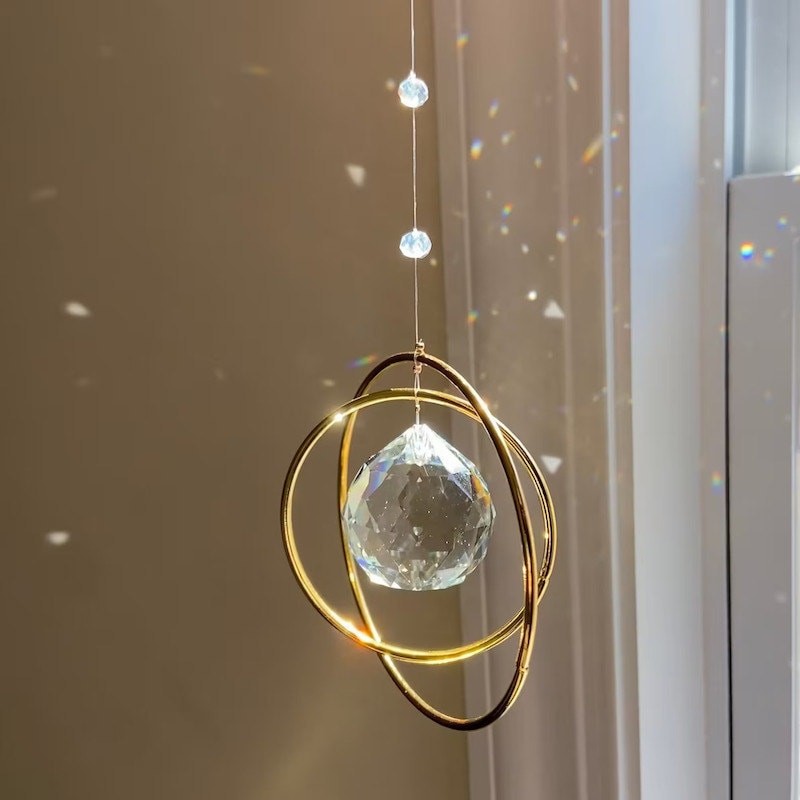 SHOP: Prismatic crystal ball sunc atcher from Sunlight On You, $26
Show them that you think they're out of this world with this intergalactic crystal sun catcher that will fill any space with magical rainbows in the sunlight.
A crystal star map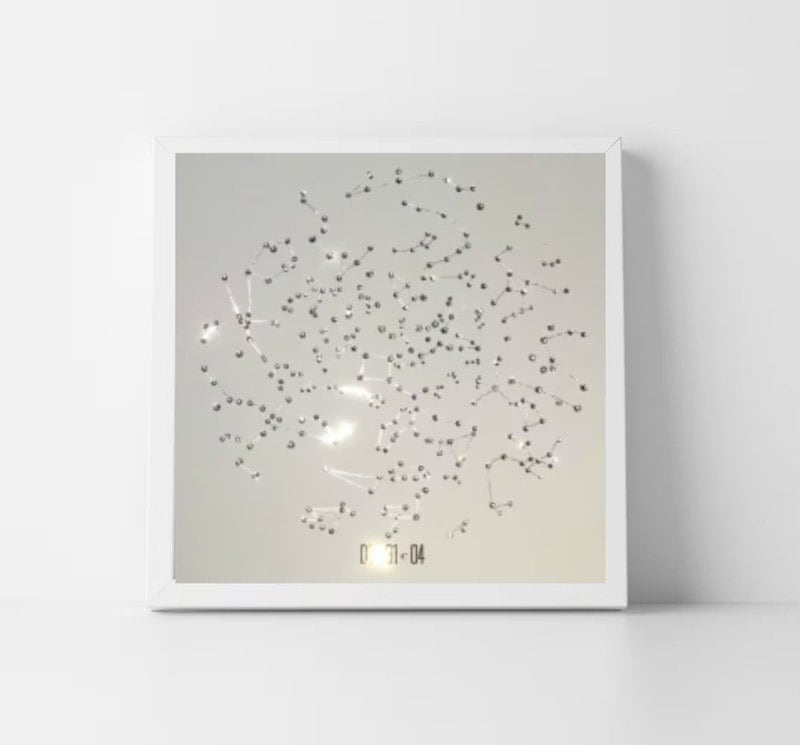 SHOP: Crystal constellation map from Crystalline Star Maps, from $73
They're sure to be starry-eyed over this crystal-studded map that reflects the constellations present on whatever special day you have in mind.
16th anniversary gift: Wax
For your sweet sixteenth, give them a reason to relax with a sweet-smelling candle or offer some taper candles to motivate more romantic dinners.
Assorted wax seals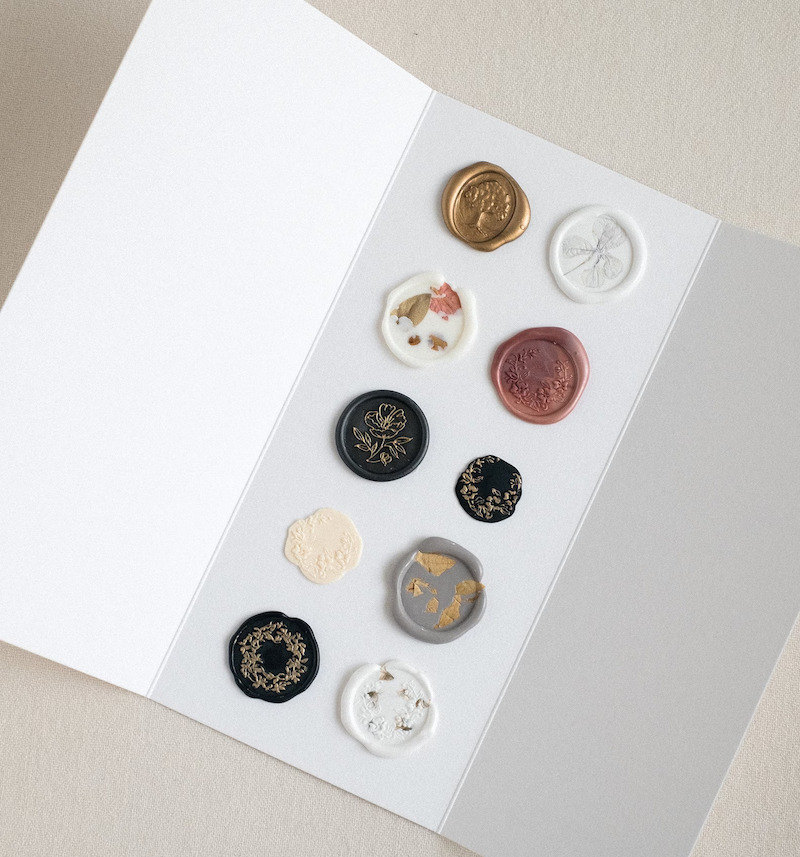 SHOP: Self-adhesive floral wax seals from Little Carabao Studio, $25
Write them a sentimental love letter that hearkens back to the traditional first-year anniversary gift of paper and marks just how far you've come. Add these elegant wax seals for the perfect finishing touch.
Beeswax taper candles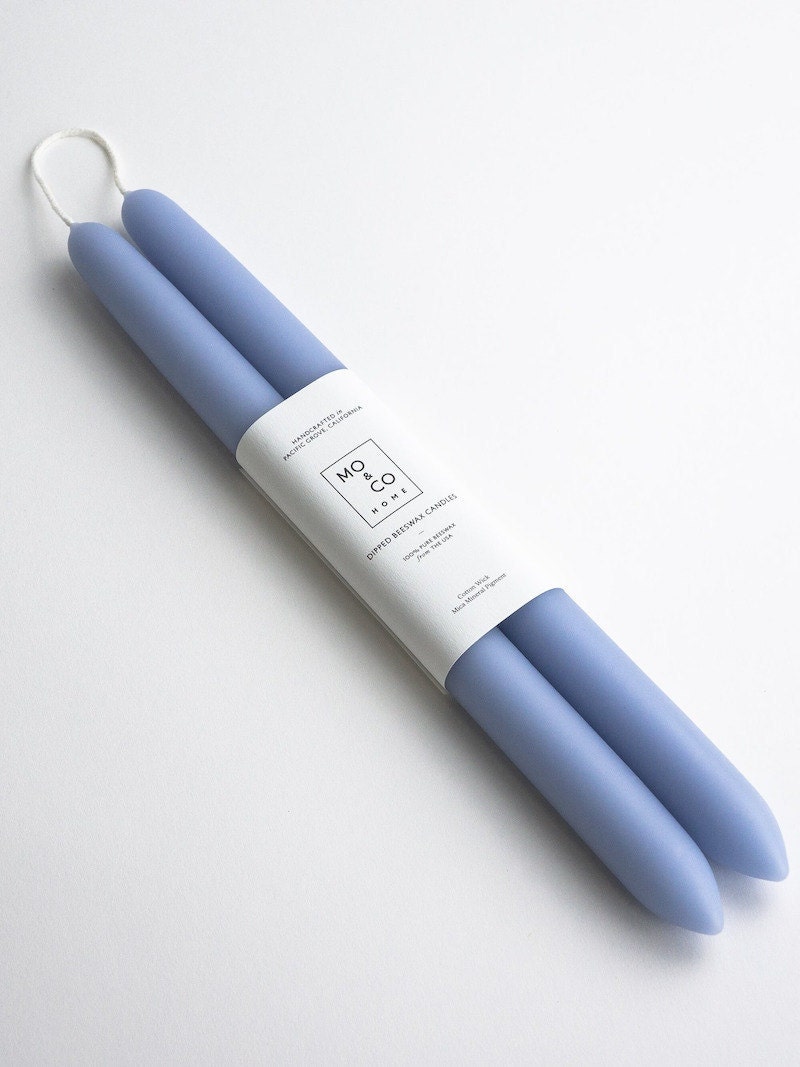 SHOP: Frosty blue taper candles from Mo and Co Home, from $16
Light these periwinkle blue taper candles to set the mood for a romantic night in from the comfort of your own dining room.
A lavender soy candle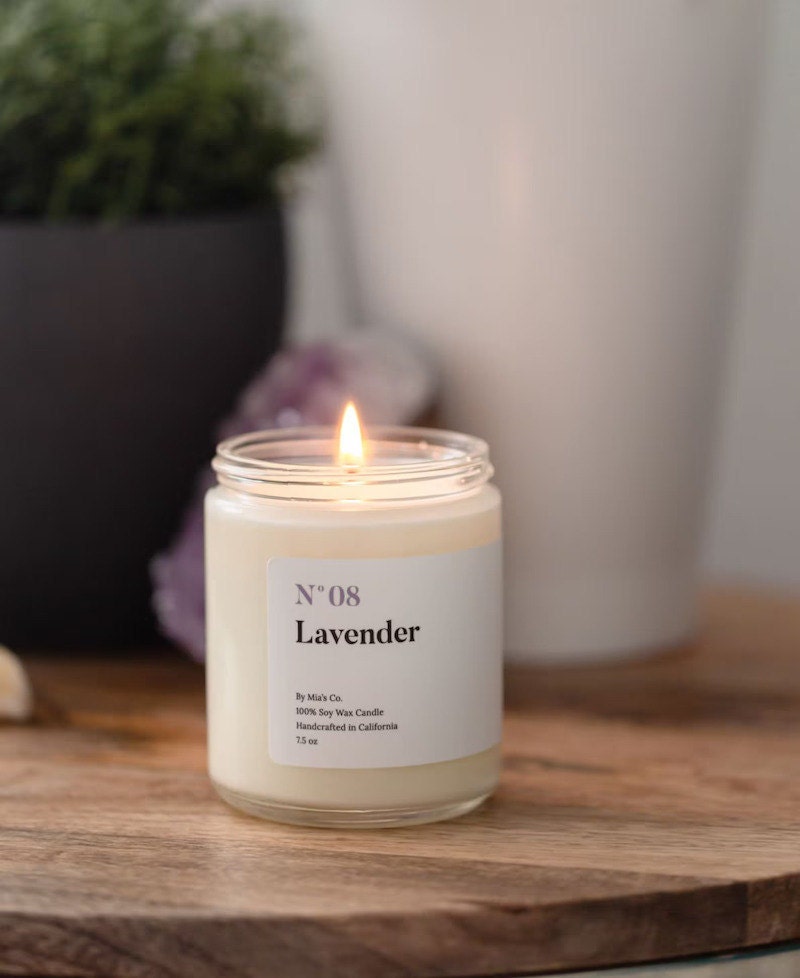 SHOP: Handmade jar candle from Mia's Co Candle, $22
Lavender, lemon rinds, and bergamot combine to create a soothing scent that encourages moments of calm and rest.
20th anniversary gift: China
Level up your tableware by gifting them posh porcelain plates, bowls, or mugs for a 20th wedding anniversary.
A blue porcelain mug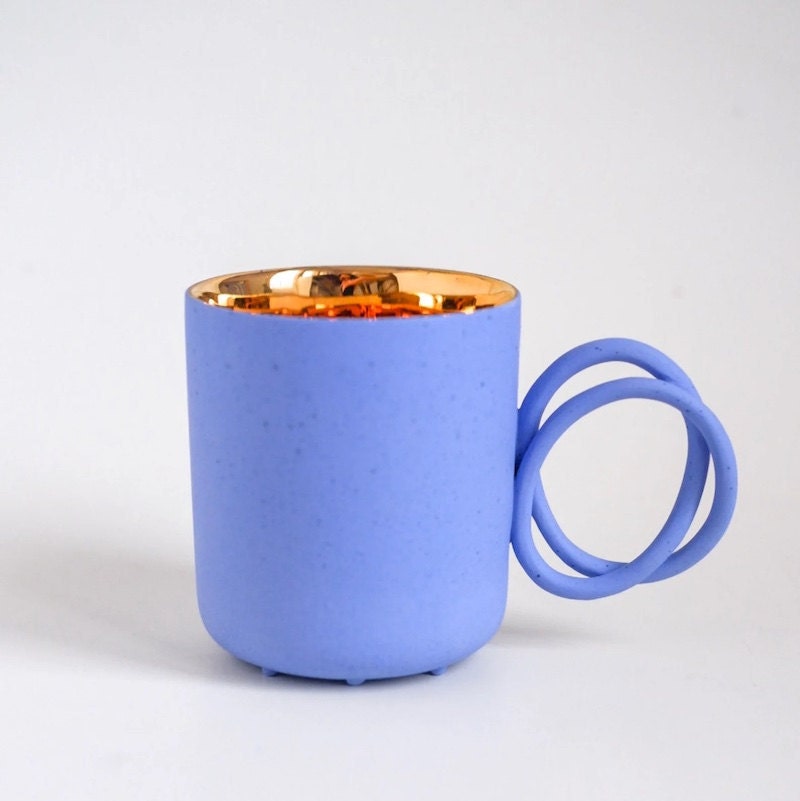 SHOP: Handmade modern mug from ENDE Ceramics, $77
Coffee and tea enthusiasts will be delighted by this chic mug that features a playful handle design and a surprise golden finish on the interior.
A fine bone china bowl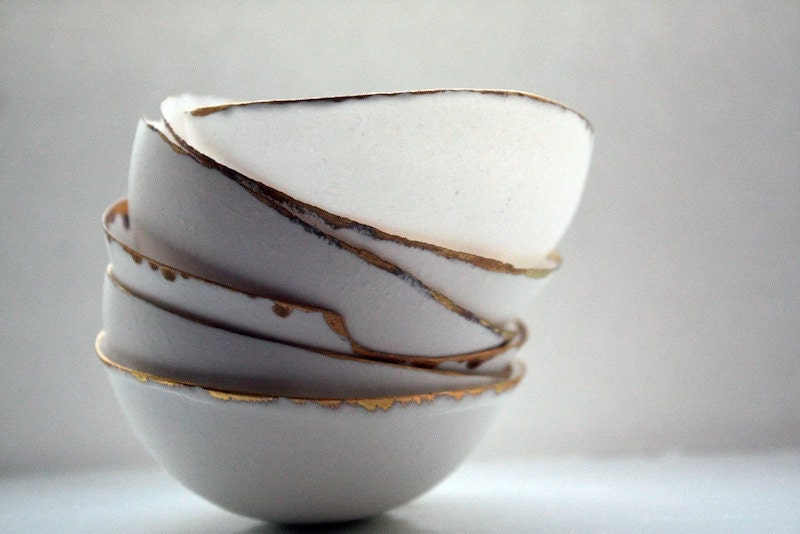 SHOP: White porcelain bowl from Made By Manos, $33
This exquisite stoneware vessel adds a unique flair to any affair with its imperfect gilded edges.
25th anniversary: Silver
Silver is the traditional 25-year anniversary gift, so find a piece of jewelry that fits your partner's personal aesthetic or get creative with a silver sculpture or other art piece from a seller on Etsy.
A simple brooch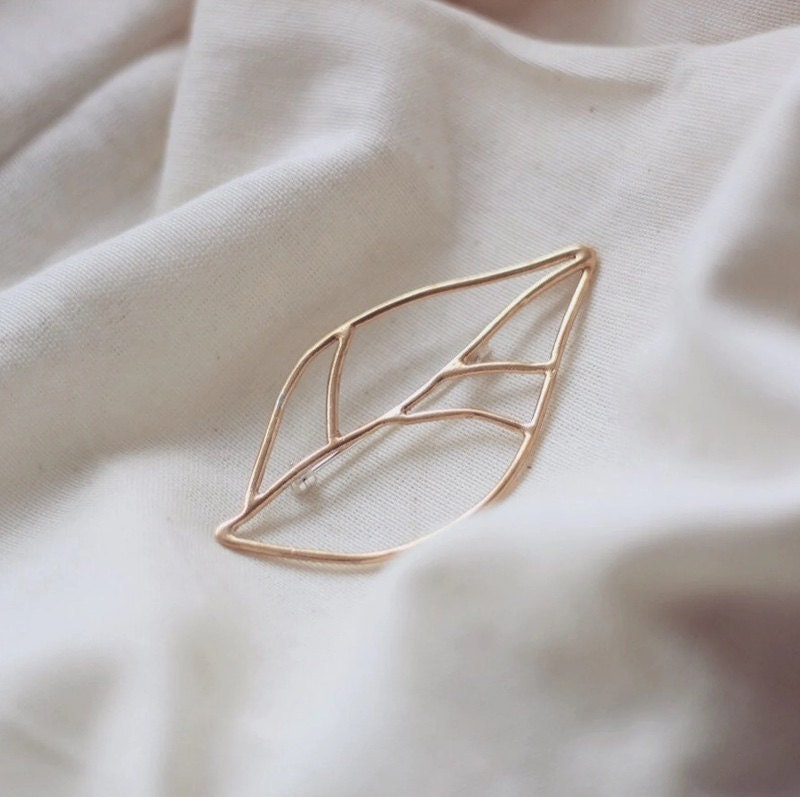 SHOP: Silver leaf pin from Studio BALADI, $84
"Leaf" an impression on your sweetie with this dainty, minimalist brooch that elevates any outfit.
Silver cufflinks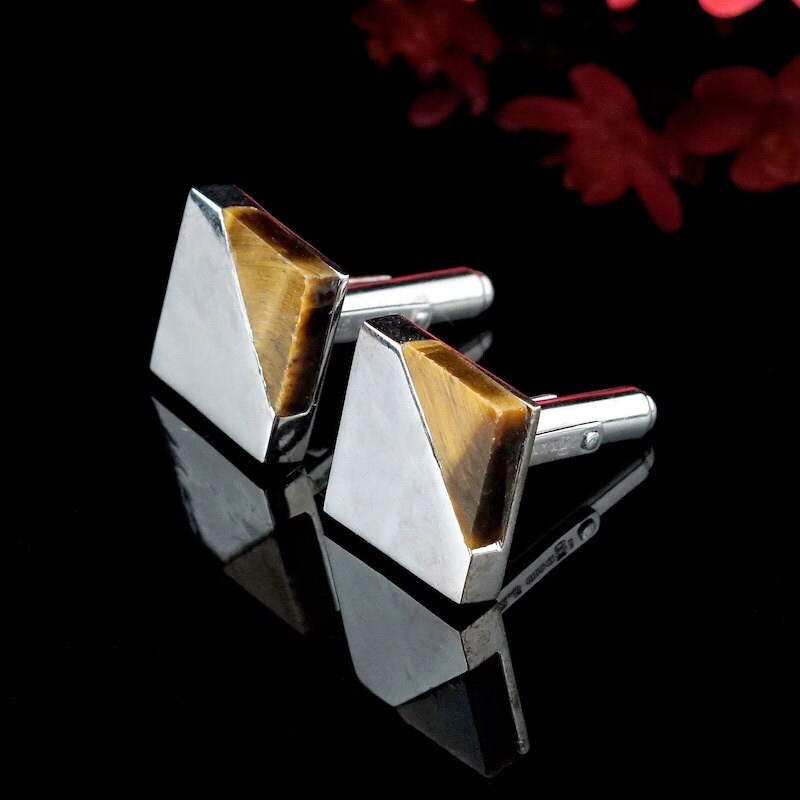 SHOP: Square tiger eye cufflinks from Anagi Jewels, $181
Plated with a genuine tiger eye stone, these geometric cufflinks make a striking statement.
A custom moon phase pin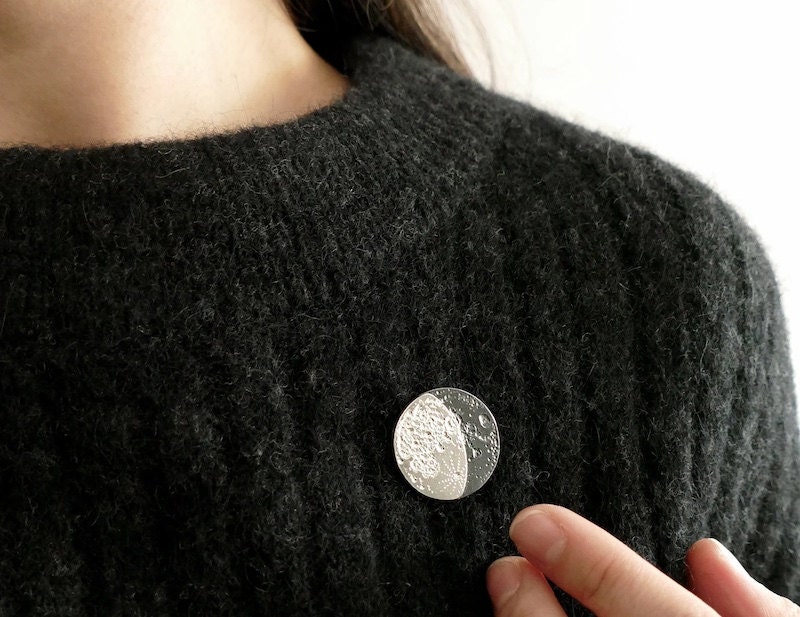 SHOP: Personalized lunar brooch from Gemagenta, $144
They'll be over the moon for this thoughtful pin that commemorates a meaningful time you shared via a realistic engraving of the lunar phase from that unforgettable evening.
Mushroom terrarium decorations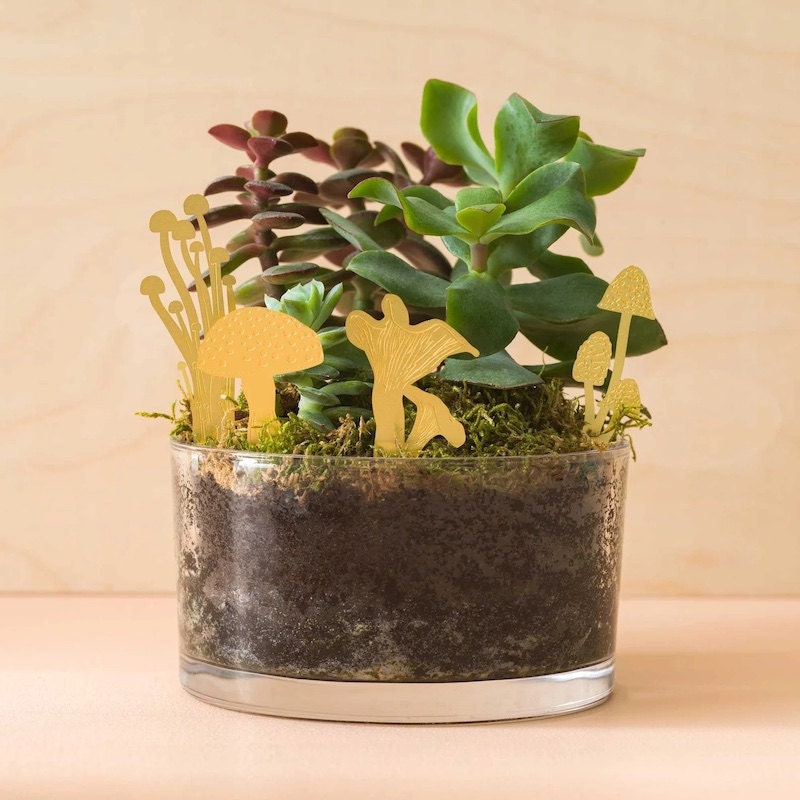 SHOP: Silver mushroom ornaments from Another Studio, from $14
These delightful decorations add a dash of whimsy to terrariums, plant pots, or gardens for spouses who have already been gifted with a green thumb.
30th anniversary gift: Pearls
Pearl and mother of pearl jewelry are the traditional choice for 30th wedding anniversary gifts. For a more modern spin on this gift idea, what about useful kitchenwares that feature pearlescent accents?
A dainty pearl necklace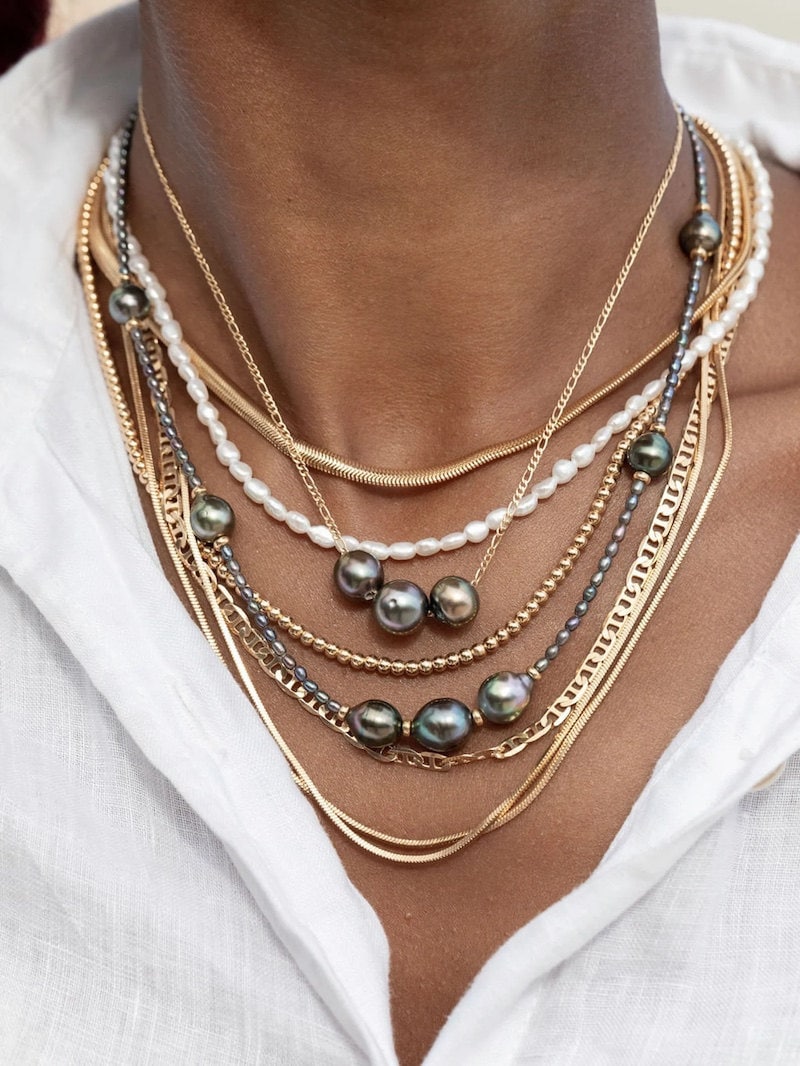 SHOP: Pearl-beaded choker necklace from Ke Aloha Jewelry, $60
Lustrous pearl beads line this gold-filled necklace that can be layered or shine brilliantly on its own.
A unique pearl and china vessel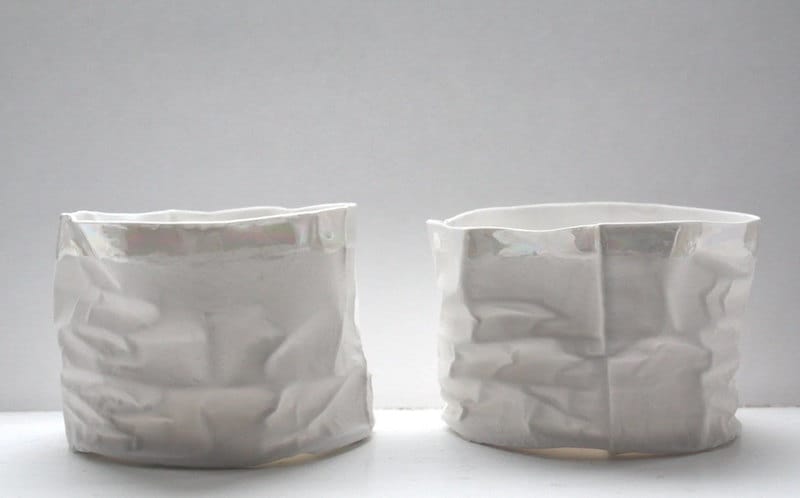 SHOP: Crumpled paper container from Made By Manos, $45
Make house guests do a double-take with this functional art piece that's been carefully sculpted to resemble crumpled paper.
40th anniversary gift: Ruby
Find a magnificent brooch, ring, or necklace adorned with rubies, or find them a one-of-a-kind gift that shares the color of this radiant gemstone.
A ruby enamel pin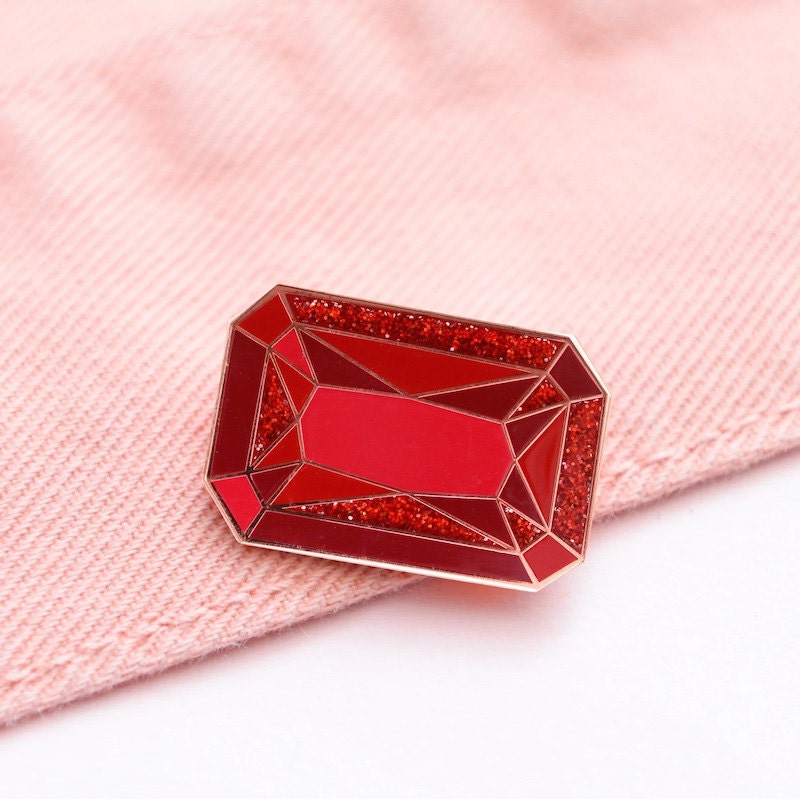 SHOP: Glittery ruby brooch from Alphabet Bags, $10
The vibrant colors and sparkling glitter details of this jewel pin make it a stylish and eye-catching piece of flair.
An arched ruby ring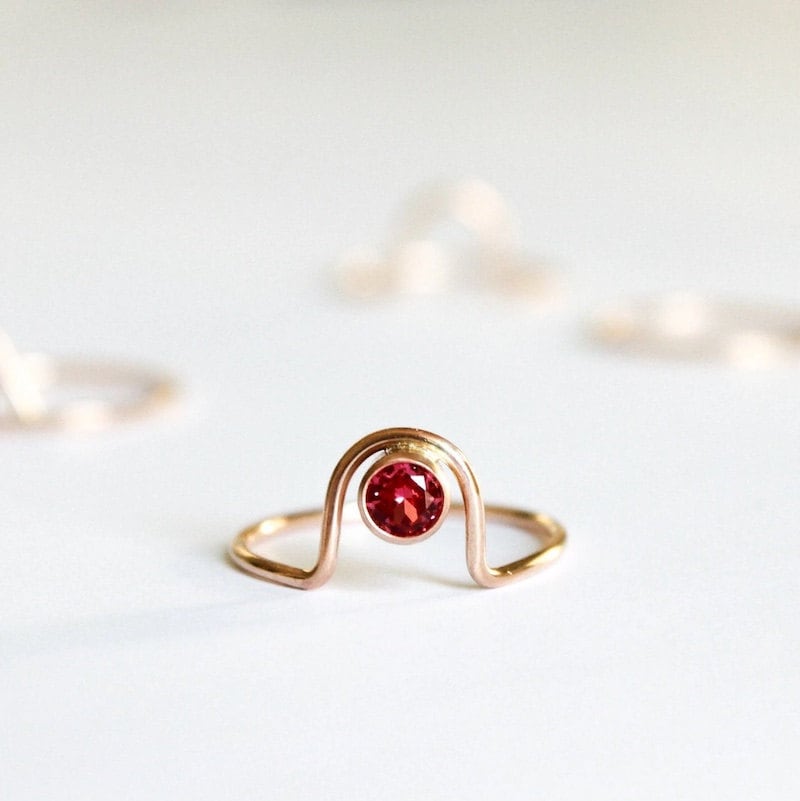 SHOP: Modern ruby gemstone ring from NOLIA Jewelry, from $56
This gorgeous pink ruby gemstone is set within a unique arch design, making it striking enough to stand alone or stack with other rings.
45th anniversary gift: Sapphire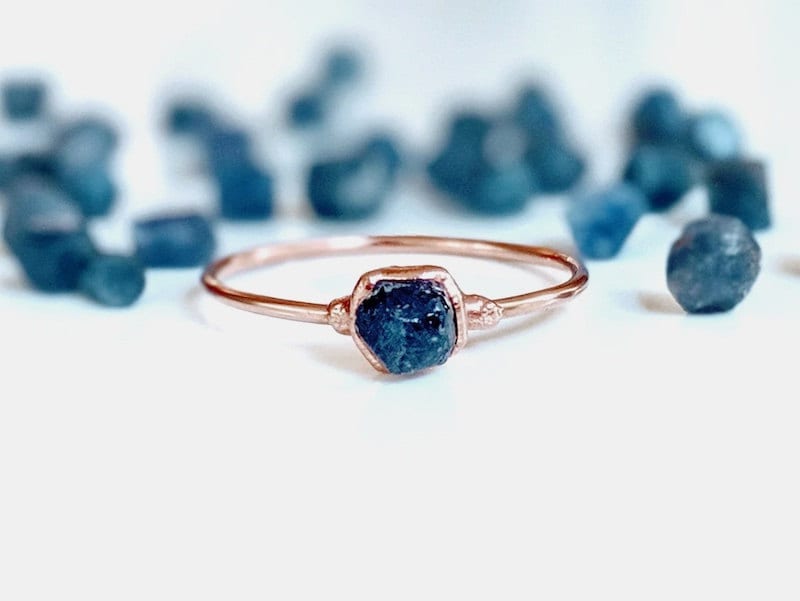 SHOP: Sapphire ring from Moondrop Creations, $169
Celebrate this milestone anniversary with a sapphire-inspired gift like a geode bath bomb or raw sapphire earrings.
50th anniversary gift: Gold
Gold is the traditional gift for 50th wedding anniversaries, so go the classic route with an elegant necklace or ring or reimagine this gift with the help of a small shop on Etsy and opt for a gold jewelry tray or a journal with gilded details.
A sundial keepsake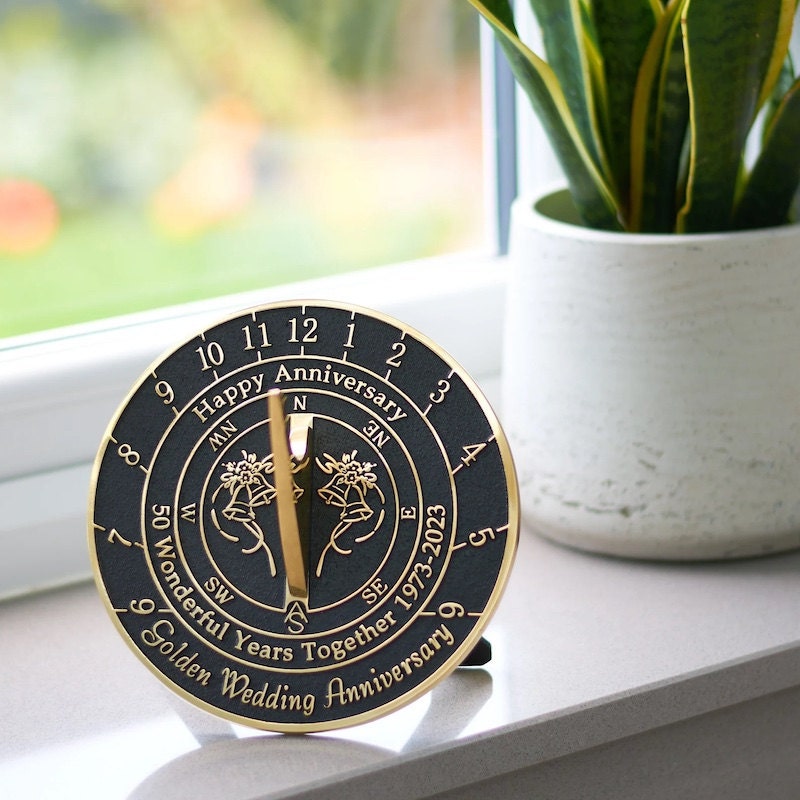 SHOP: Black and gold sundial from The Metal Foundry, from $107
A milestone as big as fifty years deserves some big recognition! Celebrate the passage of time with this golden anniversary sundial made of high quality cast brass.
A rose signet ring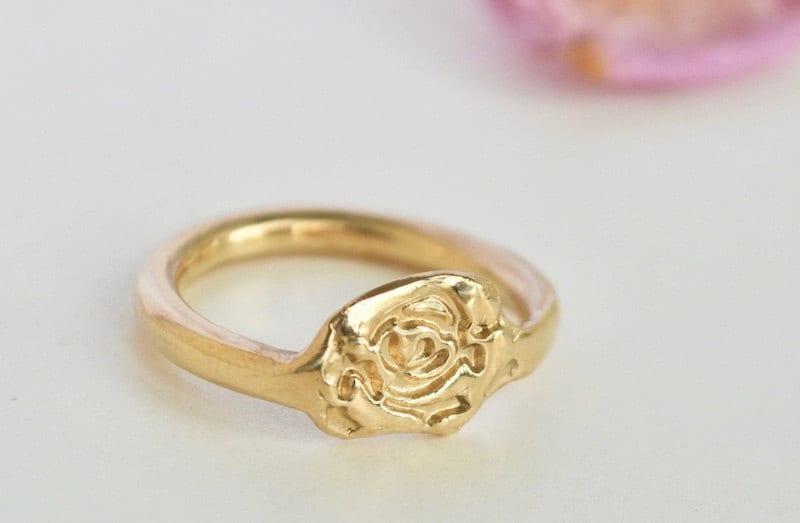 SHOP: Handcrafted gold ring from Caroline McInally, from $113
What's more romantic than a rose? Made from solid 9 karat gold, this stunning ring is handcrafted to reflect all the delicate details of a classic symbol of love.
A hand-stamped necklace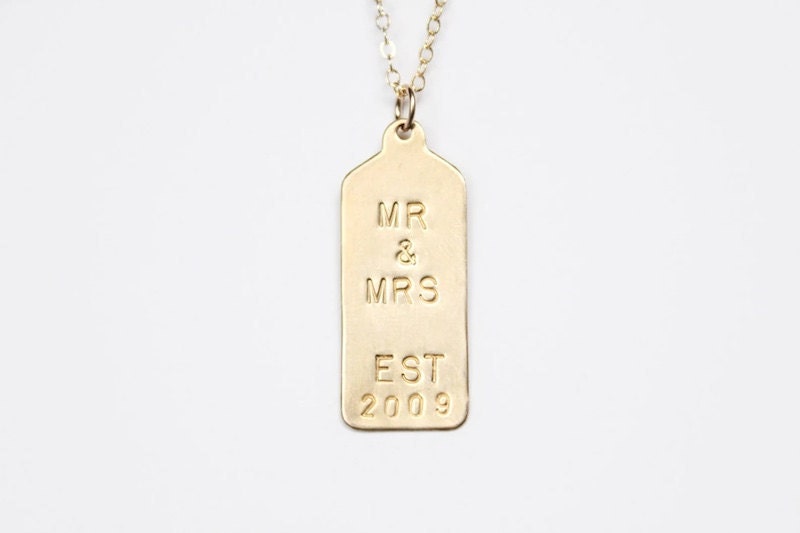 SHOP: Gold tag necklace from Junghwa, from $34
This customizable gold-filled necklace is an excellent everyday accessory—a sweet yet simple reminder of your long-standing love story.
55th anniversary gift: Emerald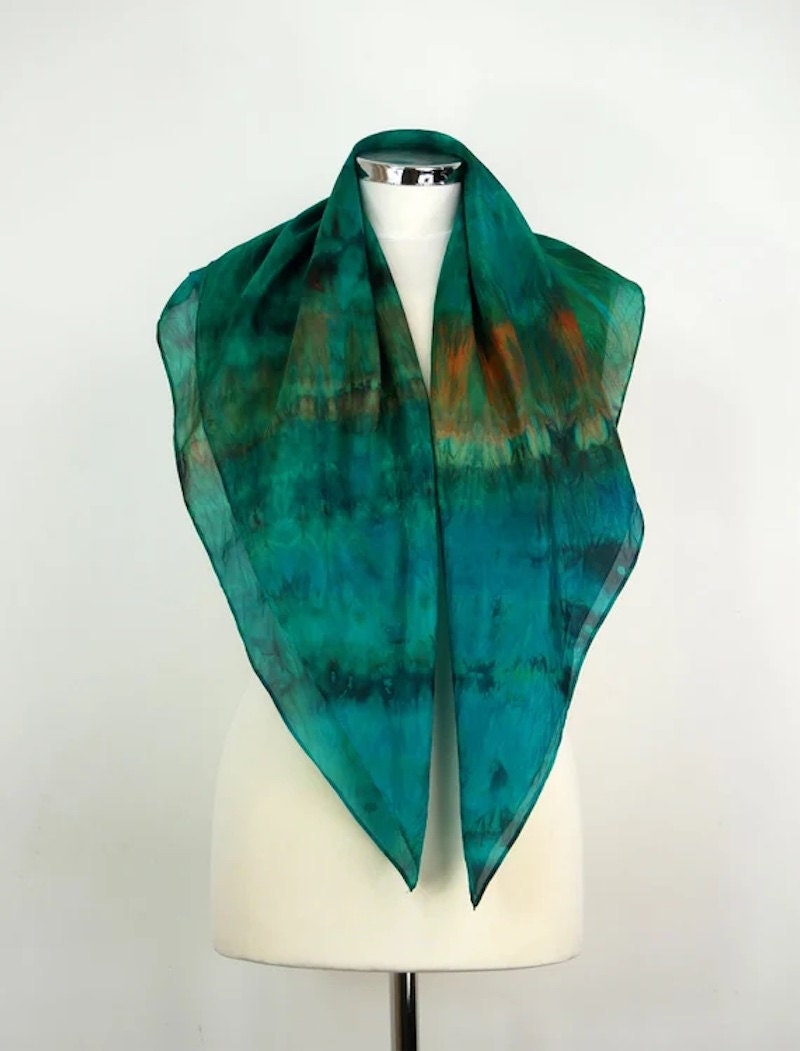 SHOP: Hand-dyed emerald green scarf from Heron Design Studio, $49
Opt for an emerald gift like a set of natural emerald cufflinks or a green and gold leather bound journal to honor going 55 years strong.
60th anniversary gift: Diamond
Such an impressive anniversary needs an equally impressive gift! Diamond jewelry is always a fan favorite, or try something new with a framed art piece or sculpture featuring little diamond details.
A silver ring with diamond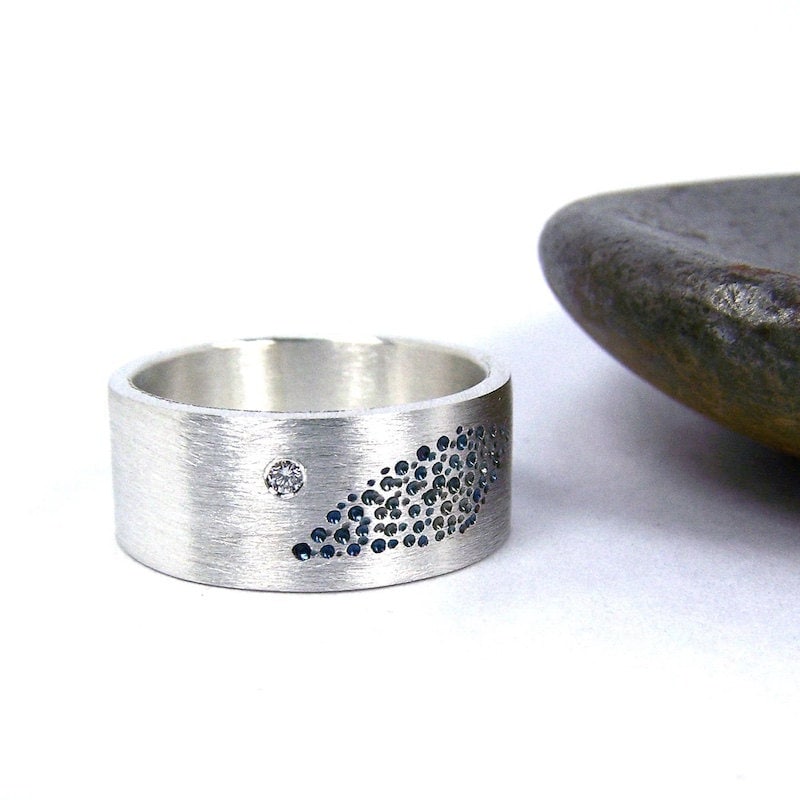 SHOP: Handmade diamond ring from Nangijala Jewelry, $185
Embellished with a small, subtle diamond, this thick silver ring features an abstract design that's open for interpretation—Is it a leaf? A wing? You decide!
A heart pendant necklace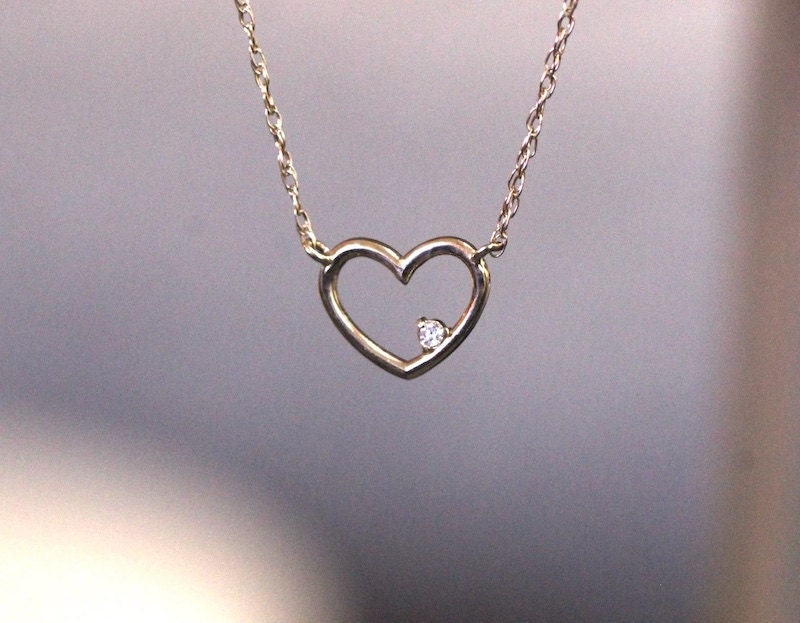 SHOP: Unique minimalist necklace from Liesel Love, $186
Honor all your years together with this asymmetrical open heart necklace that features a charming little stud tucked to one side for an unconventional twist on this timeless motif.
Your guide to milestone wedding gifts:
Looking for even more traditional and modern wedding anniversary gifts for each year?
Traditional wedding anniversary gifts by year
Modern wedding anniversary gifts by year
How do we pick the best milestone anniversary gifts?
As Etsy Journal editors and contributors research and curate shopping guides for some of the best-loved items on Etsy, we thoughtfully consider the creativity, customization, and craftsmanship that go into each product. We also consider buyer reviews, item ratings, and customer service, and tap the expertise of our in-house merchandising and trends experts to uncover high-quality finds for every budget. You can find more information about each item in the seller's listing details and can take a look at their individual shop policies and reviews, too.