by pippatree
Inspired by ancient Grecian crowns of gold and myrtle, this ceremonial tiara commemorates an enormous accomplishment: fifty years of marriage.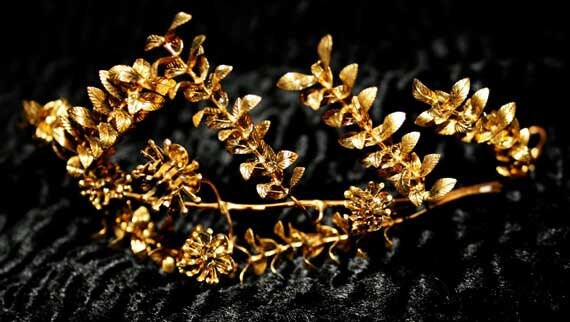 Here at Etsy, we believe that the story behind an object is often just as fascinating as the object itself. Short Stories is our series dedicated to telling the tales behind extraordinary pieces found or created by Etsy sellers. 
Today Pippa explains the origins of this awe-inspiring antique German wedding tiara (and matching boutonnière). 
I first learned of these ceremonial tiaras when I was a little girl, growing up in England. My elderly Swiss-German godmother kept her parents' silver and golden anniversary tiaras in a large box. Sometimes she would let me look at them and try them on. They seemed so very magical to me back then that they took my breath away.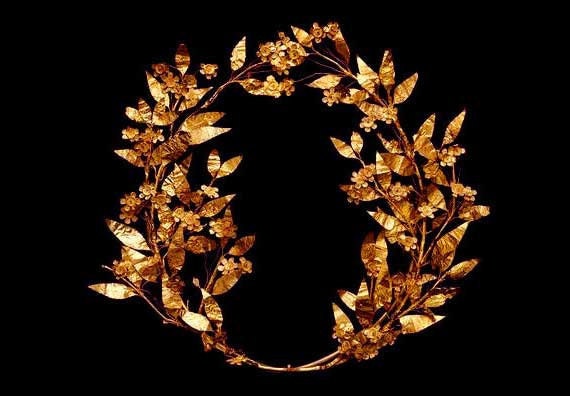 There is a
long history of wearing myrtle leaf and flower garlands
for weddings that goes back to to ancient Greece; in fact, myrtle is considered to be Aphrodite's flower and a symbol of love. During the Victorian and Edwardian era, these garlands made a comeback with the Art Nouveau Movement. In Germany, the amazing fabric myrtle and leaf garlands were traditionally worn at weddings; intricate silver tiaras were worn to celebrate a couple's 25th anniversary; and golden tiaras,
such as the piece shown here
, were worn for the fiftieth anniversary, with a matching boutonnière for the groom.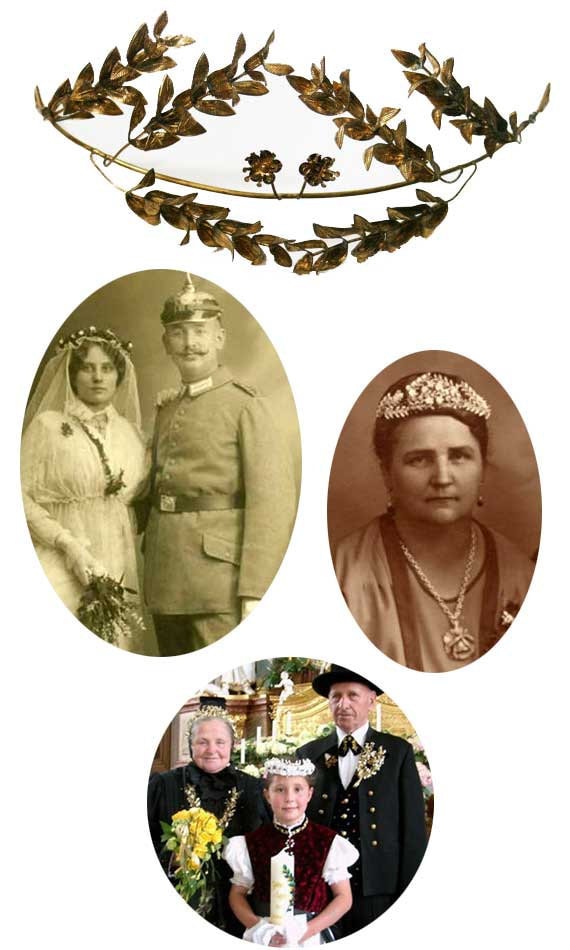 I have been collecting these tiaras for many years, but since I've moved to Germany, I have been gathering them with a view to sell. I think the crowns that I have are common only to Germany and Austria, but other European countries have their own unique traditions. I am trying to learn more about other amazing antique bridal headdresses.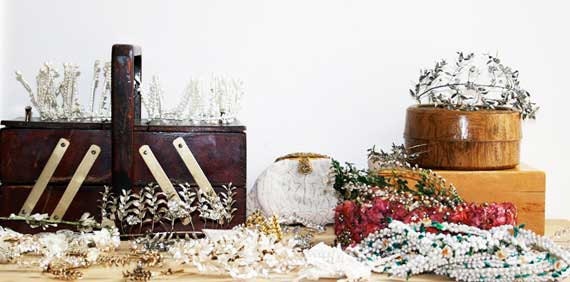 As for these forgotten headdresses, I think that people have moved past celebrating anniversaries with ritual celebrations, which is a shame. I really think that the bridal accessories of the past, particularly these German tiaras, were very special and incredibly beautiful. I'm trying to help them make a comeback.
Have you created or come across an object with an extraordinary story that needs to be told? Email us!