by Diana Keeler
Artists on Etsy are proving that creativity finds expression in all kinds of unexpected materials — including some you can eat.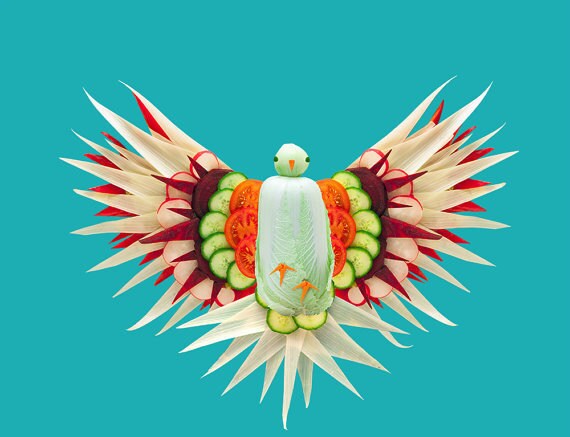 Diana Keeler is a novelist and Etsy shopkeeper based in Paris. She writes about traveling and doughnuts on Travel Crush. She interviewed Ryan Gosling three times in one year. Find her on Instagram and Pinterest.
"It was a case of painting with what I was drinking at the time," says Liverpool-based artist
Carne Griffiths
. His medium-slash-beverage? Brandy — though other works by this painter and illustrator have used tea and vodka alongside calligraphy inks and graphite. "I remembered the effect alcohol had on the inks, the very subtle staining and coloring it gave. I used tea next, trying to find ways to emulate the effect — and tea brought in a whole new dimension," he says. A conservatory-trained artist whose work has been featured in art shows across Europe (and in the case of his gold wire embroidery designs, in films like 
The Last King of Scotland
and
Valkyrie),
 Griffiths still fields plenty of questions from curious viewers. "People are always surprised at the medium," he says. "I think it's because they associate it with some form of limitation. For me, though, it was an essential part of the experiment to use color in my work."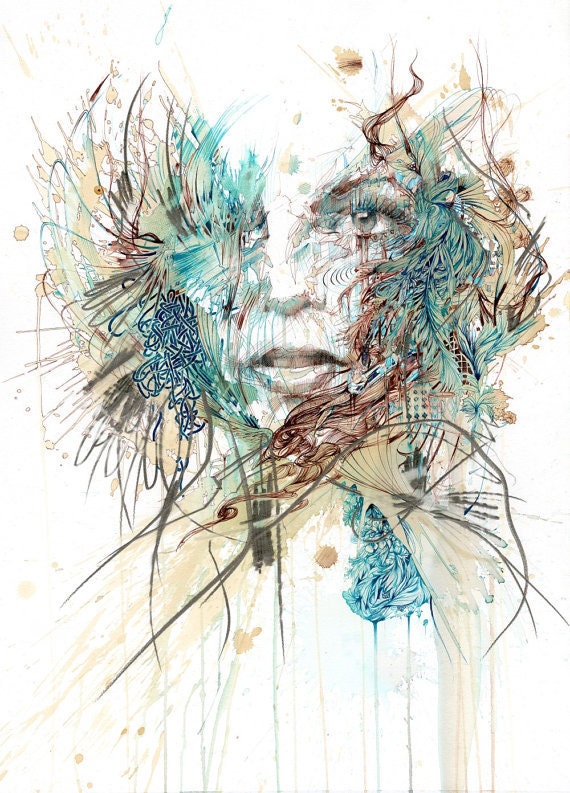 A limited edition of
Carne Griffiths's "Fly,"
which was made using ink and tea.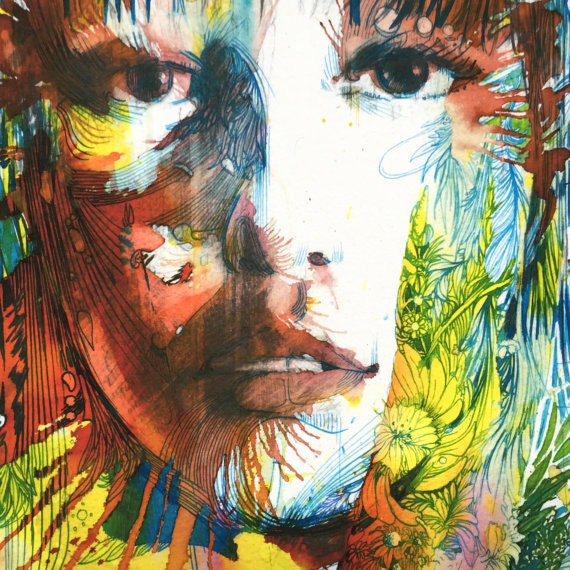 Inks, tea, graphite, vodka, gin, and watercolors combine brilliantly in
Carne Griffiths's "Spring Has Come."
Griffiths is just one of a growing number of artists exploring the artistic possibilities of food and drink, tapping the sculptural and symbolic potential of materials as varied as puffed-rice cereal and gummy candy. Preschool macaroni art, this is not. Brazilian artist
Vik Muniz
has exhibited his work, which incorporates materials like
Bosco chocolate syrup,
in institutions including New York City's Museum of Modern Art; Tattfoo Tan created a 
chess board and checkers set from cookies
and presented the pieces at the Brooklyn Museum — where participants used them to play games. Most recently, Kara Walker — one of America's most acclaimed conceptual artists — used four tons of sugar to create a sculpture of a sphinx-like female form called "
A Subtlety, or the Marvelous Sugar Baby
," a comment on racial and gender politics as well as the sugar trade.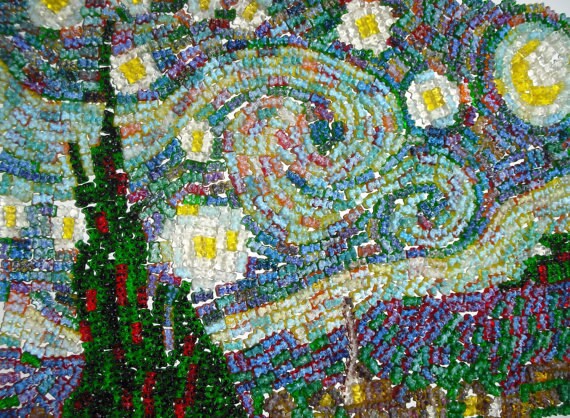 Melissa Rachel Black used gummy candy and acrylic paint to whip up
her riff on Van Gogh's "Starry Night."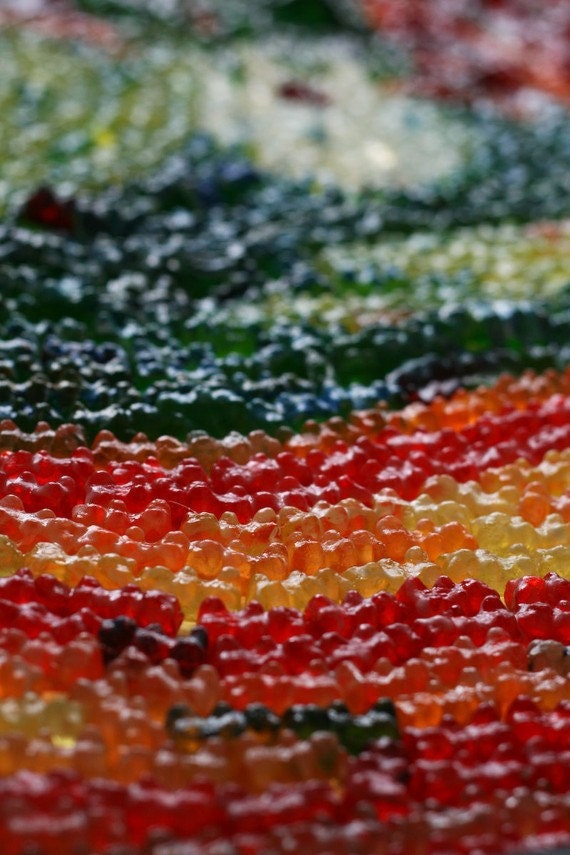 Melissa Rachel Black
's candy colors, up close.
While some of these artists very intentionally mine their edible materials for metaphor, not everyone working with food as a medium aims for a deeper meaning. In fact, for Portland-based artist
Melissa Rachel Black
, who uses collages of gummy candy to recreate well-known paintings, the goal is almost the opposite: to make people laugh. "When I first started working with candy, I was hoping to create a more lighthearted atmosphere than what was originally apparent in these great — and serious — masterpieces," says Black, who recently saw her gummy recreation of an American flag exhibited at a boutique in Santa Cruz, California, to the near-universal delight of shoppers. "The majority of people would look [at the flag], realize it was made of gummy bears, and then freak out with excitement and start showing their friends and taking photos," she says. "It brought me so much joy to know that I helped bring joy to them."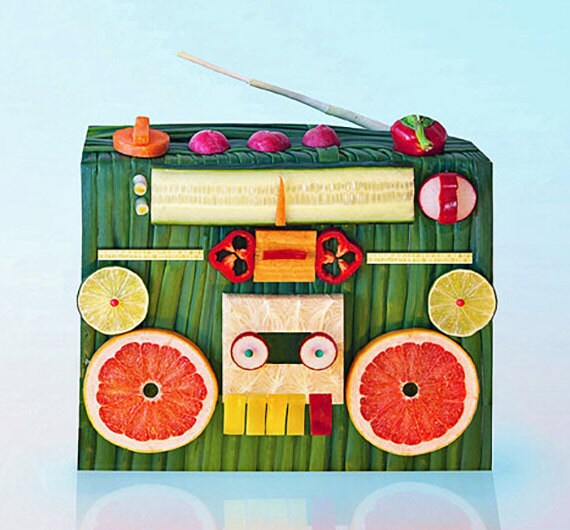 Conceptual artist, food sculptor, and
Tumblr star
Dan Cretu sells
photographs of his 3-D designs
.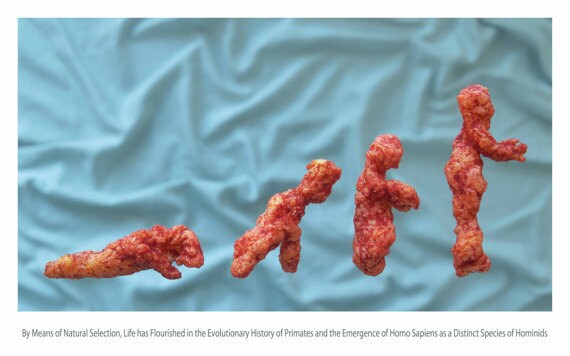 Andy Huot of
CheeseCurlArt
illustrates the evolution of man with extra-spicy cheese-flavored snacks.
Preservation, meanwhile, is what drives 
Ray Koshy
, a rice straw artist in Galveston, Texas, who's made it his mission to sustain what he describes as a 2,000-year-old technique. In his work, he painstakingly selects, cuts, and assembles dried leaves of rice straw in various shades to create surprisingly detailed portraits and landscapes. "Centuries ago, when people didn't know how to make different colors, they used the natural shades of rice straw to create art," Koshy says. "No color, paint or dye is used — only the plant's natural hues." Each work calls for thousands of pieces of rice straw; 
one picture of Marilyn Monroe
 incorporated more than 5,000 tiny swatches.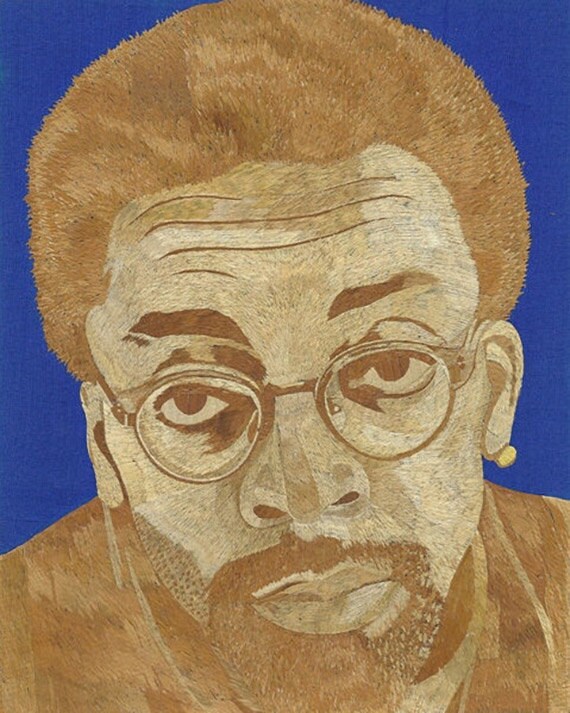 Museumshop
's Ray Koshy has immortalized dozens of celebrities in portrait collages made from rice plant leaves.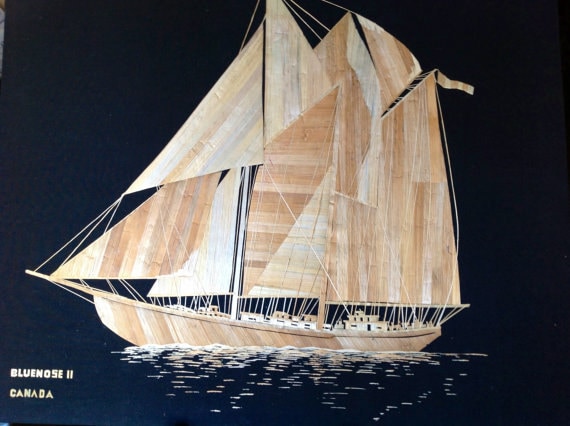 The natural variations in color found in rice plant leaves lend
museumshop's ship art
its subtle stripes.
For painter 
Katarina Vasickova
, who is based in Athens, Greece, working with wine wasn't a calling — it was a commission. (At least at first.) When a local winery hired her to create a series of custom works to celebrate its 150th anniversary, she used nine of the winery's red wines to produce nine separate paintings. "I used red wine and a special cotton paper, and I didn't use a varnish, so the wine changed tone every day for more than two weeks," Vasickova says. Since then, she's started experimenting with coffee beans in her work, but she continues to return to wine. Her motivation is clear: "I love wine," she says. "And many ideas were born thanks to it."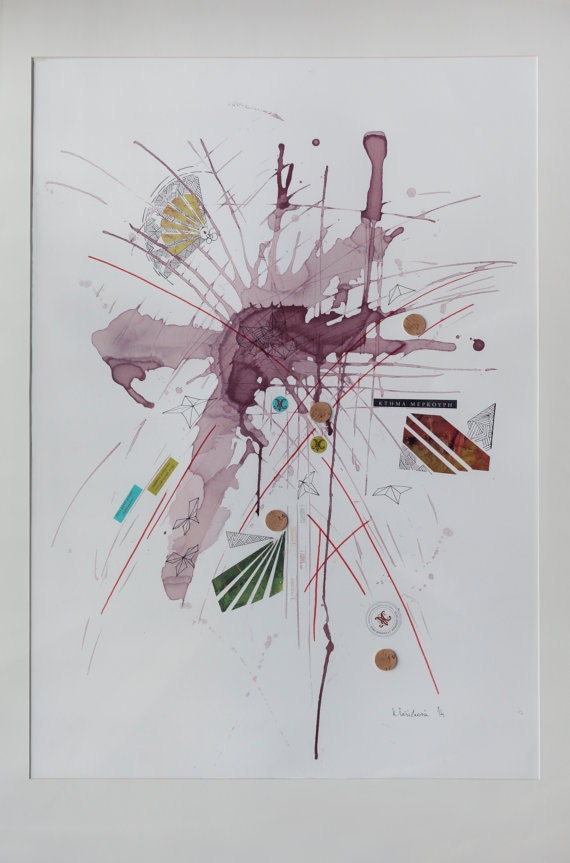 Red wine is a primary ingredient in
Katarina Vasickova
's work, shown here.