Put a fun, fresh spin on staying in with these hands-on kits and games designed to make quality time with loved ones extra-special.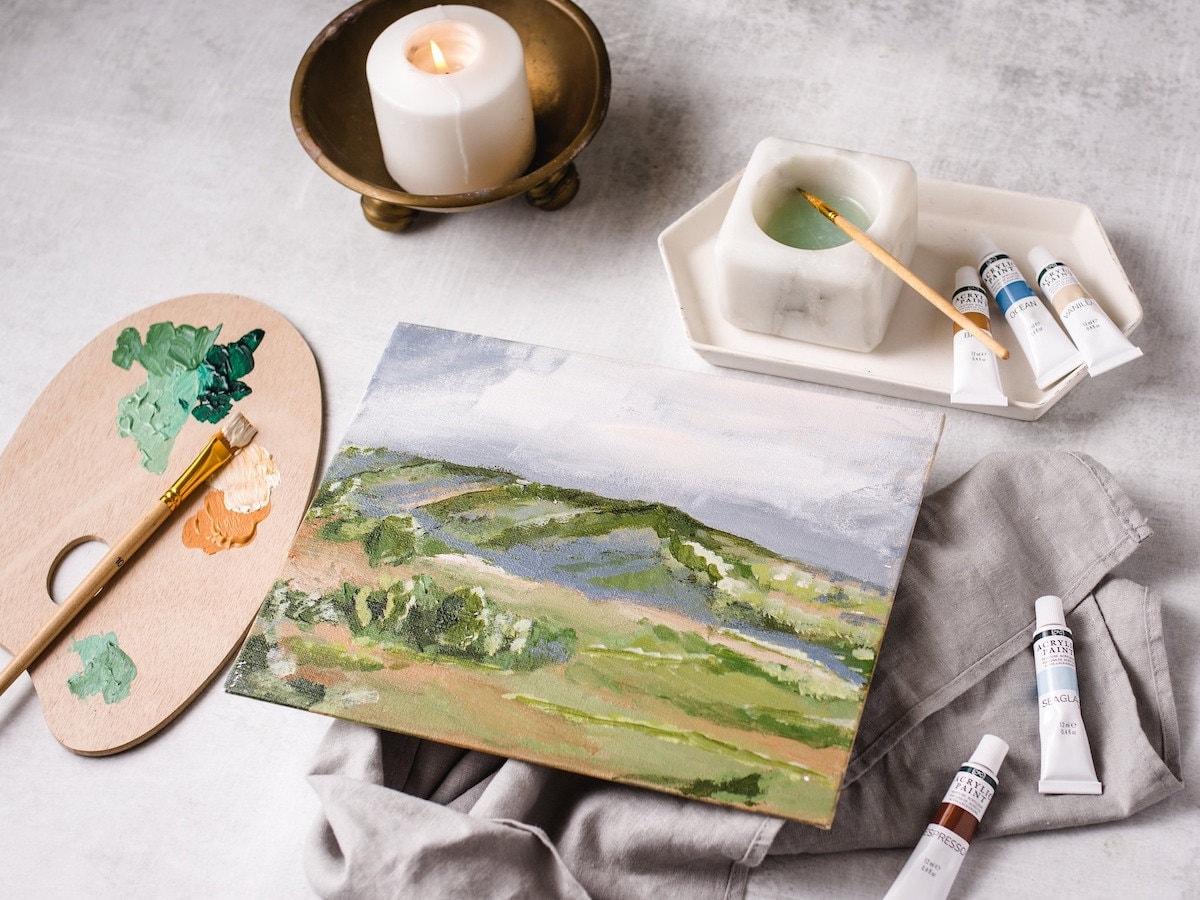 Calling all homebodies! Sure, you and your sweetie appreciate dressing up and heading out on the town for a special occasion, but you know what's even more appealing? Snuggling up at home for a cozy night in. Just picture it: The lights softly dimmed. Your favorite record on repeat. Toes warm and toasty in your slippers. Top it off with an engaging activity for two, and you've got the recipe for an evening well-spent nourishing your relationship.
To help you keep things fun and fresh, we've rounded up 40 creative date night ideas to add to your at-home rotation—each one straight from the imagination of a talented maker. Whether you're a low-key kind of couple who enjoys poring over a puzzle or an adventurous pair who'd love to paint each other's portrait, these innovative games and expertly crafted kits are designed to put the quality in quality time. So slip into your comfy clothes, settle in, and discover a few exciting—and affordable!—new ways to make the most of staying in.
Pro tip: Love to play host? These indoorsy activities lend themselves equally well to a chill at-home hang with friends!
Pottery kits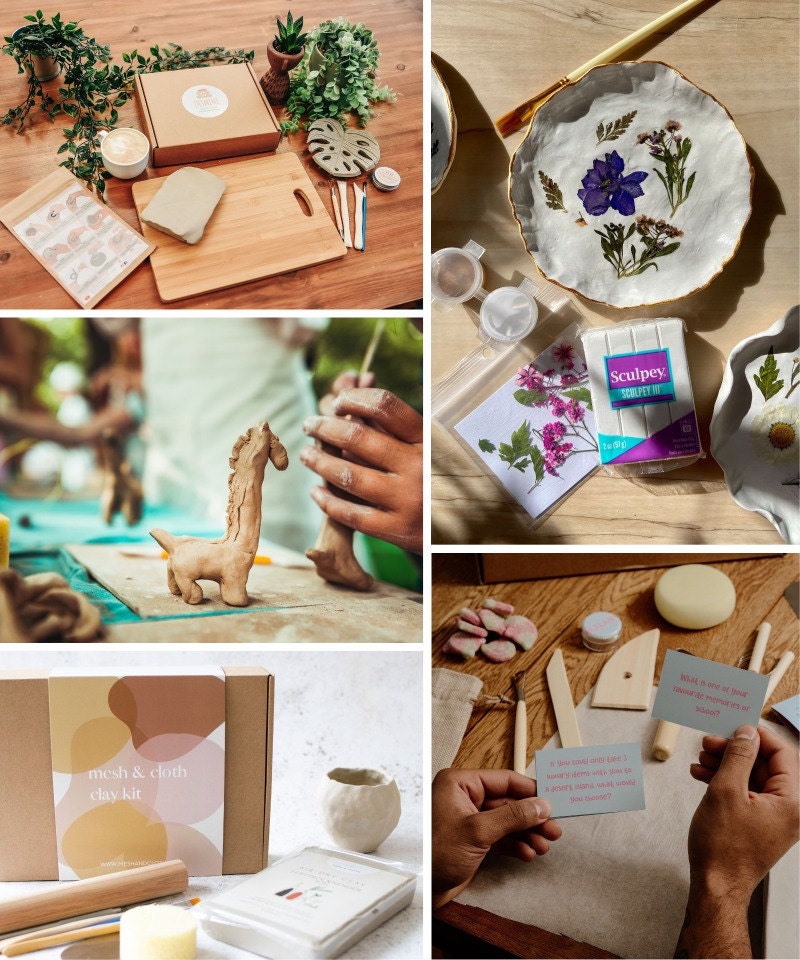 SHOP: (clockwise from top left) Clay pottery kit for two from Jasmine Pottery Studio, from $50; pressed flower dish DIY kit from Brush and Blossom, $25; complete pottery date night kit for two from The Craft Society UK, $90; air-dry clay kit from Mesh and Cloth, from $54; air-dry DIY pottery kit from Stuck in the Mud Pottery, from $42
Take it from Demi Moore and Patrick Swayze: nothing says romance quite like playing with clay. Sink your hands into a cool slab and there's no telling what'll take shape, from whimsical air-dry animals to wabi-sabi pinch pots and precious pressed floral trinket dishes. What's more, pottery kits from these pros come equipped with everything you need to achieve sculpting success, including all manner of modeling tools, clay rollers and cutters, and even tiny tubs of acrylic paint. Want to connect more deeply while you create? We love this DIY date night box built for two, complete with conversation cards and sachets of hot cocoa to boot.
Puzzles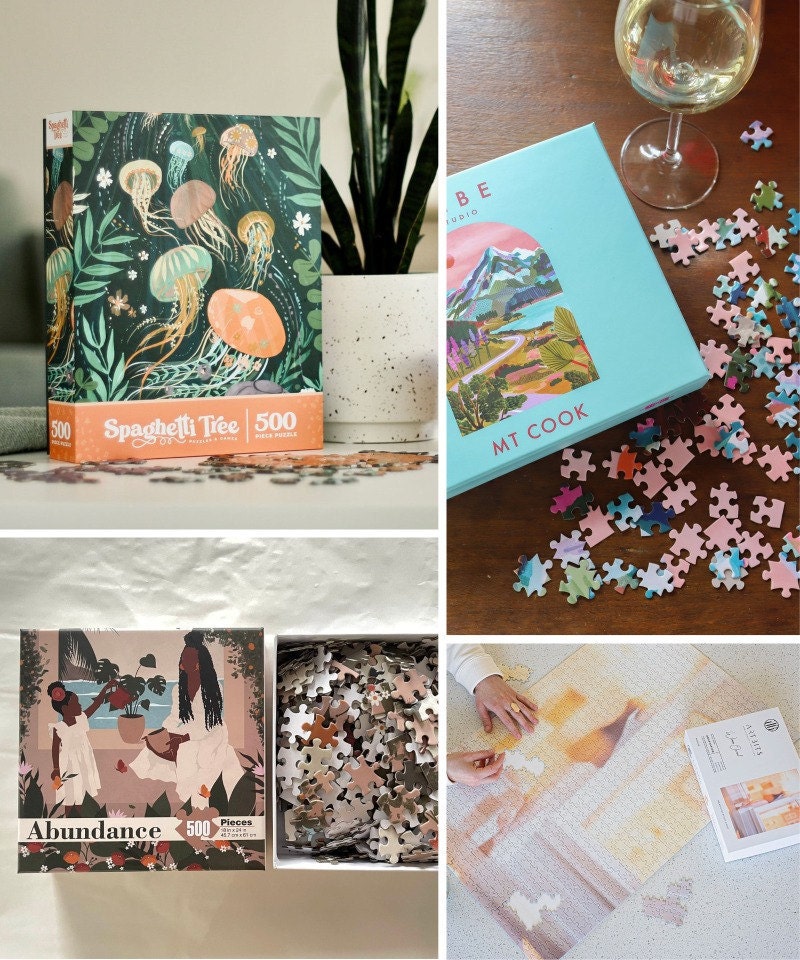 SHOP: (clockwise from top left) Jellyfish jigsaw puzzle from Spaghetti Tree, $26; Mt. Cook puzzle from Hebe Studio, $45; "Adaptation" fine art puzzle from Clark and Taft, $85; "Abundance" puzzle from Puzzle and Bloom, $20
For those of us who prefer to slow things way down and simply soak up each other's company, a calming puzzle is the perfect fit, especially paired with a podcast or some soul-soothing classical music. Go big with one of these 500- to 1000-piece stunners and treat yourselves to multiple easygoing evenings working side-by-side in mindful bliss. Designed by accomplished illustrators, they feature original artwork so eye-catching, you may just want to seal and frame yours when you're finished.
Food kits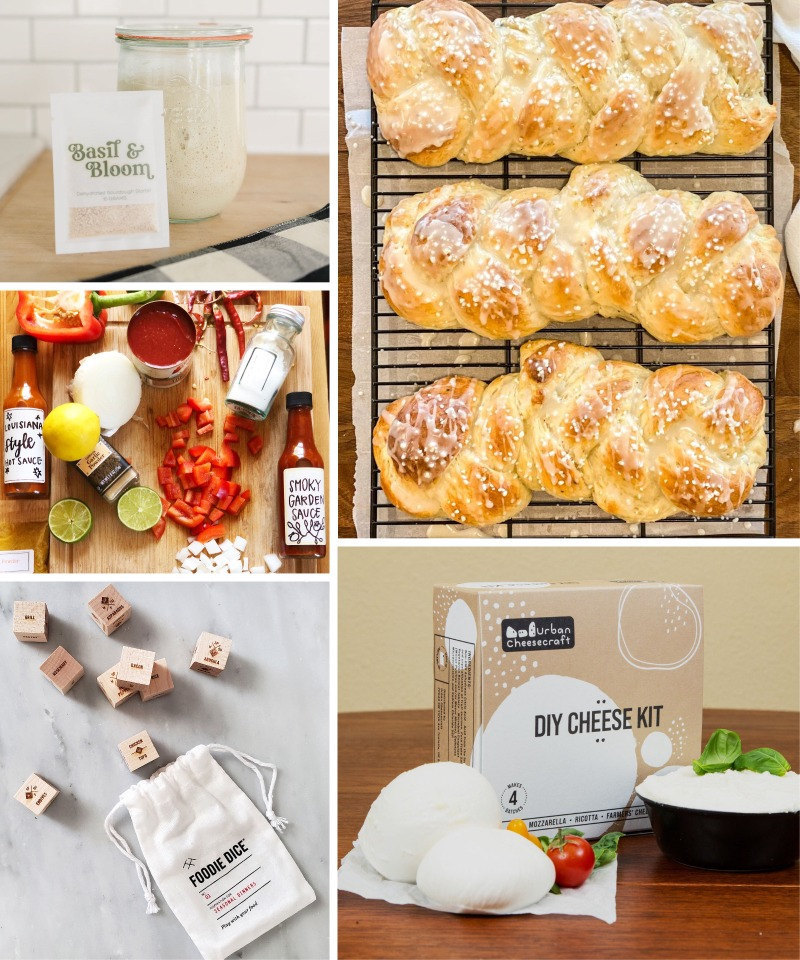 SHOP: (clockwise from top left) Sourdough starter from Basil and Bloom Shop, $12; cardamom bread-baking kit from Rulla Pulla, from $30; DIY mozzarella cheese kit from Urban Cheesecraft, $36; Foodie dice from Two Tumbleweeds, $24; DIY hot sauce kit from Grow and Make, $44
If teaming up for a culinary adventure is more to your taste, then some QT in the kitchen is in order, and these gourmet-quality kits contain all the ingredients to help you whip up some DIY deliciousness. Bent on channeling your inner baker? Try starting sourdough from scratch or braiding your own beginner-friendly cardamom bread. Or if you'd like to heat things up, an artisan hot sauce kit—complete with three types of peppers and five spice blends—will give you barbecue bragging rights at your next gathering with friends. Not sure exactly what you're hankering for? Break out the Foodie dice and let the recipe roll from there.
Painting kits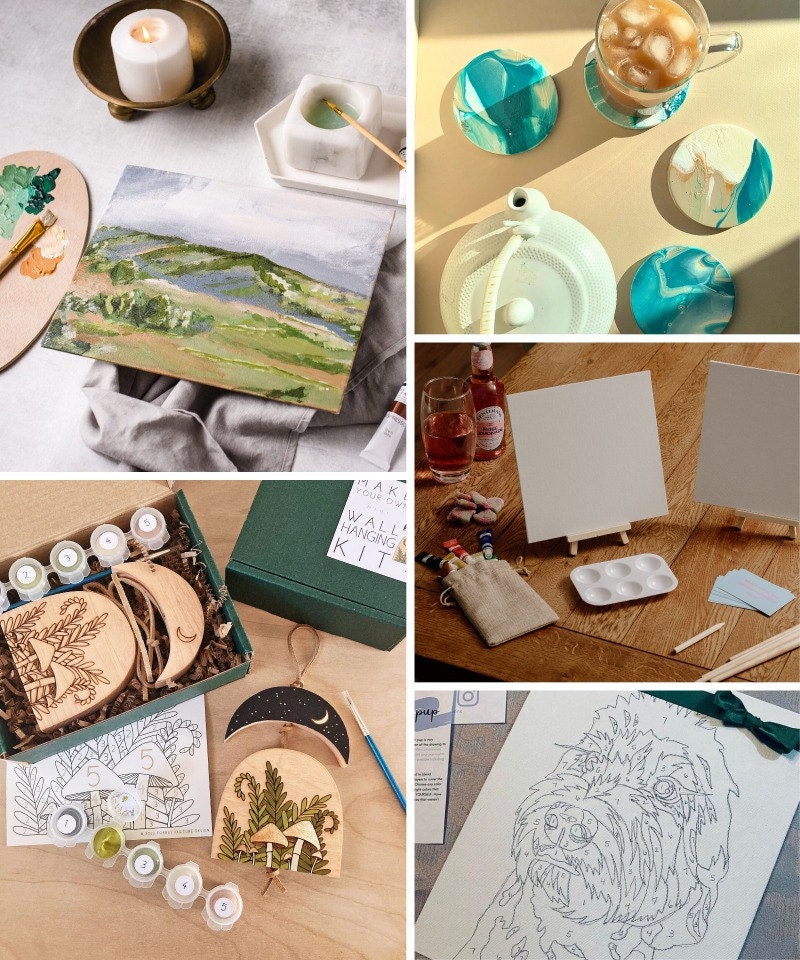 SHOP: (clockwise from top left) Impressionist landscape painting kit from Cate Paper Co. $35; acrylic coaster kit from Maizen Life, $37; portrait painting kit for two from The Craft Society UK, from $84; custom pet paint-by-number from K Artist Kreations, from $25; wooden painted wall hanging from Forest Culture, $53
If a night at home is your blank canvas, all you need is a DIY painting kit to give it a little color. Dipping your brush in for the first time? Give paint-by-numbers a go. Whether you're detailing a custom picture of your pet or giving life to an enchanting woodland wall hanging, you'll be pleasantly surprised to find the intricate options from Etsy artists take the time-tested medium to the next level. Ready to put your technique to the test? Pop open a bottle of something sparkly and have a little friendly competition to see who can paint the best portrait. Or spread the joy and host a paint night with your pals, and watch the creativity and the conversation flow.
Games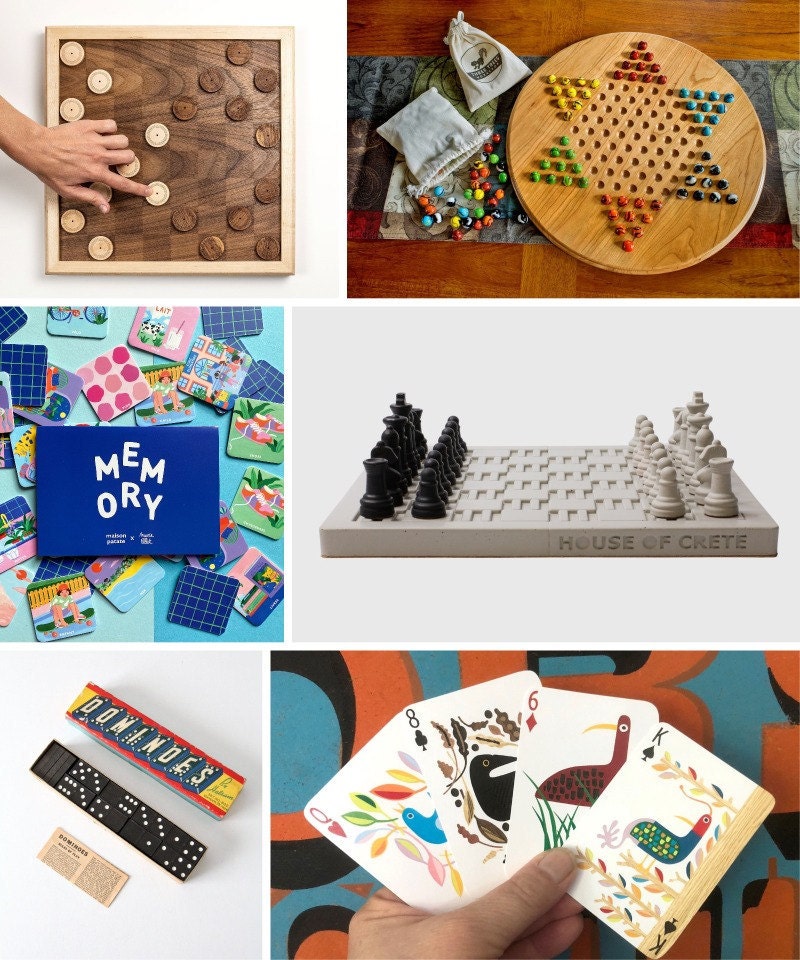 SHOP: (clockwise from top left) Wooden checkers from Atelier D, $122; wooden Chinese checkers from Three Trees Workshop, from $125; concrete chess set from House of Crete, from $100; playing cards from Bunny With a Tool Belt, $15; vintage dominoes from 86 home, $125; bilingual memory game from Maison Patate, $27
Speaking of that competitive spirit, if it's been ages since you broke out your lucky card deck, it might be time to give game night a revival. We're extra-smitten with these beautiful boards and handcrafted sets from Etsy sellers, which put a chic, modern spin on some of our childhood favorites, from colorful memory cards and elegant wooden checkers, to an epically impressive concrete chess set. Still, if you're feeling nostalgic, you can't go wrong with a good old-fashioned original, like this beautifully preserved box of black-and-white vintage dominoes. Now that's what we call a win!
Craft kits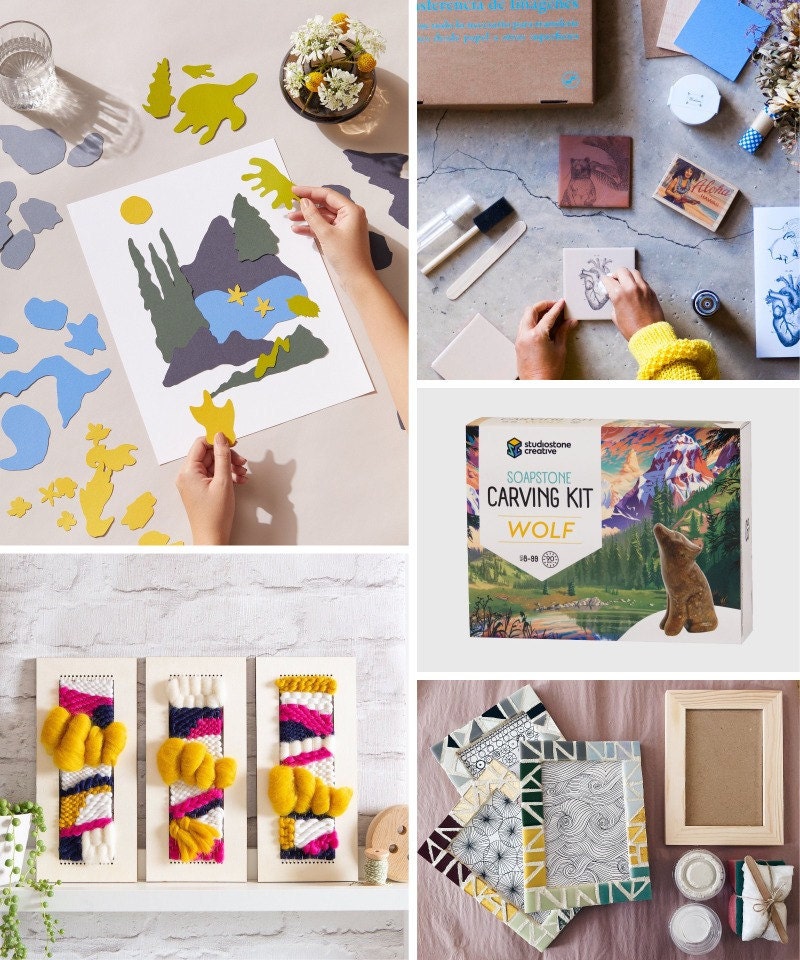 SHOP: (clockwise from top left) Mountain collage kit from Hereafter LA, $54; image transfer kit from Textures Factory, $37; soapstone carving kit from Studiostone Creative, $32; mosaic frame kit from Moze Mosaics, $38; weaving loom kit from Wool Couture Company, $51
Fun fact: you and your special someone don't have to be into the same things to get enjoyment out of some one-on-one crafting time. With so many excellent options on Etsy, it's easy for each of you to dabble in your own DIY. Maybe one of you tries your hand at carving while the other experiments with collage, or you take turns looping yarn on a loom to co-create a textural weaving. The best part is piling on praise and encouragement along the way (and pausing for snacks while you admire each other's progress!).
Drink kits
SHOP: (clockwise from top left) DIY whiskey kit from Crafted Infusions, $34; spicy margarita cocktail infusion kit from In Booze, $18; wine slushies from Kristin's Koncoctions, from $19; cold brew coffee kit from Driftaway Coffee, from $18; cocktail mixer kit from 32oz Tonic Maison, $28
It's never a bad idea to have something delicious to sip while you're DIY-ing, but thanks to these handcrafted brews and flavorful cocktail kits, libations just might become the evening's main event. You and your partner can play mixologist with a fully stocked set of whiskey infusions befitting your best barware, or keep it simple and slurp a scrumptious apple berry wine slushie from a portable pouch that easily travels from armchair to couch. And good news for those of us who prefer an alcohol-free option: many of these blends taste just as amazing in mocktail fashion!
Setting the mood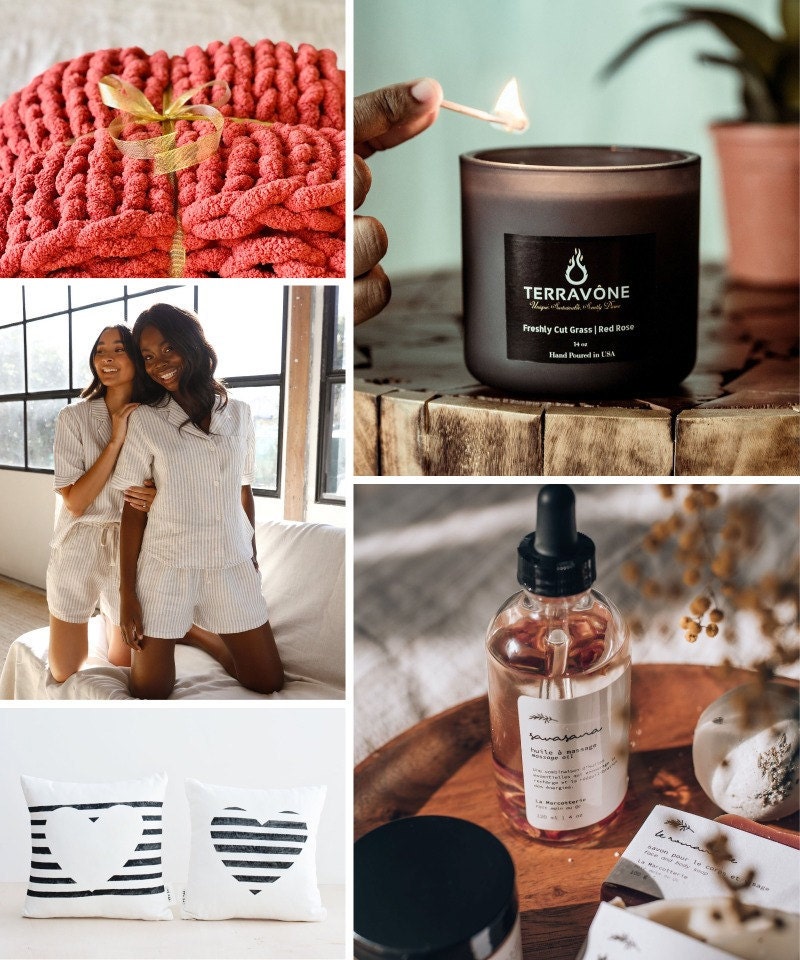 SHOP: (clockwise from top left) Chunky knit blanket from So Knit by Jazmine, from $150; soy wax candle from Terravone, $45; vegan massage oil from La Marcotterie, $27; matching heart pillows from Two Dots Shop, $102; linen pjs from The Bridal Thread, $84
Perhaps the most important date night detail of all? Crafting the perfect at-home atmosphere to immerse yourselves in the moment. A touch of candlelight can quickly dial up the drama, while matching pjs and pillows add an extra layer of coziness. Even if all you do is get lost in conversation under the warmth of a chunky knit blanket, let that be a welcome reminder that it's not about the activity you choose, but the person you're spending your time with.