by Rachel Mosely
We've unearthed five enchanting ways to wear August's fresh green birthstone.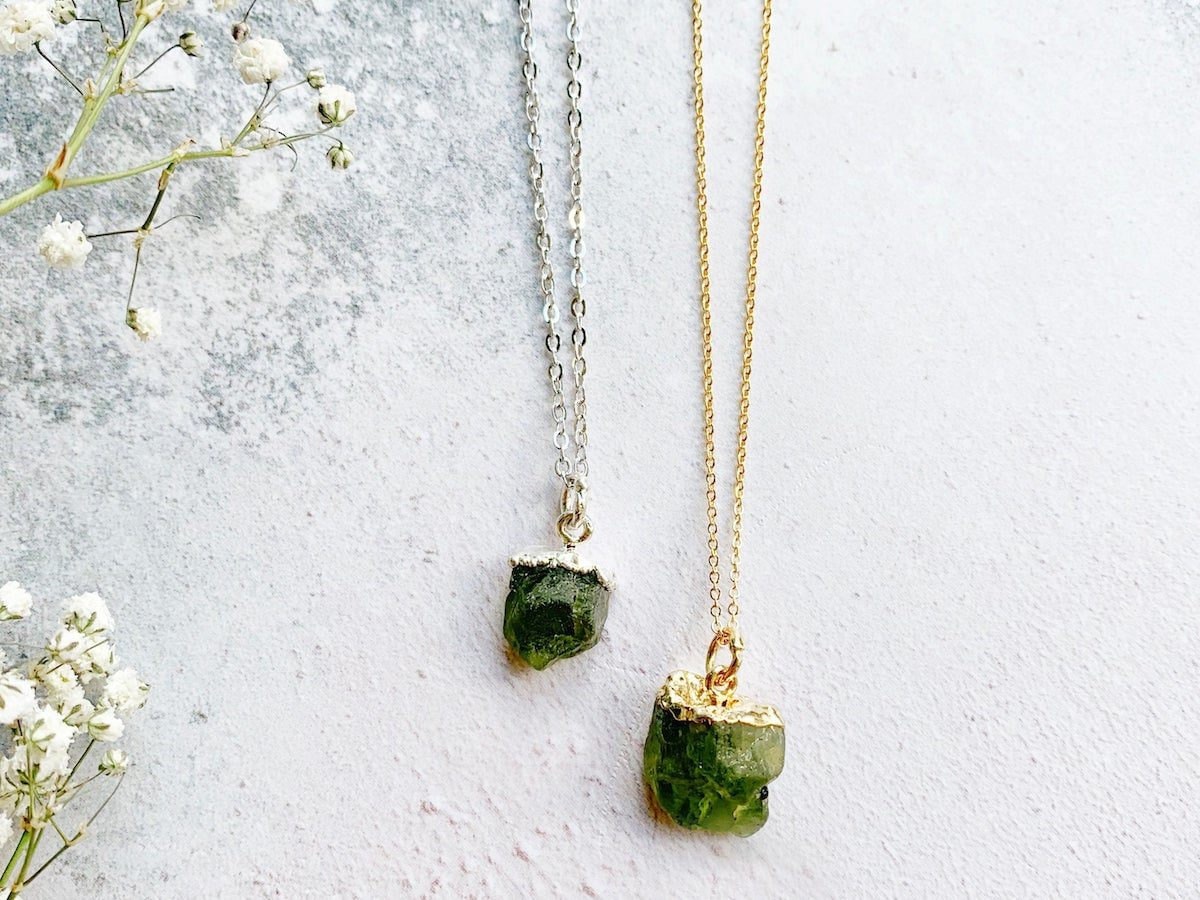 If you're looking for a gem with a little bit of edge, peridot has got you covered. One of the oldest stones known to man, peridot is also one of the select few birthstones that only occurs in a singular shade: a can't-look-away electric green. But this jewel is more than just mesmerizing to behold—throughout history, it's been rumored to ward off evil, promote peace, and even improve the wearer's love life. Whether or not you believe in the stone's more mystical properties, it's hard to deny the visual impact that some peridot power can have on your jewelry collection. And if you're an August baby, congrats! It's your official birthstone. If not? Go ahead and try some glittering green on for size anyway. Below, we've hand-picked five peridot pieces guaranteed to make any ensemble pop.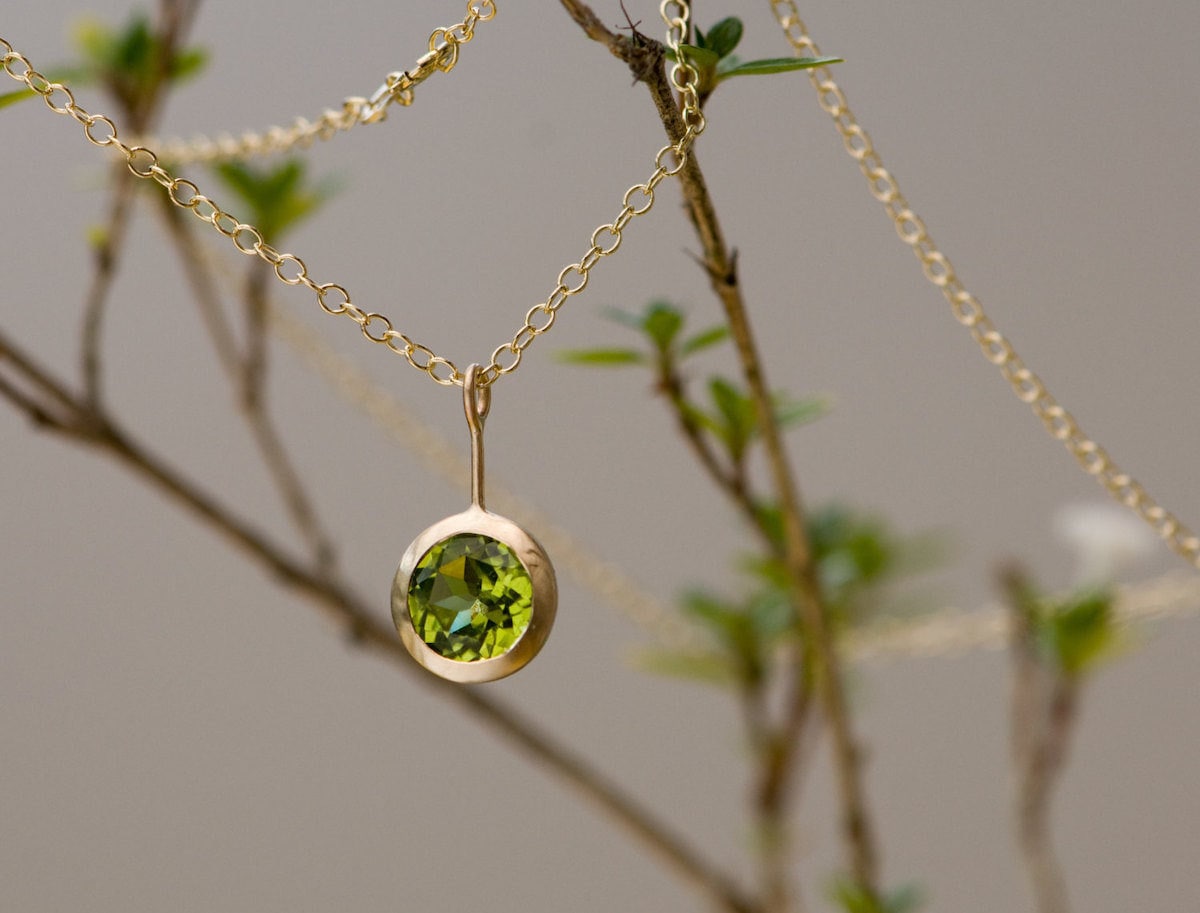 A jewelry staple and status symbol since at least 1500 BC, peridot was all the rage among the ancient Egyptian set (counting none other than Cleopatra among its legendary fans). We say, once a classic, always a classic, and William White's modern gold peridot pendant is all the proof we need. With its adjustable chain and charming "lollipop" shape, this timeless treasure will get you style mileage for years to come, making it a more-than-worthwhile investment piece.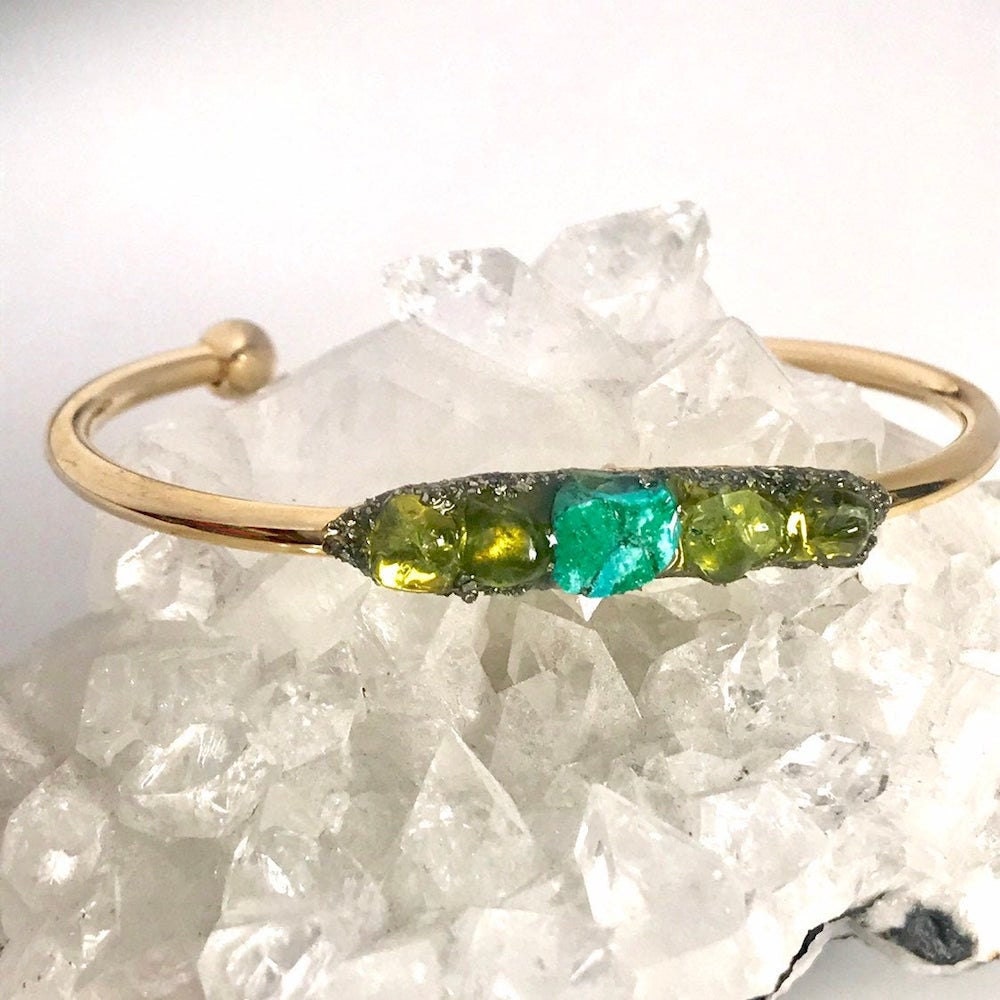 Play up peridot's lime green glory with a multi-hued bracelet from I Was Born to Shine. A vivid turquoise center stone is elegantly flanked by four chunks of sparkling raw peridot on a gold, rose gold, or silver cuff. What's more, with peridot (known for balance) and turquoise (known for serenity), this stacking-friendly stunner makes a harmonious addition to any elegant arm party.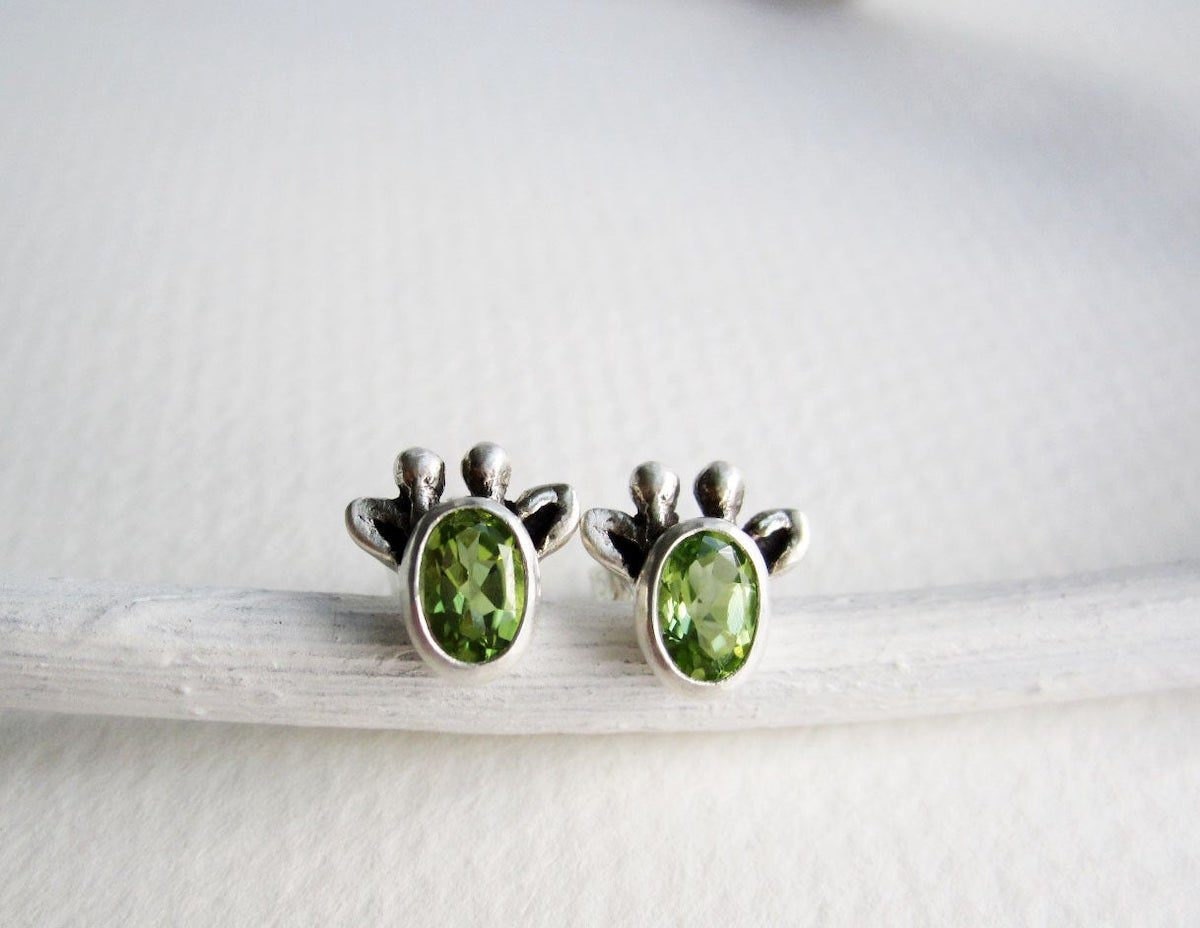 When it comes to accessorizing, summer is the time to show off your playful side—and Every Bear Jewel's adorable giraffe-shaped peridot earrings are bound to put a twinkle in your eye. With irresistible ears and a set of dainty horns (also known as ossicones to those in the animal-know), these handmade studs combine just enough cuteness with a graceful oval shape, successfully striking the perfect balance between sophisticated and cheeky.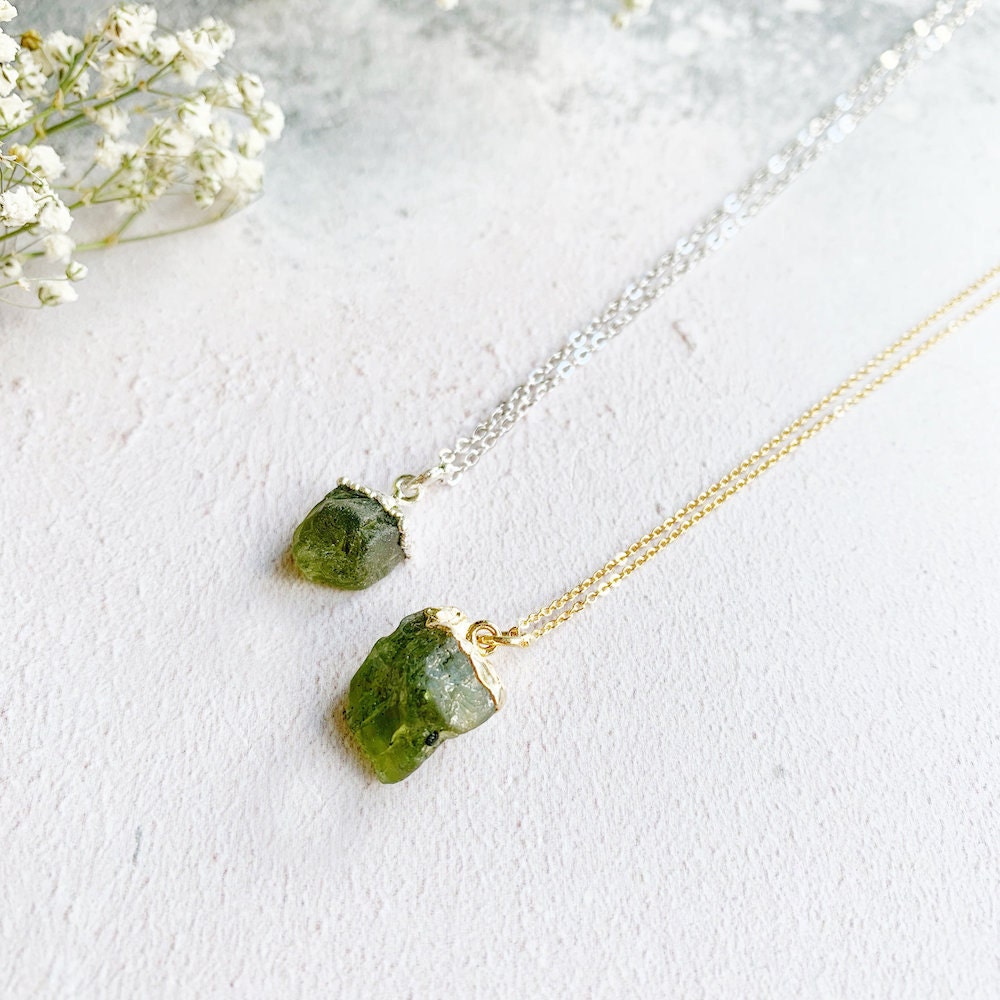 Sure, your signature birthstone sets you apart from the other eleven months of the year, but what makes one August babe shine above the rest? Enter Eclectic Eccentricity's personalized peridot necklace. A gorgeous rough-edged gem gives these gold and silver dazzlers a can't-miss focal point, and for a truly one-of-a-kind ornament, you can get a custom initial stamped onto the star charm that embellishes the chain.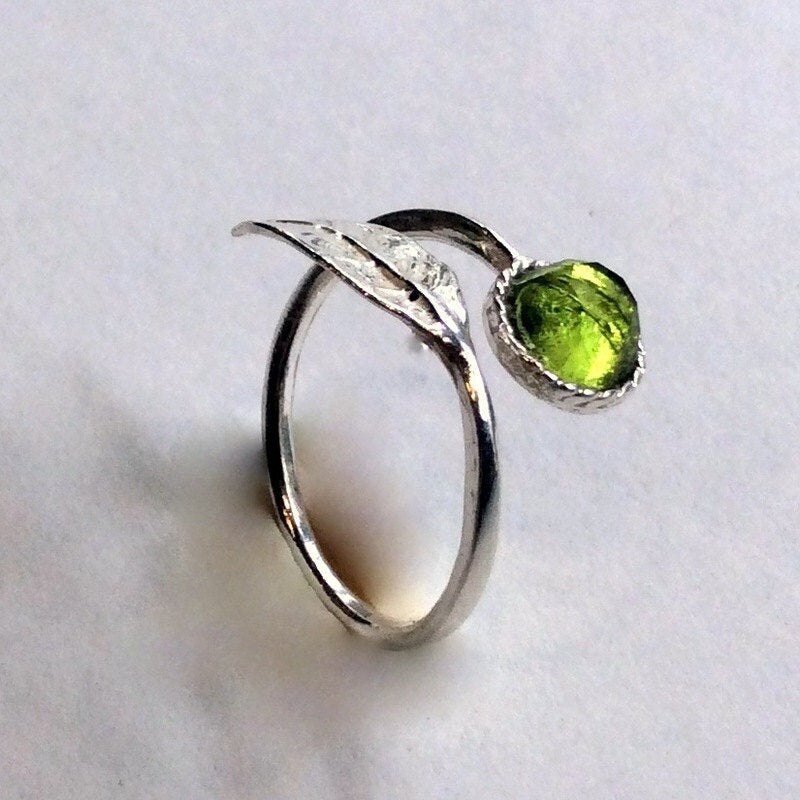 One look at peridot's bright green glimmer and you're instantly transported to scenes of verdant, rolling hills and lush, overgrown forests. Artisanlook's distinctive peridot ring takes that outdoorsy essence to its logical leafy conclusion: a delicate botanical motif crafted from sterling silver. And thanks to its adjustable band (a quick tweak lets you shift it to the top, middle, or base of any multi-ring arrangement), this plant-inspired pick makes an excellent gift for your favorite nature-lover. 
Peridot at home
From stained-glass suncatchers to handcrafted ceramics, these eye-catching green beauties add a fresh flourish to any space.