Set the stage for a gorgeous garden affair with these thoughtfully designed backyard wedding decorations, perfect for celebrating at home.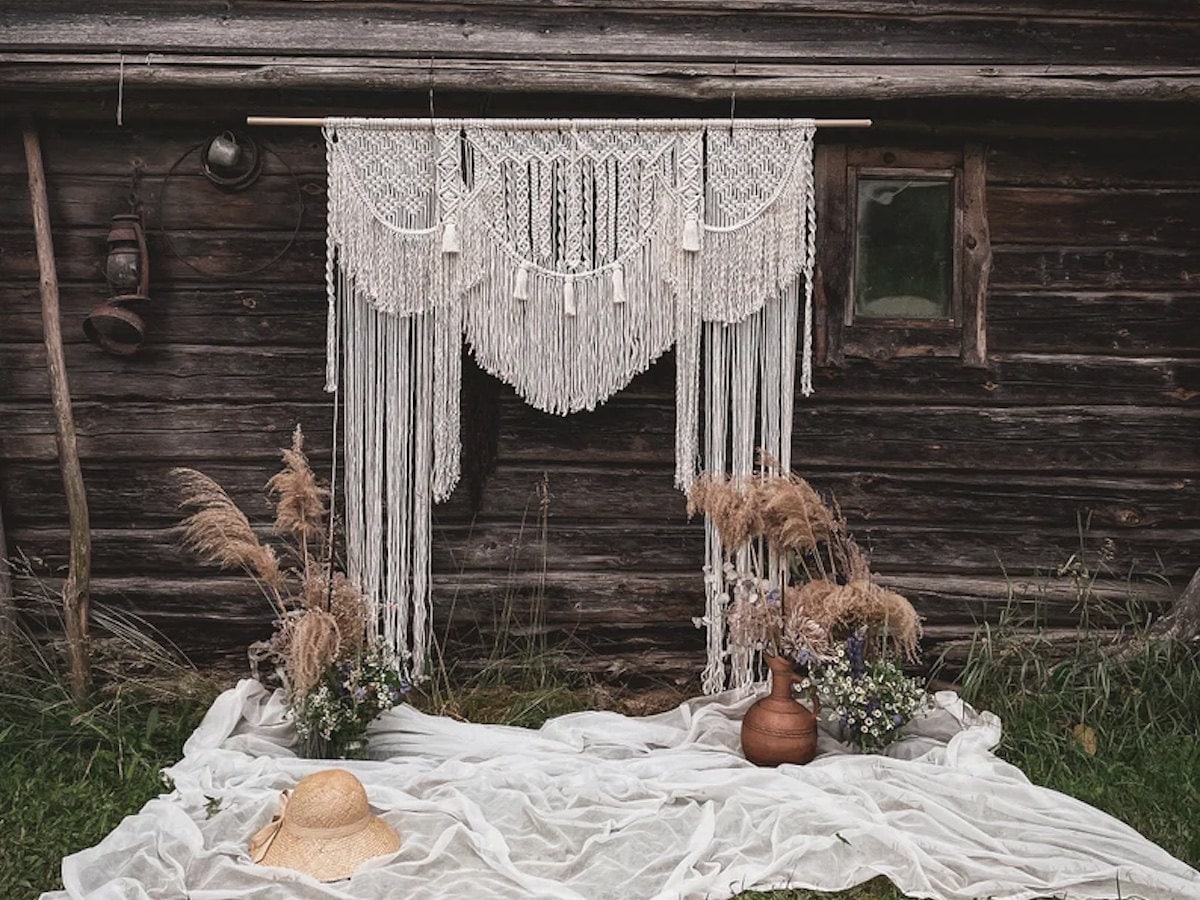 If you've decided to forego a big, formal wedding and exchange vows in a backyard instead, you're not alone—backyard weddings are becoming ever more popular. And it's easy to see why: A simple backyard wedding is an intimate, "grass roots" event where you're free to turn tradition on its head, make your own rules, and say "I do" in a way that's perfectly you. And we think that's the best wedding trend of all to follow!
For crafty brides and grooms, backyard weddings allow ample opportunity for DIYing your wedding decor and leaning on the natural beauty of your surroundings. If you're hosting in your own backyard, there's also something to be said for the convenience of prepping and organizing ahead of the big day instead of doing it all in those spare few hours before the ceremony. For those details you'd rather leave to the professionals, the small shops on Etsy have you covered with gorgeous handcrafted floral arrangements, favors, and festive touches, all made with exceptional care, especially for you.
From fresh takes of flowers to picnic baskets packed for a relaxed reception, here's your ultimate guide to hosting a backyard wedding.
1. Go wild with beguiling bouquets.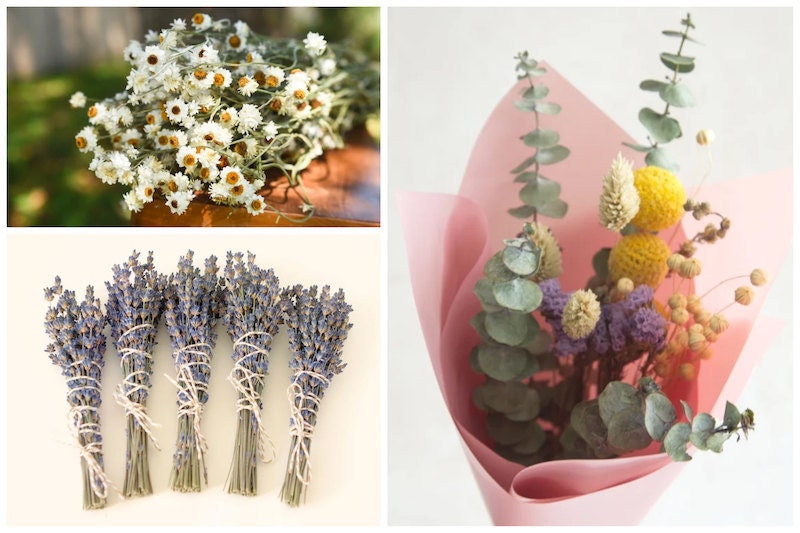 SHOP: (clockwise from top left) Dried ammobium bunch from The Blaith in Blair Shop, "mimosa" colorful dried bouquet from Bae Garden, and mini dried lavender bunches from Which Goose
The backyard is a perfect venue for an unconventional wedding, and choosing a non-traditional bouquet is just one way to set the tone that this celebration is going to be totally you.
For a fresh flower bouquet that bucks convention, consider a sprawling wildflower bouquet or go harvesting around your own property. A mix of large and small blooms plus ample greenery keeps things feeling natural and organic. If your wedding colors are unconventional—like brown and chartreuse—look for hand-dyed ribbon to wrap up those stems while embracing nature-inspired hues.
Or, skip the fresh blooms altogether in favor of something with more staying power. Dried flowers make beautiful bouquets that you and your wedding party can continue to enjoy long after you say "I do." So do sensational paper flower bouquets, which Etsy sellers can design in your specific wedding colors. Clever crochet bouquets can bring campy charm, boho beauty, or artsy flair to the ceremony, depending on the style you pick.
Shopping tip: See an idea you love? Tap the heart icon on any listing to save it to your Favorites—you can receive updates when they go on sale or are back in stock. Head over to our guide to shopping on Etsy for even more tips.
2. Set up self-serve drink stations.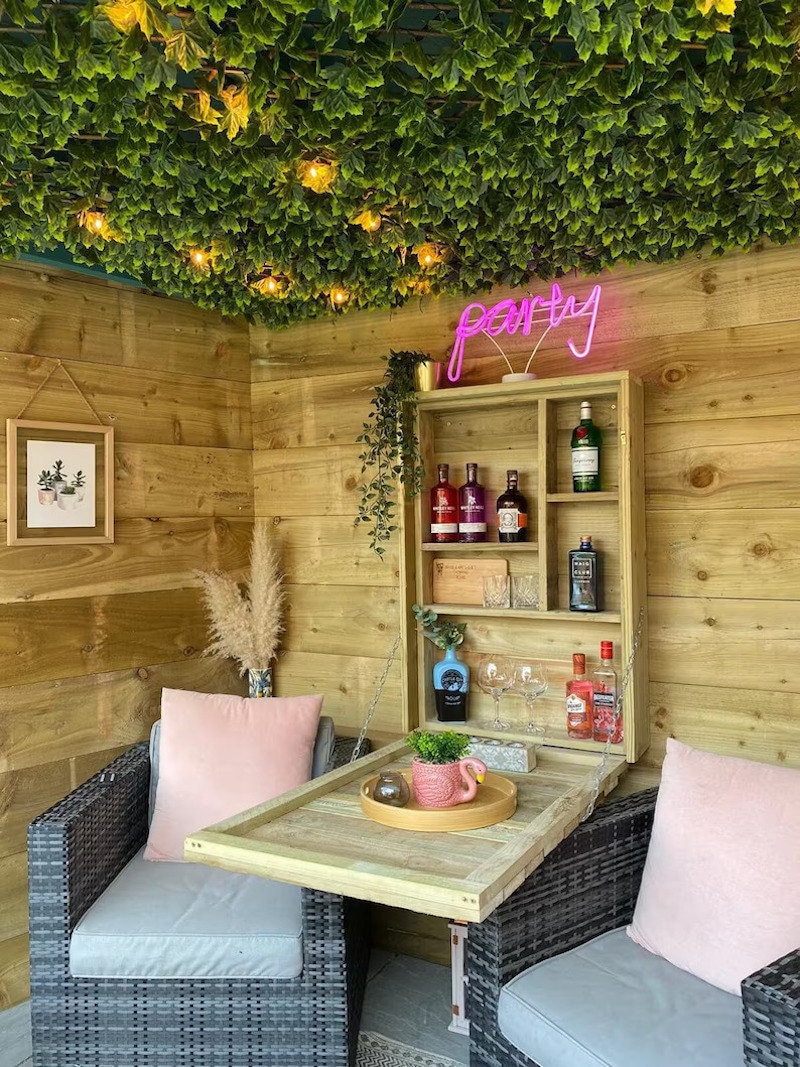 SHOP:The Lilly dropdown bar from Bars Outdoors, $284
Embrace the easy backyard vibe with self-service drinks for guests to enjoy before the ceremony and during happy hour. Install a drop-down outdoor bar, spruce up your home bar for outdoor use, or build a drink cart or a simple backyard bar for the occasion.
In lieu of a bartender, set out large drink tubs for both alcoholic and non-alcoholic bottled beverages. Make your self-serve drinks extra-special with customized labels for beer, water, and mini cocktail and champagne bottles. Pre-mix batches of cocktails, and serve them from beverage dispensers that match your vibe. Don't forget sturdy drinkware like recyclable plastic or aluminum cups that won't break on your patio or dance floor.
3. Compose comfy conversation areas.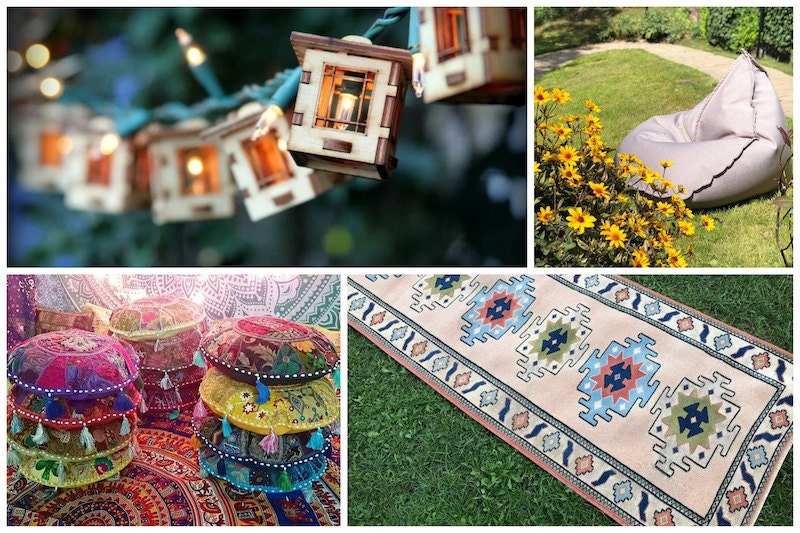 SHOP: (clockwise from top left) Bungalow patio string lights from 1 Man 1 Garage, modern bean bag chairs from Om Home Brand, Turkish runner from Chef Rug Shop, and boho pillow covers from Multimate Collection
Invite guests to settle in and get comfortable after the ceremony by designating a variety of conversation areas around the yard for both large and small groups. Take stock of the patio furniture you already have, and determine how much more seating you might need.
For a super casual reception, lay down large outdoor area rugs, and pile them up with big floor pillows, poufs, or ottomans for guests to sit, lean, or lay on. Boho brides, add in a few small, open-sided or three-sided tents for shade and cover. Adorn them on the inside with festive string lights, faux vines, floral garlands, or hanging paper lanterns. Make lounging around your backyard extra-comfortable with baskets full of accouterments like cozy lap blankets and handheld fans.
Shopping tip: Once you've saved your favorite backyard wedding picks to your Favorites list, organize those ideas into a Collection. Try creating one collection for each part of your celebration: ceremony, happy hour, reception, and send-off. Explore public Collections from other Etsy brides, too, for even more inspiration.
4. Dream up a dazzling backdrop.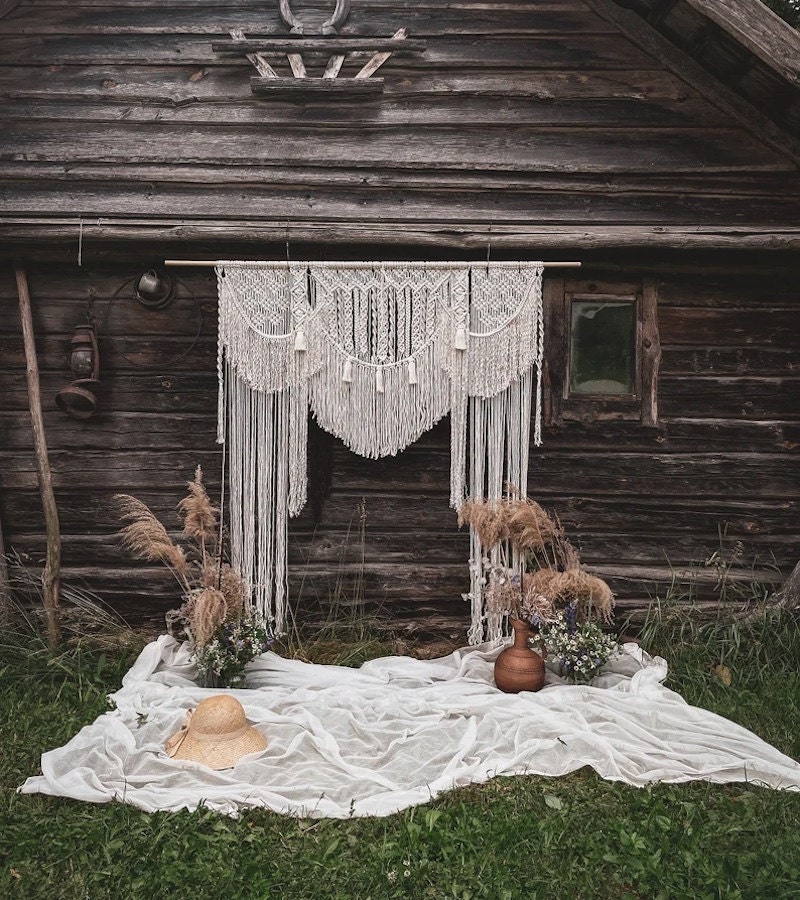 SHOP: Macrame rustic wedding backdrop from Painiava, $494
A picture-perfect backdrop for your backyard wedding ceremony is an easy DIY project. If you have your heart set on saying "I do" beneath an arch, small shops on Etsy have done the planning for you with wedding arch building plans so you can construct your own. Decorate it with lights, garlands, sheer fabric, flowers, balloons, or ornaments.
A lovely macrame curtain is a perfect backdrop for a boho-style backyard wedding, and you can make one yourself from a downloadable pattern. You can also create a beautiful backdrop with a beaded curtain, a few yards of sheer, sparkly, or high-sheen fabric, or strings of origami cranes, butterflies, flowers, or other figures. For a nighttime wedding, hang a curtain of lights behind the backdrop—or use it as the backdrop itself.
5. Keep the table decor simple.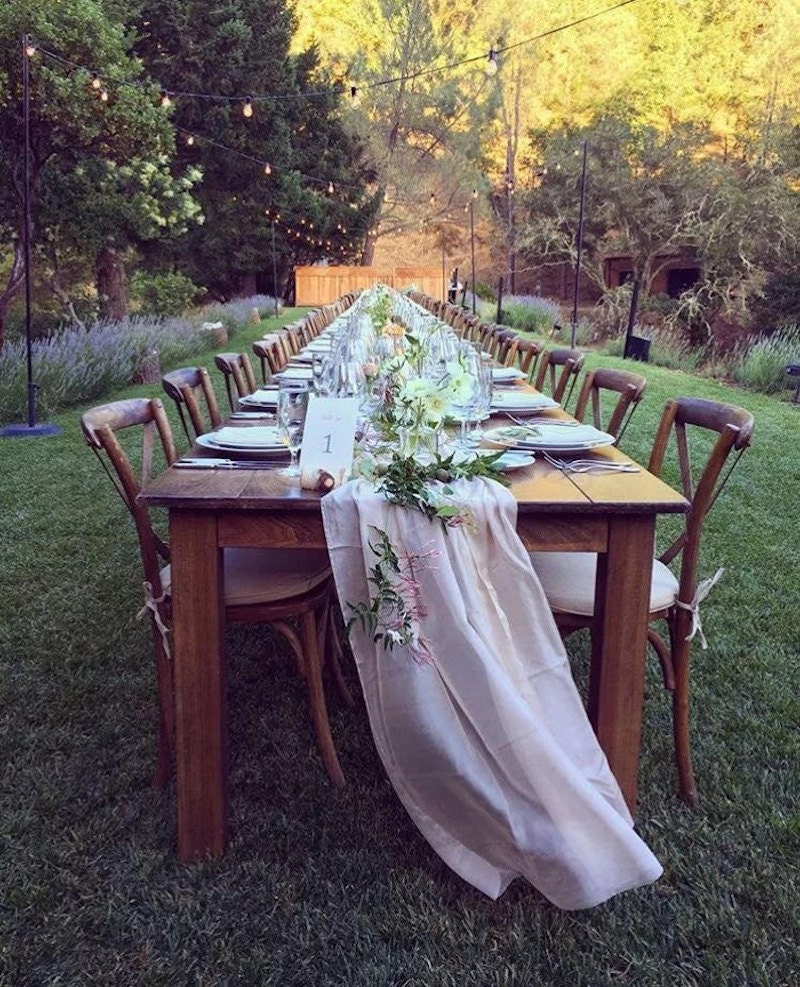 SHOP: Custom-dyed silk runner from PomPom Blossom, from $143
One cost-saving feature of backyard weddings is the option to keep it all super simple and let the natural surroundings do most of the scene-setting work. Whether you're planning on using a few long, rectangular tables or a round-up of rounds, creating your own table decor with little touches from Etsy sellers gives your reception a warm, homey vibe, without overpowering the outdoor backdrop.
For centerpieces, fill clear or colored glass jars or vases with fresh-cut wildflowers or bunches of fragrant herbs from the garden, or use small potted plants that can double as wedding favors. Order personalized place cards, or use a template to create your own. Decorate each place setting with a tiny bouquet of lavender or teeny wildflowers tied around plain or printed cloth napkins.
Light your tables for romance with battery-powered fairy lights or glass hurricane lanterns with flickering tea lights. Drape the table with faux vines, floral garlands, or sheer fabric.
Shopping tip: As you plan, keep track of the shops on Etsy you love most by tapping the heart icon next to the shop name to follow them. You'll receive updates on their latest coupons, sales, and new items.
6. Serve sustenance, backyard-style.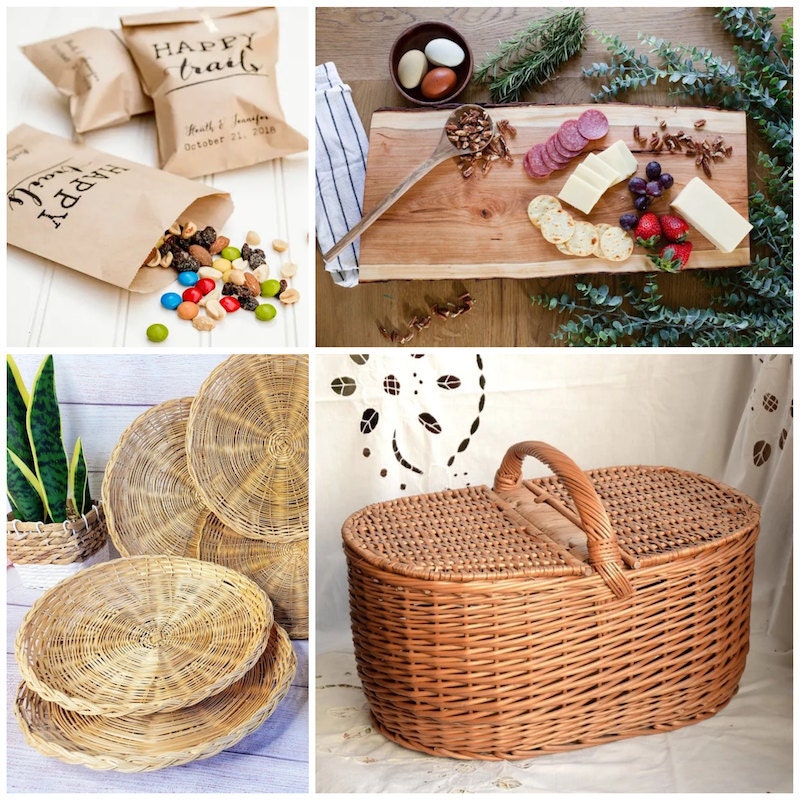 SHOP: (clockwise from top left) Happy Trails snack bags from Give It Pretty, wood serving board from Narrow Path Farm, large picnic basket from Willow Souvenir, and wicker charger plates
A small backyard wedding reception doesn't necessarily require catering services if you plan ahead and get a little help from close friends and family. For a super-casual shindig, make it a BBQ party. Serve up ribs or pulled pork with buns, coleslaw, and all the fixings in a buffet-style setup.
How about a picnic instead? Whip up or order in a spread of gourmet sandwiches, and offer bags of chips, fruit, and other classic picnic fare served from large picnic baskets. Spread pretty picnic quilts on the grass for guests to dine on. (Include a few tables for the elders and others who may not be comfortable sitting on the ground.)
For less-casual fare, lay out hors d'oeuvres, buffet-style. Think wooden cutting boards filled with meats, cheeses, nuts, olives, fresh fruit, and crudités—or tasty finger foods like mini quiche bites, street tacos, and miniature sliders.
Offer plenty of snacks, too. Set up a few small snack carts around your backyard offering treats like small treat bags of kettle corn, trail mix, pretzels, and other nibbles that are easy to carry around.
Finally, if you don't have your heart set on a traditional, towering wedding cake, offer cupcakes! They're much easier to serve—and they make beautiful decor. Situate them around a small, single-tier cake you can use for the cutting ceremony, complete with a one-of-a-kind topper! Make the cupcakes yourself, order them with plain frosting and decorate them yourself, or have your favorite bakery make, decorate, and deliver them.
7. Collect well-wishes with a relaxed guest book.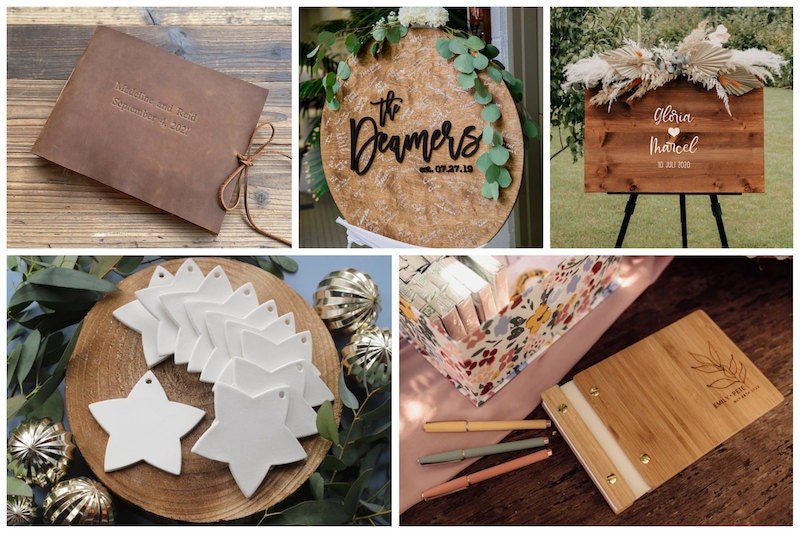 SHOP: (clockwise from top left) Engraved leather guest book from Cover Cafe, round wood wedding sign from Spring Meadow Co., personalized wedding plaque from Federherz Deko, wood guest book from Copper Cloud Creative, and blank clay ornaments from Oh Decs
If you're looking for an alternative to a conventional guest book, try one of these ideas:
Have guests sign a ready-to-hang blank canvas. Set out instant cameras, colored pens, stickers, and other adornments for guests to use. Hang the finished artwork in a special place in your home.
Supply pre-cut quilt squares and fabric pens or paints, and have guests decorate them with their messages. Later, sew a memory quilt (or have it made) to hang on the wall or drape across a chair.
Invite guests to leave their messages on blank ornaments using paint markers (include metallic colors!). Hang them on the Christmas tree each year to spark happy memories.
If you're a DIY enthusiast, you can make your own wedding guest book with book-making supplies or a kit. Incorporate your favorite quotes, pictures, and stories on the left-hand page, and leave the right side blank for guests to sign. Place a few instant-film cameras on the guest book table so guests can snap selfies to include in the book—don't forget the glue dots!
8. Keep your signage simple.
SHOP: Arrow direction wedding signs from Willow and Ink Design, from $30
Let your guests know what's what and where's where with directional signs and labels. Find ready-to-post, personalized wedding signs, table numbers, bar menus, and more, all designed by Etsy sellers to perfectly blend with your wedding decor.
You can make your own signage with blank garden stakes, and use stencils or letter decals to populate them with information and make them your own. For DIY food and drink labels, guest book table instructions, and other signage, use downloadable wedding sign templates. Create your signs on the computer, print them, and tuck them into mismatched vintage frames (or a boho look or modern ones in your wedding colors.
Framed chalkboards and chalkboard labels make great signage, too. Use white or colored chalk and stencils to create beautiful signs. Chalkboard paint is another great option for wedding signs—use it to cover blank wood cut-outs, which you'll find in endless shapes and sizes.