Stunning blooms crafted from glass beads and wire were popular in eras when fresh flowers were a scarce and seasonal luxury.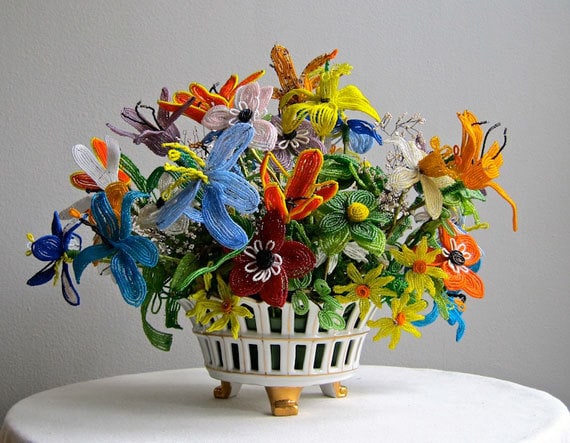 Jeni Sandberg is a dealer, appraiser and consultant in 20th century design. She has worked in museums, was a Senior Specialist at Christie's, and also appears on WGBH's
 Antiques Roadshow
. She writes about fun objects on her blog. In this series, she will explore the history of decorative objects.
I was recently out on a buying trip and found a lovely bouquet of
beaded flowers
in the shop of a dealer friend of mine. Each flower is constructed of small glass beads strung on a fine gauge wire, then shaped into blooms, using a technique called French beading. In the days before out-of-season blooms could be flown in from the far corners of the globe, beaded flowers were a lasting way to capture the pleasure of spring. I have a variety of lilies, daffodils and even delicate baby's breath.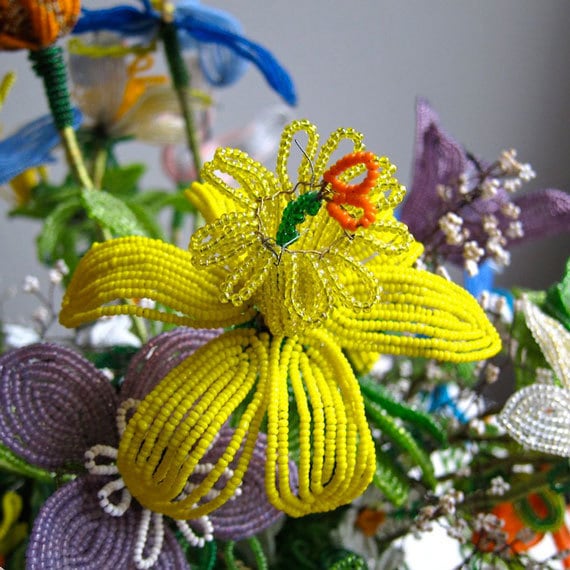 A beaded daffodil from Jeni's bouquet.
Beadwork, of course, has been around for millennia. The Egyptians, Romans, and cultures all over the world found ways to ornament themselves and their environments with beads made of bone, stone, ivory or glass. French beading is differentiated by its wire construction. Small glass beads (usually 11/0 or 10/0 size) are strung onto very fine wire, and lines of beads are connected, or laced, to reinforce the petals and leaves. The flat elements can then be joined together and sculpted into three-dimensional flowers, with the wire helping the piece retain its shape. With a relatively small number of tools and supplies, a person could begin creating colorful flowers with various French beading techniques.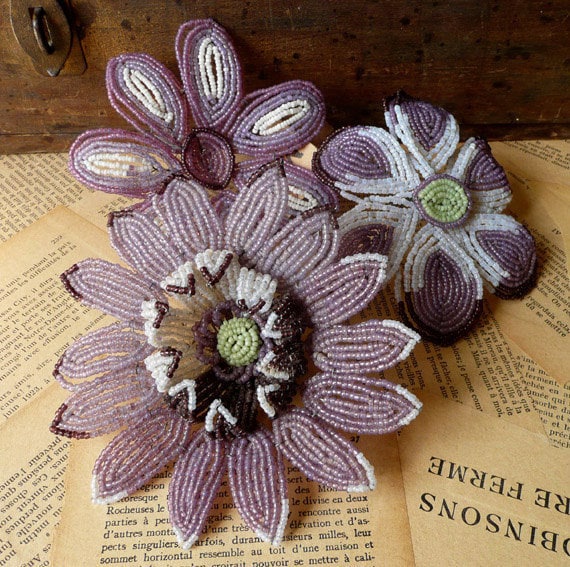 %3Cp%3E%3Ca%20href%3D%22https%3A%2F%2Fwww.etsy.com%2Fshop%2Fonemansjunque%22%20target%3D%22_self%22%3Eonemansjunque%3C%2Fa%3E%3C%2Fp%3E
The exact origins and history of French beaded flowers are a bit hazy. Production was no doubt advanced by the Industrial Revolution, which increased availability of glass beads of regular size and color. By the late 19th and early 20th centuries, beaded flowers were sometimes used in ornate funerary arrangements, where wired beads made up flowers and could also be wrapped around a metal framework. These were perfect for use during winter months when fresh flowers were not readily available, and they were long lasting without the need to be watered or replaced.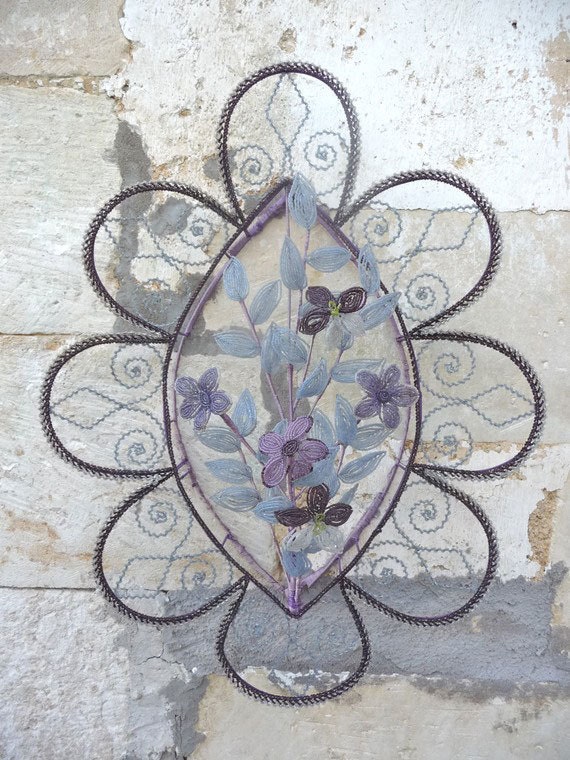 Antique French beaded funerary wreath from petit brocante.
Though there was certainly beadwork done in the early 20th century, this type of French beading gained its greatest popularity after World War II. Instructional kits were sold, complete with materials and patterns, and department stores such as Marshall Fields and Bloomingdale's sold beaded flowers imported from France.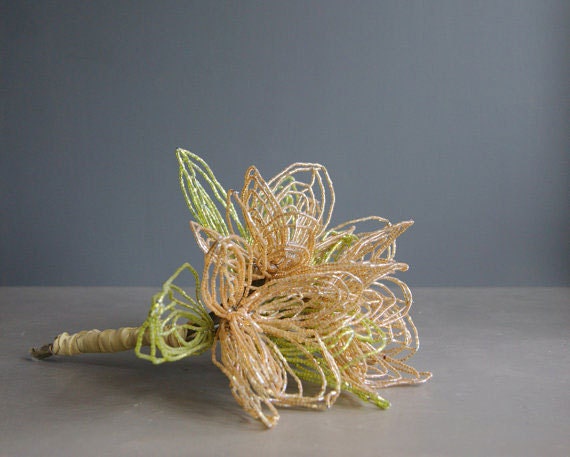 %3Cp%3E%3Ca%20href%3D%22https%3A%2F%2Fwww.etsy.com%2Fshop%2Fsusantique%22%20target%3D%22_self%22%3ESusantique%3C%2Fa%3E%3C%2Fp%3E
Just as books by Erica Wilson promoted a renaissance in needlework during the 1960s and '70s, the 1967 publication of Virginia Nathanson's 
The Art of Making Bead Flowers and Bouquets
 helped introduce this craft to a new audience. This book and several others codified the technique and provided numerous patterns for makers (Nathanson even advocated beaded flowers for sale through mail order because of their "indestructible" nature). Most of the vintage beaded flowers I see are from this era of creativity, and these books still serve as useful resources for beaders.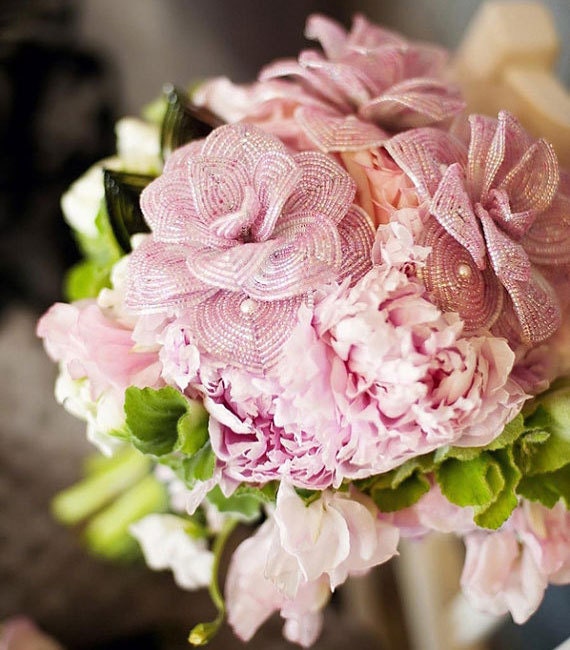 %3Cp%3E%3Ca%20href%3D%22https%3A%2F%2Fwww.etsy.com%2Fshop%2FBeadFloraJewels%22%20target%3D%22_self%22%3EBeadFloraJewels%3C%2Fa%3E%3C%2Fp%3E
Today,
Etsy sellers continue the tradition of French beading
. Wired beads are sometimes used in conjunction with other beading techniques to create hair ornaments, jewelry and other items. Beaded flowers are particularly popular for wedding accessories and bouquets, where a few beaded elements can be used amidst fresh flowers or comprise the entire bouquet.