Get inspired by these real-life dreamy interiors—and learn how to recreate each look at home.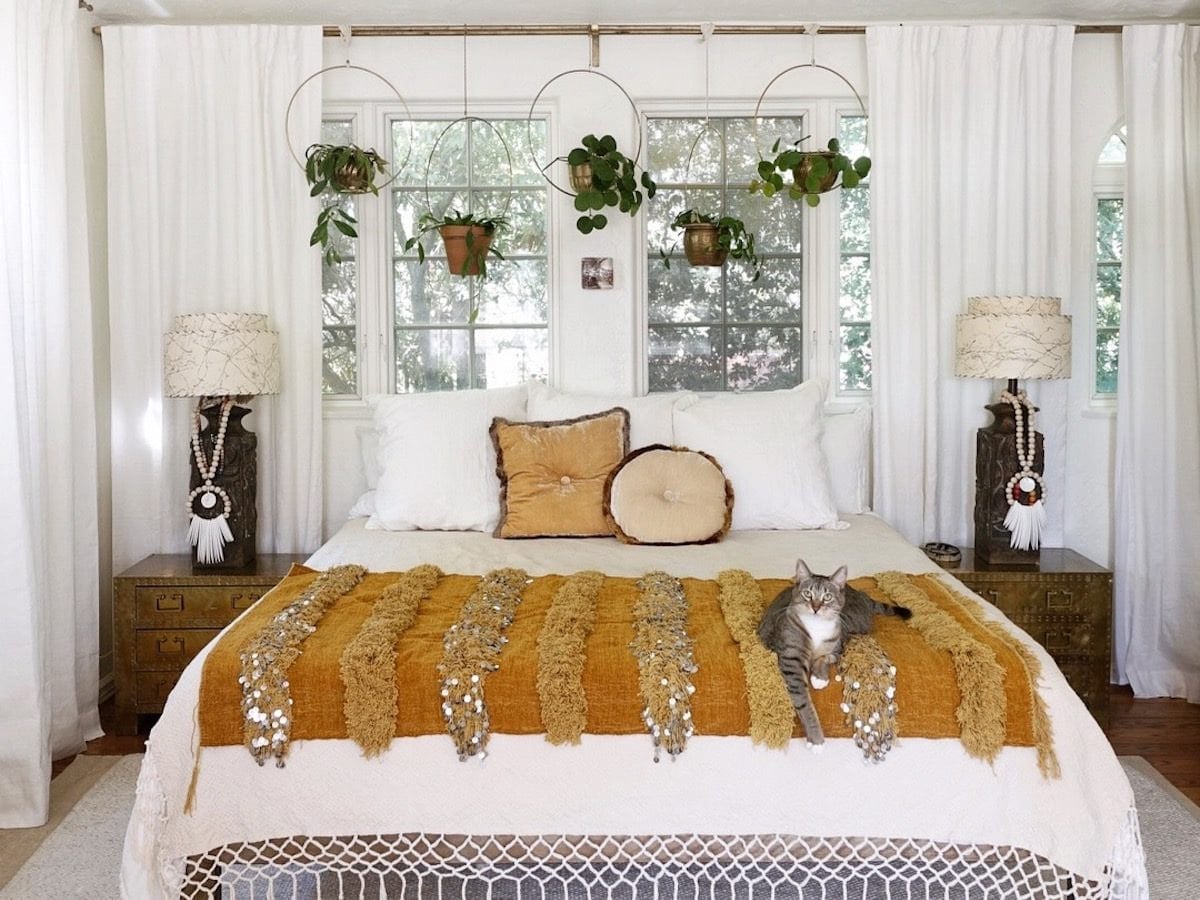 Whether you burst out of bed at the first beep of your alarm or longingly hit snooze until the very last minute each morning, the hours we log in our bedrooms each day are some of the most important. No matter how many dishes are left in the sink after dinner or how many emails await us in our inbox, bedrooms provide a sanctuary within our homes and our lives—a place to retreat from the world at the end of a long day, and rest and recharge for the adventure ahead. And when it comes to
decorating
, there's no shortage of ways to showcase your personal style and create a one-of-a-kind oasis peppered with unique pieces that speak to you.
Read on to learn how three real-life Etsy shoppers decked out their dwellings—and discover how to recreate their drool-worthy looks at home.
A warm and cheerful bedroom
>
Photograph by Ashley Hosmer
Get the look:
Stock up on geometric mirrors, playful banners, copper accents, and fun pops of color (pillows and art are great places to start).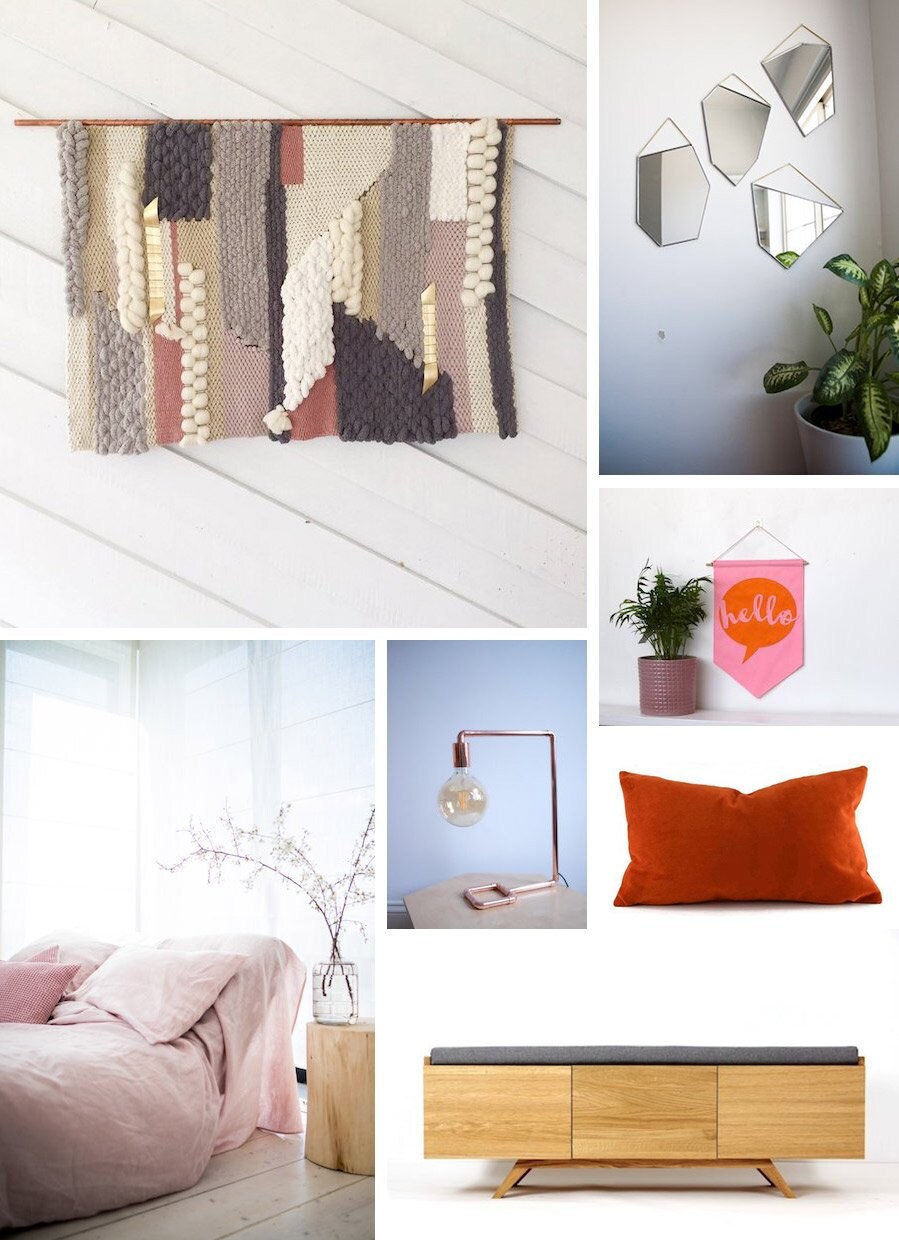 >
When Los-Angeles based content manager and interiors blogger
Ashley Hosmer
was decorating her "feminine, plant-centric" bedroom, she prioritized cozy, comfortable pieces designed by women makers. Think soft pink linen bedding, an inviting upholstered bench, and for the finishing flourish, a 
custom woven tapestry
co-created with fiber artist Erin Barrett of Etsy shop Sunwoven. "Erin sent me pictures of different yarns and we picked the ones that would work best in my room, and eventually swapped the natural wood rod for a brass one to complement my nightstand lamps," explains Ashley. "Together we landed on the exact weaving I was looking for." The end result is a stunning statement piece that ties the room together—and today
Ashley's very tapestry
is available in Erin's shop as a special made-to-order item in two gorgeous colorways.
A clean and bright bedroom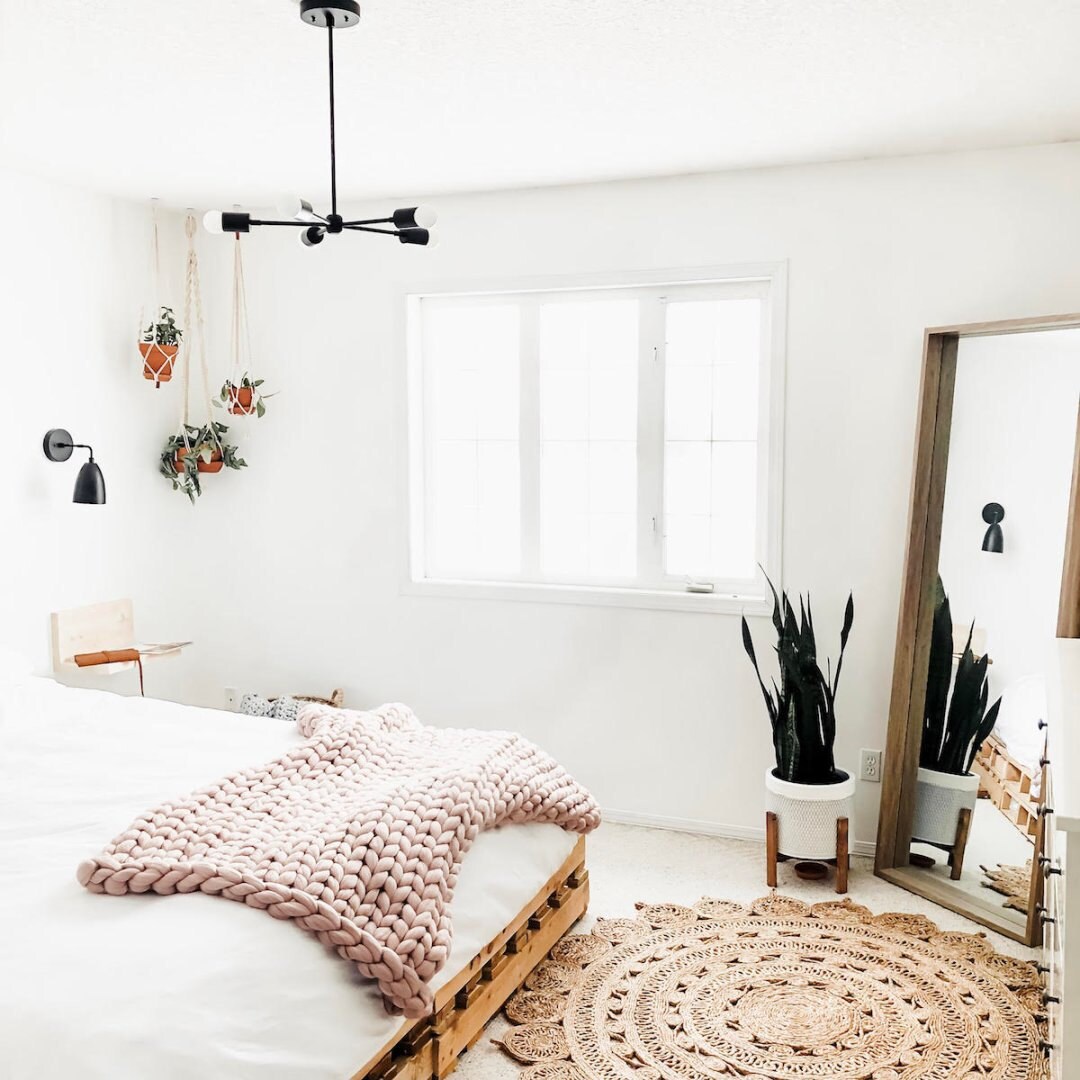 >
Photograph by Sydney McInnes
Get the look:
Mix mid-century modern forms and natural materials with plants galore—and don't forget to toss in an extra-chunky knit blanket for a subtle touch of color.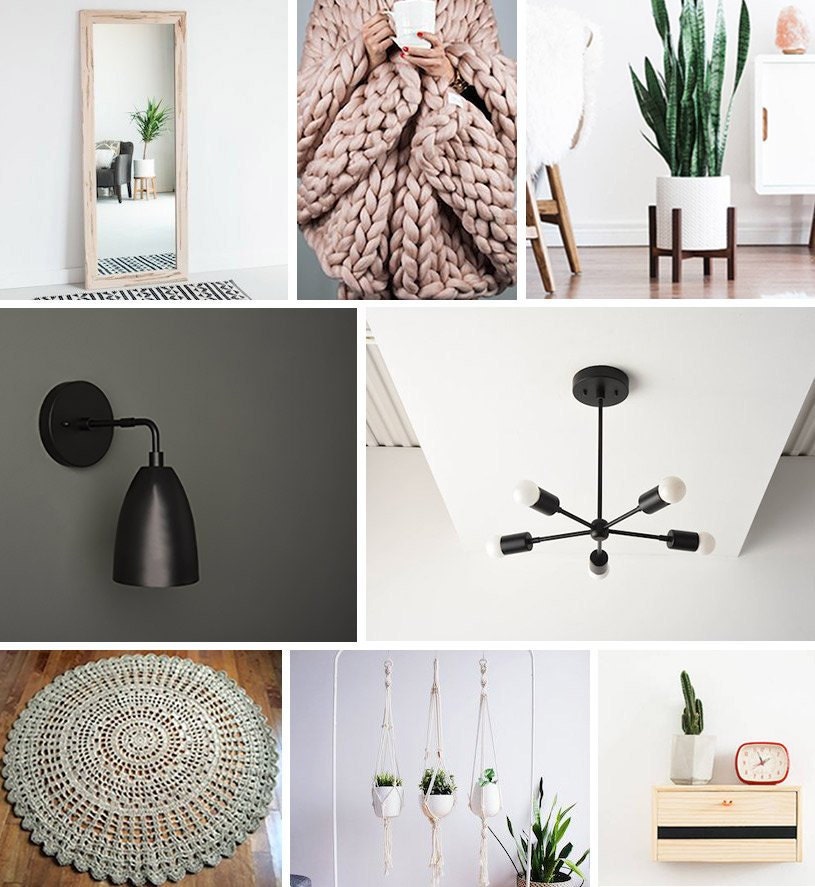 >
"My decorating approach is very neutral and minimal," says content creator
Sydney McInnes
of her Alberta, Canada home. "I try to add some color here and there, but tend to focus on more muted tones and rely on texture for accents." This understated approach is on full display in Sydney's sunny, chic bedroom, which features a soothing assortment of pale wood accents and greenery offset with a modern matte black 
chandelier
and
wall sconce
from Illuminate Vintage. "I was drawn to the Illuminate Vintage light fixtures, not only because of their obvious beauty, but also because of their uniqueness. I love their modern design, and also appreciate how well they flow with other styles."
A bold and eclectic bedroom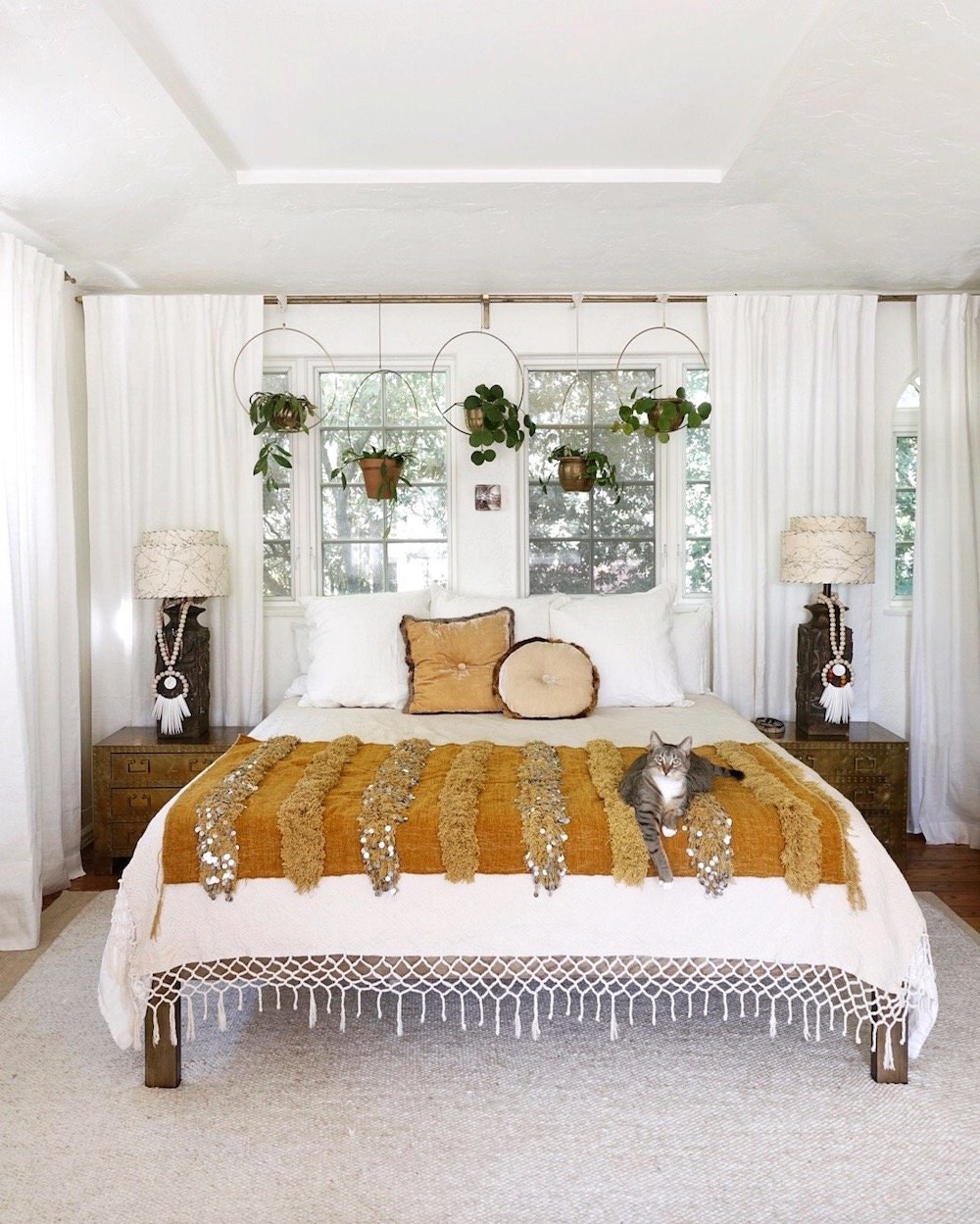 >
Photograph by Sharlene Kayne
Get the look:
Pair vintage nightstands with pom-pom pillows, a wanderlust-inducing Moroccan wedding blanket, and a seriously photogenic tabby cat.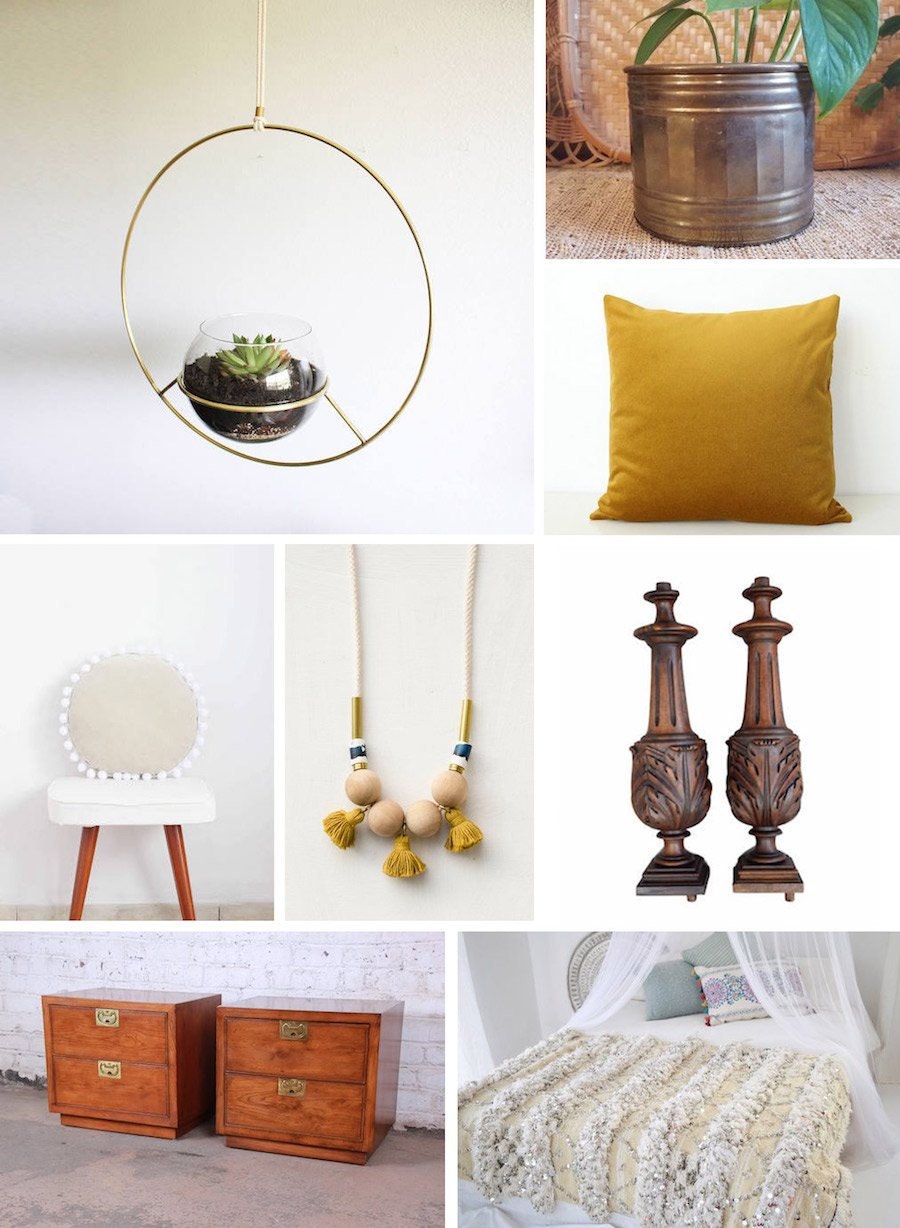 >
Why settle for one beautiful 
brass hanging planter
when you can take a page from paper collage artist
Sharlene Kayne
's book and have five? In her Los Angeles abode, the interior design enthusiast artfully clusters Norwegian Wood's mid-century–inspired planters above the bed, creating an eye-catching suspended garden that channels serious
#jungalow
vibes. To round out her boho space, Sharlene incorporates velvet pillows and carved wood lamps adorned with bead and tassel necklaces straight out of our global bazaar dreams. And as much as we're obsessing over her
rotating
collection
of colorful coverlets, we're equally in awe of her relaxed approach to house and home, inspired in part by her feline companions. Per one 
Insta caption
: "Living with pets means you have to adopt a wabi sabi attitude. When I brought this coverlet home from Turkey, I didn't intend for it to be for everyday use because it was too special. [My cat] Phoebe fixed that for me by unraveling some of the fringe."