Congratulations on a decade! From traditional tin to modern diamonds (and daffodils and all the blue hues!), here are the best 10th anniversary gifts.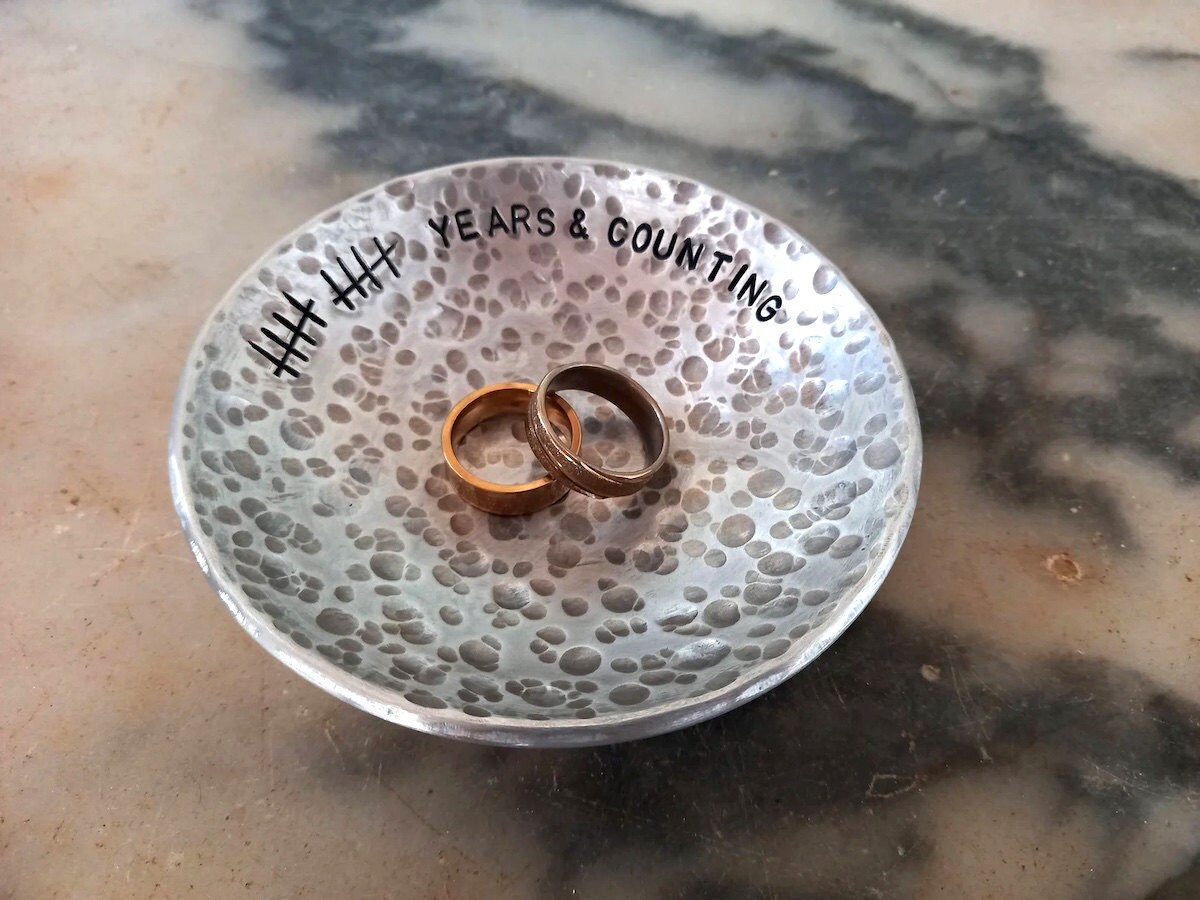 Every anniversary is sentimental in its own way, but the 10-year anniversary is an exceptionally noteworthy event: you're in the double digits now. With such a milestone on the horizon, look to the traditional and modern anniversary gifts by year for some inspiration, then let the shops on Etsy make those ideas dazzle.
Traditionally, the official 10-year wedding anniversary gift is tin or aluminum, and the 10-year anniversary flower is the daffodil. Both tin and daffodils are symbols of strength, resilience, and durability—a nod to a happy and long-lasting marriage. There are also traditional anniversary colors, the 10th being silver (hi, tin and aluminum!) and blue. You can also opt for a modern 10th anniversary gift: diamonds.
Whether you're feeling the traditional 10th anniversary gifts or a more modern approach, or if you want to do something completely different, we've got a selection of the best 10-year anniversary gift ideas for her and him to celebrate this amazing accomplishment.
Best modern diamond anniversary gifts
Gleaming and glistening, diamonds are pretty much everyone's best friend, and an excellent way to celebrate a 10-year anniversary with a modern gift choice.
1. Handcrafted diamond and gold ring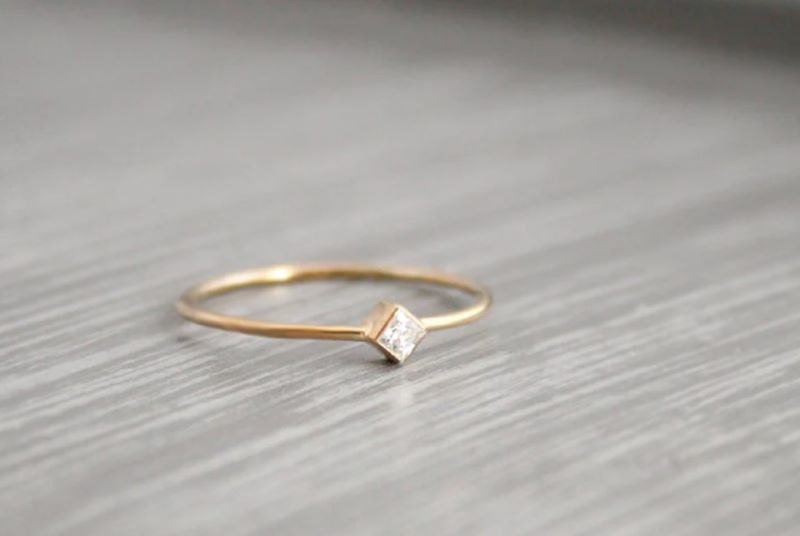 SHOP: Handmade diamond ring from Goudsmederij Herfst, from $211
This ring might be small, but it's big on charm, elegance, and meaning. Handmade from solid yellow, white, or rose gold, and adorned with a single diamond, one buyer expressed that "it's honestly the prettiest, daintiest ring ever. Prettier than I even expected." Another happy shopper described, "It is beautiful and very well made. For as delicate as it looks, it feels very sturdy."
2. Diamond candle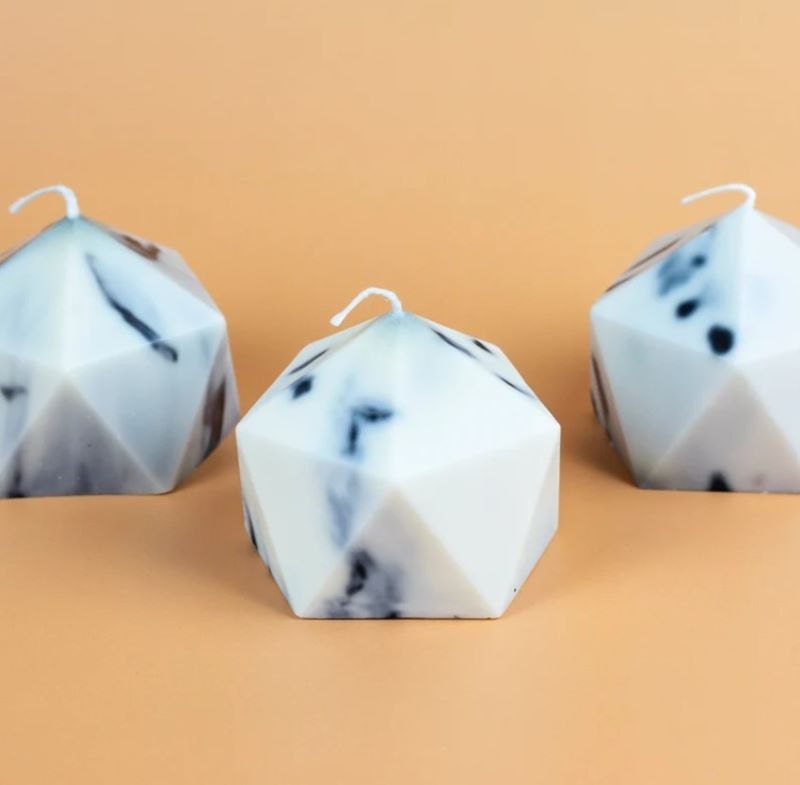 SHOP: Marbled diamond scented soy candle from Almos, from $16
A beautiful diamond-themed 10-year anniversary gift for women or men, this affordable scented soy candle comes in five gorgeous scents, including mango vanilla and fig cassis and is handmade in a small shop in the coastal resort town of Bournemouth in the UK. "The whole room smells so nice from it, even if [it is] not lit," says one buyer review.
3. Signet ring with diamonds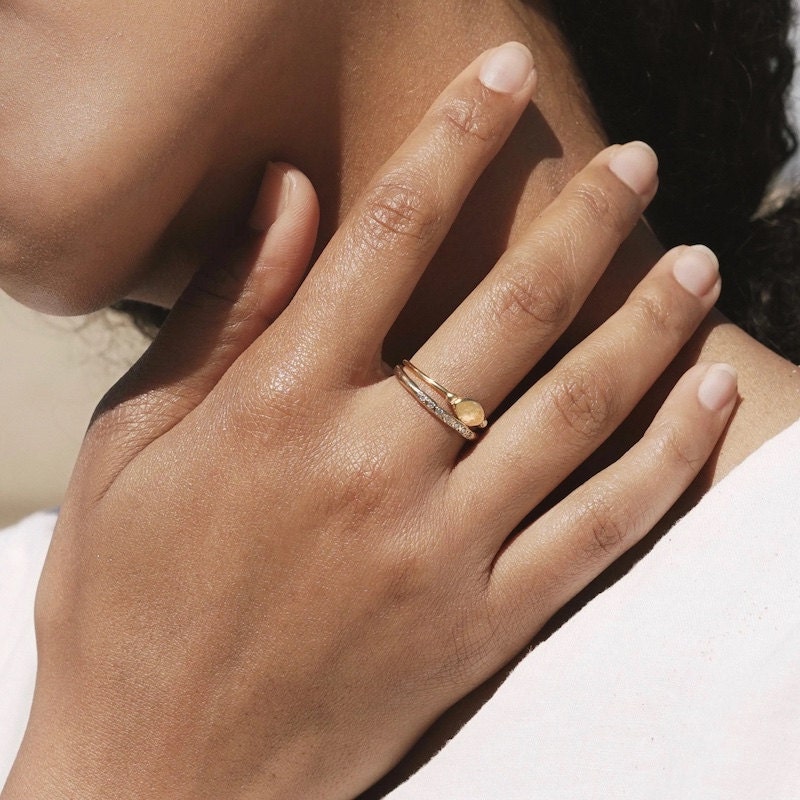 SHOP: Engraved signet ring from Everli, from $105
Dainty, classy, timeless, and perfectly in tune with the modern 10-year anniversary gift theme, this delicate ring is made from recycled materials, and available in either silver or gold. The ring can be personalized with the recipient's initials, and adorned with two petite diamonds. "Searched all over for the perfect signet ring," begins one customer review. "When I saw this one, I didn't care about the cost, I had to have it. No regret or buyer's remorse at all. I love my ring!"
Best traditional tin anniversary gifts
Get that tin can out of your head; these tin-themed gift ideas offer a much more imaginative way to think about the traditional 10th wedding anniversary gift theme—and there's something for everyone.
4. Tenth anniversary stone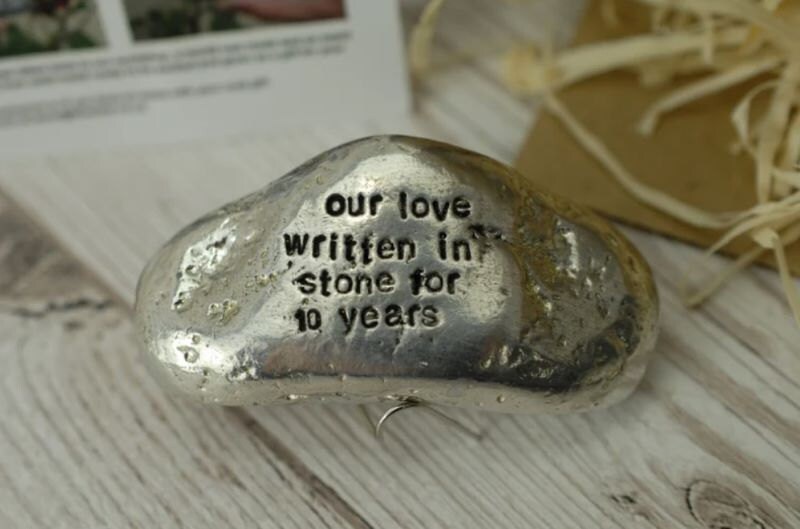 SHOP: Our love written in stone from Anniversary Gifts, $27
Unique and imaginative, the designer of this beautiful stone made a mold from a one-of-a-kind rock they found on a Cornish beach, and replicated it in solid metal. It can be used as a paper weight, or a decorative item on a mantle or display shelf. It comes wonderfully packaged, and buyers call it "beautiful," "well crafted," and an excellent 10-year wedding anniversary gift idea.
5. Personalized aluminum card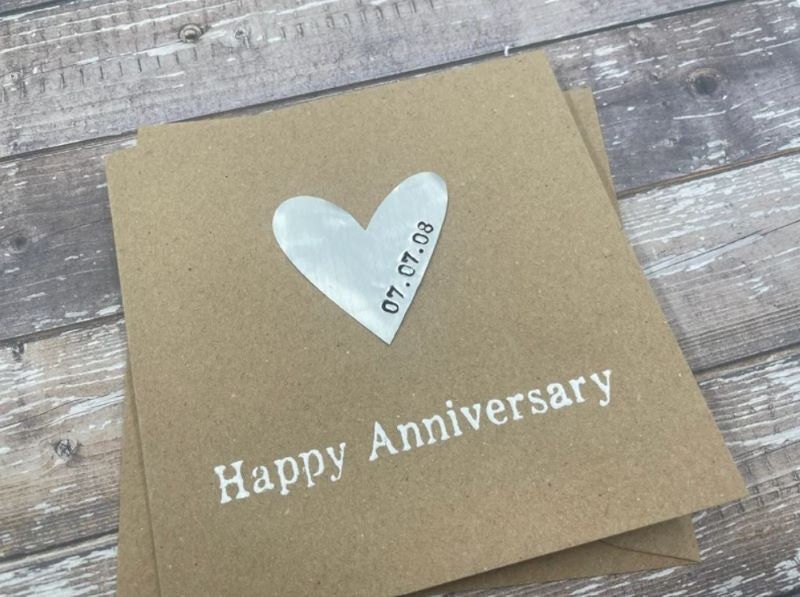 SHOP: Tenth aluminum heart card from Hello Paper Collection, $8
This affordable and beautifully unique anniversary card is the perfect way to incorporate the tin/aluminum theme into your wedding anniversary gift, if you'd rather your main gift be something different entirely. It features an aluminum heart that can be personalized with up to 10 characters of your choosing, on thick, recycled kraft cardstock.
6. Tin ring dish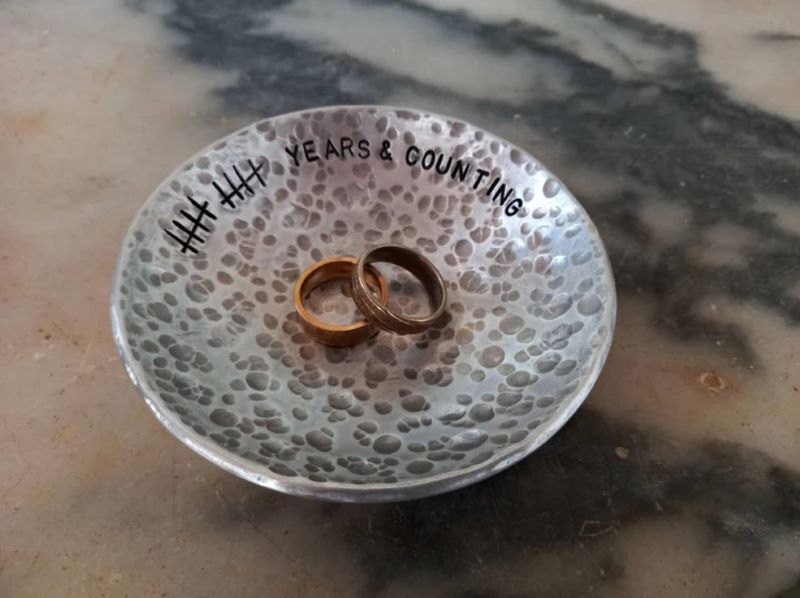 SHOP: Handmade aluminum bowl from West Store Portugal, $39
As useful and practical as it is beautiful, this aluminum trinket bowl has a lovely sentimental inscription ("卌 卌 YEARS & COUNTING") and is handmade and forged in a small shop in Torres Vedras, Portugal, using primordial techniques with a hammer and chisel. The item is built to last a lifetime, and, though aluminum is a non-corrosive material, the seller includes a wax finish to help you keep it protected and shiny.
10th anniversary flower: Daffodil gifts
Being one of the first flowers to bloom after winter, daffodils symbolize strength and new beginnings. These daffodil-themed anniversary gifts are fresh and sprightly, and a beautiful way to enter your second decade together.
7. Silver daffodil necklace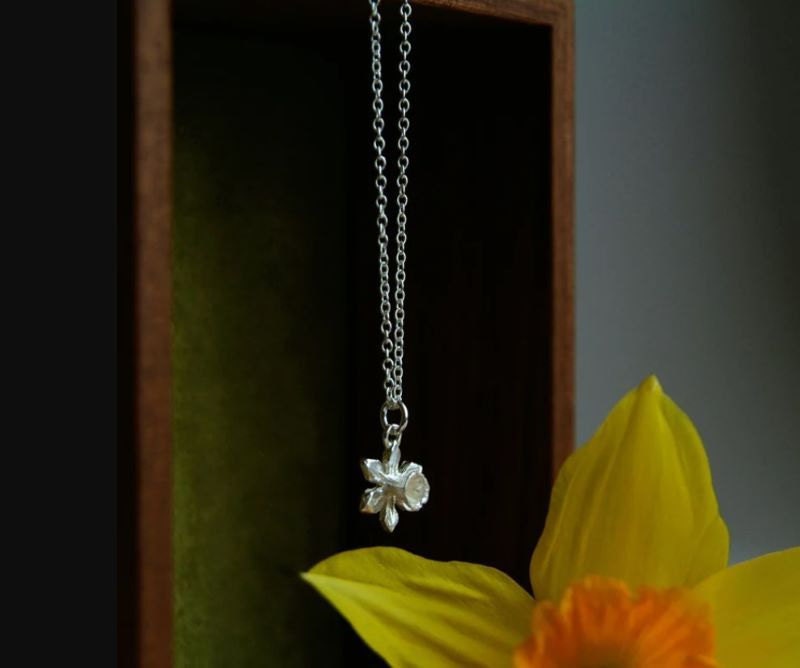 SHOP: Flower pendant from Rock Rose Jewellery, $58
Available in a choice of three lengths, this pretty silver daffodil necklace is handmade from a hand-sculpted clay cast in Wales, UK, where the daffodil is the national flower. Shoppers were impressed with this unique item, and one explained, "The piece is delicate, lovely, and displays excellent artistry and workmanship."
8. Stained glass daffodil suncatcher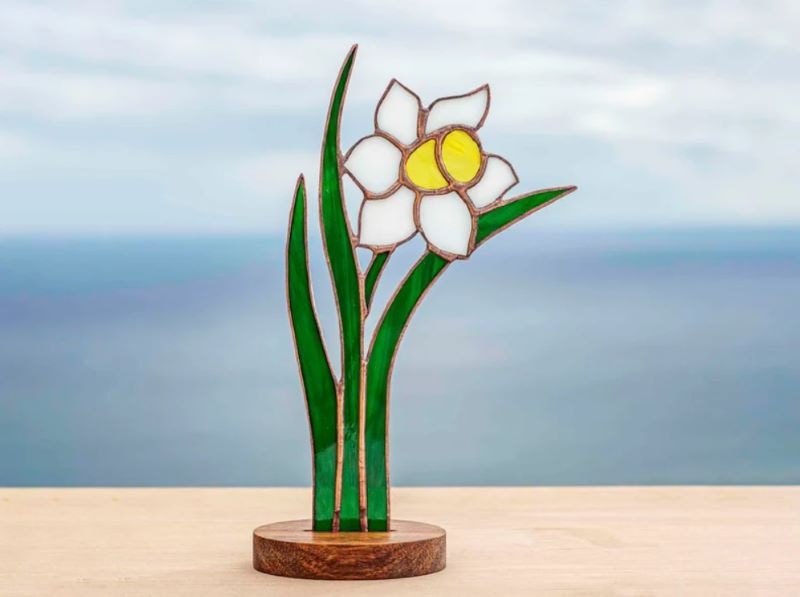 SHOP: Stained glass daffodil on the wooden stand from Stained Glass MA, $67
To bring a little light and joy into any home, opt for this bright and colorful stained glass daffodil that comes on a wooden stand. It's made by hand in Madeira, Portugal, using the timeless and classy Tiffany glass technique, and one of the many happy customers wrote a review: "This is such a cute little decoration that's unique and simple! It feels heavy and quality… It comes packaged ridiculously well… I'm so happy I got it. It looks exactly as pictured!"
9. Cotton daffodil tea towel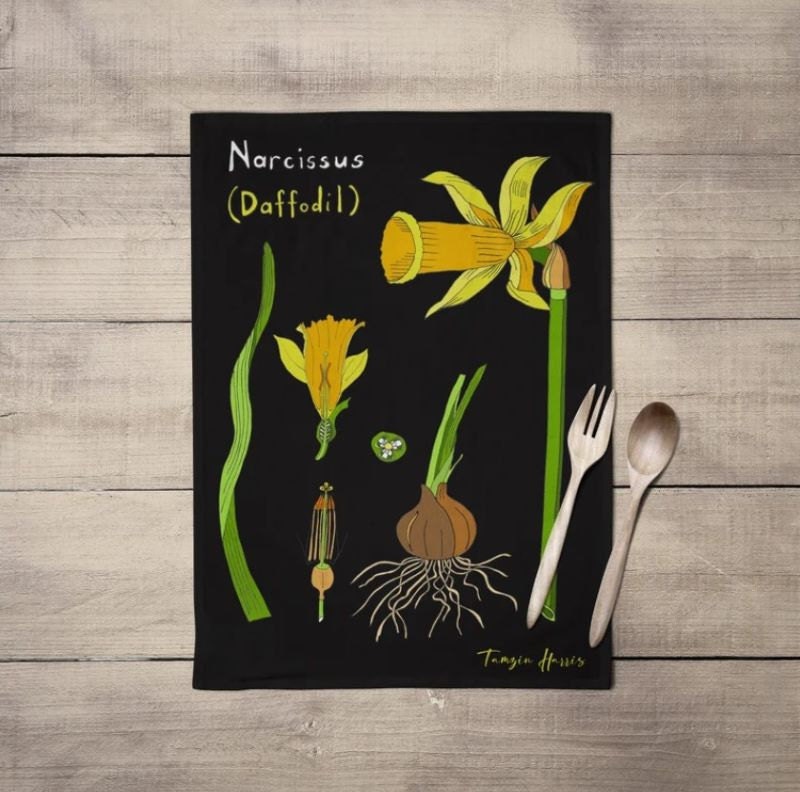 SHOP: Daffodil tea towel from Tamzin Harris, $16
Illustrated by hand and digitally printed onto a thick, 100% cotton fabric, this daffodil tea towel draws inspiration from old Victorian educational posters and can make a wonderful addition to any kitchen. Affordable and practical, customers review this tea towel as "beautiful, "very good quality," "unique," and "too attractive to use as a humble tea towel!"
10. Personalized daffodil flower pendant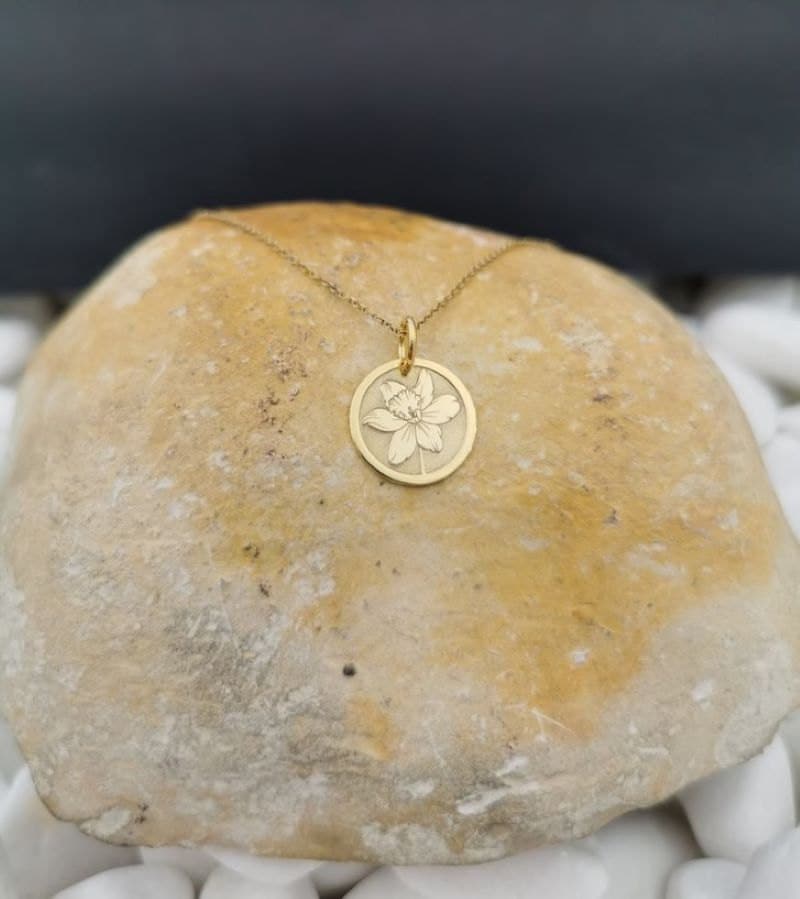 SHOP: Dainty 14K solid gold daffodil flower necklace from Evangelos Jewels, from $199
For a jewelry item that can be worn every day to commemorate your special anniversary, this dainty 14K solid gold daffodil pendant, though sporting a more traditional style, looks great with any outfit. You can even get it personalized on the back for that extra-special touch.
10th anniversary color: Blue gifts
These blue gifts offer a modern way to incorporate the 10th anniversary color into your celebration.
11. Aquarius ring stack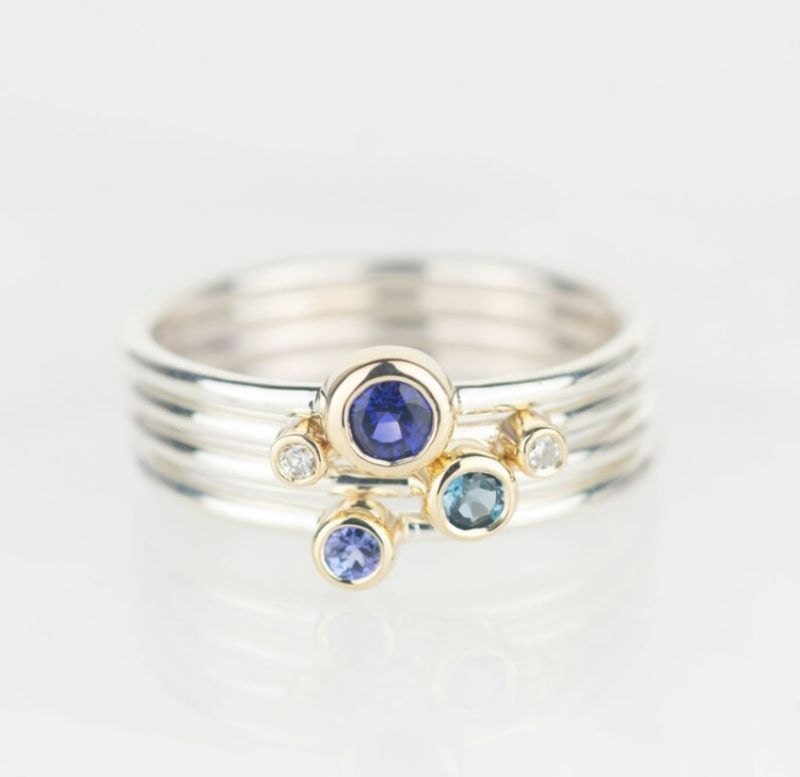 SHOP: Silver and gold stacking ring set from Alison Moore Designs, from $1,168
One thing is for sure: your recipient's jaw will drop once she lays eyes on these exquisite handmade diamond, sapphire, tanzanite, and blue topaz stacking rings. Made to be worn together, but equally as beautiful if worn separately, these four rings are the ideal way to add the regal 10th anniversary color in your gift.
12. Sapphire pave ring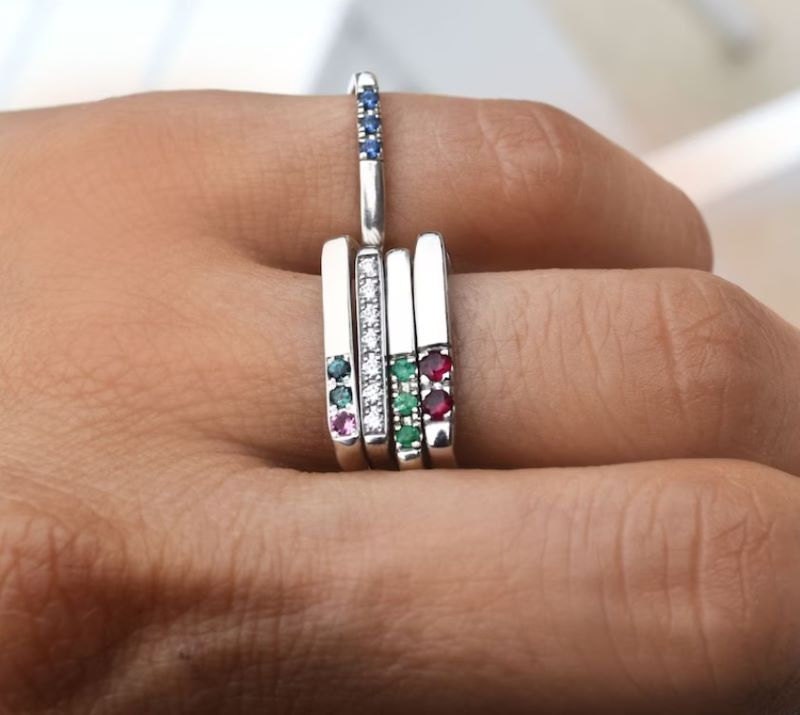 SHOP: Square stackable ring from Florence Handmade, $340
This ring's unique square shape, along with its three dainty paved sapphires, make this piece a real showstopper. Handmade by a contemporary jewelry maker in Sydney, Australia, the shop offers personalization, with tweaks of your choosing, and many buyers praise the seller's excellent customer service, communication, craftsmanship, and attention to detail.
13. Blue pencil vase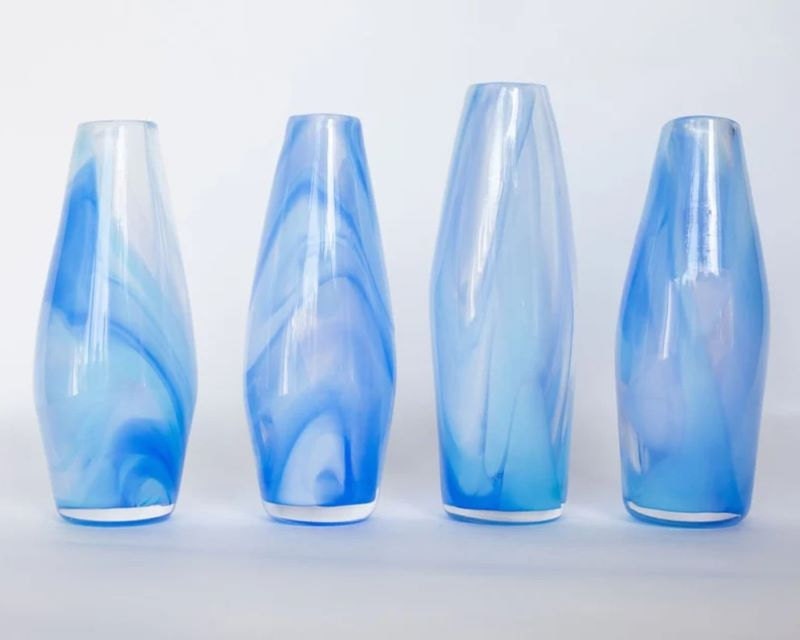 SHOP: Glass blown blue pencil vase from Maria Ida Designs, $100
Bring a splash of symbolic 10th-anniversary blue into any home or office space with this special glass-blown tie-dye pencil vase. It's made by hand in Vancouver, Canada, and one buyer (who bought it for a friend but, upon seeing it in person, now wants one for herself) wrote, "This vase is so beautiful and unique… I just love it; it is original and so cute and perfect."
Best 10th anniversary gifts for him
We've made the often difficult task of shopping for good gifts for men easier, with these picks for the best 10-year anniversary gift ideas for him to cherish.
14. Personalized pewter hearts bracelet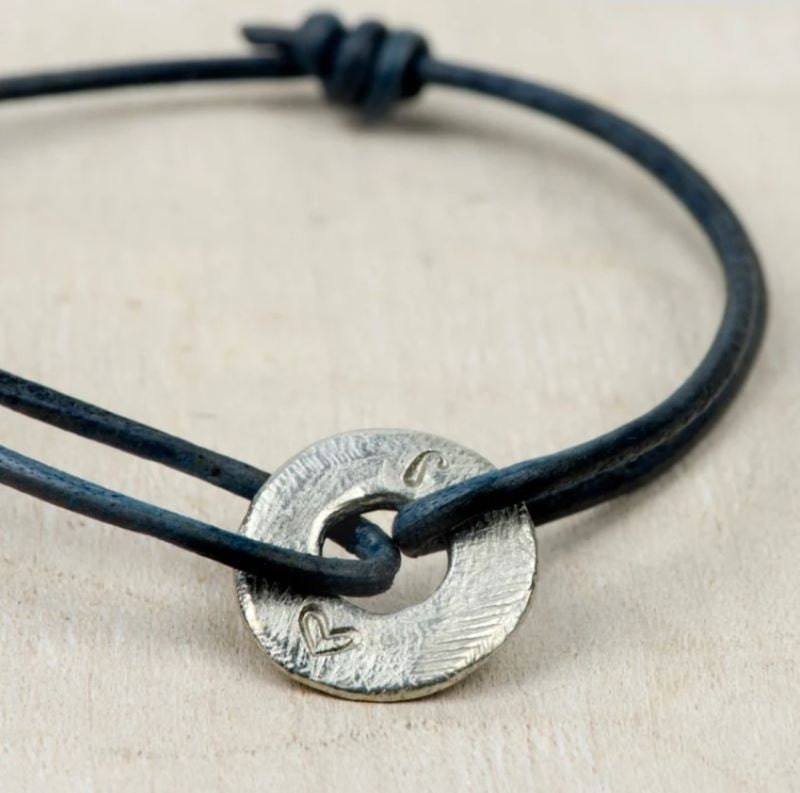 SHOP: Tin anniversary leather hearts bracelet from WORKSHOP one80, $13
Affordable, symbolic, and perfectly minimalist, this silver pewter bracelet makes a superb 10-year anniversary gift idea for him. Made with reclaimed and recycled materials using traditional artisanal skills, you can choose from red or black leather, paracord, or cotton cord, and an initial or symbol of your choice to be engraved on the metal.
15. Aluminum anniversary bracelet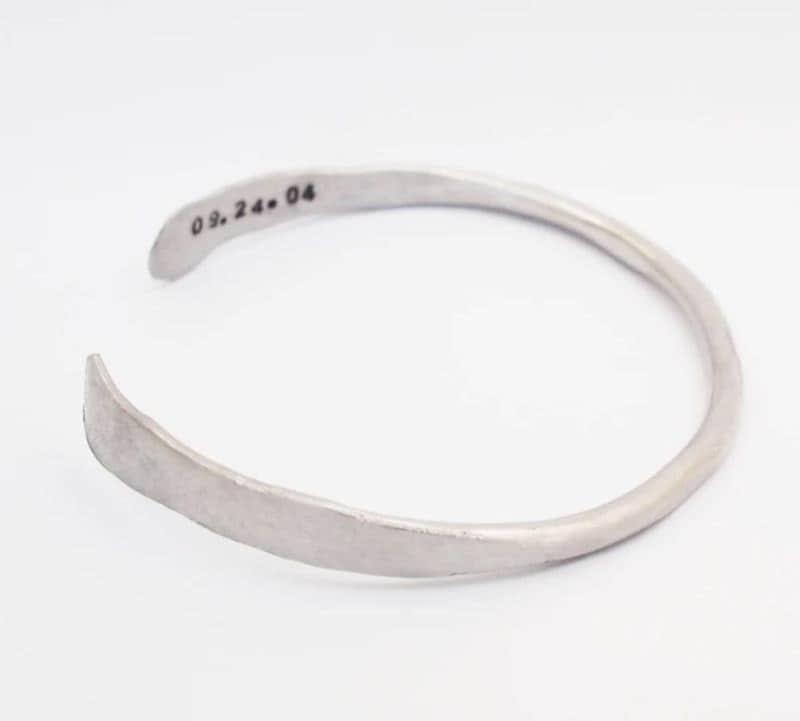 SHOP: Aluminum anniversary bracelet with the couple's initials and the wedding date from Madre De Olivia, $32
With all the aspects needed to make a meaningful 10-year anniversary gift for men, this bracelet blends the traditional aluminum, with a modern yet timeless design. You can add your initials, names, or wedding date on the inside for a thoughtful touch. Buyers say that the seller went above and beyond their expectations, and call the item "the most gorgeous, perfect, exactly-as-asked-for bracelet," that is "beautiful," and "unique."
How do we pick the best 10-year anniversary gifts?
As Etsy Journal editors and contributors research and curate shopping guides for some of the best-loved items on Etsy, we thoughtfully consider the creativity, customization, and craftsmanship that go into each product. We also consider buyer reviews, item ratings, and customer service, and tap the expertise of our in-house merchandising and trends experts to uncover high-quality finds for every budget. You can find more information about each item in the seller's listing details and can take a look at their individual shop policies and reviews, too.