Shop rugs and bath mats of all styles to instantly transform your bathroom into your favorite area of the house.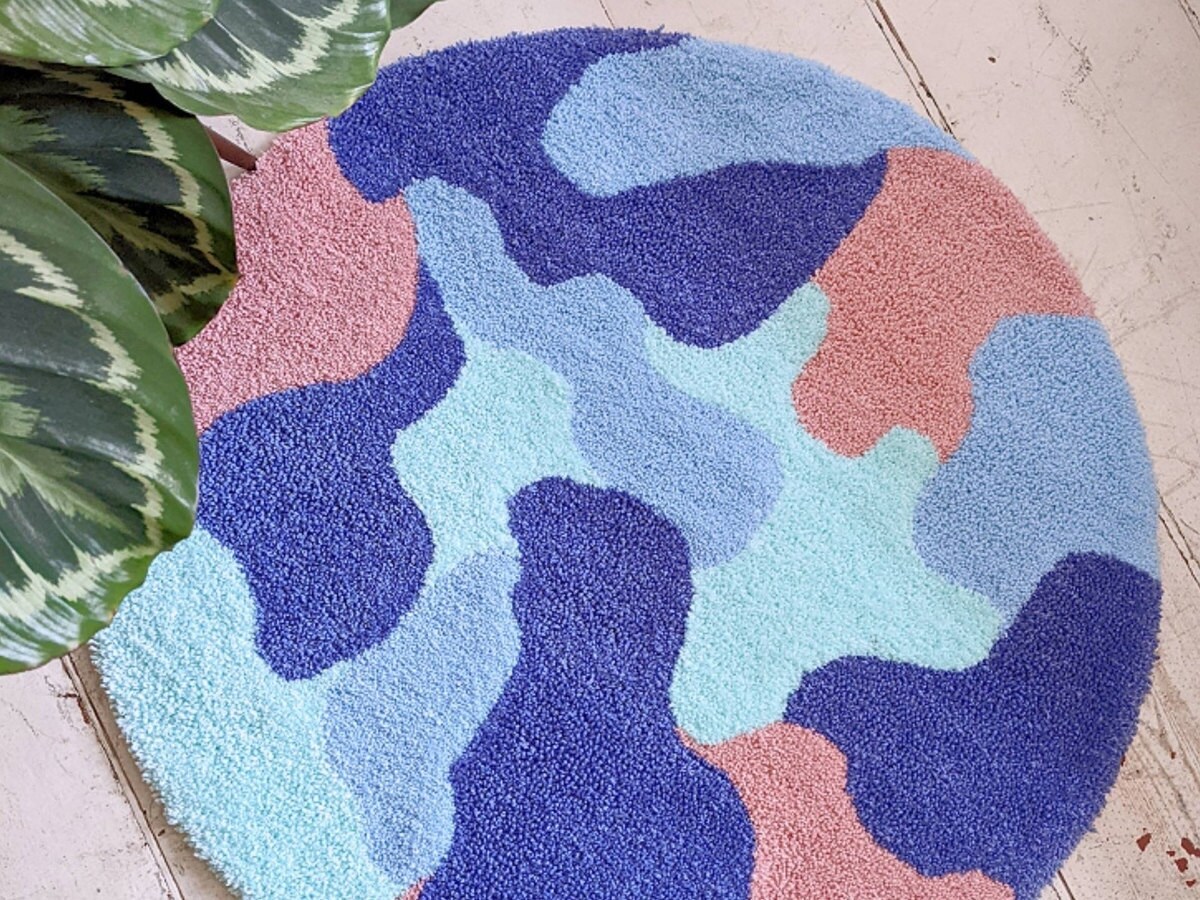 Whether you want to recreate your own spa experience at home or add a fun pop of color to your washroom, a bathroom rug can quickly turn a cold, tiled room into a warm, cozy space. From rustic farmhouse bath mats to colorful round rugs to elegant long rugs, Etsy has a wide variety of eye-catching styles for any budget.
Got a tough space to fit? Many of these beautiful handmade bathroom rugs and bath mats are available in custom sizes—and in an array of colors—to fit your space and perfectly compliment the rest of your decor. Add a fresh shower curtain and some sumptuous bath towels and you may never want to leave the bathroom!
Round bathroom rugs
Brighten up your washroom with these modern round bathroom rugs, that come in a wide variety of colors.
1. A colorful braided round rug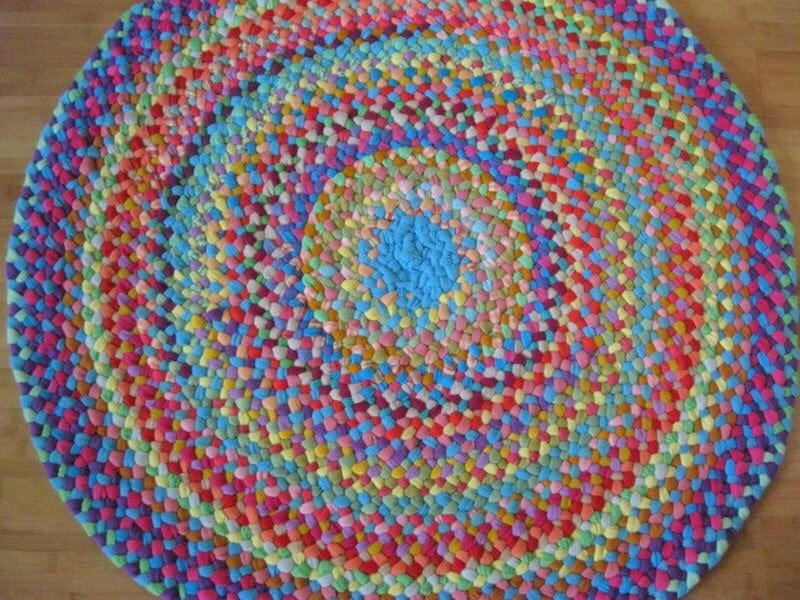 SHOP: Custom handmade round braided rug from Mrsginther, $300
This hand-braided rug is a kaleidoscope of color. Whether you prefer a vibrant rainbow or more muted blues and grays, the rug, measuring three feet across, can be customized in your colors of choice. Plus, it's reversible and machine washable.
2. A custom round bathroom rug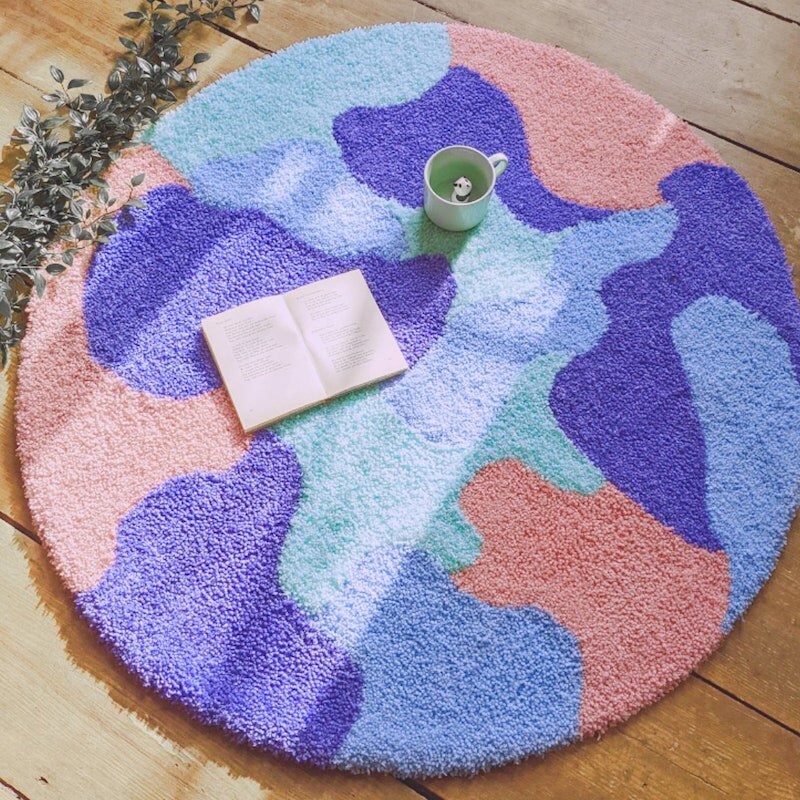 SHOP: Custom handmade tufted rug from Zeyu Studio, $342
Add a pop of color to any bathroom with this handmade, circular tufted rug. The custom rug, which can be created in the colors of your choice to match your decor, measures about three feet across and features an anti-slip backing.
Long bathroom rugs
Whether you have a long, narrow space or just a large bathroom vanity, these long bathroom rugs, are able to cover a lot of ground.
3. A long modern bathroom rug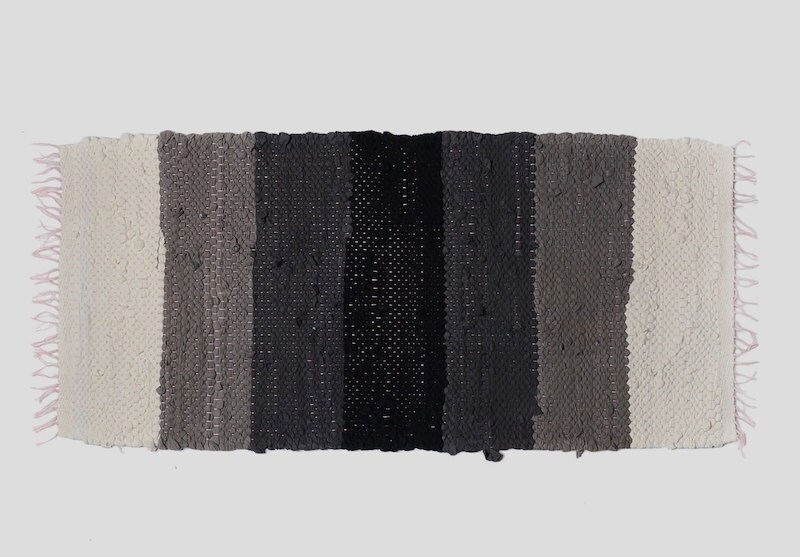 SHOP: Grayscale rag rug from What Because, $600
Bits of scrap fabric get a new life in this beautiful long rug. At a little more than four feet across, the rug is crafted from upcycled scraps of white, gray, and black cotton fabric used to make hoodies. Those materials, combined with a colorful pop of light pink weaving and fringe, give the rug a modern, textured look.
4. A long neutral bathroom rug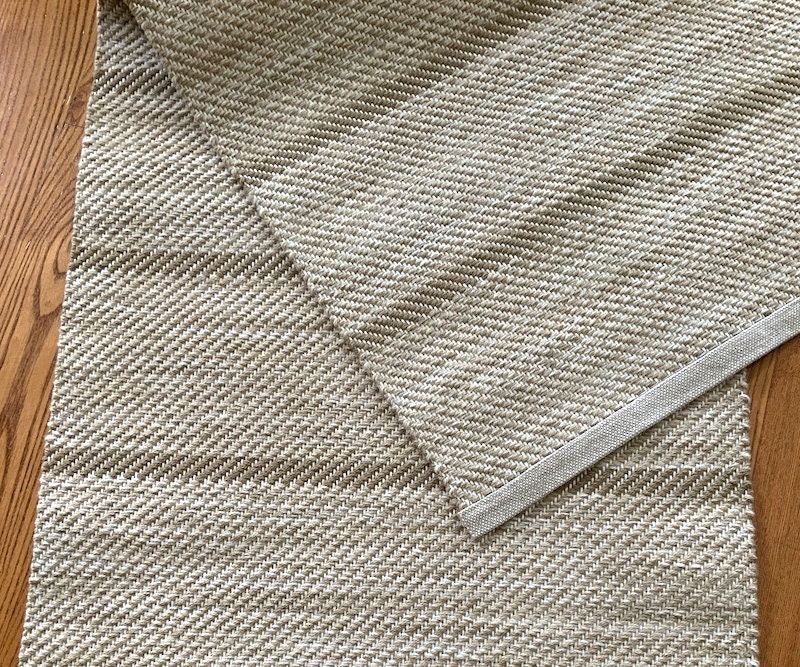 SHOP: Hand-woven wool and hemp runner from FinchStudioWeavers, $350
Go for an earthy vibe with this long, striped rug—woven from natural wool and hemp fibers in neutral beige and cream tones. The reversible rug, which measures a little over six feet long, is sealed to protect against moisture and comes with a non-slip rug mat to keep it in place.
Farmhouse bathroom rugs
Whether you love rustic farmhouse decor or just want to recreate a spa experience, transform your bathroom with these washable farmhouse bathroom rugs.
5. A linen waffle bath mat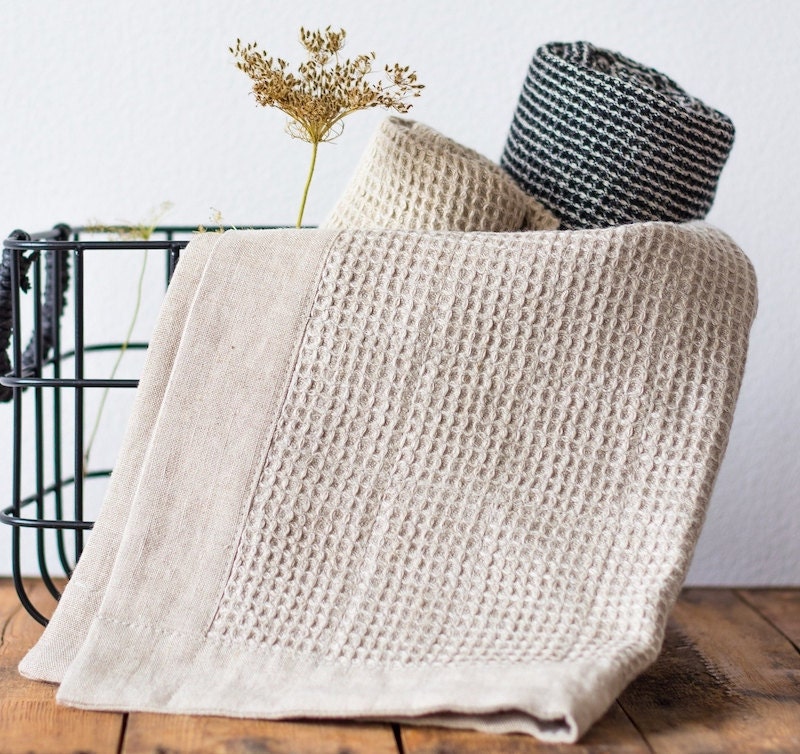 SHOP: Linen waffle bath mat from alabatis, from $32
Give your bathroom a spa feel with this waffle bath mat made of linen, which dries quickly. The mat comes in five different sizes (from about 1.5 feet wide to nearly three feet wide) as well as three different shades: off white, beige, and black. The seller also offers several other styles of linen mats as well as matching linen bath towels.
6. A striped linen bath mat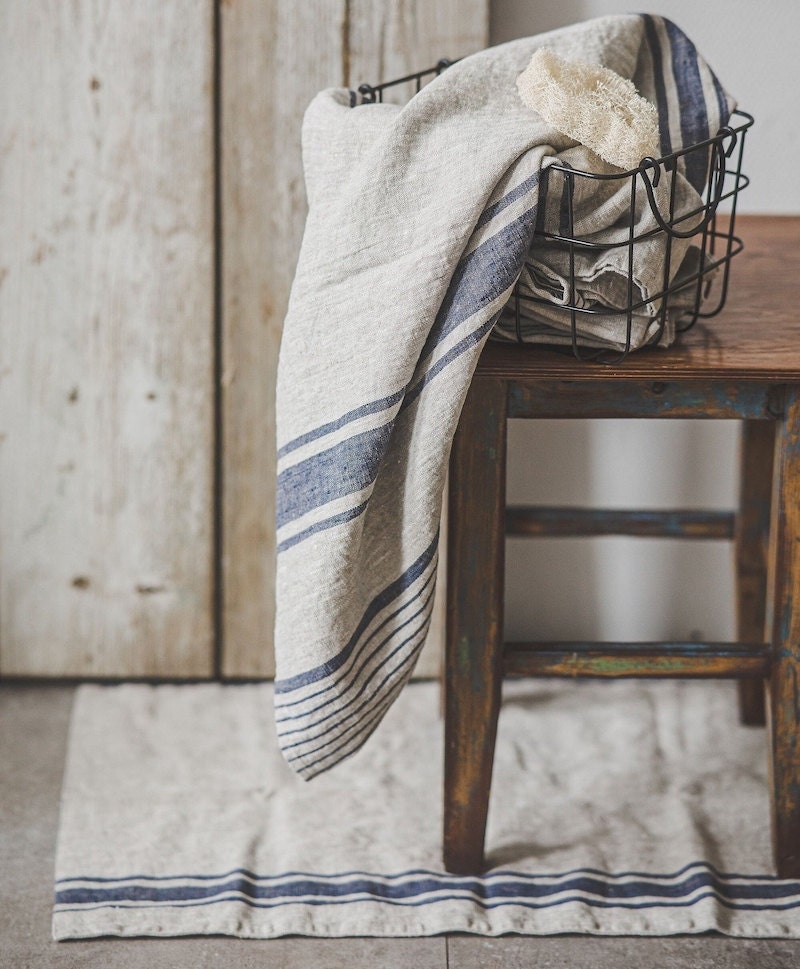 SHOP: French-style linen bath mat from ForestlandLinen, $34
This striped linen bath mat, made of natural linen, dries quickly and offers farmhouse charm to any bathroom. Measuring a little over two feet long, the striped mat comes in four different colors: blue, black, red, or green. The seller also offers matching linen towels to complete the look.
Large bathroom rugs
Have a large washroom? Make the most of your space with these large bathroom rugs that can span as large as six feet across.
7. A large graphic bathroom rug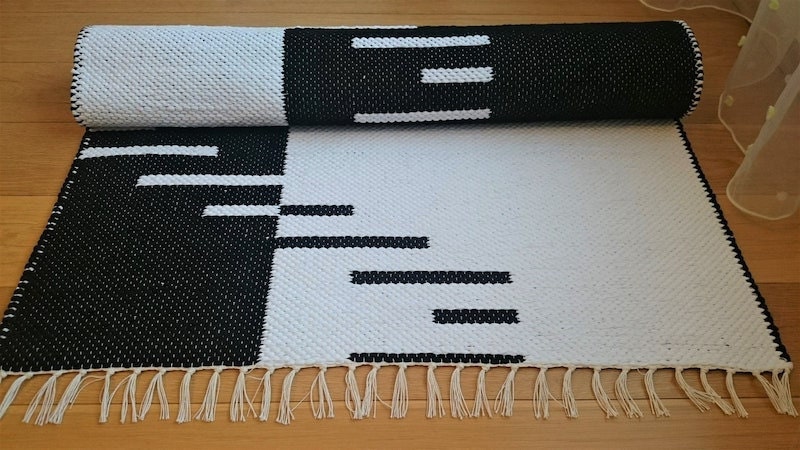 SHOP: Black and white geometric rug from RoomTextiles, $126
At around 2.5 feet wide and almost five feet long, this handwoven rug with decorative fringe is the perfect accent piece to add a graphic pop to large powder rooms. The seller also has several other rug choices and accepts custom orders to create a rug for you in the colors and size of your choosing.
8. A large Scandinavian-inspired bathroom rug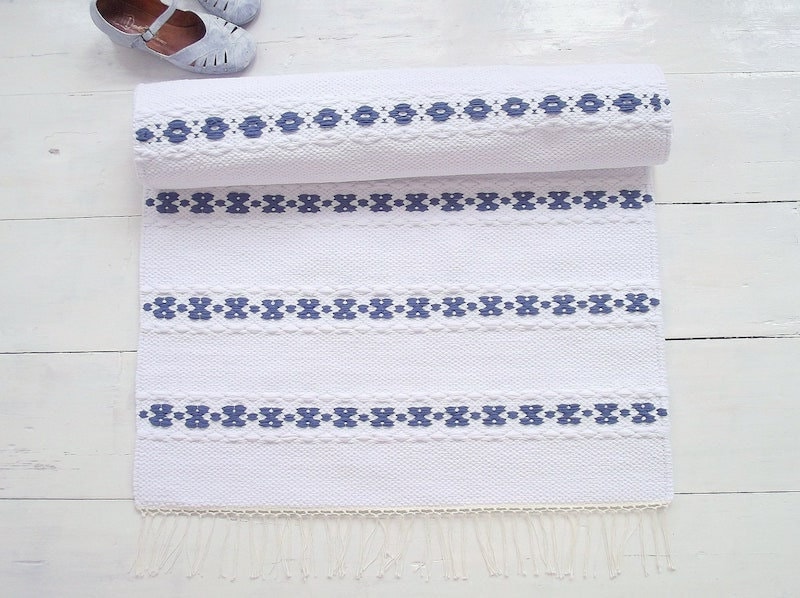 SHOP: Blue and white cotton rug from Leeda Ots, from $143
Turn your washroom into a cozy, hygge retreat, with this large Scandinavian-inspired rug, finished with a decorative fringe. The bright blue and white handwoven cotton rug comes in sizes of up to 2.5 by 6.5 feet, but the seller, who offers rugs in a variety of patterns can also create an even larger custom size to fit your space—or a version in different colors—by request.
How do we pick the best bath rugs?
As Etsy Journal editors and contributors research and curate shopping guides for some of the best-loved items on Etsy, we thoughtfully consider the creativity, customization, and craftsmanship that go into each product. We also consider buyer reviews, item ratings, and customer service, and tap the expertise of our in-house merchandising and trends experts to uncover high-quality finds for every budget. You can find more information about each item in the seller's listing details and can take a look at their individual shop policies and reviews, too.