Block off some much-needed me-time and settle in for a long soak with the help of these stylish (and practical!) bathtub caddy trays.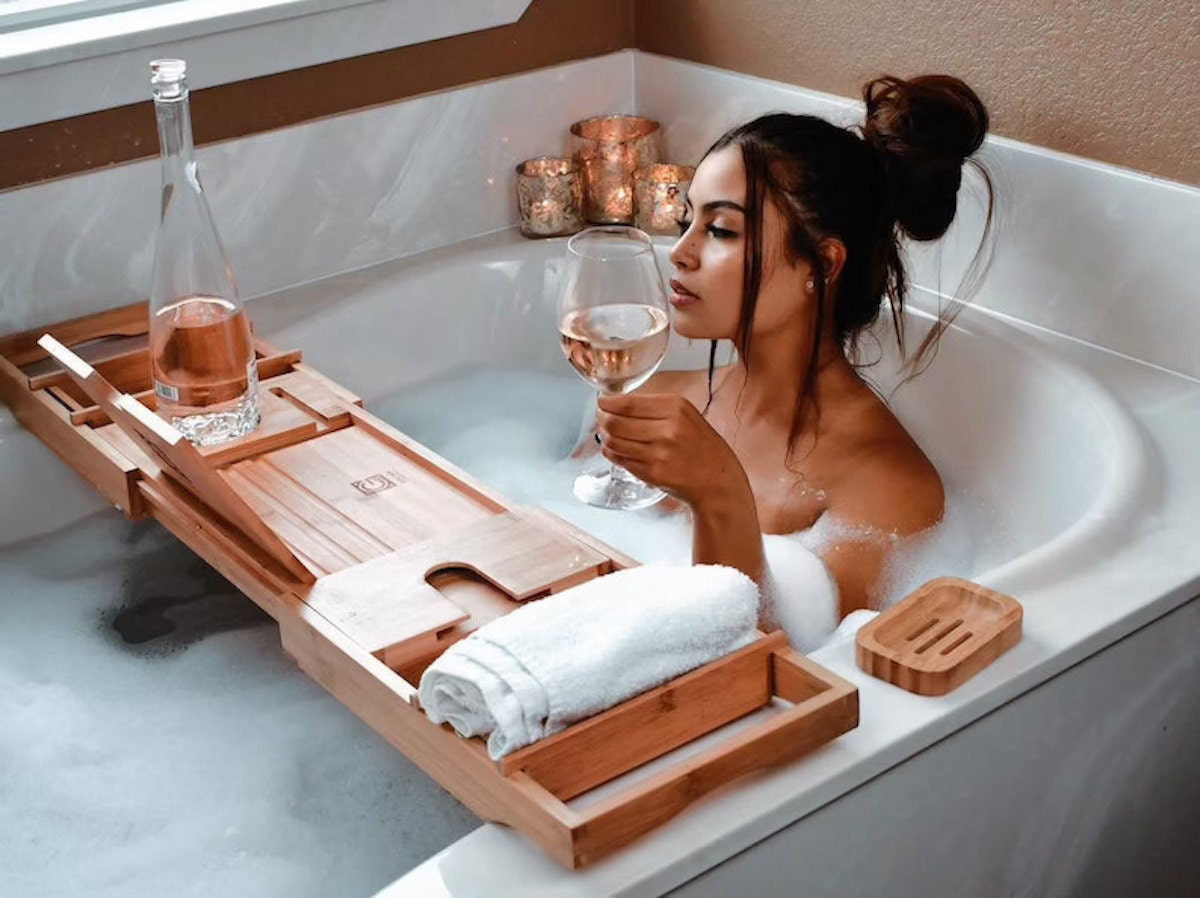 Those envy-inducing bathtub pics on your social feed have a few things in common: a cozy atmosphere, ambient lighting, and a bathtub tray. These handy little caddies have the power to instantly up the spa-like vibes in your bathroom, plus they're super handy. When you're enjoying a bit of me-time with bubbles (the soapy and champagne kind), candles, and soft music, you'll obviously need somewhere to rest your book or prop up your phone. Bathtub trays to the rescue!
Once you've settled on a shower curtain and towels to set the tone in your space, it's time to pick a bathtub caddy. These picks for the best bathtub trays are beautifully crafted and wonderfully simple in their function-forward styling. There's a wooden tray or caddy for every budget, and each of these picks is hand-hewn for you. These picks for the best bathtub trays also make a thoughtful gift idea for weddings, for her, and most definitely for yourself—just in time for your next staycation. Let's dive in.
1. Rustic bath tray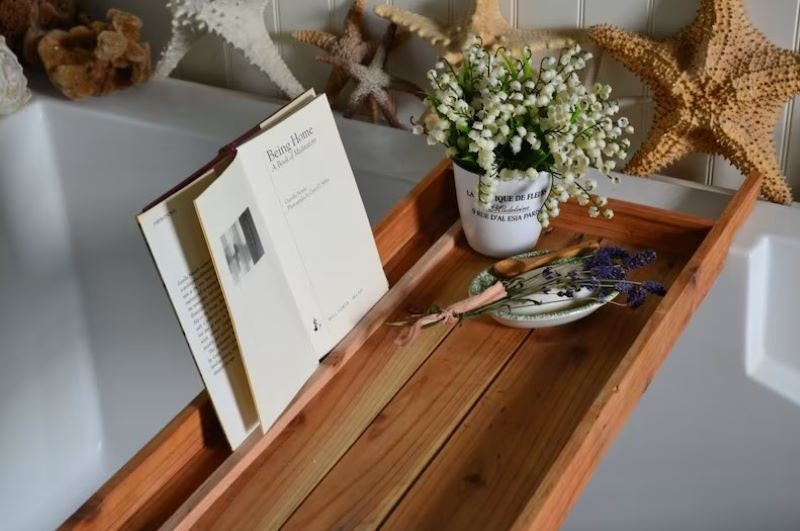 SHOP: Bath tray with book holder from Sharon M for the Home, from $140
With plenty of space for drinks and snacks, this beautiful bathtub caddy is made from an oil-finished wood and also has a dedicated slot for your phone, tablet, or book. It can be custom-made to fit your bath's exact measurements, too. "Wow!" begins one customer review. "The bath tray that [the seller] customized and created is going to make a wonderful gift for my girlfriend—she's going to love it! Its sturdy build, rustic style, and superb craftsmanship make it superior to any other bath tray you will find in a store."
2. Minimal bathtub caddy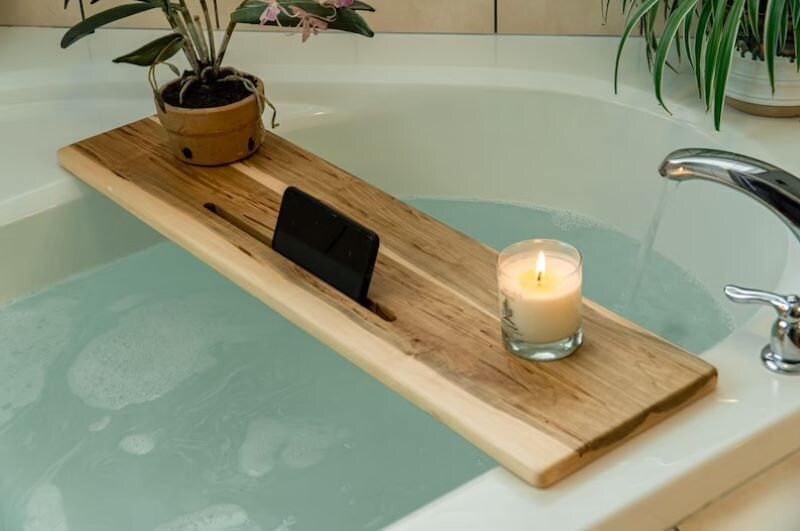 SHOP: Handcrafted maple bath caddy from Redhead Woods, from $100
For a more streamlined aesthetic, this simple yet elegant bath caddy can transform your space into a minimalist spa. It's handmade by a small family-run shop in Canada from Ambrosia maple wood and boasts clean lines with a single groove to hold your phone or tablet (though additional customizations, including a wine glass holder and soap cut-outs are available upon request). One customer review reads, "My wife absolutely loves this bath caddy! The Ambrosia maple wood is absolutely beautiful, and the finish is impeccable."
3. Handmade bathtub tray with book stand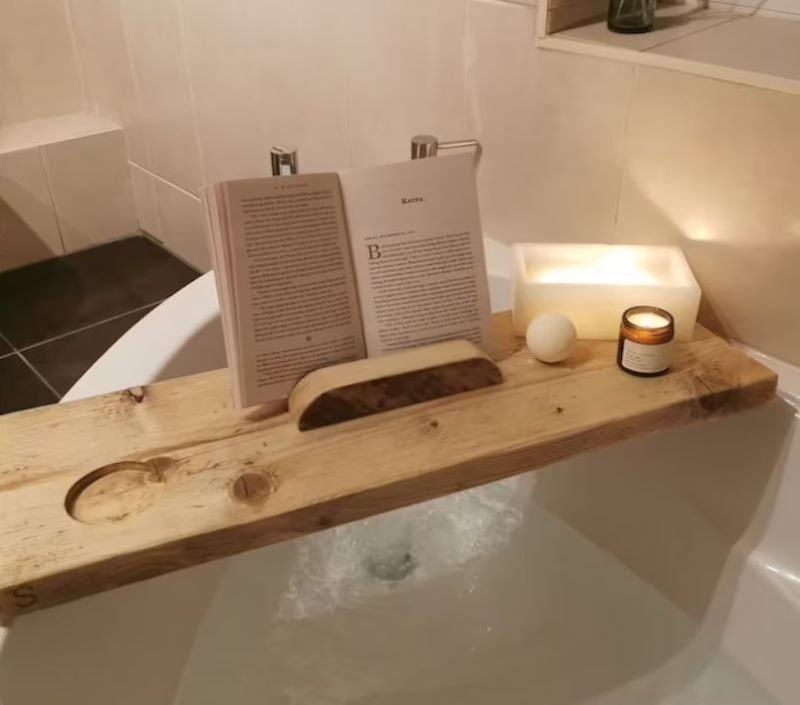 SHOP: Wooden scaffold board bath tray from Robert Rose, $95
Available in either a dark or natural Danish oak, this rustic bathtub tray is handmade in Winchester, England, using reclaimed materials. It features two built-in tea light holders, plus a larger holder for a drink or your shower gel. Sold? You're not alone. This beauty is beloved by many shoppers for being "so well made," looking "fantastic," and having "quality workmanship."
4. Deluxe bath board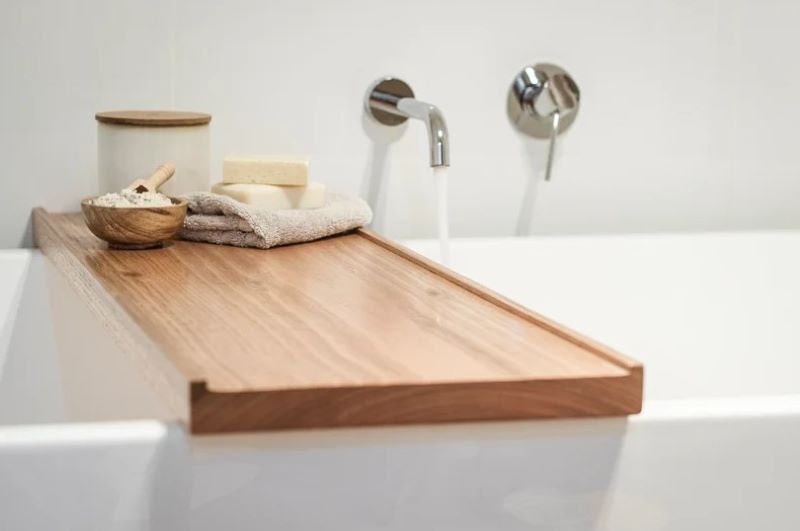 SHOP: Victorian Ash bath board from Jemmervale Designs, from $222
With a simple design that adds the perfect finishing touch to any bathroom, this Victorian ash bath board is lovingly handcrafted in a small workshop in Australia. One customer review reads, "I love that this piece was made out of actual wood, and it has functionality in addition to its aesthetic look. It looks very sleek and modern, yet it can go with any style. Less is more!" We couldn't agree more.
5. Bamboo bathtub caddy tray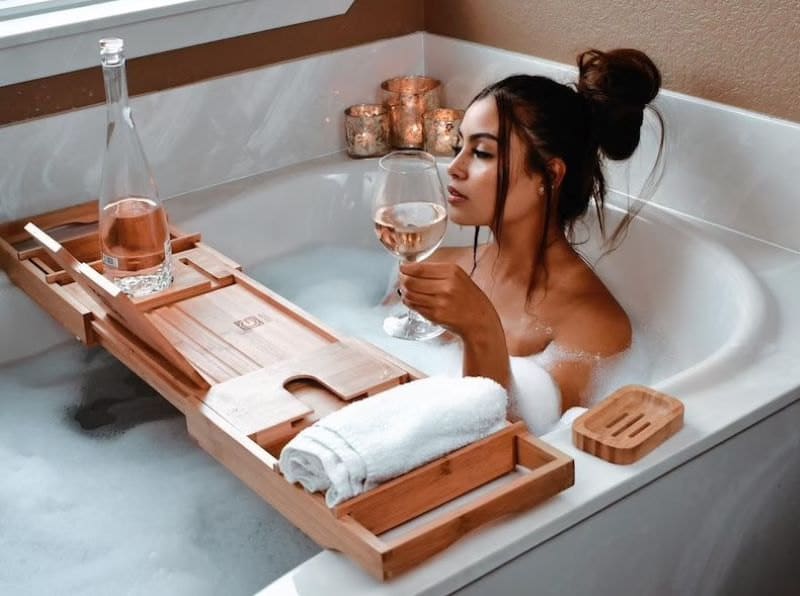 SHOP: Bathtub caddy and bed tray from Golden Creazione, $80
Adjustable anti-slip arms. Foldable and extendable legs. A wine glass holder, a book rest, three positioning slots for phones and tablets, extra space for towels, soaps, and skincare, and an additional separate soap holder—the list goes on. With functionality for days, this exceptional bamboo bathtub caddy may just do it all.
6. Live edge wooden bathtub tray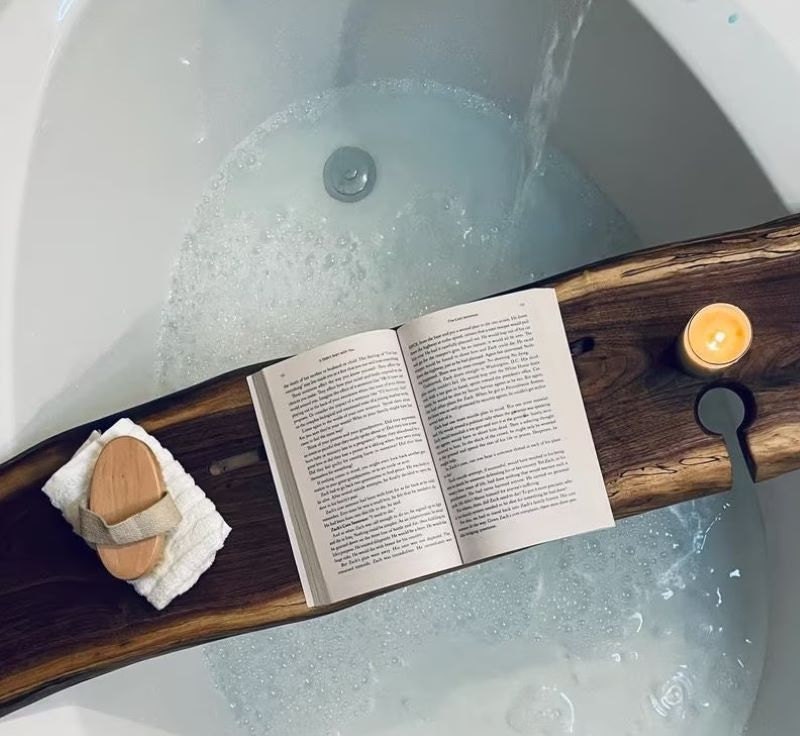 SHOP: Live edge bathtub tray from Osprey Wolf Wild Woods, from $97
This live edge bathtub tray has a plethora of sizing options available and three stunning wood options to choose from: American sycamore, black walnut, or eastern cedar. Once you've decided on material, select your finishing touches like a groove for your tablet or a cut-out slot for a stemmed or stemless wine glass. Then sit back and get ready to relax in style.
7. Reclaimed wood bathtub caddy tray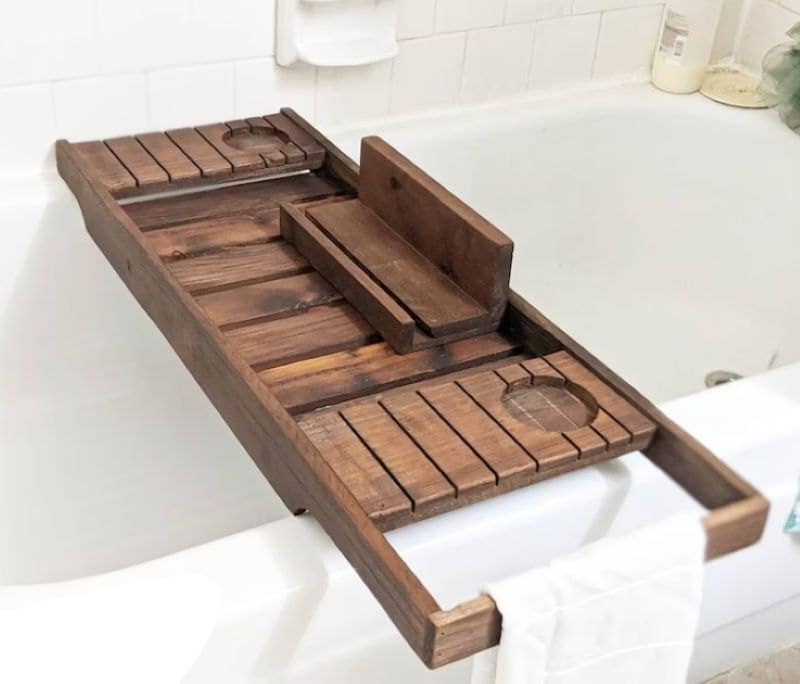 SHOP: Rustic bath tray with removable book stand from A.S. Is Designs, from $125
If you like to have options, you'll love the versatility of this reclaimed wood bathtub tray. It comes with a stand for a phone, tablet, or book—but it's removable if you need the surface space for, say, your multi-step skincare routine. One of the many five-star buyer reviews for these bathtub caddy trays reads, "I could not be happier with my beautiful bath tray…The tray was made so quickly, and the shipping was amazingly fast. The tray is so beautiful and looks absolutely perfect. It is so well made and the quality is excellent."
8. Dark wood bathtub caddy tray with live edge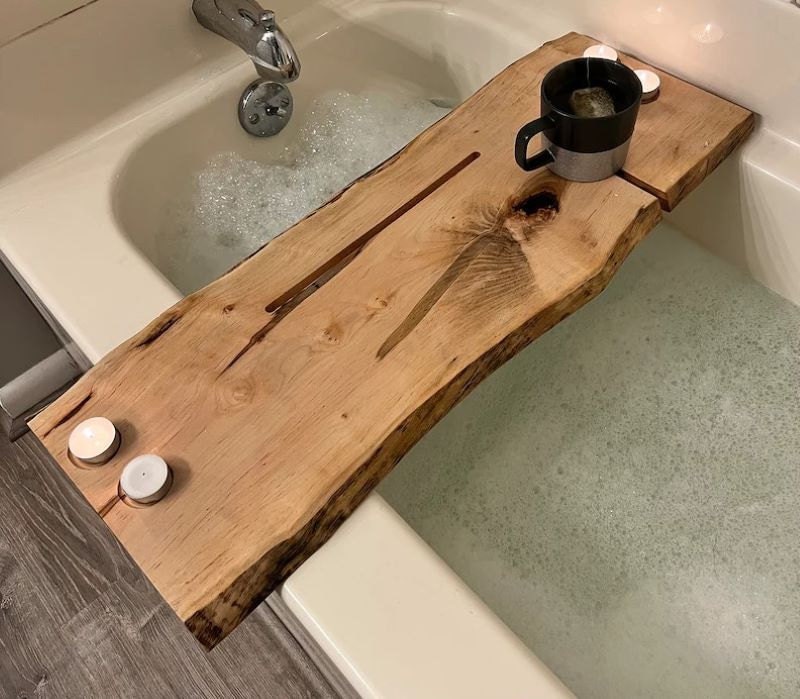 SHOP: Solid wood bath tray from CRAFTED of Light, from $135
This stylish handmade bathtub tray comes in your choice of walnut, cherry, or maple wood, and has grooves for tea light candles and a glass. There's even a book stand! "Love, love, love this bath shelf," reads one of the many happy customer reviews. "It is so much more beautiful in person than even the pictures. My aunt was visiting when it arrived and went home that day to order it herself because she loved it so much…Such high quality, and really well done."
9. Walnut bathtub caddy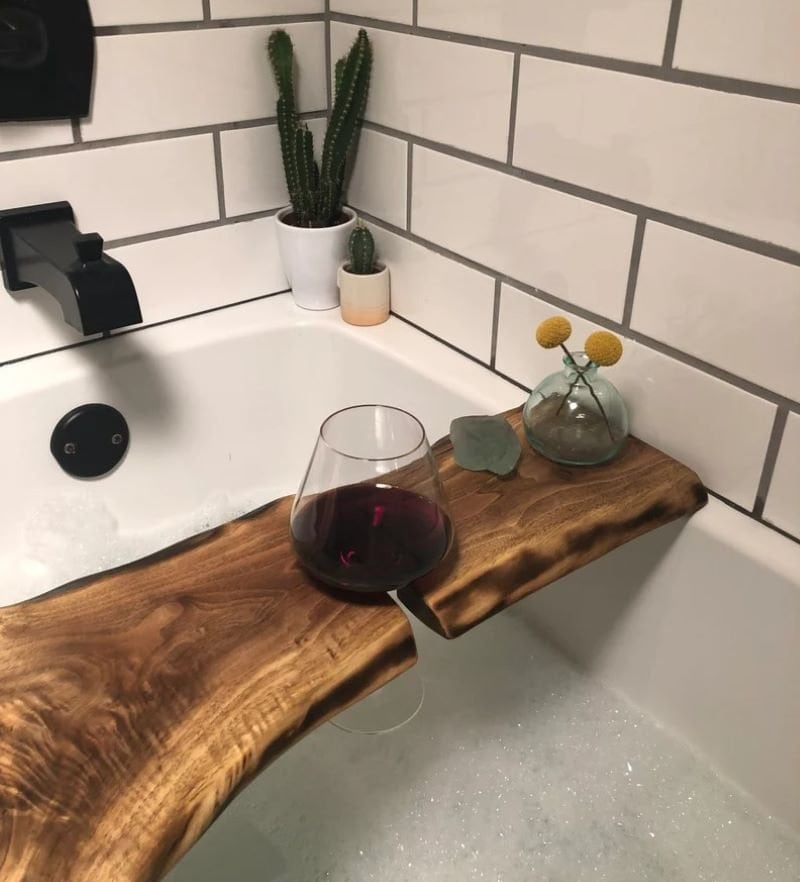 SHOP: Handcrafted live edge bathtub tray from Timberwolf Wildwoods, from $115
This live-edged dark walnut beauty is made by hand in a small workshop in Texas. It's available in 11 sizes, and with various cut-out options for all the necessary bits and bobs you'll need while enjoying a long hot soak in the tub. Shoppers hail this bathtub caddy as "extraordinary," and "absolutely gorgeous," and one even described it as "functional art"—and it's not hard to see why.
10. Simple wooden bathtub tray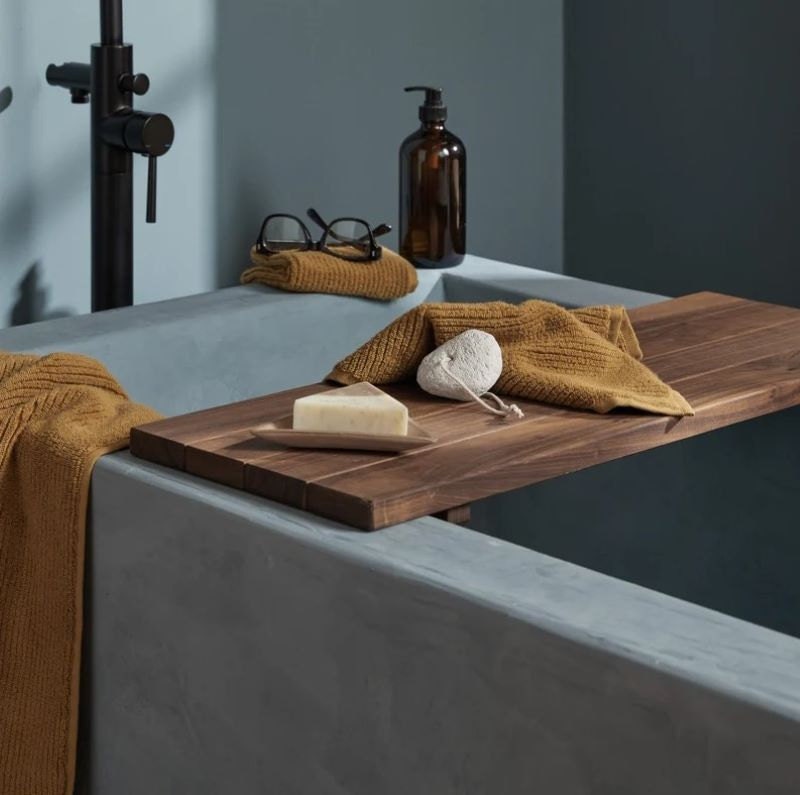 SHOP: Handmade wooden bath caddy from AndasGoods, from $125
With its super-clean, pared-back design, this solid wood bath caddy is a minimalist's dream. It comes in maple, white oak, or walnut wood, and has simple yet gorgeous grooves that will elevate any bathroom decor. "Not only is this item very high quality and beautiful, but the seller is a truly fantastic communicator and such a pleasure to work with," reads a customer review. Another states: "Just as described, beautiful wood and quality construction—lovely (and functional) addition to our tub."
How do we pick the best bathtub trays?
As Etsy Journal editors and contributors research and curate shopping guides for some of the best-loved items on Etsy, we thoughtfully consider the creativity, customization, and craftsmanship that go into each product. We also consider buyer reviews, item ratings, and customer service, and tap the expertise of our in-house merchandising and trends experts to uncover high-quality finds for every budget. You can find more information about each item in the seller's listing details and can take a look at their individual shop policies and reviews, too.