From handcrafted grill tools to homemade spices, sauces, and rubs, these foolproof barbecue accessories double as great gifts for dad.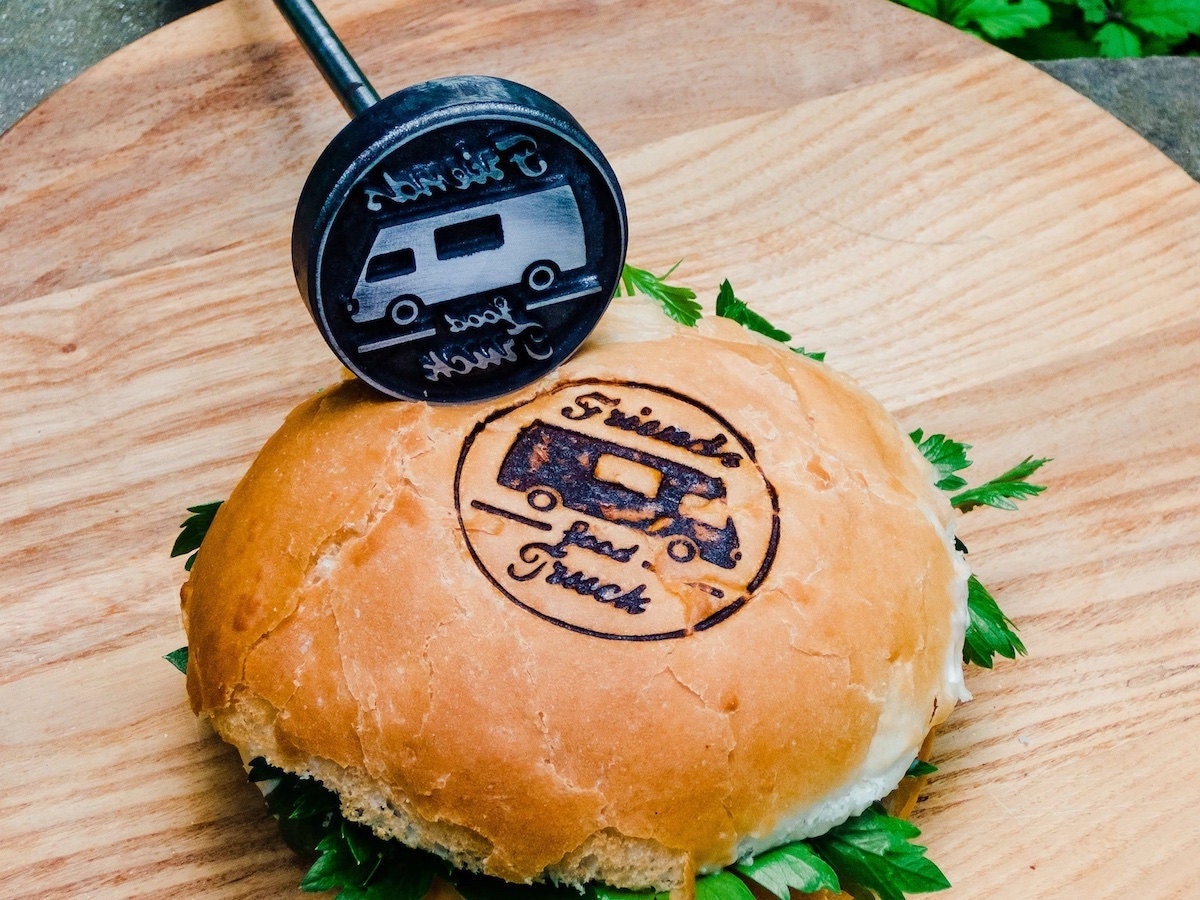 When the sun peeks out from behind the clouds and the temperature cracks 70, there's only one question to answer: What exactly will you be grilling for dinner? Whether it's burgers, veggie dogs, or chunky hearts of romaine (trust us on this one), the first order of business is getting your outdoor barbecue ready to go. The easiest way to revamp your trusty setup is by adding a few new carefully selected BBQ accessories to your collection (beautifully handcrafted personalized grill tool set, anyone?)—or maybe it's time to upgrade to a stunning new star of the show, like this full-sized wood-fired beauty.
Whether you're gearing up for future grilling get-togethers or in the market for a thoughtful gift for Dad (or any grillmaster in your life), independent shops on Etsy have well-crafted barbecue accessories to suit every occasion and style, and we've rounded up some of our favorites below.
Between your gorgeous new grill tools and accessories, and the barbecue sauces, spices, and rubs that will have guests begging for your "secret" recipe, our list of the best BBQ accessories will make your backyard the place to be. Bonus: there are standout options to suit all budgets, so just grab the charcoal and meet us grill-side!
Best grill tools
Whether you need tools for a romantic BBQ for two (like a mini fire anchor), or want to add a fire pit to the mix to make s'mores with the whole fam (that's dessert sorted!), you'll find the best grill tools for enviable barbecues here. With personalized and hand-forged grill tools, barbecue furniture for storage, and even new grills to replace older barbecues that have seen better days, our carefully curated list of the best grill tools has something for everyone.
1. Personalized grill tool set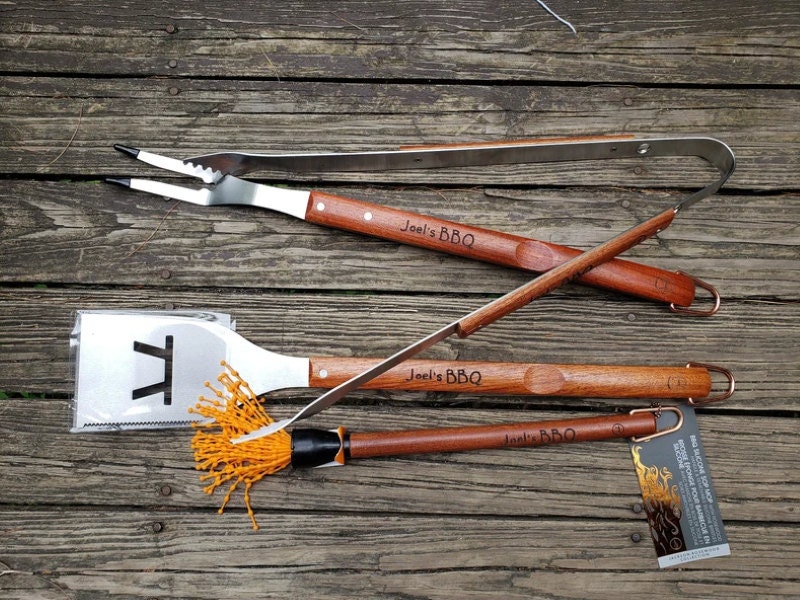 SHOP: Hand engraved BBQ tools from Rustic Craft Designs, from $122
For anyone who loves to host barbecue parties and won't let anyone else get their hands on the grill, this set of personalized grill tools is the perfect gift. The set includes all the necessary BBQ tools (a spatula, fork, and tongs—and the 4-piece option even includes a matching basting brush!) made from stainless steel with sturdy wooden handles that can be engraved with a name, date, or a phrase of your choosing.
2. Handmade portable grill grate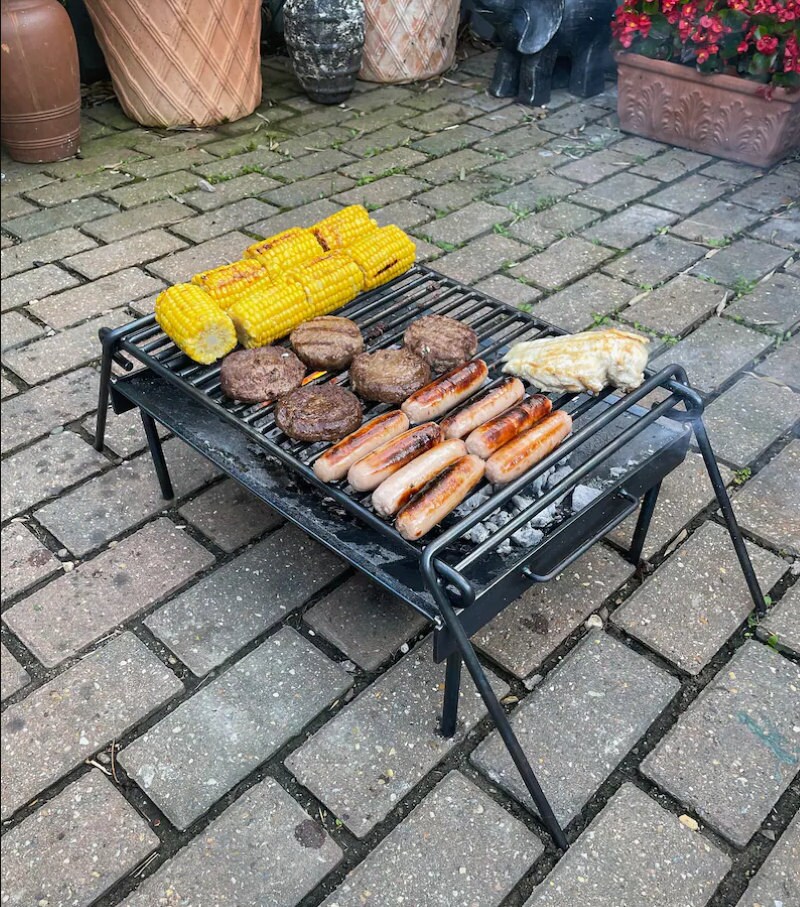 SHOP: Grill grate with folding legs from TJM Metalworks, $71
This super-versatile, foldable grill grate can do everything from providing an extra cooking surface for your existing at-home barbecue setup (perfect for toasting pita bread and keeping already cooked food warm until guests are ready for seconds), to being your main on-the-go grill for camping trips. It's handmade from robust, durable steel, and is sturdy enough to hold a six-liter Dutch oven. "The quality material and craftsmanship is second to none," reads one customer review. "It is truly handcrafted and forged by an artist. Makes my wild camping and bushcraft adventures so much more enjoyable."
3. Mini fire anchor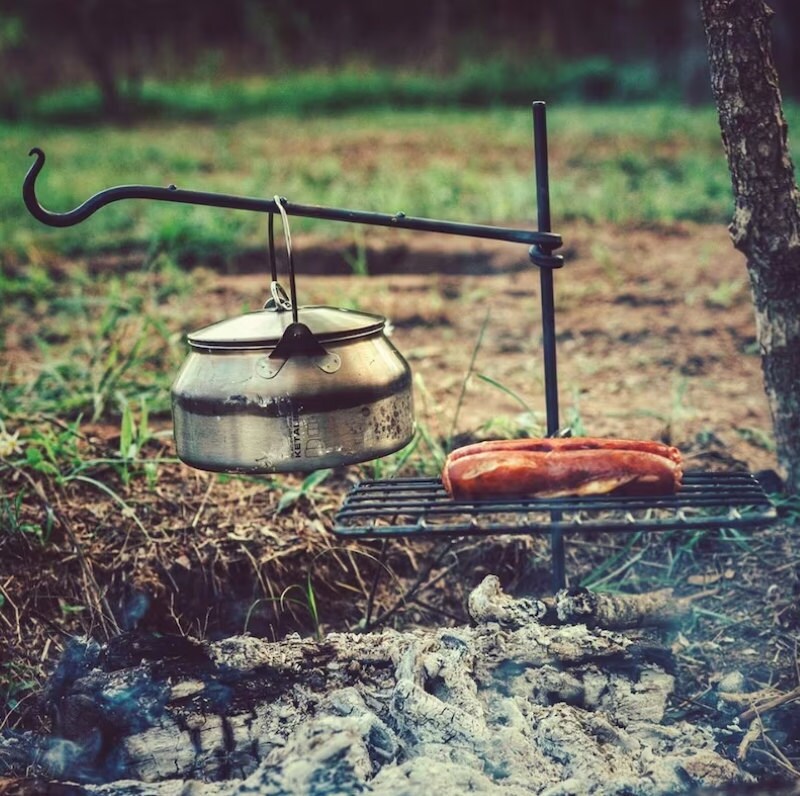 SHOP: The original grill mini fire anchor from TJM Metalworks, $60
For more intimate gatherings or picnic dates, this mini grill fire anchor will add to a truly special time. Comprising a small grilling surface with enough room for two juicy steaks and a couple of sausages, plus a hook for a pot (which can boil water, heat soup, or keep food warm), it's a petite and practical powerhouse. Plus, thanks to its compact size it's easily portable!
4. Large fire pit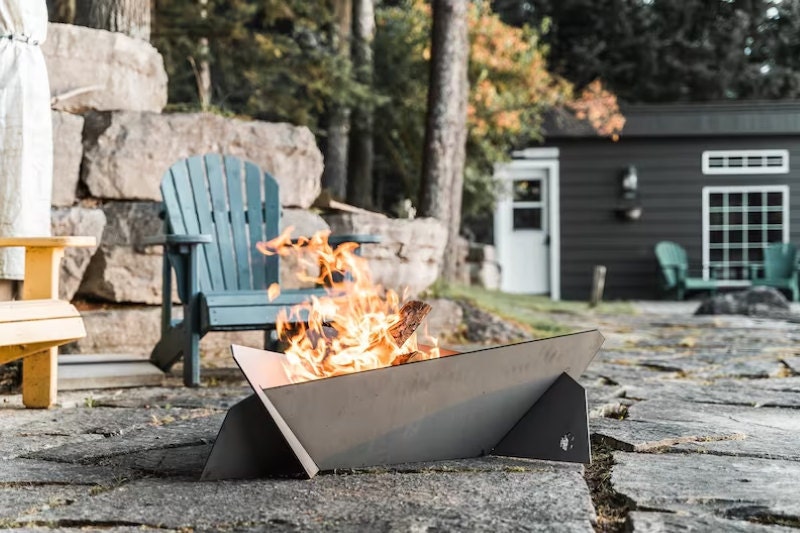 SHOP: Large hot rolled steel fire pit from HBeeFire, $307
Cooking over an open fire can transform your BBQ party into an inclusive and interactive experience where guests can get involved—sort of like a fondue party but on a grander scale! Enter this large steel fire pit, which does double duty as an open-fire grill for food and a cozy outdoor ambiance enhancer. "This is such an artistically appealing fire pit," one customer enthused. "I just love it and have received so many compliments on it already."
5. Three-piece grill tool set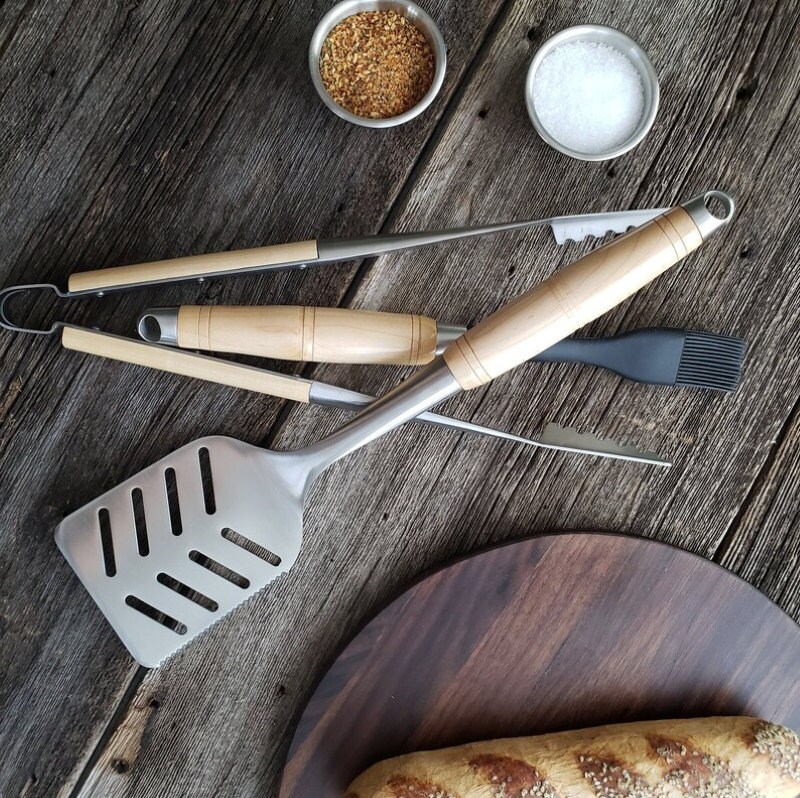 SHOP: Grill tools with handcrafted wooden handles from My Old Whiskey Workshop, $120
This durable maple wood and stainless steel grill set includes every tool you'll need while barbecuing: a slotted spatula for flipping patties and meat, tongs for handling the food, and a non-stick silicone basting brush for applying marinade and spices for maximum flavor. With handcrafted wooden handles and heavy duty, food-grade stainless steel and silicone finishing touches, this set will last you for years and years.
6. Hand-forged cooking tool set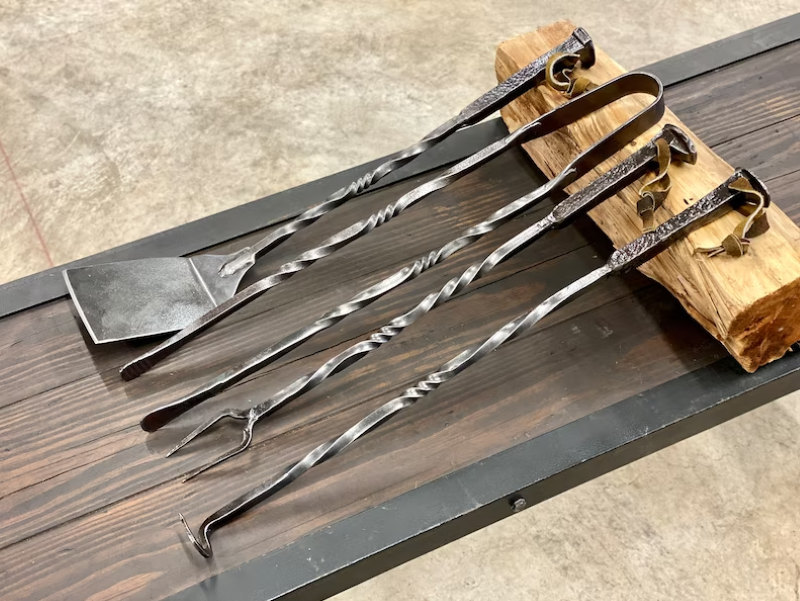 SHOP: Hand-forged carbon steel cooking tool set from S&S Fire Pits, $390
If you've passed the amateur griller stage with flying colors and have gained a reputation for your fantastic barbecues, you'll definitely need to kit yourself out with a top-quality grill tool set, like this hand-forged steel four-piece option. "Nice heft and very sturdy craftsmanship," begins one rave customer review. "The tools are the perfect balance between being large and strong enough for big cuts of meat and hot fires, yet light and nimble enough for delicate dishes… [It] exudes quality and attention to detail. This set is sure to be a conversation piece as well as a functional collection you'll be proud to use for years to come."
7. Argentine parrilla wood-fire grill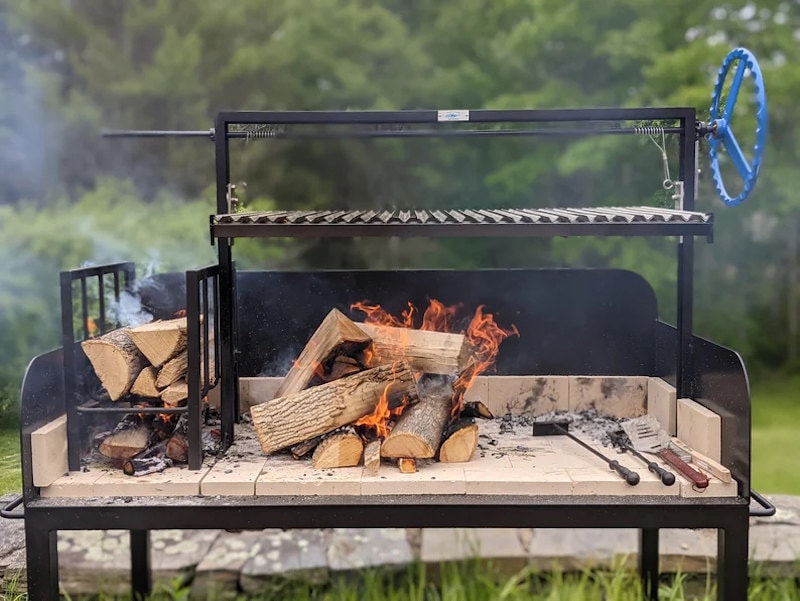 SHOP: 60-inch restaurant-level wood-fire grill from NorthFork Ironworks, $4,300
If it's time to swap out your old trusty grill, check out this professional-grade 60-inch full-sized Argentine wood-fired barbecue that's designed for making memories. This USA-made grill is constructed from repurposed cast iron, and is hardy and big enough for larger gatherings. "Hands down the coolest outdoor purchase I have ever made," one customer raved. "For open fire cooking enthusiasts, this is the grill. Artfully crafted, every detail on point. The high sides make for great heat retention, and there is plenty of space to cook in a variety of techniques."
8. Barbecue grill with cabinet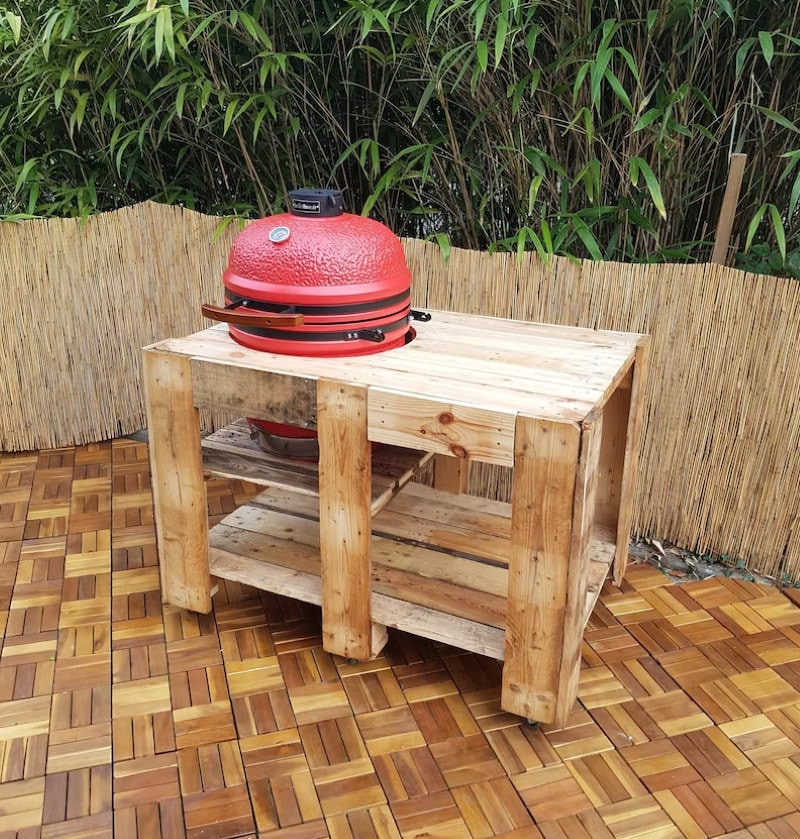 SHOP: Grill with pallet wood cabinet from iDee Tools, $1,135
This two-in-one barbecue set comes with its own storage cabinet table for keeping all your grilling tools and accessories neat and organized. There are several open shelves for larger items like bags of charcoal, pots, and food trays, as well as two drawers for smaller bits like matches, utensils, and tools. The countertop has a cut-out that perfectly homes the included charcoal grill which allows you to cook a variety of foods, and even has an inbuilt temperature display on the lid for easy monitoring.
Best grill accessories
You'll be surprised at just how much a couple of well-thought-out grill accessories can upgrade your backyard BBQ bashes. A professional and stylish leather apron can turn you into the master griller you've always dreamed of being, and, in addition to your tasty food, a personalized engraved backyard bar and grill sign will transform your garden into the latest hot spot. Have a look at our list of the best grill accessories to elevate your grilling game.
9. Denim BBQ apron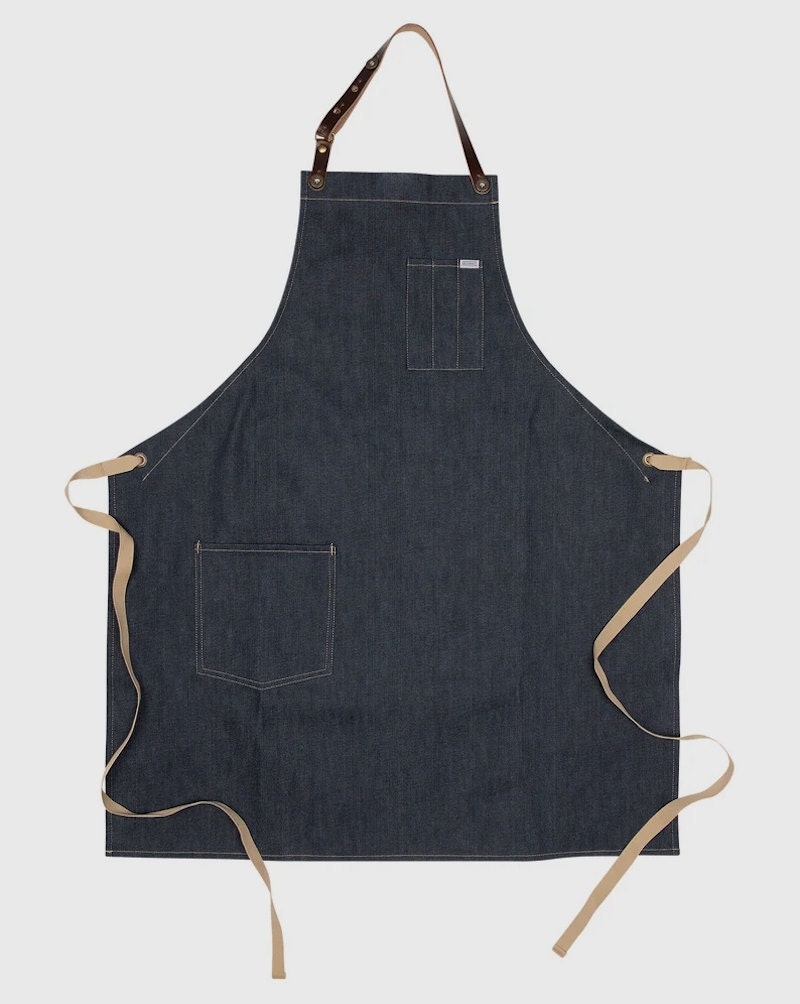 SHOP: Handmade denim apron from Artifact, $98
Many shoppers found this striking denim BBQing apron to be an excellent present pick for the avid grillers in their lives—but it's also a solid self-gifting choice if you're after a durable and stylish protective layer to keep your own party outfit clean while you're cooking. The handmade apron comes in two sizes and has an attractive leather neck strap that gives it an extra-smart touch. One customer review reads, "My husband uses his grill all the time. This is the perfect apron for him; heavy-duty and nice enough to use around company."
10. Personalized cutting board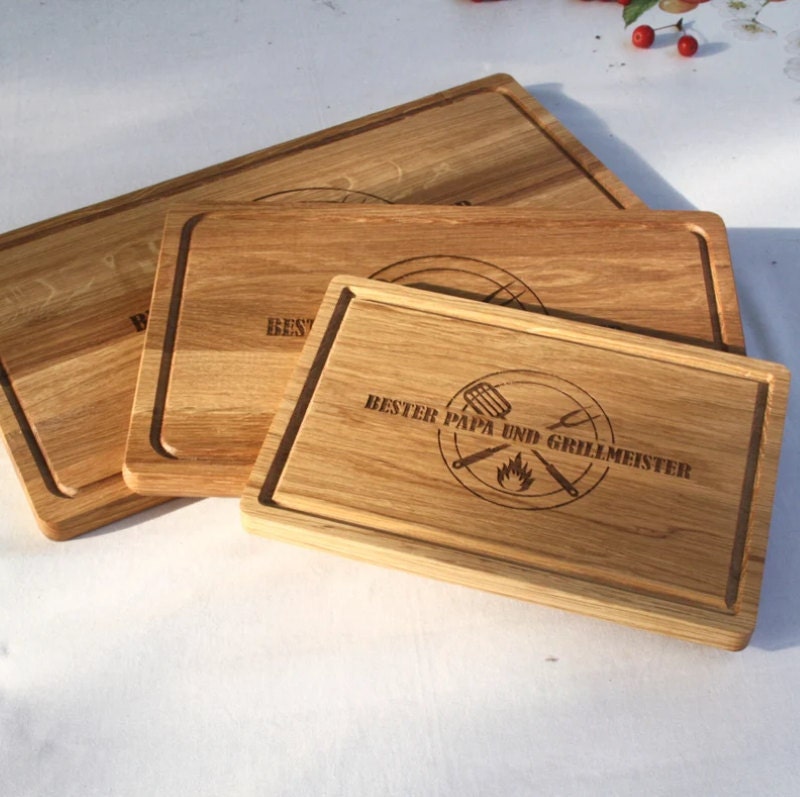 SHOP: Large solid oak wood cutting board from StadtLandHolz, from $39
Once your meat is all cooked up, thrill your guests by presenting their food on this spectacular personalized oak wood cutting board. It's available in three sizes, and comes prepped with a food-safe oil to add durability and make the beautiful natural wood grain shine. Can't decide between sizes? Take a cue from one shopper who noted that "the medium size is perfect for a [board] that can go directly from the grill to the table." Sold!
11. Personalized outdoor patio sign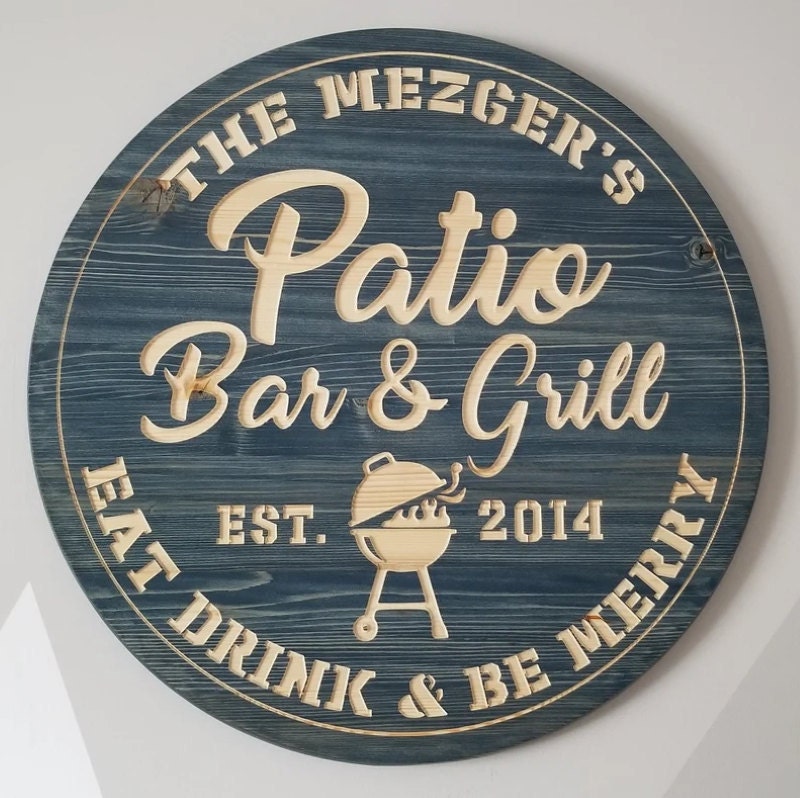 SHOP: Engraved wood backyard bar and grill sign from The Thompson Designs, from $57
To give your garden a high-end grill-house vibe, add this custom-engraved backyard bar and grill sign to your space—and wait for your guests to take note. With 12 color options and five sizes to choose from, it's completely customizable to your tastes—and that's before you add your very own engraving.
12. Personalized grill board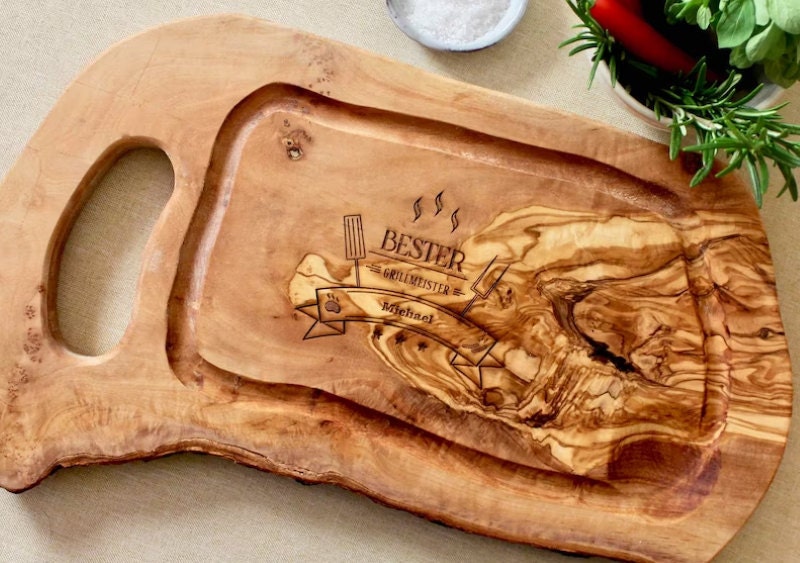 SHOP: Steak board with groove from Eatartdrink, from $49
The ideal resting place for your seared sirloin and chunky portobellos, this absolutely stunning steak board has a convenient juice groove to keep your tabletop tidy when you start slicing. According to customers, the board also boasts "super workmanship," and "the wood and the engraving are very high quality." With an eye-catching live edge and the personalization of your choosing, this beauty will stand out on your BBQ table.
13. Handcrafted condiment holder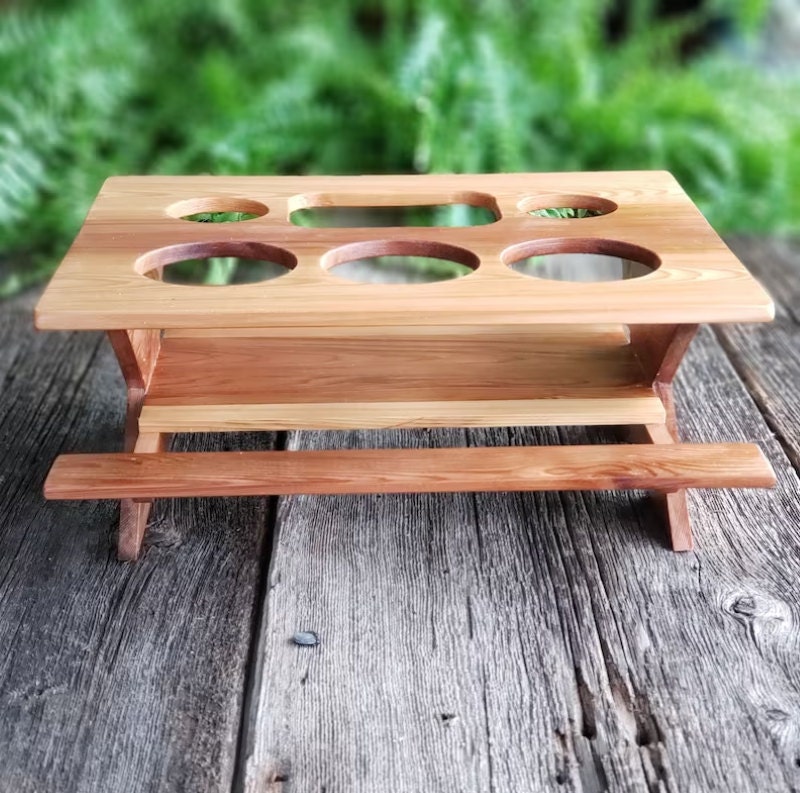 SHOP: Miniature picnic table caddy from My Old Whiskey Workshop, $50
With space to stash all your utensils, garnishes, and sauces, not only is this cute wooden caddy an extremely practical BBQ accessory, its clever mini park bench design is sure to be a conversation-starter, too. One shopper wrote that they "got so many compliments on it," and another added, "This wooden picnic bench is adorable and made well, seems really solid. Can't wait to use it at my next BBQ!"
14. Leather apron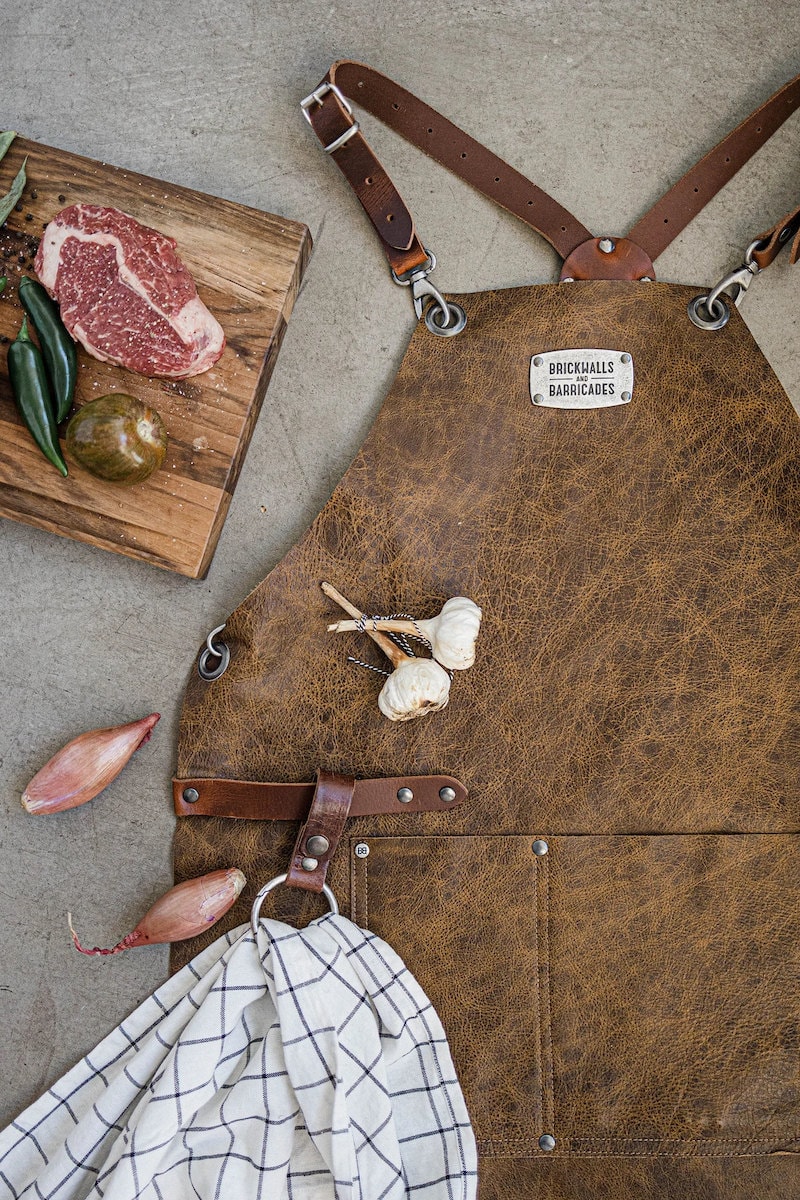 SHOP: 100% stain-free leather apron from Brickwalls & Barricades, $285
It's hard to decide what we like most about this exquisite apron, but if we had to decide, it might be the material. Cut from tanned South American buffalo leather that's been treated with a stain-resistant coating, this heirloom-quality classic is supple, sturdy, and designed with comfort in mind (peep the adjustable cross-back straps). But we'd be remiss not to mention the roomy front pockets, too—just the right size for stashing BBQ tools and other essentials!
15. Leather oven mitt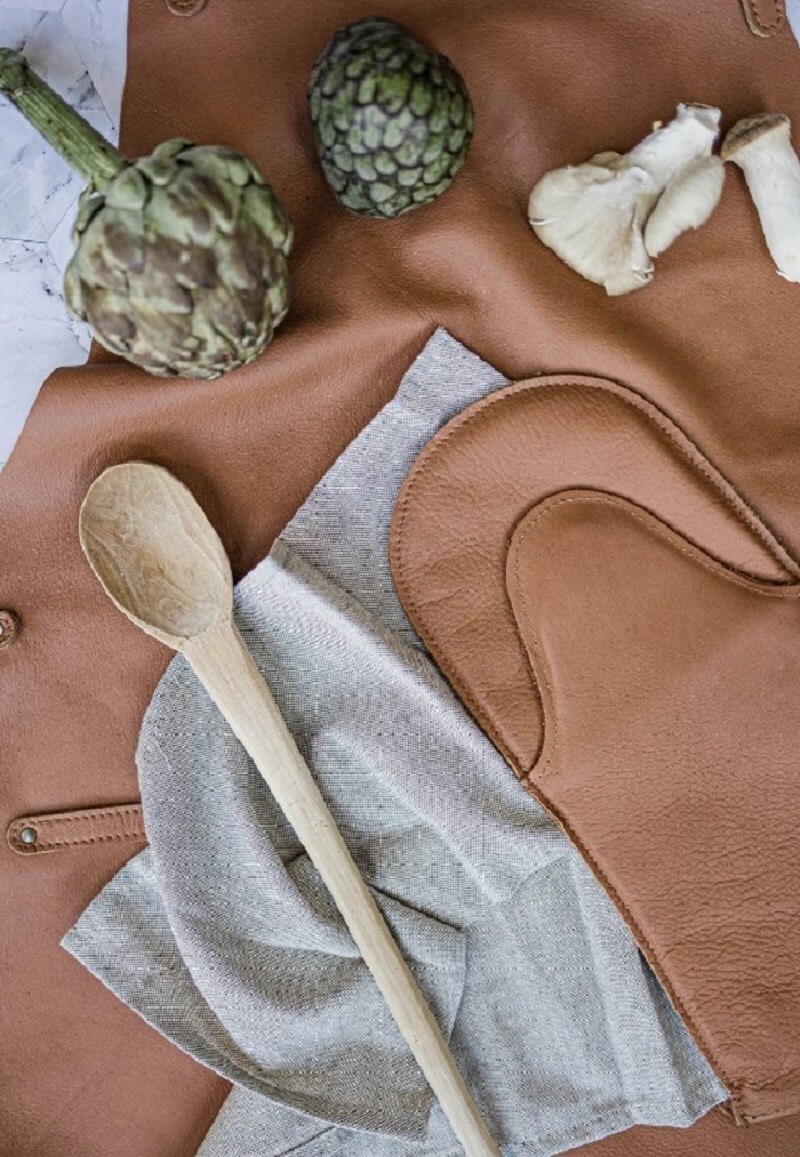 SHOP: Luxury leather oven glove Name from Brickwalls & Barricades, $104
Handcrafted in Rotterdam, this exquisite genuine cow leather oven glove makes a practical yet stylish addition to your grilling station. It goes all the way up to the mid-forearm for extra protection against splatters, and its innovative design makes it suitable for both right and left-handed users.
Best barbeqce sauces, spices, and rubs
The truth is that no matter how good you look in your grilling attire and how well you've kitted out your patio or garden area, the best way to leave people talking about your BBQs is by providing the most delicious grilled goods for folks to feast on. But never fear! With their standout selection of homemade barbecue sauces, spices, and rubs—including a selection of three hot sauces for those who like it spicy— these talented Etsy sellers have you covered.
16. DIY BBQ sauce making kit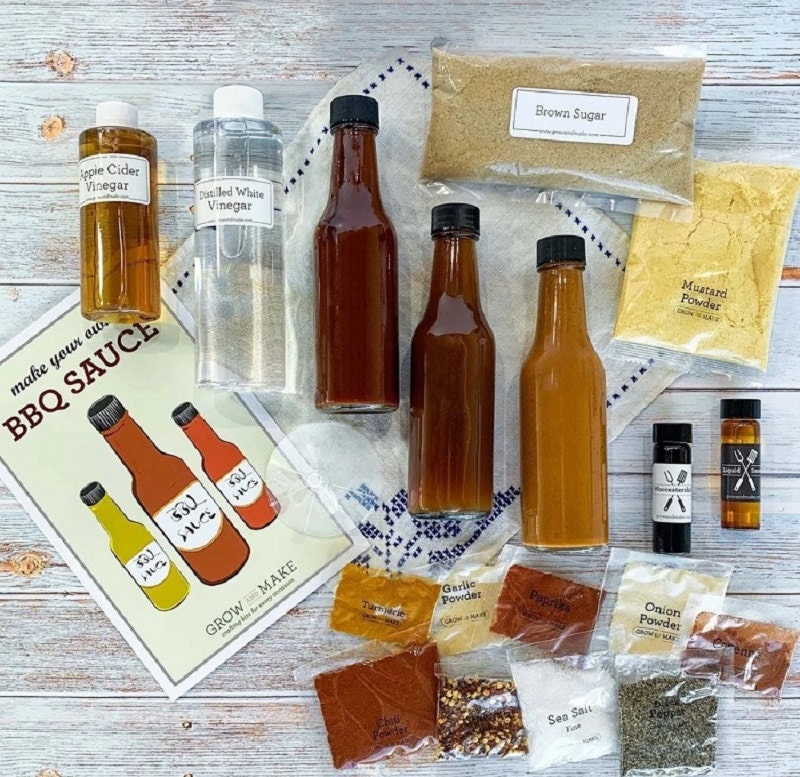 SHOP: DIY BBQ gourmet grilling sauce-making kit from Grow and Make, $60
If you'd like to add a little bit of a personal touch to your condiments instead of relying solely on store-bought options, add this do-it-yourself sauce-making kit to your cart, stat. With everything you need to make your own delicious concoctions, including three bottles, worcestershire sauce, turmeric, paprika, and mustard, chili, and onion powders, this is the perfect way to create a signature sauce that can be credited to you and you alone.
17. Salts set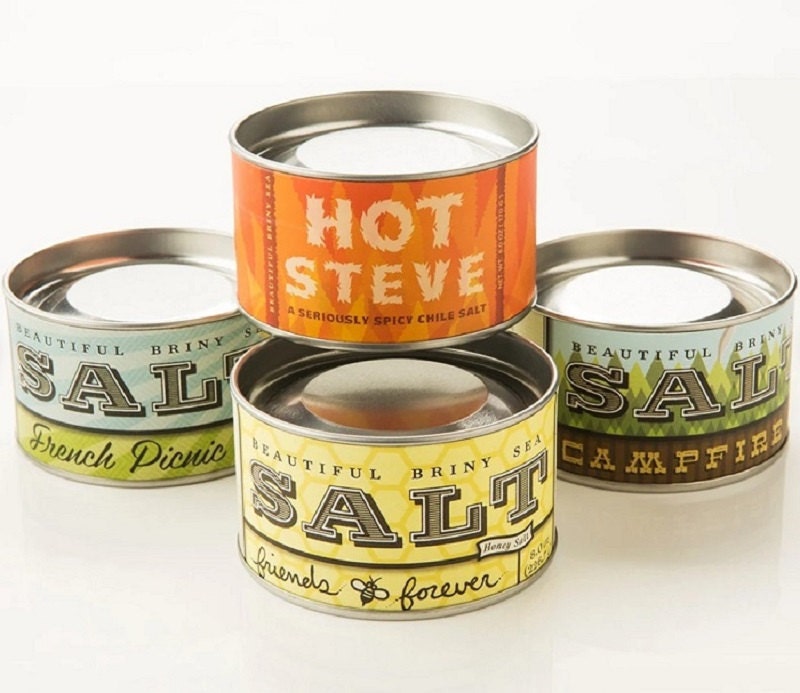 SHOP: Herb salts set from Beautiful Briny Sea, $44
It's amazing what a little seasoning can do to make a dish pop! This super-giftable herb salts set—featuring four finger-licking blends with mustard, cayenne, sumac, and honey for different flavor profiles—will have guests raving about your cooking, and coming back for seconds (and thirds). It's no wonder buyers say they're "hooked"! As an extra thoughtful touch, the seller also includes samples with each purchase.
18. Custom selection of hot sauces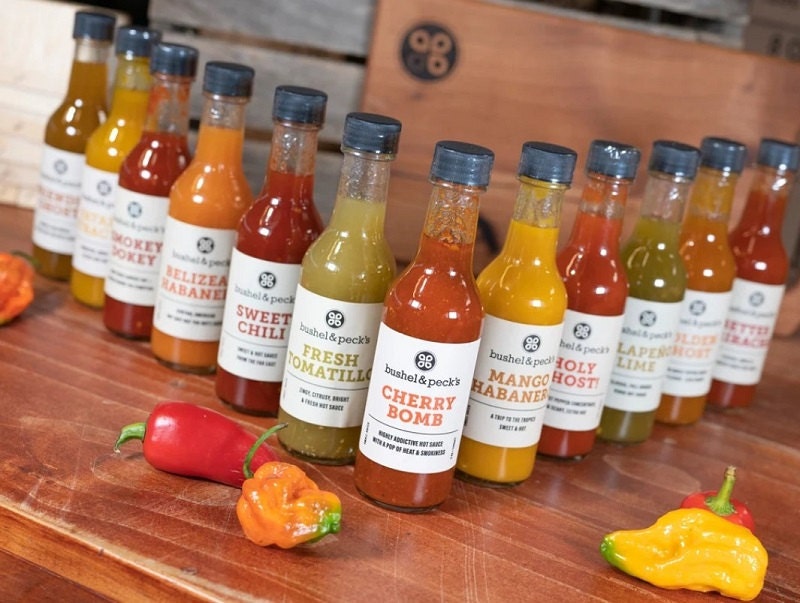 SHOP: Hot sauce set of three from Bushel & Peck's, $25
For hot sauce connoisseurs, the local grocery store options just won't cut it—but these flavorful artisan BBQ sauce picks will thrill chefs and guests alike. Choose three from the impressive lineup which ranges from medium-heat citrusy tomatillo to "Holy Ghost"—the hottest sauce in the suite featuring pure ghost pepper for the brave. The sauces can be used as a marinade, dressing, or dip, and with one happy customer going as far as to say they "want a bulk option, like a quart or a gallon. Not kidding."
How do we pick the best BBQ accessories?
As Etsy Journal editors and contributors research and curate shopping guides for some of the best-loved items on Etsy, we thoughtfully consider the creativity, customization, and craftsmanship that go into each product. We also consider buyer reviews, item ratings, and customer service, and tap the expertise of our in-house merchandising and trends experts to uncover high-quality finds for every budget. You can find more information about each item in the seller's listing details and can take a look at their individual shop policies and reviews, too.