Shop best bedside lamps that buyers are loving and find the perfect one for your bedroom style, budget, and needs.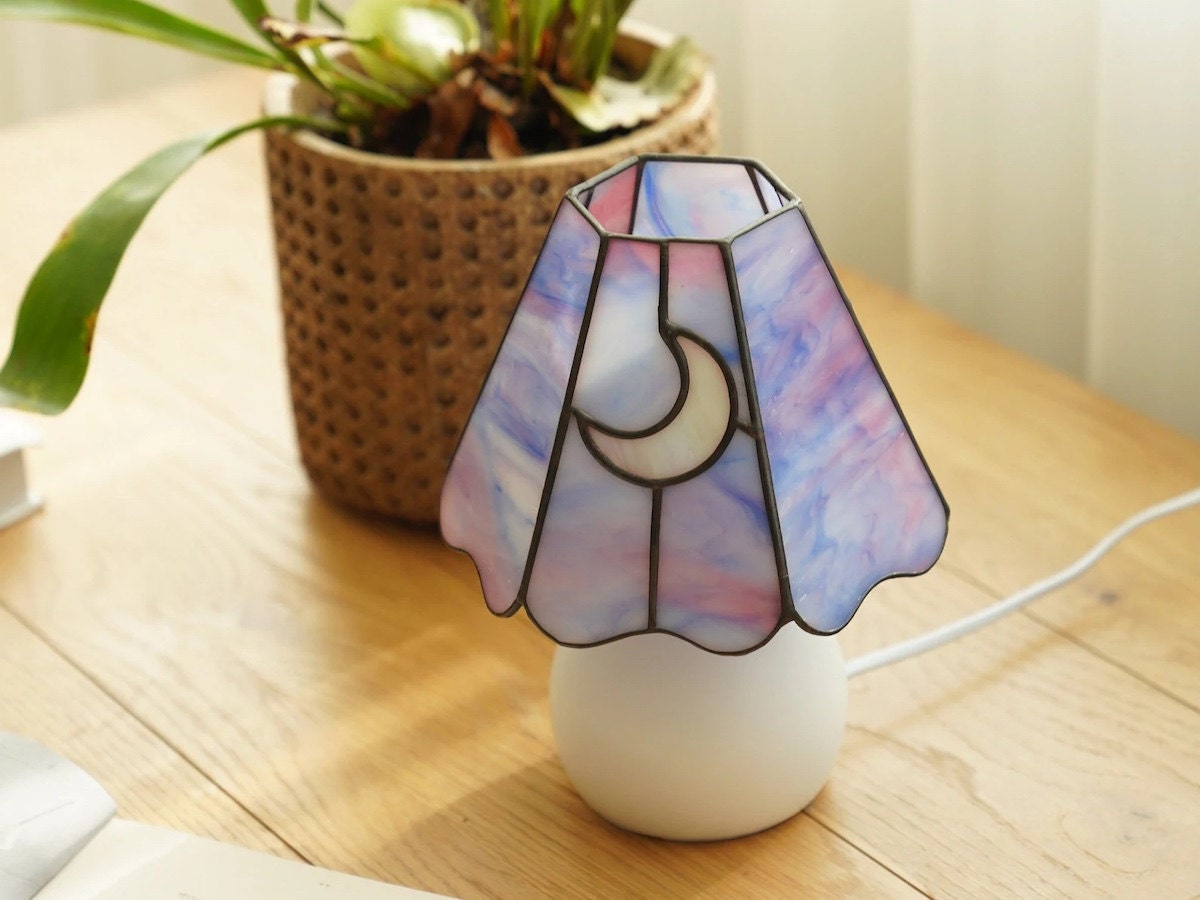 Buying a pair of new bedside lamps is an excellent way to update and enhance your bedroom without having to redecorate the entire space. A good lamp ups the ambiance and provides the perfect reading brightness when it's time to curl up and relax. p No matter what your bedroom style is, there are many different types of bedside table lamps available, in an array of design styles, shapes, colors, sizes, and materials, to suit all styles, budgets, and requirements. Buyers have hand-picked these lamps as some of their favorites. Each one is sourced and handcrafted with love and care by the talented artisans behind the small shops on Etsy.
Modern bedside lamps
Whether buying for yourself or as a stylish housewarming gift, these picks for the best bedside lamps are made to suit any modern home.
1. Decorative concrete lamp
SHOP: Decorative concrete lamp from Handcraftsquare, $95
This beautiful and extremely unique lamp is sure to be a talking point. The lamp is made from concrete and paired with wooden feet, and is available in either gray or black concrete. You can also customize this lamp with your choice of seven cable colors.
2. A funky vintage lamp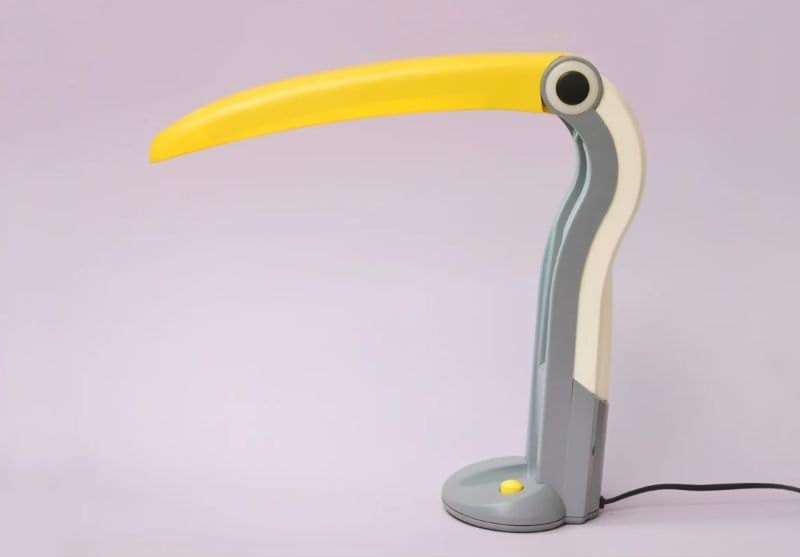 SHOP: Vintage toucan desk lamp from Vardellum, $199
For a super-creative bedside lamp with a humorous and retro touch, try a vintage lamp like this vintage HT Huang 1980s toucan lamp. The lamp has an adjustable beak and would look equally as good on any office desk. Love discovering a new vintage find? Check out these fabulous vintage shops on Etsy.
3. Artistic wood table lamp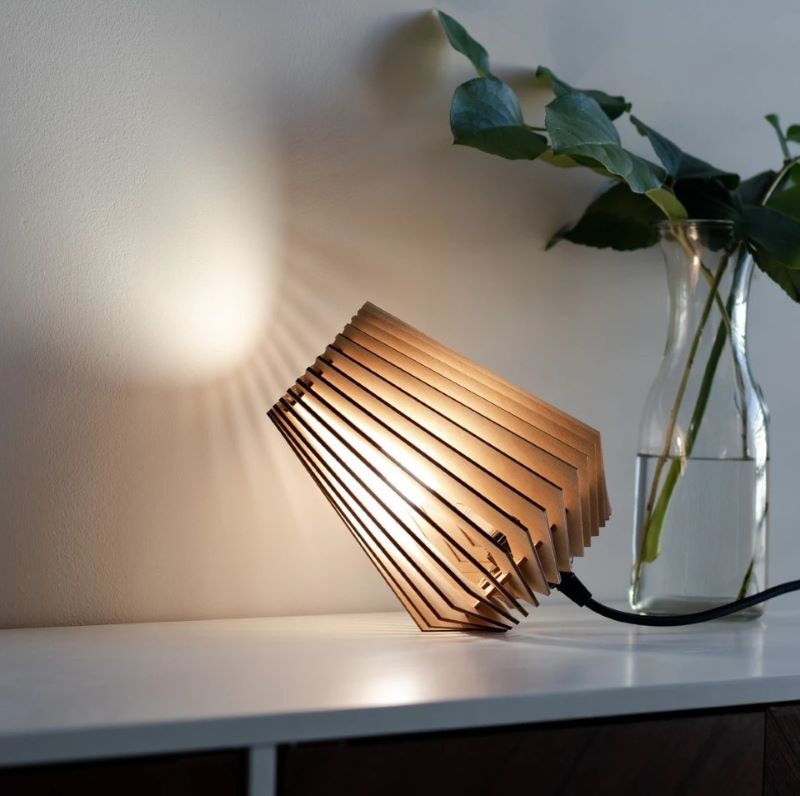 SHOP: Pine wood table lamp from Knock on Wood Creations, from $81
The pine table lamp from Knock on Wood Creations can provide any room with a relaxing ambiance thanks to the shadows it casts through its wooden frame. This delicate item is available in two different sizes—mini and standard—and would make an awesome housewarming gift, too.
4. Minimalist table lamp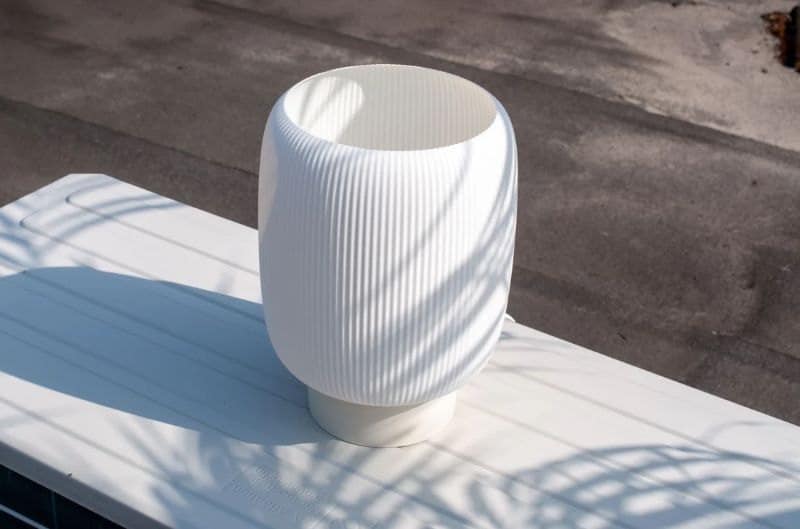 SHOP: TORO table lamp from 3DecoStudio, from $38
Though these white lamps are minimalistic, they're extraordinarily unique. Choose from nine gorgeous shades, including sage green and ochre yellow, and three different sizes to suit your bedroom. In addition to being handmade, they're also made from eco-friendly material, and are reasonably priced.
5. Vintage glass lamp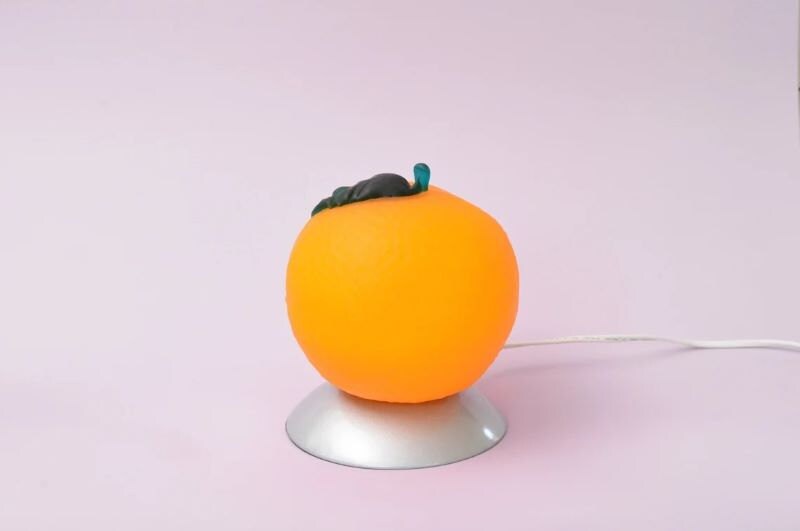 SHOP: Vintage glass lamp from Vardellum, $150
If you're after a unique investment piece that will only appreciate in value, opt for this vintage 1990s orange glass bedside table lamp. This bright yellow lamp has a plastic base, features a green leaf on the top, and is under 9.5 inches in height—perfect for smaller rooms.
6. Cone ceramic lamp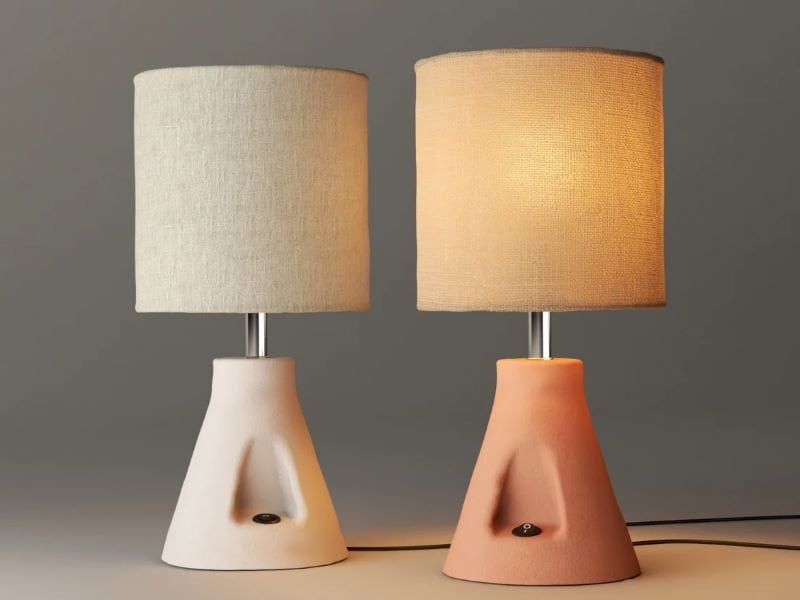 SHOP: Cone ceramic lamp from Naaya Studio, from $229
Among the many things we love about these beautifully minimal ceramic lamps are the choice of shade fabric (either burlap or cotton), the two ceramic color selections (clay or natural), and the fact that the switch is integrated into the base for easy access in the dark.
Small bedside lamps
If you prefer the minimal style, or simply don't have enough room in your bedroom to accommodate an oversized floor lamp, these petite picks have been made just for you.
7. Wood globe lamp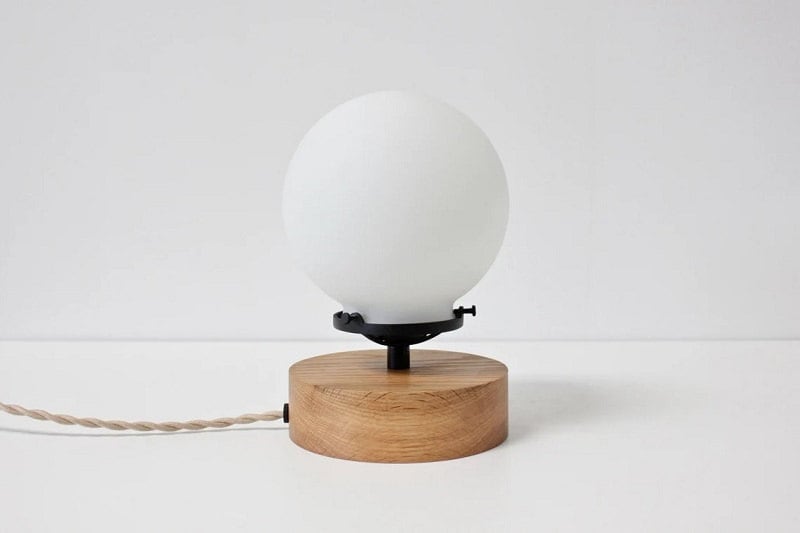 SHOP: Wood Guillamet globe table lamp from Nino Shea, from $210
An original take on the classic globe light, these wood table lamps have a beautiful Scandinavian-esque wooden base available in either oak or walnut, and a frosted glass globe that is attached with black powder-coated, industrial-style hardware. Many happy buyers praise these lamps' solid construction, and they're also available with a dimmer.
8. Sculptural ceramic table lamp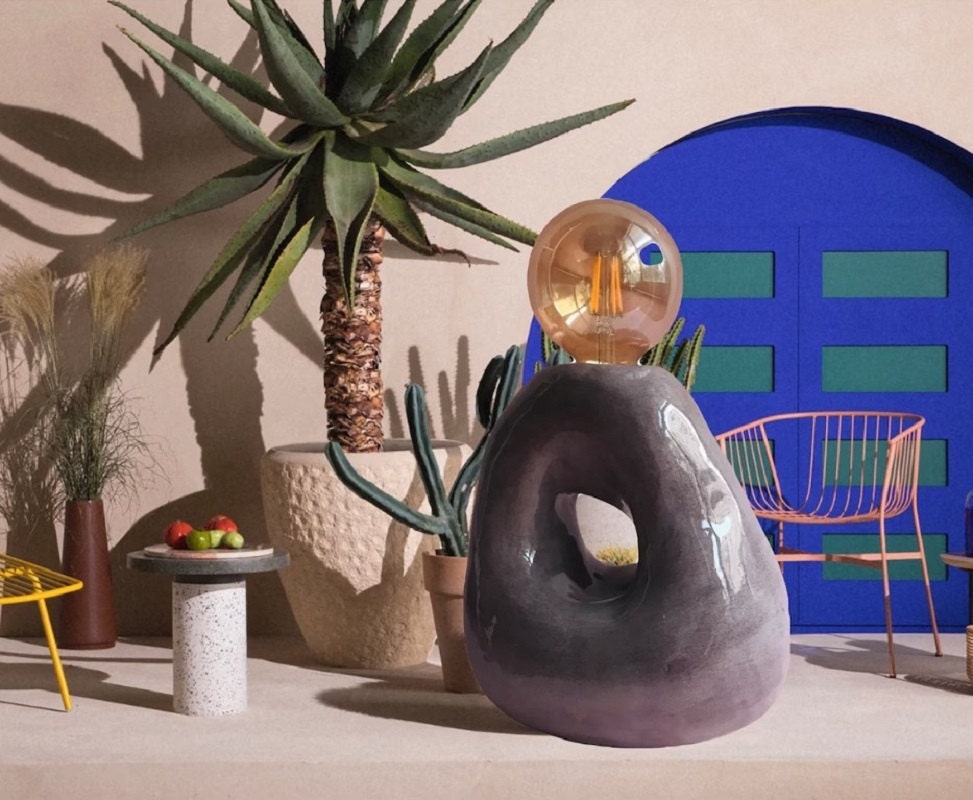 SHOP: Sculptural ceramic table lamp from Morph Studyo, $258
These very rare ceramic lamps have an amorphous design making them completely original and distinct. They feature an attractive and stylish gray ceramic base with a glossy finish, and they're hand sculpted from clay in a small shop in Turkey. The seller also accepts custom requests.
9. Brass dome bedside table lamp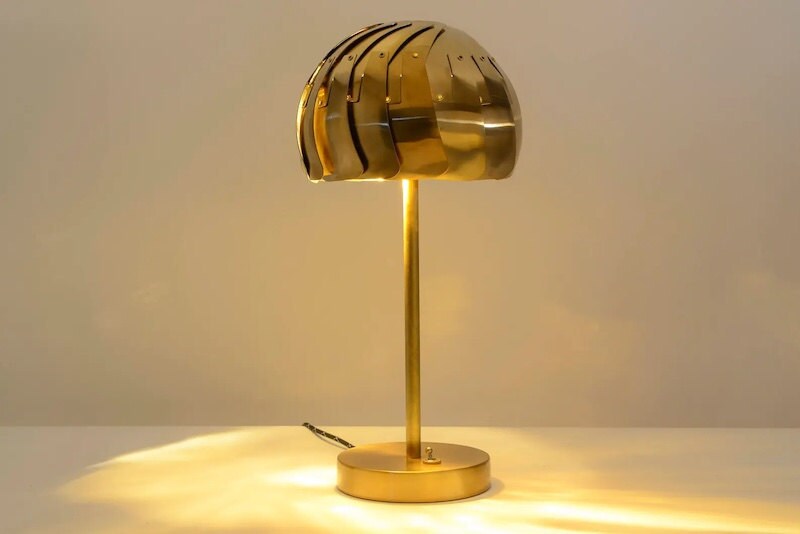 SHOP: Iris table lamp from Light Texture, $252
Comprised of overlapping brass leaves, the dome on this bedside lamp can face up or down, casting light in whatever direction you prefer to create the perfect ambiance in your bedroom.
Farmhouse bedside lamps
These show-stopping farmhouse-style bedside table lamps look equally as awesome in a modern-style or traditionally decorated bedroom.
10. Rustic wooden table lamp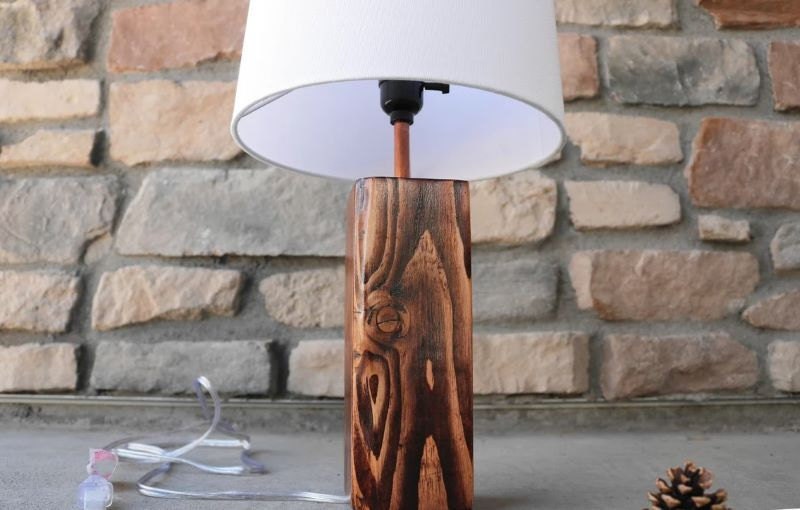 SHOP: Rustic wooden table lamp from Zuzy'sWay, from $100
We love a good rustic-style home decoration item and this wooden table lamp, with its handcrafted reclaimed wooden beam and grainy detailing in the wood, brings with it a touch of the classic. Handcrafted in Colorado, the seller offers a selection of three different wood finishes for buyers to choose from.
11. Black ceramic table lamp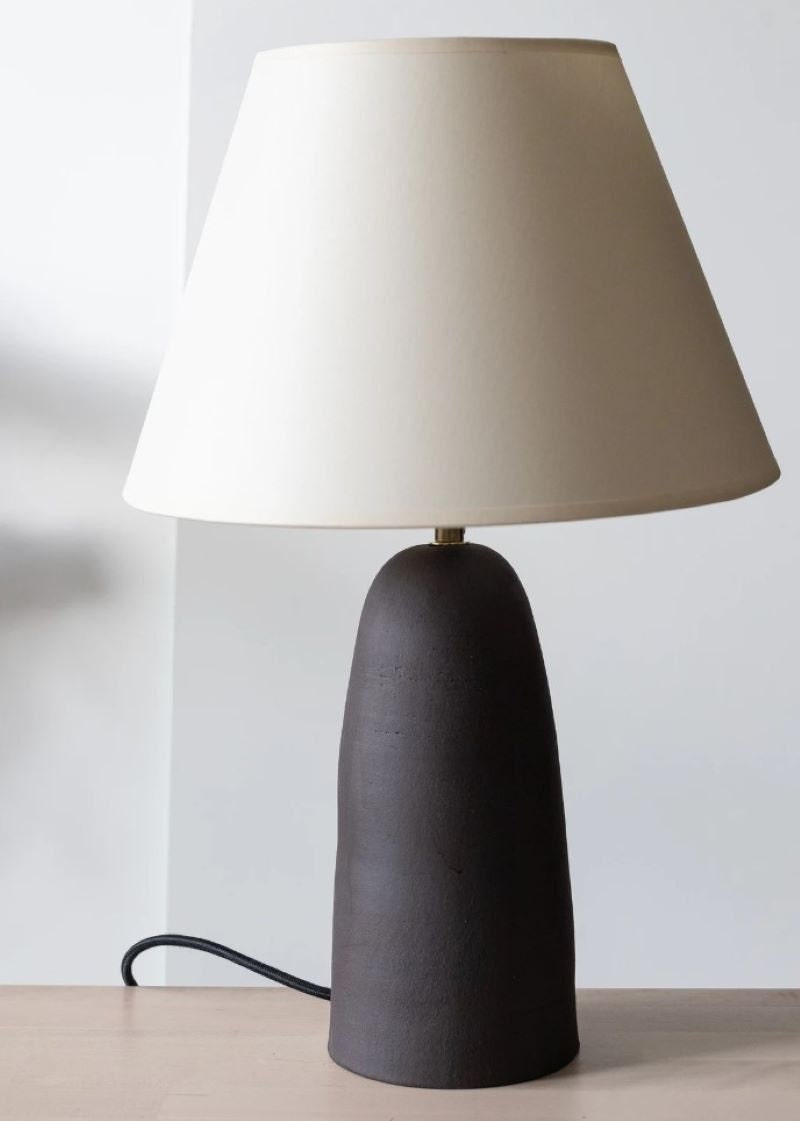 SHOP: Black ceramic table lamp with fabric lampshade from Makaki Studio, $342
Timeless, classy, and chic, this ceramic table lamp has a universal design that can suit a great manner of tastes. It's made from black stoneware clay, and the ecru A-line fabric lampshade sticks to the lamp's minimal aesthetic.
12. Ceramic terracotta bedside lamp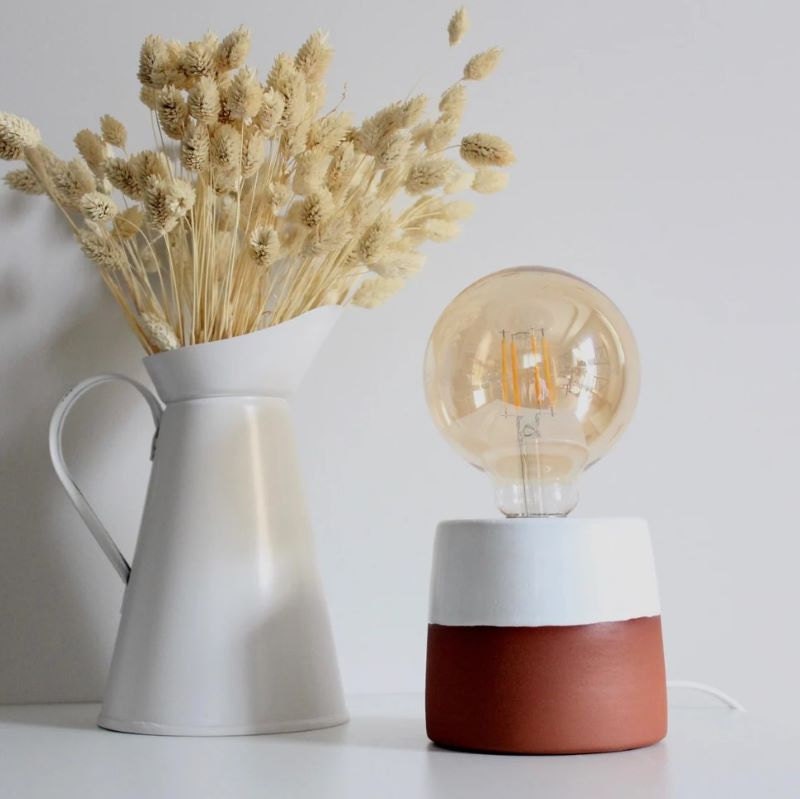 SHOP: Ceramic terracotta bedside lamp from Atelier'S, $121
These cute white and terracotta ceramic lamps—called "beautiful", "stunning," and "well worth the price" by satisfied shoppers—are handmade from clay in Turkey. They come without the lightbulb, giving you the option to choose one in a size, color, and brightness that suits your exact tastes and needs.
13. Textured oval table lamp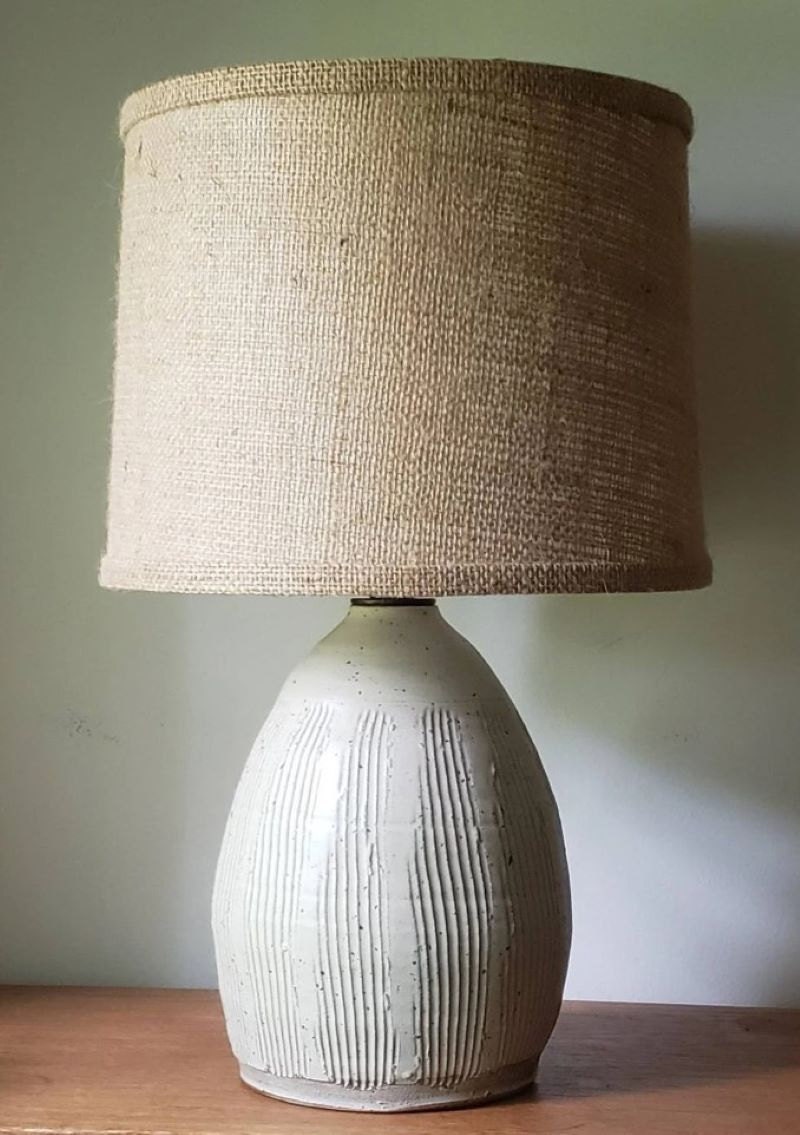 SHOP: Small handmade textured oval table lamp from The Starbird Pottery, from $459
A statement piece that will look just as amazing as a table lamp in the living room as it would a bedside lamp, this elegant handmade ceramic lamp has a textured antique finish, and an overall look that can upgrade any space. You can choose to add the beautiful burlap lampshade, or opt to add your own.
Glass bedside lamps
Add a bit of "wow" to your bedroom with these distinctive glass bedside table lamps that are sure to draw in all the compliments.
14. Walnut moonwake lamp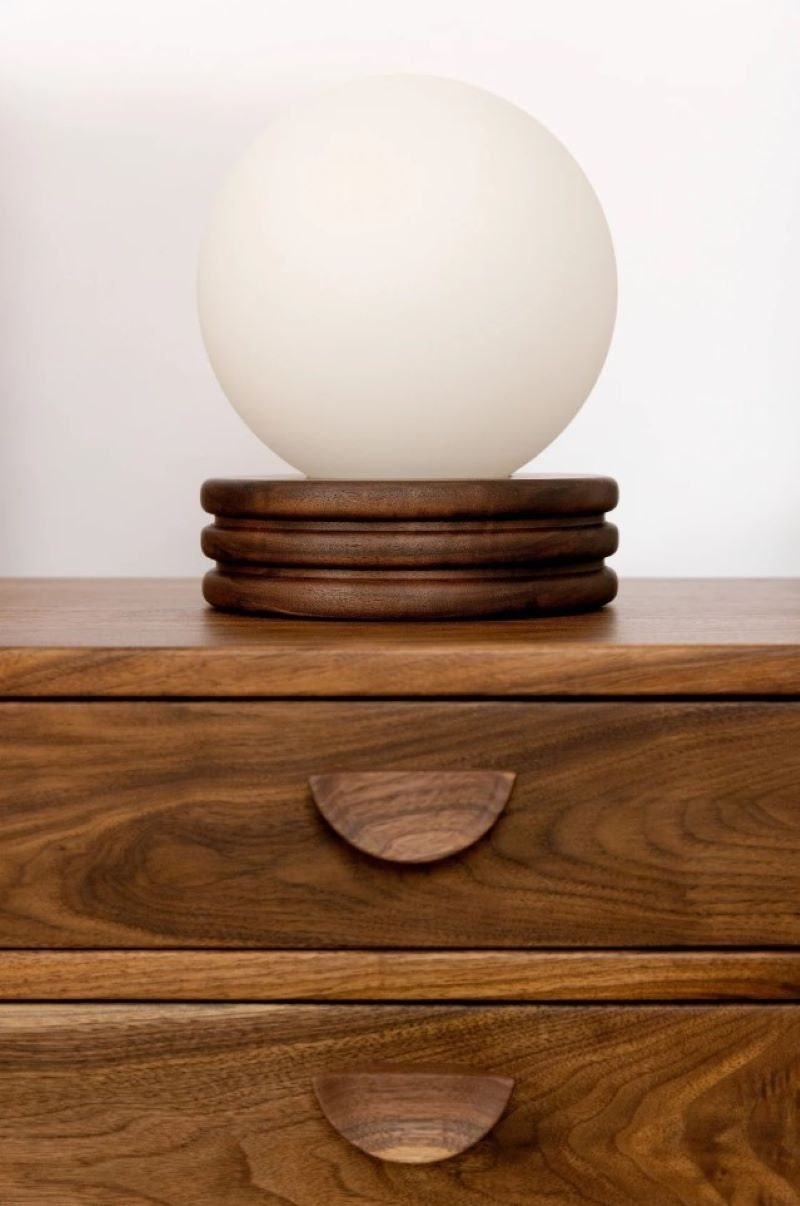 SHOP: Moonwake lamp walnut from Surcle Wood, from $180
Buyers are absolutely loving these well-designed globe lamps made from walnut wood that has been smoothed to perfection by hand. More like a piece of utilitarian art rather than just a simple table lamp, these globes are hand crafted in Bloomington, Indiana, by one of our Etsy Design Awards 2022 finalists.
15. Original 70s phone lamp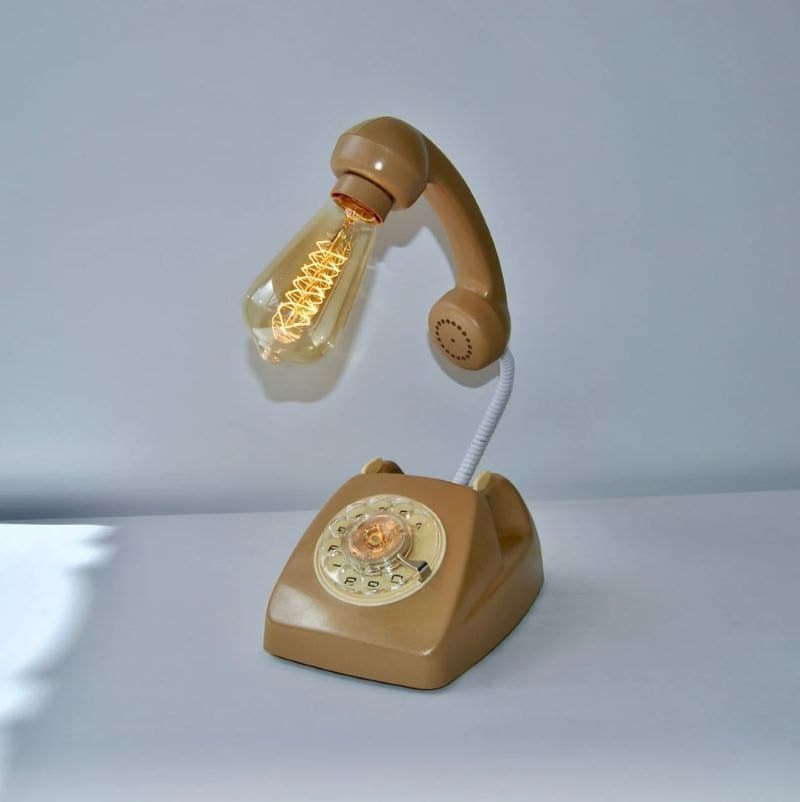 SHOP: Vintage lamp made from original phone from the 70s from iluminados, $164
If you're looking for something vintage and unique with a quirky twist, look no further. This bedside lamp is made from recycled materials—namely, an original telephone from the 1970s—and is one item that will surely not go unnoticed.
16. Moon night stained glass lamp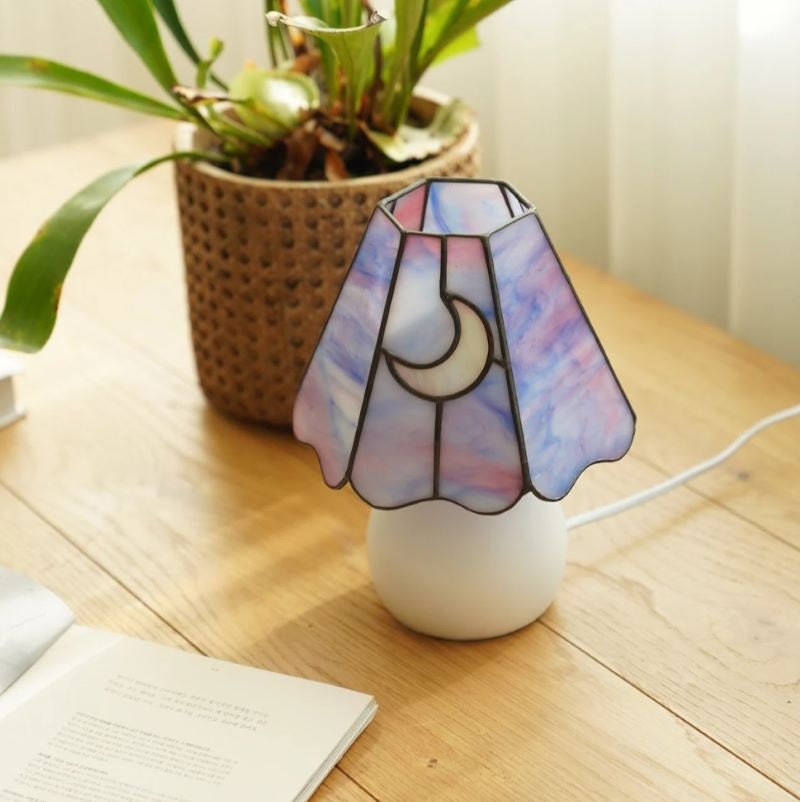 SHOP: Moon night mushroom stained glass lamp from La Fabrica Studio, $198
Small, charming, and inspired by the early 1900s Tiffany stained glass lampshades, this handmade bedside table lamp can make a quaint addition to your sleeping space. This made-to-order item features a moon and stars design in a delicate and serene cloud-like pearl color.
17. Decorative table lamp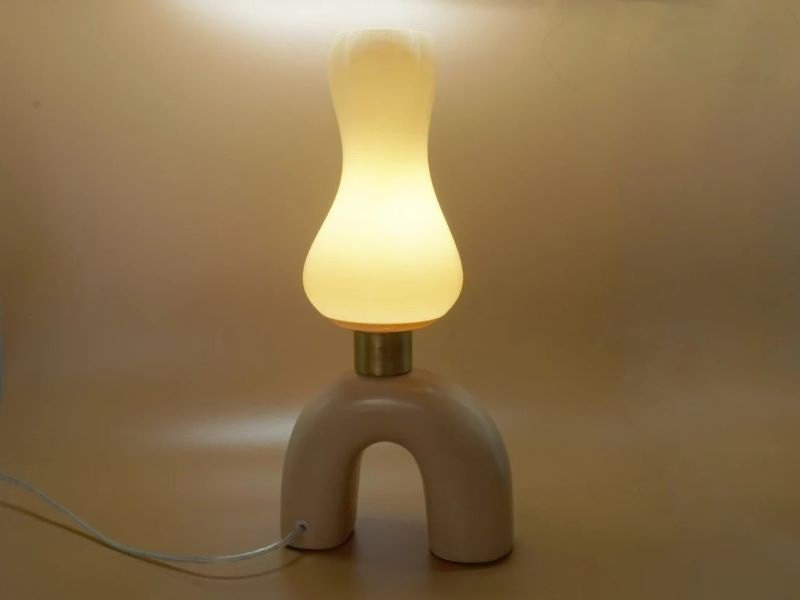 SHOP: Decorative table lamp with 3D printed lampshade from 3DP Lamp, $91
Yet another unique piece, this time for fans of the art deco era, this Steampunk decorative table lamp sports a 3D printed lampshade and an eccentric U-shaped ceramic base in a neutral shade. The product is hardy and sturdy, and buyers commend it for its high quality.
Dimmable bedside lamps
Perfect for creating just the right atmosphere or for reading without disturbing your partner, these dimmable lamps are just as beautiful as they are practical.
18. Industrial dimmable lamp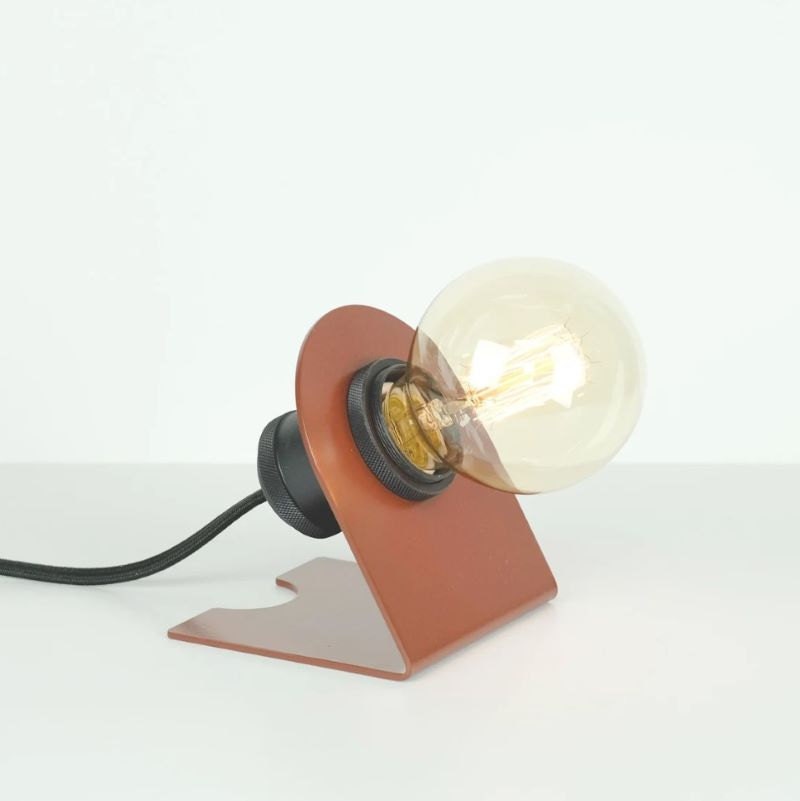 SHOP: Desk lamp with powder coat finish from Light And Loft, from $75
We are obsessed with this minimal yet highly original lamp that is crafted from solid steel at the seller's workshop in Knoxville, Tennessee. Available in four earthy tones (canyon red, stone gray, olive green, and placid blue), the light is dimmable, allowing you to create just the right ambiance for any situation.
19. Rustic desk organizer lamp with docking station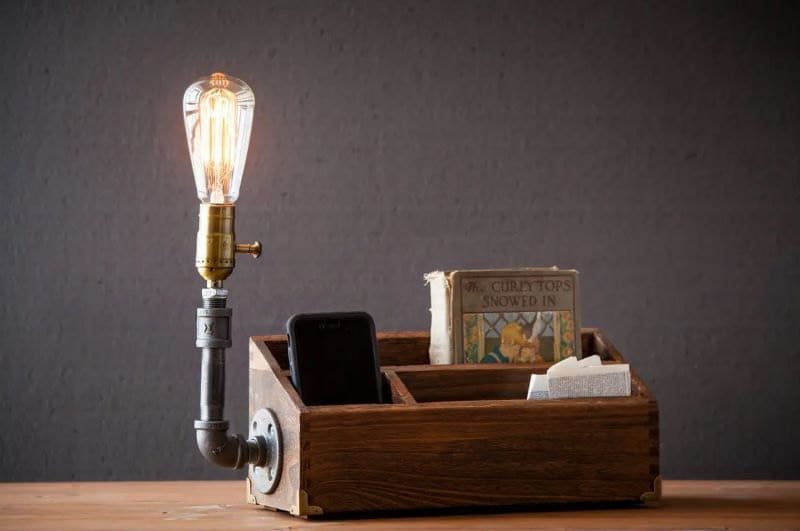 SHOP: Rustic desk organizer lamp with docking station from Urban Industrial Craft, from $68
Able to accommodate all your nightstand essentials, such as your books, Kindle, notepads, vitamins, and nighttime skincare musts, this rustic wooden organizer-and-lamp combo answers just about every bedside need.
Touch bedside lamps
A convenient touch bedside table lamp eliminates the need to rummage around in the dark for the light switch.
20. Wood touch table lamp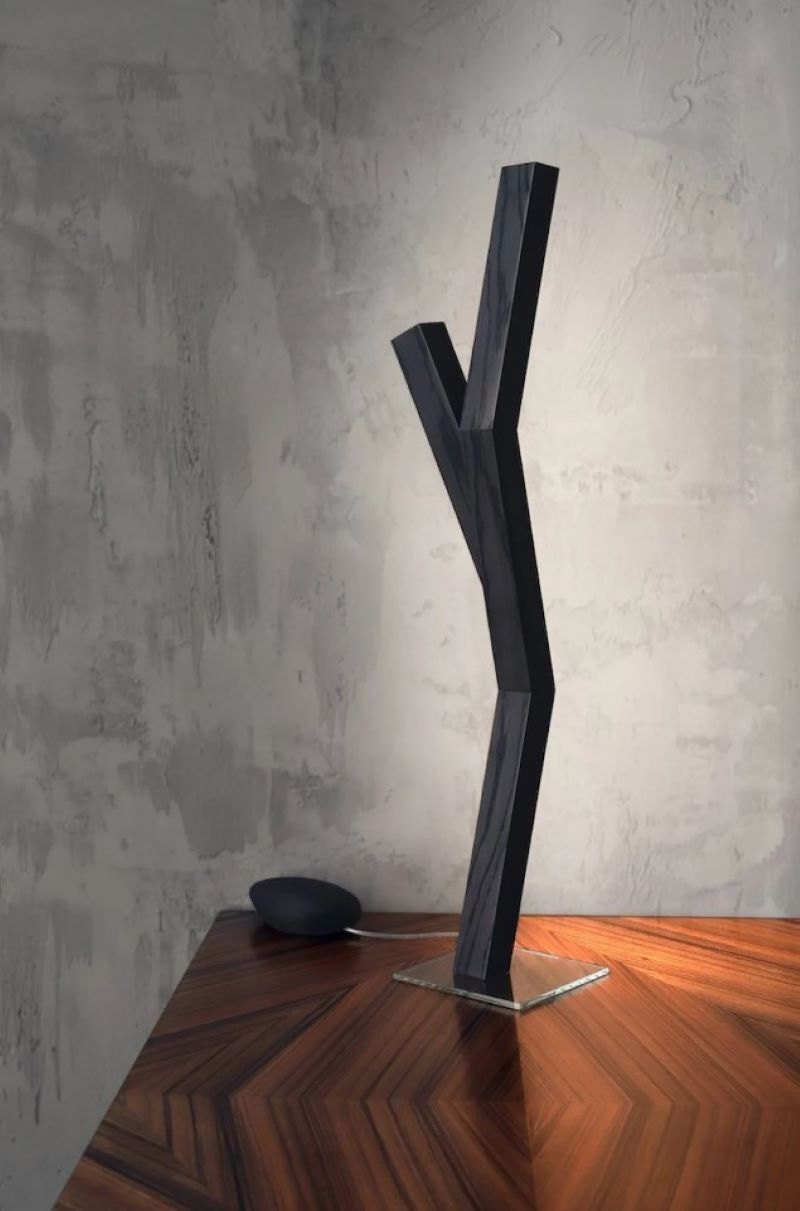 SHOP: Table wood lamp from MONKLIGHTS, $210
Is it a high-end piece of art, a sculpture, or a lamp? All of the above! This wonderfully high-quality fiberglass and wood lamp is made from oak wood and glass and is sure to turn heads. What's more, it's a touch lamp meaning it'll turn on or off with a gentle touch of your hand.
How do we pick the best bedside lamps?
As Etsy Journal editors and contributors research and curate shopping guides for some of the best-loved items on Etsy, we thoughtfully consider the creativity, customization, and craftsmanship that go into each product. We also consider buyer reviews, item ratings, and customer service, and tap the expertise of our in-house merchandising and trends experts to uncover high-quality finds for every budget. You can find more information about each item in the seller's listing details and can take a look at their individual shop policies and reviews, too.