From custom beer glasses and beer flight sets to unique beer pint glasses, these are the best beer glasses for your personal collection and gift-giving.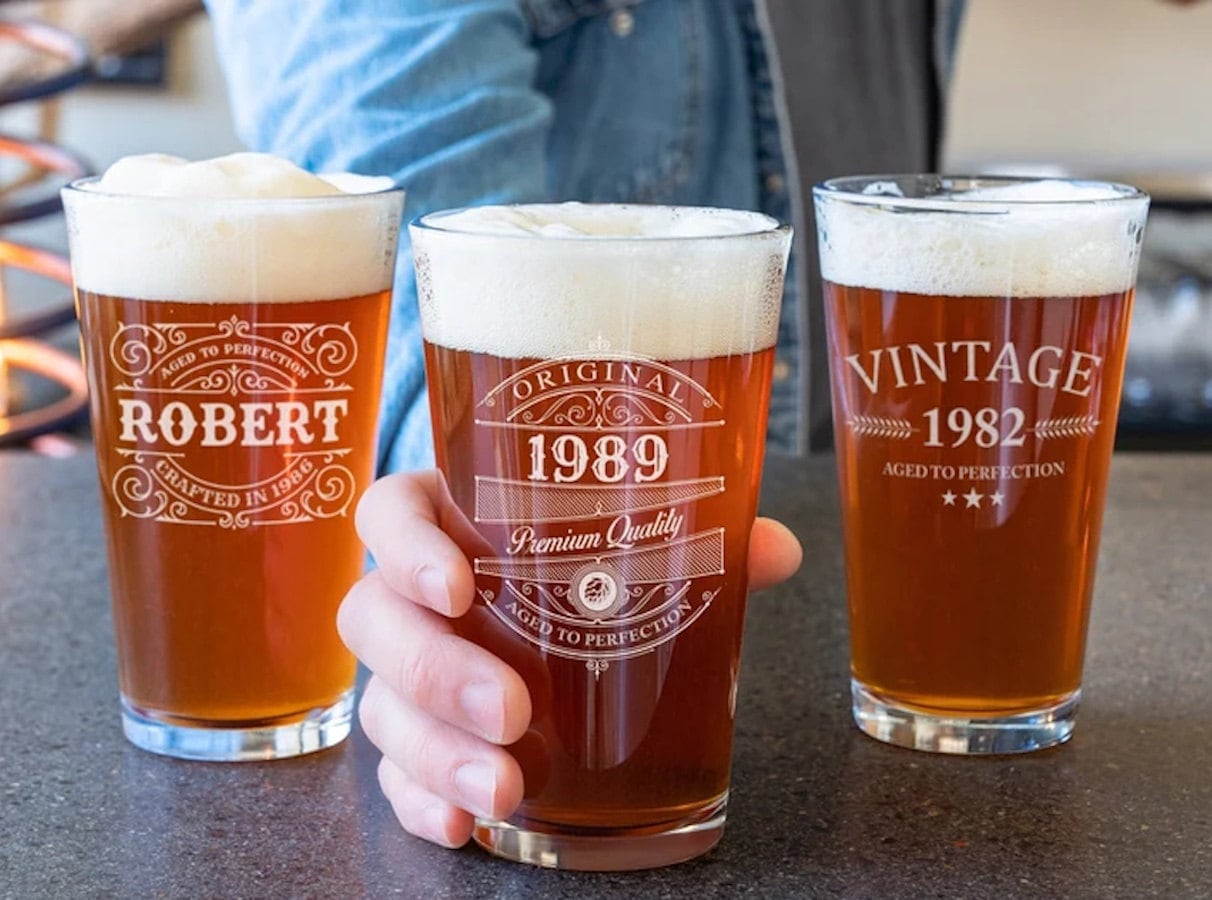 Sip, sip, hooray! Whether it's custom creations or glasses perfectly sized for small sips and flights, these are the best beer glasses to make any occasion toast-worthy—even if that's as simple as enjoying a backyard brew with your closest pilsner-loving pals.
These glasses are thoughtfully created by craft brew lovers who pay attention to every lip and curve of the glass to ensure it's both beautiful and brew-tiful—each detail of these glasses is formed to enhance your beer drinking experience and let the flavors and aromas of your beer of choice take center stage.
Best beer glass type for different brews
The intriguing silhouettes and interesting backstories make these beer glasses the best new addition to your collection.
1. Best overall beer glass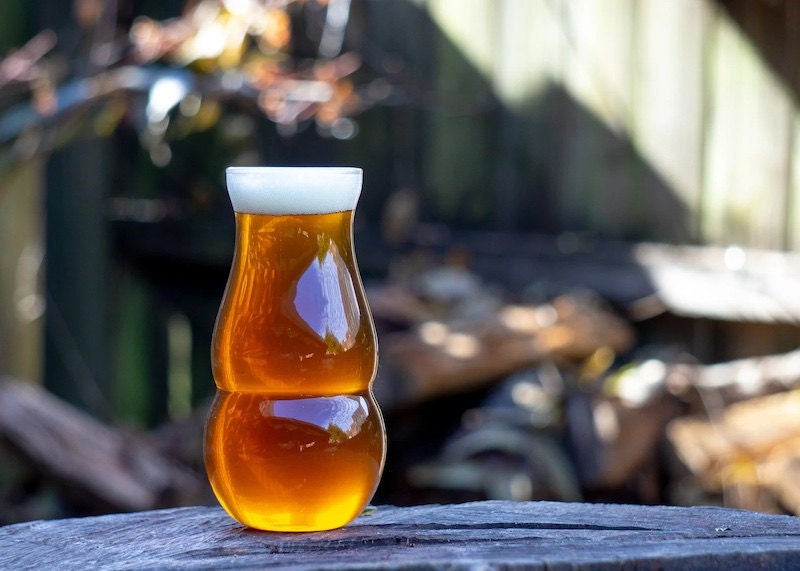 SHOP: THE beer glass from Pretentious Glass Co., $45
This design is aptly named "THE" beer glass because, quite simply put, it's the glass everyone needs in their collection. The bulbous bottom of the glass is a nice hand-hold while the soft tulip, perfected for the seller's own taproom, supports a great head. But the biggest selling point of this glass is its versatility as the best glass for a variety of brews, so no matter what your guests prefer, you'll have the ideal glass for the pour.
2. Best signature beer glass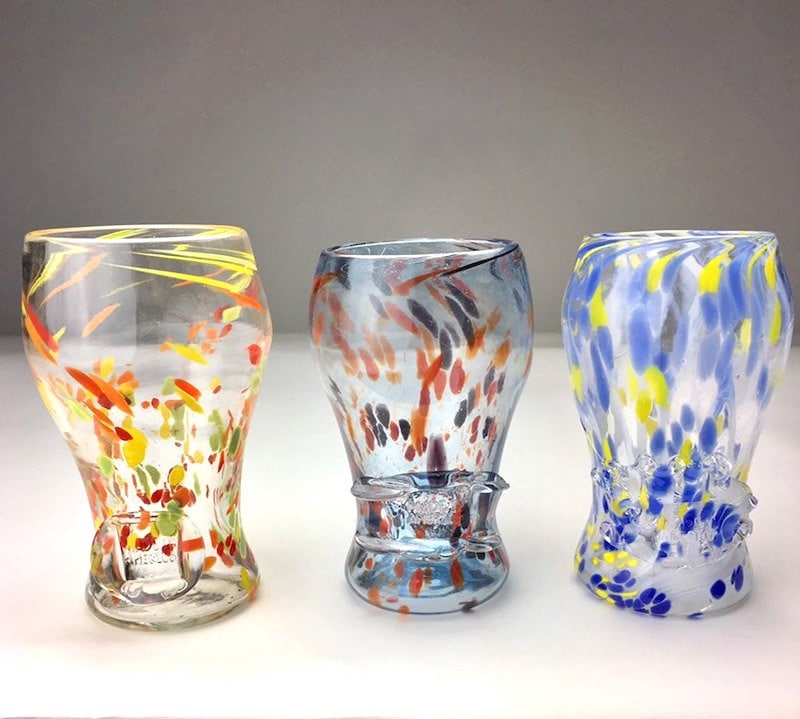 SHOP: Hand-blown craft beer glass from Hot Glass Academy, $45
Add a show-stopping moment to your beer glass collection with a few of these hand-blown craft beer glasses that are great for serving a variety of beers. Created from molten glass, each of these pint glasses varies from the next thanks to the unique patterns and textures of the colored accents.
3. Best sour beer glass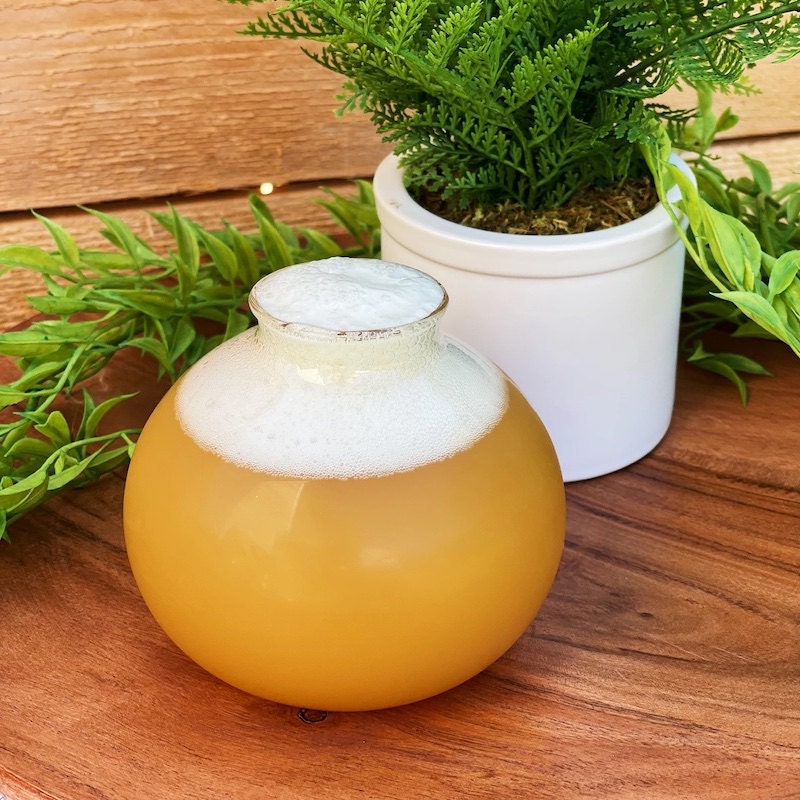 SHOP: Juice orb hazy IPA and sour glass from New Fire Glass, $25
This unique beer glass is decor-worthy in its own right, thanks to its orb-like shape. Both fabulous and functional, this glass's signature wide flared lip traps aromas and makes it the best beer glass for hazy IPAs and fruited sours.
4. Best IPA beer glass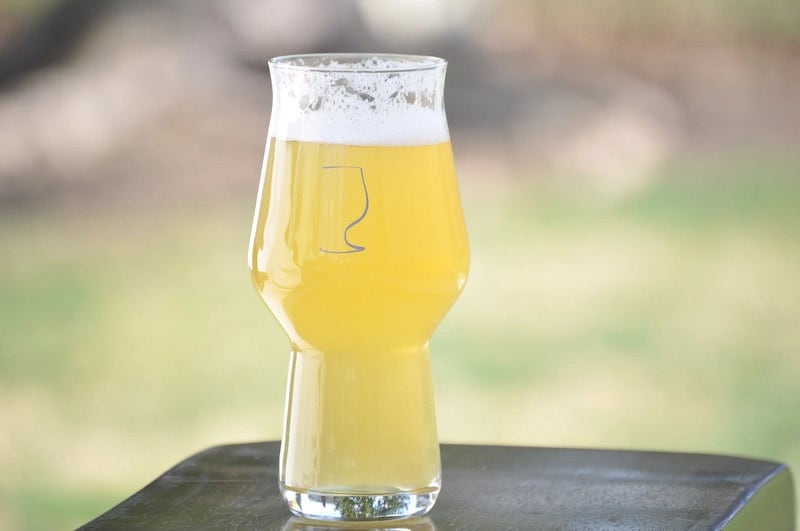 SHOP: Classic IPA glass from I Prefer Craft Beer, $26
The best IPA glasses concentrate the brew's aromatics and accentuate its signature flavor profiles, and this glass doesn't disappoint. Buyers rave about this glass's quality as well as its ability to enhance the flavors of their IPA. Bonus—it actually holds more than a pint of beer.
5. Best set of beer glasses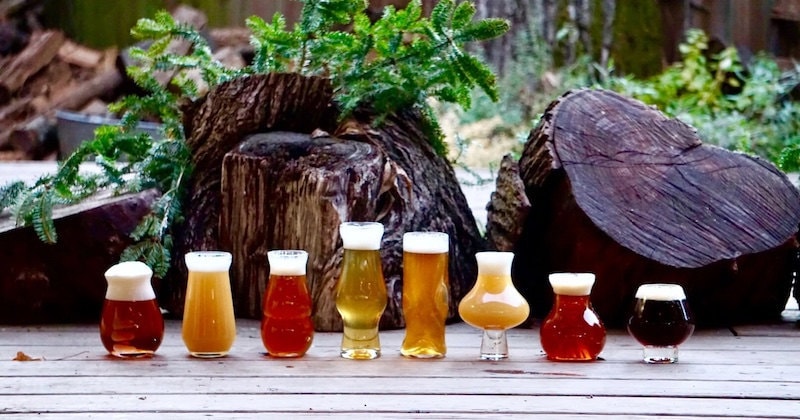 SHOP: Big set of craft beer glasses from Pretentious Beer Glass, $345
This set of brew-ready vessels is the ideal starter kit for your home bar collection. No matter your taste, the shapes of these glasses are uniquely crafted to complement a wide range of beers.
Best custom beer glasses
For the home brewer with taproom dreams or the beer aficionado who's always ready to share a cold one, these custom beer glasses are a fun way to showcase some personality with every pour.
6. Best personalized pint glass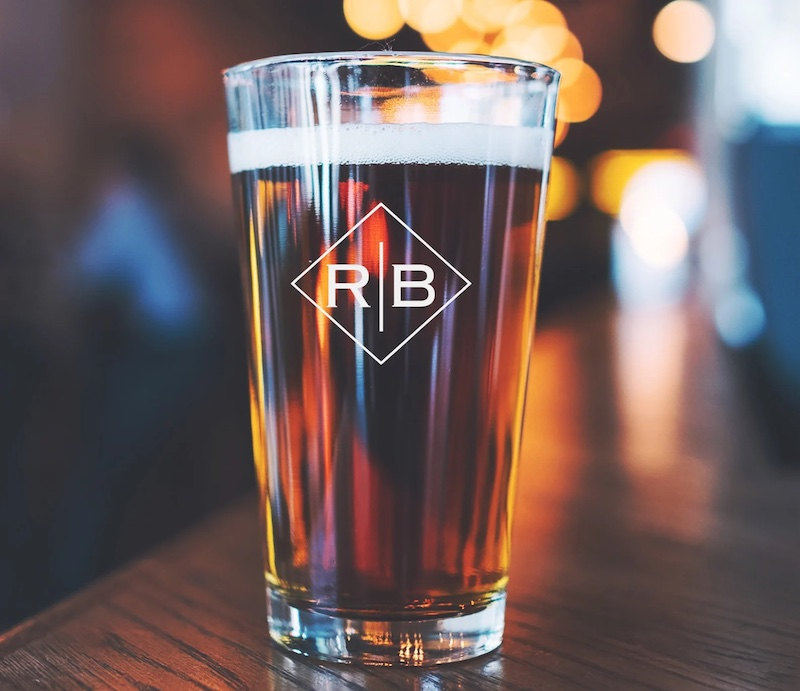 SHOP: Personalized pint glass from Signature Glassware, $11
Proudly display your beloved brewmaster's initials, or pair up the bride and groom's initials for a personalized wedding gift that says "Cheers!" to the happy couple.
7. Custom pet beer glass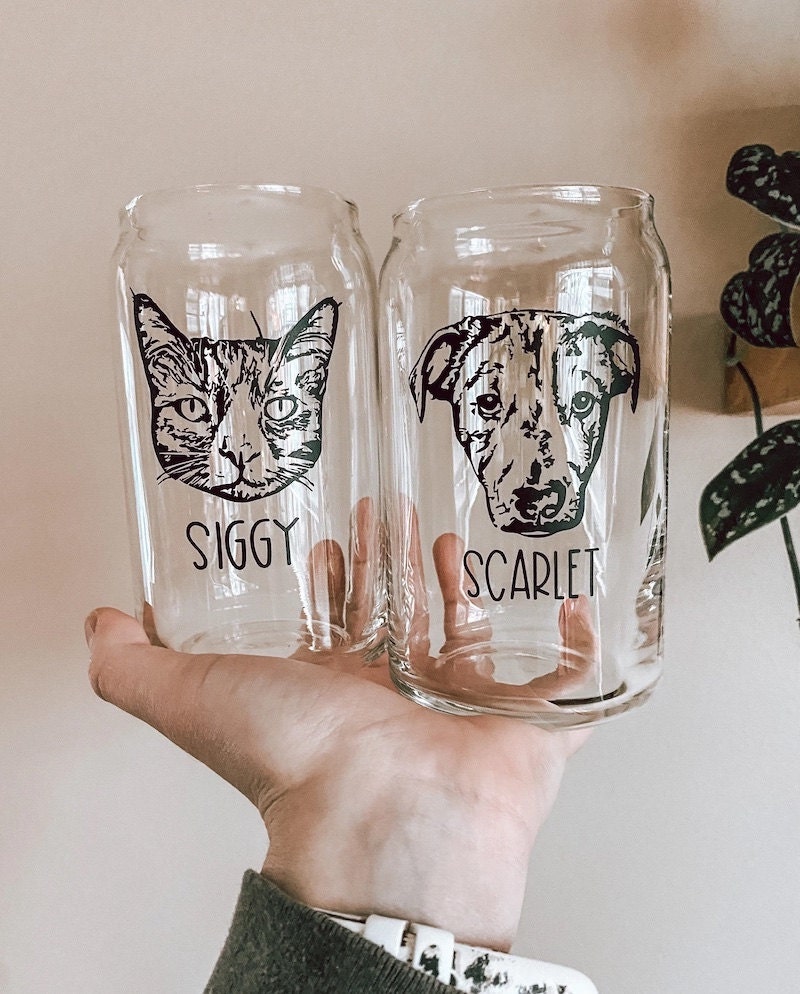 SHOP: Custom dog and cat glass from Bea's Knees Creations, from $24
Do they have a four-legged companion they adore just slightly more than the perfect pour? This custom beer glass features a portrait of their beloved pet. Buyers love this custom beer glass as a gift for all their friends.
8. Personalized travel beer glass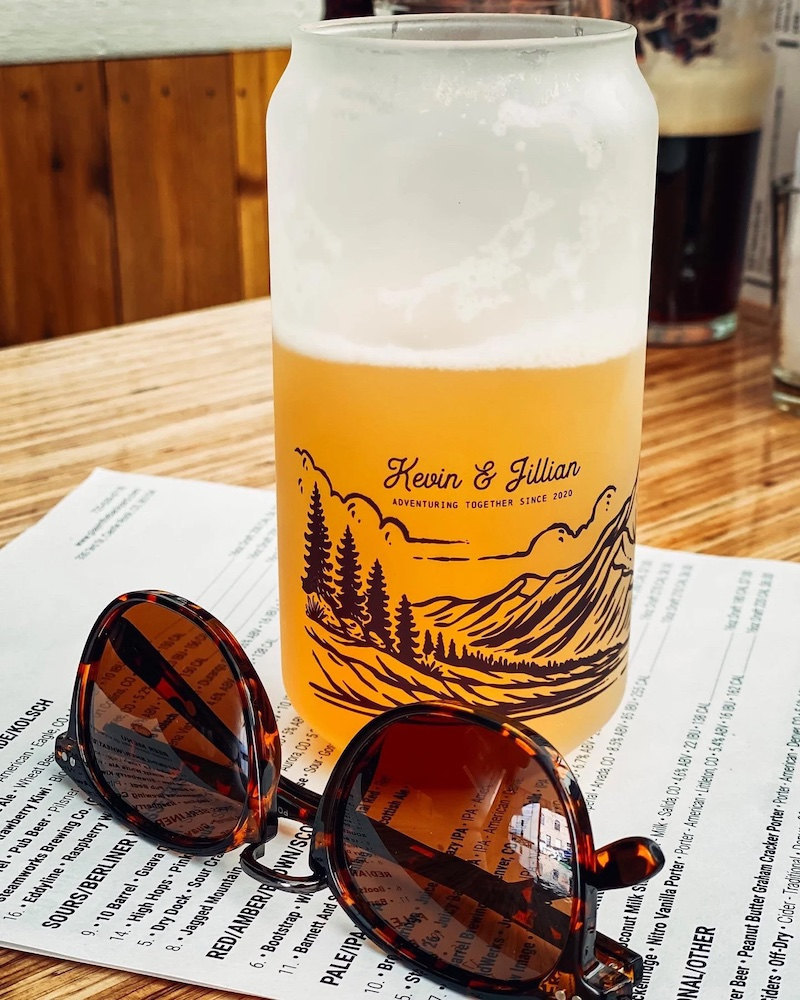 SHOP: Personalized adventure glass from Wilde Nomad, from $18
Printed in Denver, Colorado, these frosted beer glasses feature a long-lasting sublimated design and are sturdy enough to take on the go with you. Buyers love these as wedding and anniversary gifts and rave about the quality of the personalized design.
9. Best groomsmen beer mug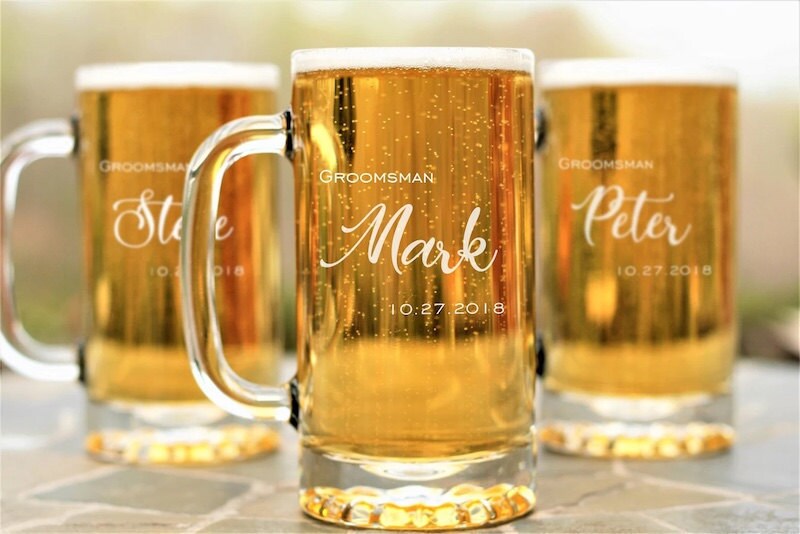 SHOP: Custom engraved beer mug from Blue Ridge Mountain Co., $12
A thoughtful keepsake that's perfect for the wedding day and beyond, these custom groomsmen beer mugs are personalized with each fella's name, role in the wedding, and the wedding date.
10. A birthday pint glass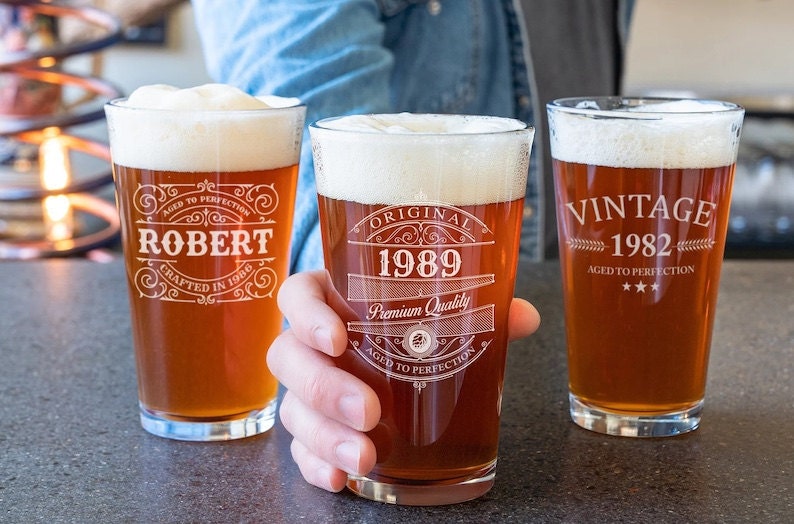 SHOP: Personalized birthday beer glass from Flowertown Weddings, from $13
Just like the best beers, your loved one has aged to perfection so celebrate their special day with a custom pint glass, personalized with their name and birth year in your choice of designs.
11. An etched portrait beer mug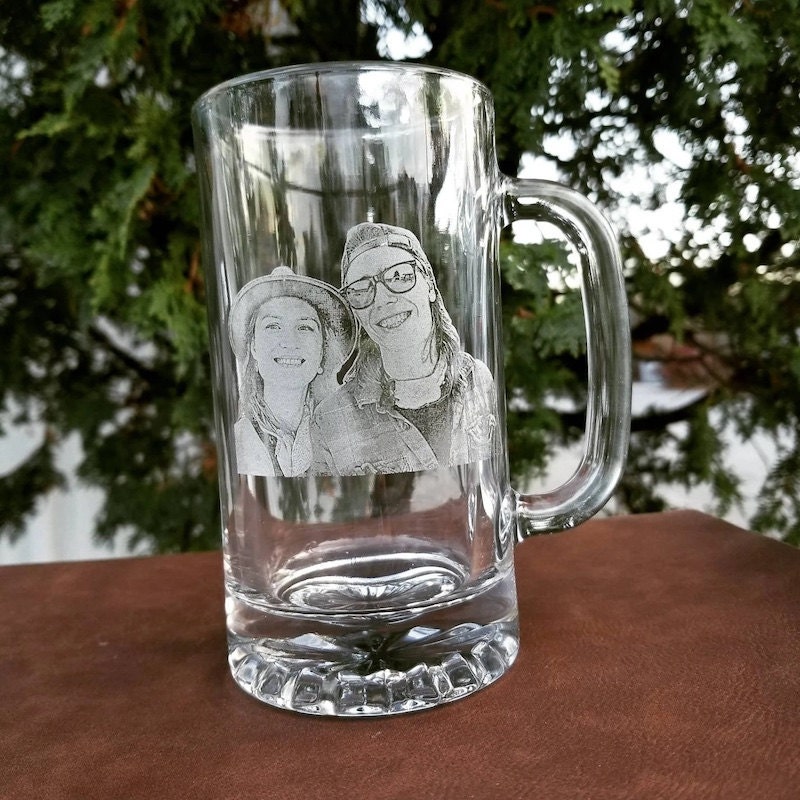 SHOP: Etched picture beer mug from Cutting Edge Boston, from $46
This Boston-based design duo will laser-etch your personal photos (think couples pictures, pet pals, or kiddos!) onto high quality beer steins for a sweet reminder each time you take a sip.
12. A personalized pub glass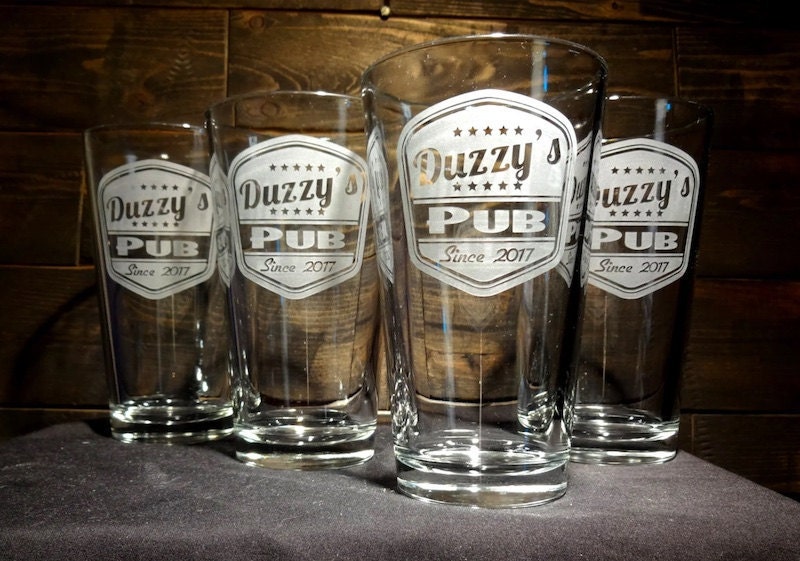 SHOP: Customized pub glasses from Cronus Customs, $50
For the beer lover with dreams of opening a neighborhood pub, these personalized beer glasses are the next best thing: They give each hosting moment a hometown bar vibe without the hassle of opening up shop.
13. Personalized retirement beer glass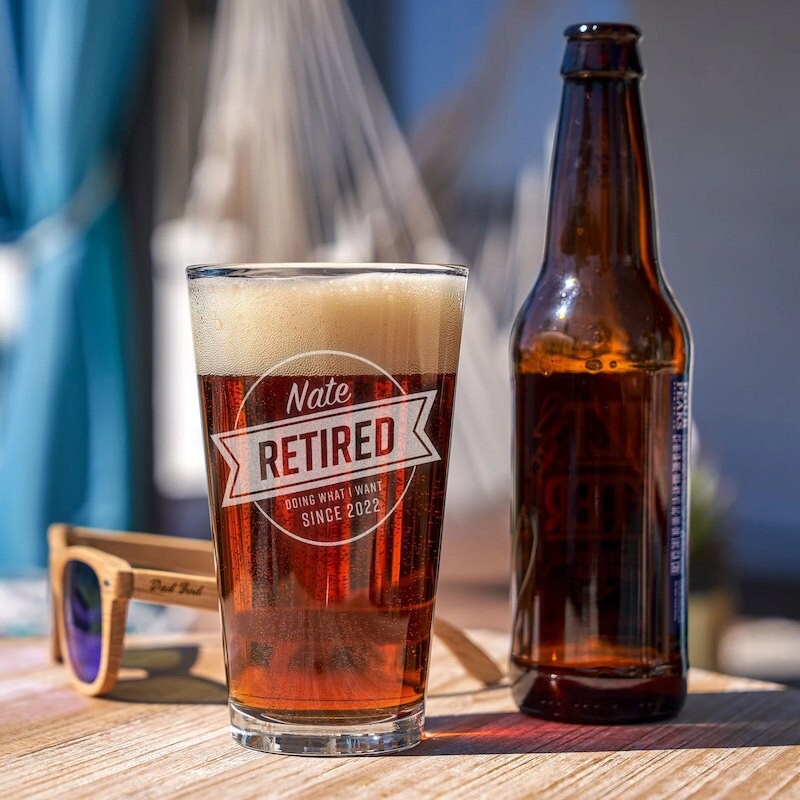 SHOP: Personalized retirement beer glasses from Everything Etched, $14
Bid them farewell with a frothy beverage, and make it ultra-personal with a set of these customized retirement beer glasses featuring their name and a year.
Best pint beer glasses
Perhaps the most classic style of beer glass style, the pint glass is a go-to vessel for a wide variety of pours. The most common pint glasses hold 16 ounces, and these picks for the best beer pint glasses are the perfect excuse to gather your crew for a brew.
14. State pride pint glasses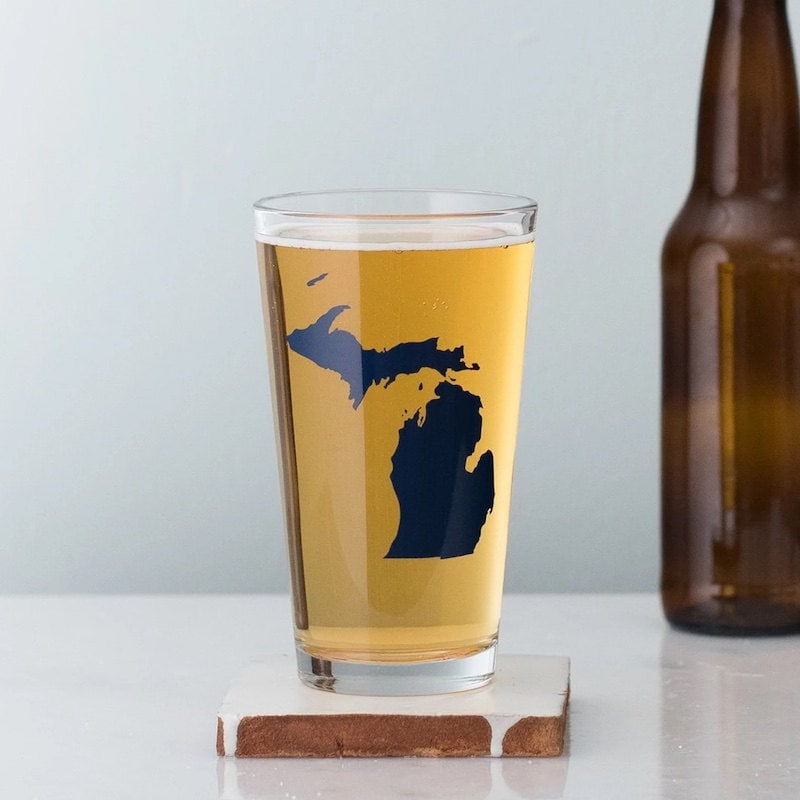 SHOP: Set of 2 Michigan pint glasses from vital industries, $32
If you're "smitten with the mitten" (a nickname celebrating the silhouette of Michigan), this pint glass is a fun way to share your home state pride. Call another spot home? Shop this seller's full inventory of state-themed pint glasses and create a custom set.
15. Best pint glass for light beers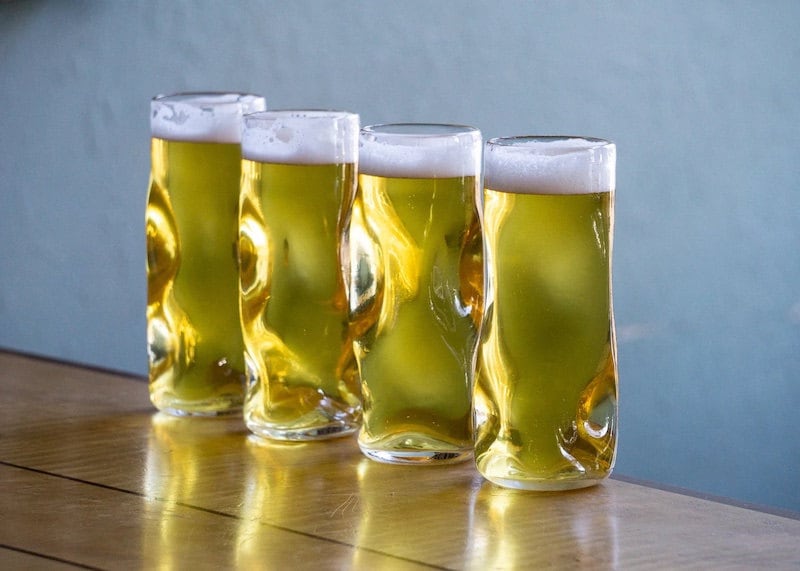 SHOP: Subtle beer glasses from Pretentious Beer Glass, $180 for a set of 4
This handmade beer glass is the best style for tasting lighter drafts—think lager, pilsner, and Kolsch—thanks to a specially designed "softened" base that reveals the ombre hues in these light beers that occur because of different densities within the brew.
16. Best pint glass for homemade beer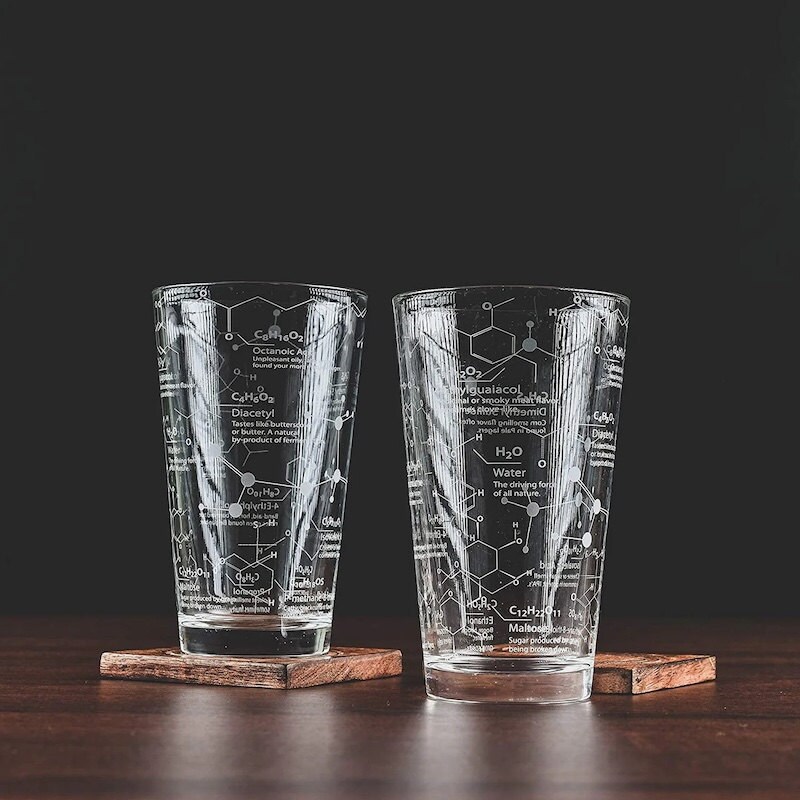 SHOP: Science of beer glassware set from Greenline Glassware, $28 for a set of 2
For the avid home brewer who geeks out over both the science and art of crafting the perfect beer, these pint glasses are the top pick. Inspired by the chemistry behind brewing, this pint glass set features a detailed look at the molecular structure of beer and explanations of how each molecule contributes to a classic draft.
Best beer flight glasses
The best beer flight glasses are sized just right for fewer sips, usually between four and six ounces. Whether you're sampling a single brewer's menu or creating a personalized menu for each guest, these beer flight sets let you serve in style.
17. Personalized beer flight set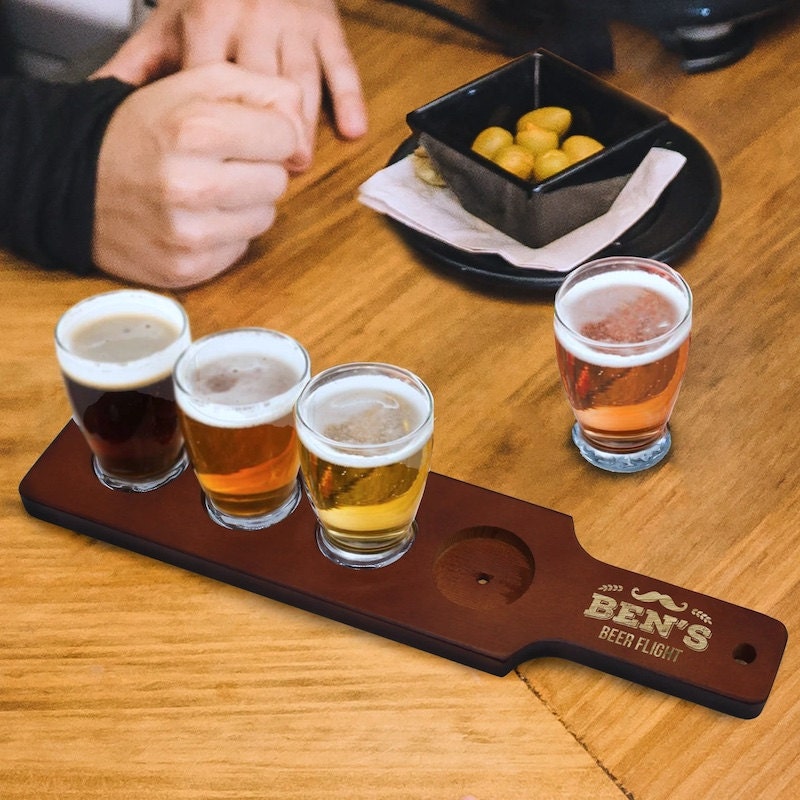 SHOP: Personalized beer flight set from My Personal Memories, $50
Select your finish and engraving style and get a one-of-a-kind beer flight board, complete with a set of four mini pilsner glasses. Buyers rave about the craftsmanship of the wooden board and how much their recipients loved these custom beer flight sets as gifts.
18. Hand-blown craft beer tasting glasses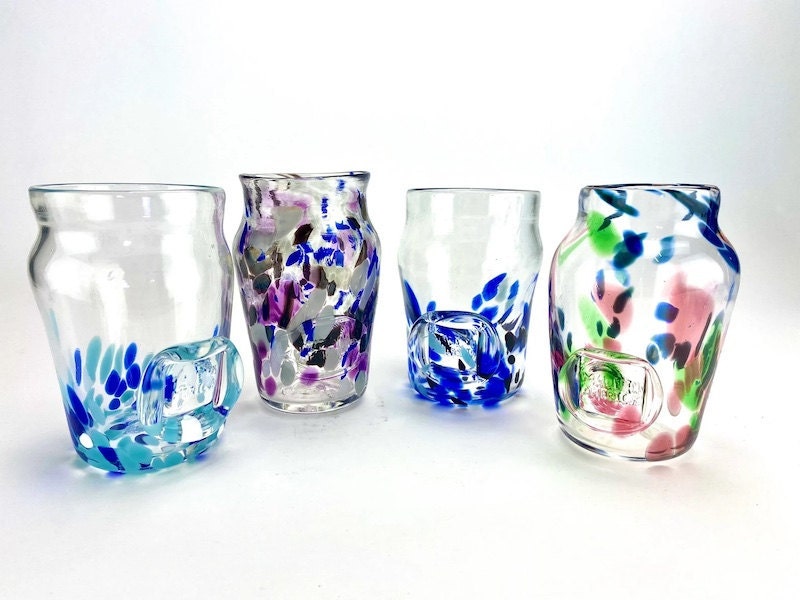 SHOP: Hand-blown craft beer tasting glasses from Hot Glass Academy, $98
Unquestionably unique, this set of hand-blown beer flight glasses is almost too stunning to sip from! Use these beer flight glasses to sample a variety of brews, or let each person select their favorite to use as their signature cup during your tasting event.
19. Small beer flight board and glasses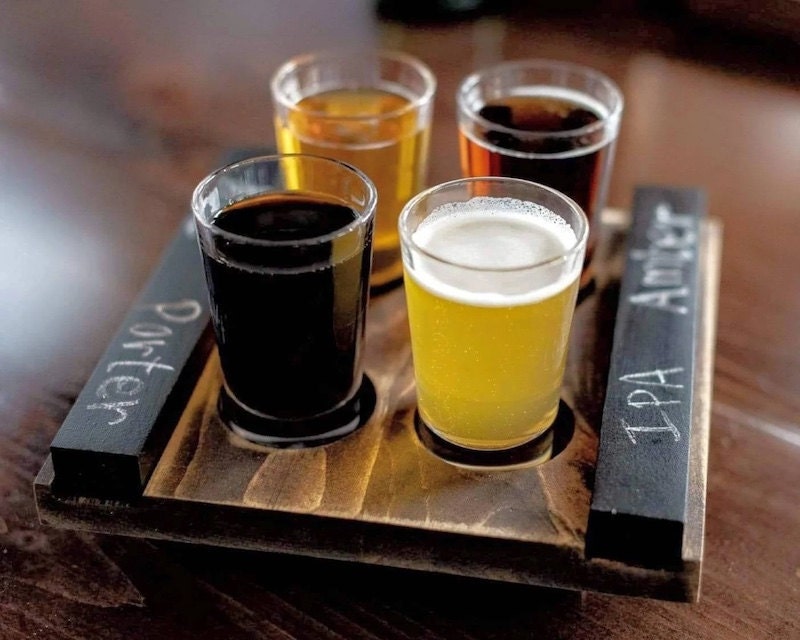 SHOP: Compact beer flight board from Miller Corp. Woodworking, $45
Handcrafted in New England using solid knotty pine, this compact beer flight board serves up some serious brewery vibes. The chalkboard slide-in nameplates allow you to label each serving for easy comparison, too.
20. Custom beer flight with glasses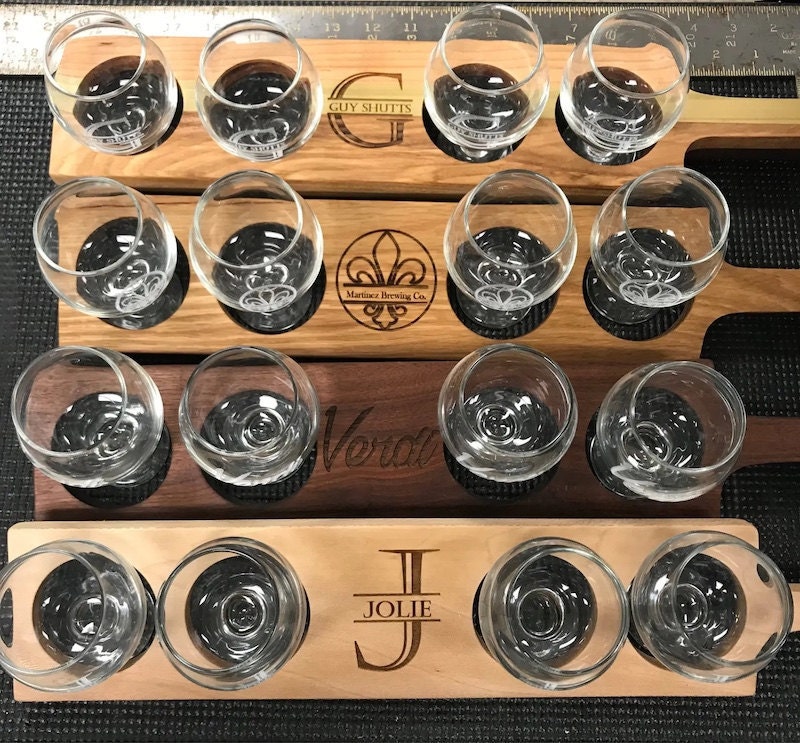 SHOP: Custom beer flight from Friends Custom Flights, from $45
Personalize this beer flight set with a monogram, your own craft brew logo, or your last name, and serve guests a one-of-a-kind selection on a one-of-a-kind beer flight board.