From leather dress belts to casual belts, these artisanal accessories make excellent gifts for him.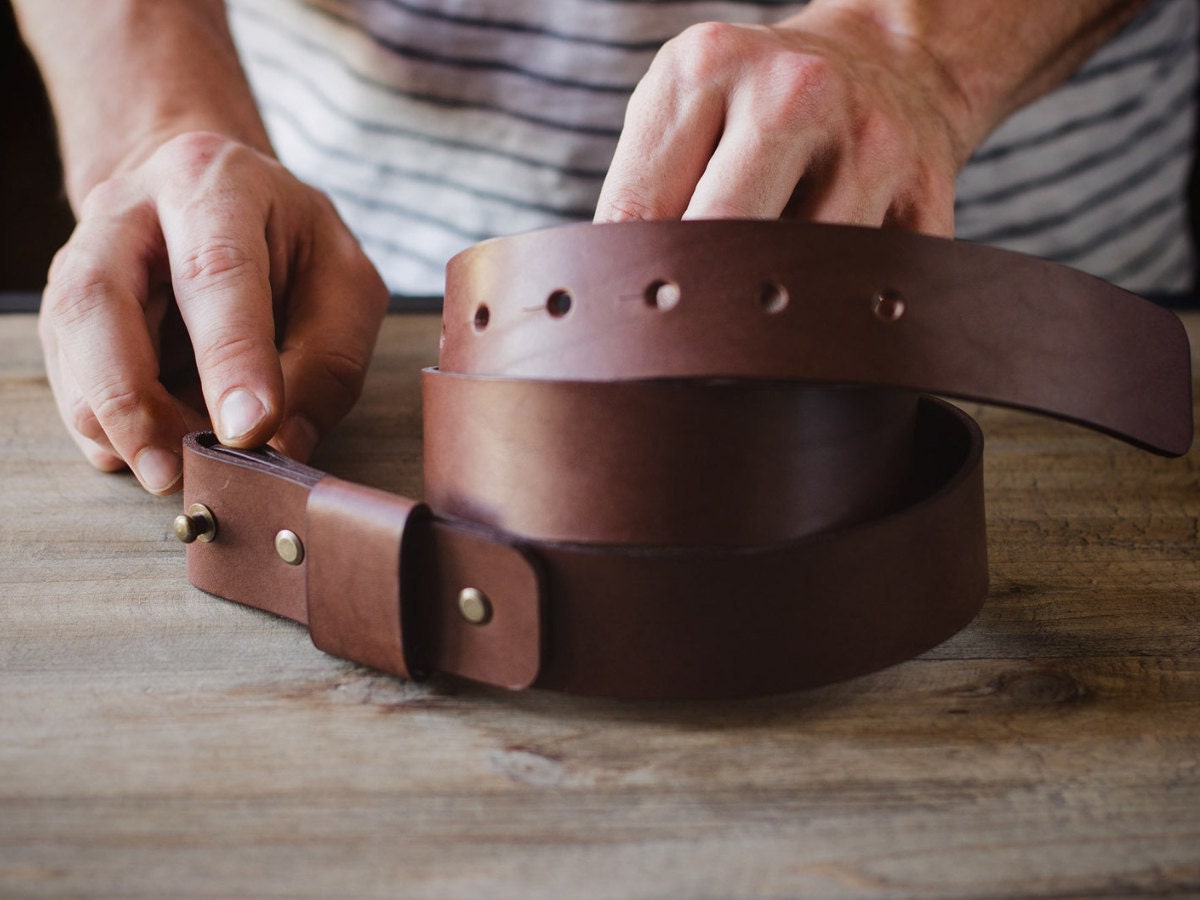 A high-quality handmade belt does more than just hold your pants up. It's a staple that can elevate your wardrobe and serve you well for years to come. Whether you're looking for a dress belt, casual belt, a work belt, or a decorative Western belt, we've compiled the best handcrafted belts on Etsy.
A well-made leather belt is also a wonderful gift for Father's Day, weddings, holidays, birthdays, graduations, or other big milestones (including those third "leather" wedding anniversaries). These belts are not only beautiful, but many can be customized with names, initials, or even custom secret messages that are just for the wearer.
How to measure your belt size
Belt sizes can be a little tricky. They are typically not the same as your jean size or your pant size—and ordering your pant size will often leave you with a belt that's too small. Be sure to read measuring instructions carefully. Most belt makers recommend measuring your waist by putting on a pair of pants you would wear the belt with and threading the measuring tape through the loops of your pants.
You can also use the belt method, which is also probably the easiest way to determine sizing if you're buying a gift for someone. Find a belt you already wear, lay it flat, and measure from the inner tip of the buckle to the hole that gets the most use.
Either way, this will give you the right length for the "middle hole" of the belt, so you'll have some extra room to adjust if your weight fluctuates a little (or you eat a big meal and need to go out a notch or two).
Best leather belts
Leather belts always look stylish and are designed to be durable. They also make great gifts for any occasion.
1. Best buckle-less leather belt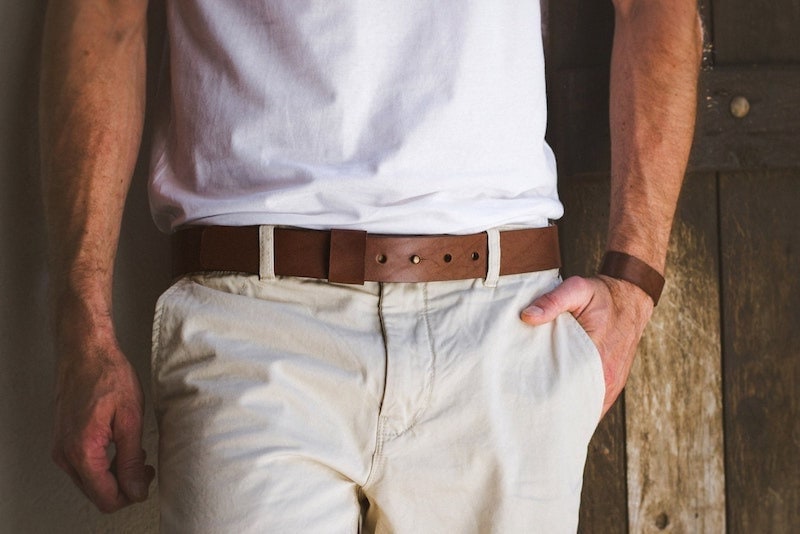 SHOP: Personalized leather belt without buckle from Cocuan, $53
Who needs a buckle? This distinctive belt, which measures a little under 1.5 inches wide and is made of full-grain, vegetable-tanned leather, features a no-buckle design for a modern, streamlined look. The seller offers custom sizing as well as free monogramming, perfect for gifting.
2. Best leather belt for gifting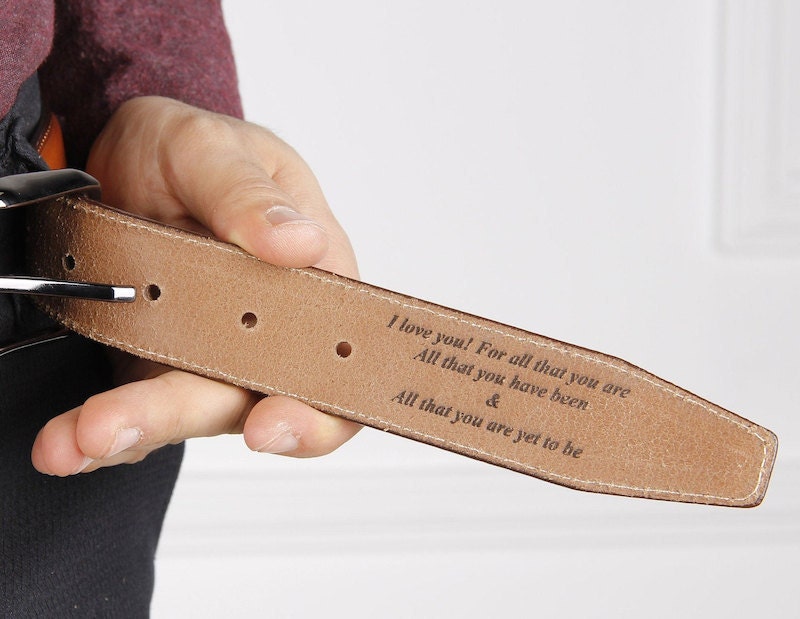 SHOP: Custom handmade leather belt from NovaLeatherGoods, from $55
This leather dress belt can hide a secret love note. Available in black, navy, tan, or brown, the belt measures 1.25 inches wide and can be engraved with a monogram or custom message on either the inside or the outside of the belt (or both!). It makes for an extra special gift for dads, grads, grooms, or any loved one.
3. Best everyday leather belt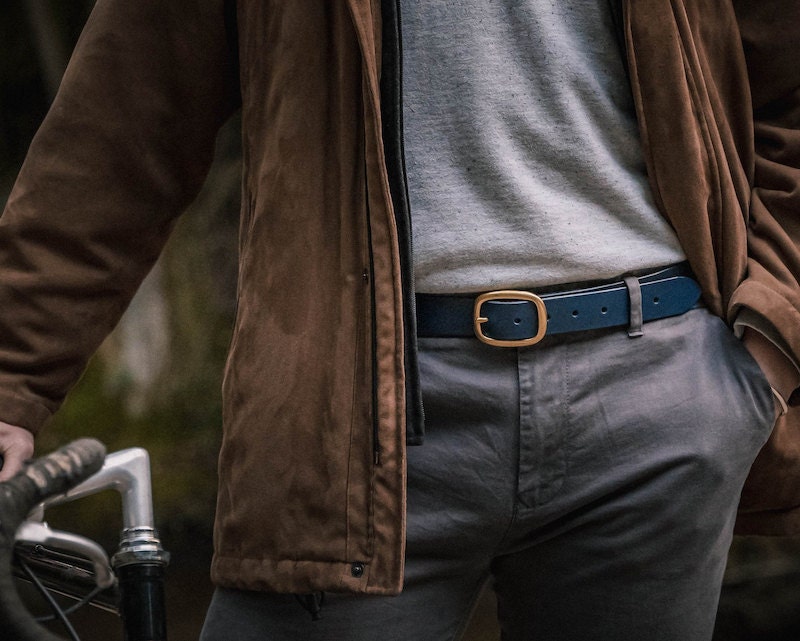 SHOP: Personalized navy leather belt from Baileys Bespoke, $81
This 1.25 inch wide leather belt makes for a classic wardrobe staple. Available in navy, black, brown, or tan—with a choice of either a gold or silver buckle—the belt is made of vegetable-tanned full-grain Italian leather. Plus, you can personalize it by having your initials embossed into the leather.
4. Best durable leather belt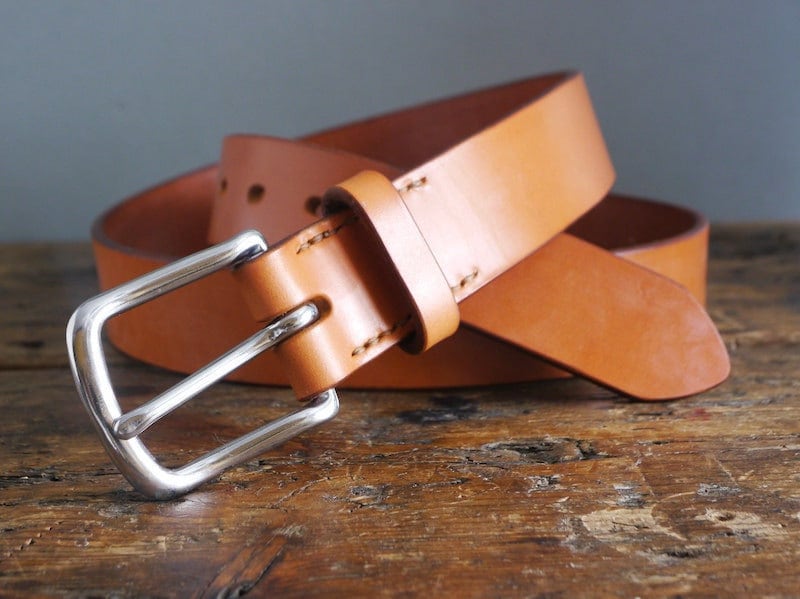 SHOP: Handmade men's leather belt from Kingsley Leather, $188
This belt is made to last for many years. The hand-stiched belt, which measures 1.5 inches wide, is made of full-grain bridle leather, known for its strength and durability, and comes with your choice of brass or stainless steel buckle.
5. Best belt for extended sizes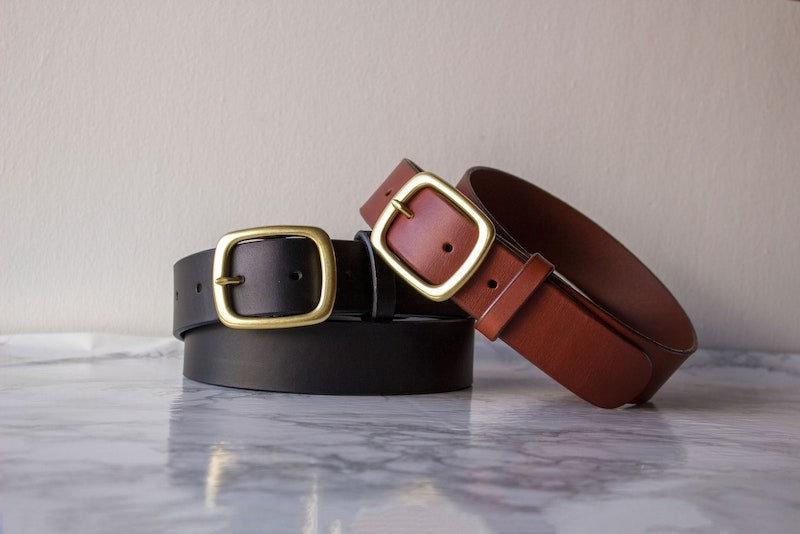 SHOP: Vegetable-tanned leather belt from FitsyDesign, $98
This unisex belt, available in black or brown, can accommodate a large range of waist sizes, from from 20 inches up to 78 inches. The 1.5-inch-wide belt is made of full-grain, vegetable-tanned leather and features a solid brass buckle.
Best work belts
No matter what kind of job you do, these work belts are both sturdy and sharp.
6. Best belt for tough jobs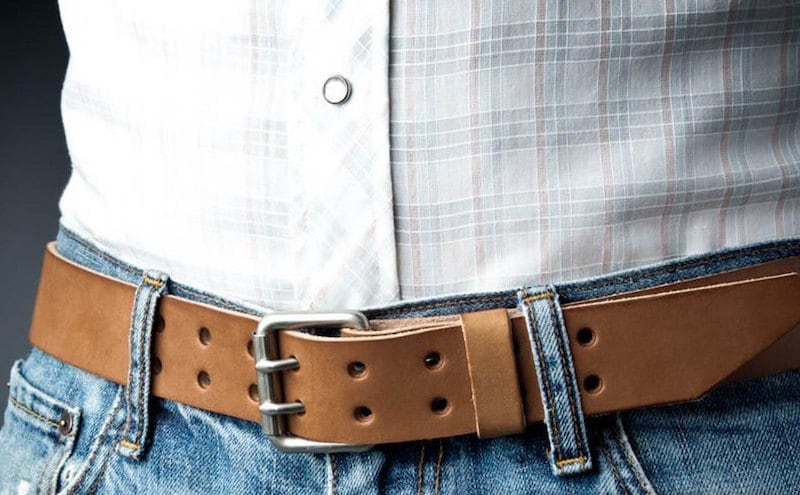 SHOP: Double-tongue thick leather belt from Mr. Lentz, from $108
Got some cows to rustle—or just some yard work to do? This belt, available in tan, brown or black, is made of U.S. full-grain, vegetable-tanned leather that the seller dubs "cowboy quality." Measuring 1.5 inches wide and almost a fourth of an inch thick, the belt is designed to let you swap out the buckle it comes with—your choice of solid brass or nickel-plated brass—for another double pronged buckle. You can also get the belt stamped with your name or initials.
7. A wide leather belt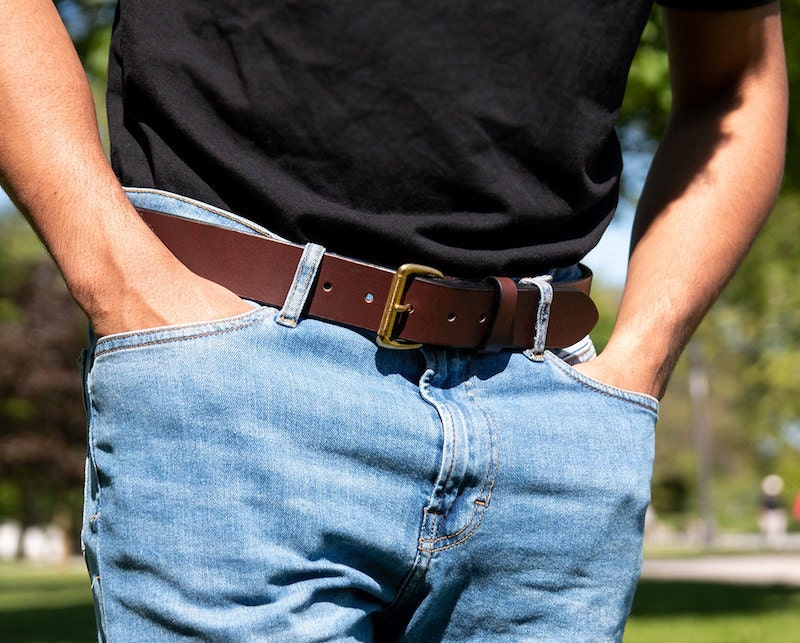 SHOP: Wide dark brown leather belt from Apogee Goods, $77
Whether you work in an office or at a job site, this wide leather belt is built sturdy to get you through the day. The 1.5-inch-wide dark brown belt is made of vegetable-tanned Italian leather and comes with three choices of buckles: brass, stainless steel, or black.
Best stylish belts
Up your game with these stylish belts that look as great with jeans as they do with a suit.
8. Best modern belt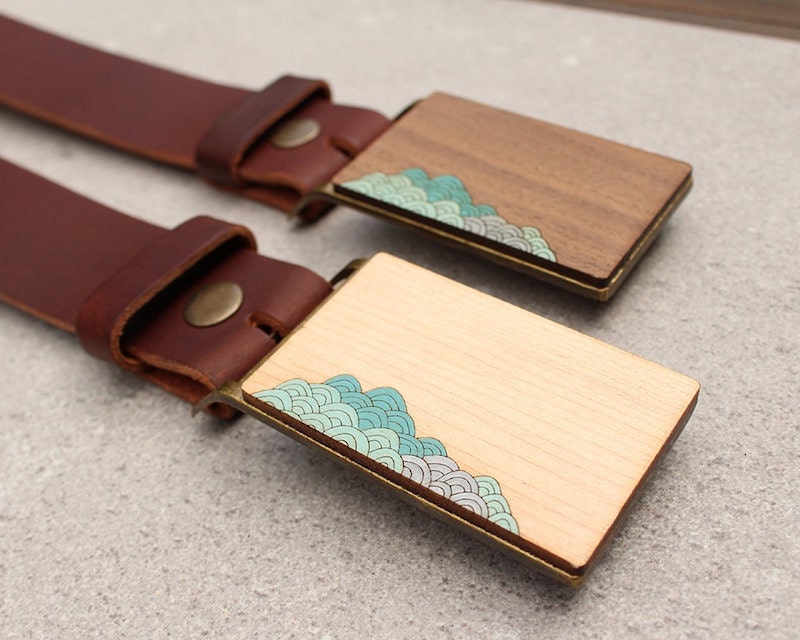 SHOP: Nautical wood belt buckle from Treeline & Tide, $44
This sleek wooden belt buckle, available in maple or a darker walnut, is hand-painted with an abstract wave design, inspired by foggy mornings at the beaches and ocean near the seller's home. You can also buy the matching 1.5-inch-wide leather belt, in black or brown, for $39.
9. Best geometric belt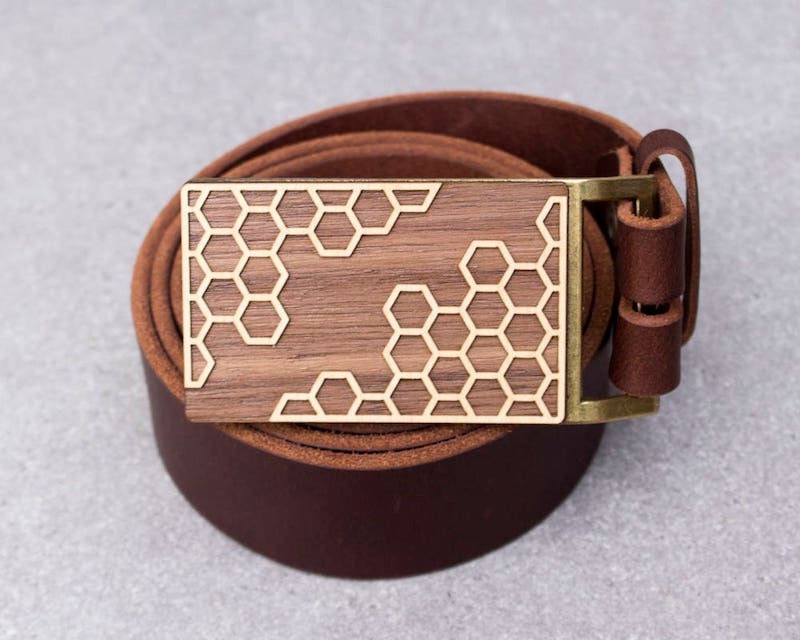 SHOP: Hexagon wood belt buckle Treeline & Tide, from $44
This geometric belt buckle, laser-cut out of walnut and maple wood, looks sharp for any occasion. You can choose from a bronze or silver buckle base and either a black or brown belt, made of slightly distressed Italian leather.
10. Best belt for outdoor lovers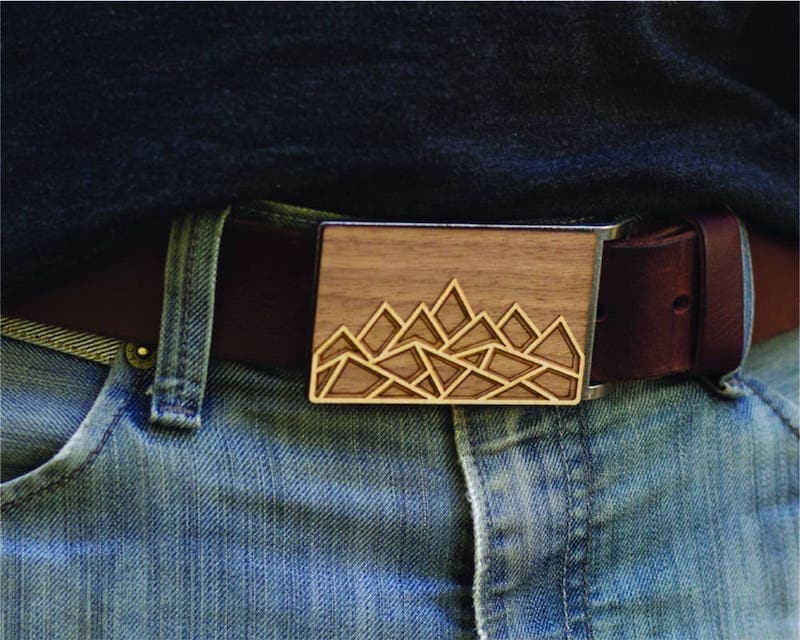 SHOP: Mountain belt buckle from Treeline & Tide, from $44
Take your style to new heights in this mountain-inspired belt buckle, laser-cut out of walnut and maple wood. You can buy the buckle alone or with the optional black or brown belt, made of slightly distressed Italian leather.
Best casual belts
Whether you're hanging out with friends or taking a well-deserved day off, these casual belts are the perfect accessory to pair with shorts, jeans, or trousers.
12. Best belt for golf enthusiasts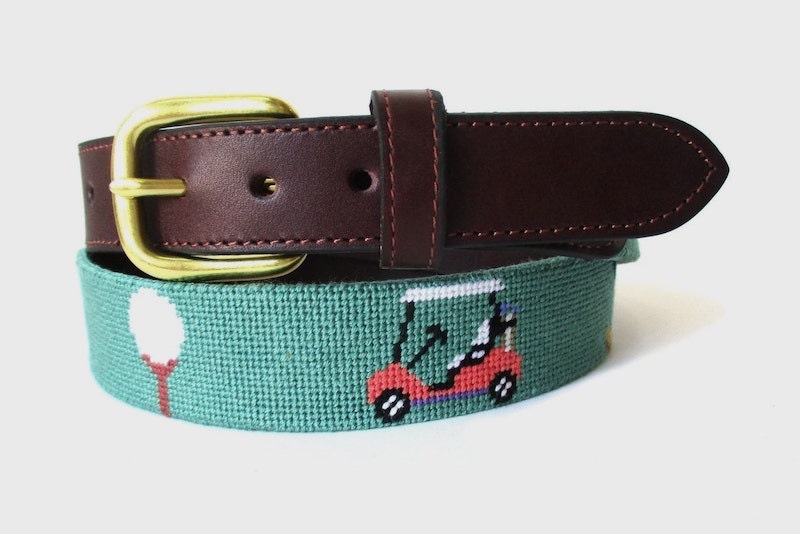 SHOP: Needlepoint golf belt from Mimi and Company, $110
Headed to the links? Up your style game with this belt, featuring needlepoint versions of golf carts, clubs, golf balls, and tees. The belt, made of cotton and leather, has a brass buckle and measures 1.25 inches wide. (It also comes in blue.)
11. Best belt for a day at the shore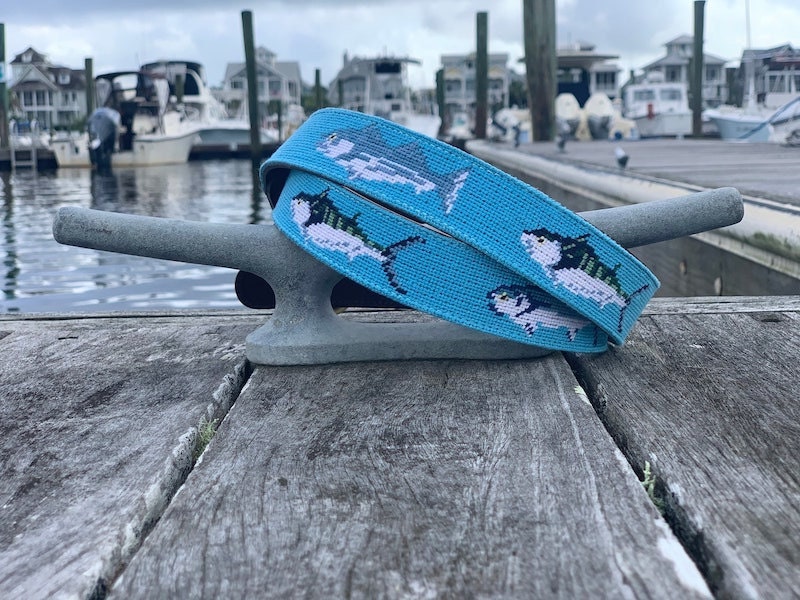 SHOP: Needlepoint saltwater fish belt from Mimi and Company, $110
Whether you enjoy fishing, sailing, or just chilling by the water, you'll love this 1.25-inch-wide cotton and leather belt, featuring a needlepoint pattern of saltwater fish. The belt, which comes with a solid brass buckle, is also available in a swordfish pattern.
Best Western belts
Let your personality shine in these ornate Western belts.
13. Best belt for pet parents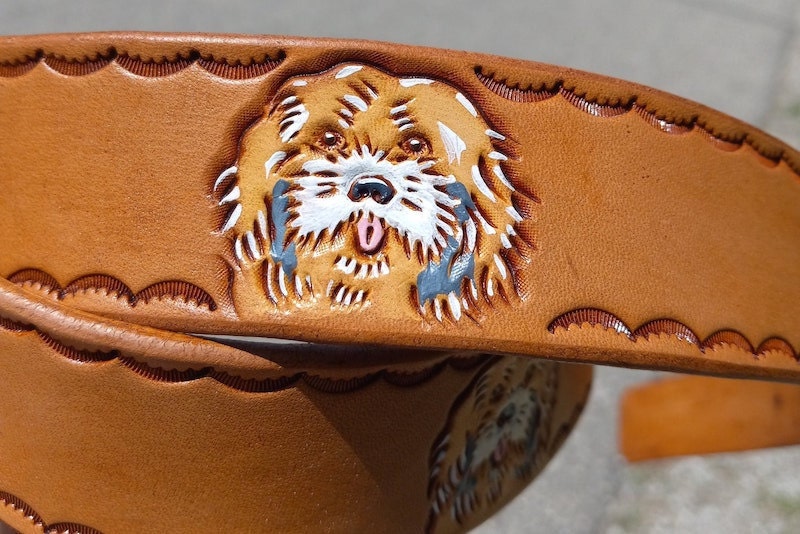 SHOP: Custom pet portrait belt from Sonkatonk Leather, $159
What better way to show your affection for your favorite furry family member? This vegetable-tanned Western-style cowhide belt is custom made and hand-painted with a portrait of your pet. This seller's custom pet bolo tie is another popular pick with buyers who want a head-to-toe pet-loving look. Now you can take your dog with you wherever you go!
14. Best personalized Western belt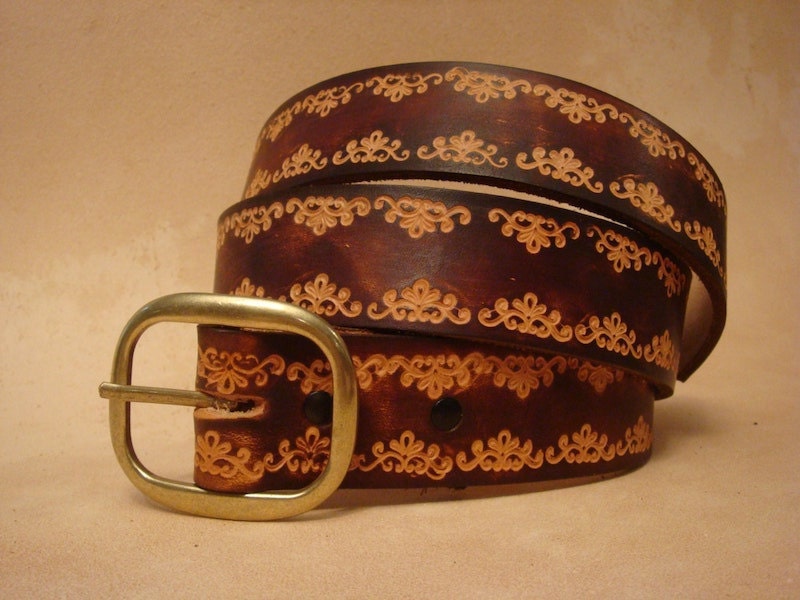 SHOP: Personalized brown leather belt from Hawkins Leather, $40
The elaborate design on this 1.5-inch-wide leather belt is all hand-tooled by the seller. You can even get your name added to the back of the belt in a Western style. Plus, the belt design allows you to easily swap out the brass-plated buckle it comes with for another buckle, if you like.
15. Best belt for breakfast lovers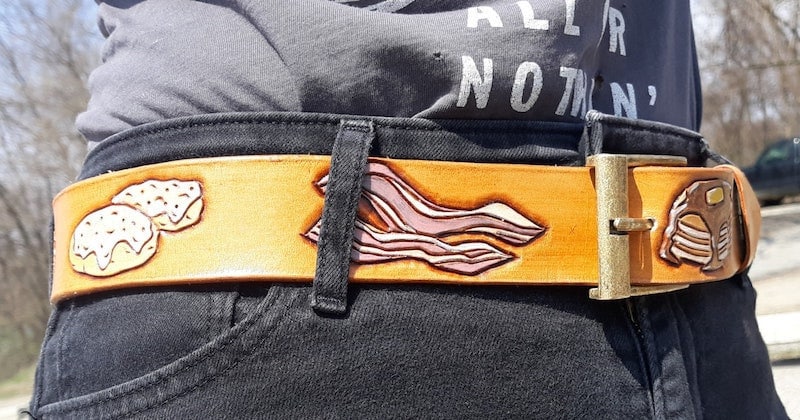 SHOP: Diner breakfast belt from Sonkatonk Leather, $159
Order up! Start your day off right with this hand-painted Western belt that features all your delicious diner favorites including pancakes, bacon, and eggs as well as fries and burgers. The seller also has some other playful Western belt designs, including a desert UFO belt.