Slip on a black diamond engagement ring for a stunning alternative to colorless stones that makes a bold yet classic statement on your ring finger.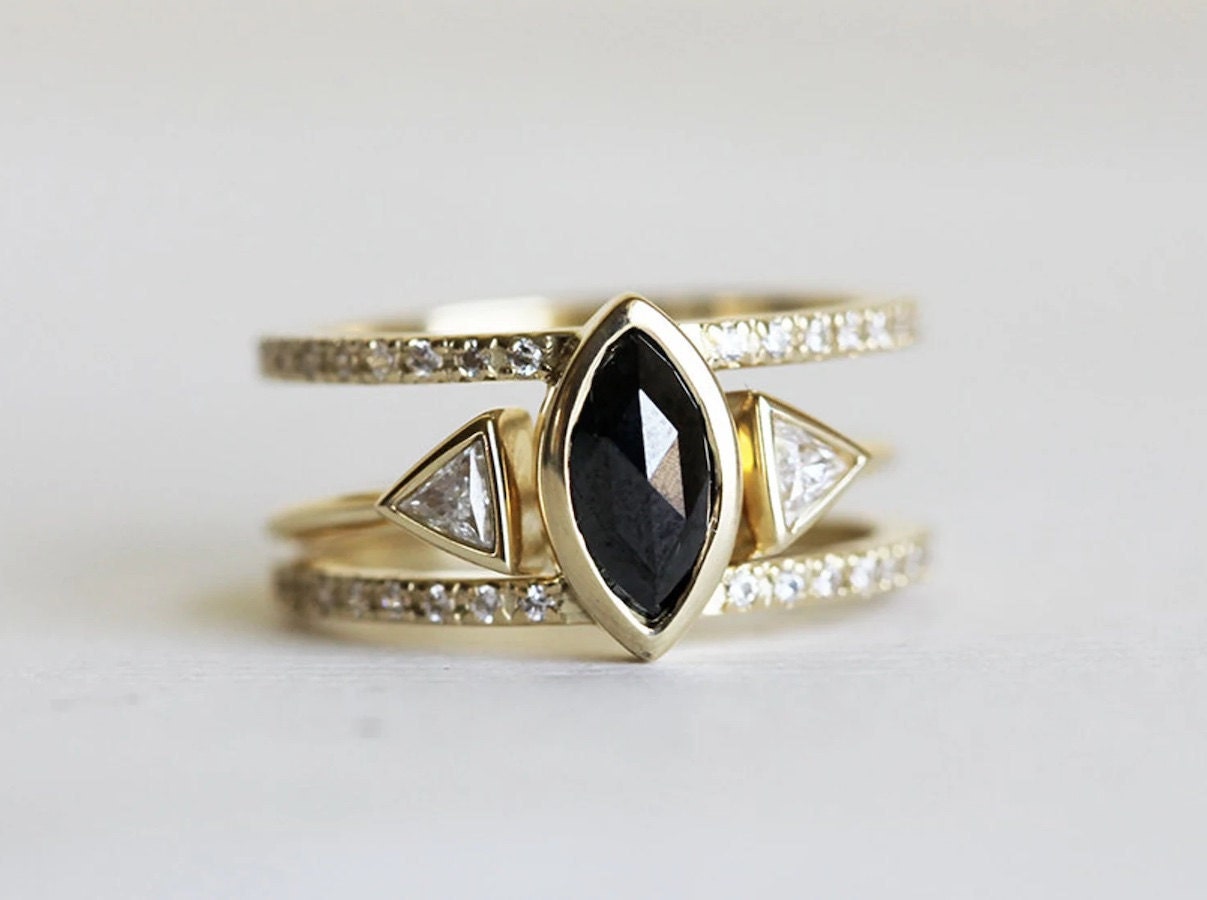 Black diamonds are thought to symbolize eternal love, making them a perfect stone choice for an ebony-inspired engagement ring. Typically featuring a black diamond, these unique engagement rings are often more affordable per carat than their colorless counterparts. The black stones can be placed in any setting of your choice, from rose gold and platinum to sterling silver or traditional 14K yellow gold. Setting a black diamond in white gold provides a stark contrast that instantly puts the focus on your dramatic choice for a center stone.
One important note: black diamond engagement rings require some extra care. Their dark black color is created by hundreds of tiny fractures and inclusions which can cause them to be a bit more brittle than a colorless or colored diamond. If you're worried about wear, a treated black diamond that has been pressure-treated to withstand damage could be the right choice. Treated stones are more affordable, but alternatively they're also a bit less valuable. If overall value is an important consideration as you choose a black engagement ring, opt for the real deal. But if durability is your primary concern, you may want to consider an alternate black stone engagement ring.
Not quite ready to go all-in on an all-black ring? We've also sourced some top picks for the best salt and pepper diamond engagement rings as well as unique settings featuring black pearls, opals, and diamond accents.
Best black diamond engagement rings
These real black diamond engagement rings have just as much charm and elegance as their more classic white counterparts, but their incredibly unique colorway is sure to have you saying "I do!" to these styles.
1. Half-eternity black diamond engagement ring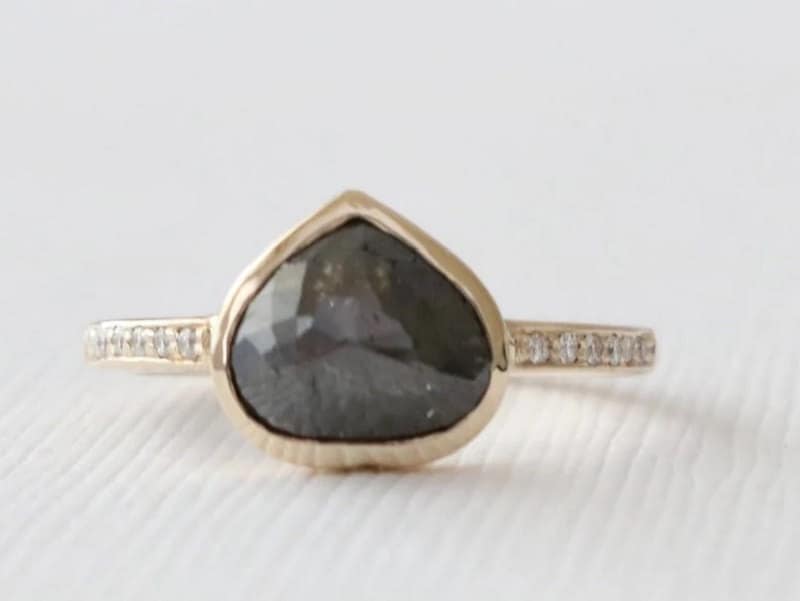 SHOP: Heart-shaped rose cut natural black diamond engagement ring from Studio1040, $1,650
This heart-shaped black diamond engagement ring is giving us serious heart-eyes. The 2.14-carat rose cut black diamond is set in a 14K yellow gold and flanked by round pave-set brilliant cut diamonds that add an additional 0.06 carats to this ring. This ring can be customized with a matte or hammered finish, if you prefer.
2. Black and white rose cut diamond ring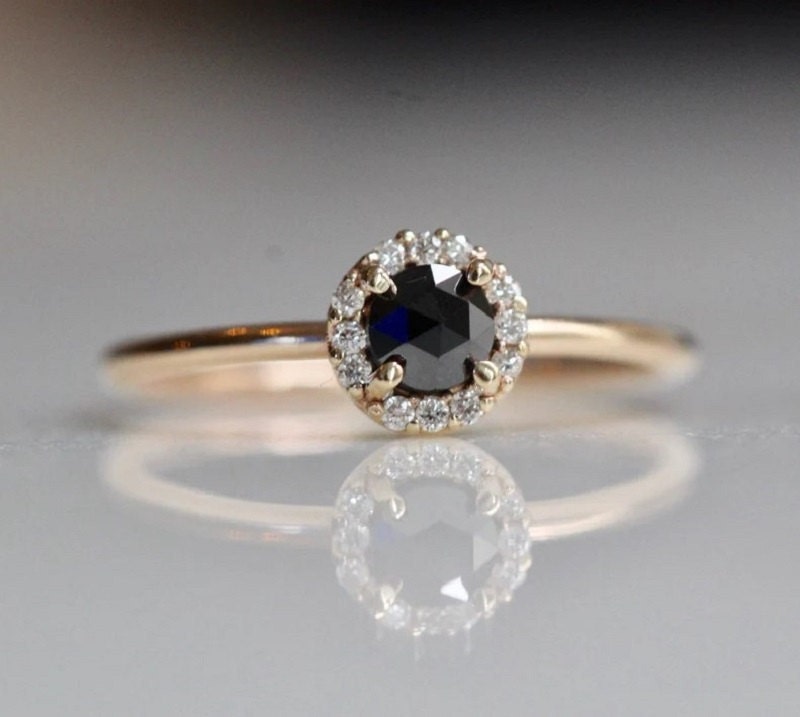 SHOP: 14K gold black diamond halo ring from Liese1 Love, $730
If you favor a halo-style ring, try this classic white and black diamond engagement ring featuring a four millimeter rose-cut black diamond surrounded by 12 halo diamonds. This made-to-order ring can be created with either 14K yellow, rose, or white gold to suit your tastes.
3. Art deco black diamond ring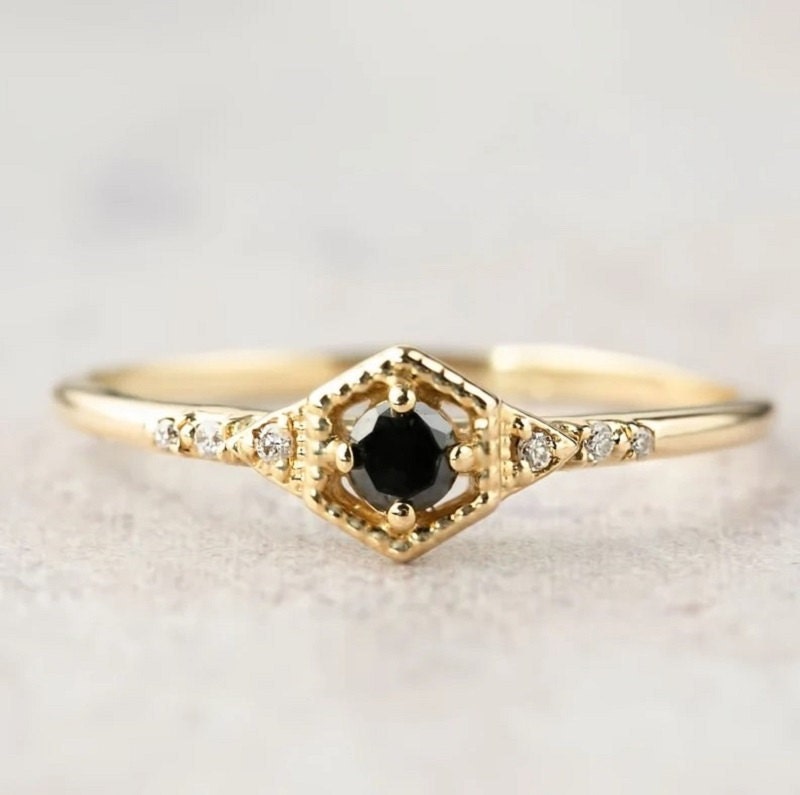 SHOP: 14K gold black diamond engagement ring from Envero Jewelry, $570
Like something straight out of roaring twenties, this art deco black diamond engagement ring is a vintage-inspired wonder. These dainty made-to-order rings are available in 14K yellow, white, or rose gold and use repurposed precious metals and ethically sourced gemstones.
Best black diamond engagement ring sets
For a wedding ring to flawlessly match your black diamond engagement ring, have a look at our top picks for the best black wedding ring sets.
4. Bohemian wedding ring set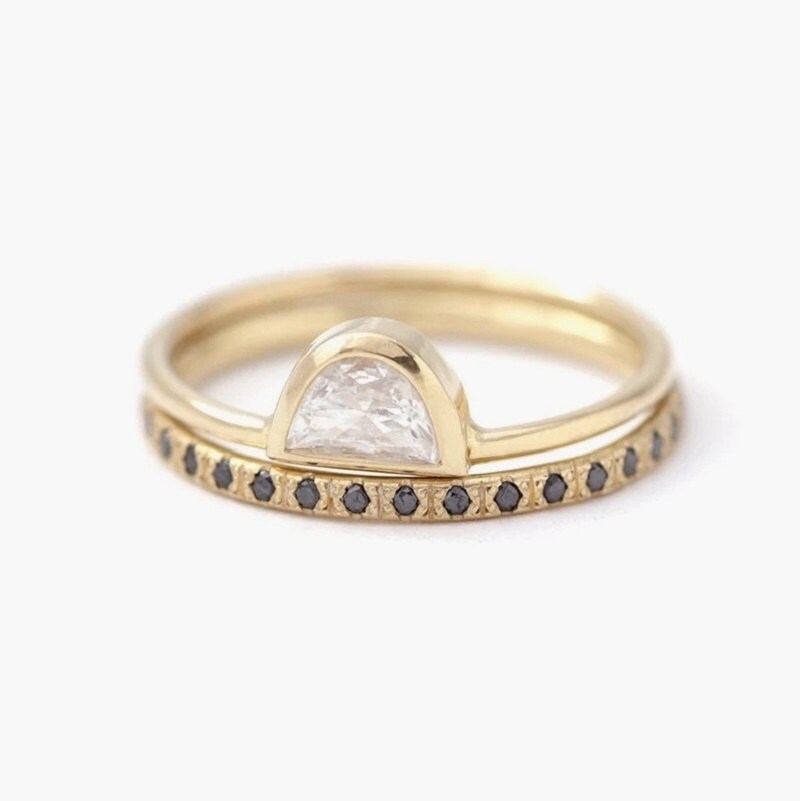 SHOP: Half moon diamond ring set from Artemer, $3,086
A perfect alternative to a black diamond engagement ring, this set includes a moon-shaped diamond engagement ring paired with a black diamond eternity band. This perfectly paired wedding ring set combines just a hint of black diamond glam with a slightly boho engagement ring setting.
5. Marquise black diamond engagement ring set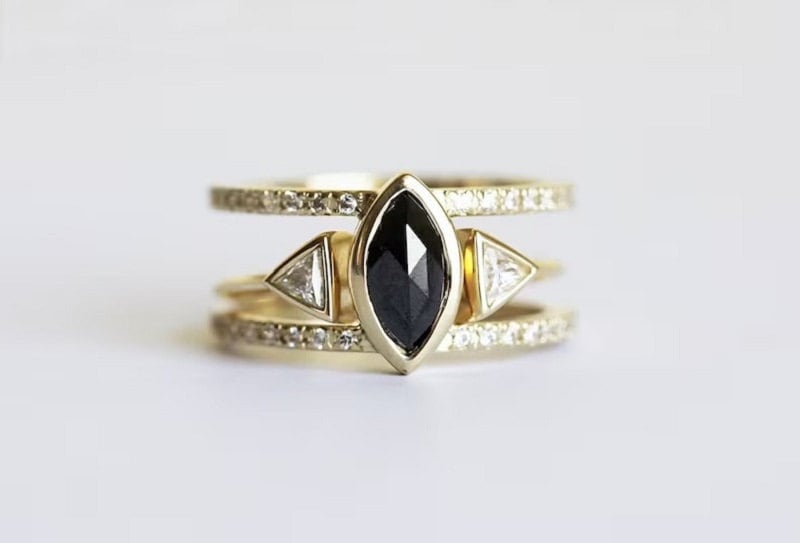 SHOP: Double banded trillion diamond wedding ring from Capucinne, from $4,000
Marquise-cut diamonds are commonly considered to be one of the most elegant cuts around, and even though this double-banded option is in no way ordinary, it still exudes classic beauty and grace. The black diamond in the engagement ring weighs half a carat, and the bands are pavéd with white diamonds. The open-band wedding ring nestles perfectly into the engagement ring to create a seamless, single-ring look.
6. Solitaire black diamond engagement ring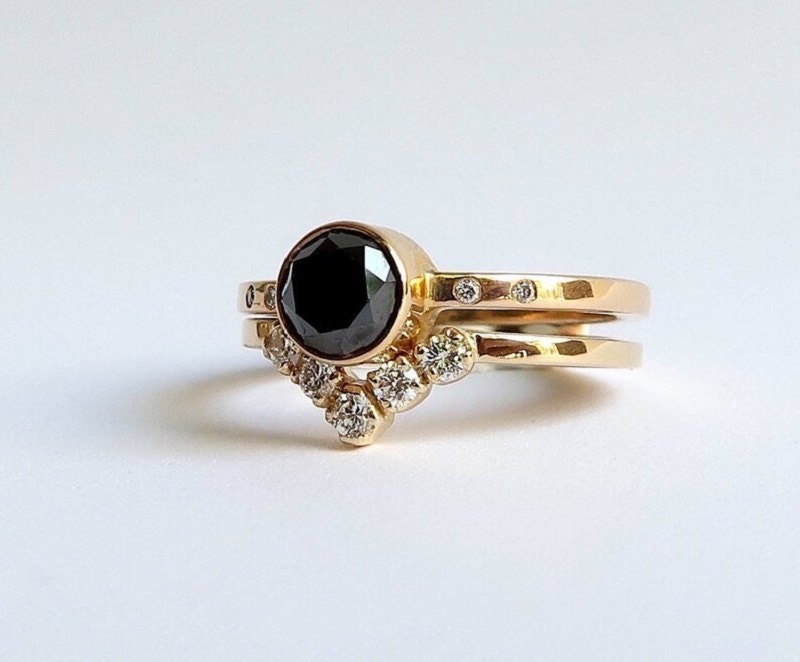 SHOP: 14K gold ring with black diamond from Nishi Jewelry, $1,790
A dark twist on the classic solitaire, this black diamond engagement ring features a round bezel-set stone weighing just over a carat and four brilliant-cut white diamonds. The matching V-shaped five-diamond wedding band can be made to order.
7. Vintage stacking wedding band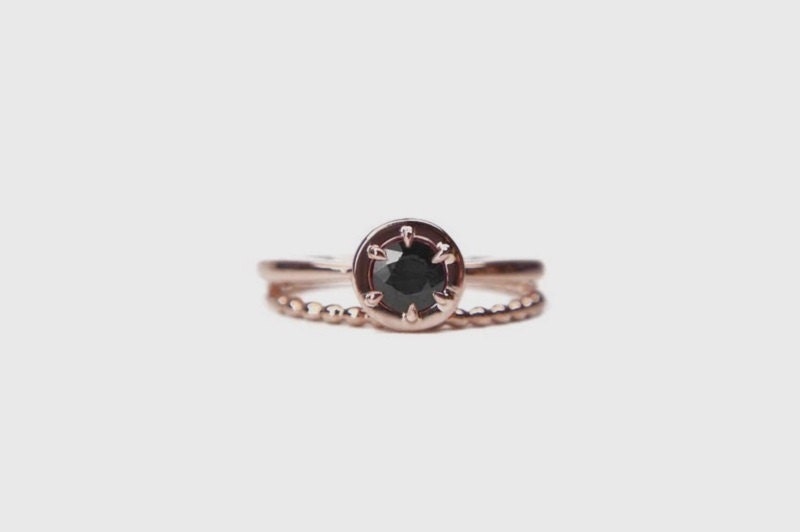 SHOP: Rose gold black diamond engagement ring from Altana Fine, $1,585
Blending vintage and modern influences, this engagement and wedding ring set is inspired by the Edwardian era and is made from either 14K or 18K rose, yellow, or white gold. The engagement ring has a beautiful and shiny round black diamond, and the dainty wedding ring matches it perfectly. The seller gladly accepts customization requests, too, if you've got a change order in mind.
8. Handcrafted 18K gold engagement ring and wedding band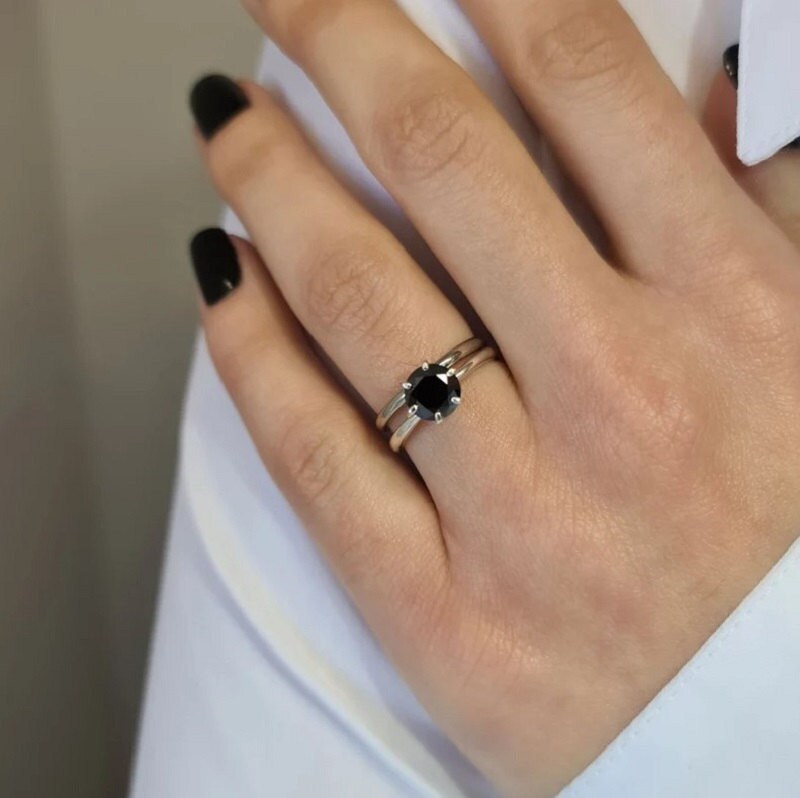 SHOP: Black diamond solitaire ring with wedding band from Blue Jewellery, from $560
Stylish, chic, classy, unique, and elegant, this simple engagement and wedding ring set ticks a lot of boxes. Whether you opt for the 18K yellow, white, or rose gold version, the 1.25-carat, round-cut, black diamond creates a striking contrast to the shiny plain bands, providing a subtle yet eye-catching wedding ring set that's effortlessly timeless.
9. Natural gray diamond engagement ring set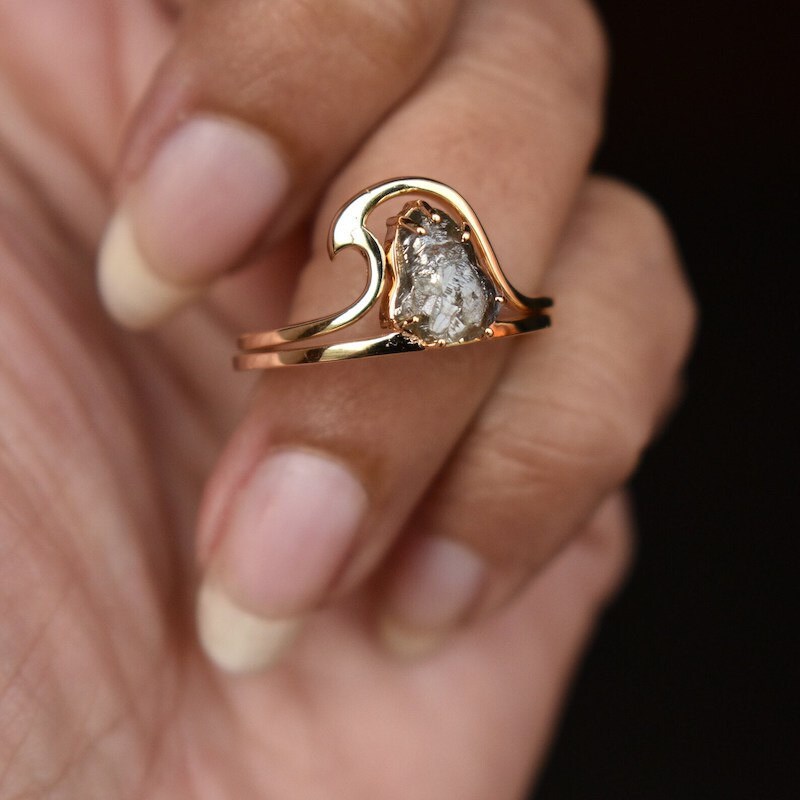 SHOP: Rough diamond wave ring set from Abhika Jewels, $600
Featuring a rough-cut, naturally gray diamond set with a complementary wave-inspired wedding band, this black engagement ring alternative is wonderfully suited for a beachy bride or anyone with strong seaside ties.
Best salt and pepper engagement rings
Salt and pepper diamonds have a mix of many black and white inclusions which give the stone a beautiful gray or speckled look. These picks are made for those who are not quite ready for a full-on black diamond, but still want something with a sultry, darker vibe.
10. Salt and pepper bridal set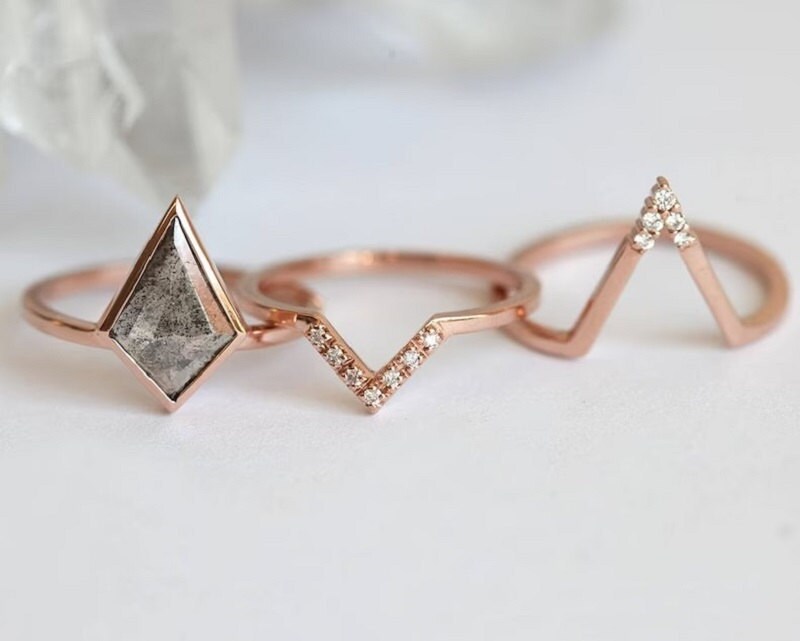 SHOP: Gray salt pepper diamond ring with V-shape diamond band from MinimalVS, from $3,900
Available as a two- or three-ring set, this engagement ring has a unique kite-shaped, gray "salt and pepper" diamond encased in a smooth and shiny 14K rose gold. It's designed to be paired with one or two of the matching rings, both of which have V-shaped bands with round white diamonds ranging in size.
11. Natural salt and pepper diamond engagement ring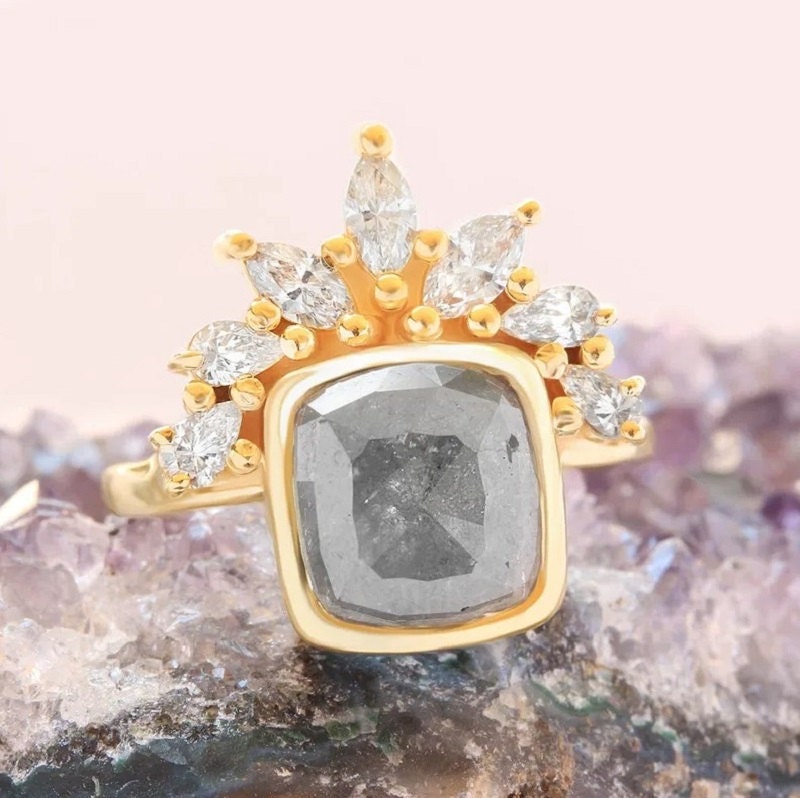 SHOP: Natural salt and pepper diamond engagement ring set from Silly Shiny Diamonds, from $1,083
With its eye-catching rustic design, large 4.15-carat salt and pepper center diamond, and crown of seven smaller clear diamonds, this rare find is for anyone who wants a one-of-a-kind engagement ring. If you love the style but prefer something a little more understated, the seller offers similar, smaller stone settings.
12. Five-stone salt and pepper diamond ring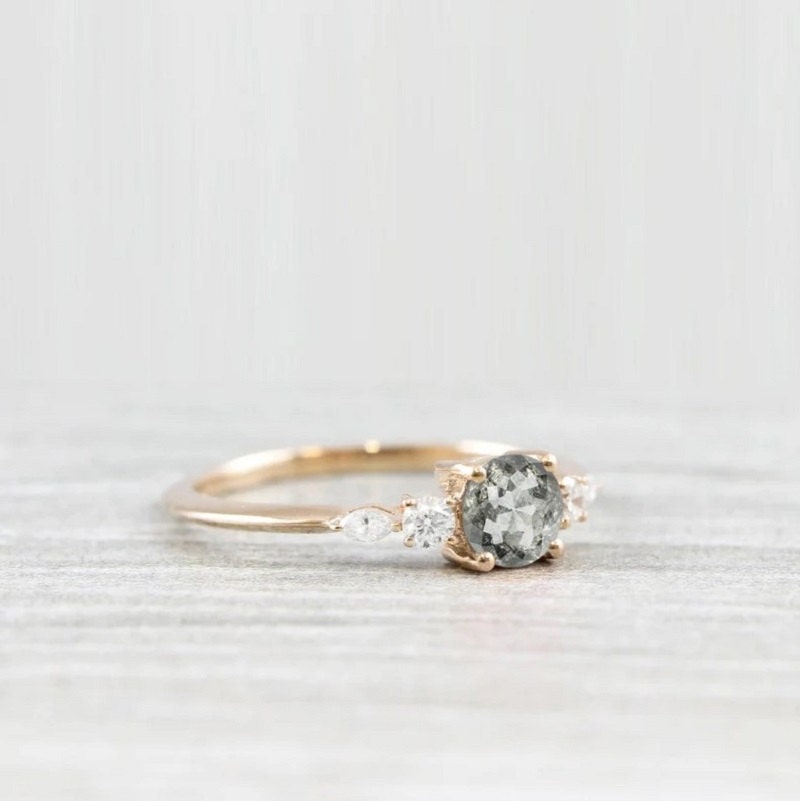 SHOP: Salt and pepper diamond engagement ring from Aardvark Jewellery, from $1,411
Four delicate round and marquise white diamonds flank a larger, center salt and pepper stone on this classically beautiful setting. Buyer reviews praise the seller's excellent communication, extremely quick turnaround (even when customization is required), and super fast delivery.
13. Handmade alternative engagement ring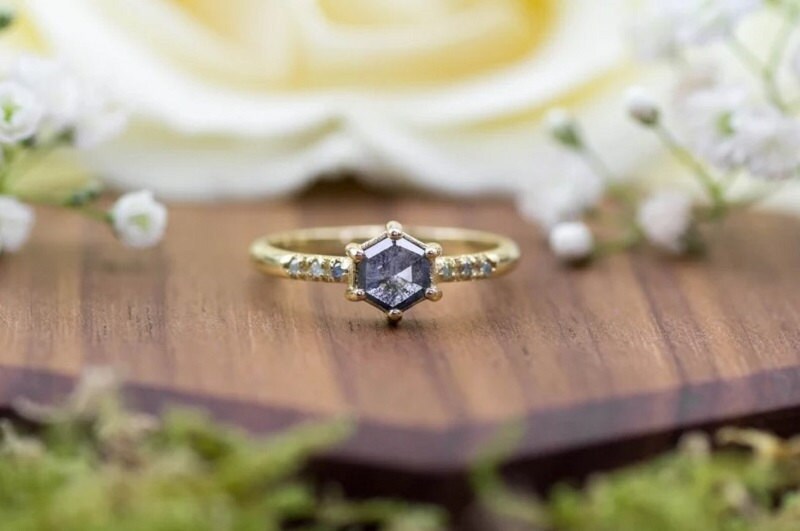 SHOP: 18K gold ring with salt and pepper diamonds from Spirit of Island, $1,930
Handmade with diamonds that are collected by artisanal miners, this salt and pepper diamond engagement ring has a truly unique hexagonal shape that's chic and modern. One buyer called it "delicate but very beautiful," and praised the seller for their responsiveness, and communication.
Best rose gold and black engagement rings
The warm, pink hue of rose gold pairs beautifully with the stark contrast of a black diamond center stone in these picks for the best rose gold and black engagement rings.
14. Statement opal ring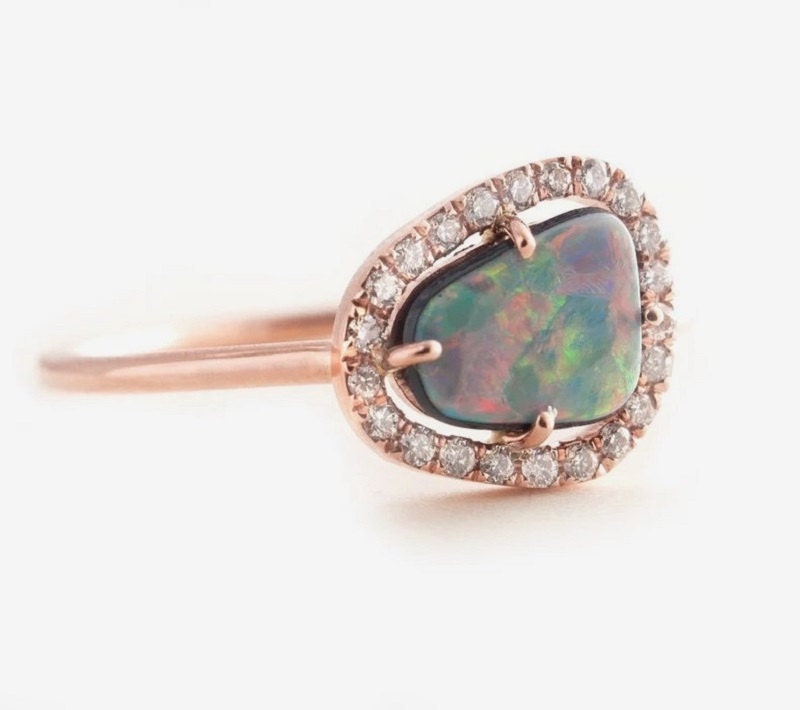 SHOP: 14K gold black opal ring from Tula Jewelry, $1,300
Big, bold, and beautiful, this engagement ring features a one-of-a-kind Australian black opal that shimmers and shines with swirly hues of blues, pinks, and purples, with an asymmetrical halo of smaller paved white diamonds. "Amazing work," wrote a buyer. "The ring is even more incredible in person." Another added, "Even more gorgeous than I expected. Absolutely perfect."
15. Square diamond gold ring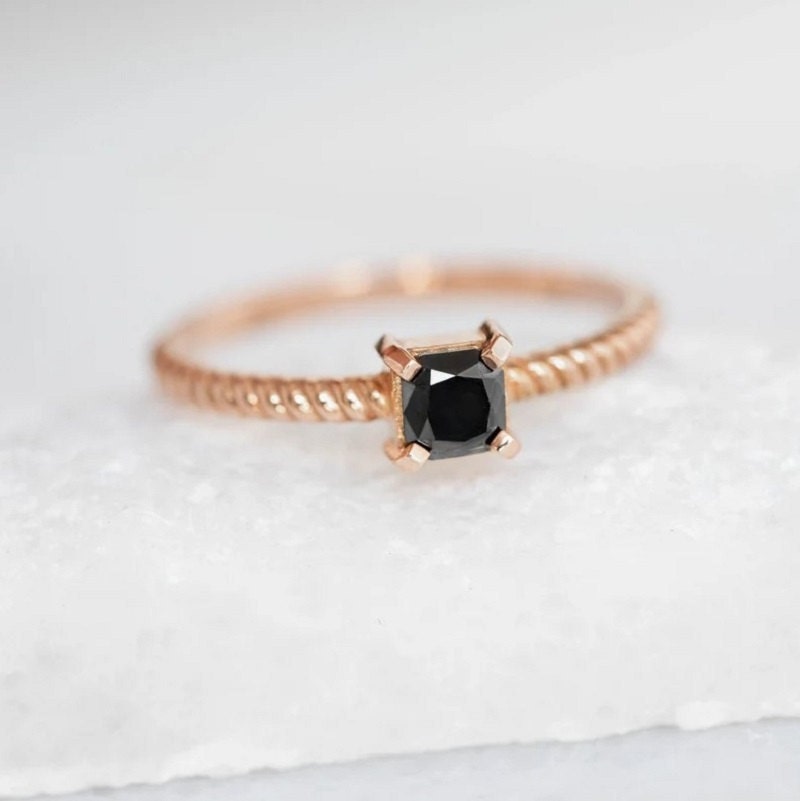 SHOP: Black diamond engagement ring from Kyklos Jewelry, $770
A minimalist's dream, this dainty, four-pronged ring has a thin 14K rose gold twisted band supporting a square-cut black diamond, handmade all the way in the heart of the sunny Mediterranean in Thessaloniki, Greece.
16. Vintage solitaire black pearl ring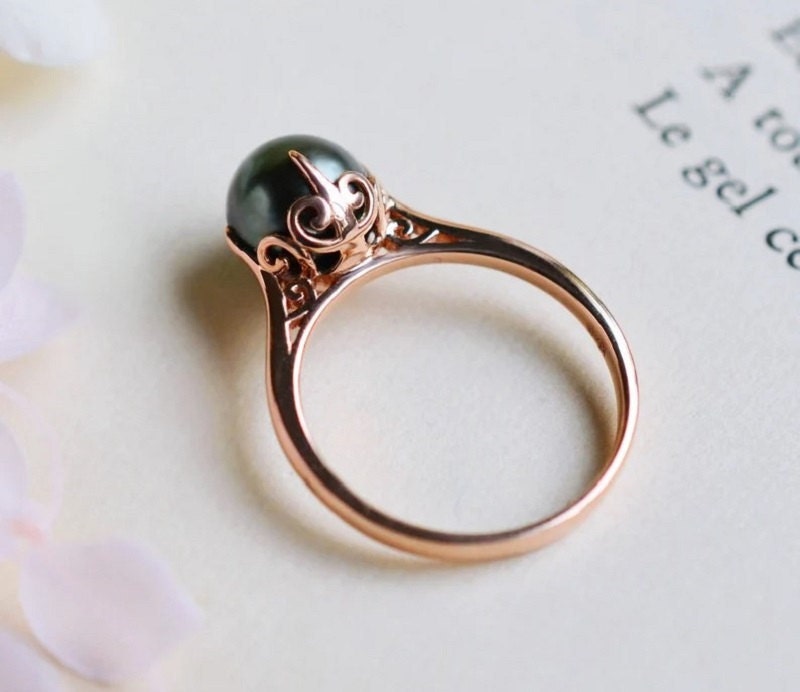 SHOP: Marguerite Tahitian pearl engagement ring from Michellia Fine Jewelry, from $895
According to Coco Chanel, "A woman needs ropes and ropes of pearls." You can, however, always start with one: the exquisite black Tahitian pearl on this solitaire Marguerite engagement ring. A happy shopper described, "The ring I got was everything I hoped it would be, and they even got it to me in the rushed timeframe I asked of them."
17. Snake ring with black diamond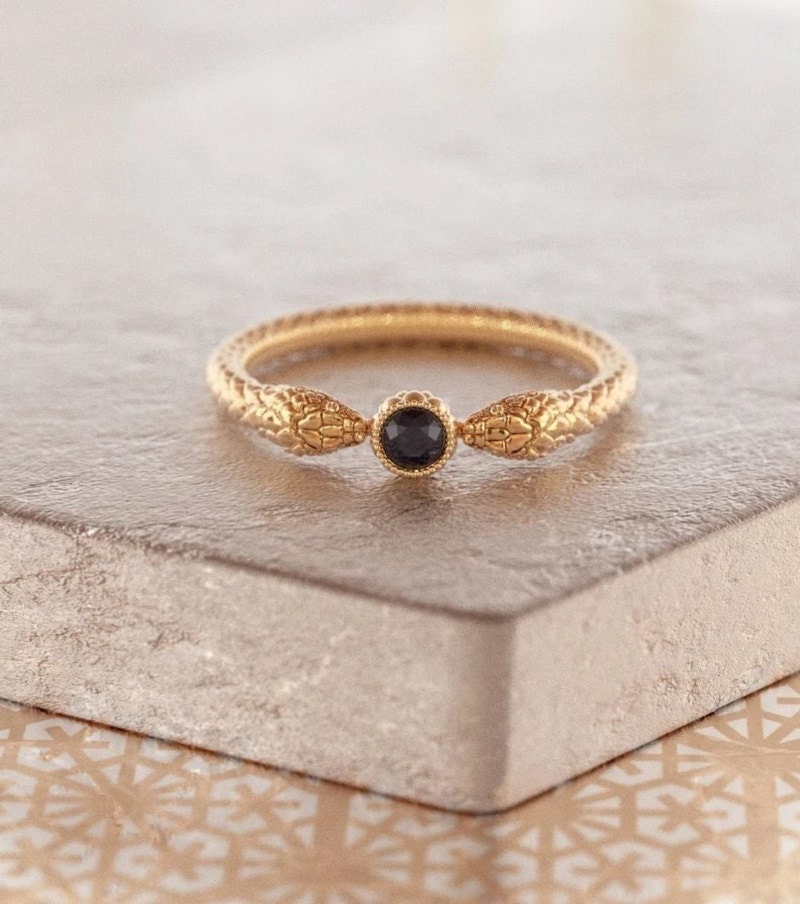 SHOP: 14K gold snake ring from OOZA, from $440
If you're after something small but packed with understated glamour, look no further. This highly detailed snake design ring features a dainty, heat-treated round black diamond that's delicately held in place by two tiny snake heads. You can get it in either 10K, 14K, or 18K white, rose, or yellow gold, and even platinum, and the seller also offers personalization.
Best black stone engagement rings
For those who love a dark and moody gemstone but want something even more affordable than a black diamond engagement ring, try one of these black engagement ring alternatives.
18. Square black onyx ring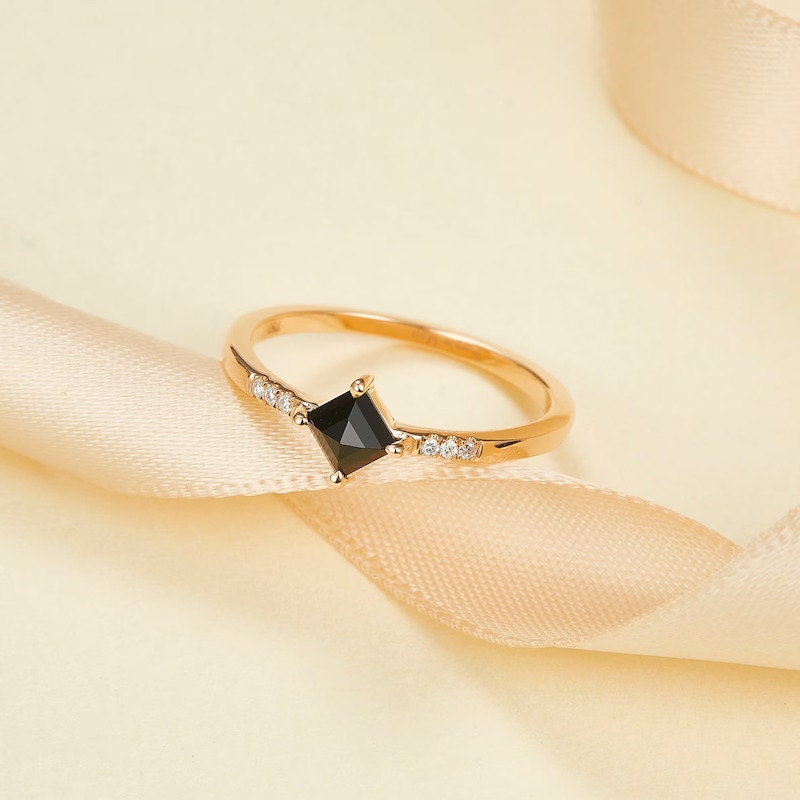 SHOP: Handmade solid gold ring with black onyx from PurpleMay Jewellery, from $423
The epitome of timeless elegance, this square-cut black onyx engagement ring manages to be both dainty yet bold. Shoppers call this ring's six-diamond band and setting "absolutely gorgeous," "beautiful and dainty," "a dream," and one wrote that "the quality, design, and customer service is outstanding."
19. Handmade dark gray engagement ring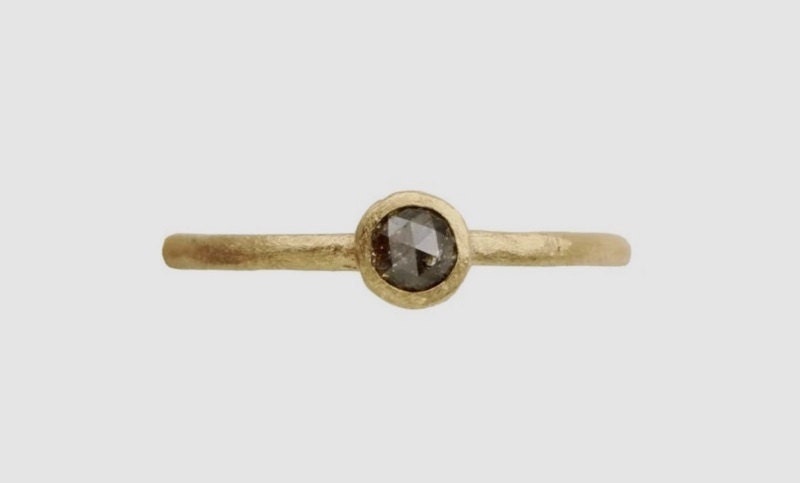 SHOP: Dark gray diamond ring from Sunday Owl, $780
Originally designed as a stacking ring, this dark gray rose-cut diamond option can make the ideal engagement ring for someone with a minimal style. The creator of this matte 18K yellow gold ring uses a clay-like wax during the molding process to create a soft, rustic feel to the band.
20. Natural black stone engagement ring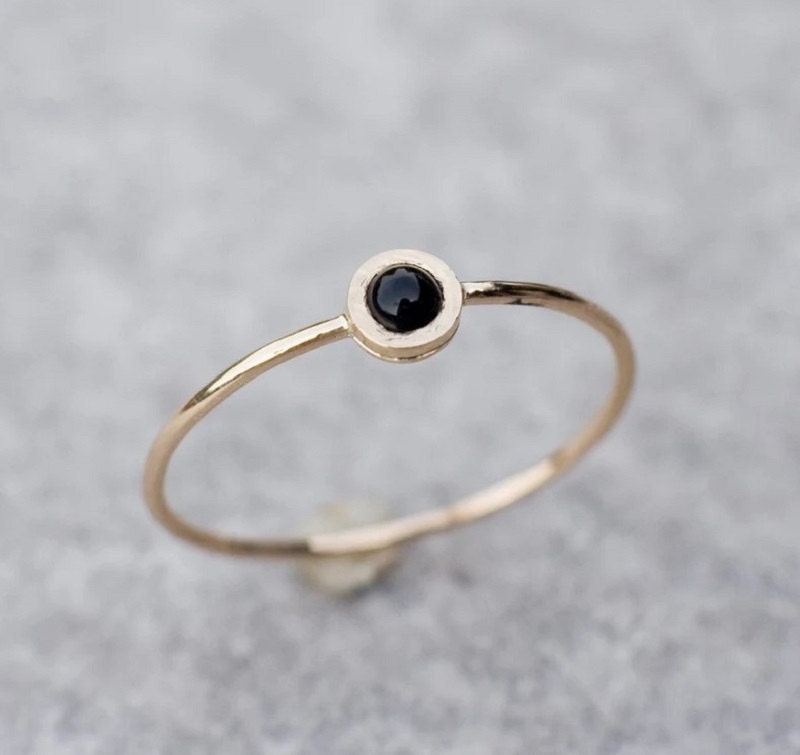 SHOP: 14K gold black onyx ring from Arpelc, $280
This 14K gold and black onyx ring is another superb option for lovers of minimalist jewelry. The stone is set in a halo of hammered gold, in either white, yellow, or rose. The seller also carves a small heart in the back of each ring for a meaningful touch.
Discover more engagement ring styles to love:
How do we pick the best black engagement rings?
As Etsy Journal editors and contributors research and curate shopping guides for some of the best-loved items on Etsy, we thoughtfully consider the creativity, customization, and craftsmanship that go into each product. We also consider buyer reviews, item ratings, and customer service, and tap the expertise of our in-house merchandising and trends experts to uncover high-quality finds for every budget. You can find more information about each item in the seller's listing details and can take a look at their individual shop policies and reviews, too.