These picks for the best blankets are a soft and stylish addition to any room and a comfy opportunity to express yourself in your space.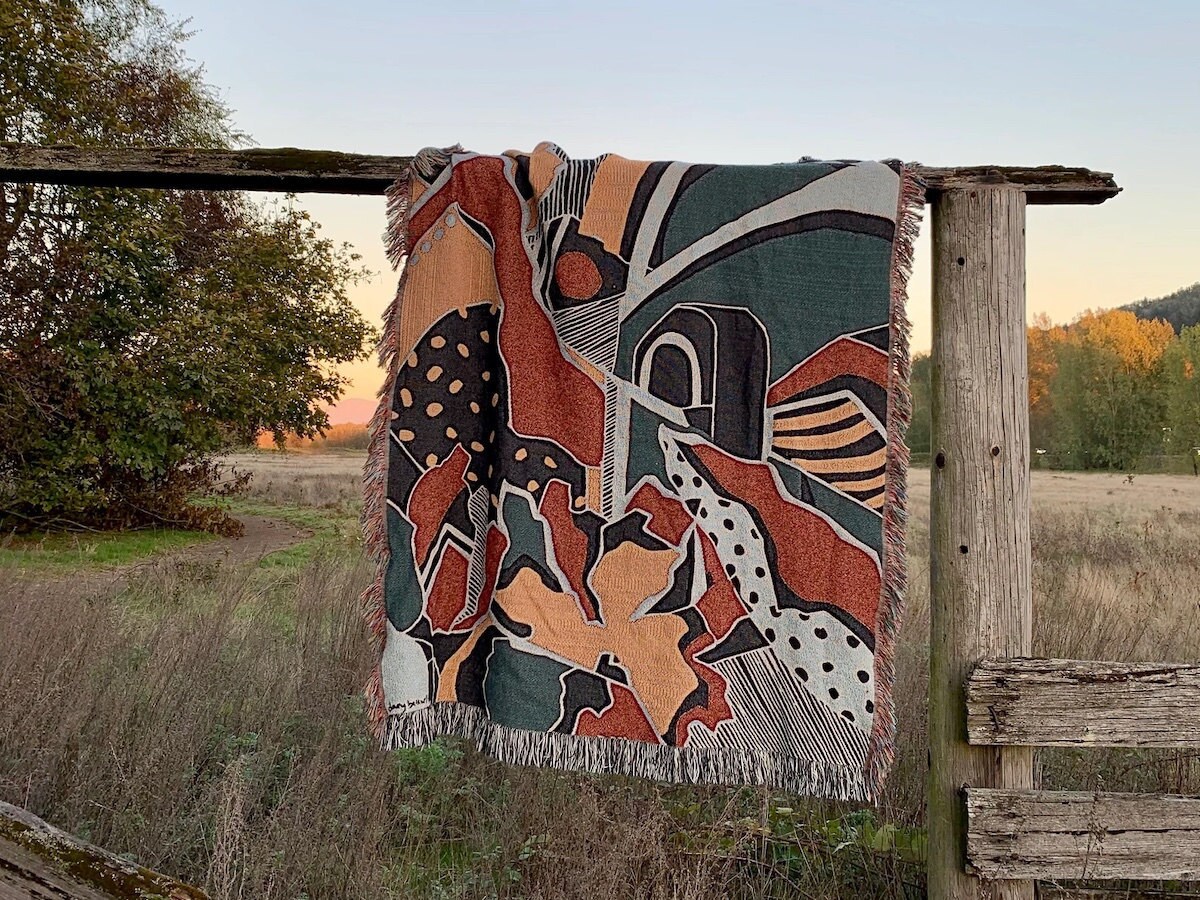 Casually draped over an armchair, artfully arranged across the bottom of your bed, or rolled and placed in a nearby basket, these are the blankets you'll want to keep within reach at all times. Our top picks for bold, expressive throw blankets help you add some serious personality to your space, and many of these blankets can be customized by small shops on Etsy. Just pick the colors, size, and accents for a one-of-a-kind piece you'll snuggle under for years to come.
Best throw blankets
A throw blanket is usually around 50-inches wide by 60-inches long—just enough space to snuggle under without feeling bulky. Comfortable throw blankets are typically made from soft fabrics like brushed cotton, chunky yarn, or plush velour. Style a blanket by draping them over the arm of a sofa, hanging them from a simple blanket ladder, or rolling them and arranging them in a wire or woven blanket basket. Need a custom size throw blanket? Shop from small businesses on Etsy who can customize the size, color, and other details of your throw blanket.
1. Most unique throw blanket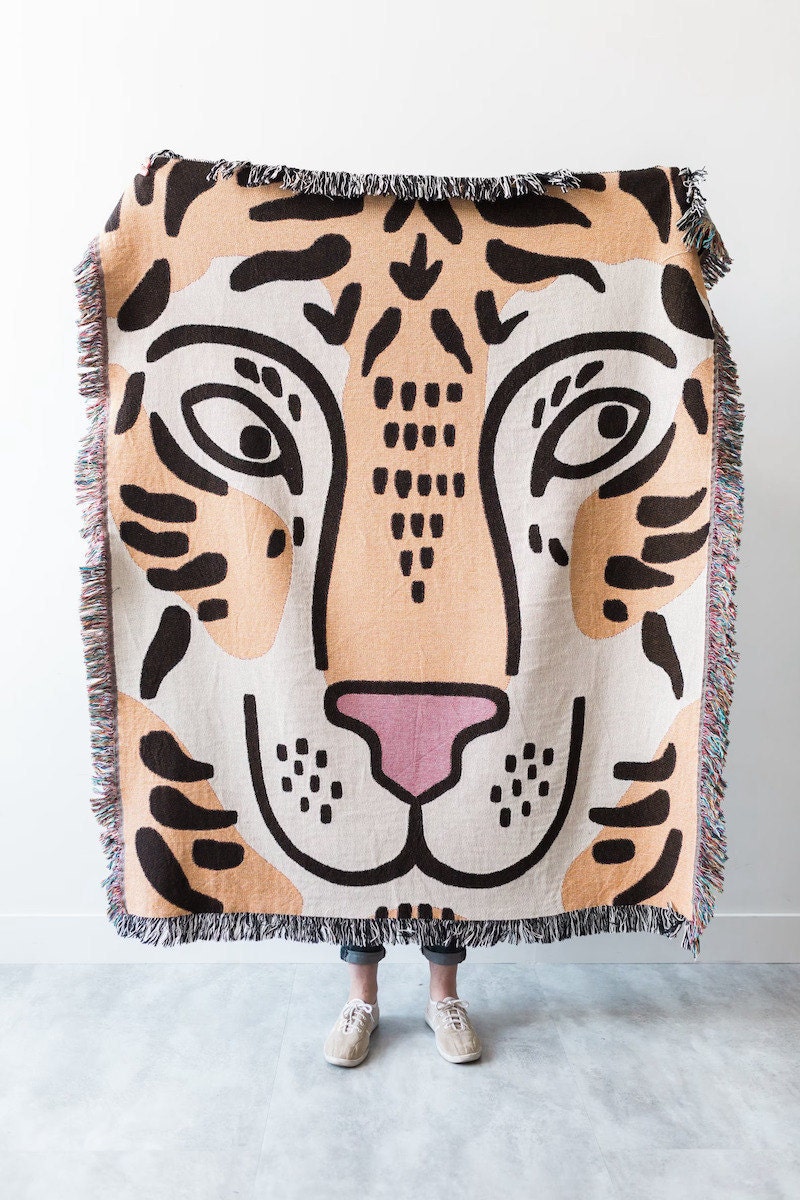 SHOP: Tiger throw blanket from Frankie Print Co., from $79
Be boldly expressive in your living space by adding an unexpected touch, like this graphic tiger throw blanket. A top pick by buyers for dorms and kids' rooms, too, this blanket looks just as cute when it's folded at the end of your bed.
2. Best wool throw blanket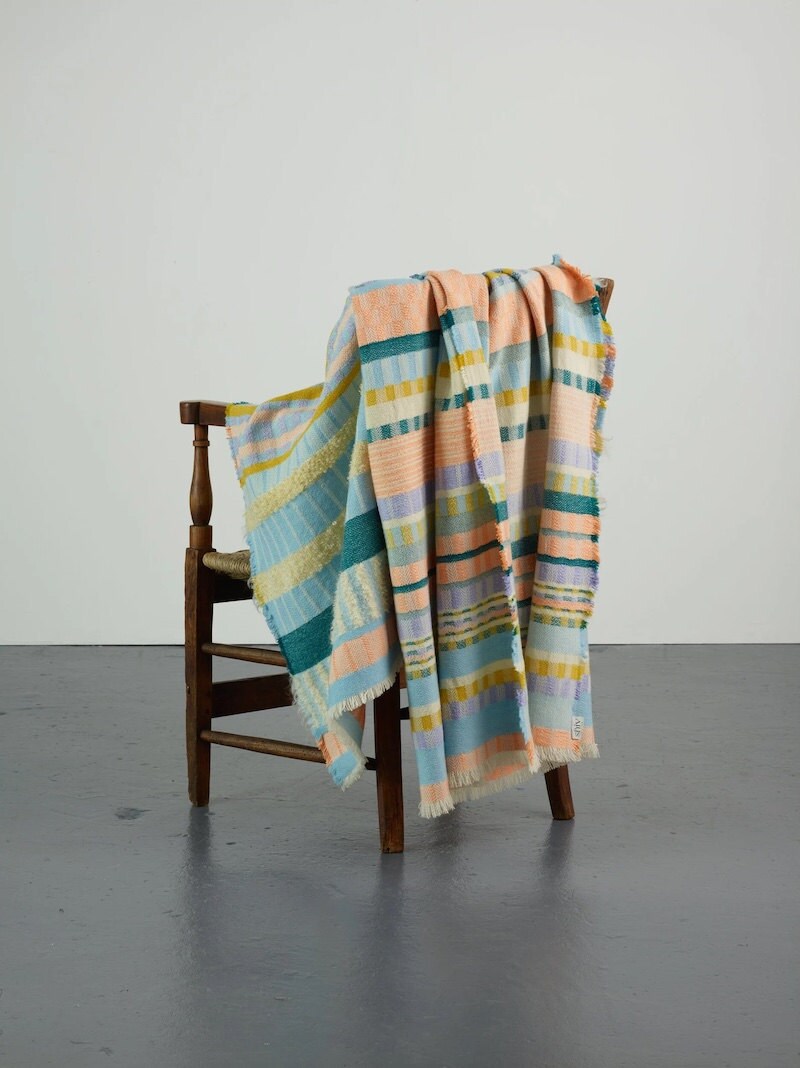 SHOP: Large woven throw blanket from Shiv Textiles, $446
A global-inspired investment piece that brings color, texture, and a luxe, lived-in feel to your space, this mood-boosting woven throw blanket is made from deadstock lambswool.
3. Best blanket to give as a gift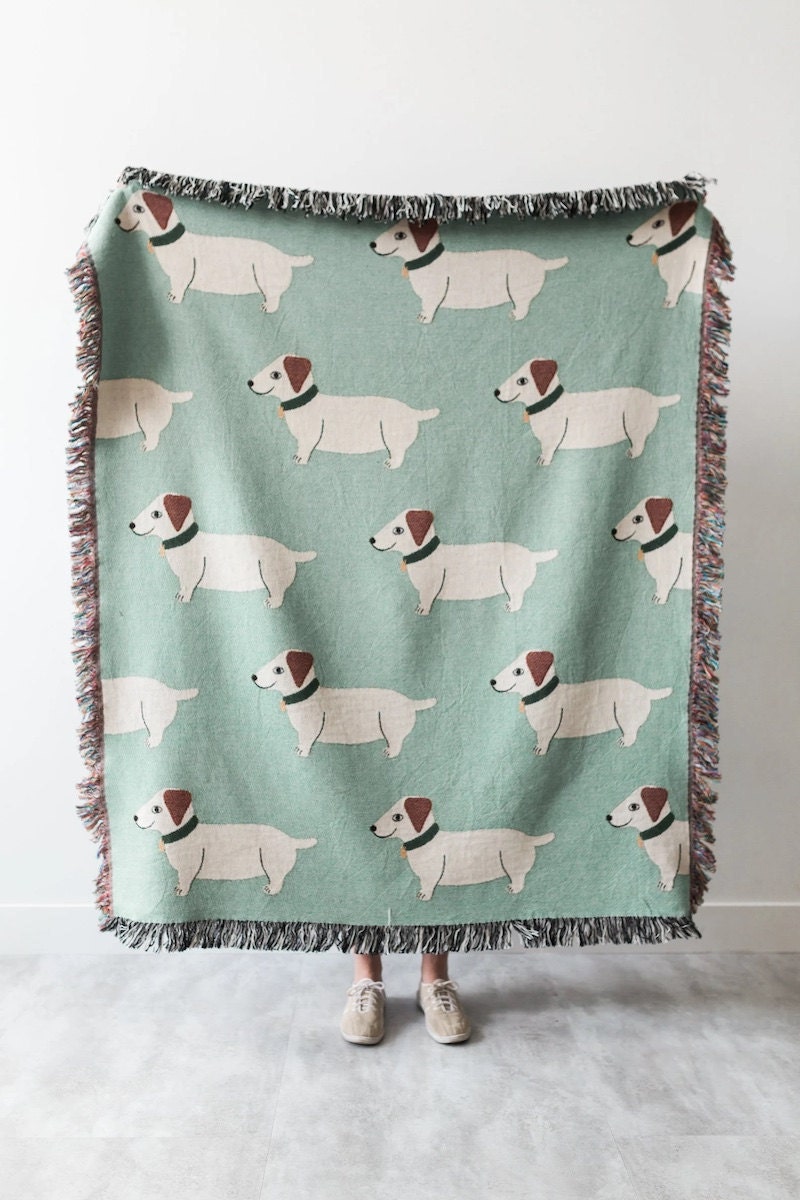 SHOP: Weiner dog throw blanket from Frankie Print Co., from $79
Buyers love this small shop's bright and cheery designs, and this pup patterned throw blanket is no exception. Adorned with sweet dachshunds on an aqua background, pick from three different sizes and give this to the dog-lover on your gift list this year.
4. Best knitted afghan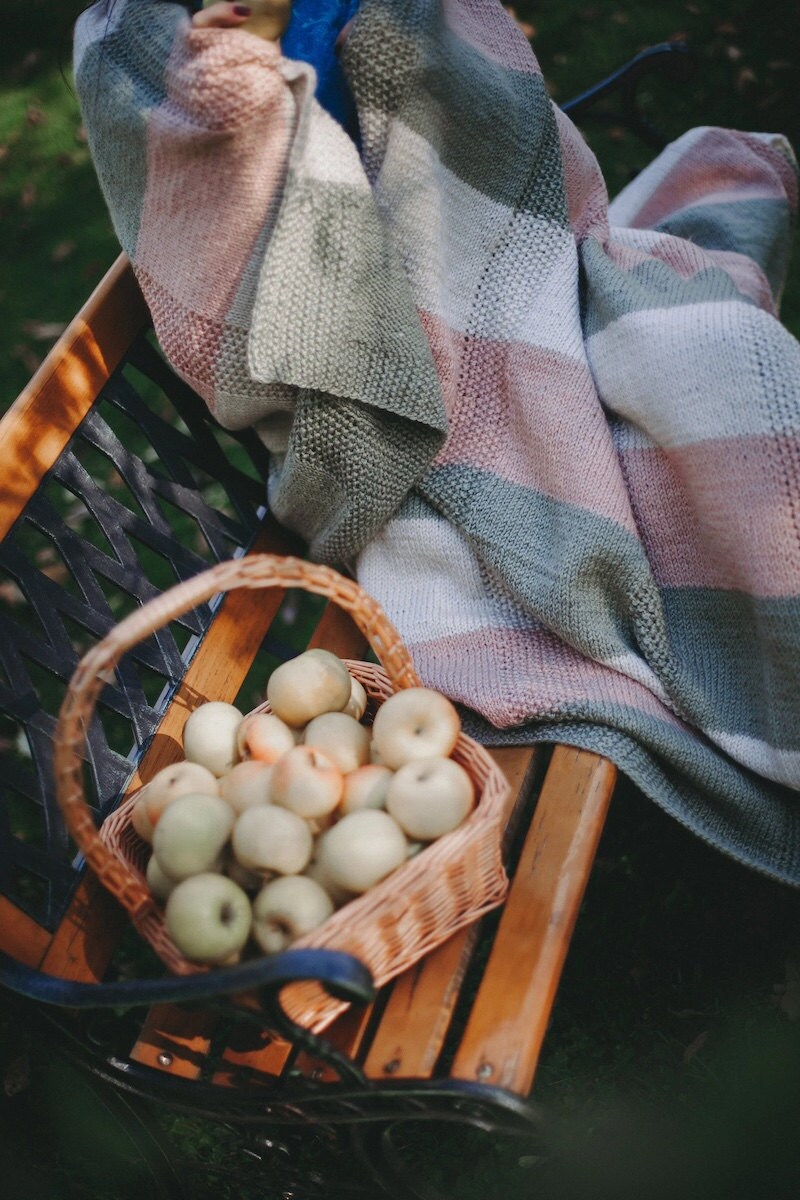 SHOP: Apple blossom afghan from 4 x 5 Fingers Factory, $303
Inspired by the apple orchards that abound in the seller's home country of Latvia, this white, light pink, and green throw blanket is hand-knit and one-of-a-kind.
5. Vintage-inspired throw blanket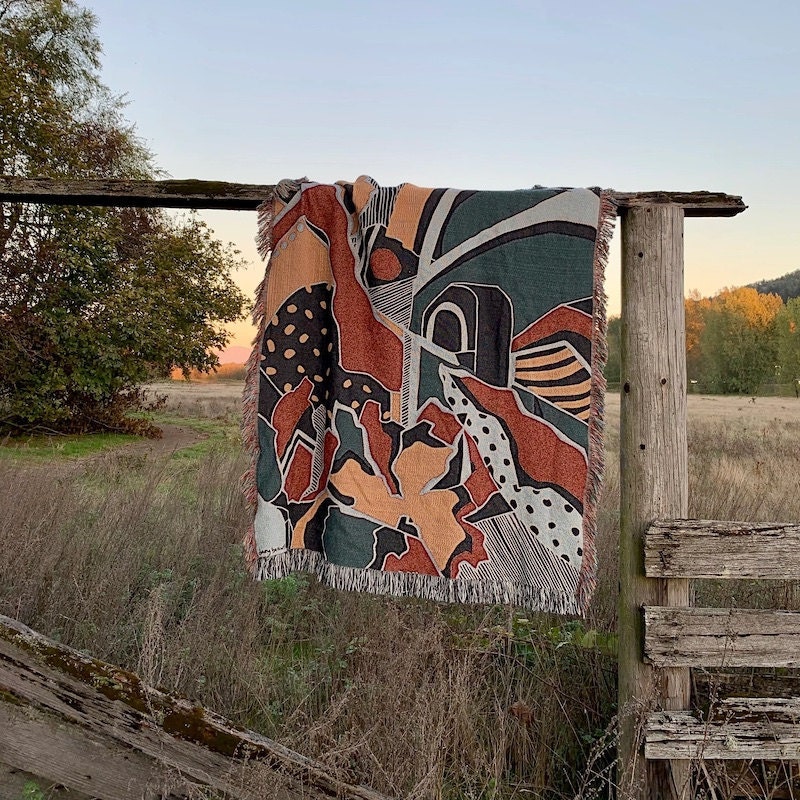 SHOP: Aneroid woven blanket from Davey Barnwell Art, from $65
Infuse instant color and nostalgic flair into your space with this bold, bright throw blanket based on the maker's original artwork. Available in three sizes, this blanket can be used as a throw or queen-size bedspread.
6. Best checked throw blanket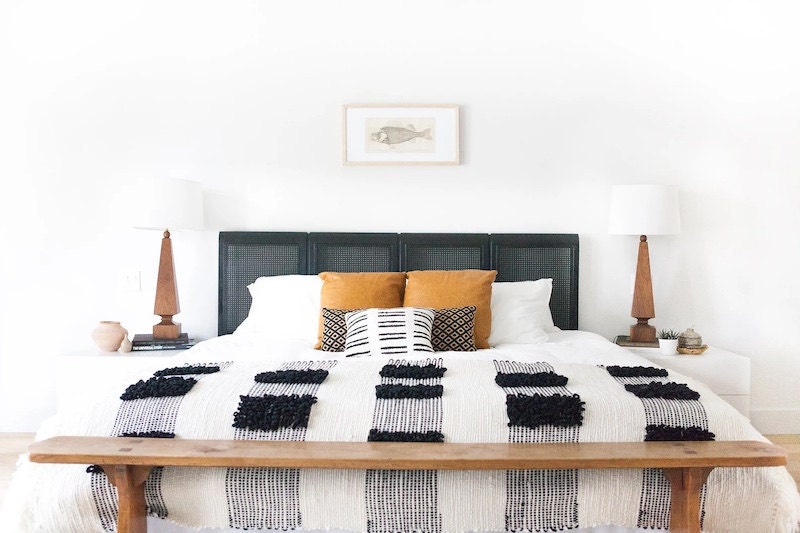 SHOP: Plaid black and white blanket from Texturable Decor, $460
Neutral yet noticeable, this woven checked throw blanket blends textures and stitch patterns to create a modern checkerboard. Handmade on a wood loom, no two of these buffalo check throws are quite the same.
Best chunky blankets
Chunky blankets are definitely in style, and small shops on Etsy are knitting up all sorts of designs you'll want to snuggle under ASAP. Due to their chunky nature, these throw blankets look great draped over the end of a bed or over a chair, where their loomwork really shines.
7. Best affordable chunky blanket under $70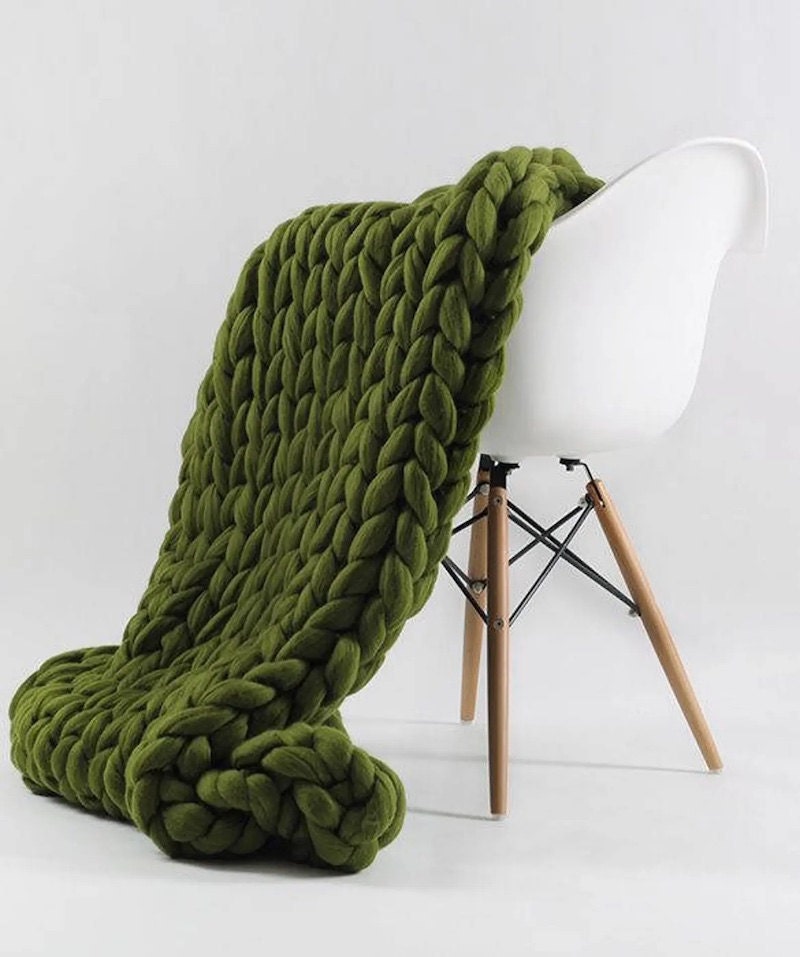 SHOP: Super chunky vegan knit blanket from Cozy Caps and Manly Hats, from $68
Available in sizes from baby blankets to queen-size for your bedroom, this vegan chunky blanket is made from acrylic knit yarn in 16 different color options. Custom color choices are also available, simply contact the seller.
8. Best extra-long chunky blanket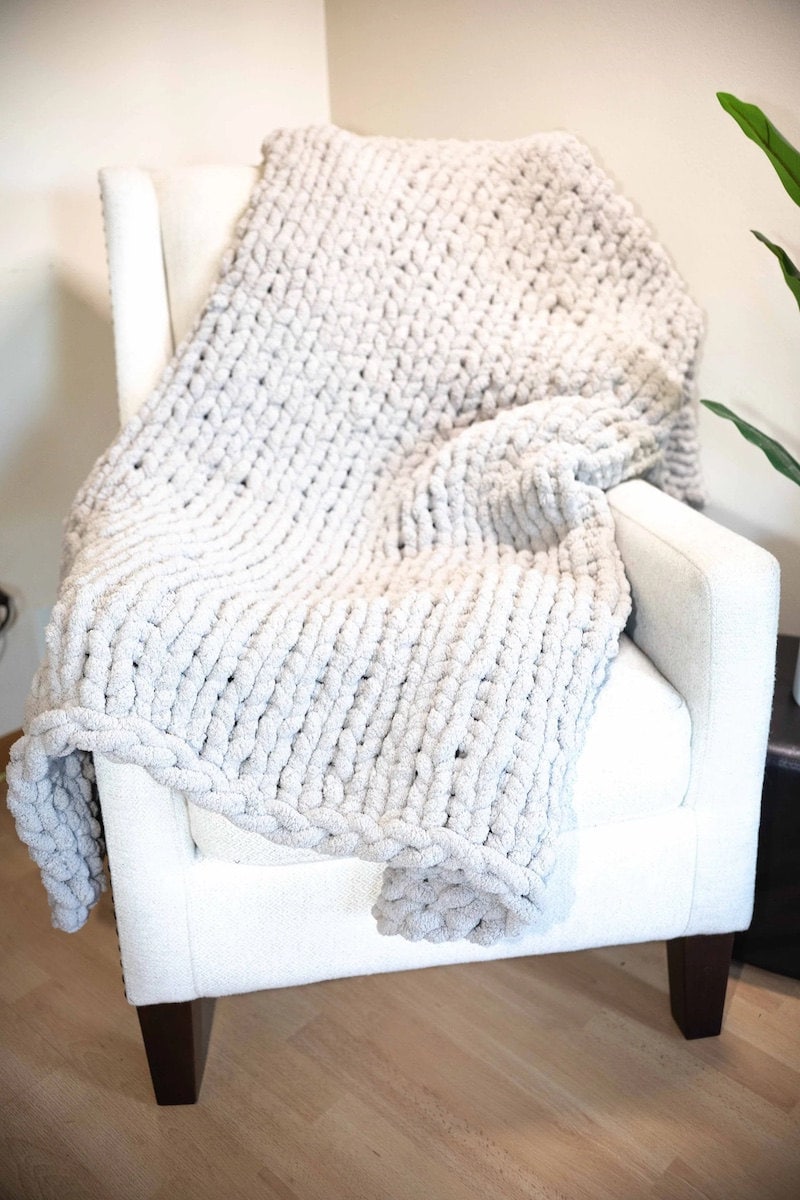 SHOP: Light gray chunky knit blanket from Joy Blanket Shop, from $48
A great multi-purpose throw blanket, this shop uses polyester yarn for extra durability. Pick a small size for a cozy baby gift, or opt for a length up to 8 feet if you prefer to snuggle with a special companion.
9. Chunky knit chevron blanket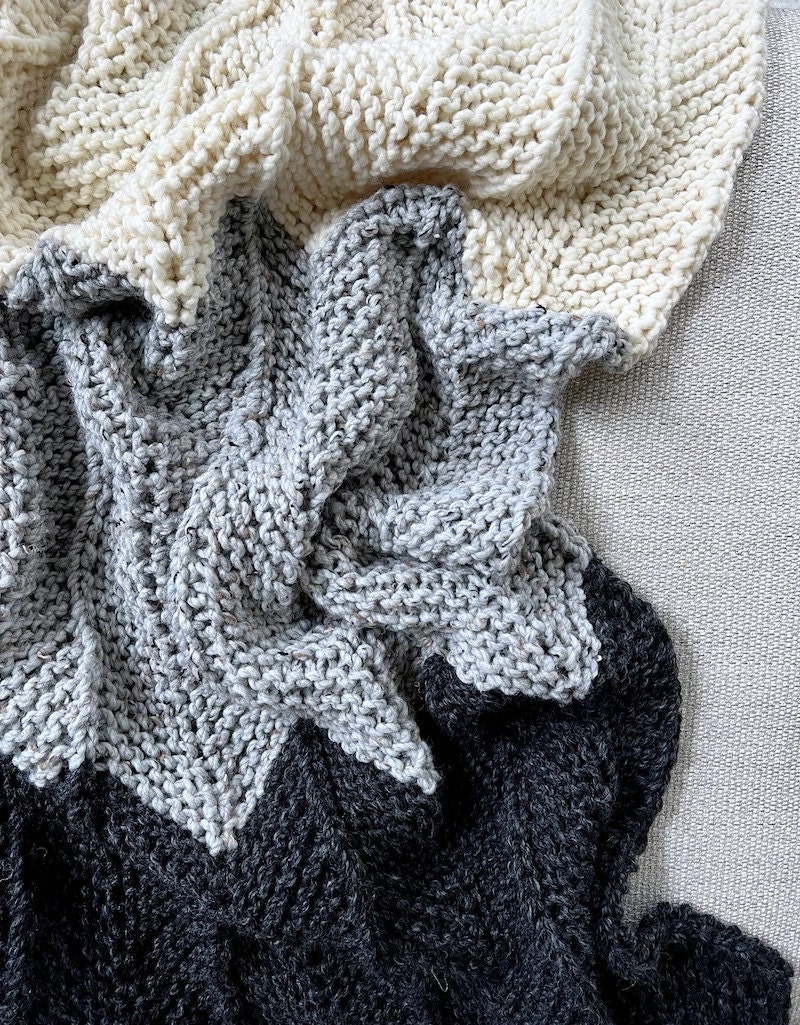 SHOP: Chevron knit blanket from LiLi Knits, $245
Chunky knit blankets from this small shop are popular with buyers because of their impeccable craftsmanship. This chevron blanket includes three different colors, so you can customize your blanket with a tone-on-tone neutral palette or bold pops of color. This blanket arrives gift wrapped in a canvas drawstring storage bag so it's ready to give as a housewarming gift.
10. Best wool pet blanket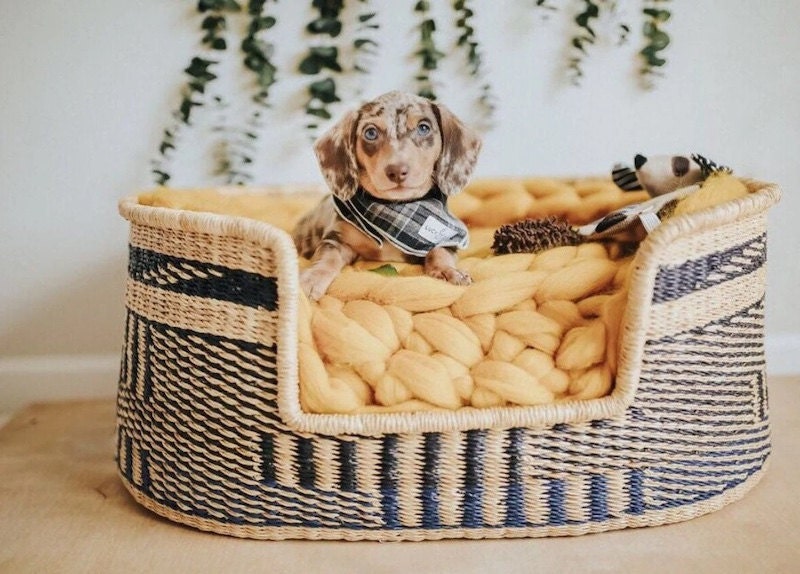 SHOP: Merino wool pet blanket from Wooly Cloud, $119
Wool is a great material for dog beds because it's warm and soft. This chunky knit dog blanket is made from 100% Merino wool and adored by buyers and their cats alike.
11. A retro throw for fall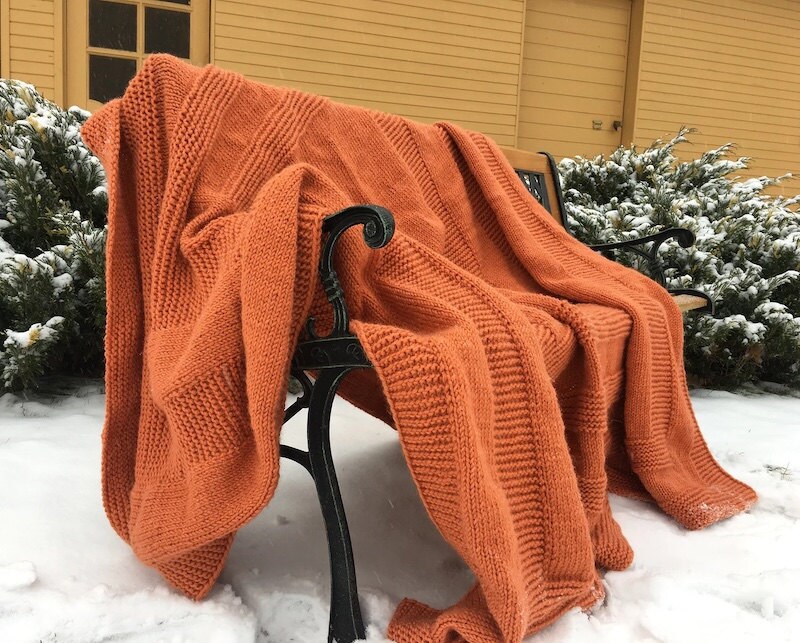 SHOP: Pumpkin knit blanket from 4 x 5 Fingers Factory, $280
This monochromatic, textured throw blanket is large enough to drape over a couch, and the rust-orange hue adds a 60s-inspired accent to your space.
12. Best white chunky blanket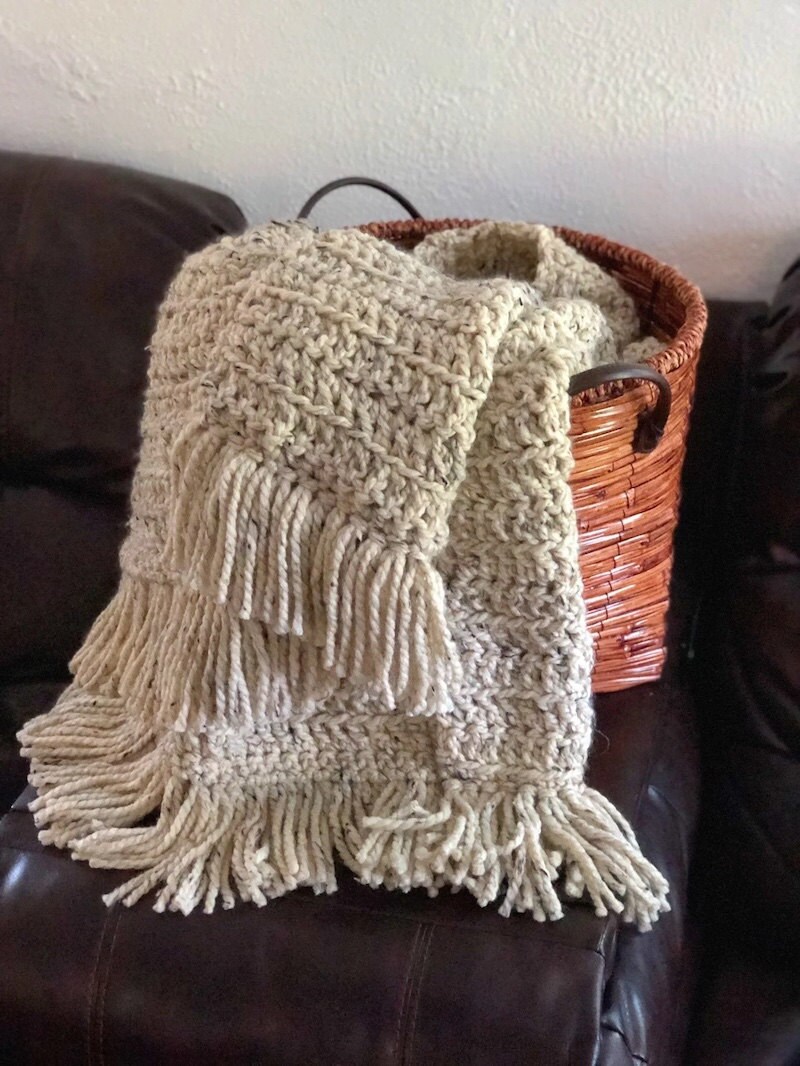 SHOP: Cascades knit blanket in oatmeal from Indie Fiber Art, $186
Embrace the refined, natural elegance of this custom-made chunky throw blanket. The natural color variations in this hand-knit pattern add depth and texture to your space, and the neutral hue complements nearly any decor style.
Best cozy blankets
As you shop for a cozy blanket, look for soft materials like cashmere or vintage throw blankets that have been lovingly cared for and broken in before they make their way to you.
13. Best vintage throw blanket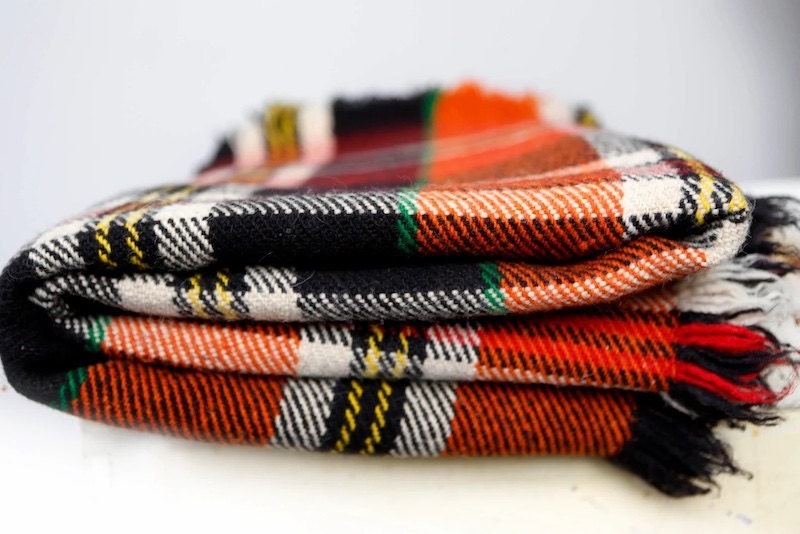 SHOP: Super thick wool throw blanket from Jubilee Street, $140
This orange and black plaid throw blanket is reminiscent of fall evenings spent around the campfire and collegiate tailgates. Made from super thick wool, it's sure to keep you warm no matter where your adventures take you.
14. Best washable wool blanket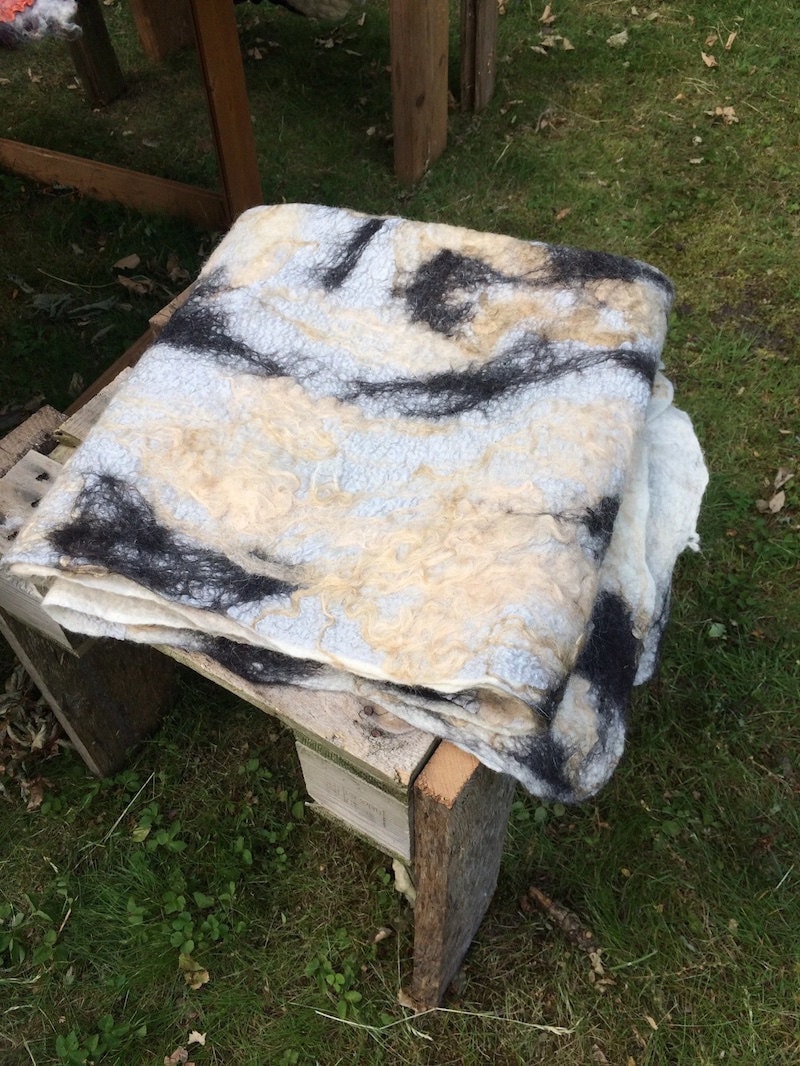 SHOP: Living blanket from Anci Wool Works, $185
Handcrafted in the Netherlands, this cozy blanket is a multi-textured experience that creates a connection between you and where this wool has originated from. White Merino wool is covered with black alpaca wool, cream Drentse heather sheep wool, and silver silk pongé fabric.
15. Best cozy black and white throw blanket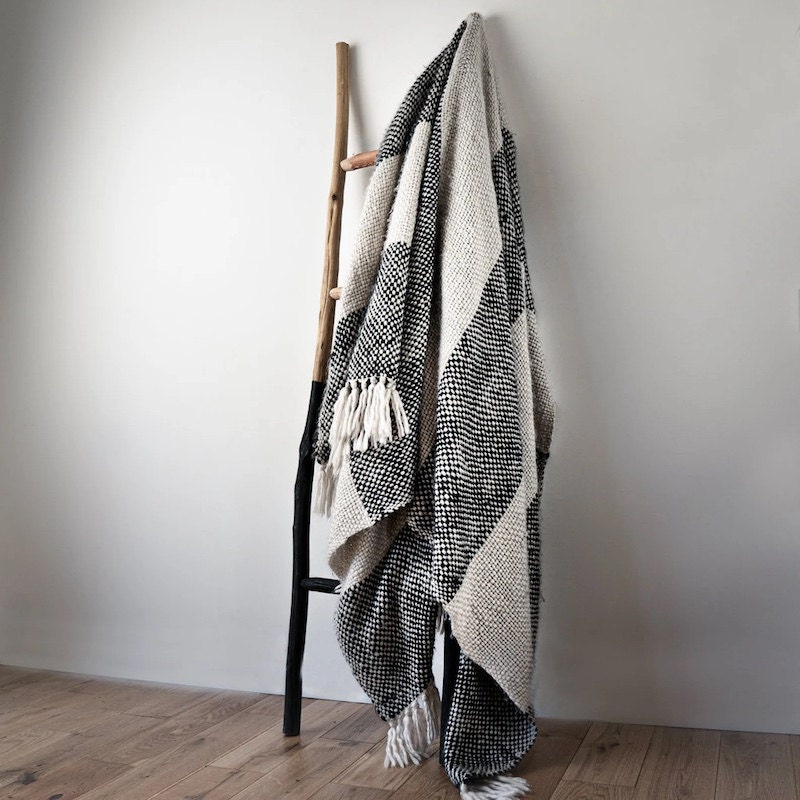 SHOP: Onita throw from Coultura, $72
Buyers love everything about this cozy throw blanket, from its warm knit construction to the packaging it arrives in (making it a thoughtful birthday or Mother's Day gift to send from afar!).
16. Best cozy baby blanket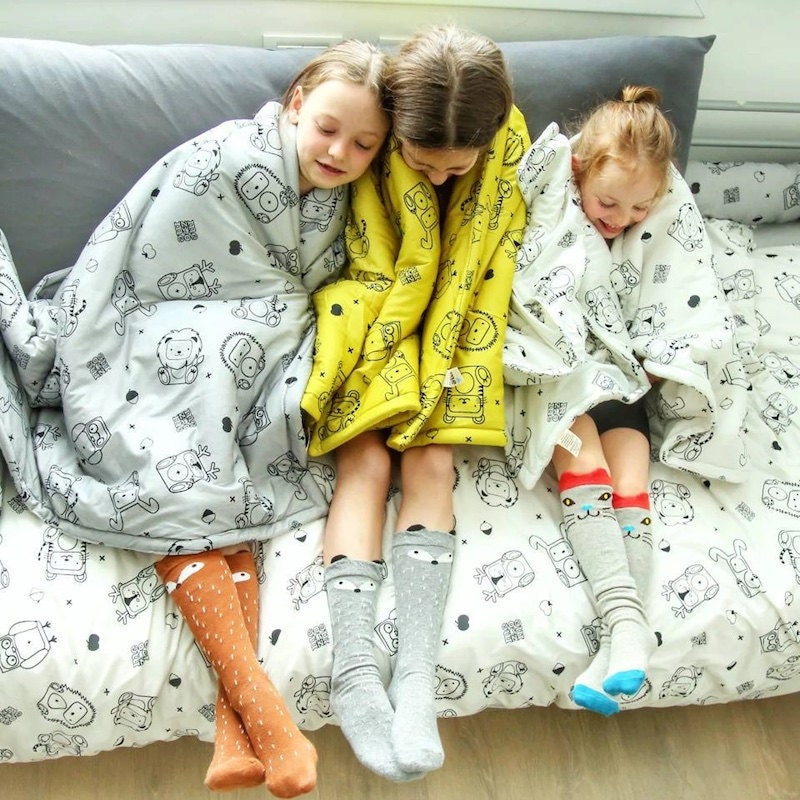 SHOP: Forest baby blanket from Mezoome, $65
Perfect for a baby shower gift or birthday gift, this soft baby blanket is large enough for little kids to wrap up in, too. Handcrafted using 100% organic cotton, this plush kids blanket is available in two colors: silver-gray or mustard.
Best picnic blankets
As the days get a bit warmer and the sun shines a bit brighter, you'll be ready to hit the road with one of these picnic blankets in tow. Depending where you plan to picnic, you'll want to select a material that's easy to wipe clean or toss in the washing machine. If you're dining near the water, choose a waterproof picnic blanket. Roll-up styles are easy to transport. Simply add a picnic basket, a vintage 90s-inspired bucket hat, and you're ready for an adventure!
17. Best round picnic blanket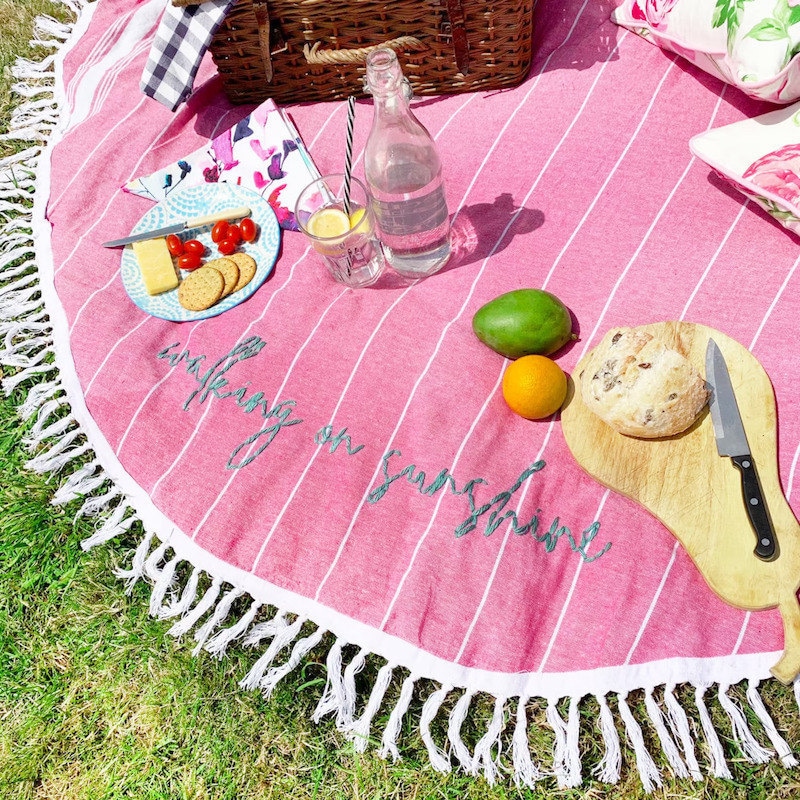 SHOP: Hand-embroidered picnic blanket from Jonny's Sister, $76
This large round picnic blanket gets a personal touch with a hand-embroidered message. Choose "walking on sunshine" like this example, or work with the shop to write your own message.
18. Best denim picnic blanket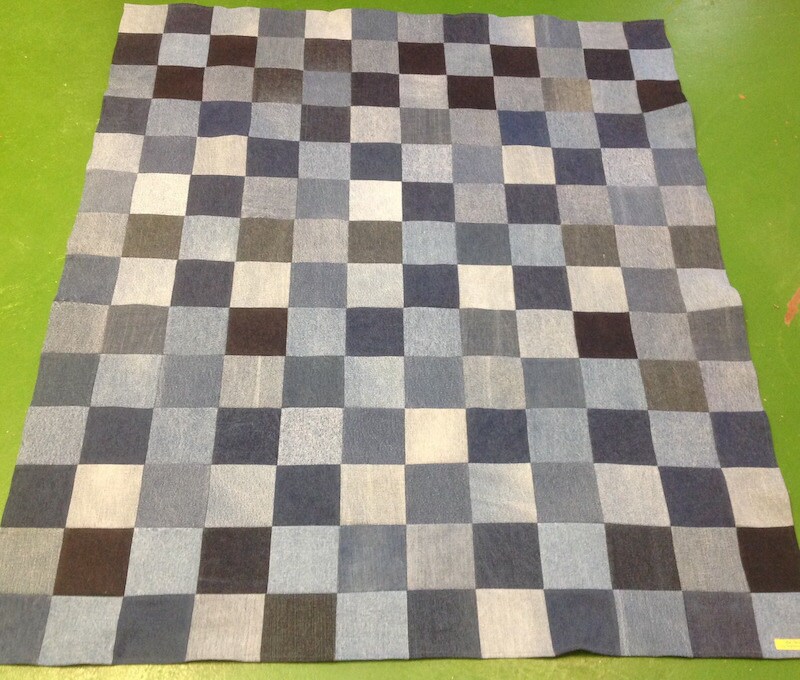 SHOP: Upcycled denim blanket from Grandma Rieta's, $79
After creating upcycled tote bags from old pairs of jeans, this seller found a way to use all the preloved pieces of denim she was left with—this denim picnic blanket design. Just like your favorite pair of jeans, these blankets only get better with time. They work well as drop cloths, utility blankets, and so much more.
19. Best roll-up picnic blanket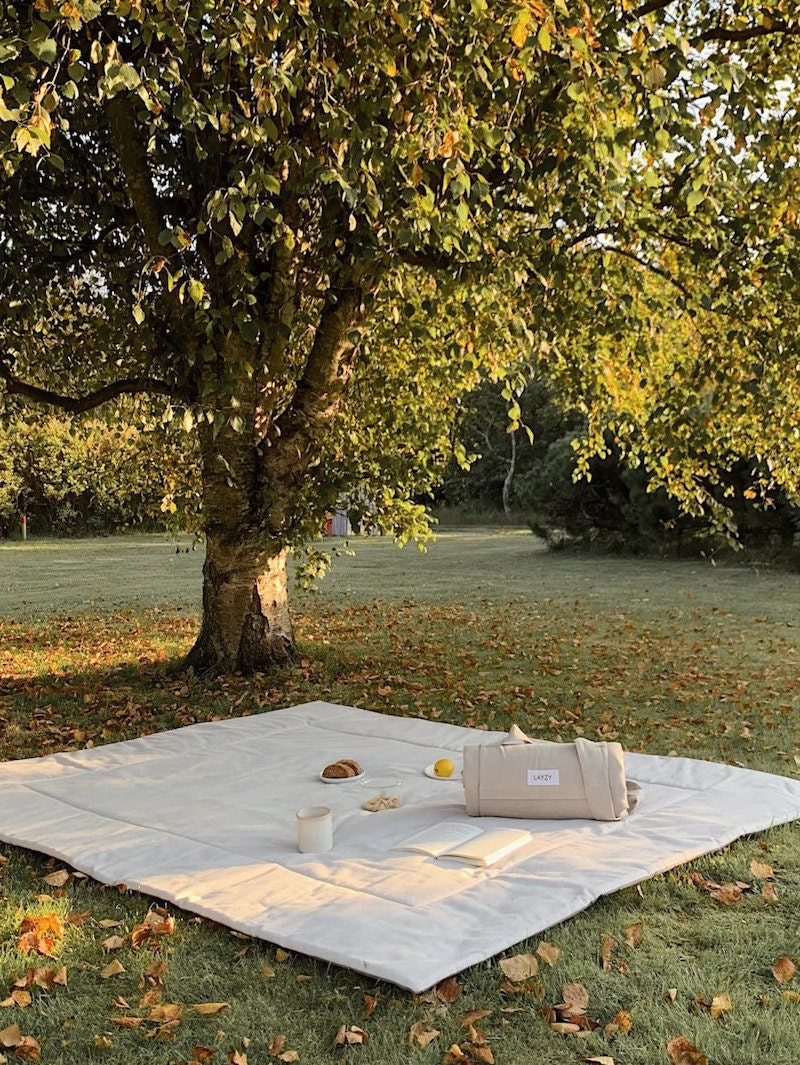 SHOP: Cotton picnic blanket from Layzy, from $168
Handcrafted in Germany, these roll-up picnic blankets are easy to throw over a shoulder and head out to your perfect picnic place. Designed with comfort in mind, these blankets are padded to provide a comfortable seat and created using water-repellent fabric on the underside to protect against moisture and stains.
20. Best custom picnic blanket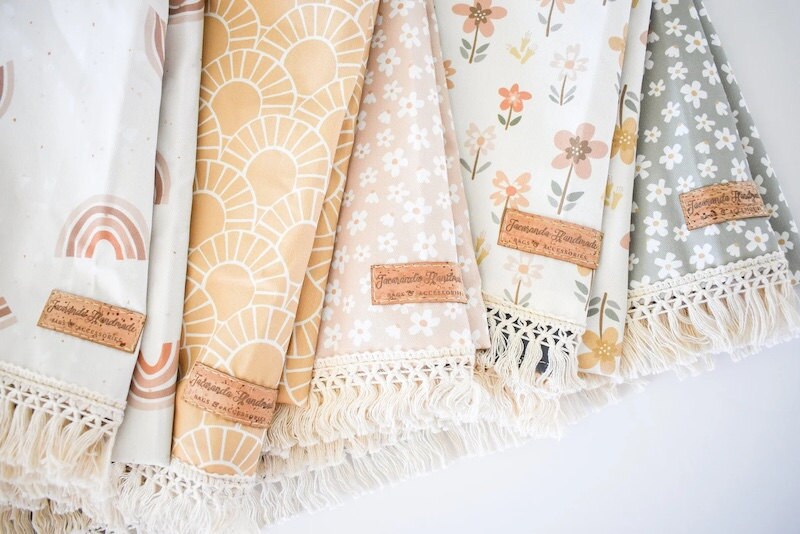 SHOP: Custom picnic blanket from Jacaranda Handmade, from $115
Pick a size, a cotton twill fabric design, optional extra padding, and whether you'd like tassels on the short sides of this beauty, and this California-based shop will create the picnic blanket of your dreams.
Best personalized and photo blankets
Blankets are a thoughtful baby shower and birthday gift, and adding a bit of personalization like a photo or name makes your present even more meaningful. These picks for the best personalized and photo blankets from Etsy shops offer customization options including multiple sizes, colors, fonts, and even the ability to add a handwritten tag.
21. Best baby name blanket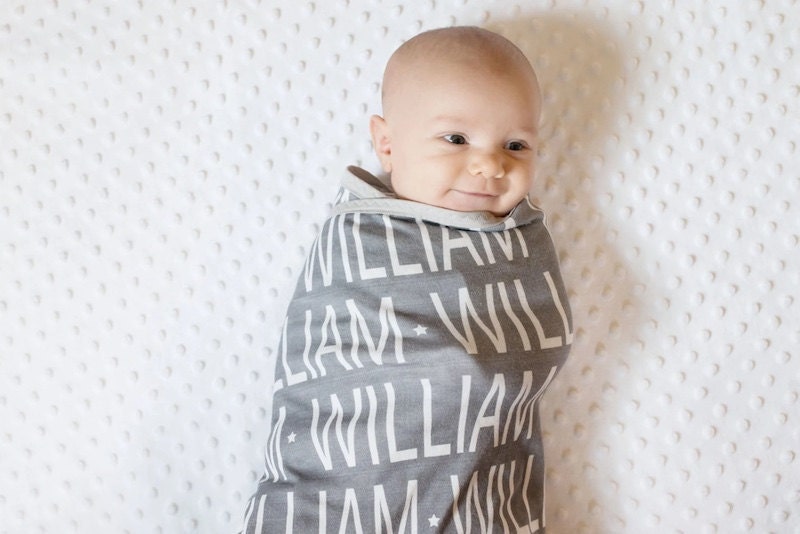 SHOP: Personalized baby blanket and hat set from Petunias, from $18
Swaddle your newest addition in a sweet and soft blanket that features their name, and top off the look with a matching hat. Buyers love working with this small shop to create a one-of-a-kind baby blanket, from choosing custom fabrics to communicating about their order.
22. Personalized family name throw blanket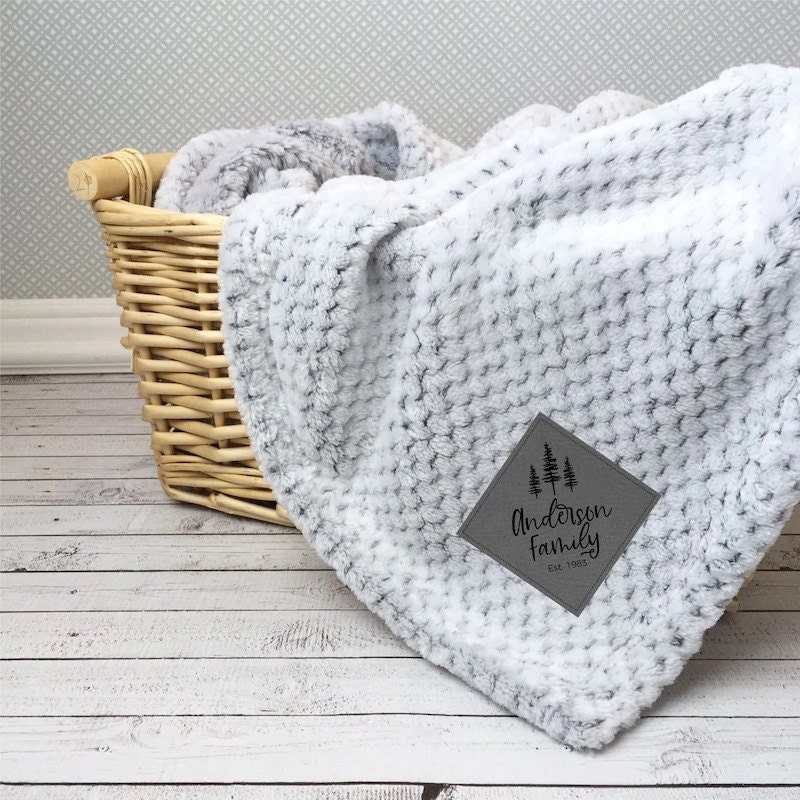 SHOP: Custom textured plush throw from Markeza, $54
Place this personalized family name blanket in a basket near the end of the sofa so it's always nearby for a comfy couch snuggle session. Choose the blanket color, patch color, and personalization style—a last name, map coordinates, or a meaningful quote are all unique ways to personalize a blanket.
23. Custom couples photo blanket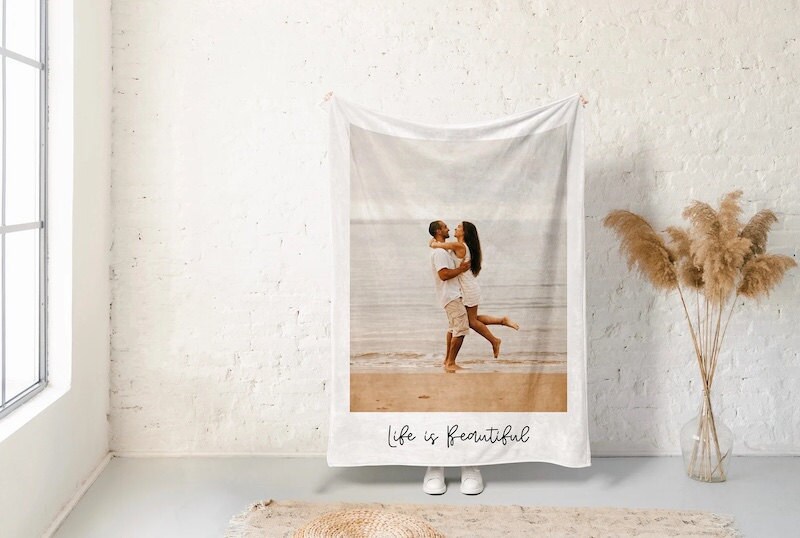 SHOP: Personalized photo blanket from The Grayfolk, from $87
This unique anniversary or wedding gift idea can be customized with your favorite photo together. You can also add a special message to this custom photo blanket. A great gift idea for other special occasions like Mother's Day and Father's Day, birthdays, and just because, you can customize this blanket with any photo you'd like.
24. Personalized handwritten message blanket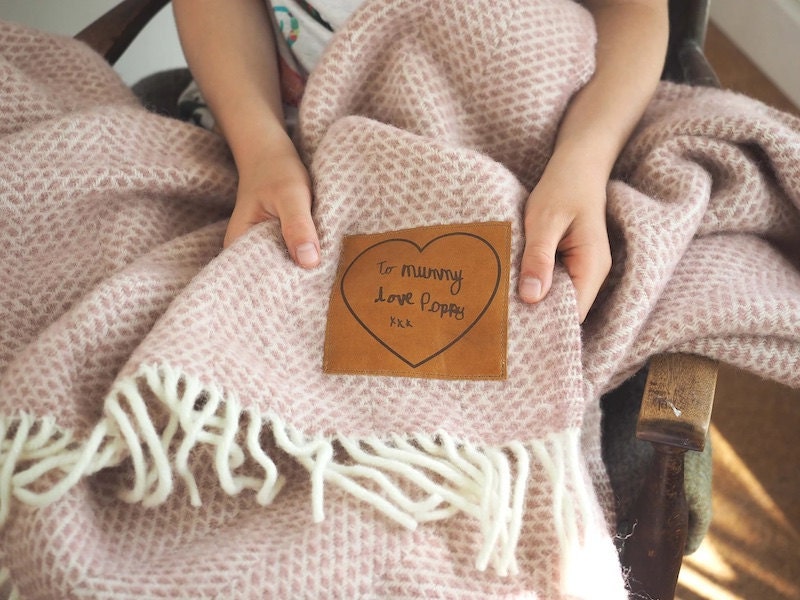 SHOP: Leather patch blanket from Stabo, $129
Connect with this small shop to create a one-of-a-kind personalized throw blanket by choosing a color combination and whether or not you'd like a heart outline around your special handwritten message.
25. Personalized pet blanket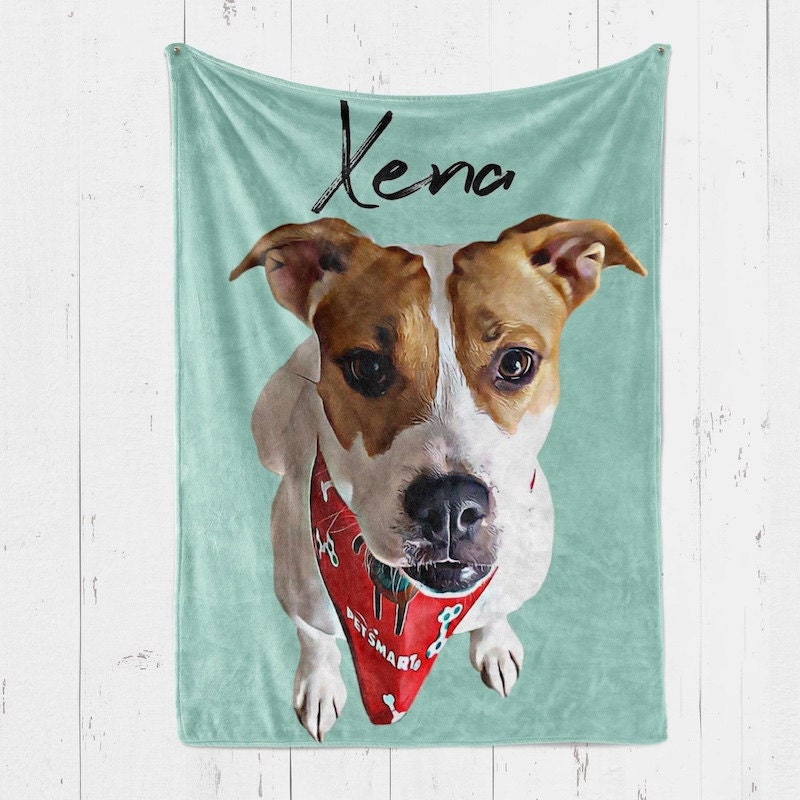 SHOP: Personalized pet blanket from Dogz Lab, from $34
Available as a throw blanket or up to 60x80-inches, buyers rave about the plush texture of this personalized photo blanket. Find your favorite picture of your faithful companion, and this small shop will add it to a colorful background in your choice of hues.
How to shop for a blanket
As you shop for the best new blanket to add to your home, keep in mind the size and materials the blanket is made from. These details are shared by sellers in their listing details, and if you'd like to personalize your blanket in some way, many shops on Etsy offer customizations. If you'll be using your blanket outdoors for picnics or sporting events, look for durable fabrics like denim or manmade fibers like polyester (these yarns are more durable than some cashmeres and wools). For indoor blankets, you'll want something soft like brushed cotton or Merino wool.
What blankets are the softest?
Blankets made from cashmere, wool, and natural materials like cotton and linen are usually the softest options. Upcycled denim and vintage wool blankets can also be ultra soft thanks to repeated washings. Some blankets require special care, so be sure to check the seller's listing details before washing or dry cleaning your pick.
What blankets are the warmest?
If you're looking for an extra-warm blanket, many of the designs from small shops on Etsy offer the option to add another layer or use a warmer yarn. Wool blankets tend to be warm, so they're a great pick for fall or for use outdoors. You can also add them to your bed in the winter to keep things extra cozy.