Shop personalized bridal robes, pajamas, cute homewares, and unique bridal shower gifts for the blushing bride-to-be.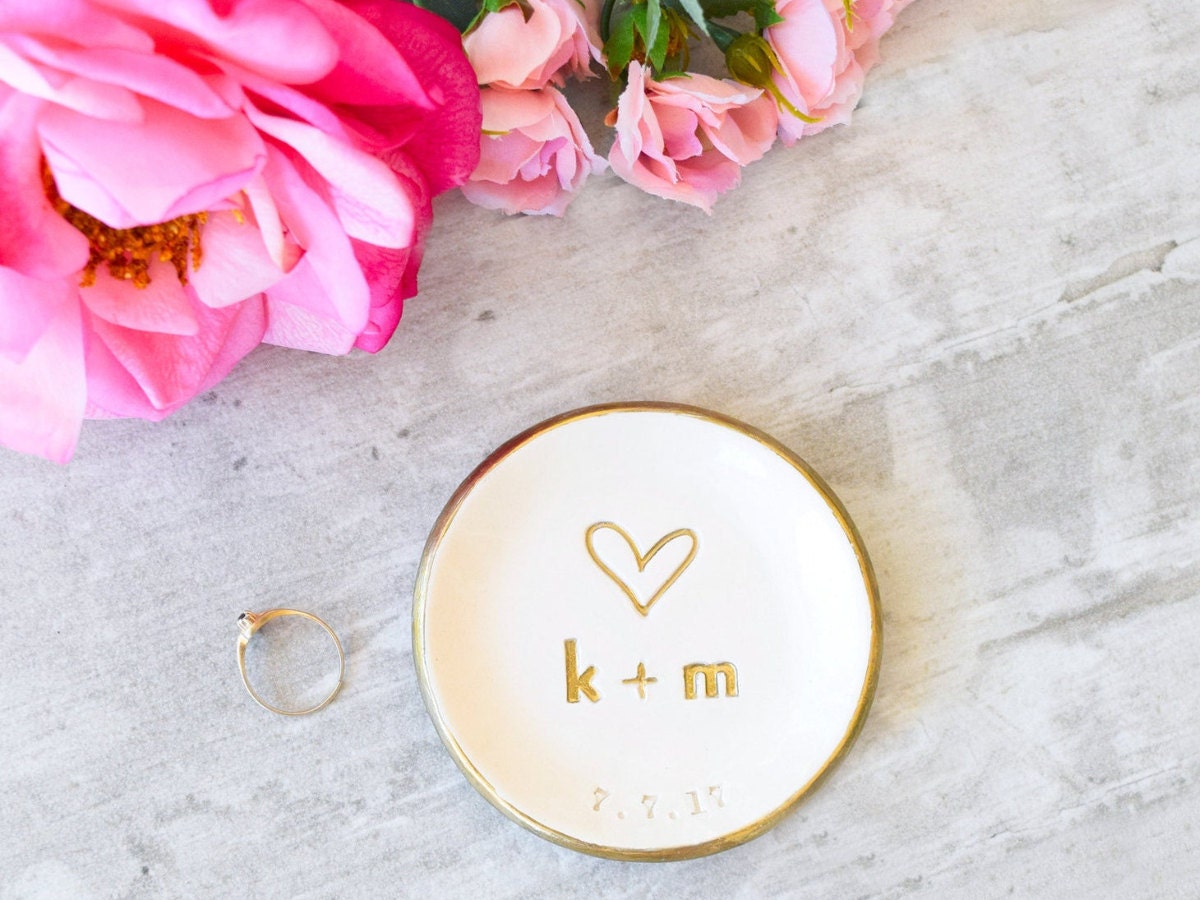 She got her ring, and the wedding invitations have all been sent. Now, it's time to pour the mimosas and toast to the future bride!
In contrast to the wedding gifts for the couple, a bridal shower is also an opportunity to pamper the bride-to-be with special presents that are just her. Whether the bride is your friend, your sister, or your soon to be sister-in-law, these are the best bridal shower gifts to celebrate her nuptials—and what she means to you as a person.
From silky robes and eye masks to spa sets, unique home items, and cute travel accessories for the honeymoon, these gifts are sure to delight the bride. Many of them can also be personalized for a meaningful keepsake she will treasure for a lifetime.
Common bridal shower gifts
Every bride wants to feel special on her wedding day! There's a reason why these bridal shower gifts are so popular. Spoil her with these common bridal shower gifts that are both luxurious and useful.
1. A silk eye mask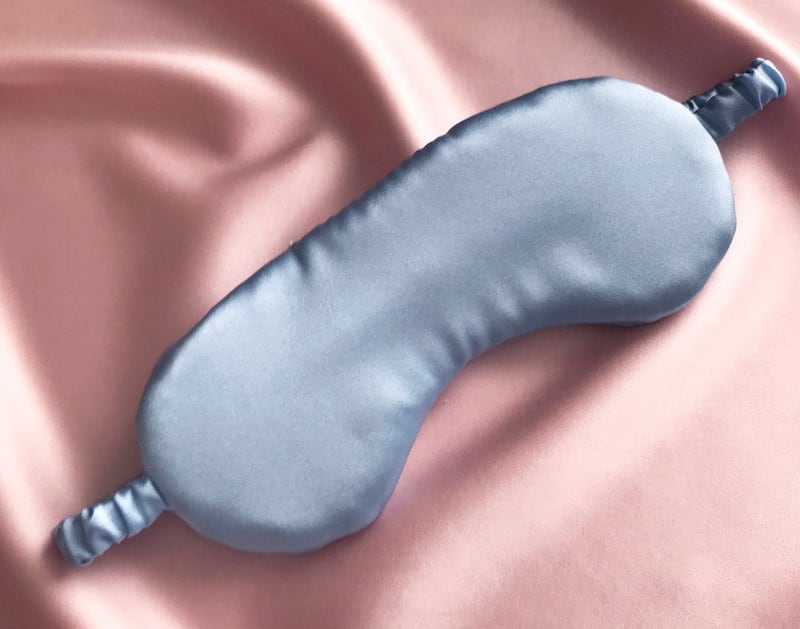 SHOP: Blue silk eye mask from Mille Saisons, from $33
How about a little "something blue"? This luxe silk eye mask will help her get some beauty rest before she walks down the aisle. The material is known to be gentle and protective of skin and hair, and help keep it hydrated. It's even suitable for those with sensitive skin.
2. A set of linen bridal pajamas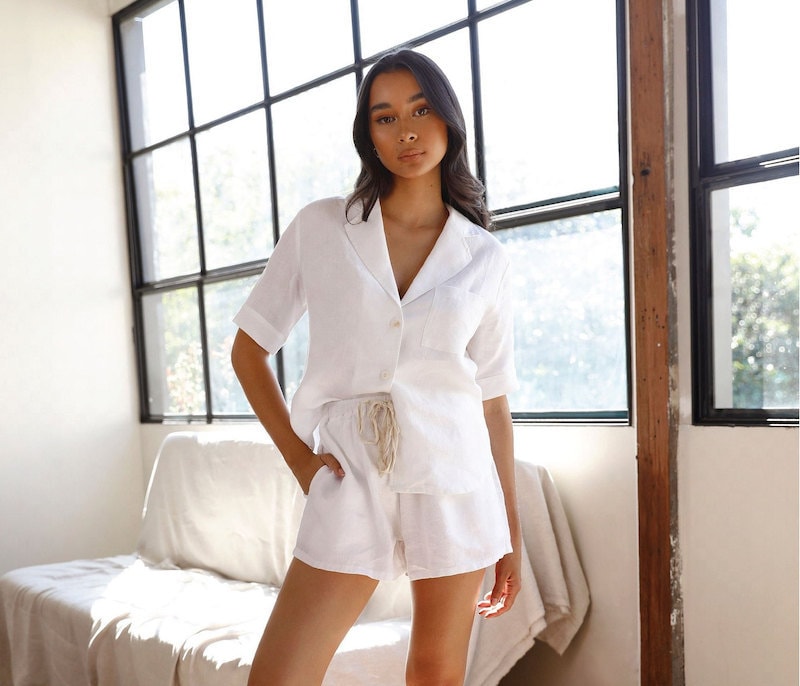 SHOP: White linen bridal pajamas set from The Bridal Thread, $80
Every bride could use some cute jammies! The lightweight linen set includes a button-down top and matching shorts with a comfy elastic drawstring waist (and pockets!). The pajamas come in XS–XXL, which fits about 2–14 in U.S. sizes.
3. A pretty beach tote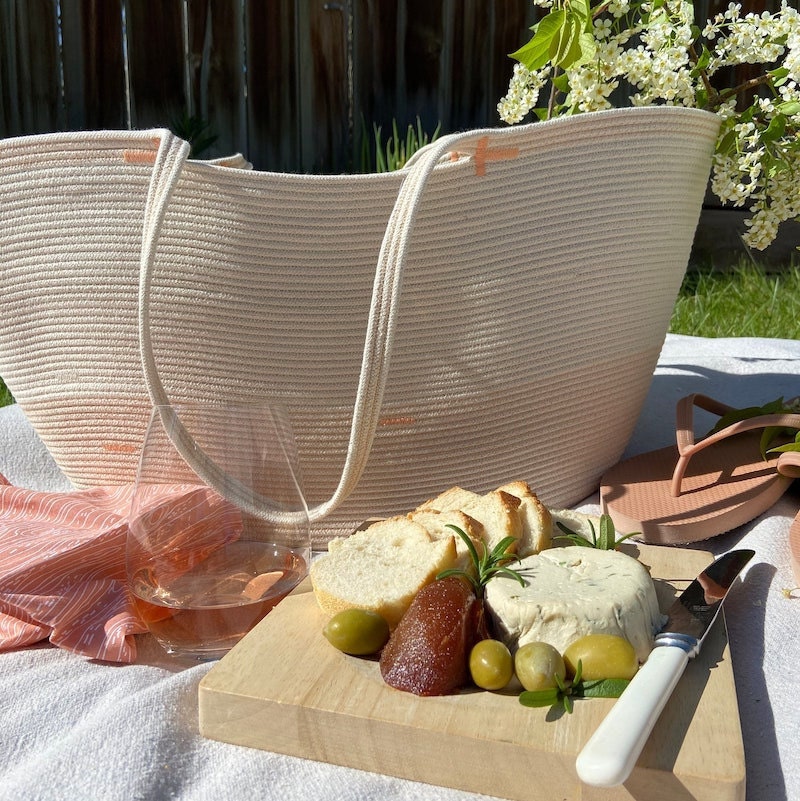 SHOP: Summer beach tote from Crafting the Harvest, $97
Whether your favorite bride is headed to the beach, hitting the pool, having a picnic, or just strolling around town, this summer beach tote is a great honeymoon accessory. The roomy 18-inch-wide peach and cream bag is constructed of cotton rope and has long straps for easy carrying.
4. A satin bridal robe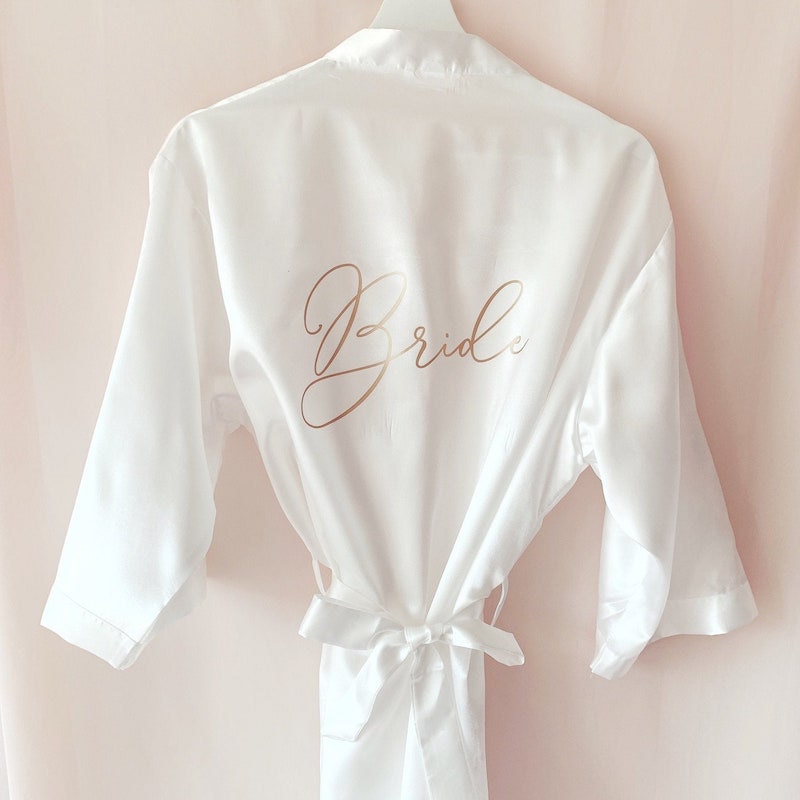 SHOP: Personalized satin bride robe from Blushin' Gifts, $30
It's her special day—make sure everyone knows it! Pamper her with a satin bridal robe for getting ready. The robe comes in white or blush pink, and you can get "Bride" on the back in your choice of four colors, including gold or silver. Or get it personalized with her first name—or new married name—on the back.
Personalized bridal shower gifts
These personalized bridal shower gifts are not only thoughtful, but she'll treasure them as a memento of their big day.
5. An initial ring dish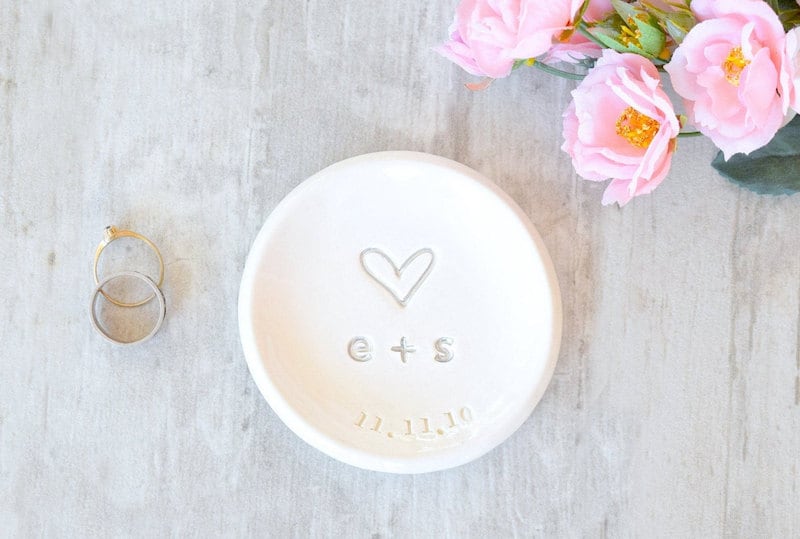 SHOP: Personalized heart ring dish from Prima Pottery, from $35
She needs a place to stash that ring now when she's not wearing it, so commemorate her upcoming nuptials with a cute ring dish personalized with their initials. The dish measures a little over 3 inches wide, and you can either leave it a classic white or give it a little more glitz with your choice of metallic trim and lettering.
6. Personalized straw beach hat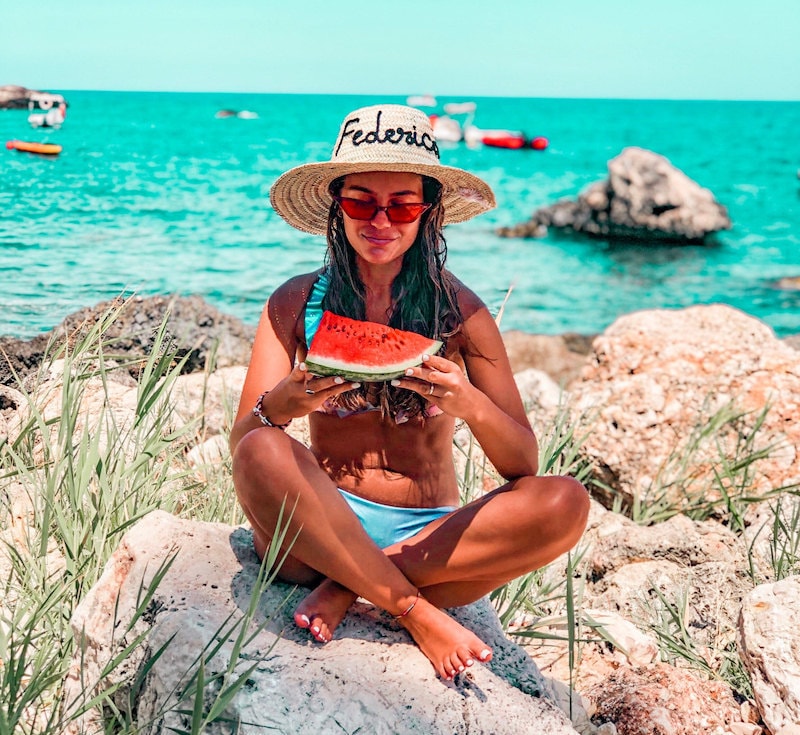 SHOP: Mrs. beach hat from Marrakech Shop Design, from $45
She'll be ready to jet to somewhere sunny for the honeymoon in this cute straw hat that can be embroidered with Mrs. or Bride—or personalized with her first name or new married name. The hat comes in two different sizes and you can choose from a wide variety of embroidery colors to match her favorite shade.
7. A personalized cutting board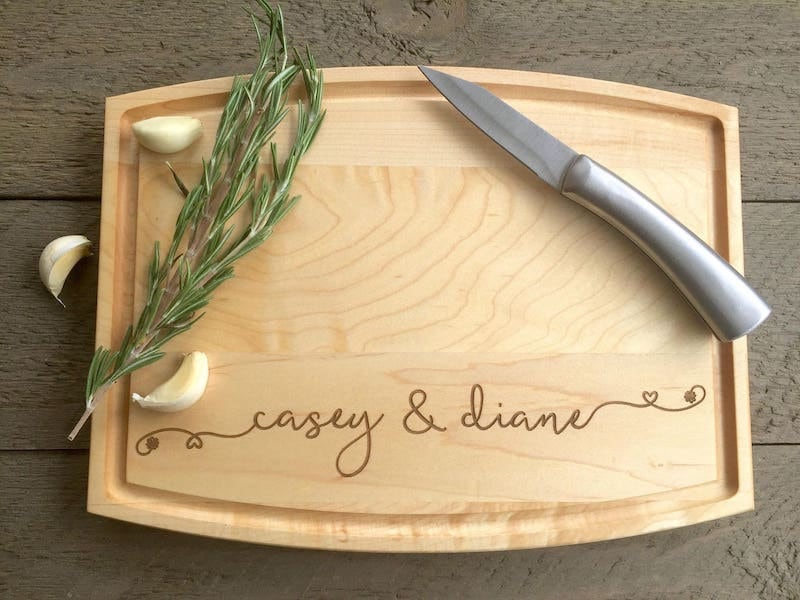 SHOP: Personalized cutting board for bride and groom from CDShardwoods, $57
You can't go wrong with a personalized cutting board for the couple. This one, which comes in either walnut or maple, is especially swoonworthy, featuring the couple's names in swooping cursive with cute little hearts. Plus, you can either get it personalized with their first names or her new married name.
8. Personalized vow books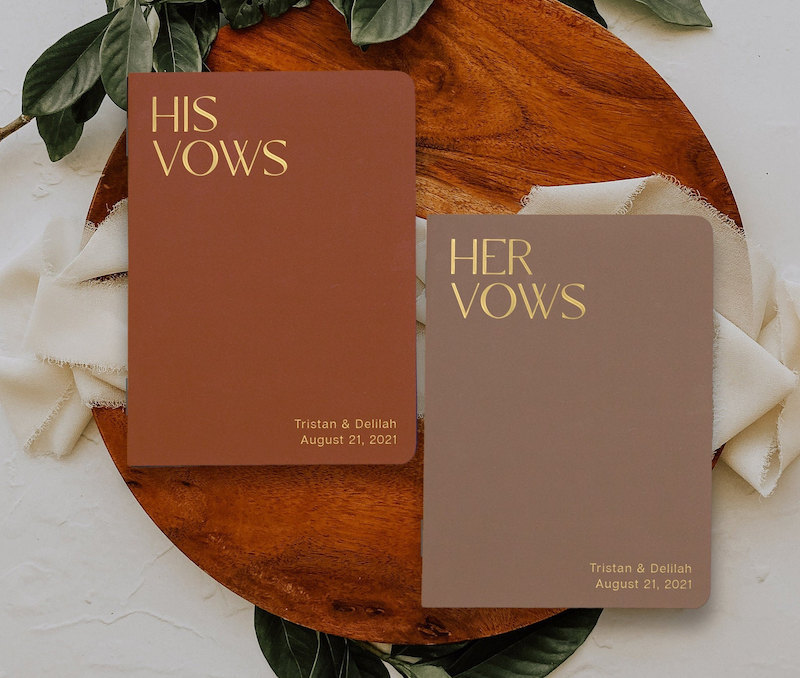 SHOP: Personalized vow books from The Cozy Comfy Home, from $35 for two
Help her get ready to say "I do" with personalized vow books. These beautiful lined notebooks, which measure 5.5 inches tall, come in a wide variety of colors and can be personalized with the couple's names, wedding date, and pronouns. You can even get them with metallic foil lettering for a beautiful keepsake they will treasure.
Unique bridal shower gifts
From striking catch-alls to handmade vases, say "I do" to these unique bridal shower gifts that are as extraordinary as the bride.
9. A handmade ring cone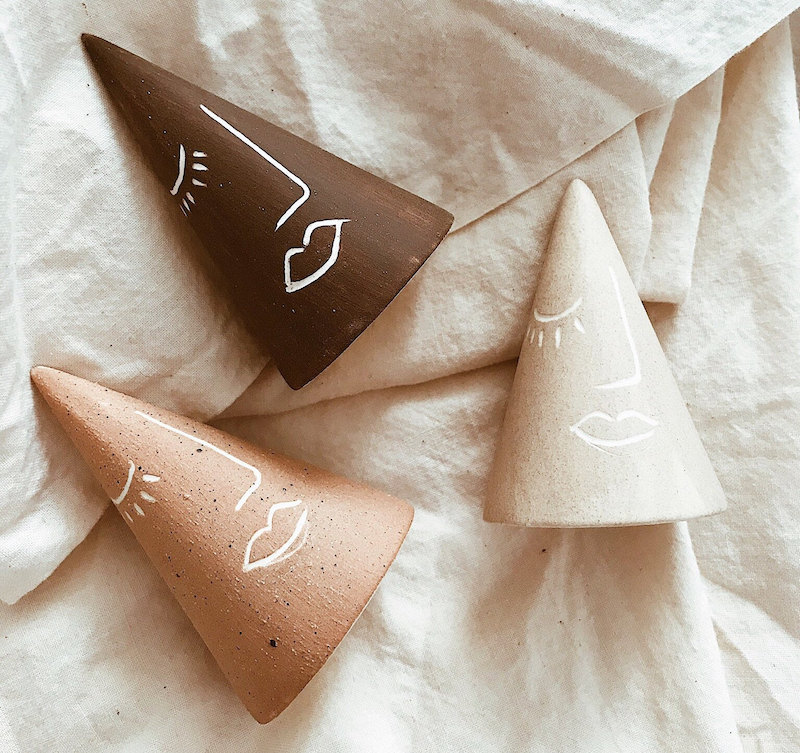 SHOP: Abstract portrait ring cone from Muddy Heart, $48
Give her a beautiful place to display that engagement ring—if she ever takes it off her finger. This eye-catching handmade clay ring cone, which is painted with an abstract face design, comes in four different colors and measures 3 inches tall. It will look stunning on her vanity or bedside table.
10. A colorful glass vase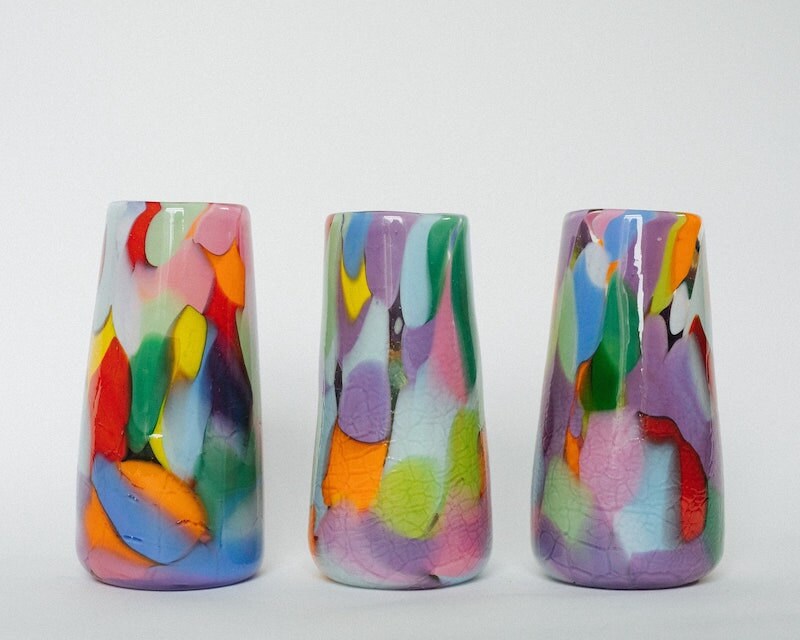 SHOP: Glass blown rainbow crackle vase from Maria Ida Designs, $105
Brighten up the happy couple's new home with a cheerful vase that's as unique as they are. Each of these rainbow vases, which measure around 6–7 inches tall, is one of a kind, made of multi-colored blown glass that is quickly dipped in cold water and reheated to create a cool crackle effect.
11. Ceramic catch-all bowl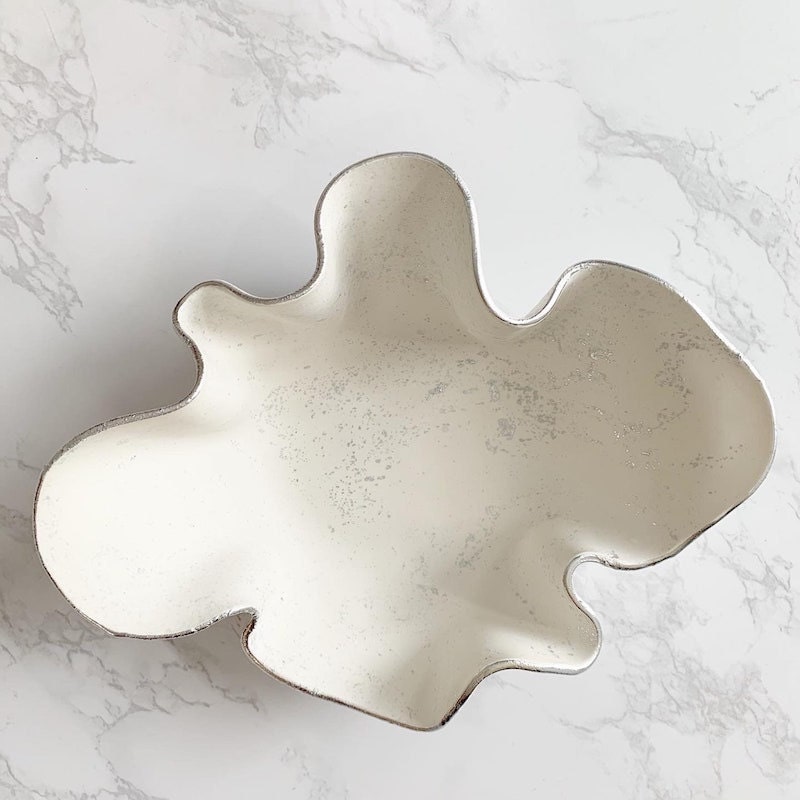 SHOP: Silver leaf catch-all bowl from nativeprintcess, from $35
Help her stow her jewelry, keys, change, or other bits and bobs with this striking catch-all dish. The bowl, which has a distinctive organic shape, can even be decked out with silver trim or personalized with the couple's initials.
12. A rustic key holder with leather key chains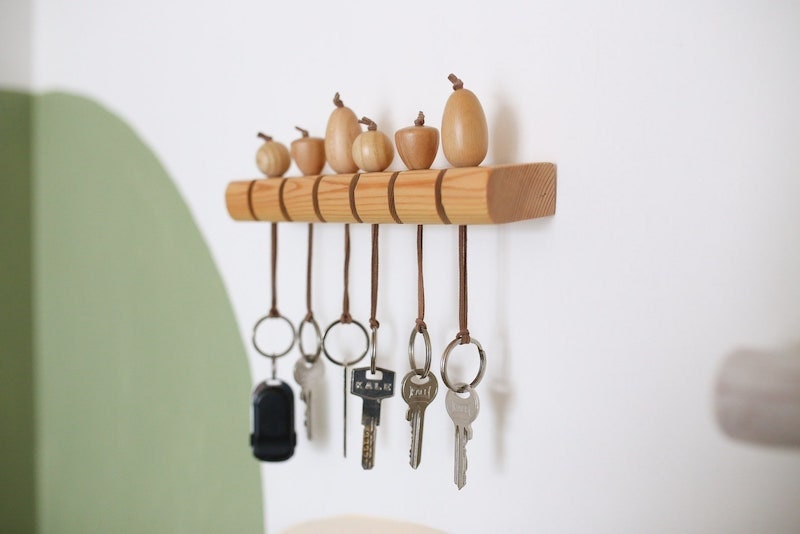 SHOP: Key holder with keychains from THEA Leather, $95
They've given each other the keys to their hearts, now help them stay organized as they start their new life together. This handmade key holder comes with a mountable wooden bar and six matching leather keychains, to make sure they always know where to find their keys. The seller can also personalize it with the couple's names.
Cute bridal shower gifts
From charming homewares to honeymoon-ready accessories, celebrate her love with cute bridal shower gifts that are sure to make her beam.
13. Heart measuring spoons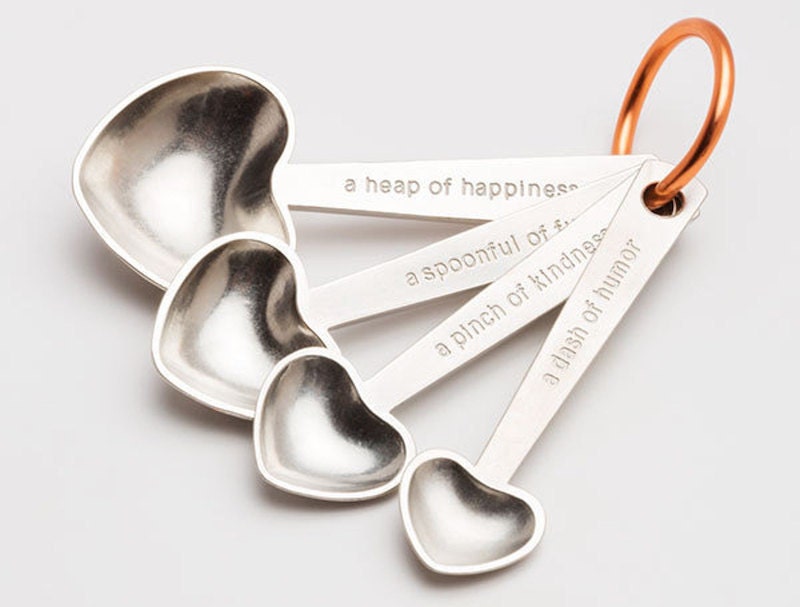 SHOP: Heart shaped measuring spoons from Beehive Handmade, $63
Does your favorite bride love to bake? These die-cast zinc measuring spoons will capture her heart. Whether she's adding a "heap of happiness" (one tablespoon) or a "pinch of kindness" (half a teaspoon), these spoons are a recipe for baking up sweet treats with love.
14. A leather travel bag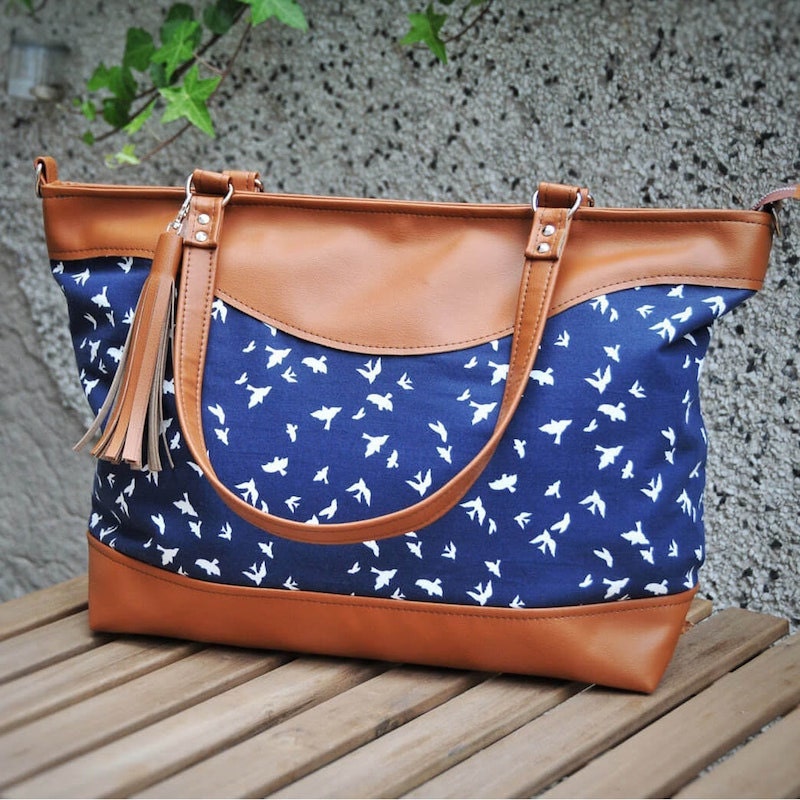 SHOP: Leather weekender travel bag from Lauren Holloway Design, from $180
It's the perfect bag for the love birds! She'll be excited to pack this beautiful overnight bag for her honeymoon. The bag, which measures 21 inches wide, is trimmed with recycled leather and features a charming bird print and a detachable tassel. You can also get it with an optional crossbody strap for easier carrying.
15. Hand-printed kitchen towels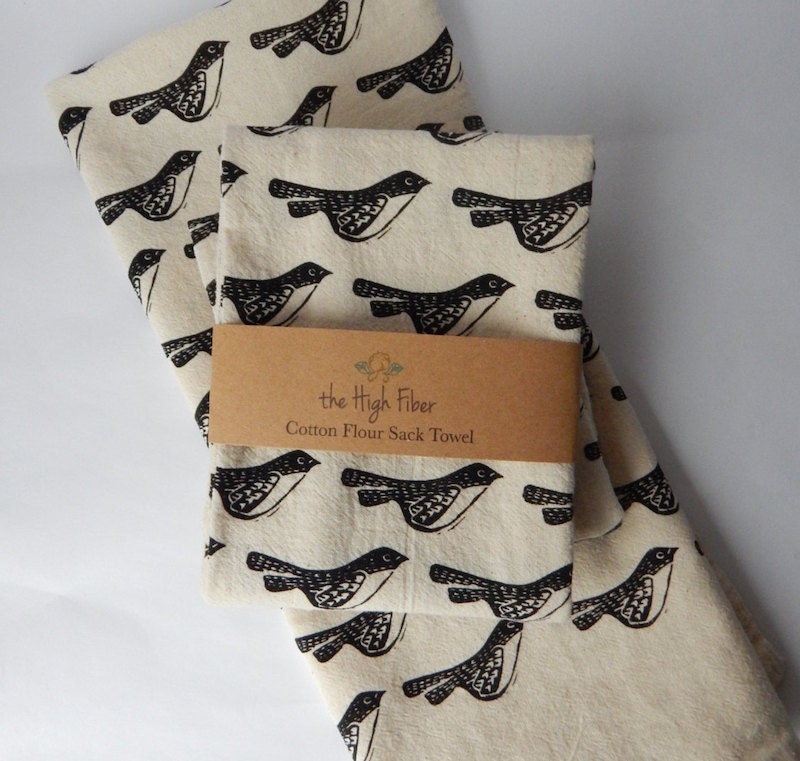 SHOP: Hand-printed tea towel set from The High Fiber, $42 for three
Spruce up their new kitchen with a set of cotton tea towels. These flour sack-style towels are as useful as they are cute. Not only are they great for drying hands and dishes, but because they don't shed lint, they also come in handy for baking bread and keeping rolls and biscuits warm. With a selection of about 30 adorable prints—including birds, strawberries, Monstera plants, succulents, and tea cups—you're guaranteed to find a pattern to fit your favorite bride's style.
16. A spa gift set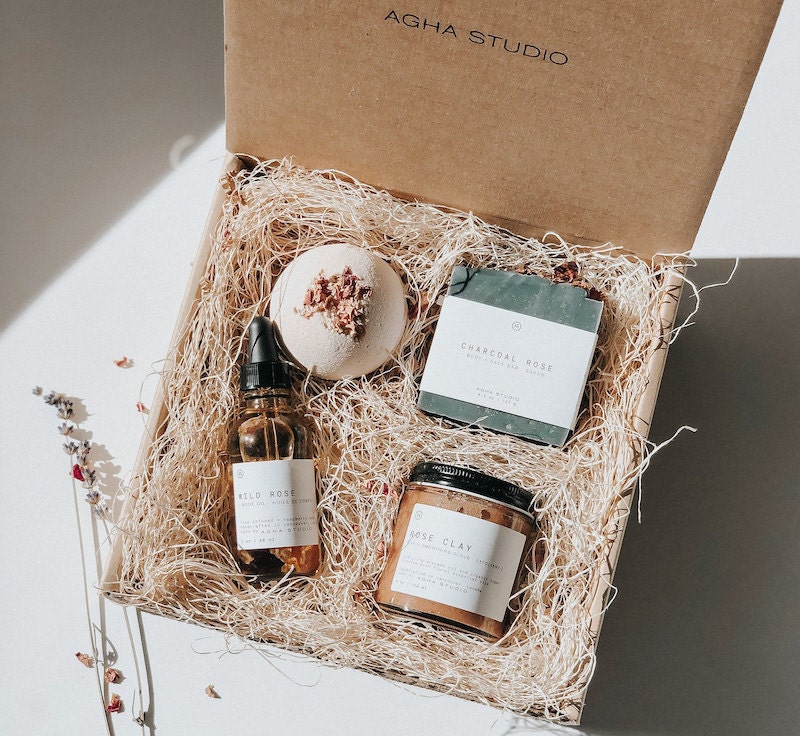 SHOP: Self care gift set from Agha Studio, $79
Wedding planning can be stressful. Treat the bride to a mini spa day at home with this gift set. It comes with a bath bomb, body scrub, body oil, and a face and body bar. You can choose from scents like Nordic Spa (a refreshing combo of lavender, sage, eucalyptus, and rosemary) or Wildest Dreams (a citrus-y mix of orange, grapefruit, ylang ylang, geranium, and marigold flowers). Buyers rave about the scents—and the pretty packaging.
Funny bridal shower gifts
Risqué gifts are typically left for the bachelorette party, but these funny bridal shower gifts are safe for brunch with her soon-to-be mother-in-law.
17. A funny engagement card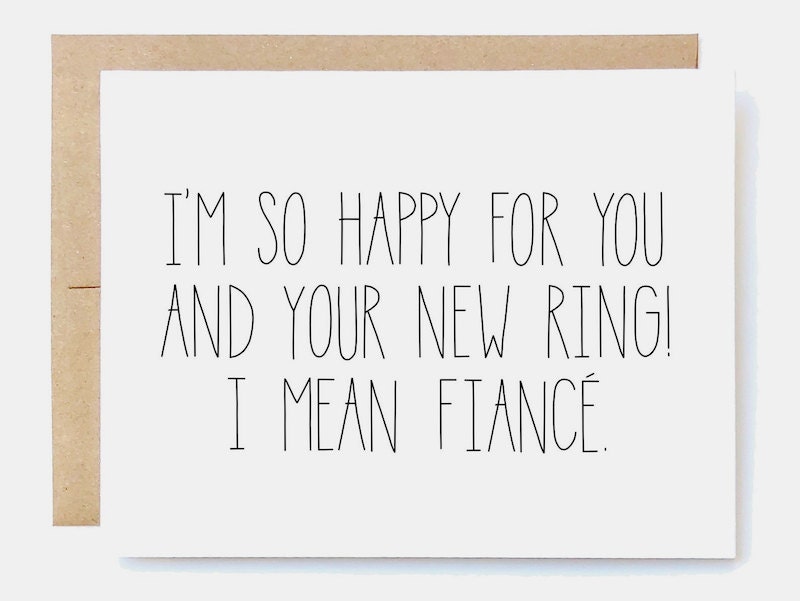 SHOP: Funny engagement card from CheekyKumquat, from $6
Her spouse-to-be is a catch, but that rock, though! Make the bride laugh with this light-hearted card that celebrates her love—and her love of jewelry.
18. A cheeky cosmetics bag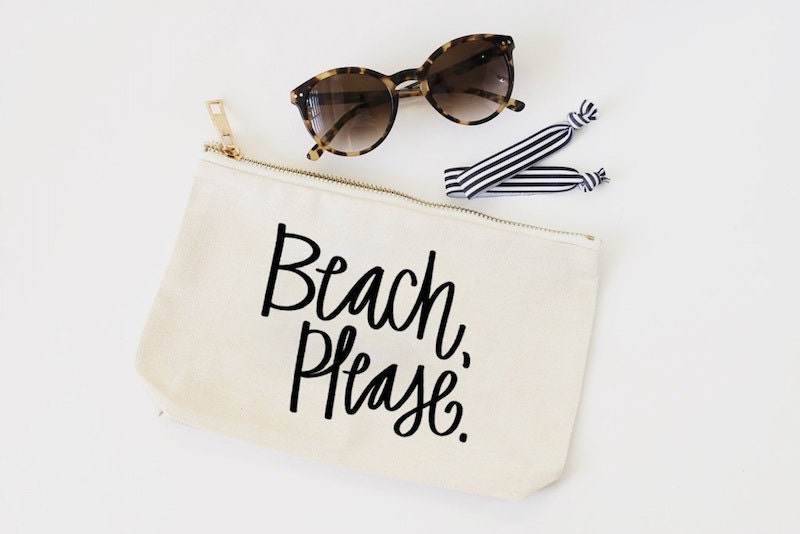 SHOP: Personalized Beach Please cosmetics pouch from When It Rains Paper Co., $25
Is she planning a beach honeymoon? Help her organize her makeup or other essentials in this sassy zippered bag. The pouch comes in either white, black, or natural canvas, and you can choose from a wide variety of colors for the lettering, to match your bride's taste.