Shop the most unique bridesmaid dress trends and classic styles for a fit that will make each 'maid feel beautiful.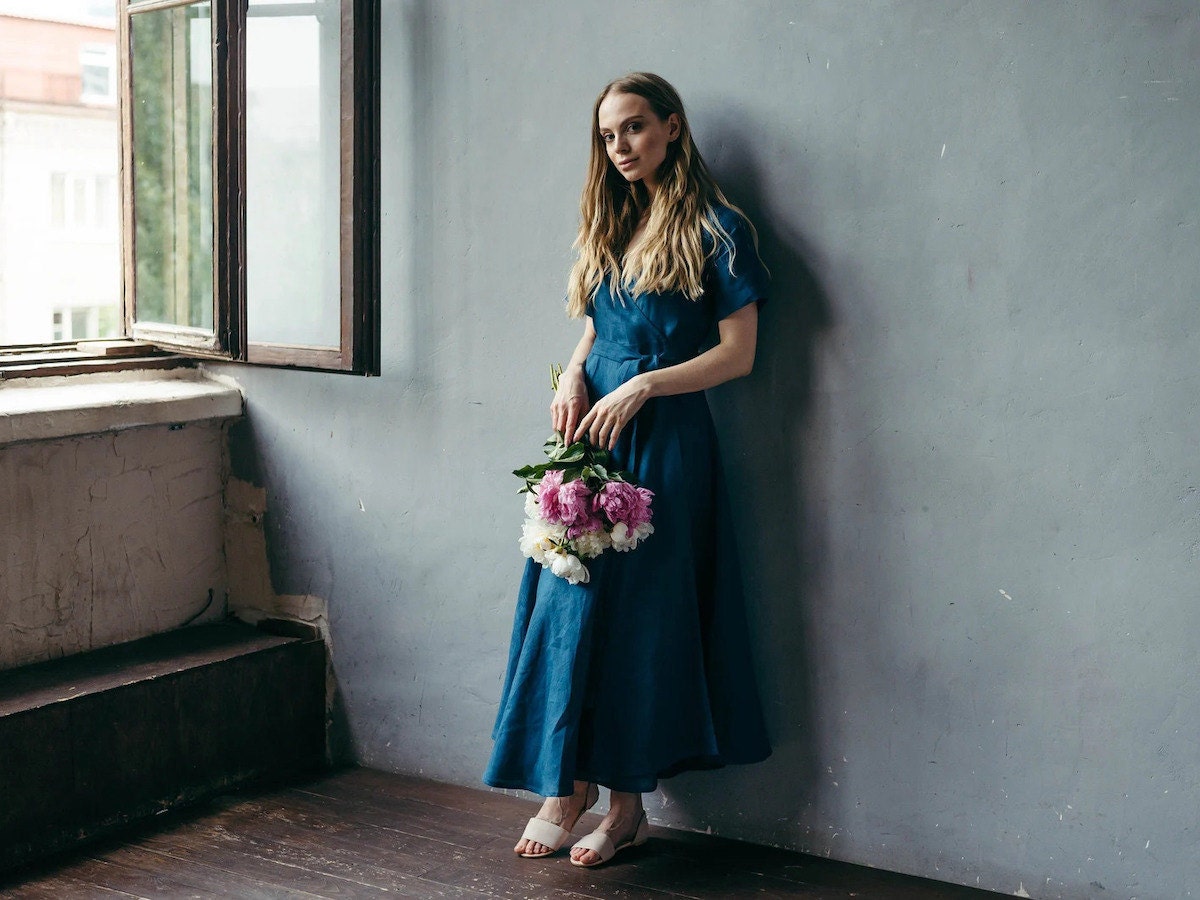 From the colors and fabrics to the hemlines and silhouettes, there are so many choices when it comes to picking out bridesmaid dresses for your bridal party. Whether you opt for a single, stunning silhouette or a more laid-back and effortless mix-and-match vibe, these Etsy shops have designed some of the best bridesmaid dresses for your upcoming nuptials. Bonus—these bridesmaid dresses are so stylish, your besties will surely wear them again!
Beach bridesmaid dresses
If you're off to warmer temps to exchange your vows, these beach-ready bridesmaid dress ideas are the perfect, shore-ready styles. As you shop for beach bridesmaid dresses, look for lightweight fabrics that will flow in the breeze and play with ocean-inspired hues and lush tropical prints.
1. A flowy maxi skirt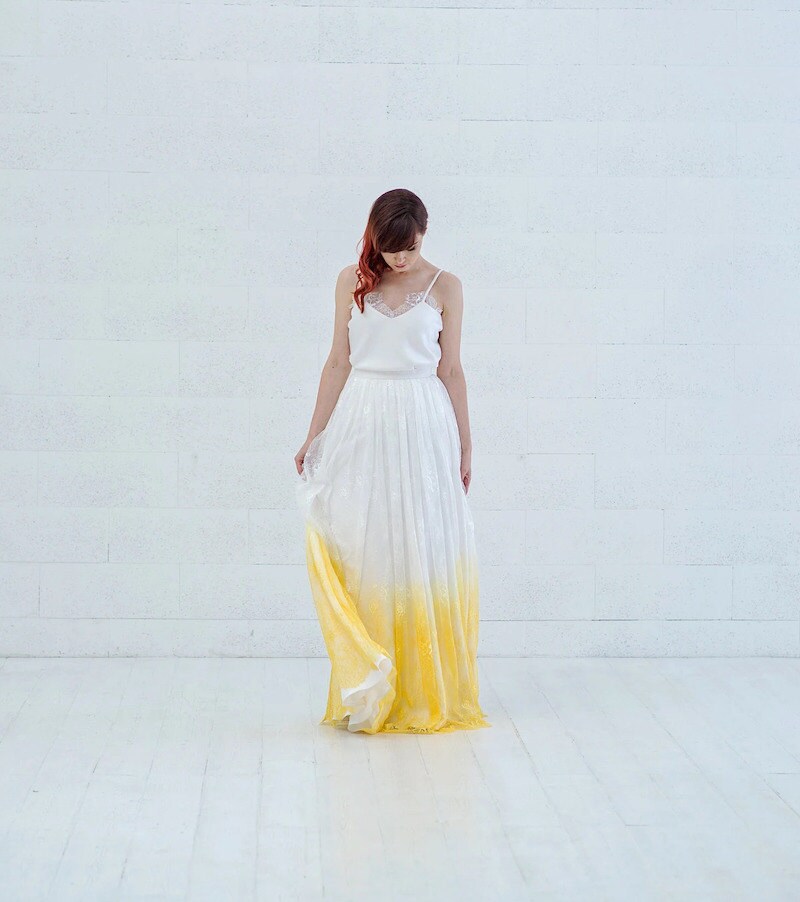 SHOP: Marigold maxi skirt from Wardrobe by Dulcinea, $570
Embrace those sea breezes with a beachy chic maxi skirt in a shoreline-ready color like this brilliant marigold, a wave-inspired cerulean, or a subtle, sandy hue. Each bridesmaid can customize their maxi skirt look by adding a top of their choice.
2. A beachy, backless bridesmaid dress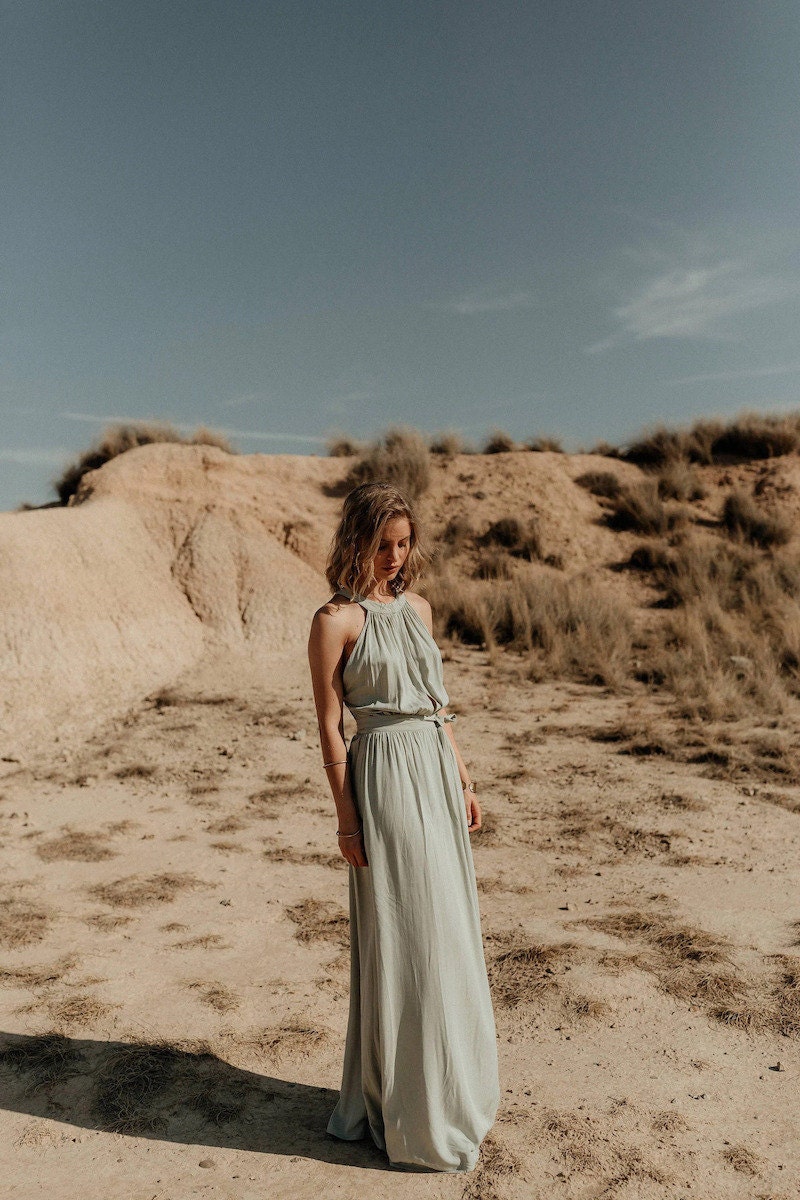 SHOP: Kaia dress from Lylou Designs, $165
As you shop for your beachside wedding, look for fabrics that are lightweight like the natural bamboo material this seafoam green bridesmaid dress is made from. The backless design of this dress will help your attendants stay a bit cooler, too, as they stand by your side.
3. Lovely linen bridesmaid dresses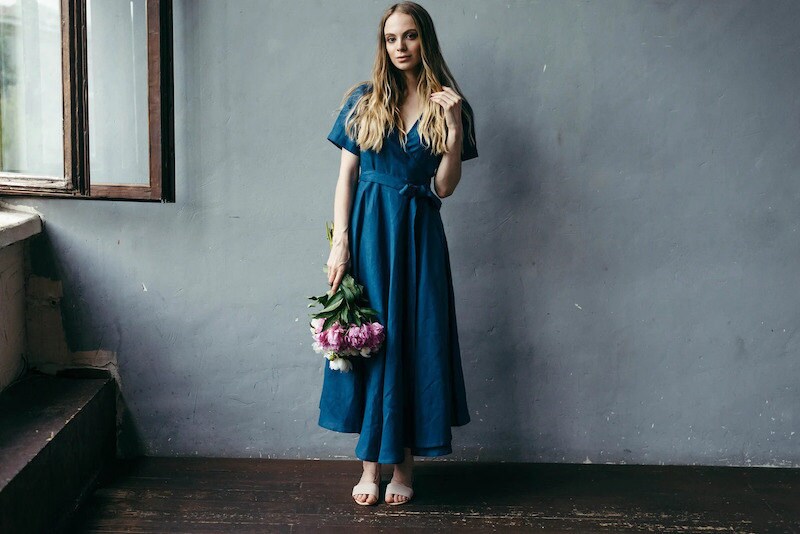 SHOP: Wrap linen dress from Bunny Street, from $148
Just as beautiful on the seashore as it is for a casual weekend brunch, a wrap linen dress is a versatile choice for a beach bridesmaid dress. Bridesmaids will appreciate the flowy fabric as their skirts ruffle oh-so-casually in those warm ocean breezes.
Affordable bridesmaid dresses
With simple silhouettes and stunning colors, these affordable bridesmaid dresses are all under $100 and can most definitely be enjoyed again and again, making them a great investment piece.
4. A classic satin slip dress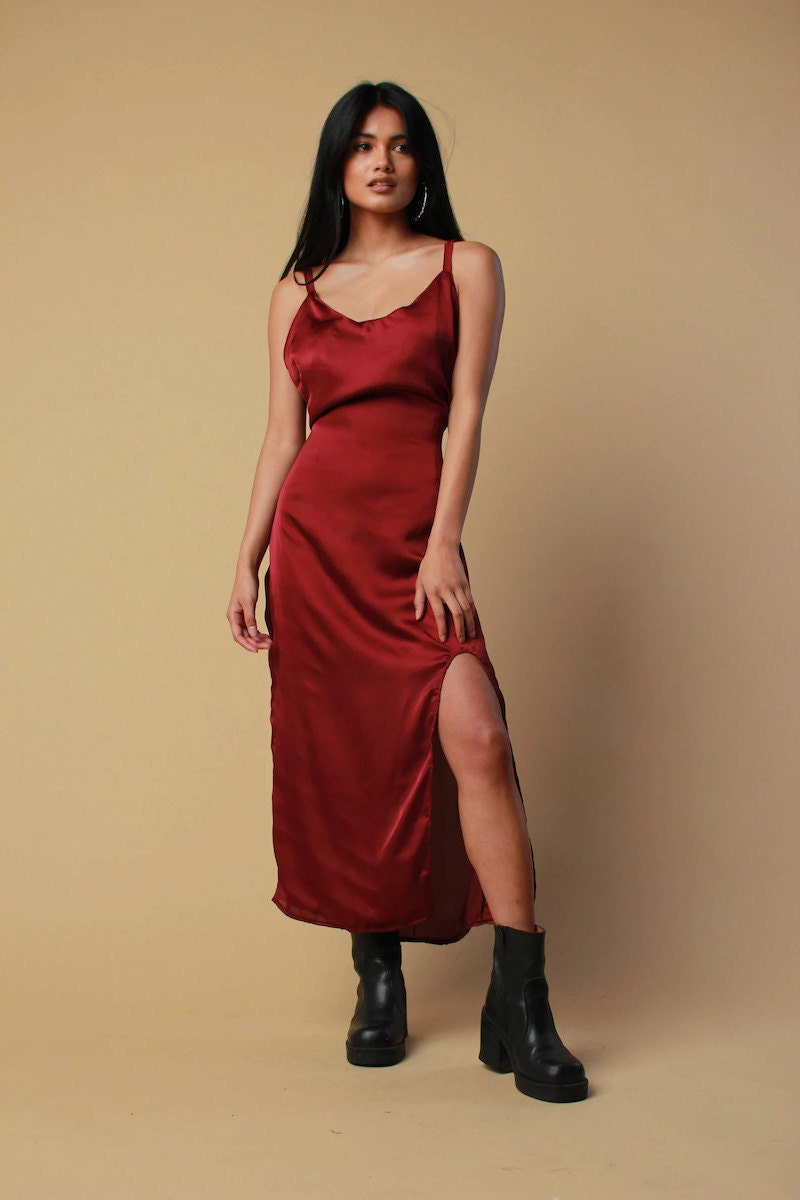 SHOP: Slip dress from Soleil Store, $72
This handmade satin slip dress features a timeless A-line silhouette that can be easily dressed up or down for any occasion. A tie-waist allows each bridesmaid to adjust this affordable bridesmaid dress in a way that makes them feel the most comfortable.
5. A convertible bridesmaid dress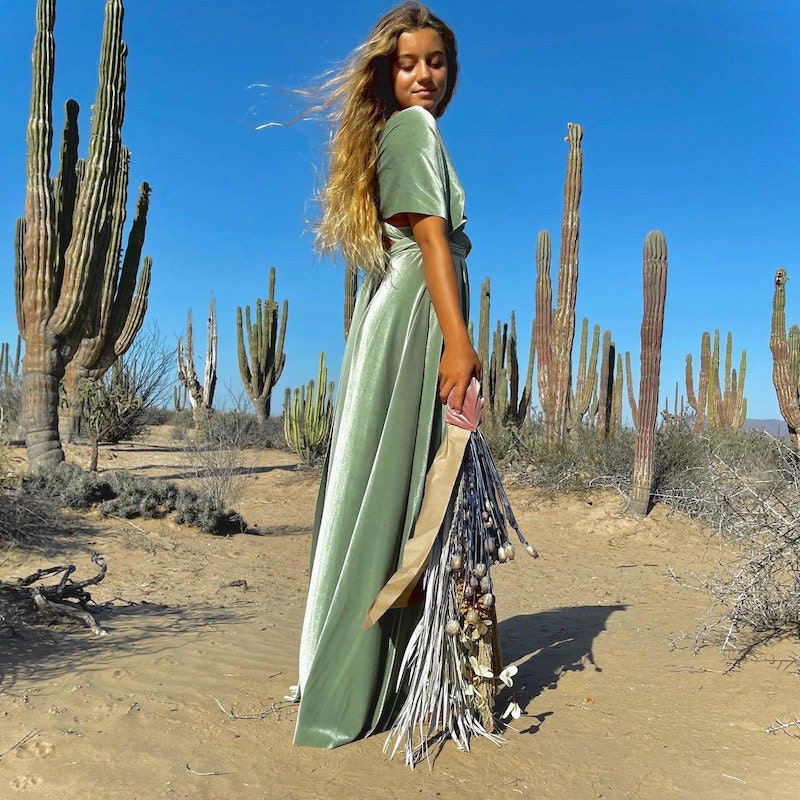 SHOP: Convertible velvet wrap dress from Coralie Beatrix, from $60
A fun choice for junior bridesmaids, this convertible bridesmaid dress can be styled in more than 20 different ways and is available in a wide range of hues to match your wedding colors.
6. A summer-ready maxi dress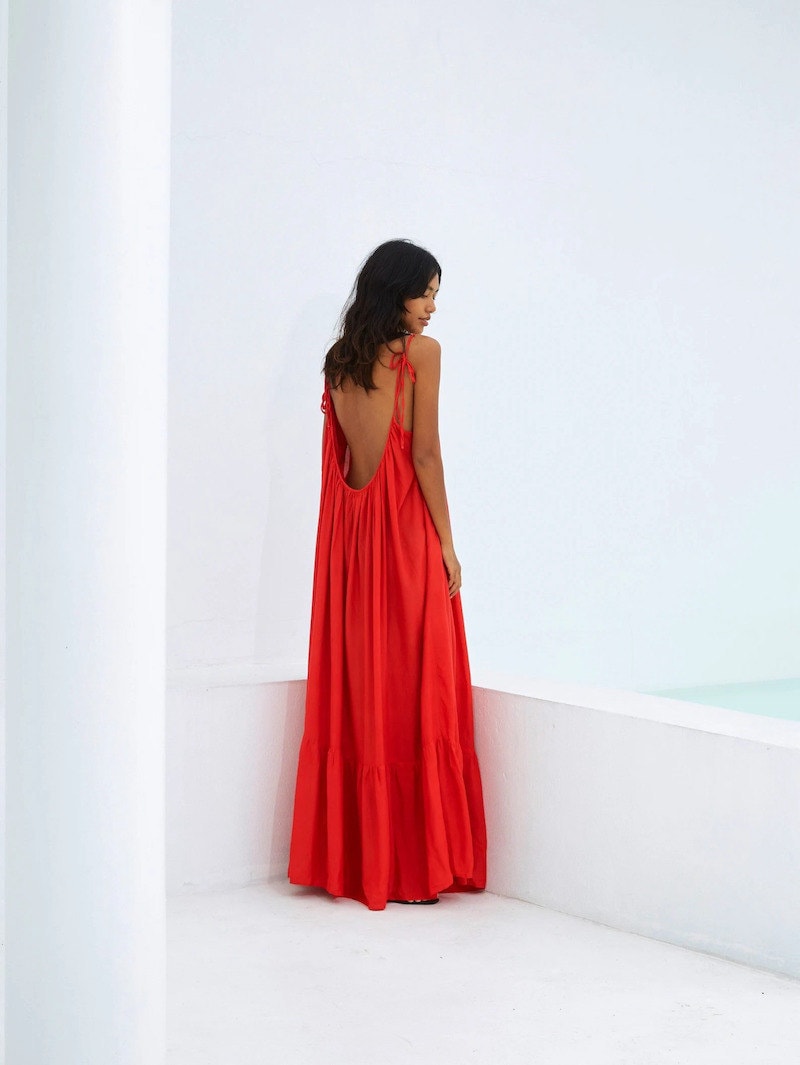 SHOP: Open back maxi dress from Dechom, $63
The simple silhouette of this affordable bridesmaid dress gets a major style boost thanks to a bold hue and daring low back. Perfect for a summer wedding, this dress will become one of her favorite styles when she's looking for a chic yet comfortable gown.
Unique bridesmaid dresses
As modern brides embrace celebrating their vows in their own unique way, the bridesmaid gowns they choose are no exception. From boldly printed gowns to fabulous, flowing frocks, these unique bridesmaid dresses are one-of-a-kind, just like your wedding day.
7. Tulle wedding skirts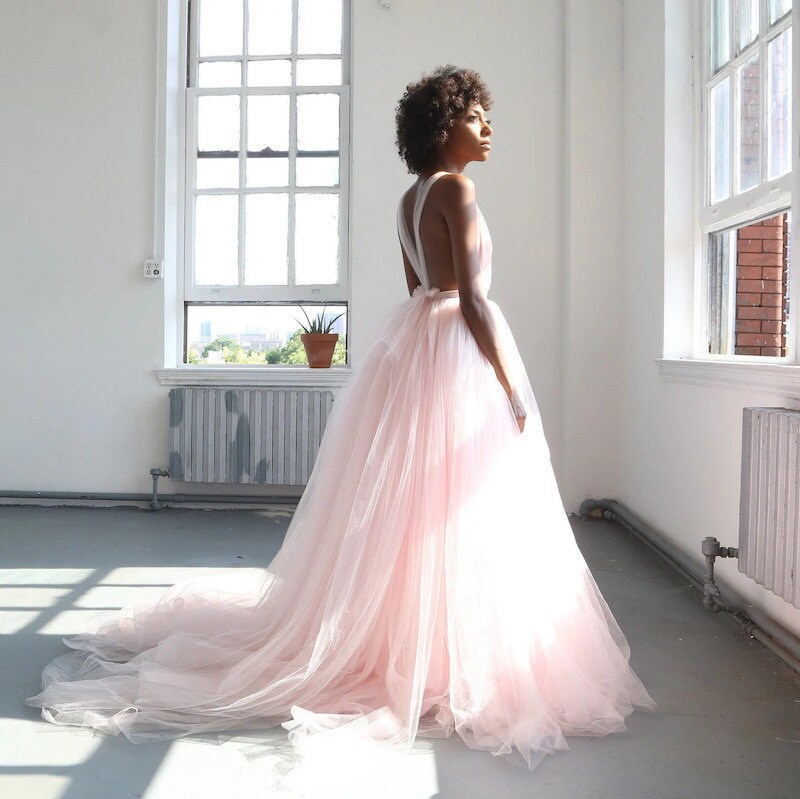 SHOP: Pale pink tulle wedding skirt from The Lotus Bloom Co., $362
With layers upon layers of tulle, these ethereal skirts bring instant whimsy and romance to your nuptials. Go fun and flirty with a tea-length tulle skirt, or go full-fairytale with a train-adorned tulle creation.
8. Vintage bridesmaid dresses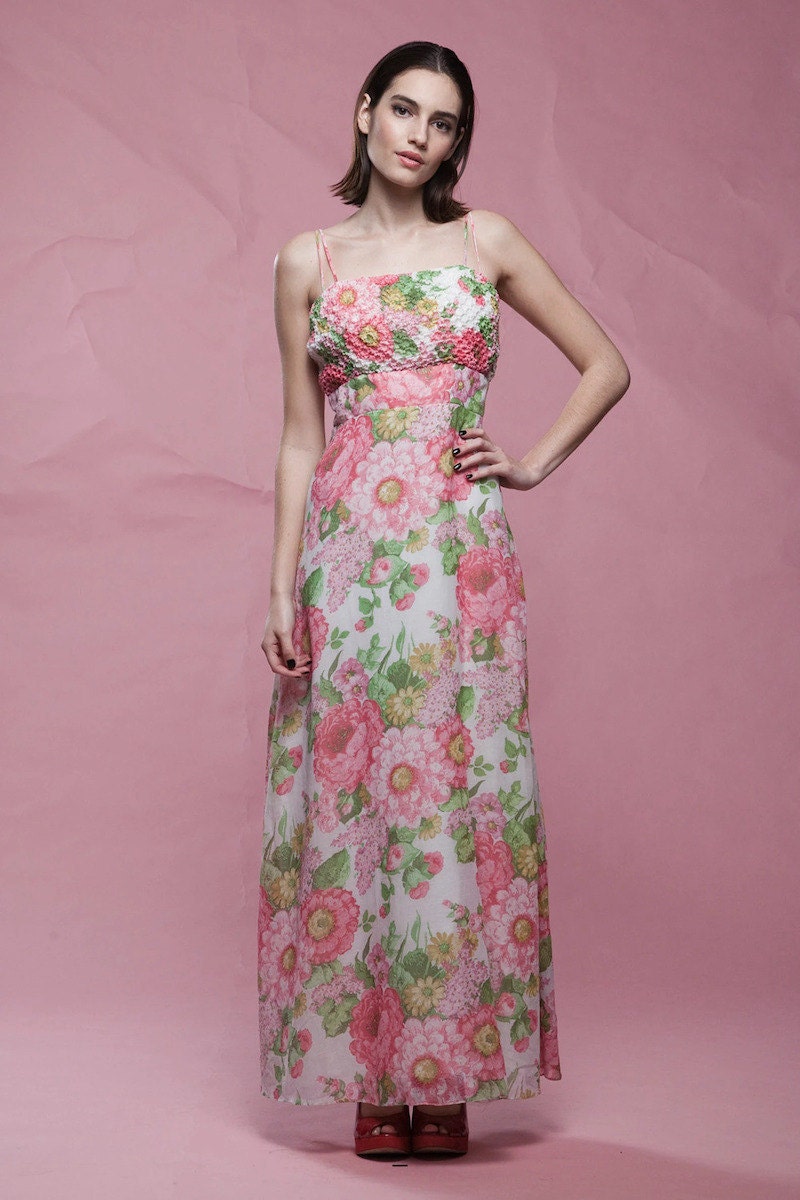 SHOP: Pink smocked vintage bridesmaid dress from Shop Rabbit Hole, $125
Perfect for more intimate bridal parties with just a couple attendants, opting for vintage bridesmaid dresses allows each bridesmaid to shine in a truly one-of-a-kind bridesmaid dress.
9. A custom-made bridesmaid dress
SHOP: Blue floral print dress from Paranoir, $180
Give your bridesmaids the honor of being your "something blue" when you pick a sky-hued bridesmaid dress like this floral print mini dress inspired by Alice in Wonderland. Since this design is a one-of-a-kind creation, you can create a cohesive look across your bridesmaids by picking one primary color you'd like them to build their look around.
Midi bridesmaid dresses
Midi dresses are a wonderfully versatile choice for your bridesmaids. As equally eye-catching at a garden wedding as they are a more formal affair, your attendants will appreciate the ease of movement this slightly shorter hemline offers when it's time to hit the dance floor and celebrate.
10. A bright midi bridesmaid dress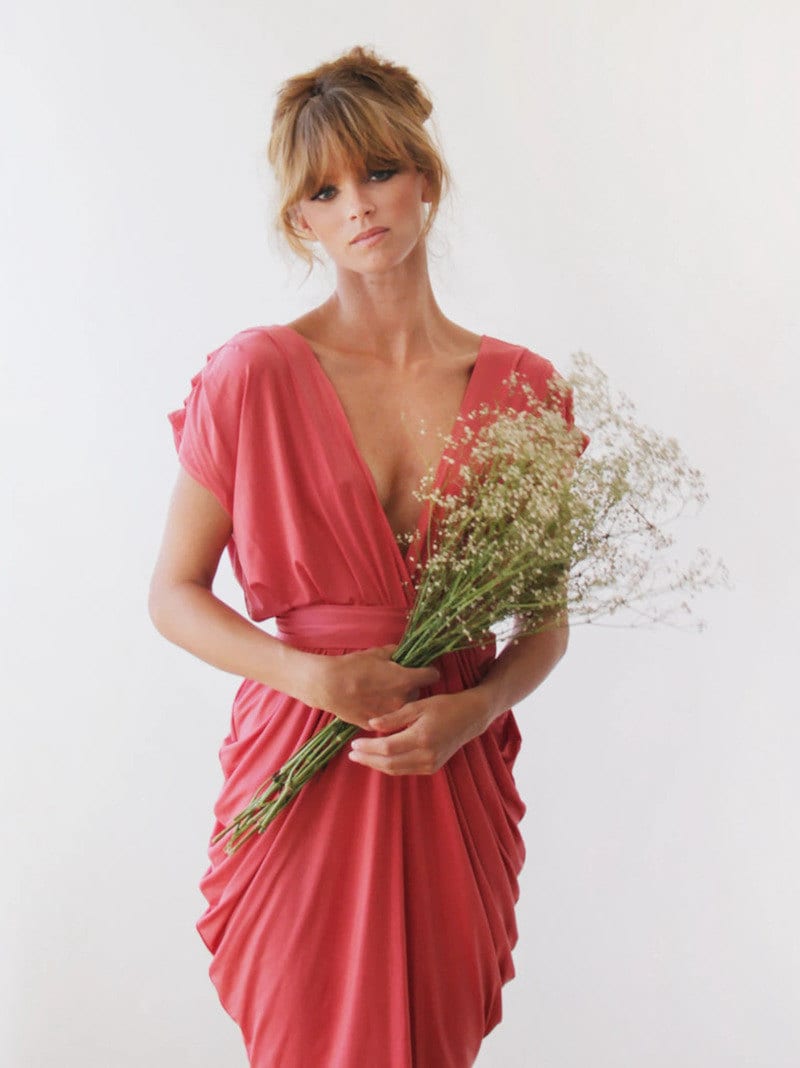 SHOP: Coral cocktail dress from Blush Fashion, $167
The gently draped seams and simple stretch of this coral bridesmaid dress make it a flattering choice for all your bridal party members.
11. A party-ready bridesmaid dress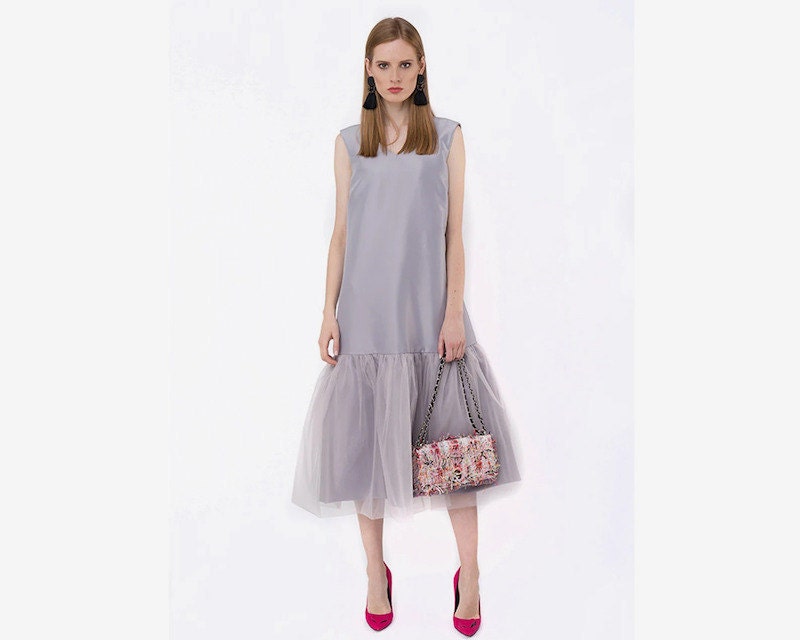 SHOP: Fancy gray evening dress from Modneli, $102
A little bit minimalist, a little bit fancy, this classic gray midi dress gets a glam upgrade thanks to the tulle trim.
12. Midi linen sundress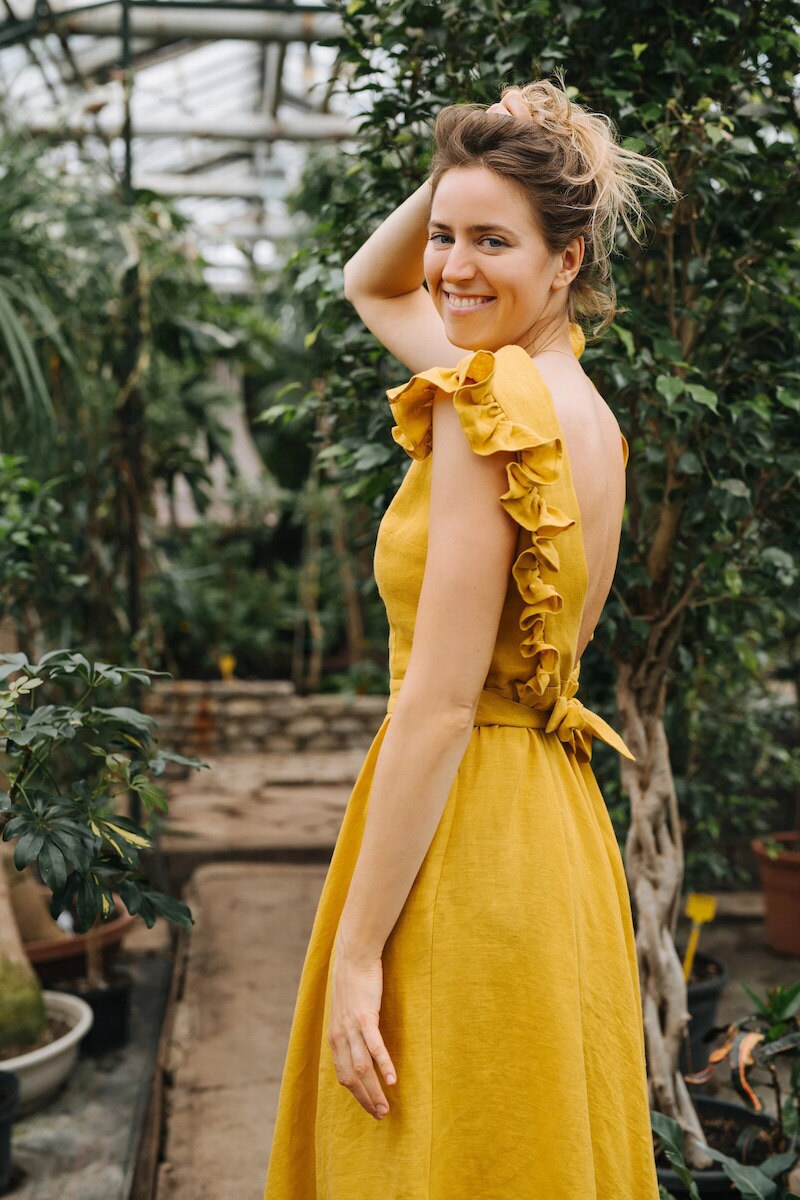 SHOP: Yellow linen dress from Mantaikotai, $149
If this cheery yellow linen sundress doesn't match your colors, no worries! This ruffled, low-back dress is available in more than 20 colors and patterns to beautifully express the wedding color scheme of your dreams.
Winter bridesmaid dresses
As the mercury drops and winter rolls in, your bridal party will stay warm and stunning in these winter bridesmaid dress styles featuring sumptuous fabrics and a little extra coverage.
13. Metallic bridesmaid dress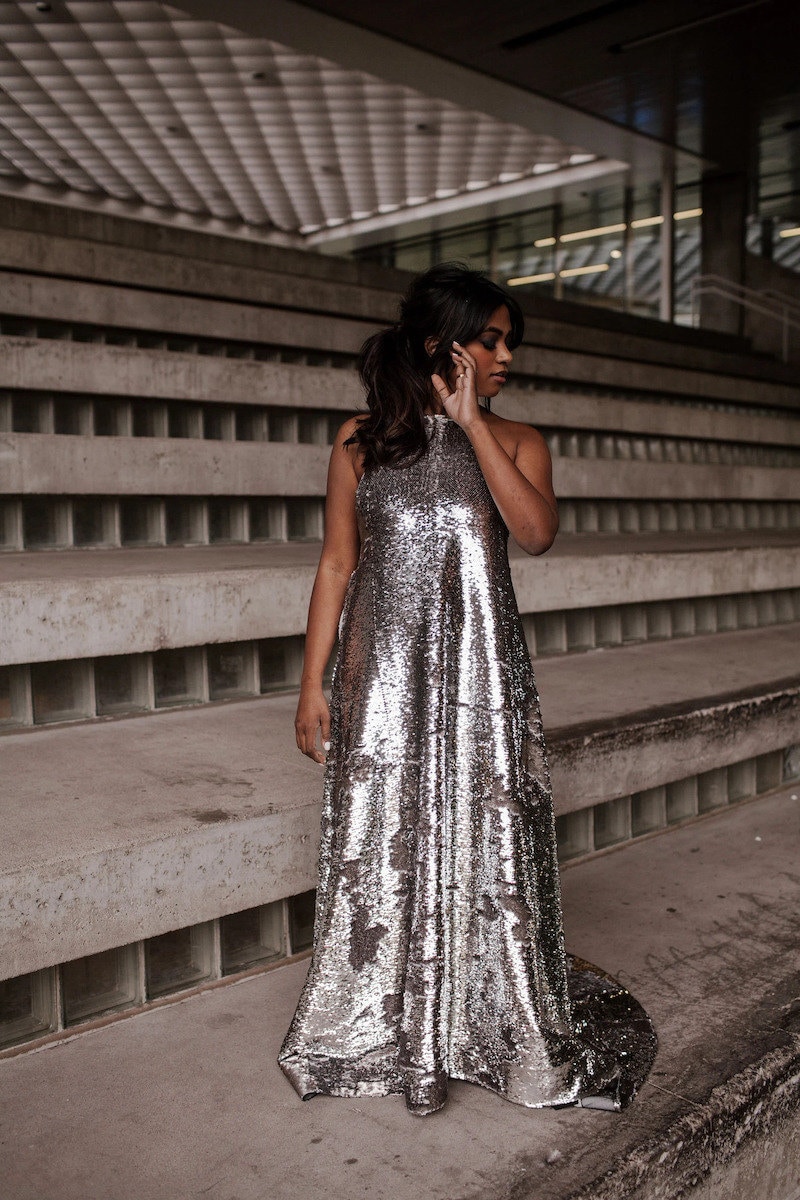 SHOP: Silver metallic gown from Cleo and Clementine, $820
Embrace the icy sparkle of this chilly season and deck your maids out in a metallic bridesmaid dress like this sequined stunner. Top a sleeveless pick with a fab (and faux!) fur wrap and your bridesmaids will be winter wonderland wedding-ready.
14. Long-sleeve bridesmaid dress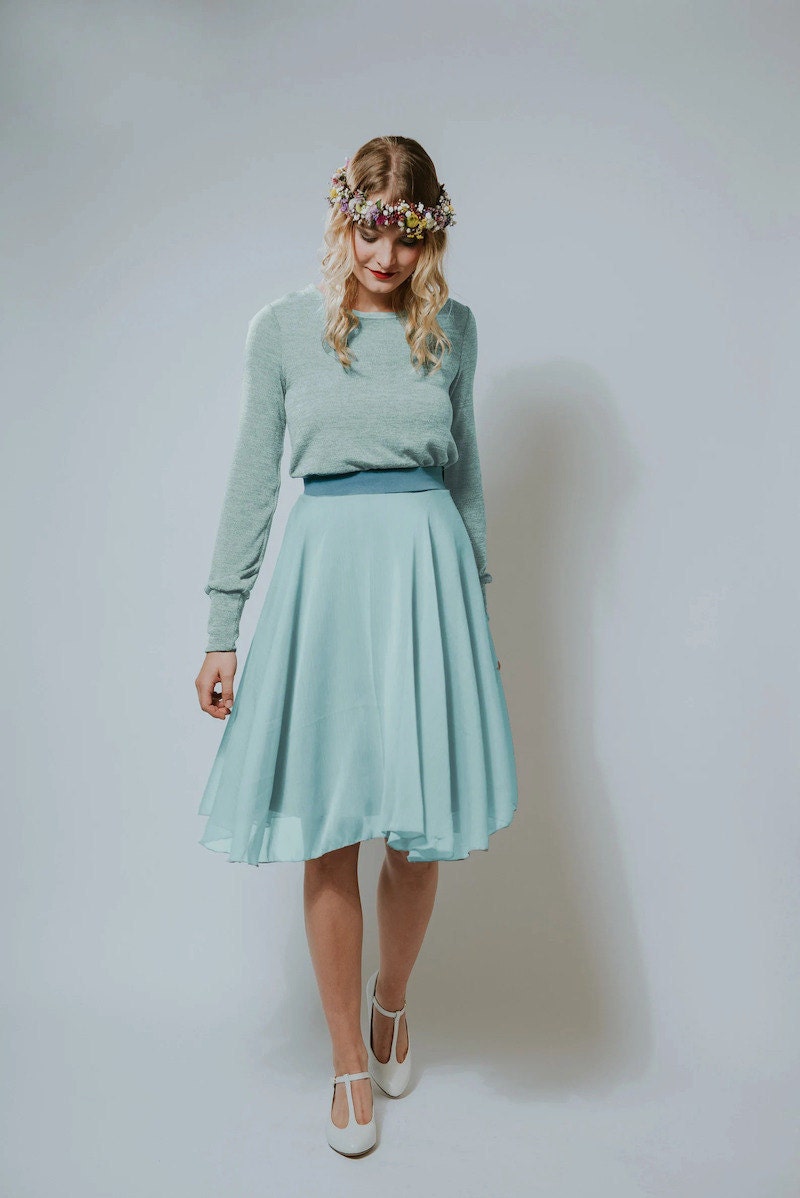 SHOP: Mint knit long-sleeve bridesmaid dress from Aveeva, $343
A long-sleeve bridesmaid dress keeps your bridal party warm, no matter where the festivities lead. For a fully formal affair, pair long sleeves with a floor-length gown for a stunning statement. A shorter hemline, like a midi dress with long-sleeves, makes things a bit more casual and your bridesmaids can show off their shoe picks, too!
15. Jewel-tone bridesmaid dresses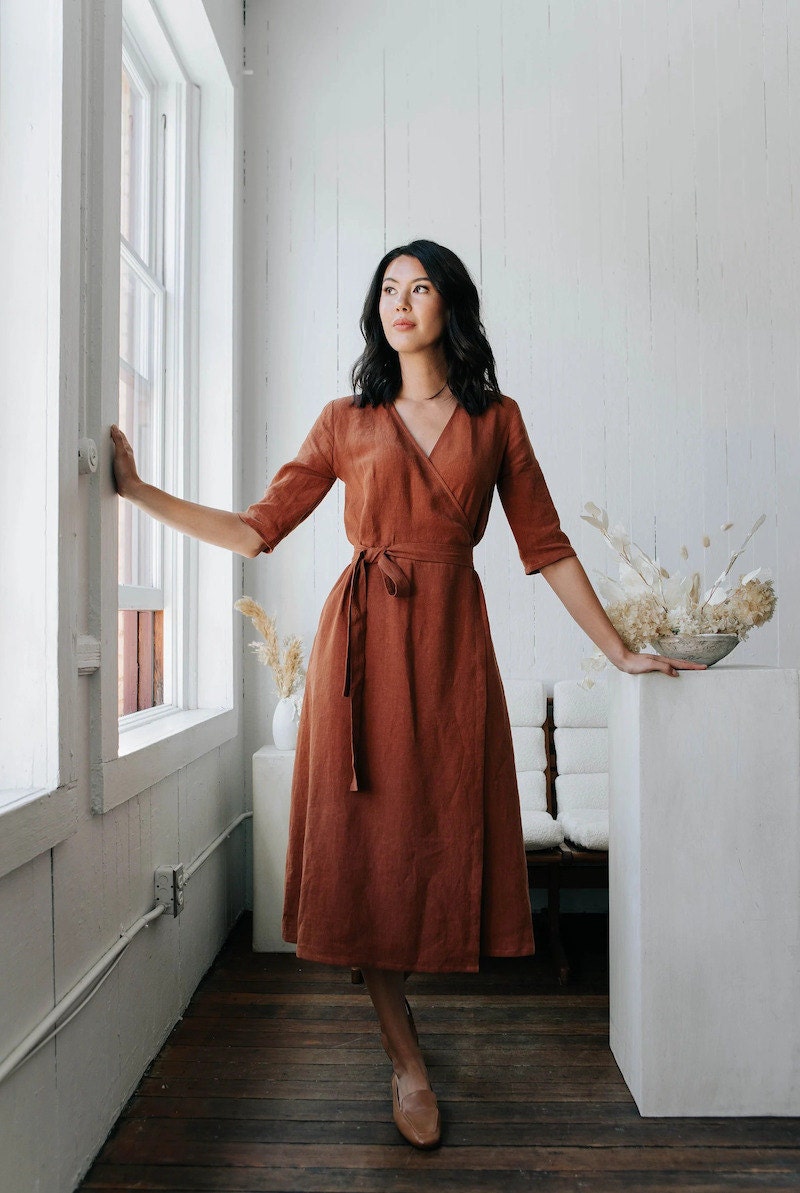 SHOP: Copper linen wrap dress from Kai and Klo Studio, $166
Make your bridal party pop against a stark and snowy winter wedding backdrop by adorning them in rich jewel tones. Colors like this copper bridesmaid dress exude warmth and are beautiful when paired with an array of other gemstone-inspired hues.