Create a calming sanctuary or an invigorating, fresh space with the help of these handcrafted candles.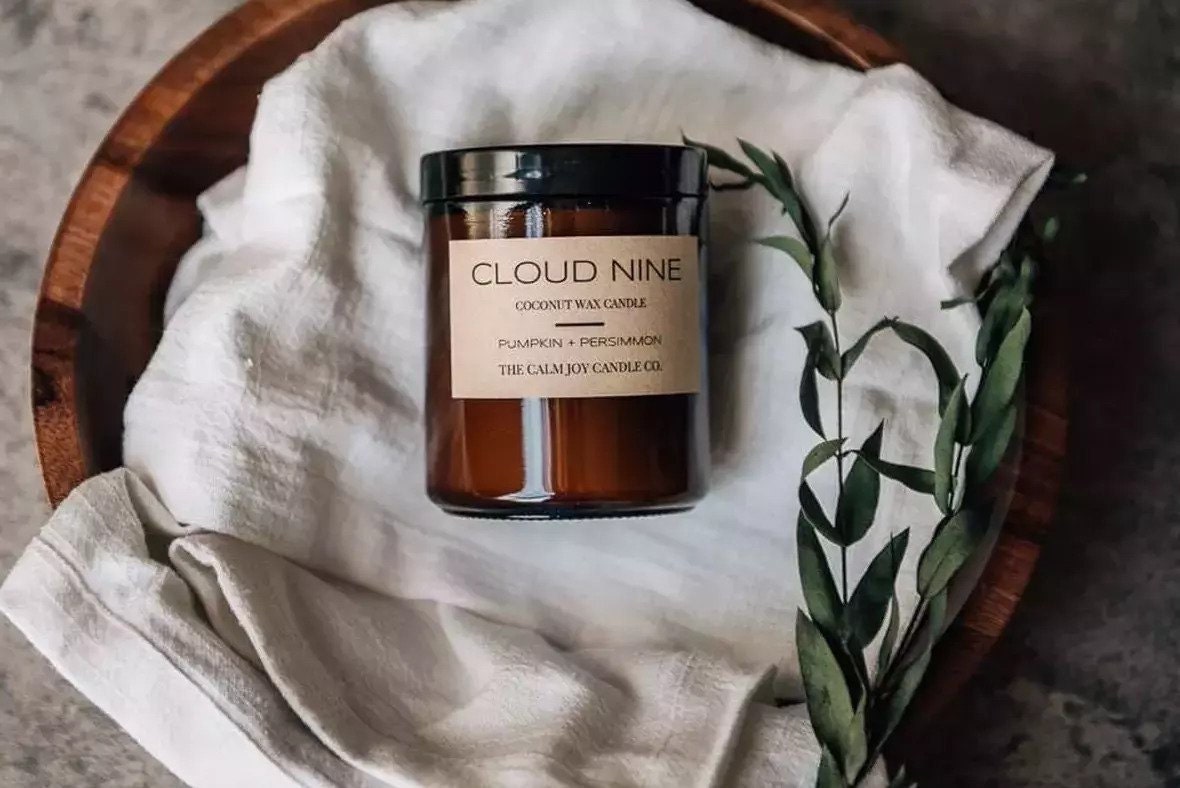 Nothing sets the mood quite like a candle does: A sophisticated pillar candle to elevate a living room, a botanically-infused scented candle to bring a sense of calm, or a playfully shaped soy candle to add some whimsy to a space. These are the best candles to help you create a space you love.
Best scented candles
A candle flame offers dramatic lighting, but when paired with a delightful aroma, these candles can transform your space into everything from a luxurious spa to a woodsy forest escape.
1. A floral-inspired beeswax candle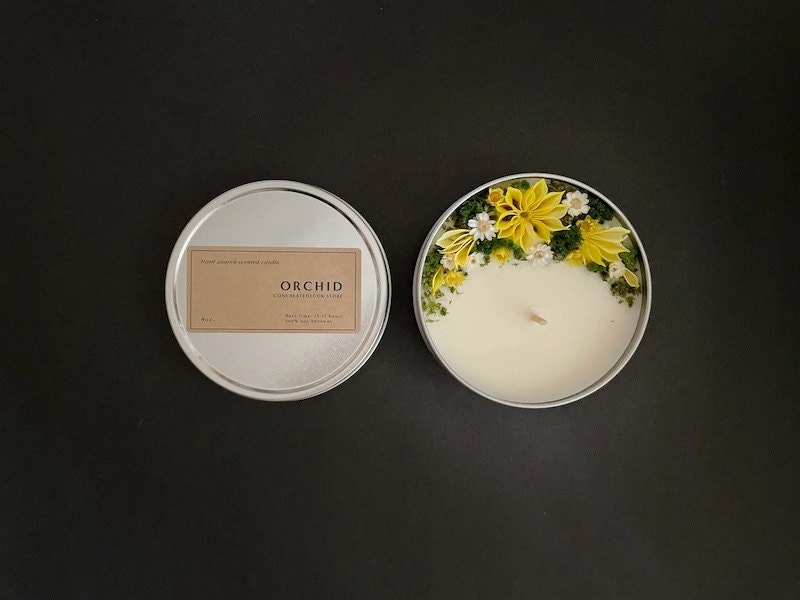 SHOP: Soy and beeswax candle with dried floral arrangement from CONCREATE decor, from $12
Some candles have it all: This darling beeswax candle smells good and looks good. Topped with aromatic dried flower arrangements, this candle offers intricate scents from musky leather and amber to bright and refreshing eucalyptus and the traditional floral notes of roses.
2. A soothing lavender candle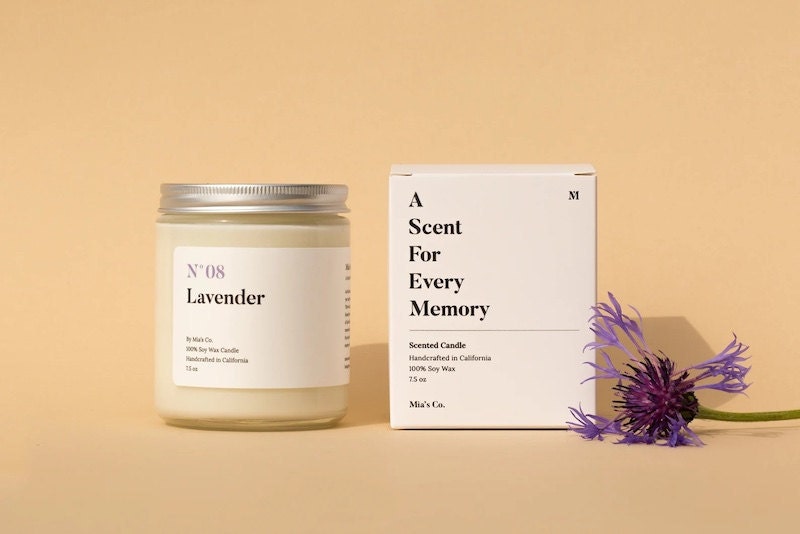 SHOP: Handmade lavender soy candle from Mia's Co. Candle, $20
A classic aromatherapy choice, lavender is a naturally calming and soothing scent that also has the power to freshen up a space. But this candle doesn't just feature floral lavender essence: It also has notes of bergamot, lemon rinds, and a warm cedar finish.
3. A ceramic hand-poured candle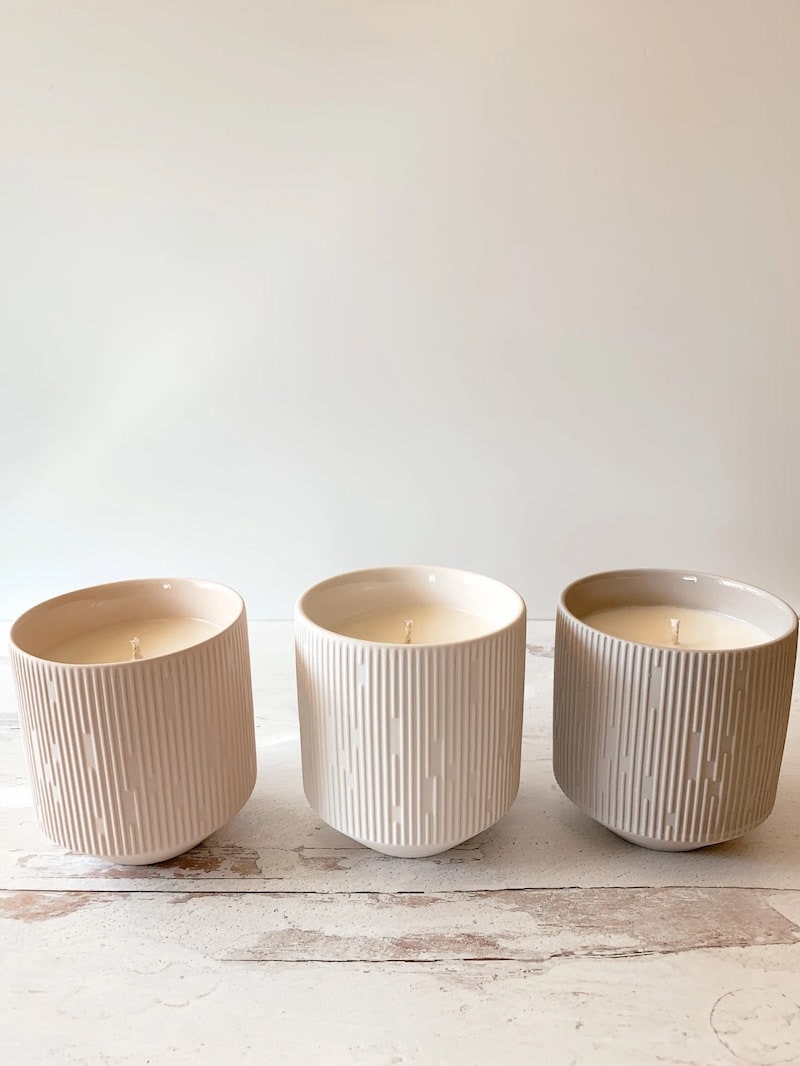 SHOP: Hand-poured candle in ribbed ceramic container from belle candle supply, $28
Sometimes, a scented candle can send you on a mini getaway. Buyers get compliments on this candle's scent and its look: Its ribbed ceramic vessel comes in three soft colors, and its sophisticated scents are inspired by amethyst, the ocean, and walks in the woods, so you can be transported to faraway places from the comfort of your home.
Best soy candles
Derived from soybeans, soy candles offer long burn times and are excellent carriers for fragrances. Try these molded and scented soy candles to invite some new energy into your home.
4. A botanical soy candle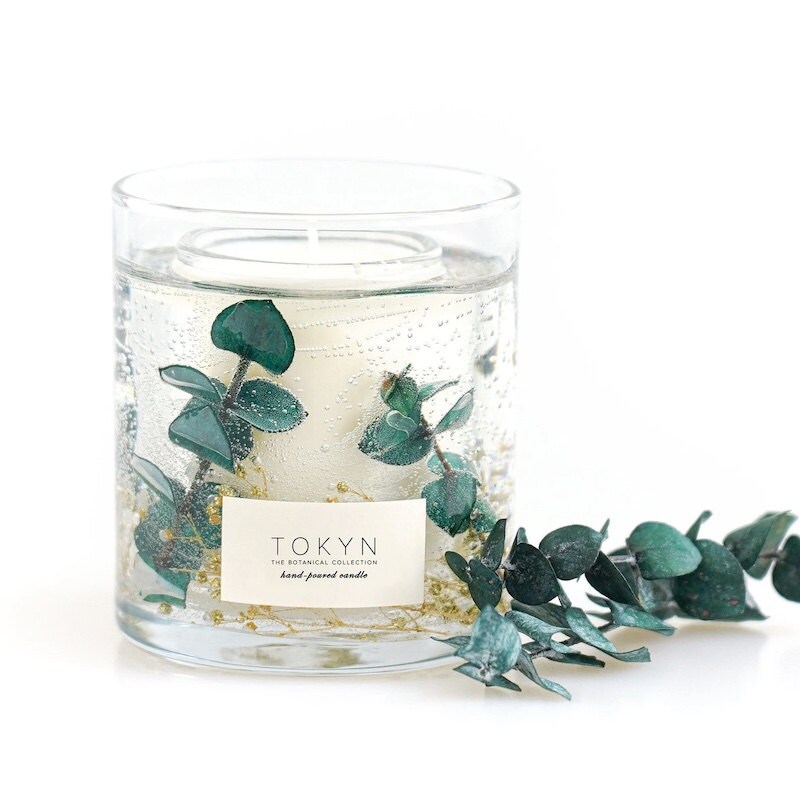 SHOP: Forest mist scented soy candle from TOKYN Candles, $42
Feel like you're taking a stroll through the great outdoors with these forest mist scented soy candles. And they look handsome too: Each candle has flowers and greenery arranged by hand encased in a clear gel around the wax, which are illuminated every time you light the votive.
5. A dainty blooming candle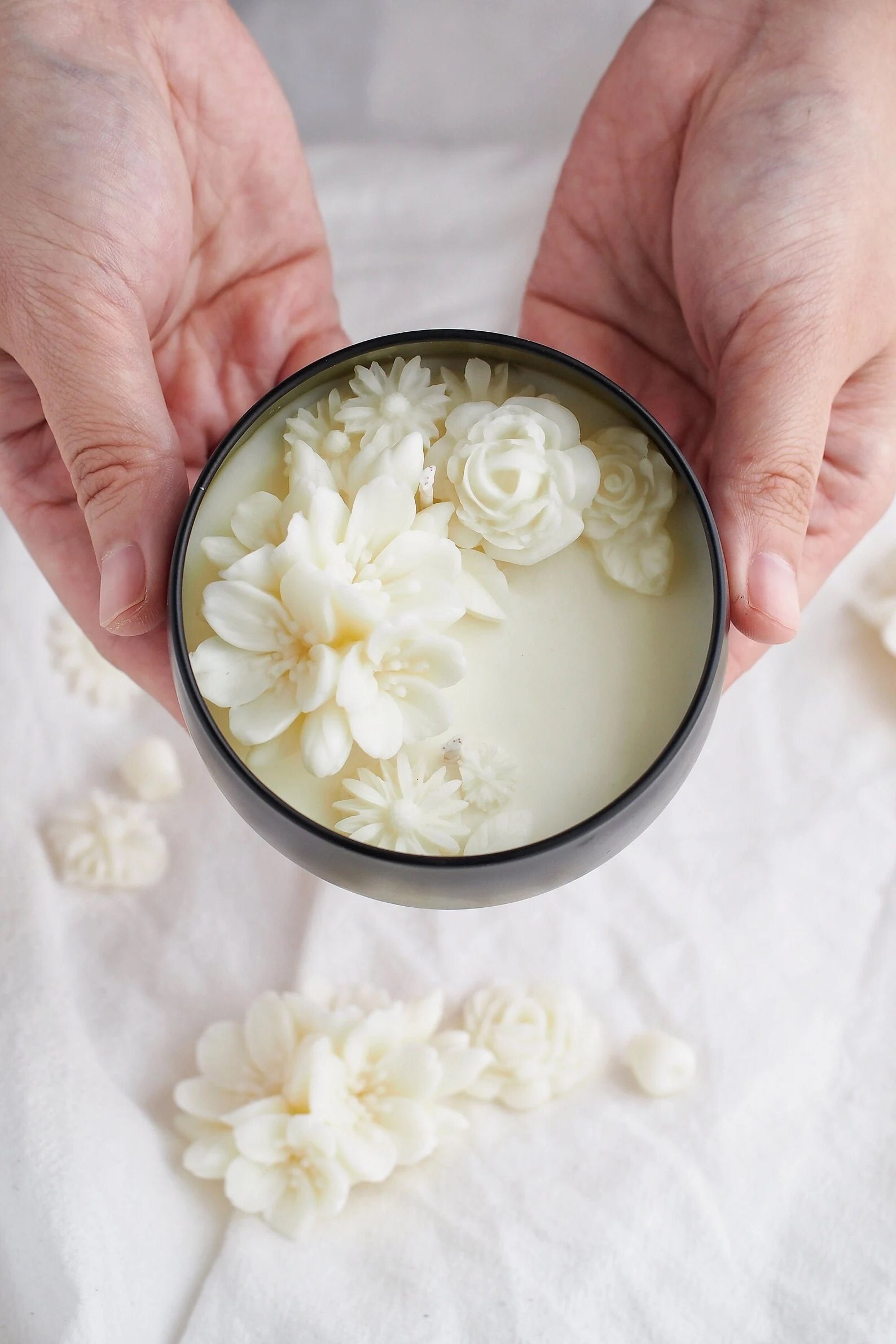 SHOP: Blooming flower soy candle from CaiCaiHandmade, $27
Some candles are so gorgeous, you almost don't want to burn them. Inspired by beautiful bouquets, this blooming soy candle is a tiny work of art. Its refreshing floral aromas of cherry blossom, magnolia, and peony complement the stunning look of this two-wick candle.
6. A playful-shaped candle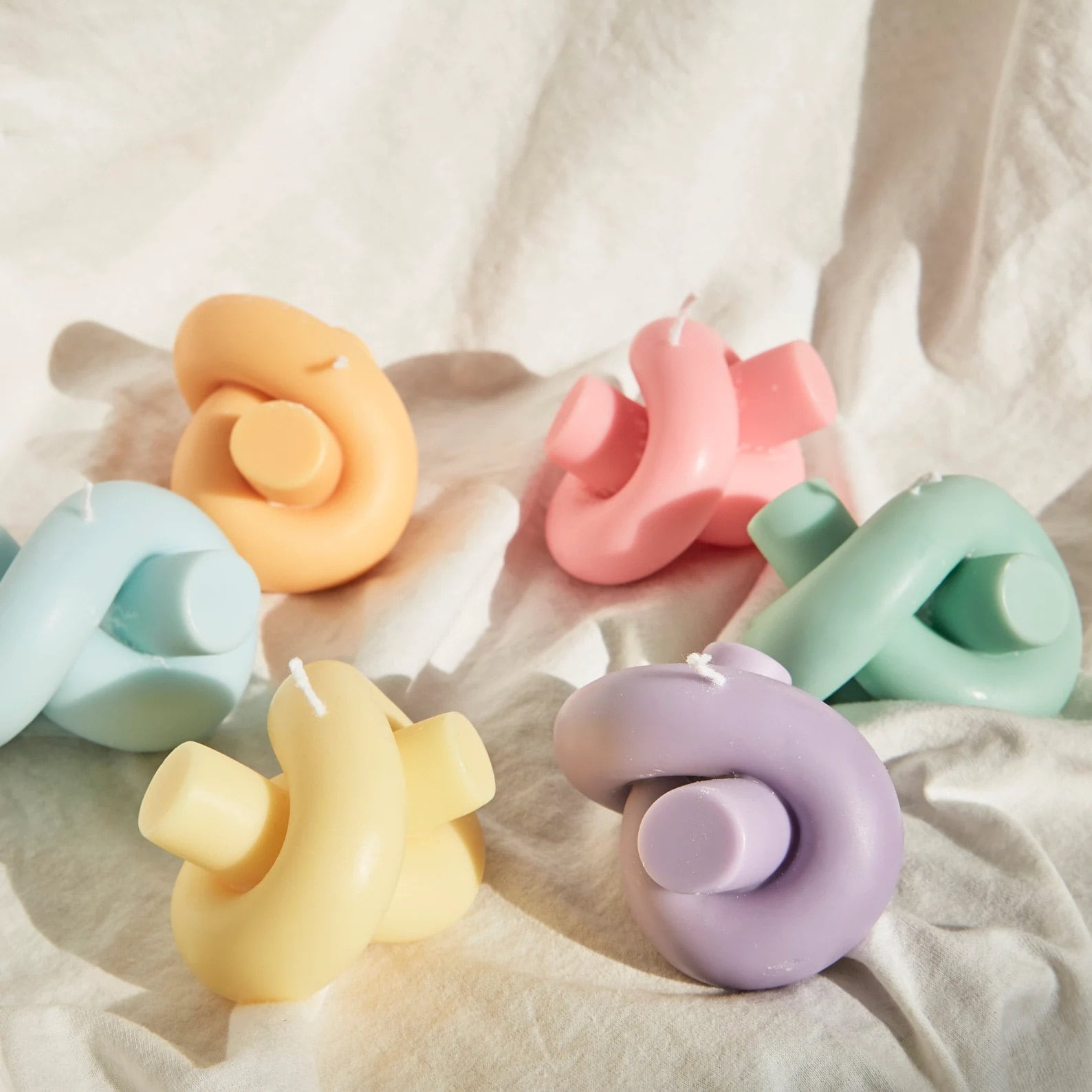 SHOP: Knot-shaped soy wax candle from Yui Brooklyn, from $14
For a more sculptural effect, this knotted soy candle is both funky and fabulous. Choose from more than 20 (yes, you read that right!) different scents and pick the color to best suit your home aesthetic and a social-media-worthy display.
Best fall candles
Fresh fall candles are the perfect pairing to your pumpkin spice season, so if you're planning on getting cozy during sweater weather (or just daydreaming about the changing seasons), these autumn-inspired scents are for you.
7. A pumpkin candle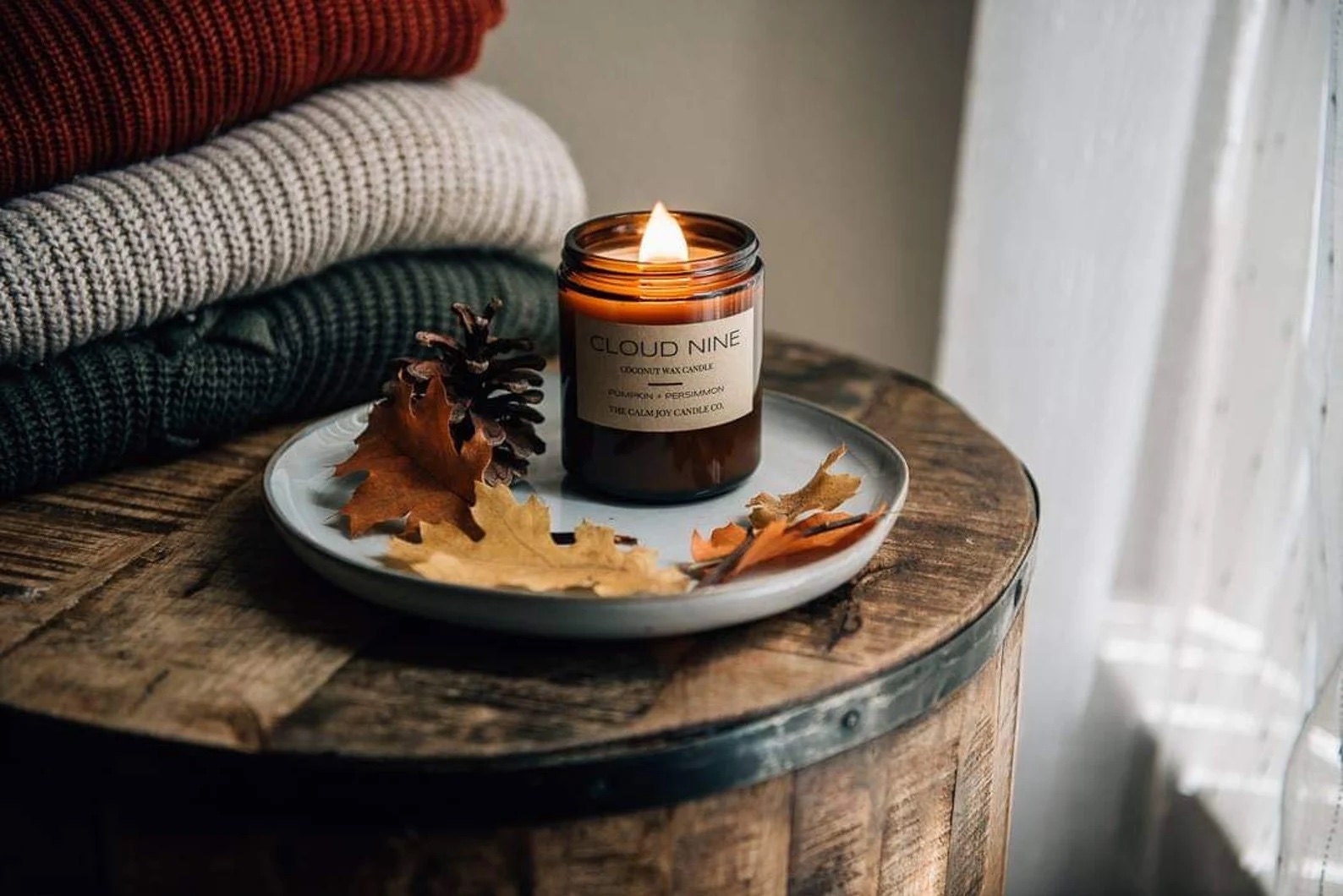 SHOP: Pumpkin and persimmon fall candle from The Calm Joy Candle Company, $28
This calming fall candle has everything for the ideal autumn scent: the crispness of pumpkin and persimmon, the warmth of brown sugar and vanilla, the spiciness of cloves, and the savory hints of kumquat and blood orange. Add this well-rounded scent to your candle collection so you can enjoy the autumn aromas any time of year.
8. A candle you'll love a latte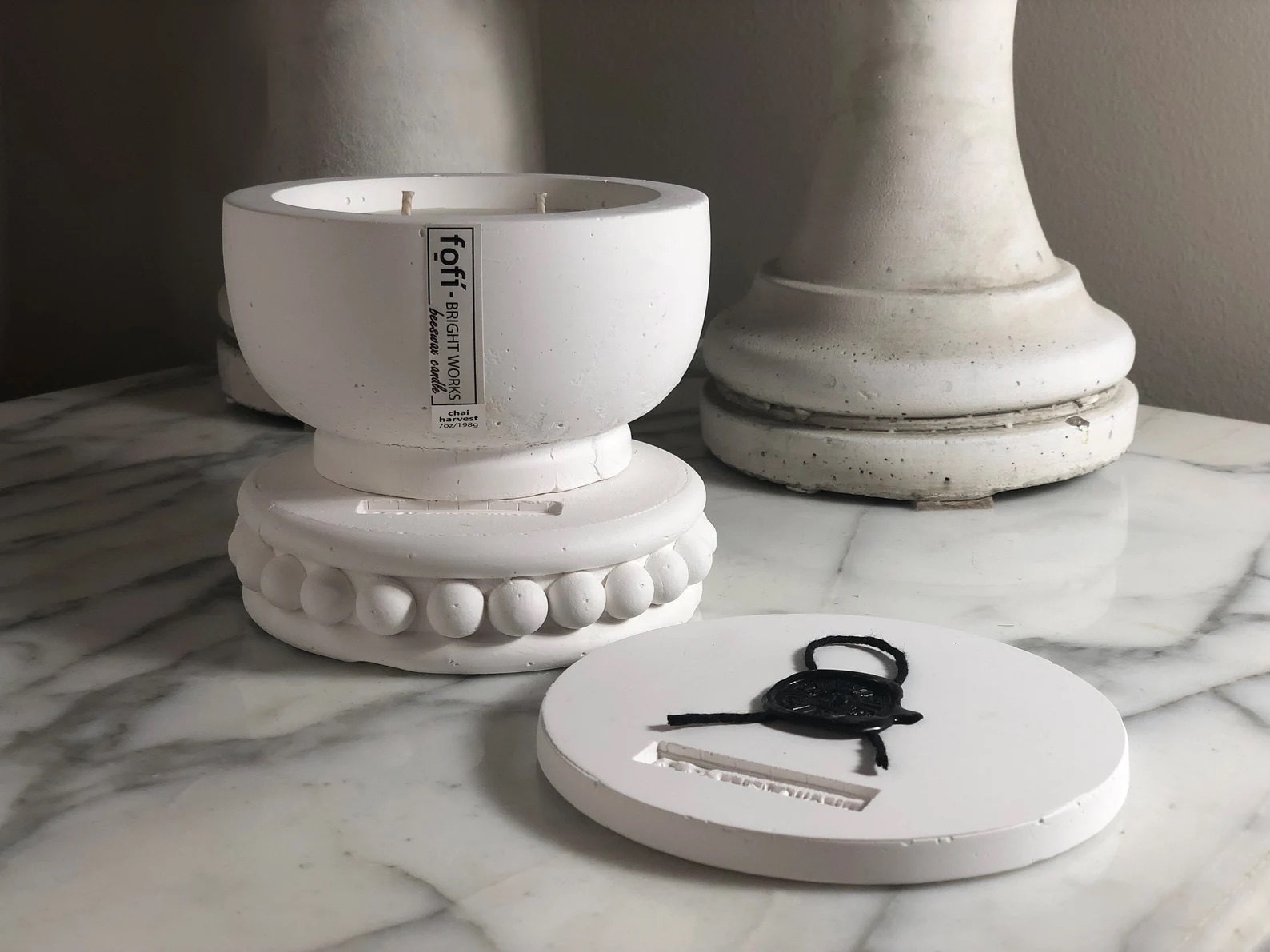 SHOP: Chai latte scented candle from fofi-BRIGHT WORKS, $36
Get your cozy trip to the coffee shop without leaving your living room. The underdog of fall drinks, chai lattes have the luxurious fall scent of cinnamon and sweet notes of vanilla, and this autumn candle boasts the scent of your favorite cafe order in a minimalist white cement cup.
Best candles for men
If you're looking for a gift for him—or want to add some masculine ambiance to a room—the right scented candle can be a game changer. From beer-inspired scents to leather-infused aromas, there's something for every style and preference.
9. A brew-inspired candle for him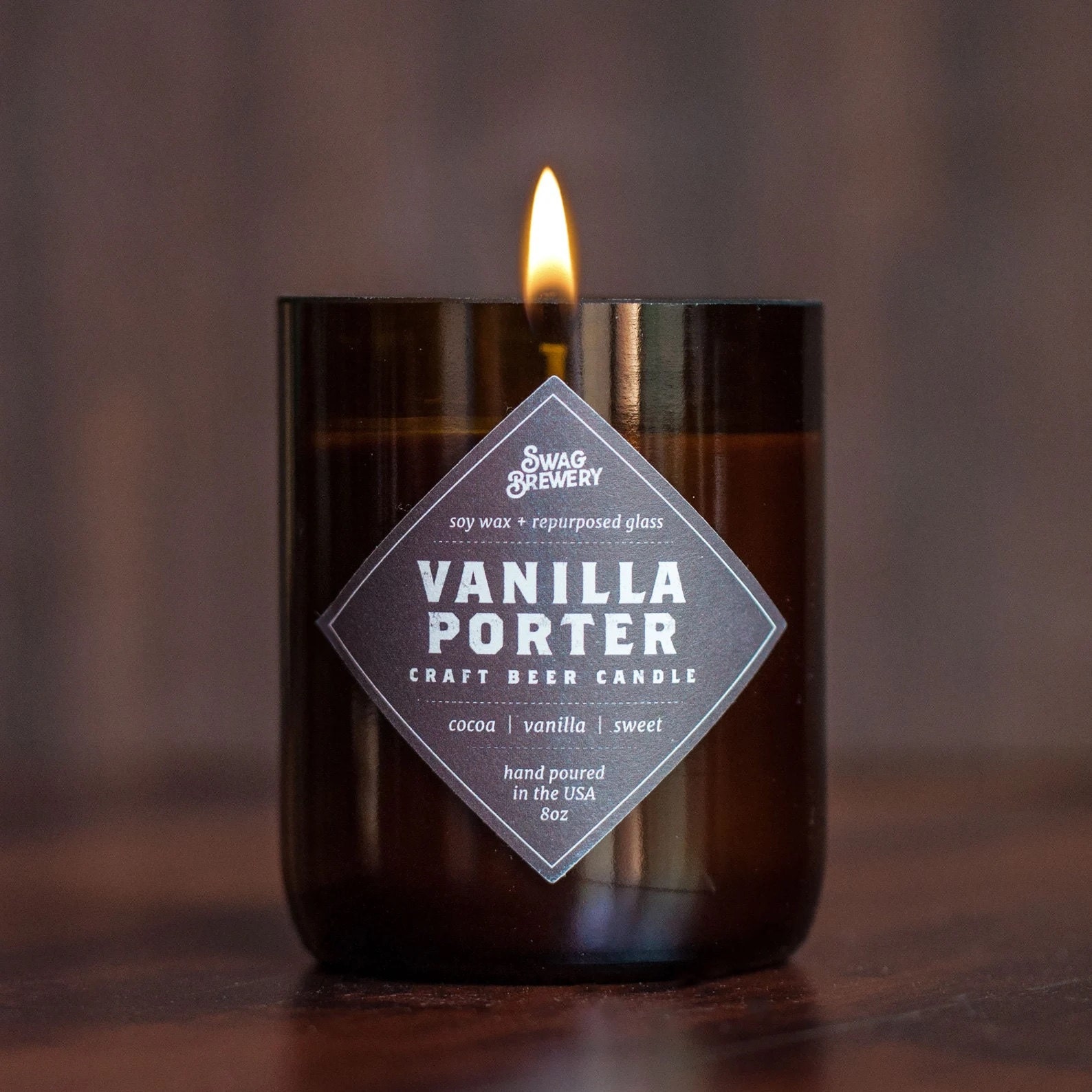 SHOP: Vanilla porter brew candle from Swag Brewery, $20
An excellent choice for the beer lover in your life, this vanilla porter candle offers the sweetness of brown sugar and the earthiness of dark chocolate. Buyers have been so happy with these candles as gifts that they wish they bought two—one for the gift recipient, and one for themselves!
10. A candle for the cowboys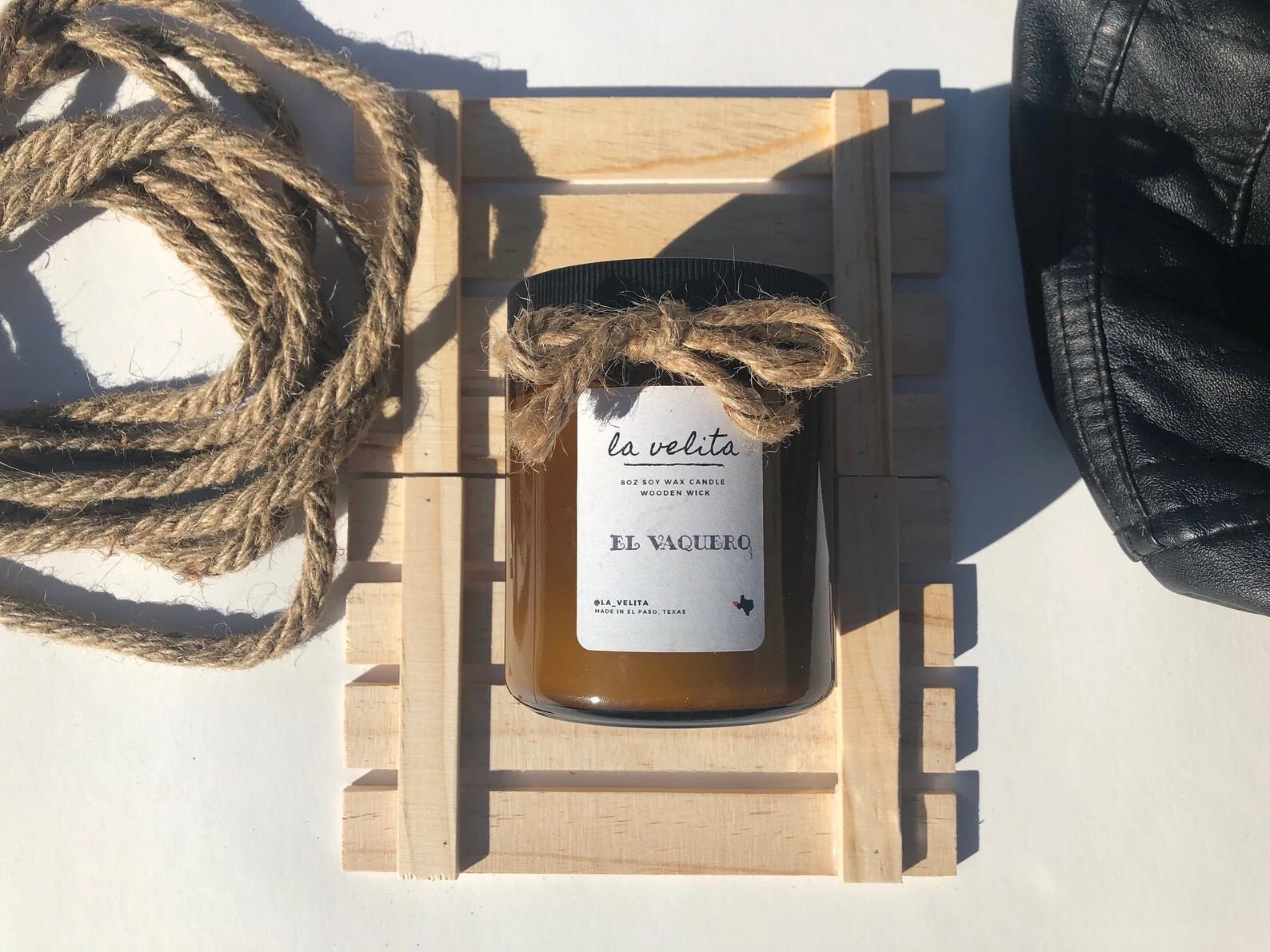 SHOP: El vaquero leather-scented candle from La Velita Soy Candles, $18
Leather. Musk. Hints of cedar wood. Inspired by the sellers' Latinx heritage, the El Vaquero ("the cowboy") scent has depth, and with over 40 hours of burn time, you'll be enjoying the subtlety of this wax candle for many moons.
Best wood wick candles
For a more earthy feel, wood wick candles might be your new go-to. Wooden wick candles have a thin piece of wood instead of the cotton thread and often boast a smaller smoldering flame—which means you get to enjoy your candle for even longer.
11. A woodsy wood wick candle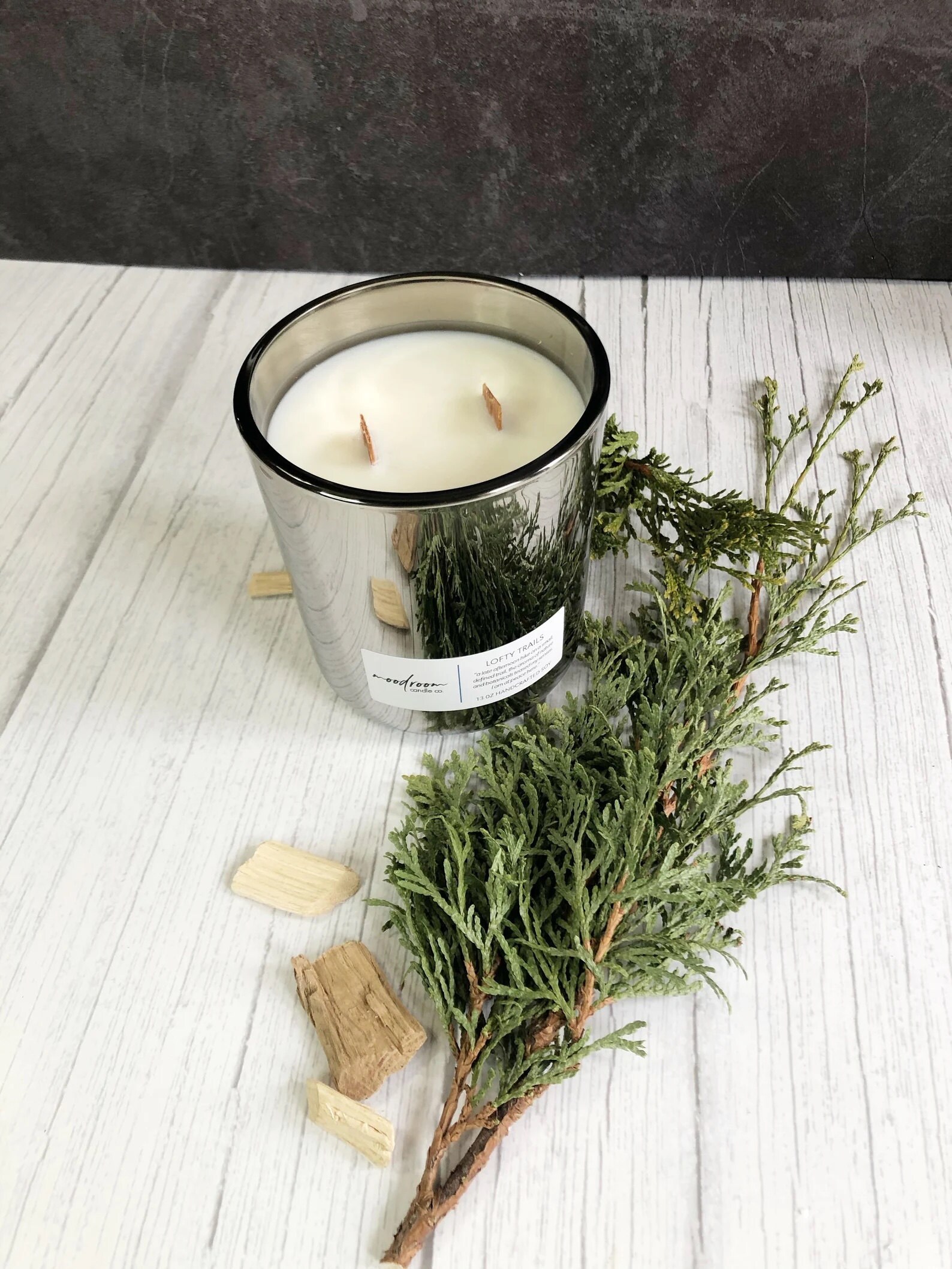 SHOP: Cypress, juniper, and gin candle from Mood Room Candle Co, $25
This forest-inspired candle is encased in metallic glass, and its refined look and woodsy scent makes it a great gift for her or him. With double crackling wood wicks, you'll feel like you're camping in the woods in no time, no bug spray required.
12. A stoneware soy candle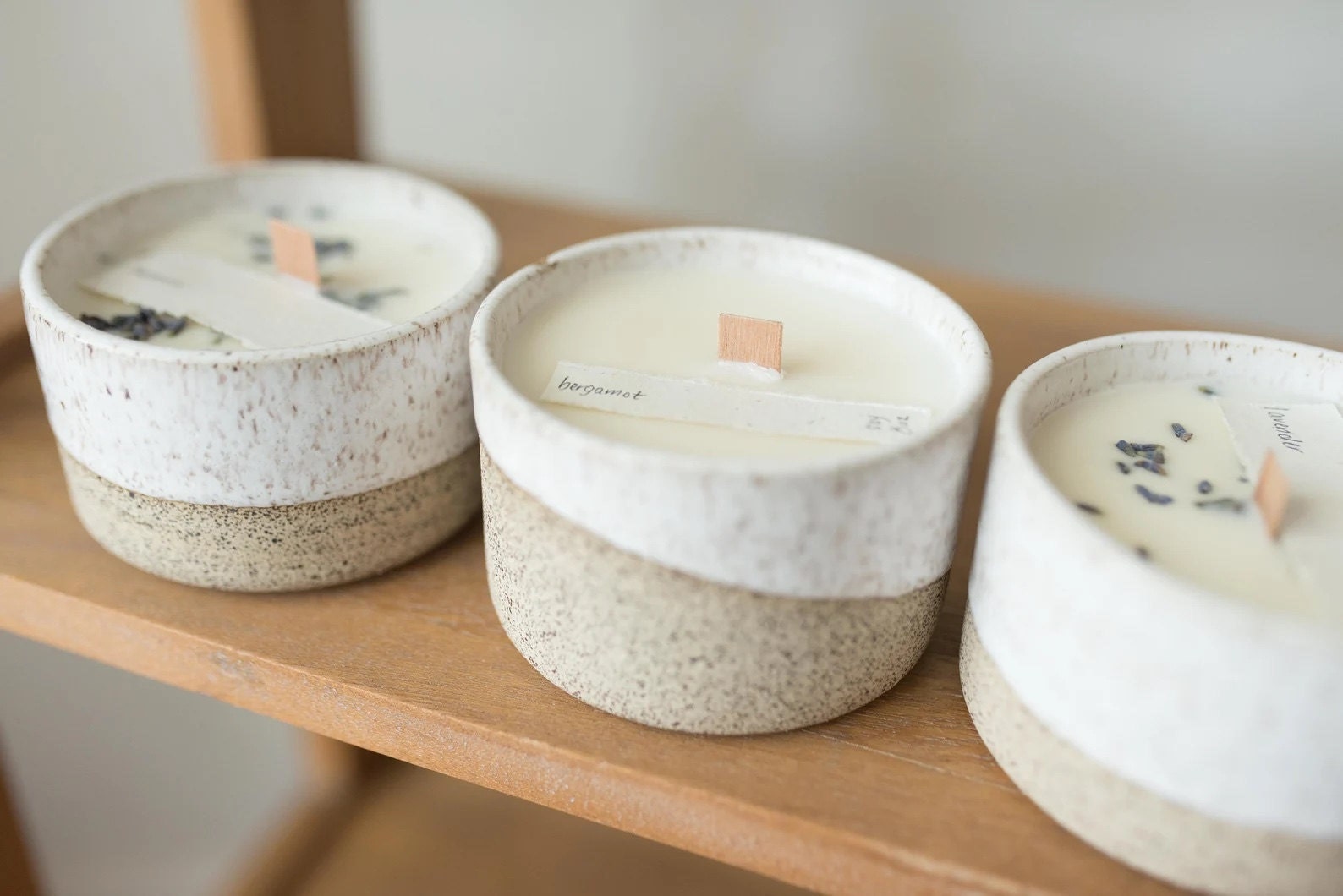 SHOP: Wood wick candle in half-dipped white stoneware from Pigeon House Pots, $36
Enjoy the clean lines and smooth glaze of this candle, which comes in the bright ylang ylang scent or the sweet blue tansy aroma. And when you're done burning this elegant scented soy candle? Keep the dishwasher-safe speckled stoneware container and use it to store your tchotchkes or as a small drinking cup—the possibilities are endless.
Best holiday candles
The holidays are an excellent opportunity to show off your candle collection, whether you're integrating it with your holiday decor, sprucing up your advent display, or you're adding to your traditional menorah. Add these wintery candles to the mix to make your home extra festive.
13. A row house pillar candle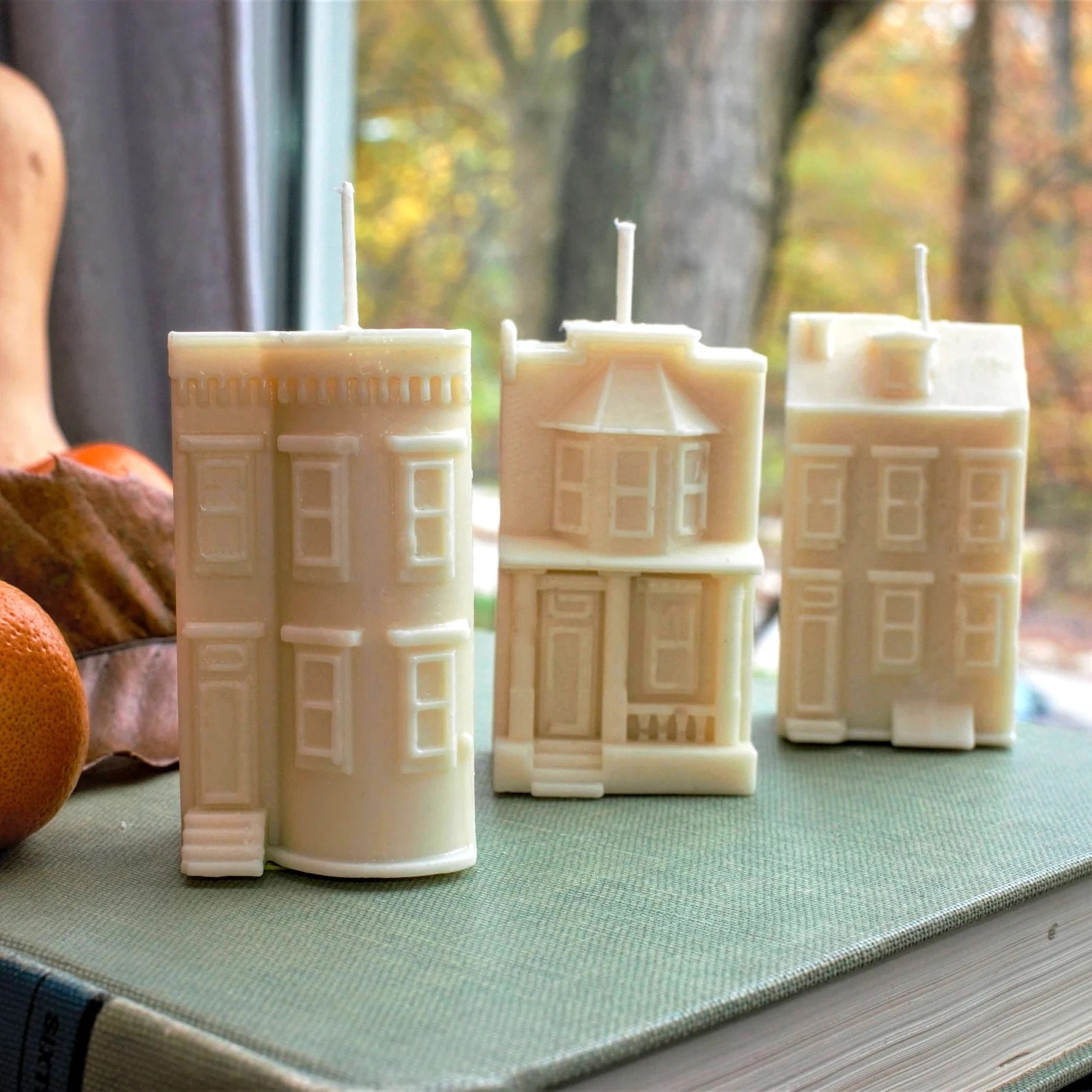 SHOP: Mid-Atlantic row house candle from Siligrams, $30
If your holiday decor includes snowy villages or vintage Putz houses, these mid-Atlantic row house candles will fit right in. These pillar candles come in a set of three—and if love them and you're crafty, you could also add a silicone mold so you can make a rowhouse candle of your own.
14. A Christmas candle set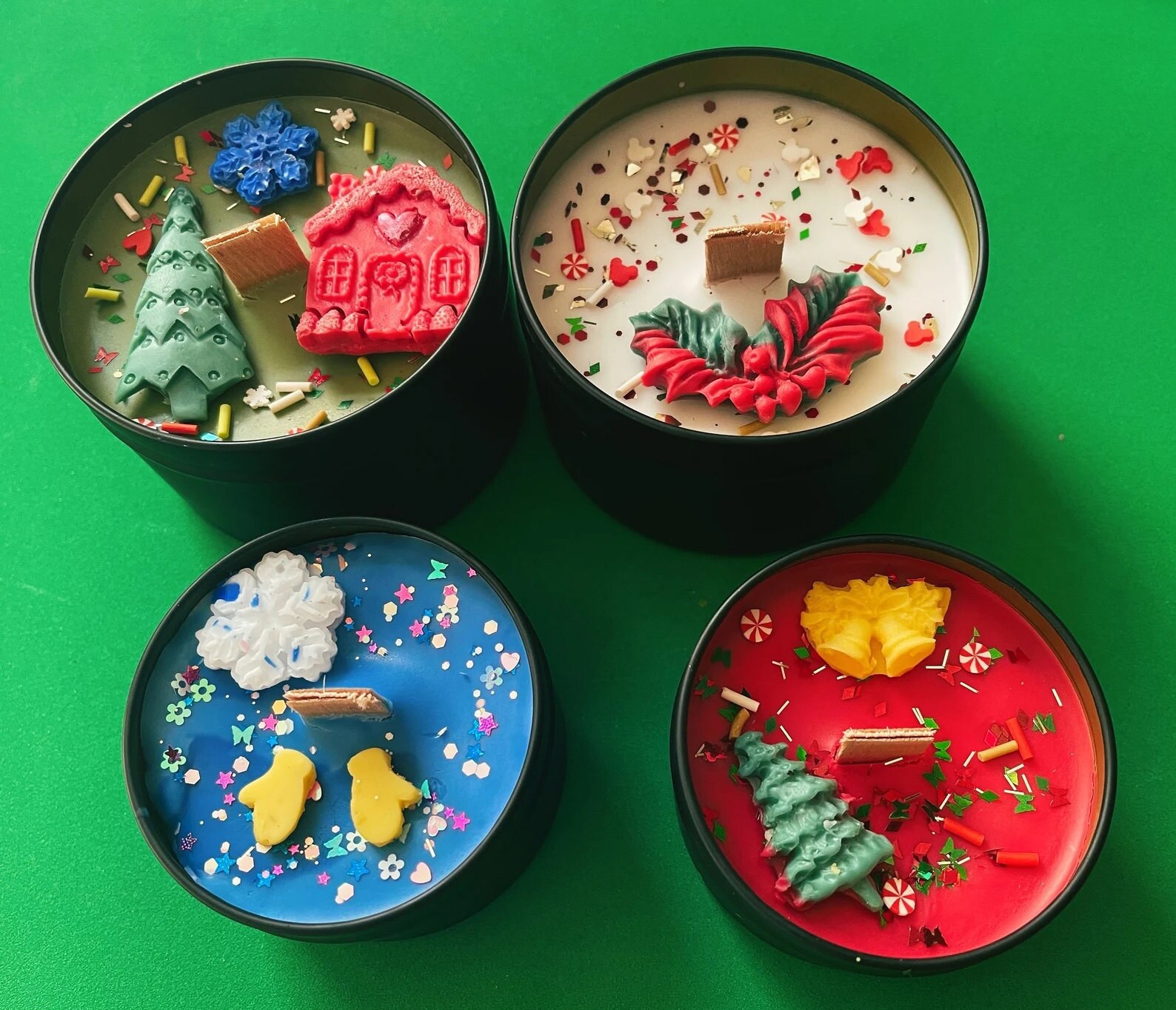 SHOP: Set of 4 Christmas scenery candles from Metamorphosis Oracle, from $30
From playing in the snow to kissing under the mistletoe, this set of four festive candles set the scene for a whimsical and joyful holiday season. Choose if you want a cotton or wood wick candle set, and enjoy the oh-so-merry scents from Christmas sugar cookies to fir and fig.
15. Simple, understated taper candles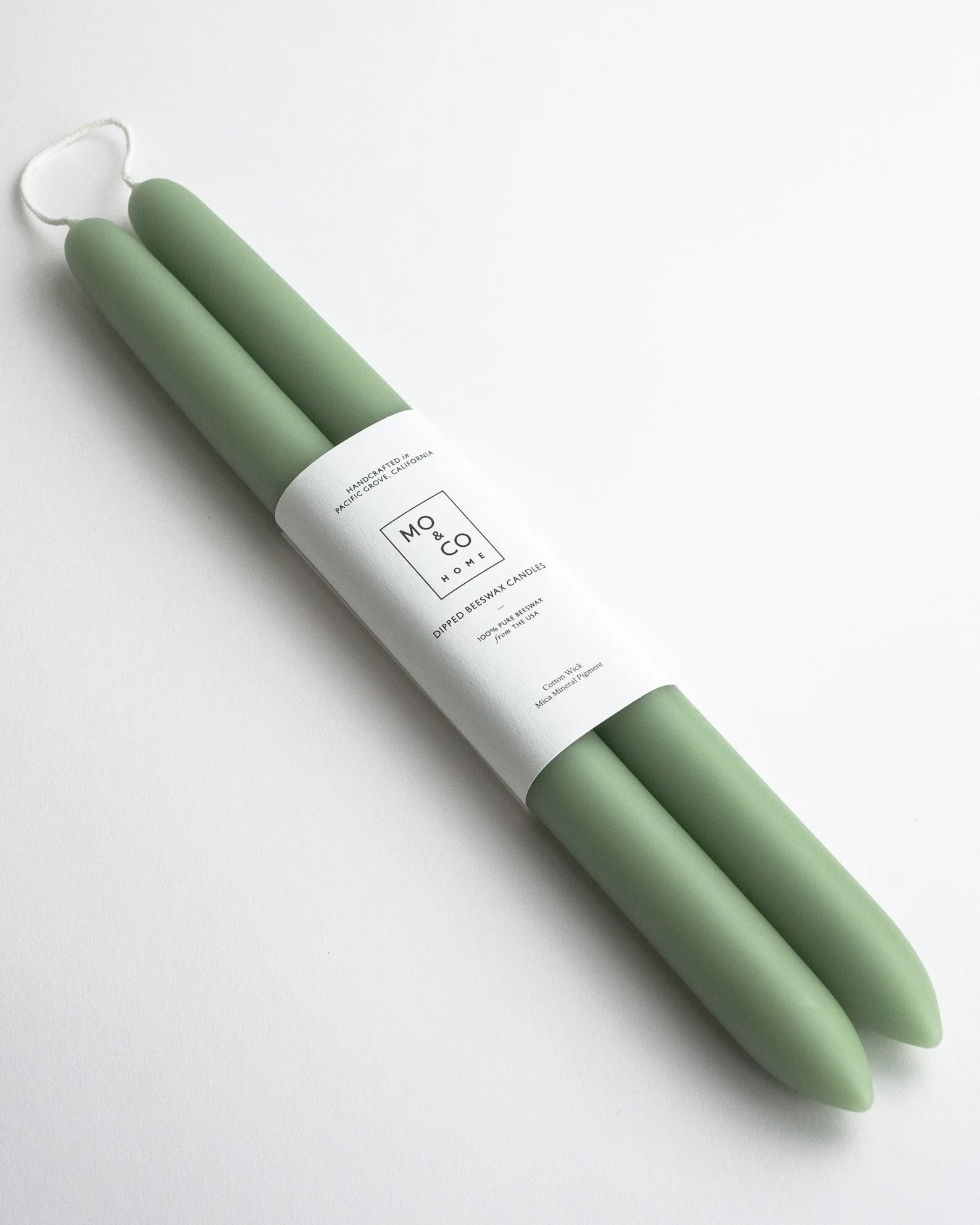 SHOP: Sage green beeswax taper candle from Mo & Co Home, $16
Sometimes, your decor needs a pared down look, and this candle fits the bill. Offered in a soft sage green for a wintry feel, this beeswax taper can fit in a themed candle holder or a larger menorah for whatever festivities you're hosting.