Wow your houseguests with personalized and unique charcuterie boards for any occasion and style.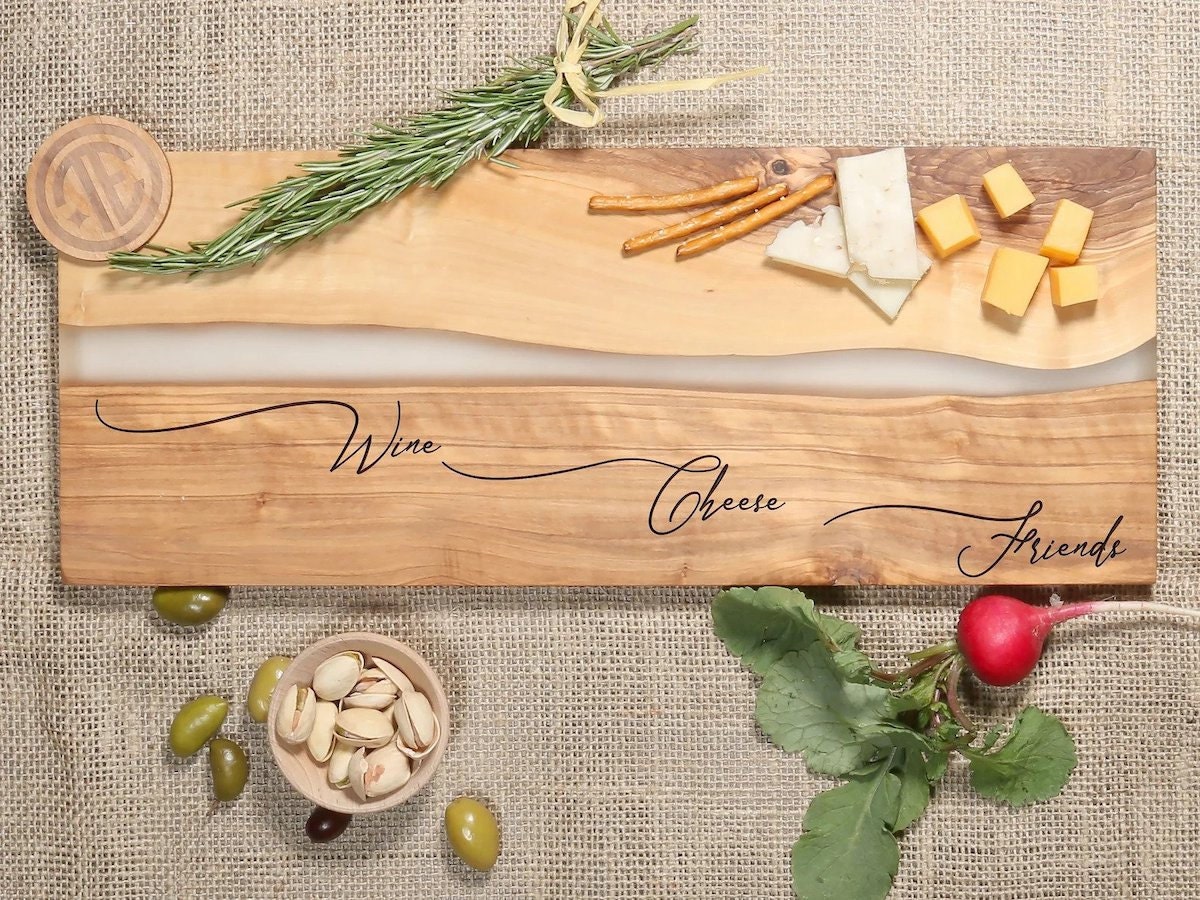 Hosts and guests alike know: A gorgeous and carefully curated charcuterie spread elevates any gathering—from a simple, summer evening to a posh party—and the board you serve it on can make just as big of a statement. Bonus: A collection of simple charcuterie boards is a beautiful addition to your kitchen counter or home bar and keeps these entertaining essentials close at-hand.
From precious personalized cheese plates and whimsical wooden boards to finely crafted, simple slabs, these are some of the best charcuterie board styles for all of your entertaining and gifting needs.
Personalized charcuterie boards
As you build your collection or look for the perfect housewarming gift, pick up a personalized charcuterie board with your own special engravings. Whether it's the family name, a cherished ancestral recipe, or a significant date, a bit of unique customization makes each of these charcuterie boards one-of-a-kind.
1. An engraved cheese board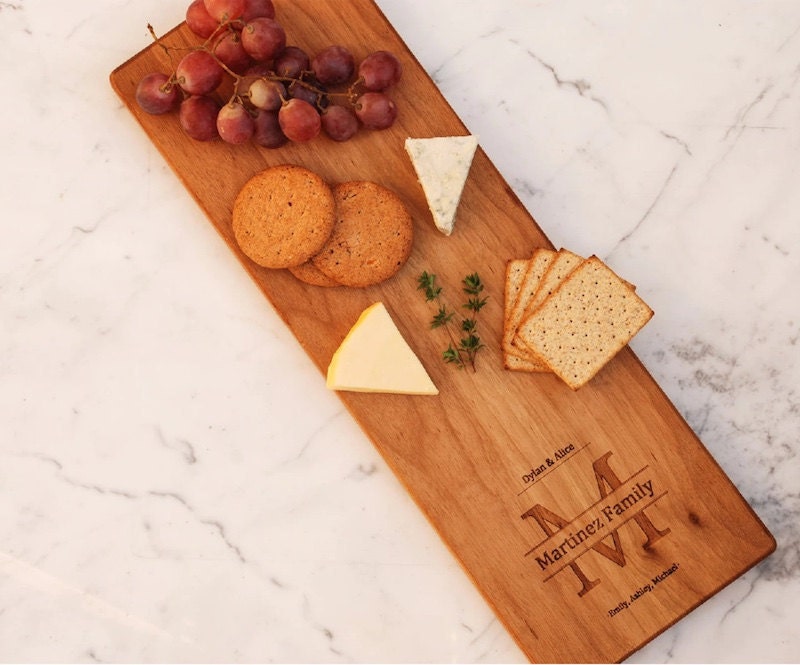 SHOP: Personalized monogrammed charcuterie board from WoodLuck Engraved, from $36
Create a new heirloom with a charcuterie board with your family name engraved into the warm natural wood. With multiple wood and size options, this board can be slim and sleek or large enough to become your favorite cutting board, too.
2. A recipe-inspired cutting board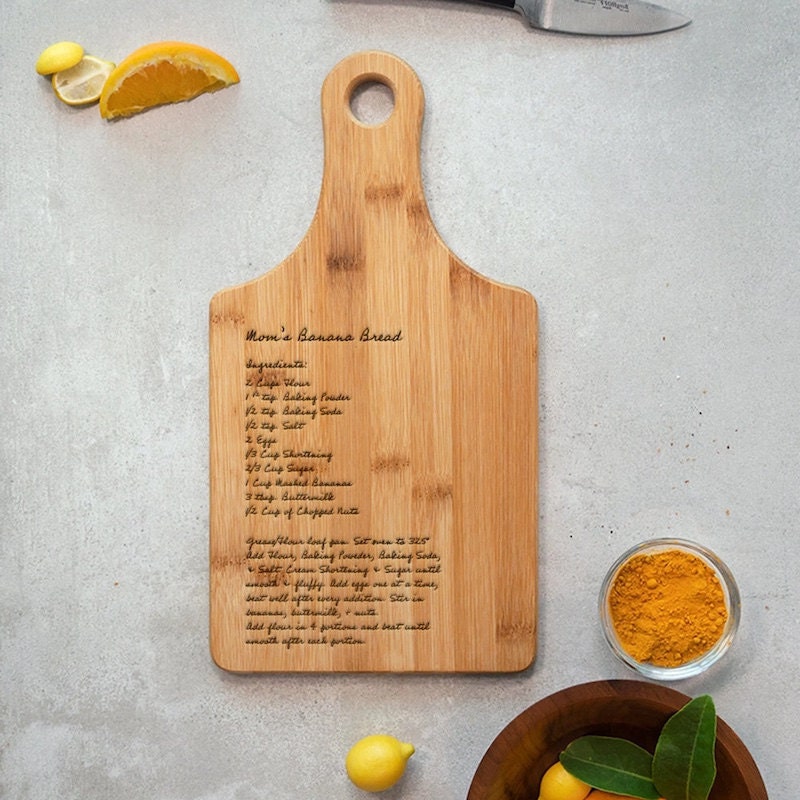 SHOP: Family recipe cutting board from iCustom Products, $30
A treasured banana bread. Grandma's pasta sauce. Dad's famous burger recipe. A stunner for slicing apples or displaying an array of cheeses, this bamboo board can be engraved with any cherished family recipe (including the secret ingredient!).
3. A custom olive wood charcuterie board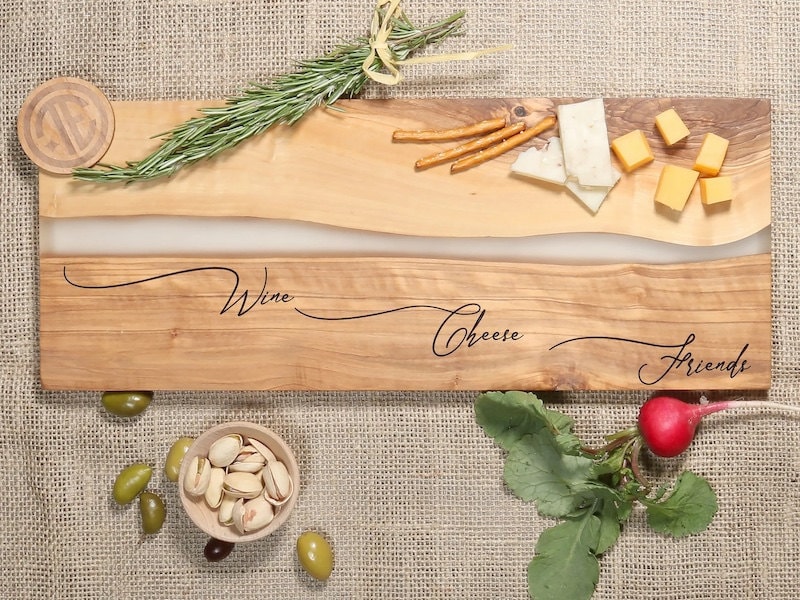 SHOP: Olive wood and resin charcuterie board from Texas Engraved, from $88
This Mediterranean olive wood board features a custom engraving and an oh-so-chic "river of resin" for added flare. A thoughtful gift for newlyweds or new homeowners, some buyers like this engraved charcuterie board so much they decide to keep one for their own personal collection!
Round charcuterie boards
Perfect for highlighting different types of meats, cheeses, crackers, and fruit, these round charcuterie boards add symmetry and balance to any table setting.
4. A custom round charcuterie board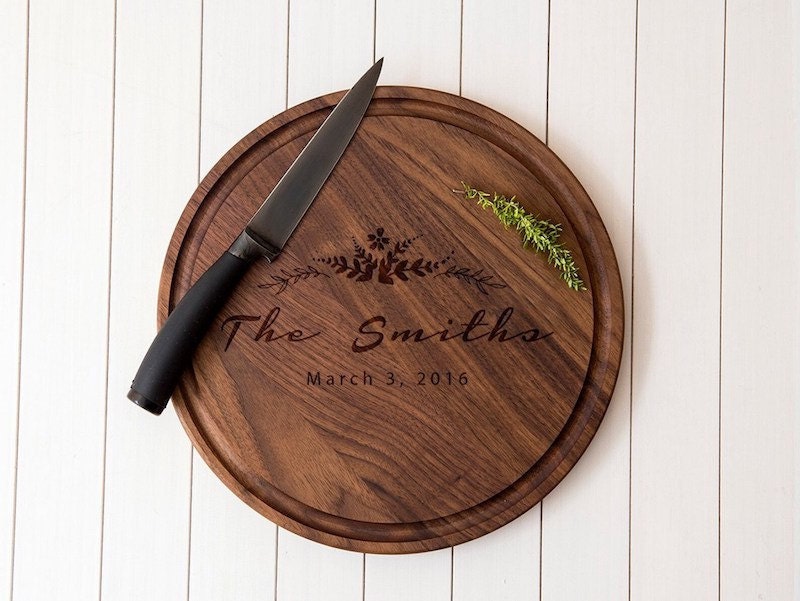 SHOP: Engraved round cutting board from Copper Fox Company, round options from $43
Keep your cheese plates classy with this personalized round cutting board. With grooves around the edges to catch any stray crumbs and a choice of wood to match your style, you'll have a social-media-worthy spread in no time.
5. A high-contrast charcuterie tray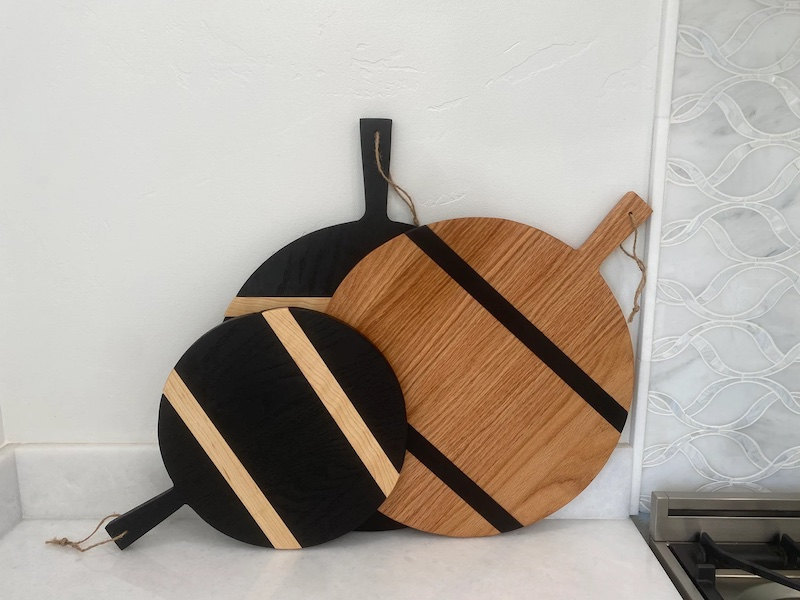 SHOP: Exotic wood serving tray from Cali Girl Woodworking, from $75
This chic and simple charcuterie board flaunts stripes in contrasting wood and comes in three sizes. Pro tip: Use the design as dividers between types of meats and cheeses, or pair it with your other striped kitchen decor.
6. A round marble terrazzo board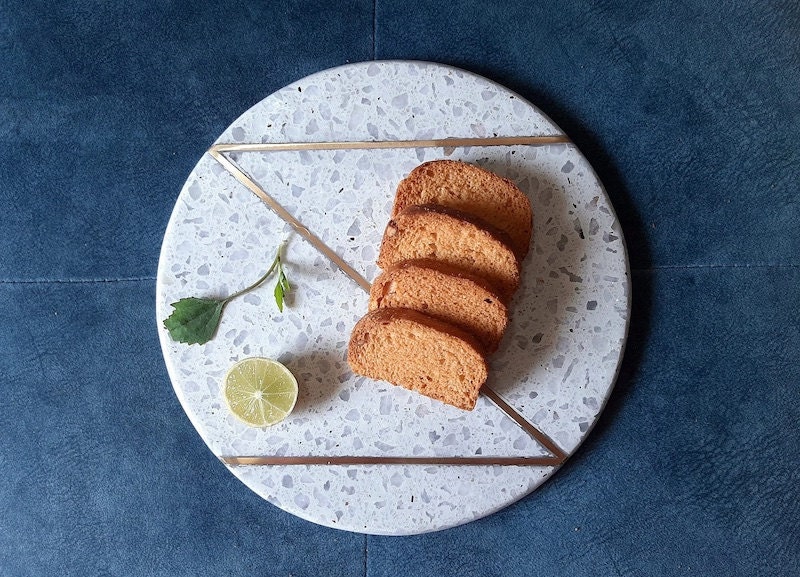 SHOP: Round marble terrazzo cheese board with brass inlay from Decor Envogue, $70
If you're looking to accent your countertop with an elegant and understated piece, look no further. This ​terrazzo marble charcuterie board pops with its natural white hues and brass inlay details.
Large charcuterie boards
Planning a really big party? Want to make sure your guests have all the appealing appetizers right at-hand? Break out these extra-large charcuterie board beauties so you can have all the cheese and then some.
7. A large serving board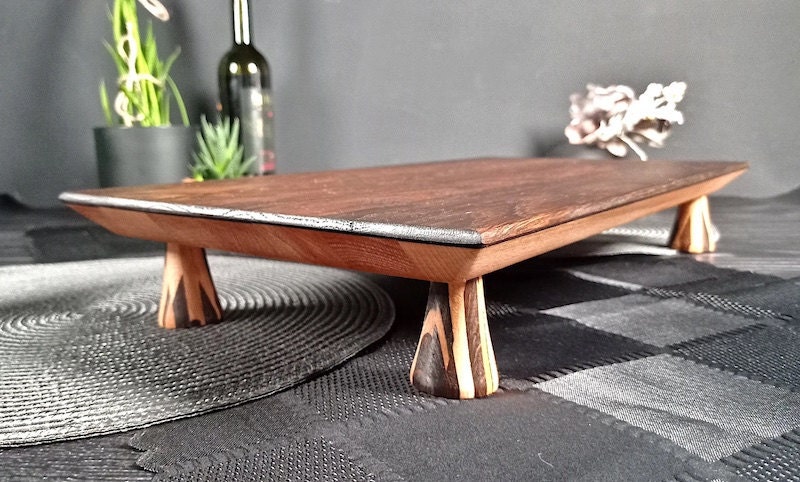 SHOP: Wooden charcuterie board with legs from CavenWood, $139
Upgrade your charcuterie spread to centerpiece status with this beautifully grained oak board, protected and polished with oil and beeswax. And with its bi-color wooden legs creating a short-but-sweet platform, this large charcuterie board can double as a serving tray in a moment's notice.
8. Reclaimed wood charcuterie platter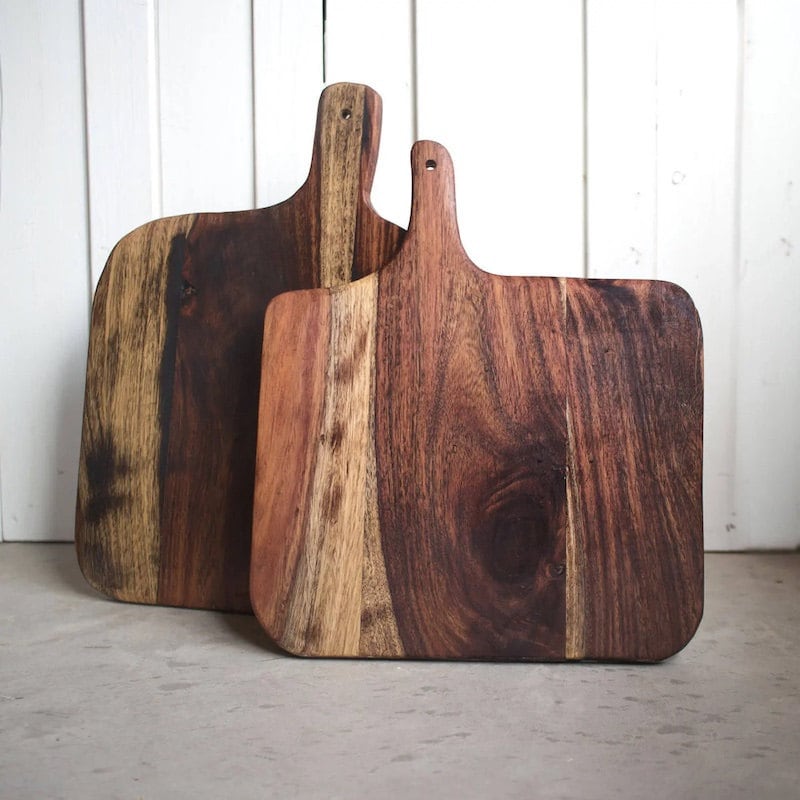 SHOP: Reclaimed wood serving board from Dennehey Design, $97
The best items always come with a story, and these rustic handmade charcuterie boards have one. Part of their charm comes from their organic, curved shape, but the real surprise is that they are made from Indian Rosewood that was reclaimed from vintage cabinets. Because of their unlikely origins, each wood slab is unique and one-of-a-kind.
Charcuterie boards with handles
Whether you're using your charcuterie boards for displaying or moving your brilliantly arranged charcuterie throughout the party, sometimes you need a handle. Good news: With these "handy" picks, you don't have to choose between utility and style.
9. A charming farmhouse cheese board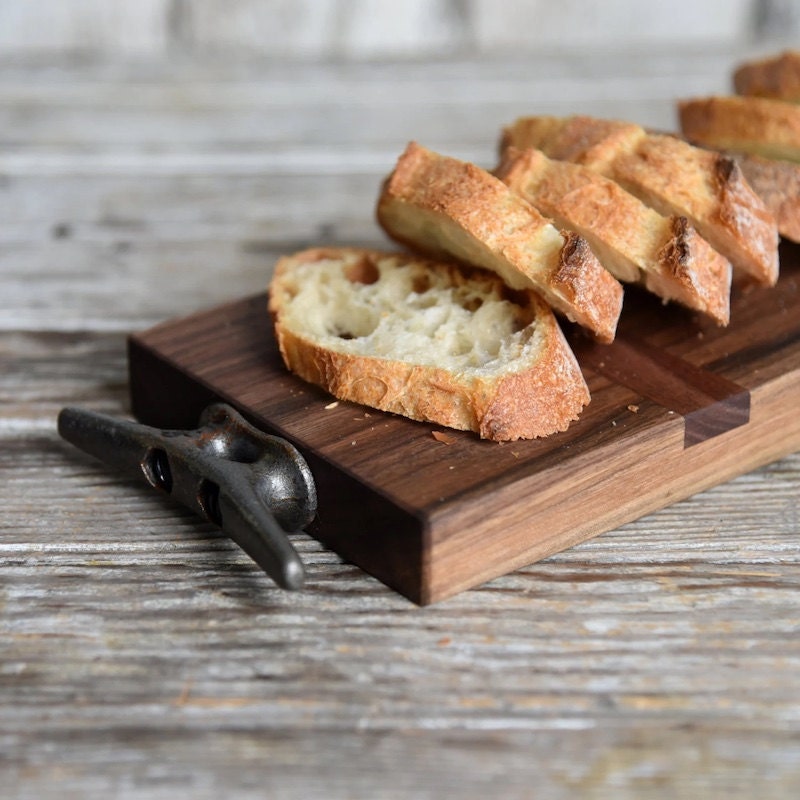 SHOP: Rustic cheese board with metal handles from Peg and Awl, from $70
For this small charcuterie board, it's all in the details. It's constructed with wood from downed storm trees, is fitted with aged steel boat cleat handles, has the option to add a custom engraving to suit your gifting or hosting needs, and offers an understated rustic touch to your culinary decor.
10. A custom marble charcuterie board
SHOP: Marble and wood cutting board from Highway 29 Design Co., $84
Some things are meant for each other: Peanut butter and jelly, salt and pepper, and marble and wood. This charcuterie board marries the natural beauty of stone and earthy wood for an elevated and refined look. Bonus points: You can add a laser engraving to make this an even more perfect fit.
Unique charcuterie boards
From bold resin designs to playful shapes and patterns, make a statement in your tablescape with these eye-catching boards.
11. A mixed-material charcuterie tray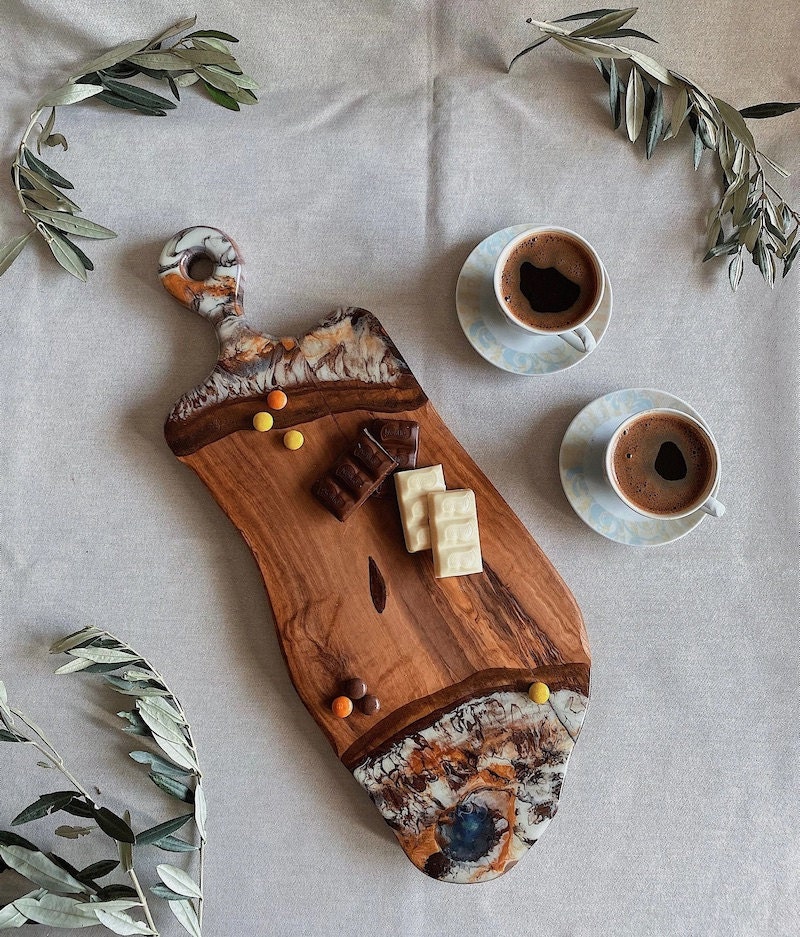 SHOP: Olive wood and colorful resin charcuterie board from Blue Caretta Studio, from $145
This charcuterie platter ticks all the boxes. Gorgeously-grained olive wood? Check. Intricately designed resin art accents? Check. Option to make this unique charcuterie board even more special with personalized engraving and matching cheese knives? Check, check, check.
12. An arched and grooved serving plate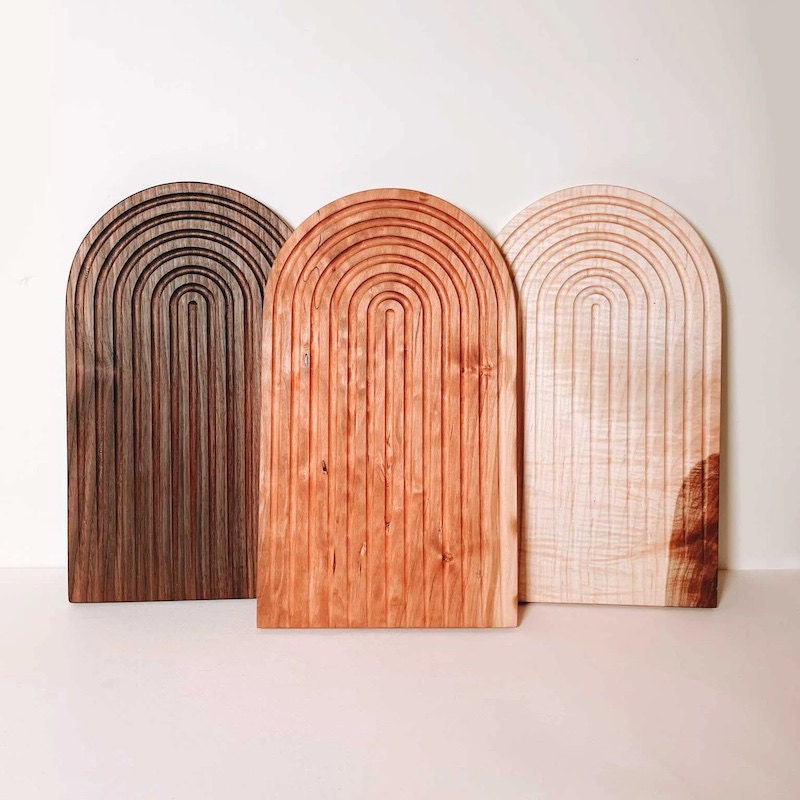 SHOP: Rainbow arch serving board from Warwood Made, from $80
This arched serving board is sophisticated and chic, but the rainbow-shaped grooves are more than just good-looking: They catch the crumbs of your bread and crackers so there's less mess to clean after the partygoers call it a night. Choose from walnut, maple, or cherry wood, or grab a few and create your own perfectly "you" set.
13. A ceramic charcuterie gift set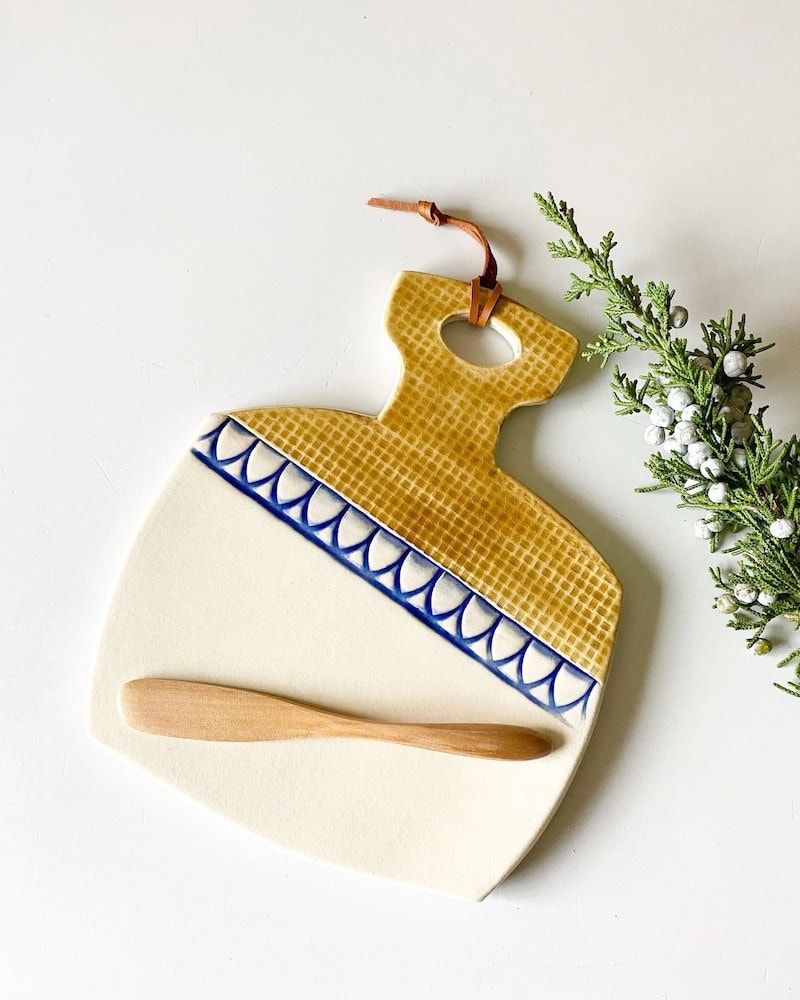 SHOP: Small ceramic cheese board gift set from Hester's Studio, $52
Handcrafted with white stoneware clay, this mini charcuterie board has a delightful-yet-understated motif that complements any aesthetic. A classic wedding or housewarming gift with a twist, this dainty and delicate set includes a teak wood cheese spreader.