Shop extraordinary handmade, personalised, and unique Christmas gifts made with love by small shops in the UK.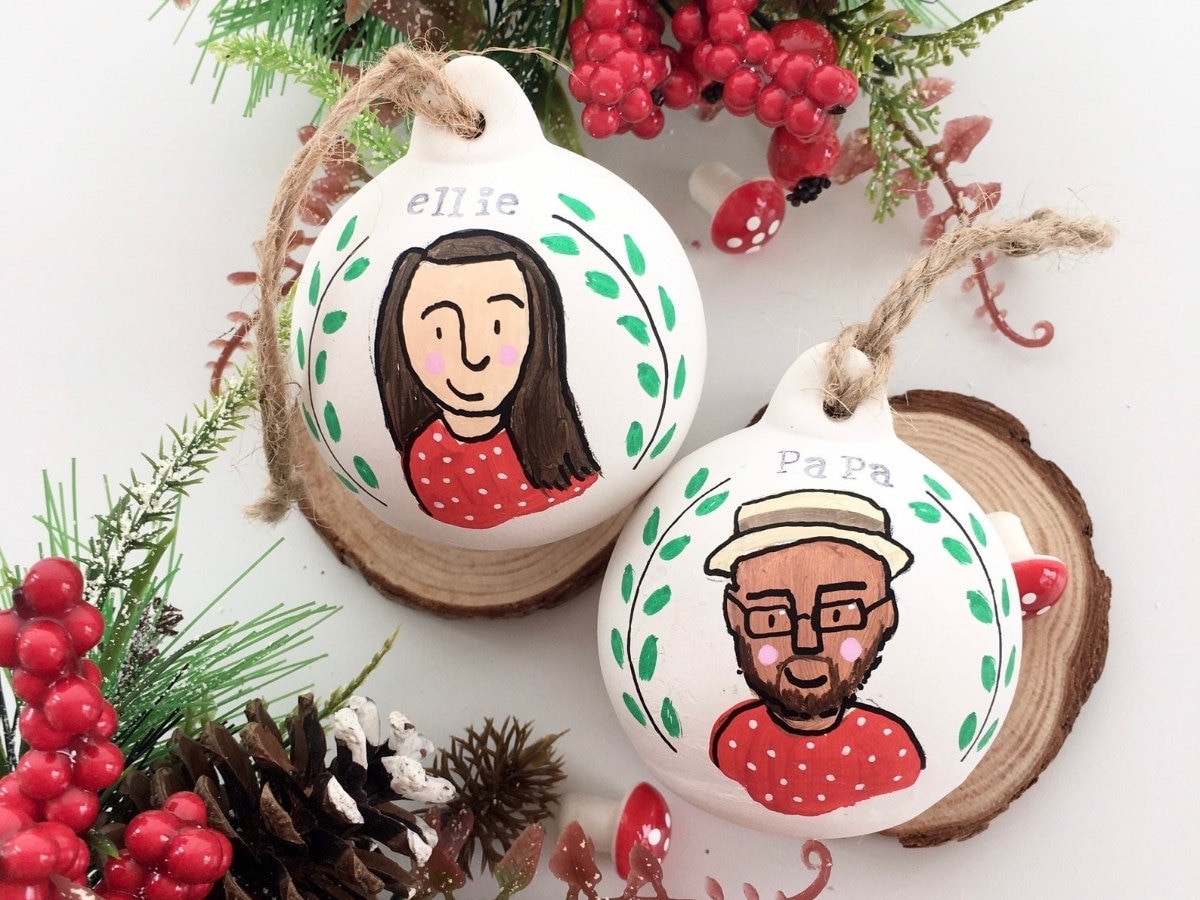 When it comes to gift giving, it's the thought that counts. And the truly heartfelt gifts are the ones made with craftsmanship and care. For this Christmas season, we've compiled some of our favourite gifts and stocking fillers to wow everyone on your list—whether you're shopping for your spouse, your kids, your in-laws, your mates, your office bestie, or your pets. From custom toys to personalised accessories to creative DIY kits to handmade home and Christmas decor, you'll find a variety of extra-special gifts to fit any budget.
Even better? You can support local makers and artisans in your community as you shop. All of these items come from Etsy sellers based in the United Kingdom. Talk about a thoughtful gift!
Keep in mind that handcrafted and custom items can take time to create, so it's a good idea to place your order early. Be sure to check estimated delivery times to ensure you receive your parcel before Christmas.
Gifts under £30
From personalised Christmas baubles to wintery candles, these gifts under £30 are perfect for any budget.
1. A festive advent candle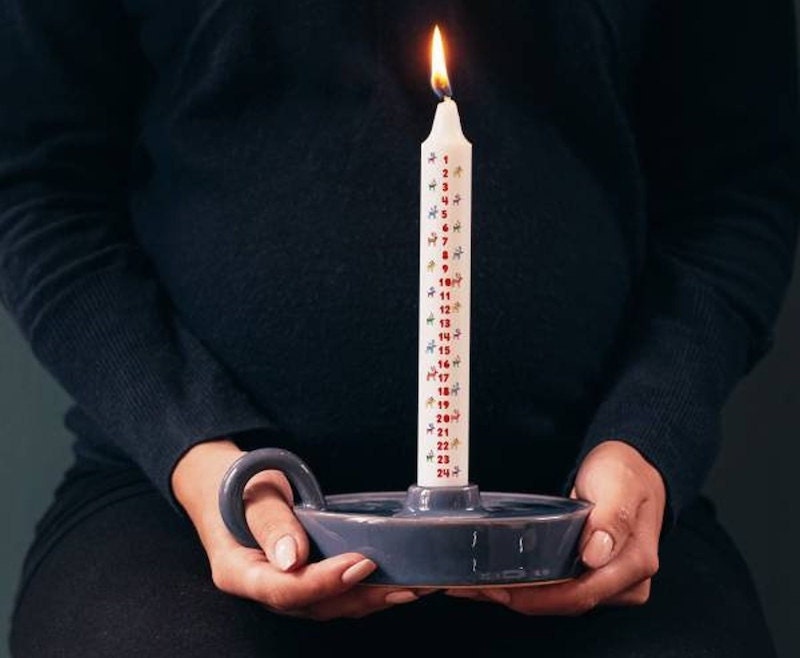 SHOP: Reindeer Christmas advent candle from This is Nessie, from £6
Help them count down the days to Santa's arrival with this cute take on traditional advent calendars. The smokeless, no-drip candle is meant to be burned a little each night before Christmas in December, for a fun, festive tradition.
2. Felt Christmas baubles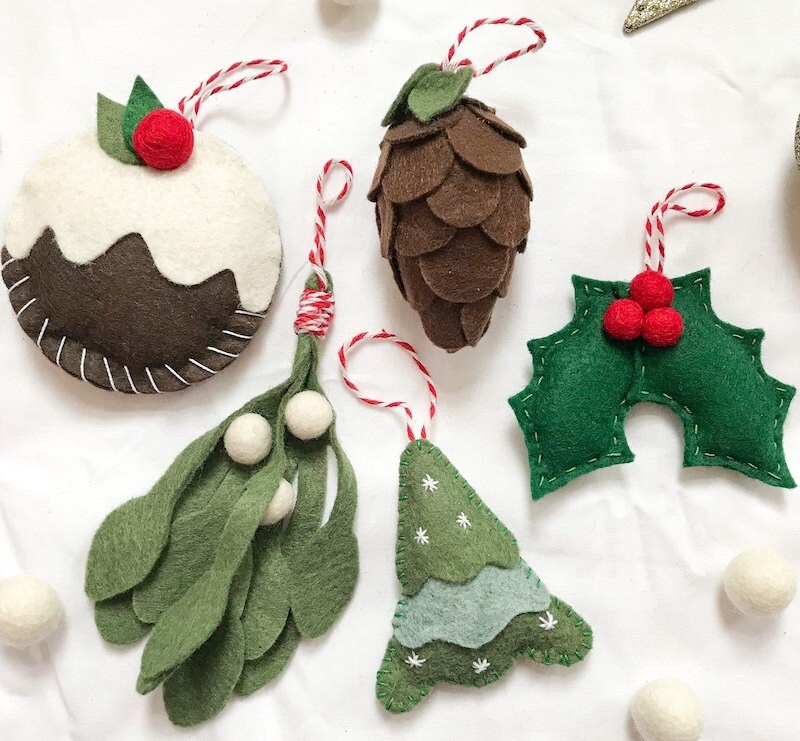 SHOP: Handmade felt Christmas tree baubles from Lil Yellow Home Designs, from £4 each
They'll love decking out the tree with these adorable handmade felt baubles shaped like pinecones, holly, mistletoe, trees, and Christmas pudding. You can order them separately or as a set.
3. A cosy candle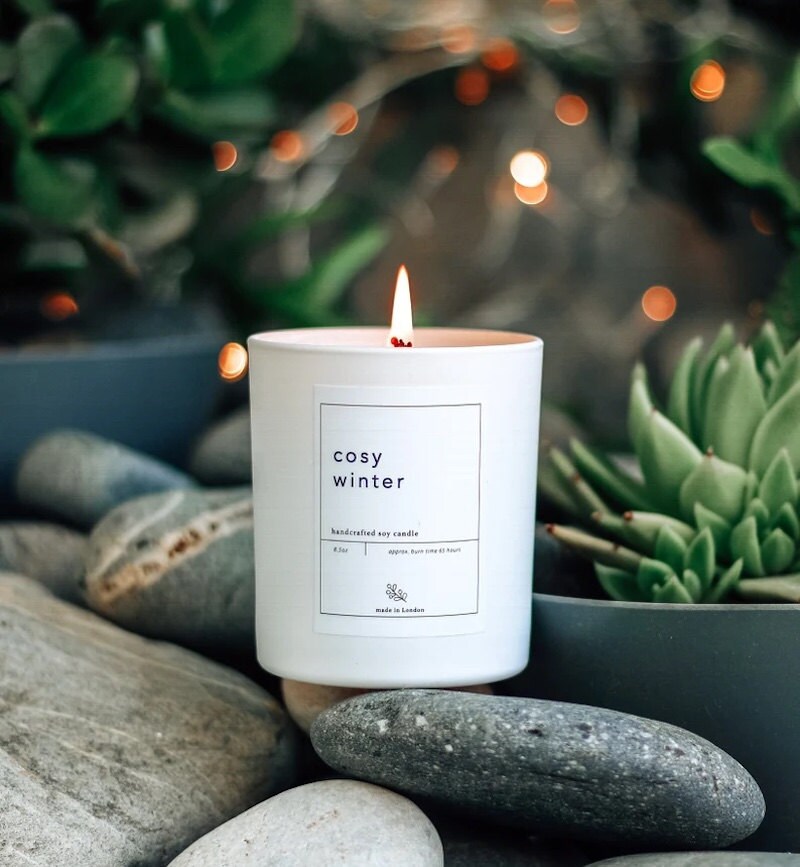 SHOP: Cosy Winter soy Christmas candle from Den Perfect, from £17
On chilly nights, they'll enjoy snuggling up with this wintery scented candle. Each hand-poured, small-batch soy candle has spicy scents of bergamot, cinnamon, clove, ginger, orange zest and just a touch of vanilla and musk—perfect for a cosy evening at home. The candles, which come in two sizes, can burn up to 40 or 65 hours.
4. A personalised portrait bauble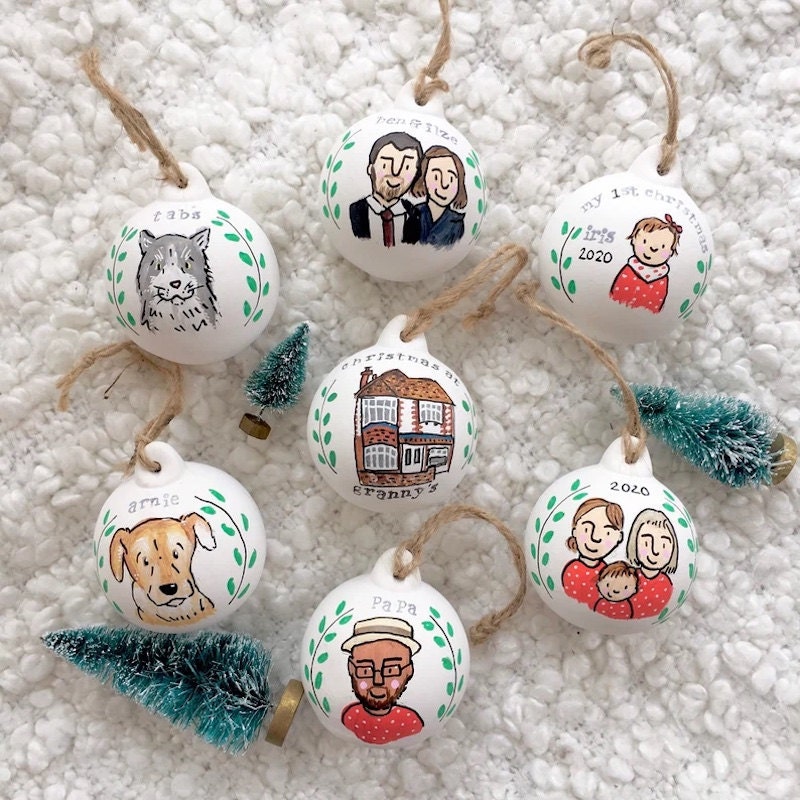 SHOP: Personalised portrait bauble from Gemma Eve, from £22
Give them a thoughtful gift they'll cherish year after year with their own handpainted Christmas bauble, personalised with their name and likeness. You can also opt for a family portrait—each handpainted ceramic bauble can feature up to five people. And don't forget the pets! The seller also offers custom portrait baubles of dogs, cats, horses, rabbits, hamsters, and even parrots.)
Gifts for her
No matter what her style, she'll enjoy unwrapping these thoughtful gifts for her on Christmas morning.
5. A stunning pair of gold earrings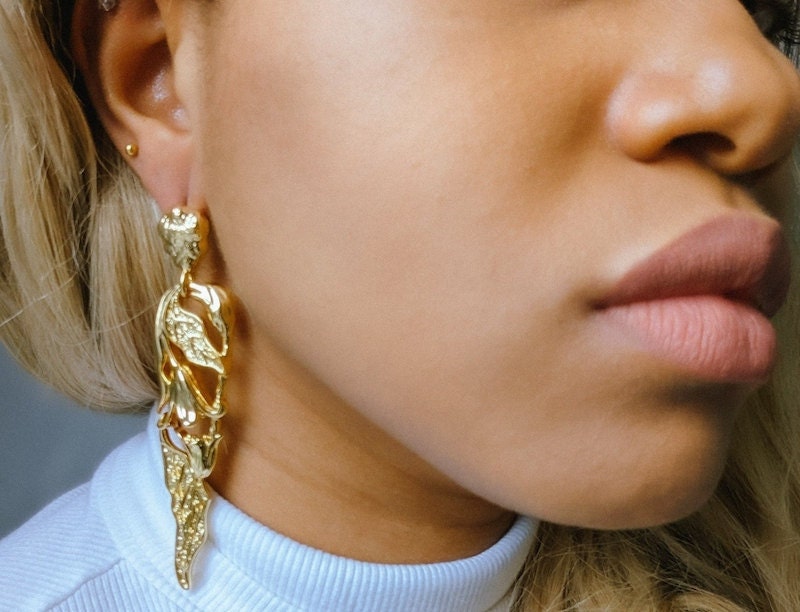 SHOP: 18K gold-plated leaf earrings from Zilak Jewellery, £47 Give her ears a little bling with these dangly earrings, plated in 18 karat gold. Covered in an intricate leaf design, the earrings measure 9.3 centimeters long, and are the perfect accessory for a New Year Eve party dress.
6. A cheery pair of gloves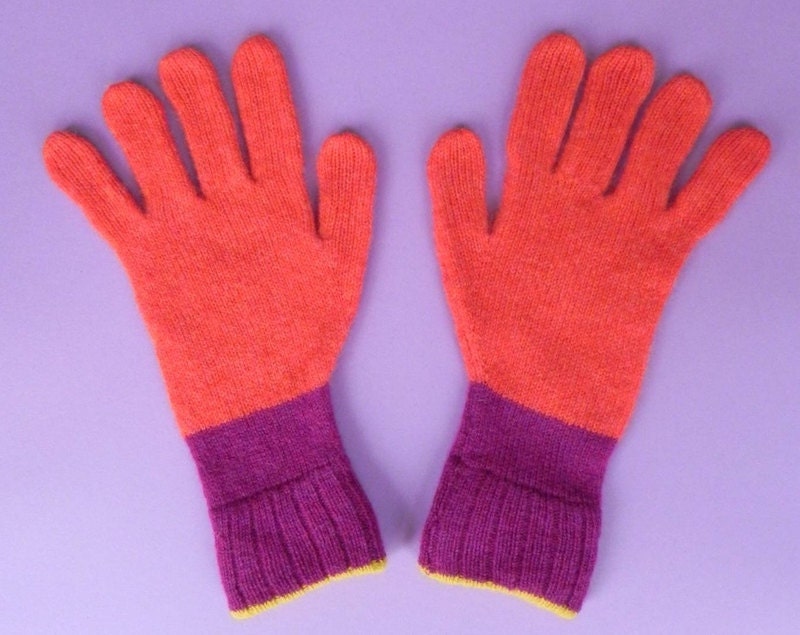 SHOP: Colour block gloves for women from Izzie Kemp, £38
Her hands (and wrists!) will be toasty and warm all winter long with these knit gloves that add a pleasing pop of colour and cover more of the arm than most gloves. The seller also makes plenty of other shades of gloves and mittens, including mint, charcoal, and navy.
7. A shiny pearl ring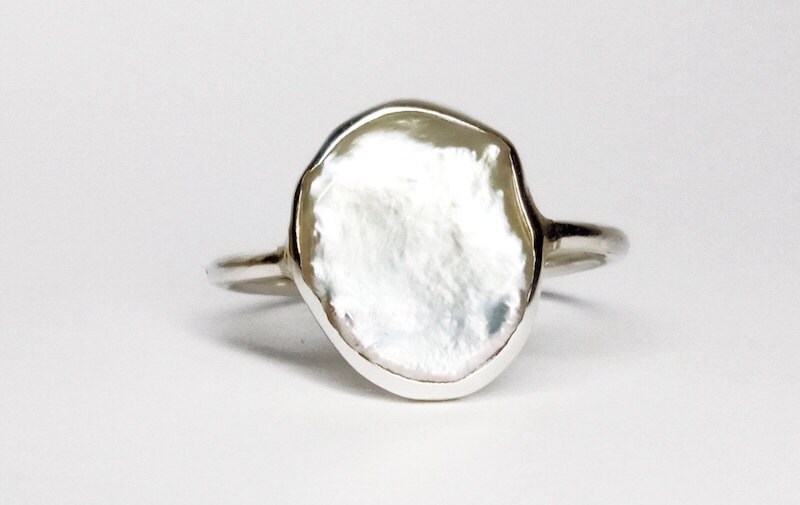 SHOP: Minimalist pearl ring from Franki + Felix, £39
Delight her with this beautiful coin-shaped pearl ring, set in sterling silver. A fun statement accessory that goes with any outfit, the ring is available in a wide range of sizes, from J through V.
Gifts for him
From personalised accessories to luxe winter staples, these gifts for him are sure to delight.
8. Personalised cufflinks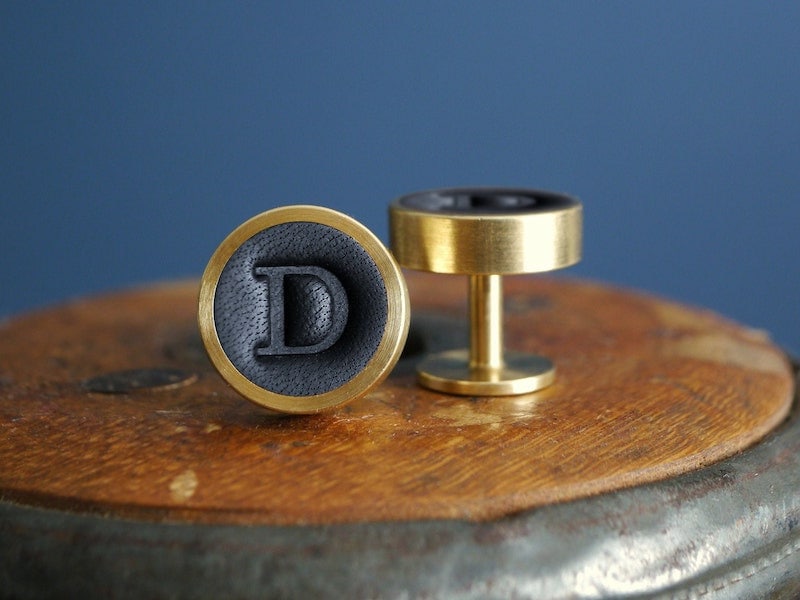 SHOP: Personalised leather and brass cufflinks from Kingsley Leather, £50
Looking for a thoughtful gift? These dapper personalised cufflinks fit the bill. Made of brass and your choice of one of three shades of leather, the cufflinks can be hand-stamped with his initials.
9. A pair of cashmere-lined gloves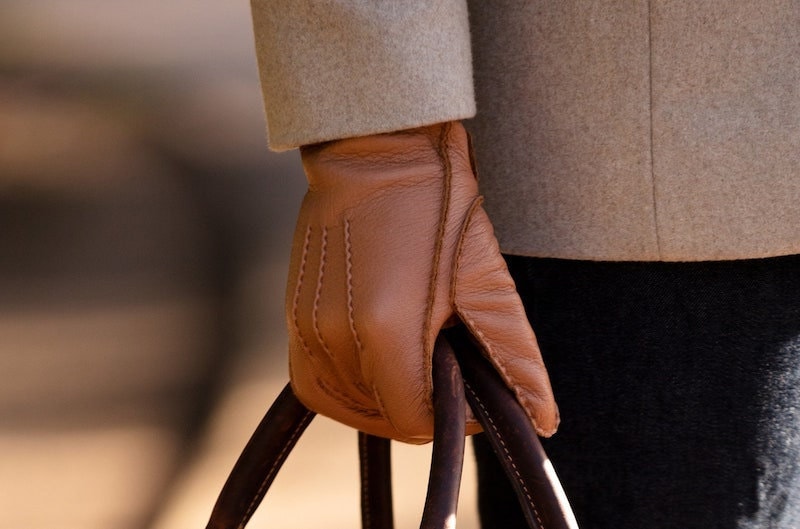 SHOP: Men's deerskin cashmere-lined gloves from Southcombe, £85
Pamper him all winter long with these luxurious gloves, made of soft deerskin leather and lined in cashmere. The gloves, which come in either tan or black, are available in four different sizes.
10. A personalised leather keyring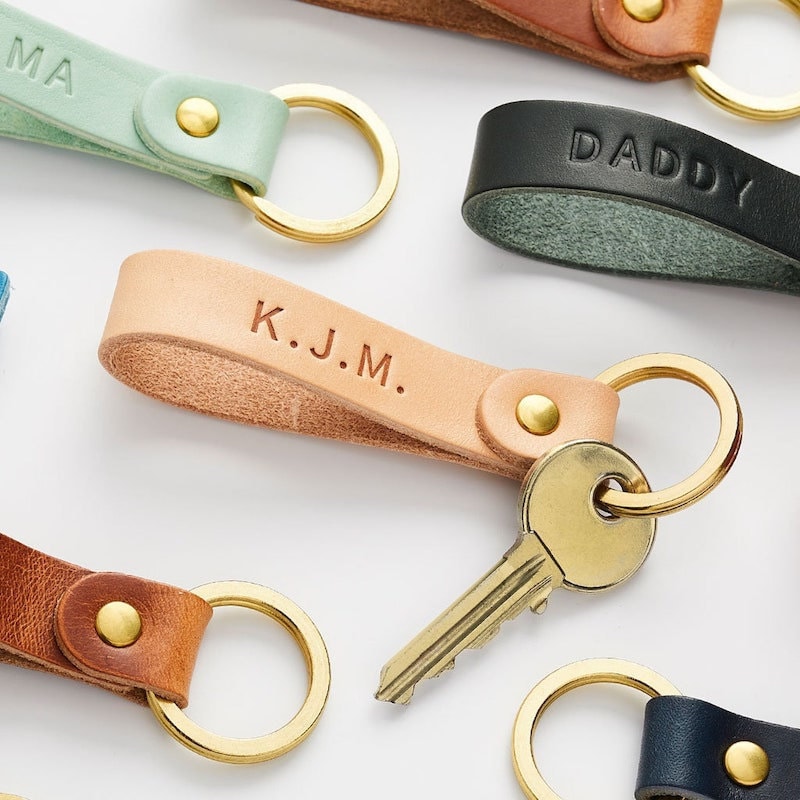 SHOP: Personalised leather debossed keyring from Create Gift Love, £18
This sleek leather keyring makes the perfect stocking filler. It comes in nine different colours and can be personalised with his name or initials.
Gifts for kids
From colouring murals to custom toys, these gifts for kids are sure to inspire their creativity.
11. A toy made from their drawing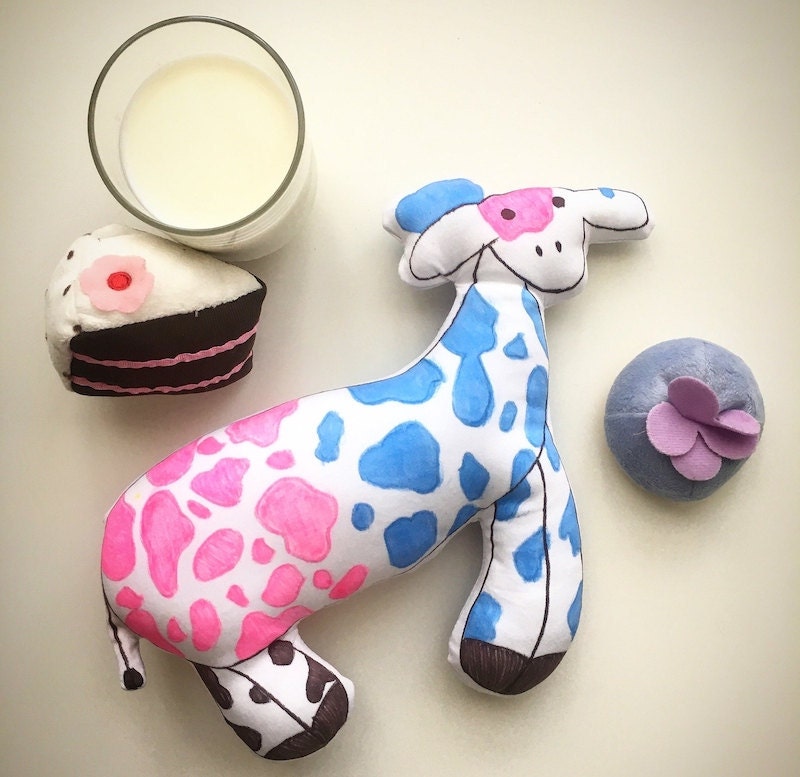 SHOP: Custom toy from child's drawing from Lilia's Smiling Horses, £43
There's nothing like watching a child's eyes light up as you transform one of their drawings into a cute stuffie they can actually cuddle and play with. The cotton pillow, which is filled with polyester, measures about 34 centimeters wide, but the seller can create a custom order to your specifications.
12. A personalised crayon set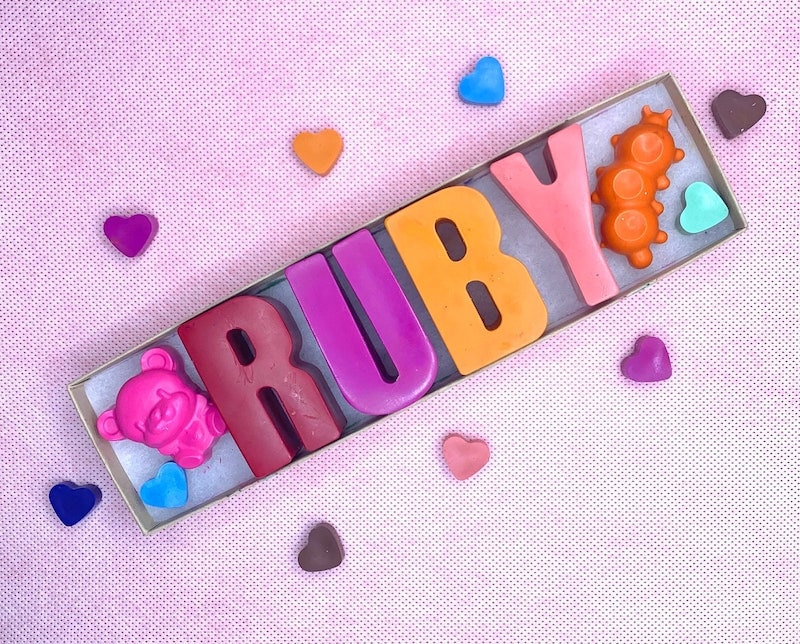 SHOP: Personalised name crayons set from Chloe's Crayons, from £7
This crayon set has your little one's name all over it…literally! You can select up to 15 characters of the alphabet. Each set also comes with two animal-shaped crayons inside the box, ready for gifting.
13. A Christmas colouring mural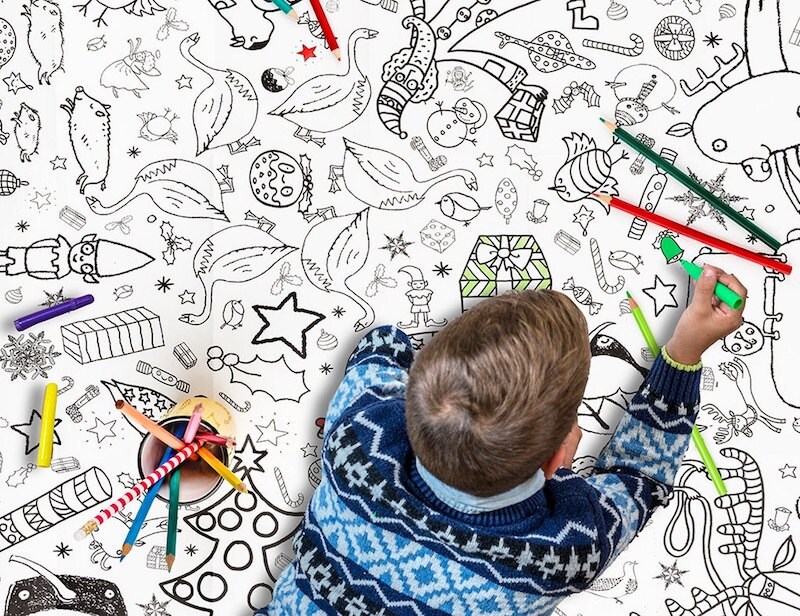 SHOP: Giant children's colouring poster and tablecloth from Eggnogg, £10
Let their creativity run wild with this giant colouring poster that doubles as a tablecloth, play mat, or even wrapping paper. Measuring 127 centimeters by 95 centimeters, the Christmas-themed poster features fun Christmas themes, with smiling Santa Clauses, leaping reindeer, French hens, geese a-laying, plum puddings, and presents.
Gifts for pets
Celebrate Christmas with your furry family members with these cute gifts for pets that you can also enjoy.
14. A personalised dinner bowl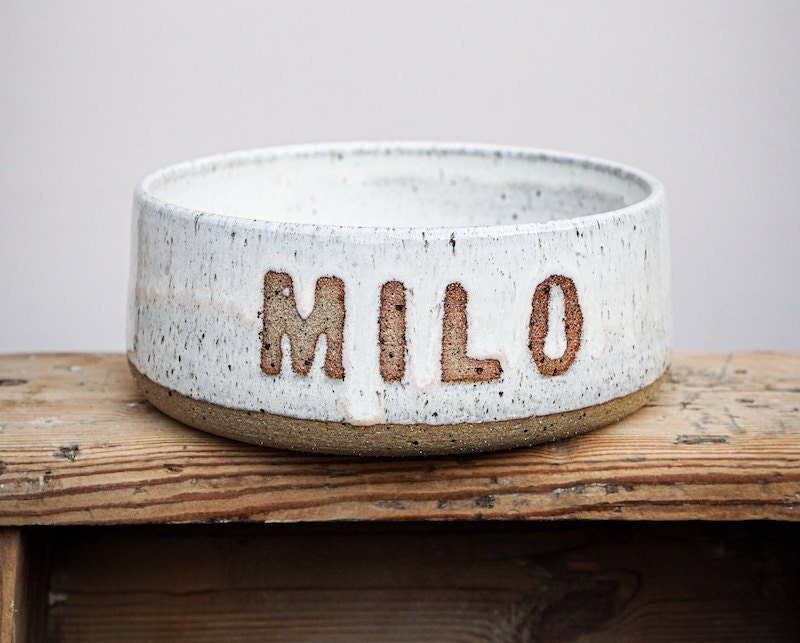 SHOP: Handmade ceramic personalised pet bowl from BlankEarthCeramics, £49
Give your cat or pup their own stylish personalised dinnerware. The hand-thrown ceramic stoneware bowl is finished with a food-safe glaze. It comes in four different colours: blue, green, white, and opal.
15. A custom portrait bauble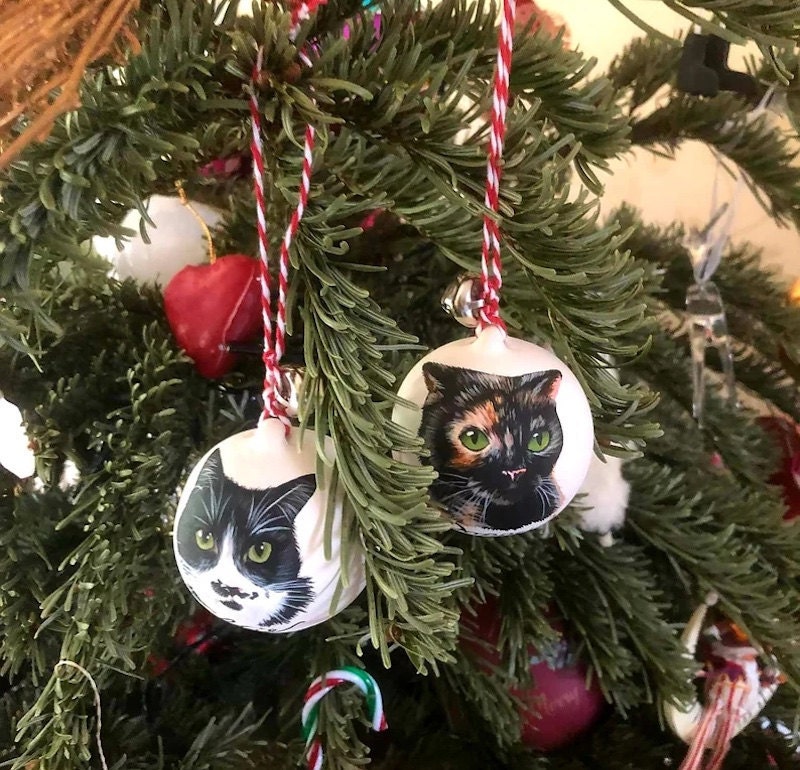 SHOP: Personalised custom pet bauble from Kat Giannini, from £48
Immortalize your cat or pup with their own handpainted bauble. The ceramic baubles also include their name in script. (Have two fur babies? You can opt to get two pet portraits on a single bauble.)
Decorations and gifts for the home
From personalised cutting boards to DIY Christmas wreaths, these decorations and gifts for the home are the perfect gift for someone special—including yourself.
16. A personalised velvet stocking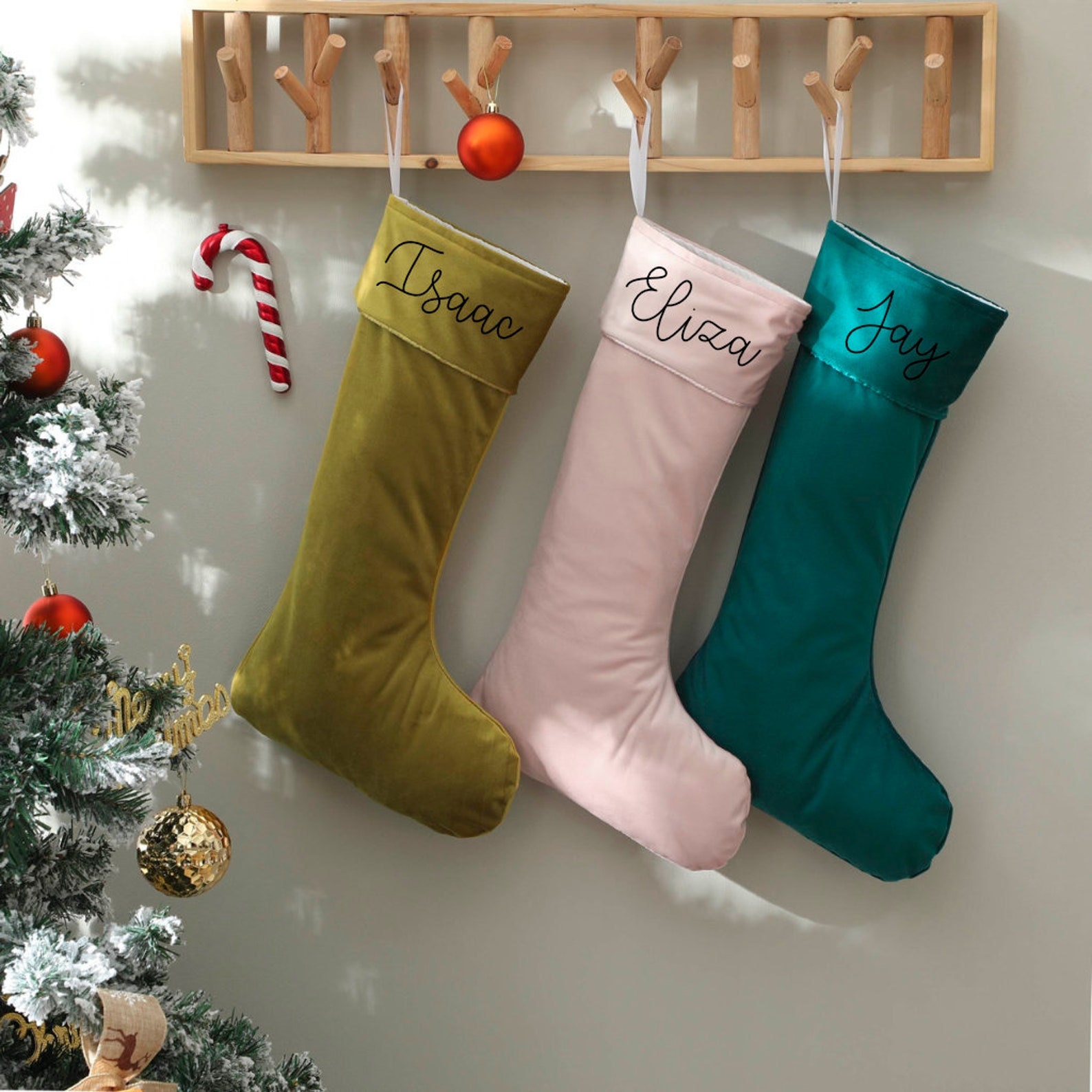 SHOP: Personalised luxury velvet stocking from House of Harman, £20 each
Get ready for Santa with these beautiful plush velvet stockings, personalised for every family member. The stockings come in five different colours, including red, pale pink, mustard, teal, and grey.
17. A DIY pom-pom wreath
SHOP: Pom-pom wreath-making kit from That Crafty Stitch, £30
Want a fun activity for those chilly winter evenings? Make your own pom-pom Christmas wreath, with this fun DIY kit. It comes with four skeins of super chunky yarn, a metal wreath frame, two pom-pom makers, and instructions. You can choose your own colour scheme from a variety of yarns.
18. Wooden Christmas tree decor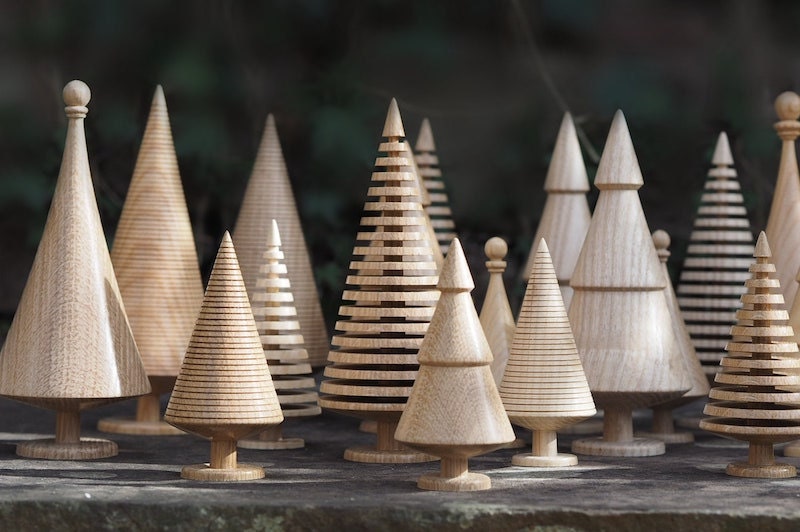 SHOP: Handmade wooden Christmas trees from treow, from £18
After you add the stockings, give your mantel a modern finishing touch with these Scandinavian-inspired wooden Christmas trees. Made of either oak or ash, the trees, which measure 10 to 17 centimeters in height, can be purchased individually or as a set.
19. A custom house portrait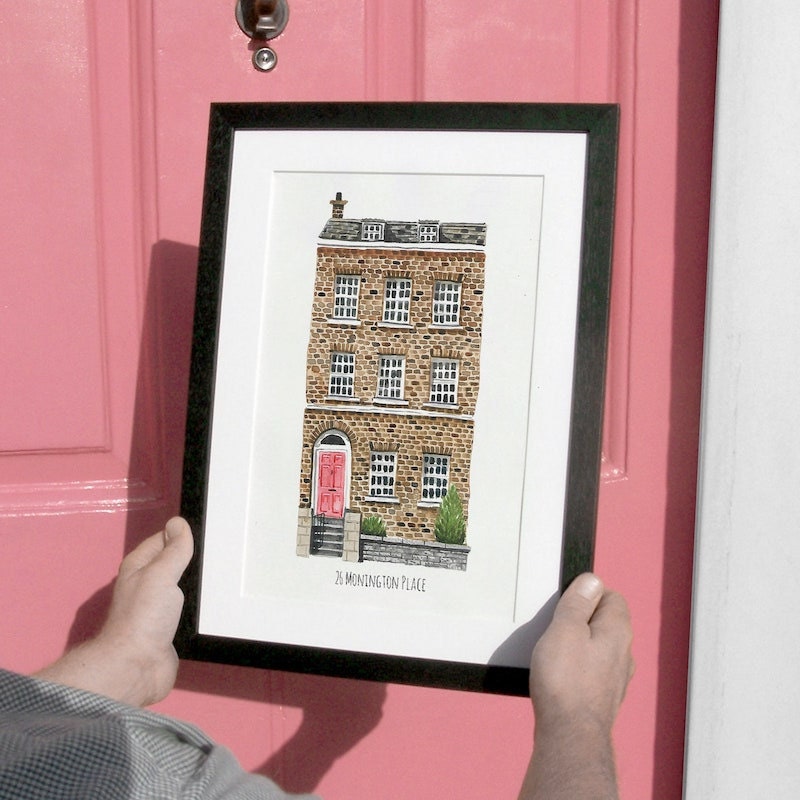 SHOP: Custom house watercolour print from Lilian May Watercolours, from £69
It's been a place of countless memories and treasured moments. Pay tribute to your house with a custom watercolour portrait that captures the beauty of the place you call home.
20. A custom family recipe cutting board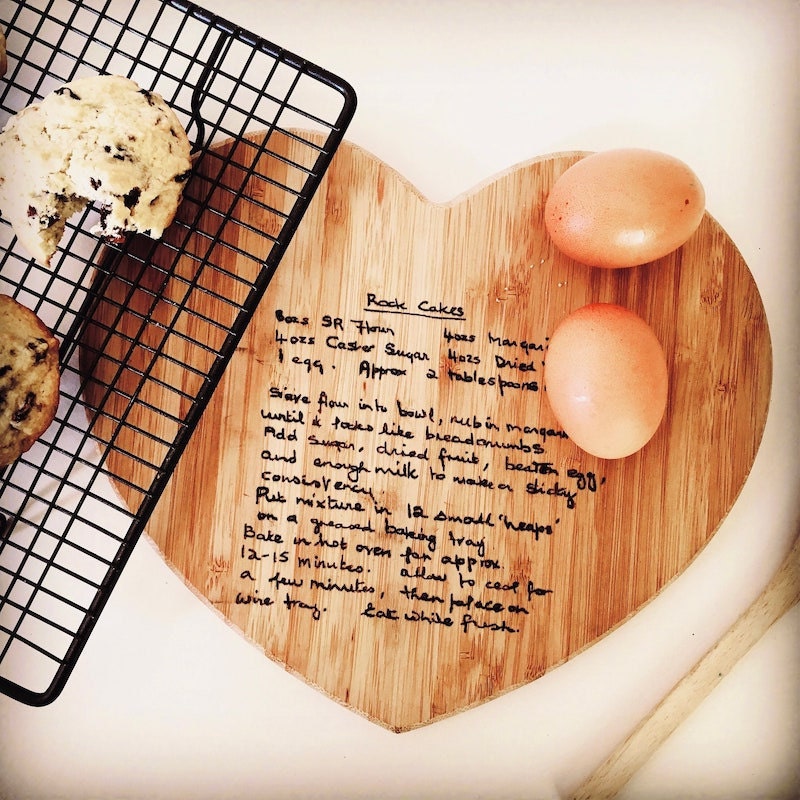 SHOP: Personalised handwriting chopping board from Messy Merlin, £40
What better way to pass down a cherished family recipe—like your granny's favourite sponge—than with a custom cutting board that captures the recipe in their own handwriting. The sturdy bamboo boards, which measure about 27 centimeters wide, come in either a rectangular or a heart shape.