Add a magical touch to the fireplace this holiday season with these beautiful and unique stockings for every style and budget.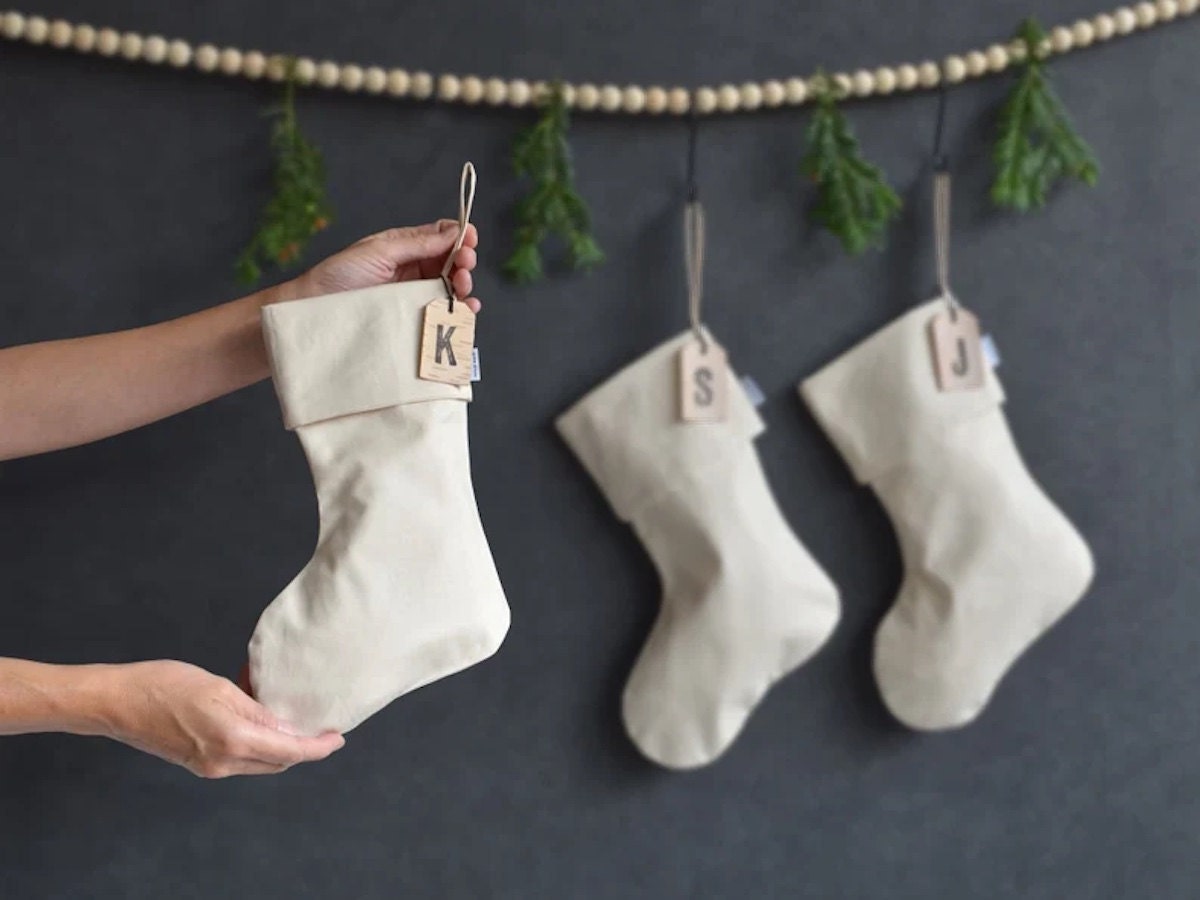 No home Christmas decor is complete without the best stockings for all family members hanging by the fireplace, eagerly awaiting their fillers from Santa himself. If your face lights up with glee as soon as you find the Christmas stockings while digging through the holiday decorations, you'll know how important these traditional and sentimental holiday items are.
For most of us, the festive spirit starts to make an appearance as soon as we dust off and open the box of Christmas decorations. And the holiday mood really hits as soon as the stockings are hung. Bring on the Bing Crosby!
In addition to your personal Christmas stockings, these picks also make for a thoughtful early present for the holiday, a housewarming gift, or a thoughtful gift for new parents to welcome a new addition. Whether hanging the stockings is the first or last step in your holiday decorating timeline, these picks are sure to become a treasured part of many merry memories to come.
Personalized Christmas stockings
There's nothing quite like a beautiful and unique personalized stocking to make every single member of the family feel festive during the holidays.
1. An elegant linen stocking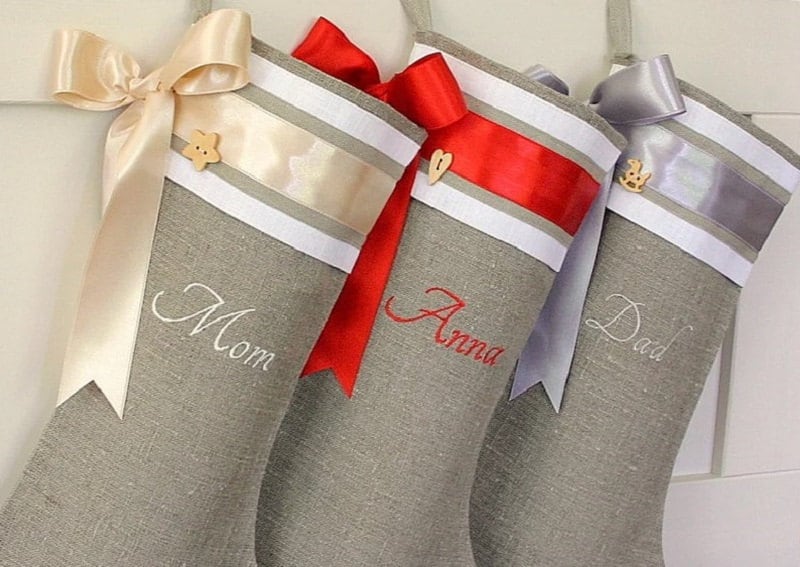 SHOP: Personalized family Christmas stocking from Katy's Home Designs, $60
Adorned with satiny linen ribbons in a variety of colors, and lined with cotton to securely hold presents in place, these beautiful and delicately decorated linen burlap stockings can be personalized, and suit both minimalists and those who like a pop of color.
2. Fair Isle hand-knit personalized stocking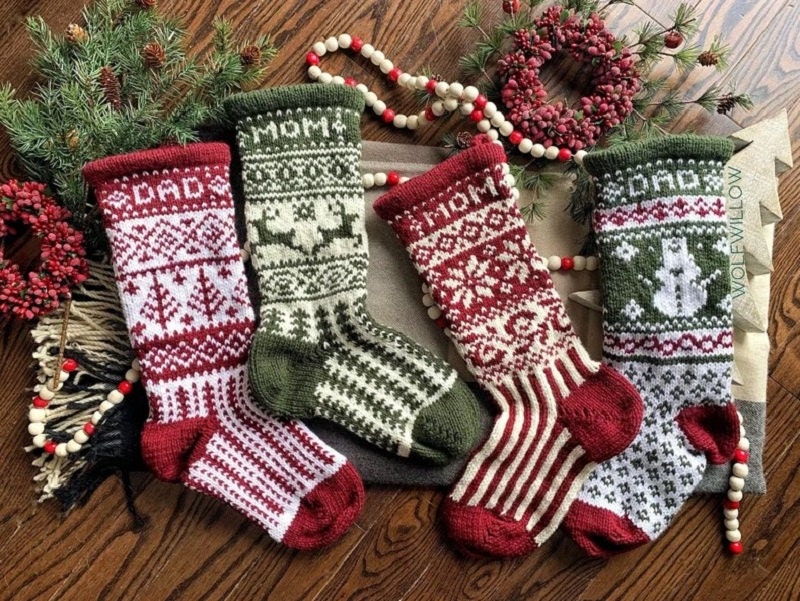 SHOP: Hand-knit Fair Isle stocking from Wolf Willow, $89
Nothing screams winter comfort than a good pair of chunky-knit socks… even if they come in the form of a Christmas stocking. These personalized hand-knitted stockings with a Fair Isle design have a traditional feel, come in four festive designs (snowman, snowflakes, reindeer, and Christmas trees), and a variety of background designs.
3. Buffalo plaid personalized stocking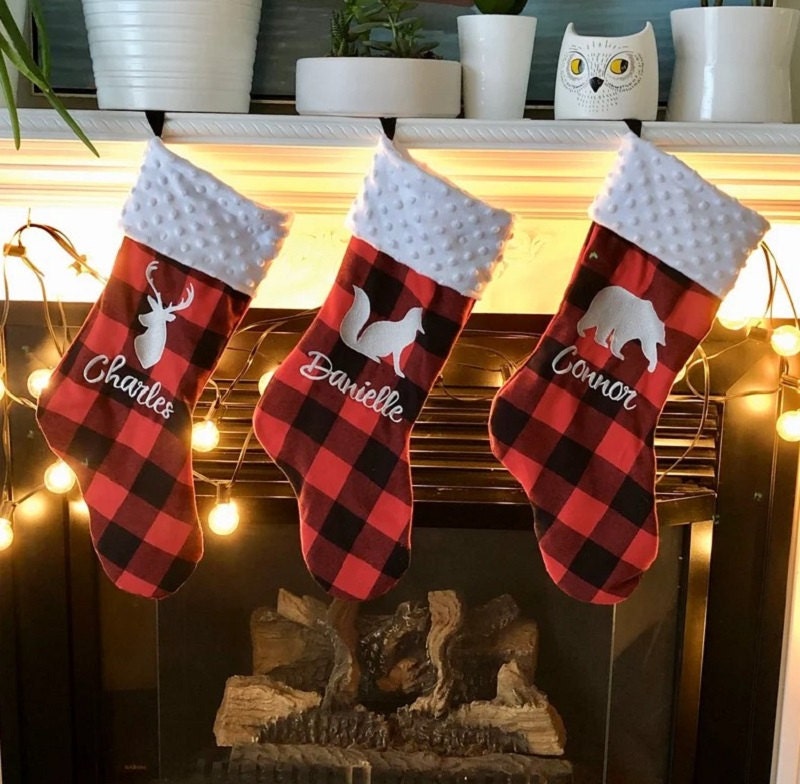 SHOP: Buffalo plaid personalized stocking from LPM. Co., $48
There's something about plaid that so represents the holiday season, and these personalized, handmade cotton stockings from LPM Co. are giving us some serious festive fever. You can choose from 18 animal designs, and have your name adorned in a selection of nine fonts for a more bespoke feel.
4. Personalized Christmas stocking with wooden name tag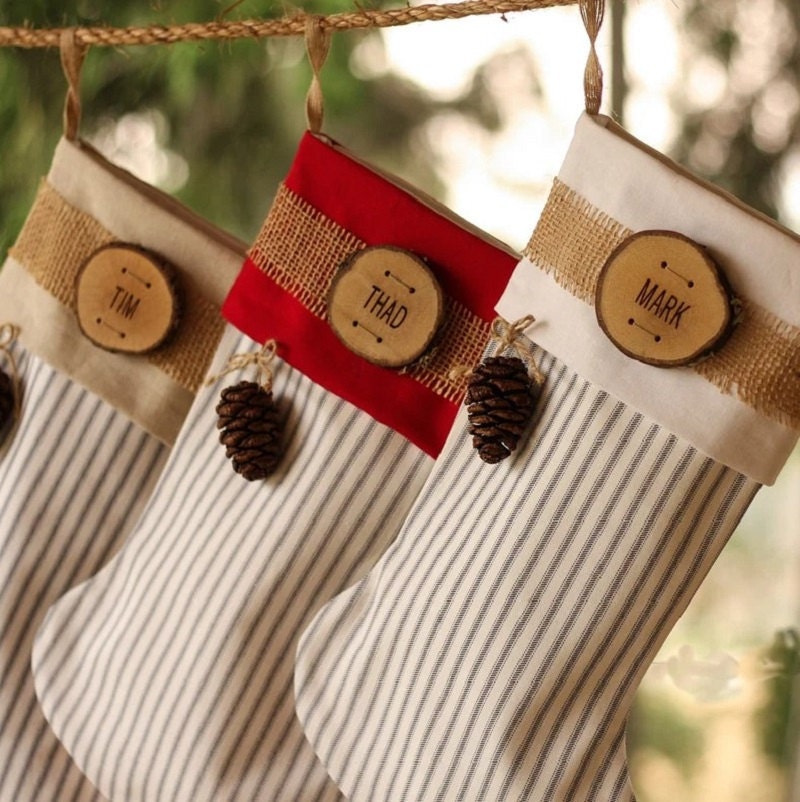 SHOP: Wood disk personalized Christmas stocking from O My Soul Studio, from $42
These truly unique stockings ooze class while offering a subtle Christmassy quality thanks to the attached redwood pine cones. Names are engraved on a real wood slice, and, while we're loving this pinstriped design, the shop offers these durable stockings in a variety of materials and designs to suit all tastes.
Needlepoint Christmas stockings
For an extra-special and delicate touch, choose from one of these needlepoint Christmas stockings that offer a more nostalgic and handmade feel.
5. Cashmere stocking with embroidery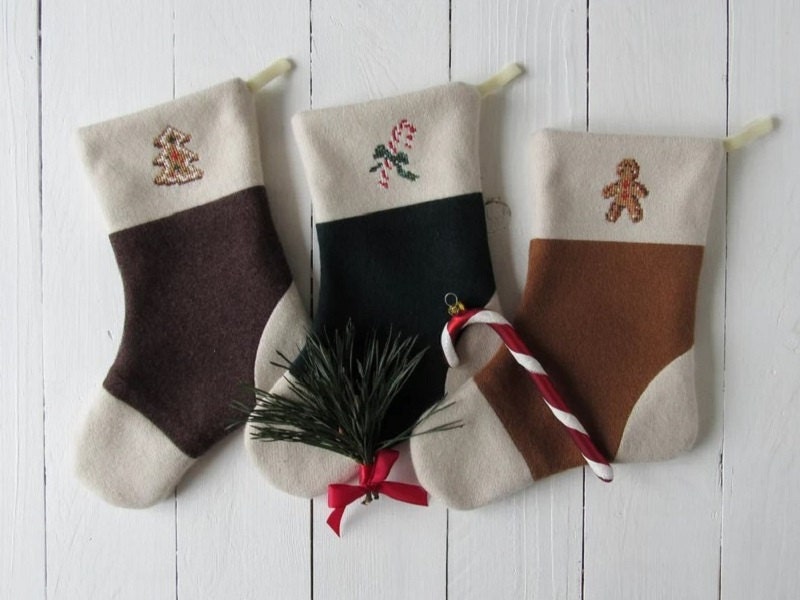 SHOP: Cashmere stocking with embroidery from HolzundLeinen, $43
Made from real cashmere, these super soft stockings feature hand-embroidered cross-stitch patterns, and you can choose from either a gingerbread man, a Christmas tree, or a candy cane. Available in three earthy colors, these stockings are cotton lined and ready to be stuffed with fillers.
Monogrammed Christmas stockings
If you like to monogram just about everything, your Christmas stockings will likely be no different. These personalized yet minimalistic stockings can provide a subtler elegance to any Christmassy home.
6. Monogrammed cotton stocking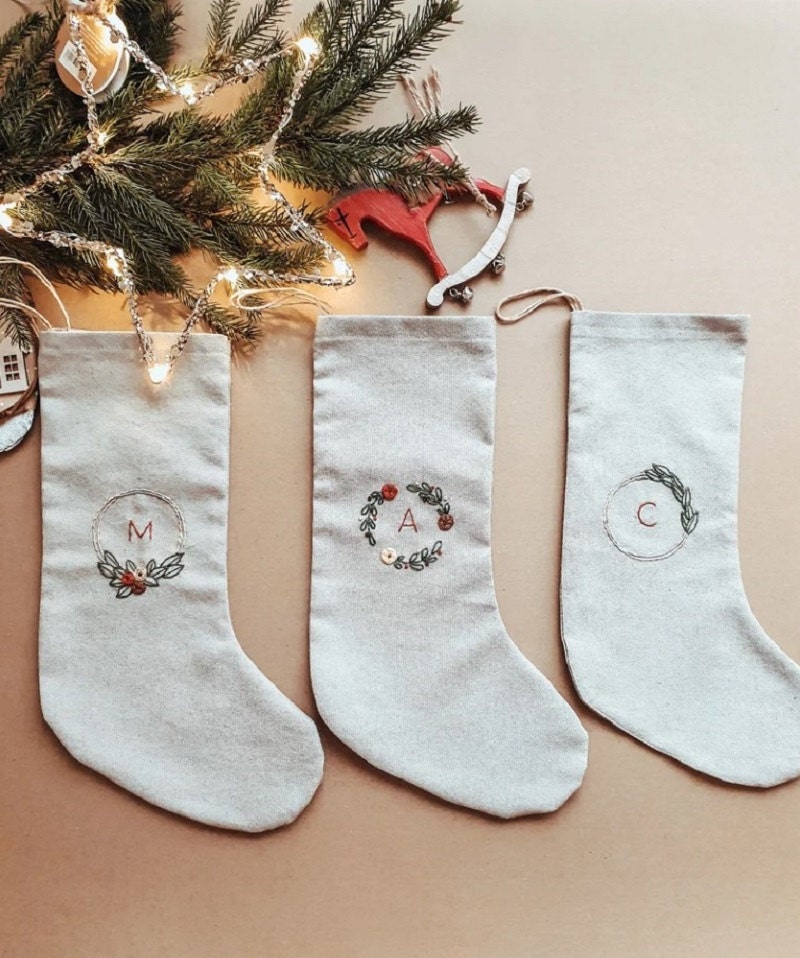 SHOP: Personalized cotton linen stocking from Lottus Boutique, from $45
Beautifully minimalistic yet with a traditional vibe, these handmade linen stockings have a petite wreath design around the monogram of your choice. We love that they're available in four sizes from S–XL so that every member of the family can have a matching stocking in their equivalent size.
White Christmas stockings
If you'd rather your stockings have a minimal aesthetic, we've got you covered with a selection of Christmas stockings fit for a white (and sustainable) Christmas.
7. Organic cotton stocking with stamped tag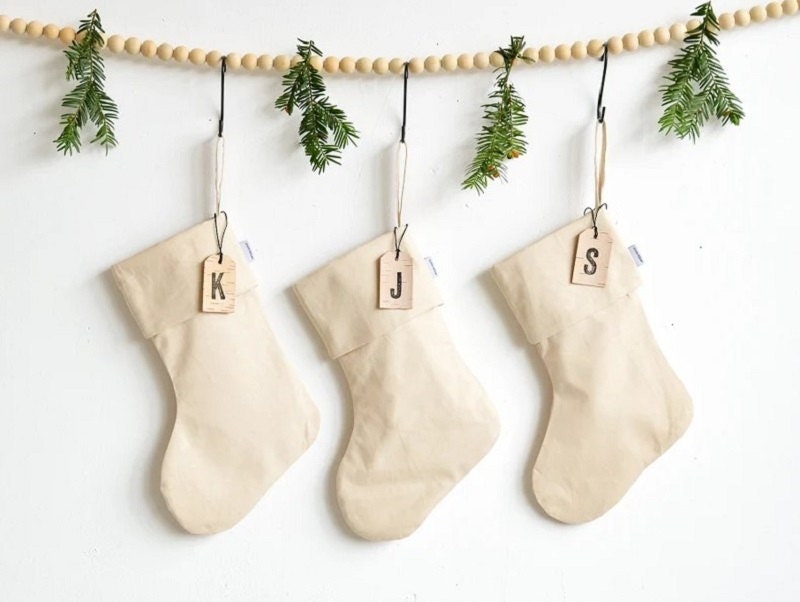 SHOP: Organic cotton stocking with stamped tag from renna deluxe, $39
A gorgeously minimal pick, these stockings are handmade in Germany and created using organic cotton. Each stocking comes with a wooden birch tree bark tag that can be personalized with an initial.
8. Recycled sailcloth stocking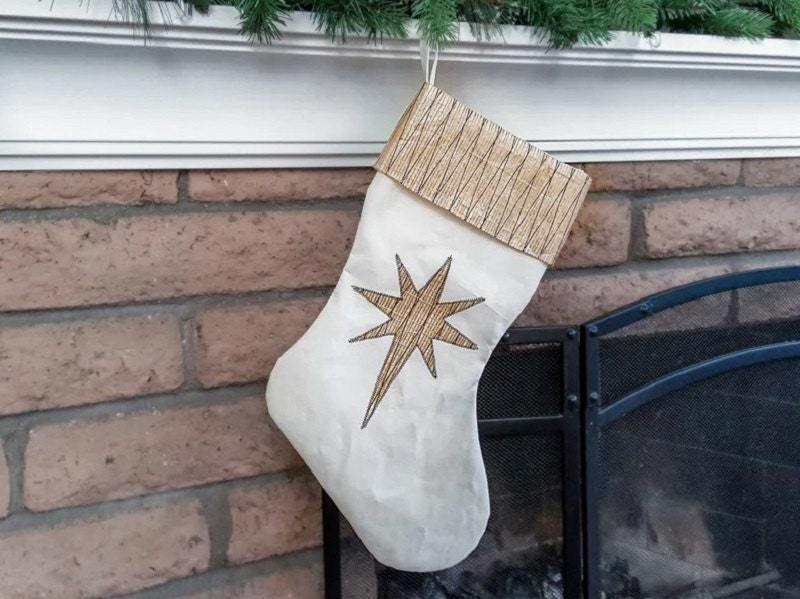 SHOP: Recycled sailcloth stocking from Altered Sails, $84
The design behind these festive Christmas stockings is truly innovative as they're constructed from recycled materials from retired ship sails. With delicate stitching and a mirthful gold star design, this is one of those products with a story behind it that you can share with guests over a glass of eggnog.
Farmhouse Christmas stockings
Many feel that, when it comes to holiday stockings, you can't beat a good old traditional look. These farmhouse stockings are sure to bring the Christmas spirit with them as soon as you hang them up.
9. Scandinavian-inspired extra-long stocking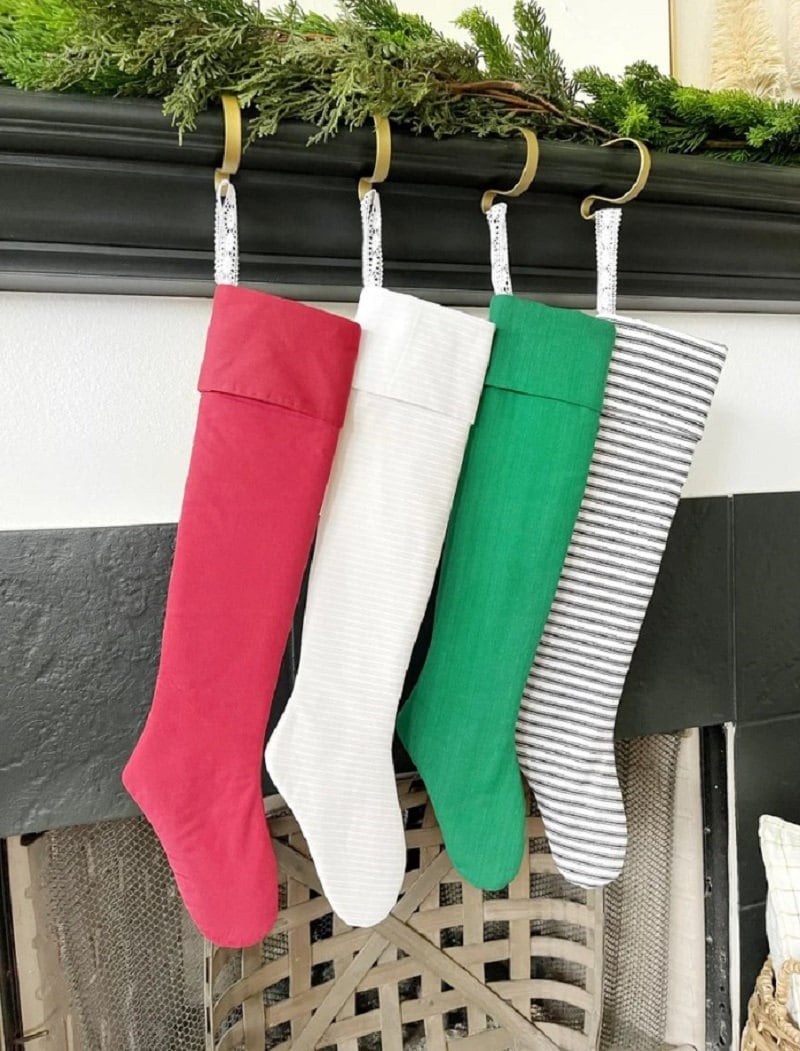 SHOP: Minimalist Scandinavian-inspired stocking from My Houston House, from $36
Though we all love unwrapping presents under the tree, there's nothing quite like digging through the stocking fillers first thing on Christmas morning. These merry stockings come in extended 20- or 24-inch lengths for packing in the good stuff.
10. Patchwork quilt stocking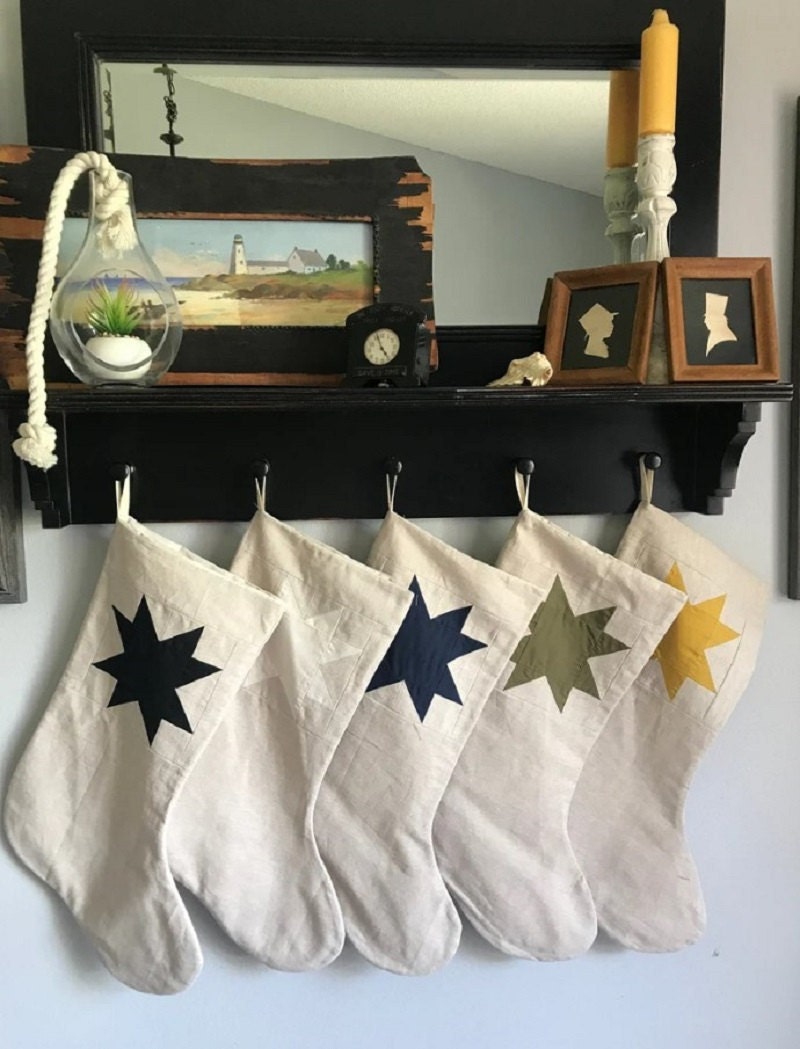 SHOP: Patchwork quilt star stocking from Thread & Iron, $75
Made in a universally appealing neutral fabric to suit any home decor, these minimal patchwork linen and cotton socks provide a more unique take on the classic Christmas stocking. Handmade in Seattle, they come in a choice of 15 star colors (including terracotta, olive, and royal blue) to make each stocking instantly recognizable to the relevant family member.
11. Minimalist linen Christmas stocking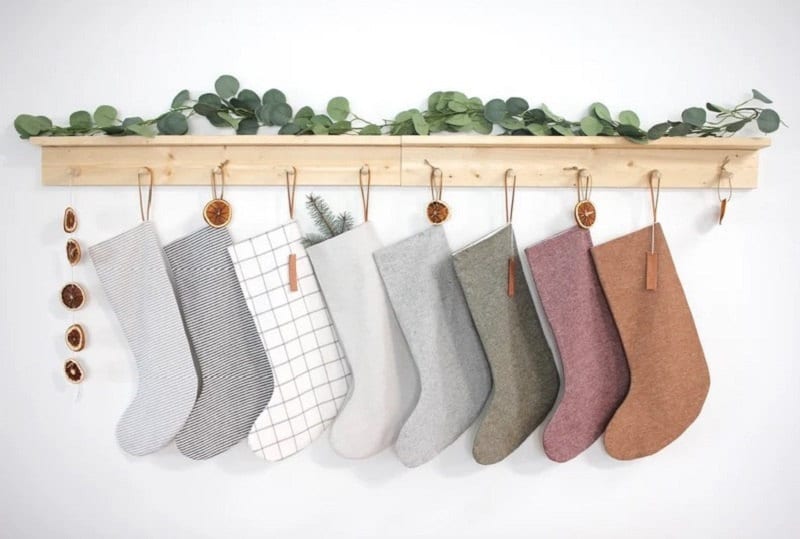 SHOP: Minimalist linen stocking from The Blanket Thief, from $51
With a Scandinavian-inspired aesthetic to suit any home, whether rustic or traditional, these linen and cotton blend stockings are available in eight neutral shades, each adorned with a stylish tan leather tag, which can be hand-stamped to add a personalized touch.
12. Indigo mudcloth stocking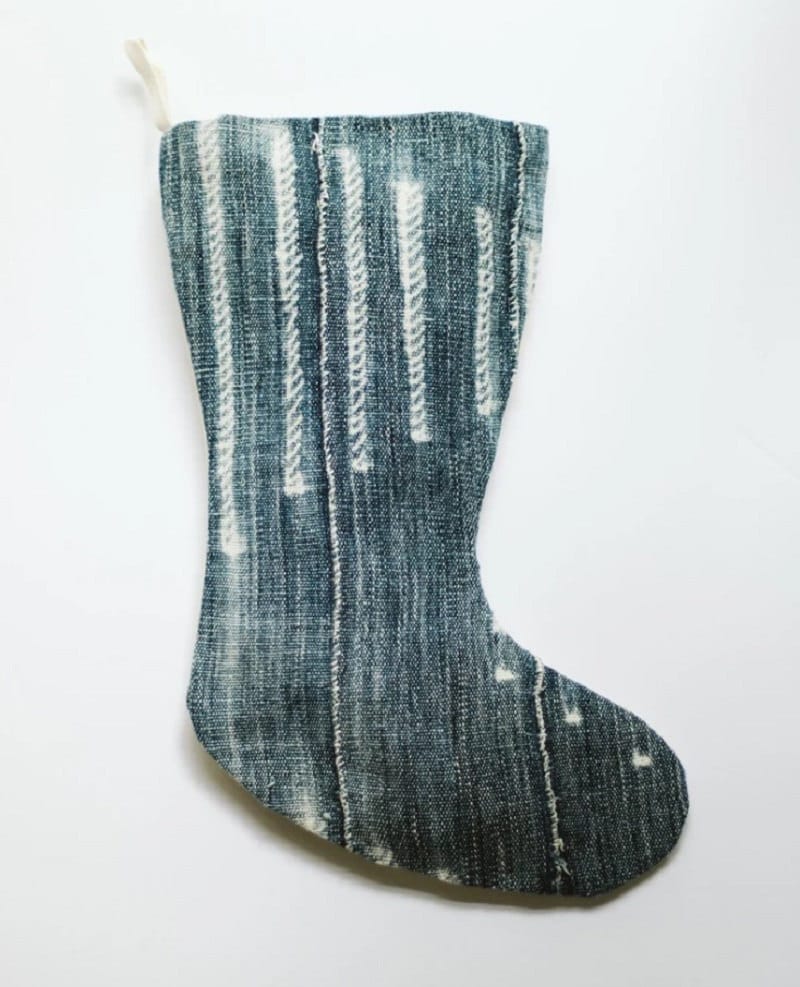 SHOP: Indigo mudcloth stocking from Habitation Boheme, from $72
Handcrafted from vintage mudcloth, these beautifully original indigo stockings provide a more rustic and bohemian feel. The designer offers them in seven designs and you can opt to add cute pompoms and a name tag, too.
Pet stockings
When it comes to Christmas festivities, our four-legged companions will certainly not be taking a back seat. Make sure your furry friends have their own Christmas stocking for all their chewy goodies with one of these top items.
13. Personalized pet bone stocking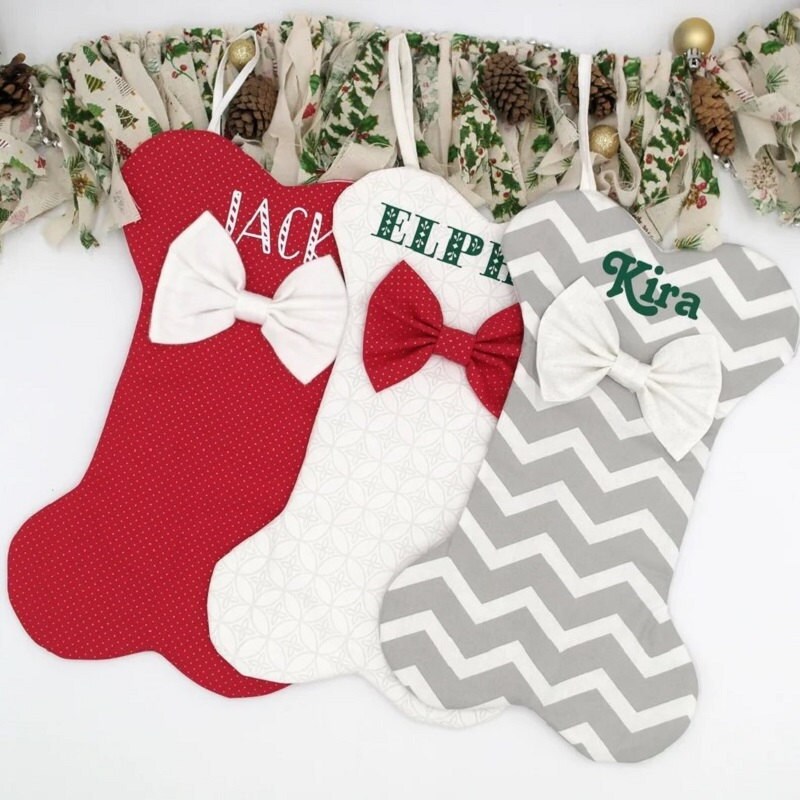 SHOP: Personalized pet bone stocking from Crafty Mom & Ari, from $14
It's only fitting that your doggy's items be things they identify with, and what better than a bone-shaped pet stocking to deliver some woofing Christmas cheer? These affordable doggy stockings will make a cute addition to the rest of the family's, and there's plenty of room to fill them with your tail-wagging bestie's favorite doggy treats.
14. Custom pet face stocking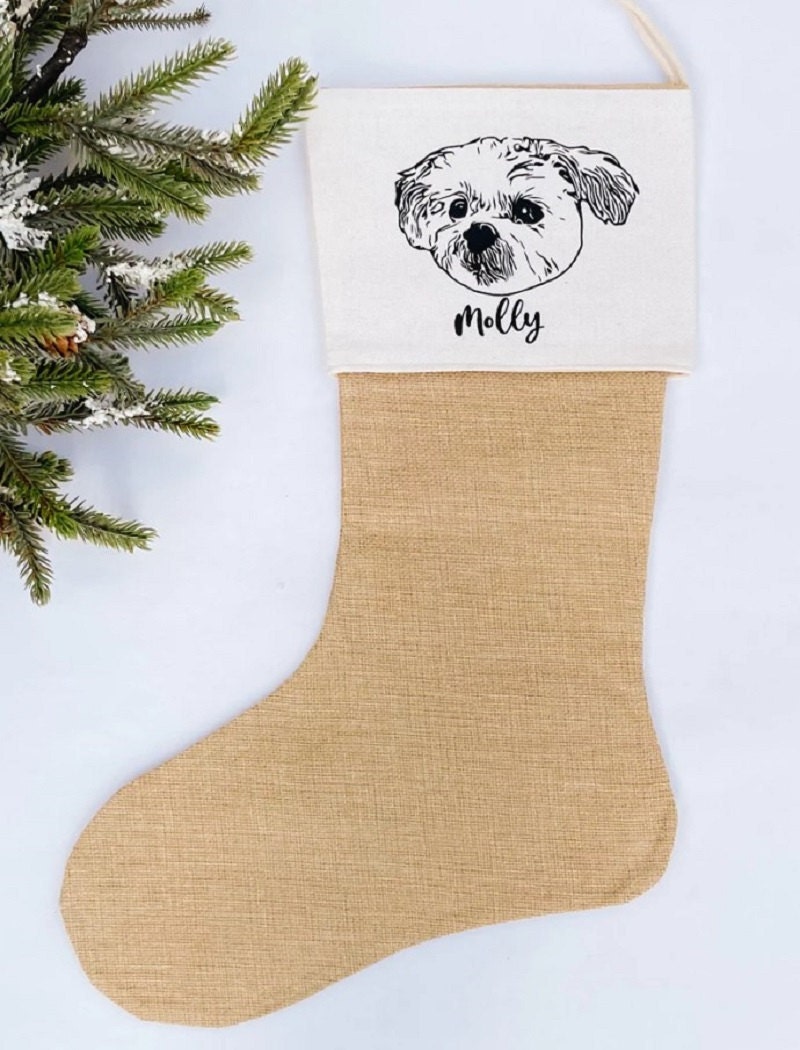 SHOP: Custom pet face stocking from Todd Designs, $20
These personalized pet stockings are so cute, you'll likely want one for yourself too. Whether you have a pet doggo, cat, lizard, or anything else, the designer, Sarra, can depict any animal of your choosing from photos you send over, printing them at the top of this beautiful burlap stocking. You can even add a name.