Start your day right with these picks for the best coffee mugs, perfect for home pours and on-the-go brews.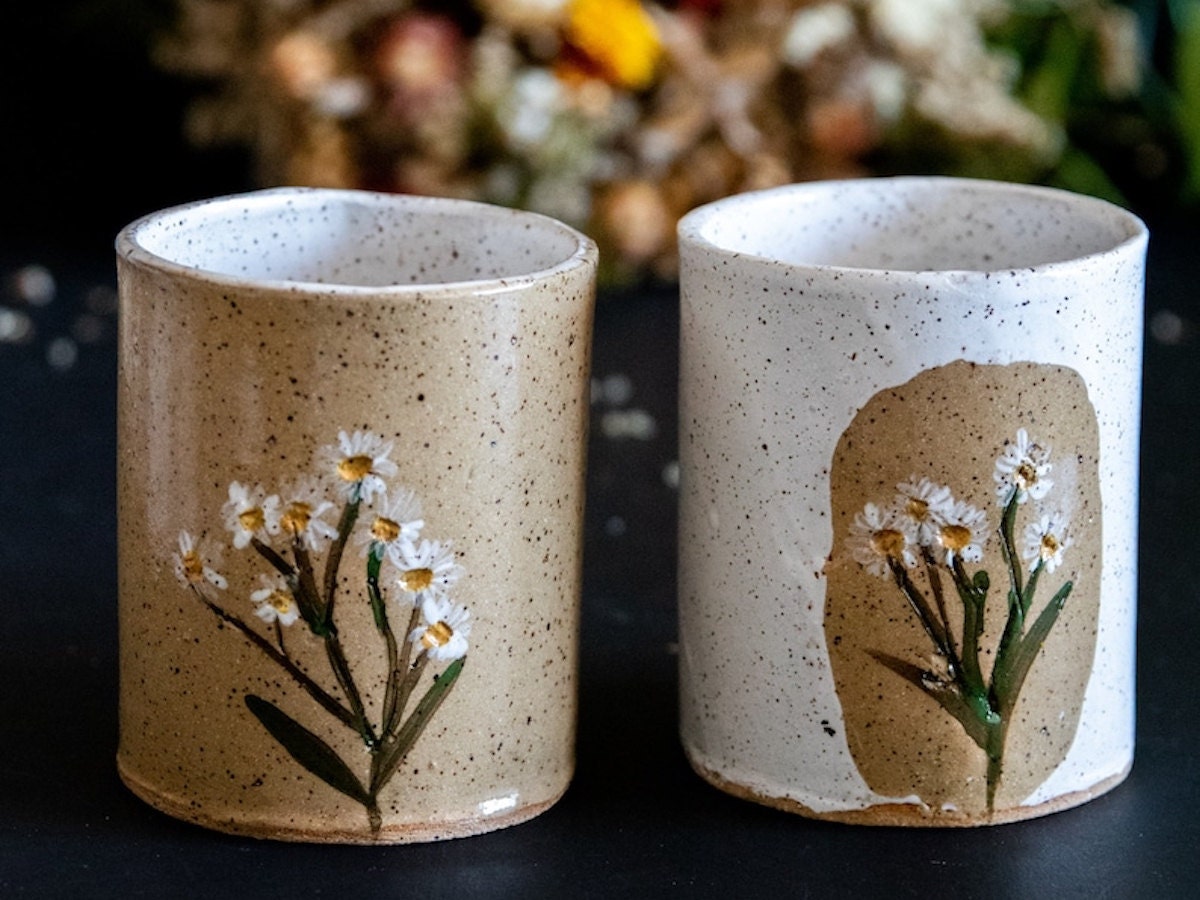 Can you ever have too many coffee mugs? We think not! Which is great, because with all these cute, handcrafted coffee mugs created by independent sellers on Etsy (many of which can be personalized), you may have a hard time picking just one to add to your collection next. Feel free to make it a double shot to further stock your mug cabinet (we all have one, right?), or give them as cute gifts for the coffee lovers in your life.
Whether the mug recipient is fortunate enough to sit and sip for a few quiet moments before starting the day, needs a travel-ready mug that can keep them caffeinated, or is simply looking for a new mug for their home coffee bar, these are the best coffee mugs, no matter their cuppa preferences.
Coffee mugs under $20
If you're shopping for an avid coffee drinker, chances are their mugs work overtime and show their wear and tear after a while. Opting for an affordable coffee mug under $20 without sacrificing quality is a great way to go, especially when the options are as cute as these.
1. A set of personalized mugs for couples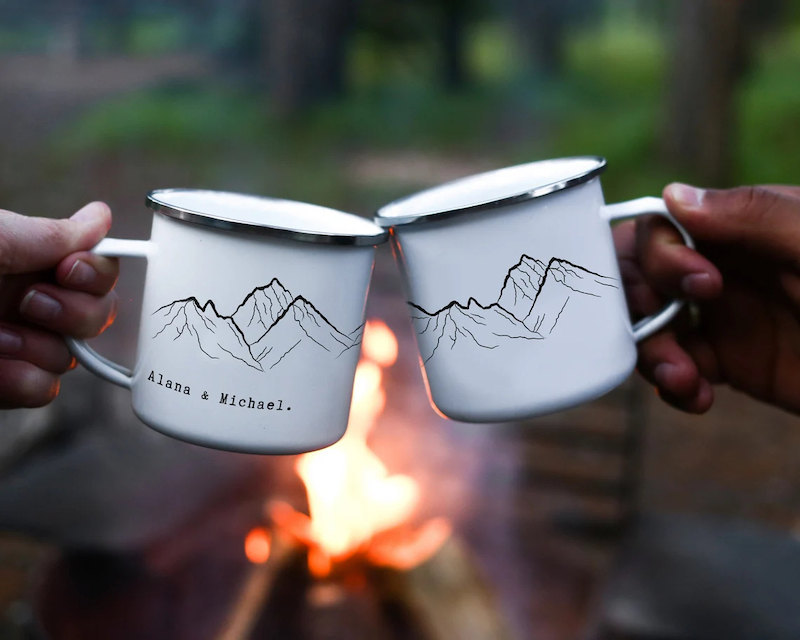 SHOP: Personalized mountain mugs from ODYSEA, from $14
A great gift for the couple in your life that loves the great outdoors, this set of personalized coffee mugs will make sure they never lose track of their coffee mugs on their next camping trip.
2. A glass coffee mug for her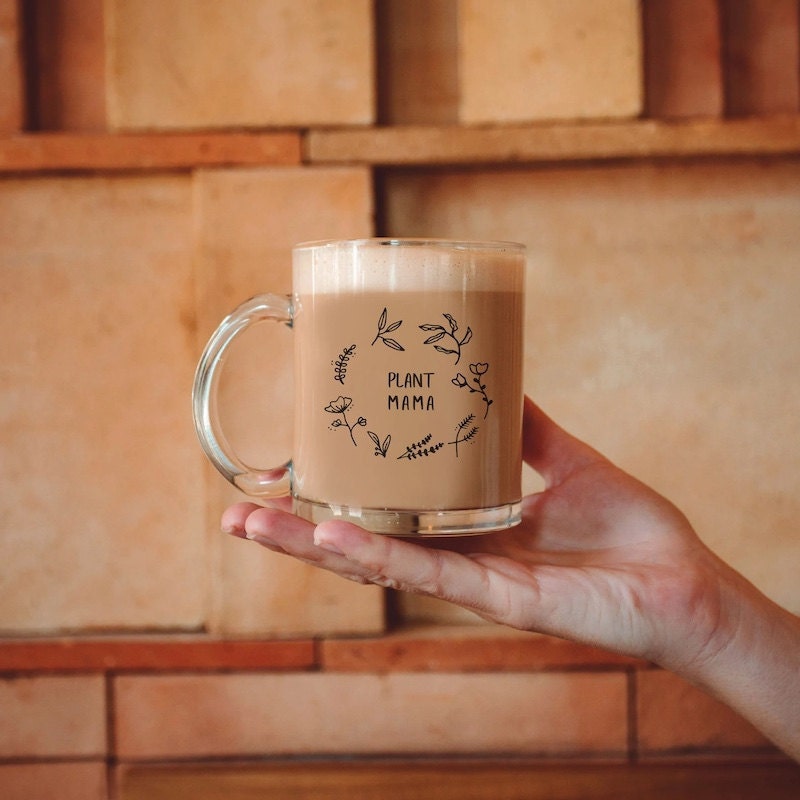 SHOP: Plant Mama coffee mug from Aluna Design Co., from $18
A thoughtful gift for a special woman in your life, this glass coffee mug proudly declares what everyone around her already knows: she's a plant mama through and through.
3. A funny saying coffee mug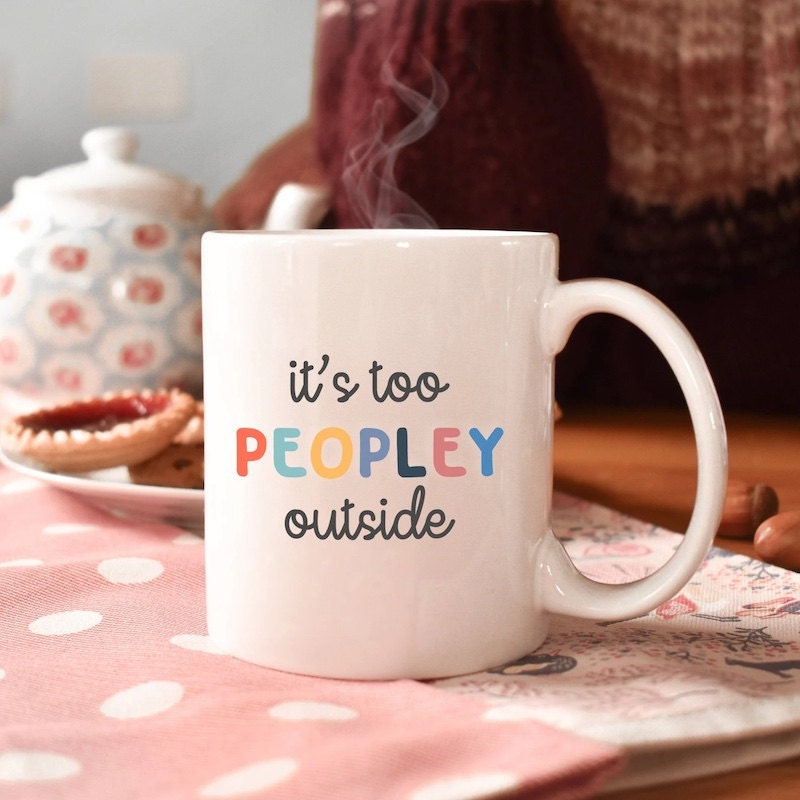 SHOP: Funny saying coffee mug from Manta Makes Ltd., $12
When you're on the hunt for the best gifts for coffee lovers, a mug is always a pick they're sure to love a latte. This funny coffee mug is the perfect pick for people who'd rather enjoy their coffee at home.
Personalized coffee mugs
Help the coffee lover in your life never catch someone sipping from their mug again with one of these custom coffee mugs from the talented sellers on Etsy. Add their nickname, a favorite picture, or even their pet's face and everyone will know which mug belongs to them.
4. A personalized coffee tumbler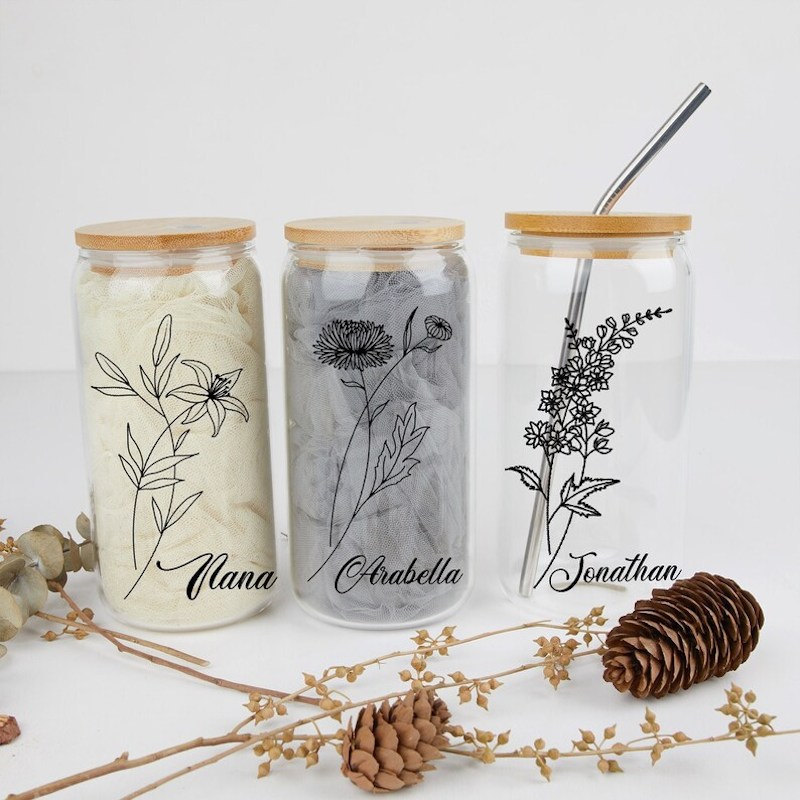 SHOP: Personalized iced coffee cup from AZHARY, from $41
You've probably seen the aesthetically pleasing glass coffee tumblers on social media—and for good reason. This popular glass soda can-style cup comes with a bamboo lid and a straw and can be personalized with a name and a birth flower, making it the perfect vessel to house an afternoon iced coffee treat.
5. A personalized pet portrait mug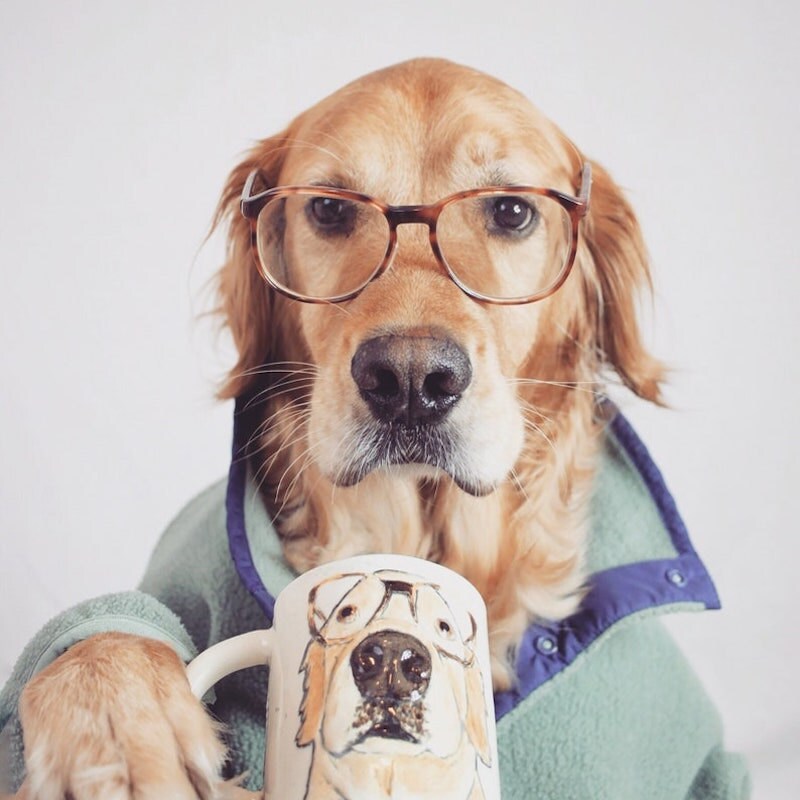 SHOP: Personalized pet portrait mug from hadleyclay, from $50
If someone's four-legged friend is an important part of their morning sip session, give them the ultimate place of honor by adding their portrait to a coffee mug. Pick a favorite pet picture, add their name, a cute flower crown, or both, and you've got a one-of-a-kind coffee mug featuring their faithful companion.
6. A handmade personalized mug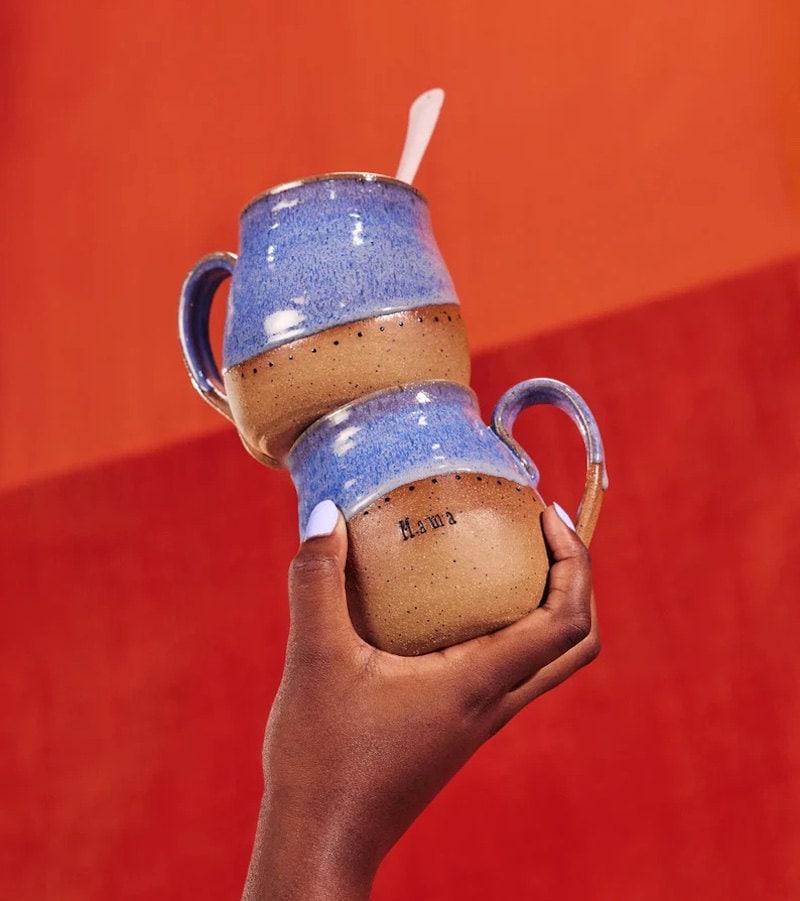 SHOP: Handmade pottery mug with name from Laura Lynn Pottery, $46
Choose a glaze color, pottery color, and add a name for the ultimate personalized experience as you sip your favorite flavored latte.
Ceramic coffee mugs
The trusted, traditional transporter of java, tea, and more, ceramic coffee mugs are a great choice for a number of reasons. In addition to being stylish, ceramic coffee mugs retain heat for longer periods of time, are less prone to staining, are easy to clean and maintain, and are eco-friendly due to being built to last for years. Plus, the unique craftsmanship of these picks can't be beat!
7. A classic white coffee mug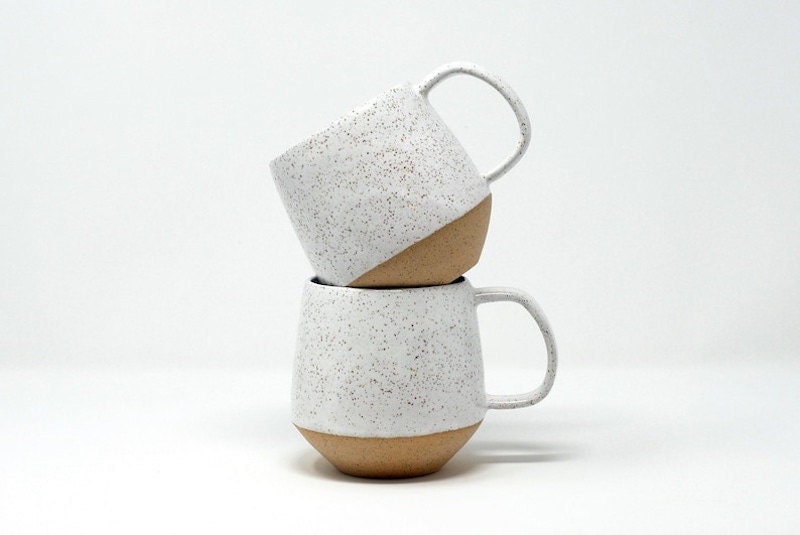 SHOP: Speckled white coffee mug from Bebe Federmann Designs, $64
Be sure to purchase a few of these white coffee mugs so you can fully enjoy the subtle, natural differences that celebrate their handcrafted, hand-glazed construction. The timeless color scheme of these white coffee mugs will endure no matter how you update your kitchen decor. Their neutral tones also make them a great housewarming gift for new homeowners and newlyweds alike.
8. A small ceramic espresso mug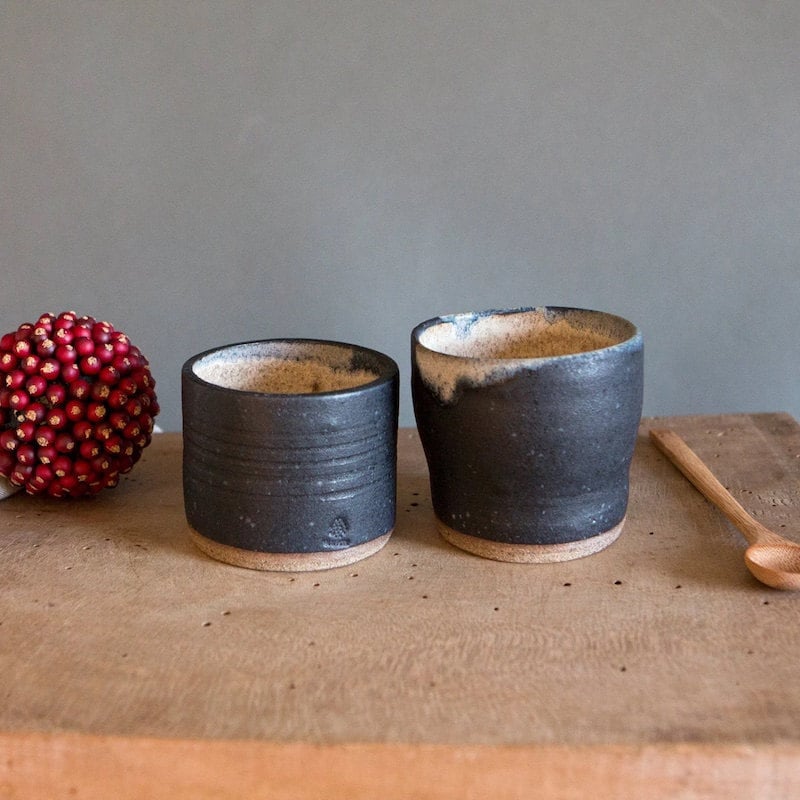 SHOP: Custom order small cup for coffee from Eeli Art Studio, $49
This hygge-inspired and hand-thrown mini ceramic mug is perfectly suited for someone who loves small sips of espresso. Buyers adore the handmade character evident throughout these small batch mugs.
9. A breakfast-inspired ceramic coffee mug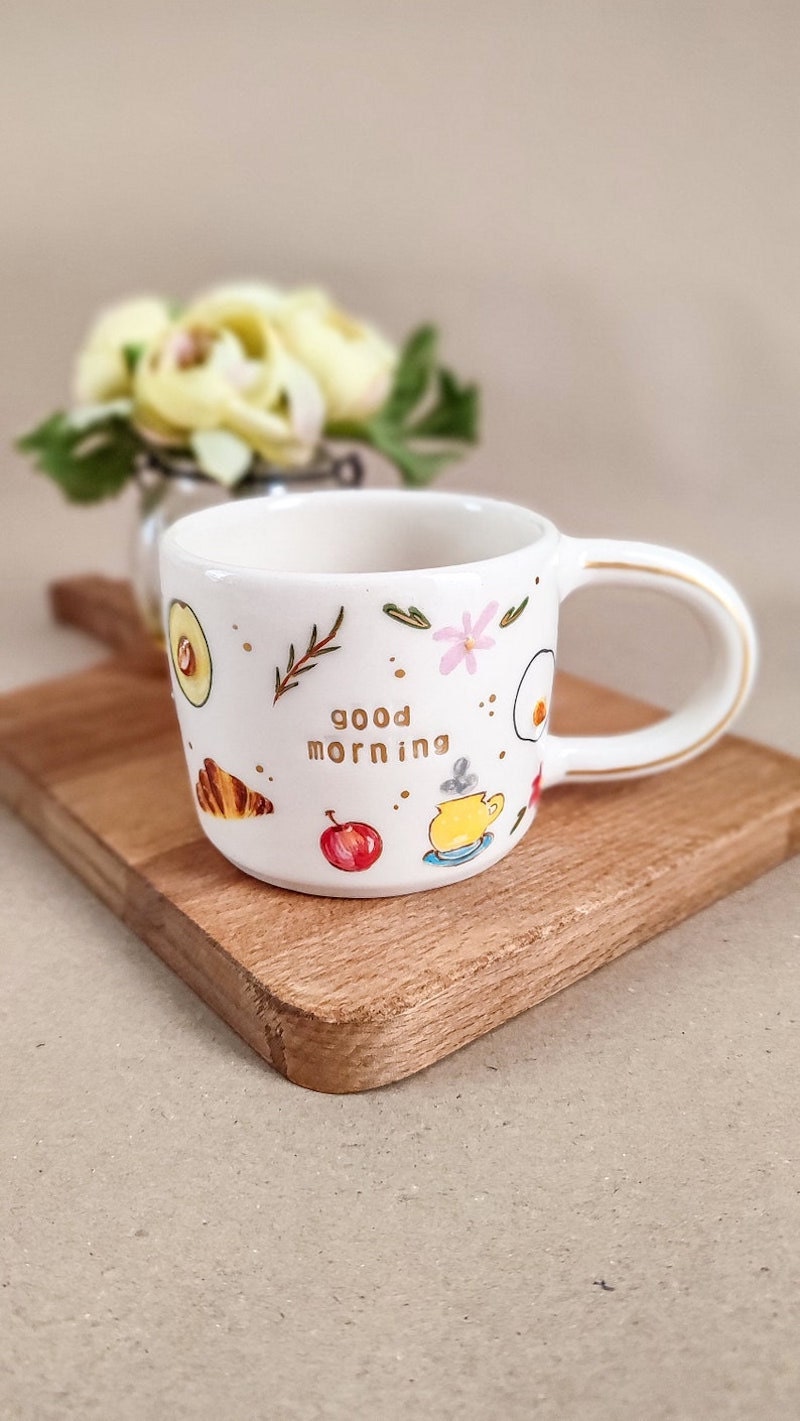 SHOP: Breakfast-inspired ceramic coffee mug from Julenka Ceramic, $61
Breakfast lovers, this one's for you! Adorned with adorable breakfast food details like a croissant, tea kettle, a fried egg, and more, this ceramic mug (filled with a delicious brew, of course) is the perfect thing to kickstart your day.
10. A mushroom ceramic coffee mug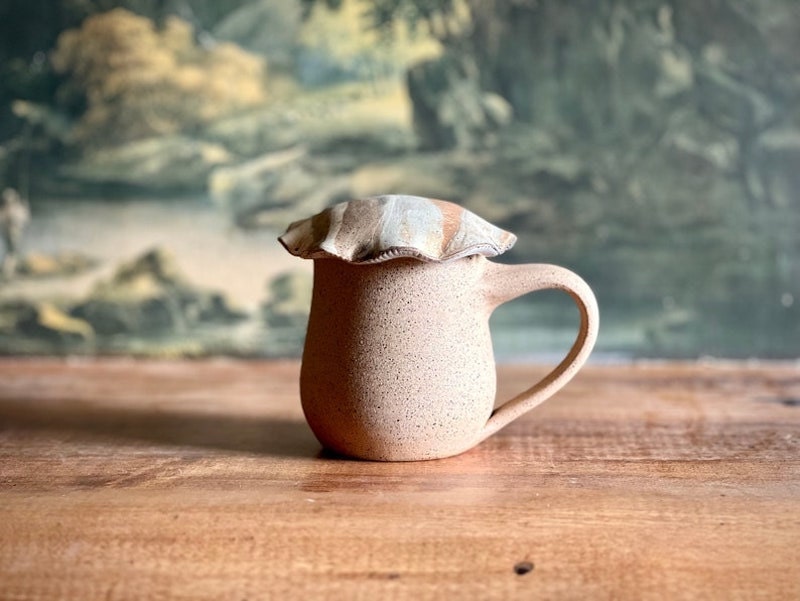 SHOP: Mushroom ceramic coffee mug with lid from Everyday Earthe, $62
How cute is this mushroom-shaped ceramic coffee mug? Perfect for the cottagecore enthusiast, it comes with a matching lid that will keep coffee warm in between sips.
Travel coffee mugs
When shopping for someone on the go, a travel coffee mug that can keep up with them and keep their brew of choice at just the right temperature is the perfect gift. Whether you're looking for a travel mug for warm coffee or cool refreshments, these are the best travel coffee mugs they can grab before they go.
11. A marbled coffee mug with lid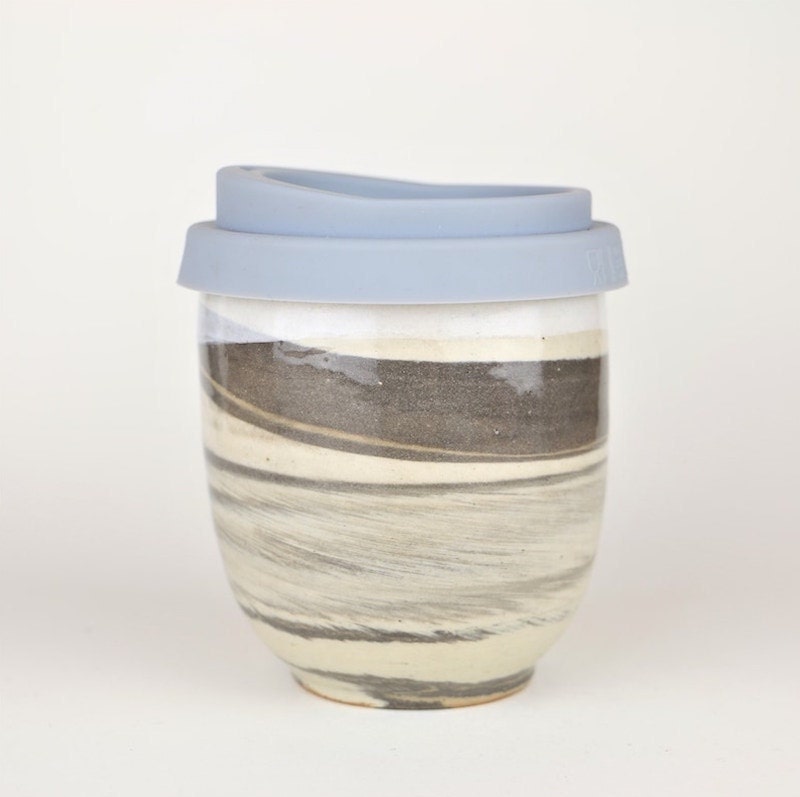 SHOP: Marbled coffee mug with lid from Karo Keramik, $58
This marbled ceramic coffee mug with a reusable to-go lid is perfect for anyone with a busy schedule. Commute to work, drop the kids off at school, or just casually sip your morning cup outside with this beautifully made travel coffee mug.
12. A pink travel coffee mug with lid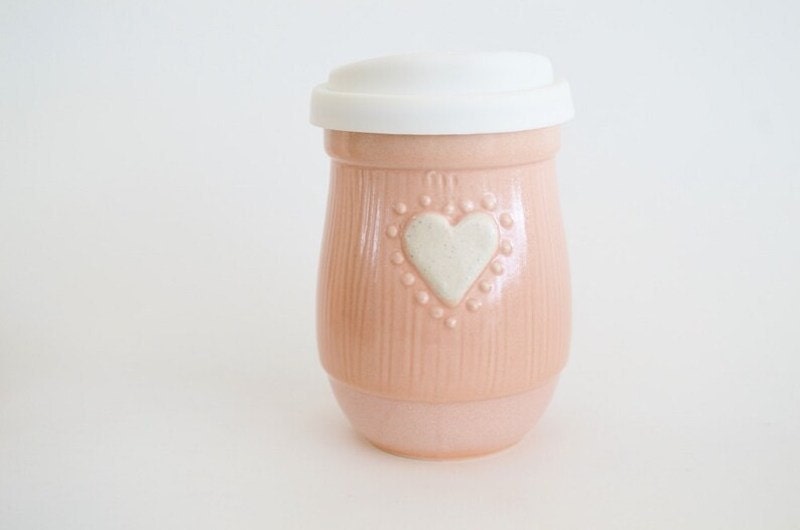 SHOP: Pink travel coffee mug with lid from Sarah Welch Pottery, $38
If you or whoever you're shopping for really loves coffee, this travel coffee mug featuring a sweet heart detail is the perfect addition to any mug collection.
13. An insulated coffee mug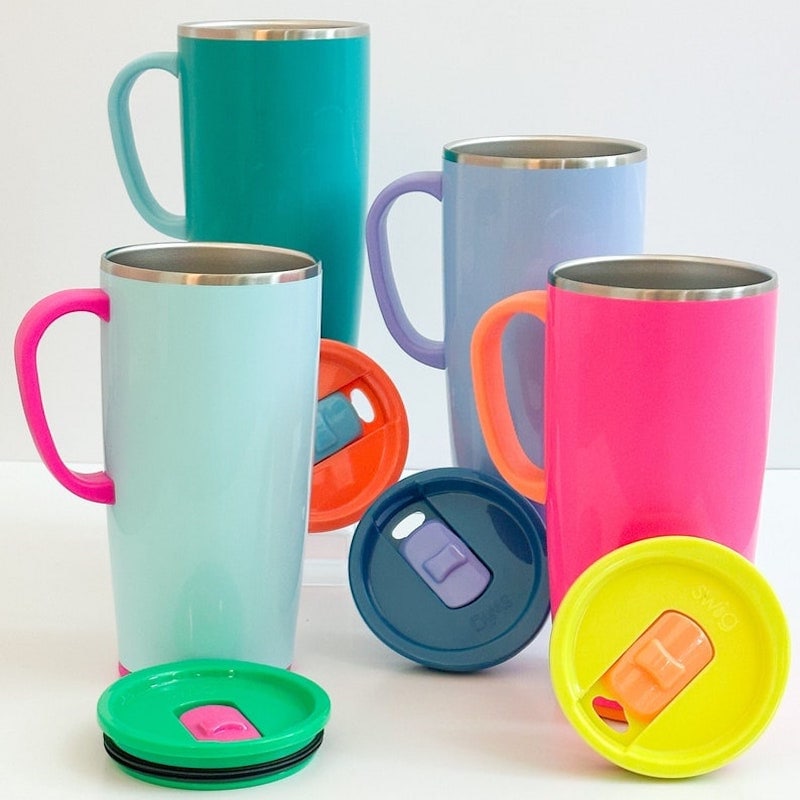 SHOP: Color block insulated coffee mug from yellowbess, from $40
With different neon color blocking designs to choose from, the brew inside one of these insulated coffee mugs, which you can also add a personalized engraving to, won't be the only thing that gives you a bright boost in the morning!
Large coffee mugs
When a standard cup of coffee just won't do, these large coffee mugs are sized just right. Whether it's a long morning or you just need room for extra cream, these are the best large coffee mugs to reach for in the cupboard.
14. A large colorful handmade mug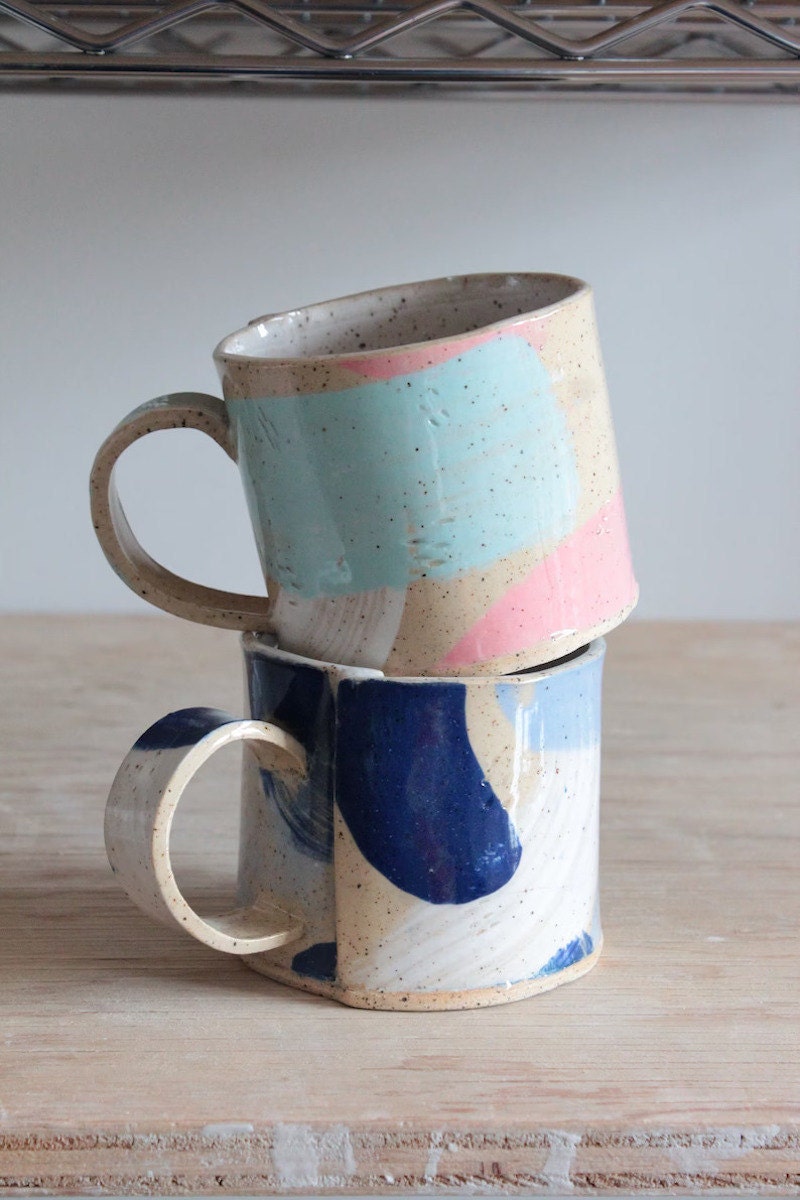 SHOP: Big colorful mug from Minipott, $32
Add a splash of color to anyone's morning coffee routine with these handmade pottery mugs. Your pick can be personalized with up to four colors to match your current collection, or pick a bold combination of hues for a mug that's a standout.
15. A mug with a sweet reminder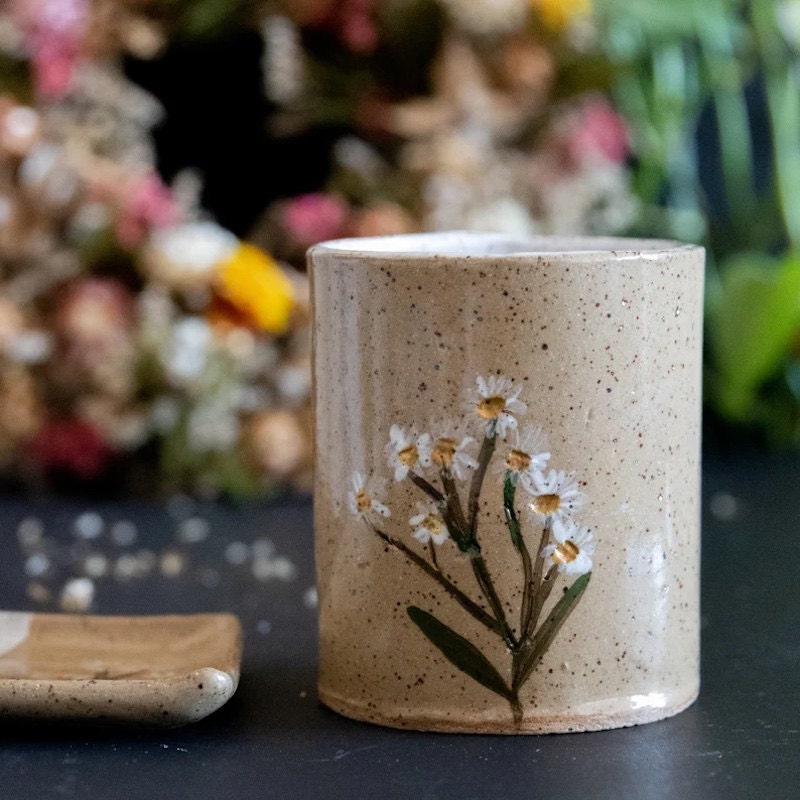 SHOP: Daisy-pressed clay mug from Tara Kothari, from $42
A daisy stands for new beginnings, so it's only fitting that the oversize coffee mug someone reaches for first thing in the morning features this hopeful bloom. A reminder that you have a brand new day ahead of you, this large coffee mug is made by pressing a real flower into the clay, so each design is naturally unique.
Glass coffee mugs
From rich black coffee tones to swirls of steamed milk, we love glass coffee mugs for the way they show off the hues of your favorite brew.
16. A set of hand-painted glass coffee mugs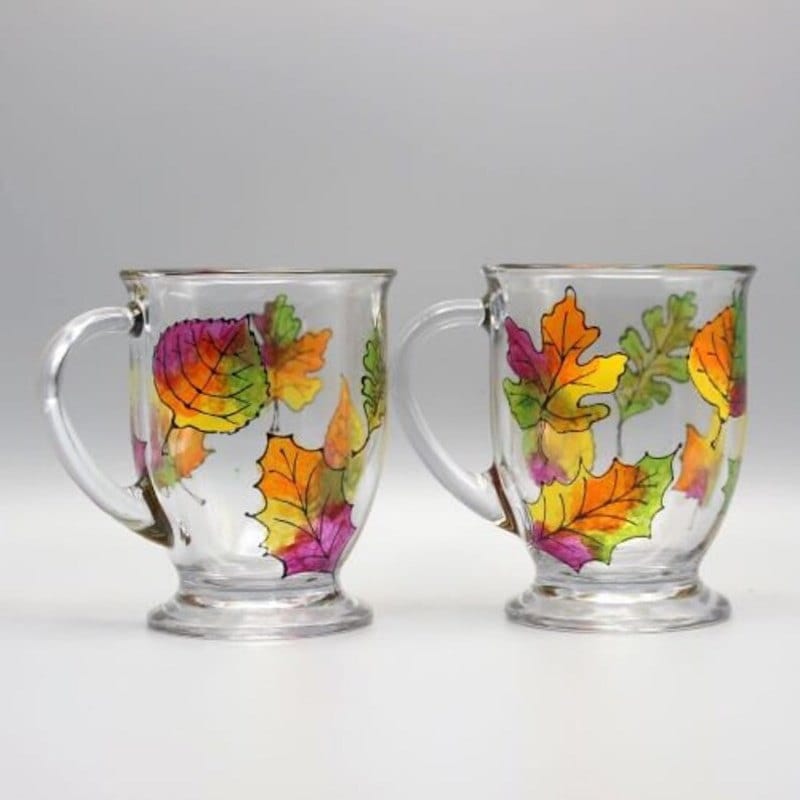 SHOP: Hand-painted glass coffee mugs from KarensGlassDesign, $52 for set of two
Perfect for someone who loves pumpkin spice lattes, this beautiful set of two glass coffee mugs is hand-painted with fall leaves so the recipient can keep the pumpkin vibes going all year long.
Funny coffee mugs
Coffee mugs are a great way to celebrate an inside joke with a friend or share a new laugh with a loved one, whether it's for a white elephant gift exchange, birthday party, or a random gesture just to let them know you were thinking of them. From a wonderfully weird hand-holding mug to mugs with LOL-worthy animal artwork, these funny coffee mugs will be an instant hit.
17. A funny finger mug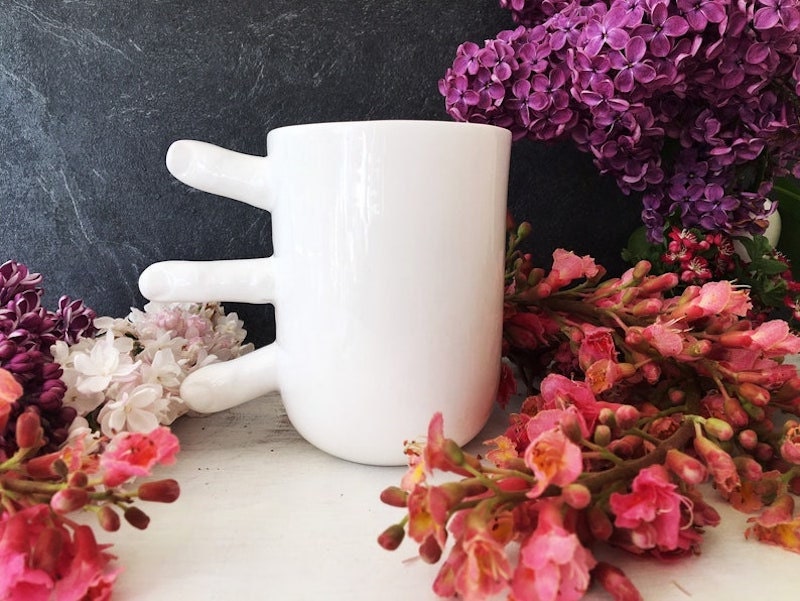 SHOP: Funny finger mug from Kina Ceramics, $56
When sipping from this funny coffee mug that has three "fingers" instead of a traditional handle, it looks like you're holding hands with the mug, making for a hilarious moment every time.
18. A set of fun animal coffee mugs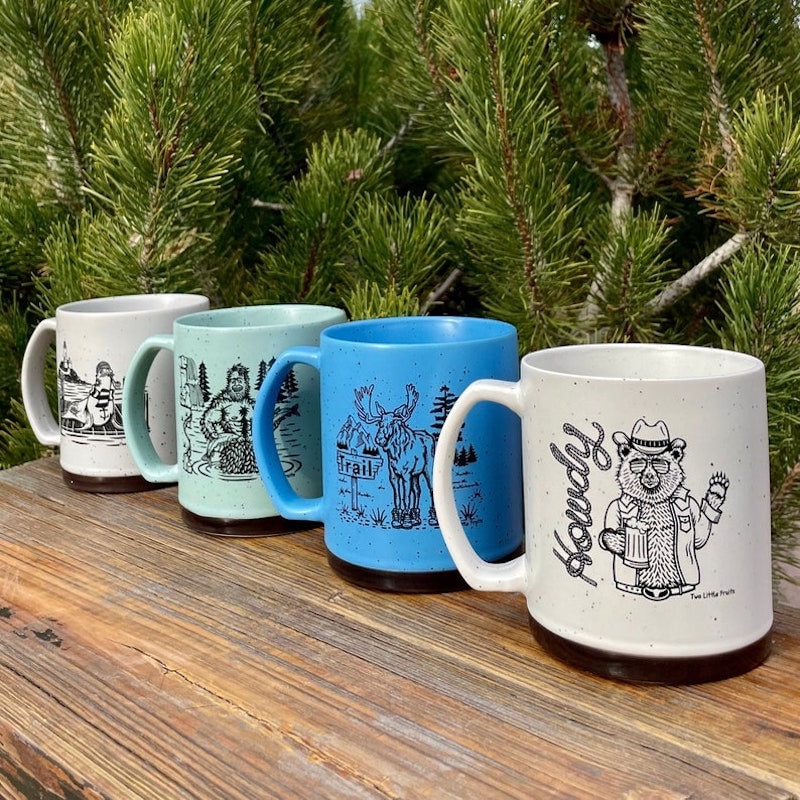 SHOP: Funny animal mugs from Two Little Fruits, $99 for set of four
Good news: you don't have to choose just one of these funny animal coffee mugs. This set of four mugs, which includes designs featuring Sasquatch, a sea lion, a bear, and more, are both adorable and hilarious. The designs are also printed on both sides, so the lucky recipient gets to enjoy it whether they're left- or right-handed.
How do we pick the best coffee mugs?
As Etsy Journal editors and contributors research and curate shopping guides for some of the best-loved items on Etsy, we thoughtfully consider the creativity, customization, and craftsmanship that go into each product. We also consider buyer reviews, item ratings, and customer service, and tap the expertise of our in-house merchandising and trends experts to uncover high-quality finds for every budget. You can find more information about each item in the seller's listing details and can take a look at their individual shop policies and reviews, too.