Start your day right with these picks for the best coffee mugs, perfect for home pours and on-the-go brews.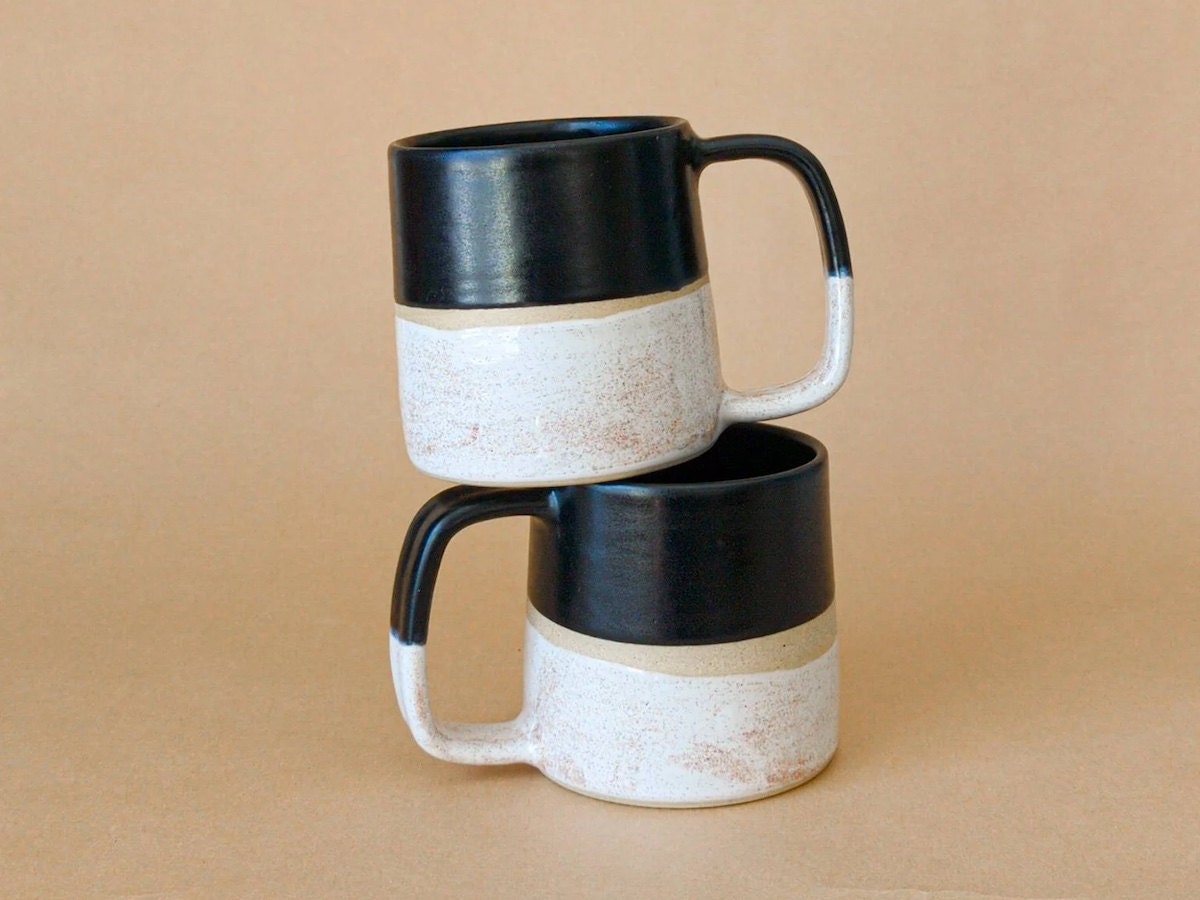 Can you ever have too many coffee mugs? We think not! Which is great, because with all these cute, handcrafted coffee mugs created by Etsy sellers, you may have a hard time picking just one to add to your collection next. Feel free to make it a double shot!
Whether you're fortunate enough to sit and sip for a few quiet moments before starting your day, need a travel-ready mug that can keep you caffeinated, or are simply looking for a new mug for your home coffee bar, these are the best coffee mugs, no matter your cuppa preferences.
Best ceramic coffee mugs
The trusted, traditional transporter of java, tea, and more, the best ceramic coffee mugs are both stylish and ultra-sippable. From small cups ideal for a shot (or two!) of espresso to cup-and-saucer sets, these are some of the best ceramic coffee mugs created by the talented artisans on Etsy.
1. Best tall ceramic coffee tumbler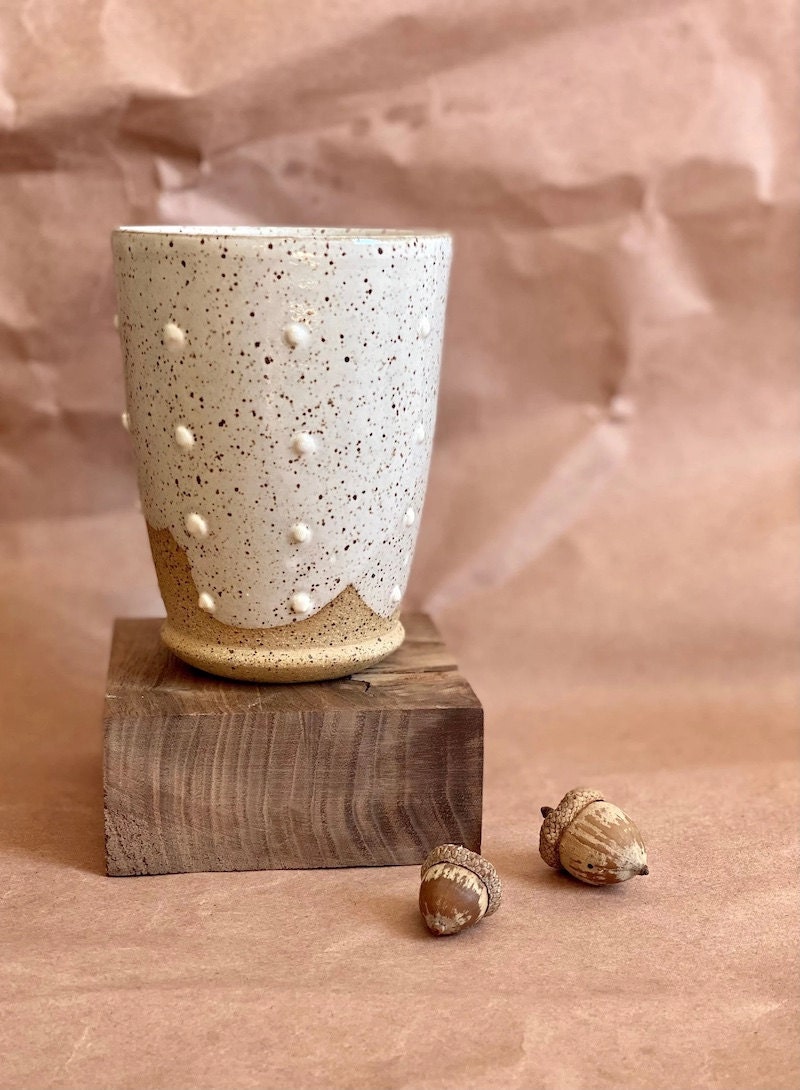 ] SHOP: Tall white speckled tumbler from Everyday Earthe, from $28
Hot or iced, this tall tumbler holds your brew in style with a mix of glazed and raw finishes. The speckled white color blends seamlessly with other dishes in your collection while the porcelain slip dots add texture.
2. Small ceramic coffee mug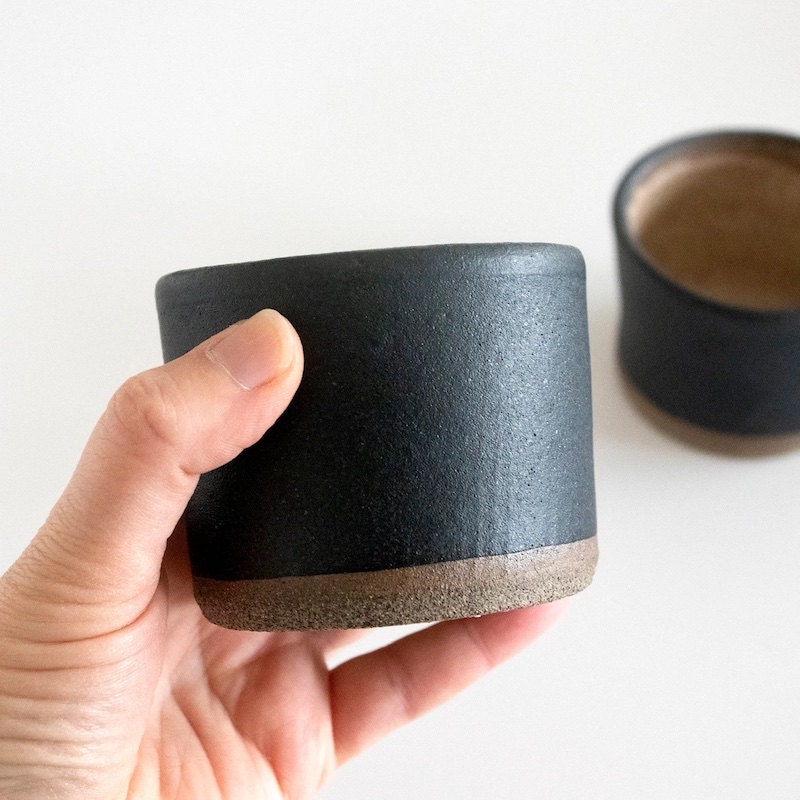 SHOP: Custom order small cup for coffee from Eeli Art Studio, $49
This hygge-inspired and hand-thrown mini ceramic mug is perfectly suited when you'd like a small sip. Buyers adore the handmade character evident throughout these small batch mugs.
3. Best coffee mug for a gift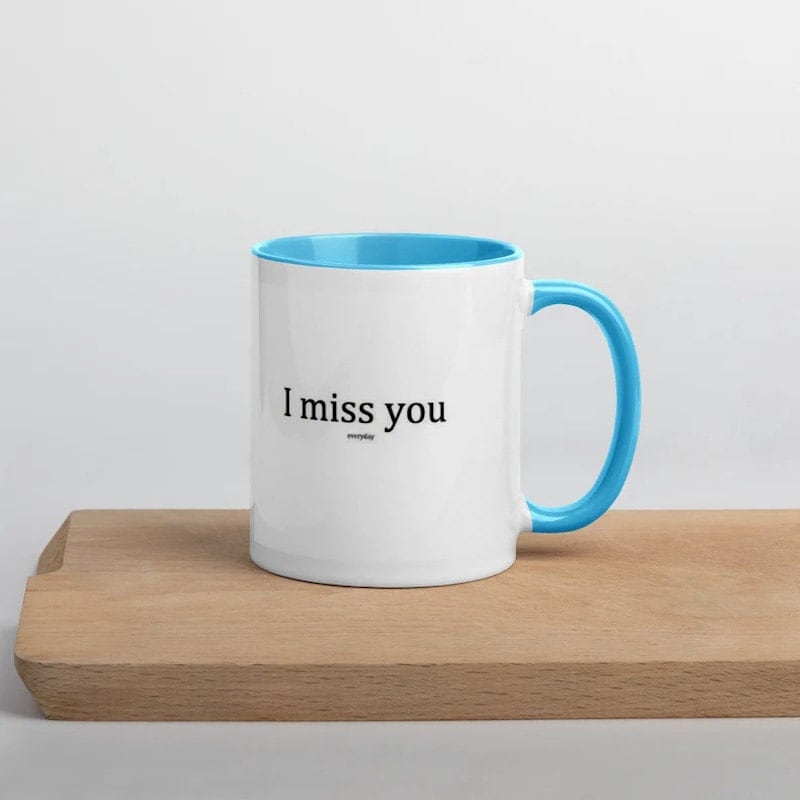 SHOP: "I miss you" mug from Katemati, $25
Remind your special someone that they're always near and dear to your heart, even if you're far apart. This thoughtful ceramic coffee mug reminds them that you're thinking of them.
4. Best ceramic coffee mug and saucer set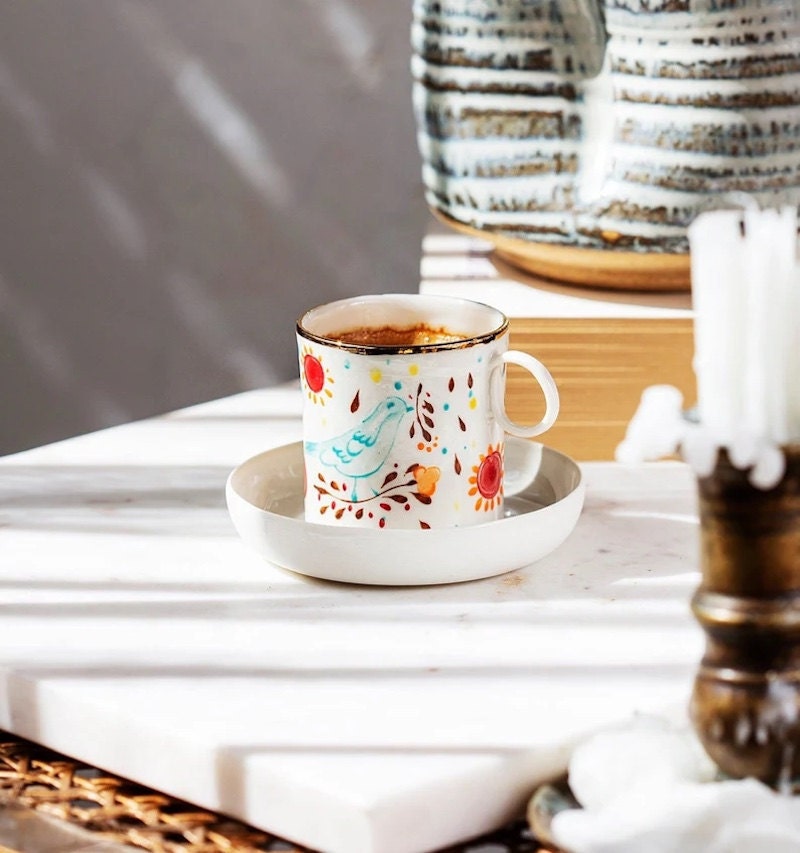 SHOP: Handmade porcelain coffee cup and saucer set from Esra Boz Cetin, $61
Sized just right for petite pours, this hand-painted porcelain coffee cup and saucer set is well suited for those who love espresso or Turkish coffee.
5. The best classic coffee mug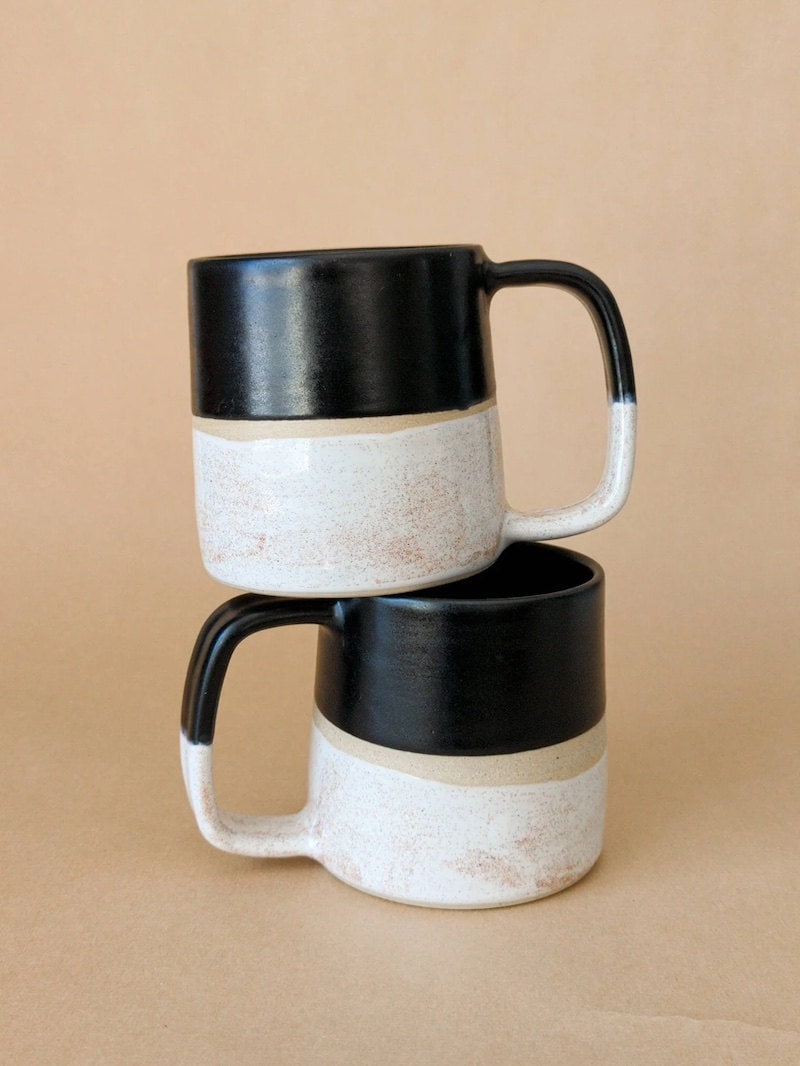 SHOP: Speckled coffee mug from Cold Hands Ceramics, $41
Be sure to purchase a few of these neutral black-and-gray coffee mugs so you can fully enjoy their subtle, natural differences that celebrate their handcrafted, hand-glazed construction. Their timeless color scheme will endure no matter how you update your kitchen decor, making these a great housewarming gift for new homeowners and newlyweds alike.
Best travel coffee mugs
When you're on the go, you need a travel mug that can keep up with you and keep your brew of choice at just the right temperature. Whether you're looking for a travel mug for warm coffee or cool refreshments, these are the best travel coffee mugs to grab before you go.
6. Best personalized travel mug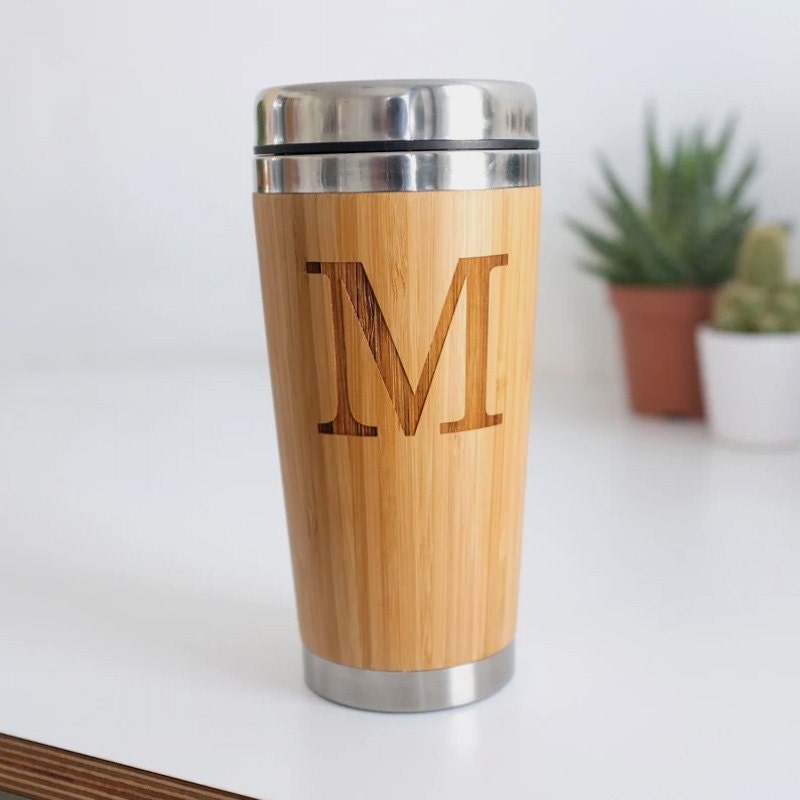 SHOP: Initial travel mug from Maria Allen Boutique, from $46
Never argue over whose coffee mug is whose again when you grab this personalized travel mug sporting your initial. A great gift idea, too, this mug can also be customized with a special note just from you.
7. A blue and white speckled travel coffee cup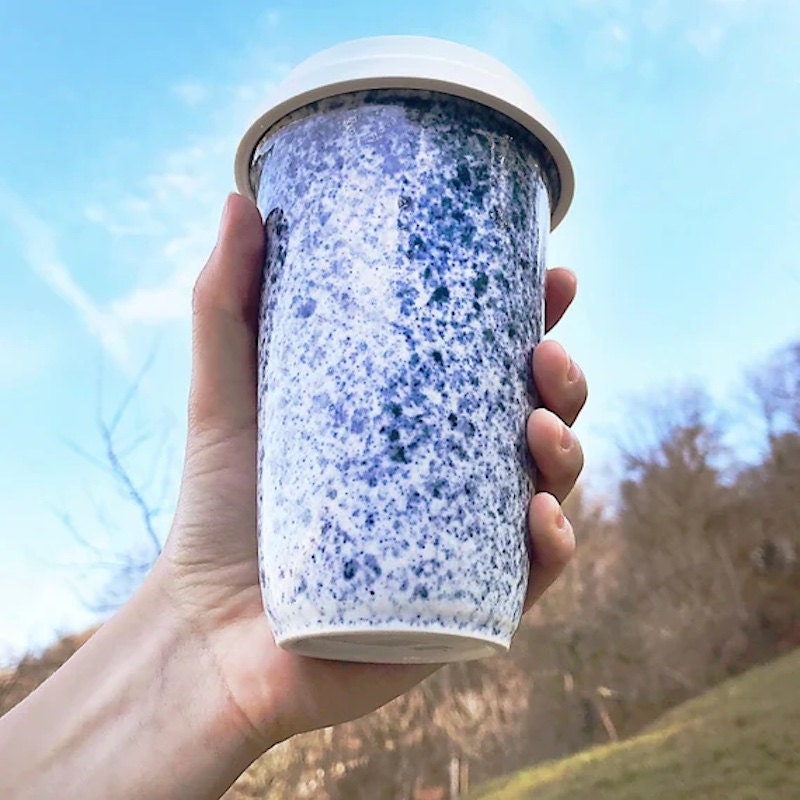 SHOP: Porcelain travel cup from Curiomat, $28
For the person who adores their daily caffeine date, this handcrafted ceramic coffee mug with a lid comes in a variety of hues to keep the caffeine blues away.
8. A travel mug for your favorite hobby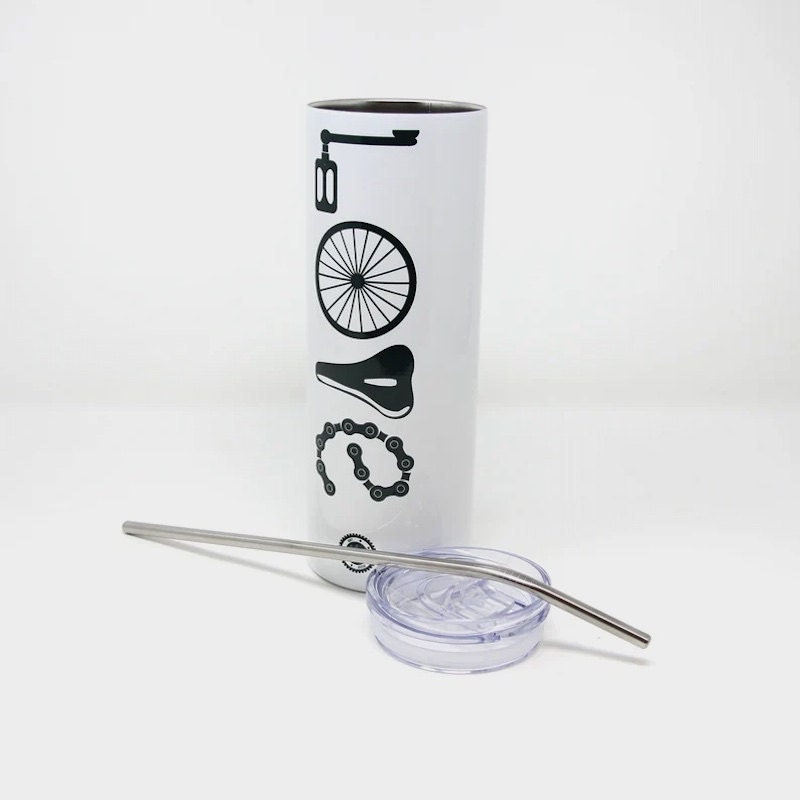 SHOP: BMX travel mug from Bike 129, $24
Combine your passions with this travel coffee mug adorned with bike-themed letters designed to transport your drink no matter where the trail leads.
9. Best small travel mug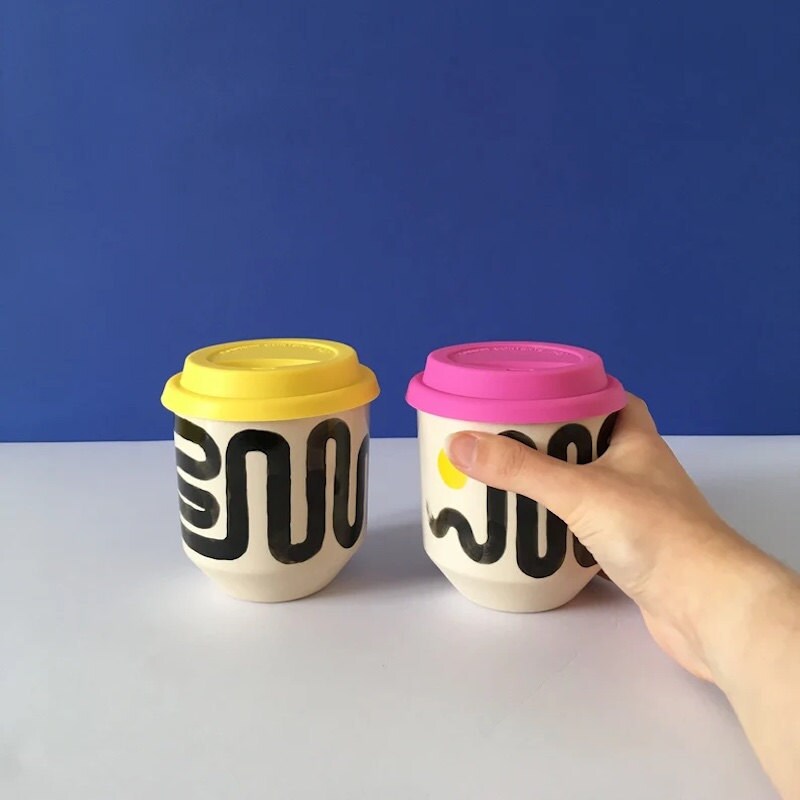 SHOP: The moment cup from Steph Liddle Ceramics, $37
Handmade and individually illustrated, no two of these tiny ceramic mugs with a lid are the same. Select your silicone lid color, and see what combination of lid and mug arrives in the mail.
Best large coffee mugs
When a standard cup of coffee just won't do, these giant coffee mugs are sized just right. Whether it's a long morning or you need room for extra cream, these are the best large coffee mugs to reach for in the cupboard.
10. Large colorful handmade mug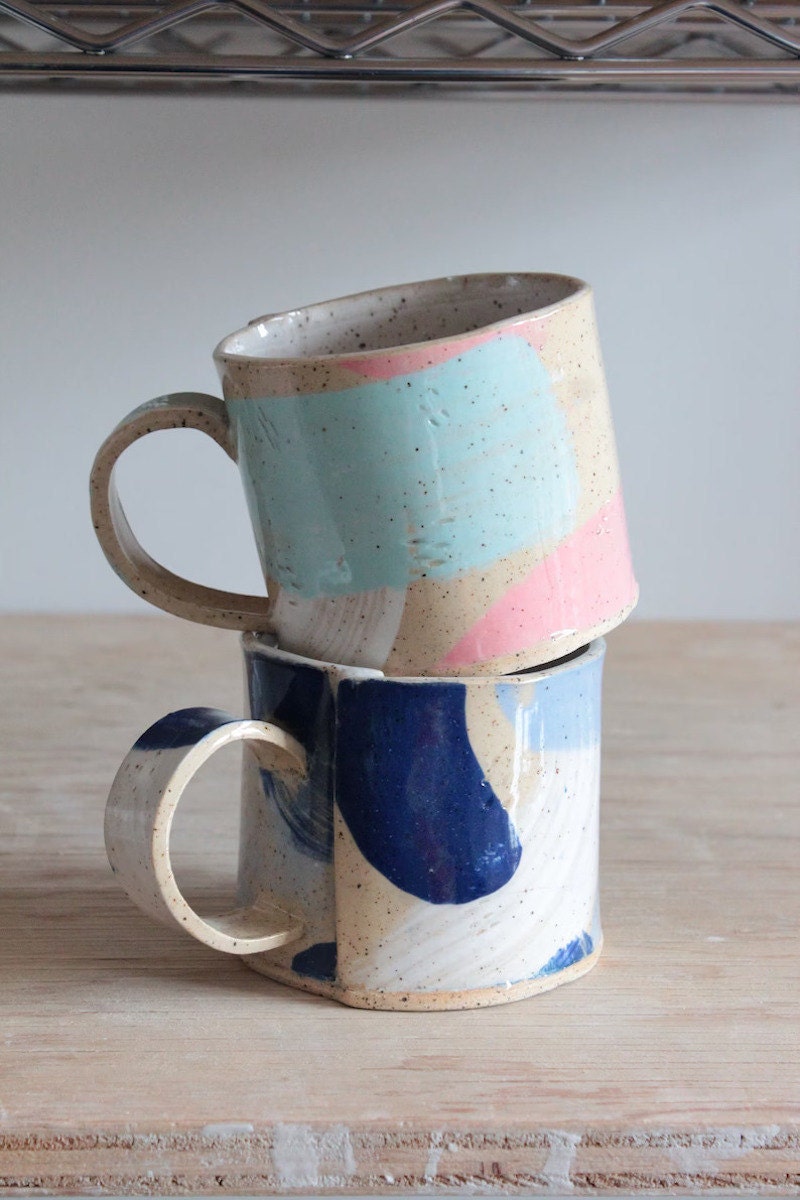 SHOP: Big colorful mug from Minipott, $33
Add a big splash of color to your morning coffee routine with these handmade pottery mugs. Your pick can be personalized with up to four colors to match your current collection, or pick a bold combination of hues for a mug that's a standout.
11. A giant coffee mug celebrating a big city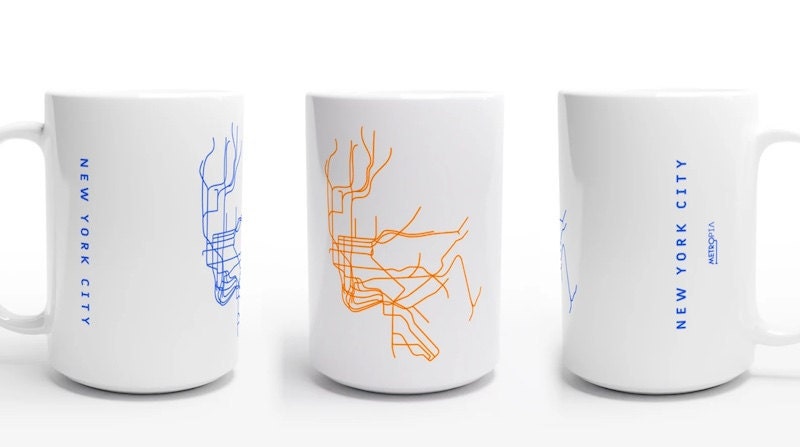 SHOP: New York City metro jumbo coffee mug from MetropiaStore, $25
Mugs are a classic tourist trinket, but even if you haven't visited on of this seller's selected locales you'll love these extra large coffee mugs illustrated with each metro area's transit map.
12. A mug with a morning reminder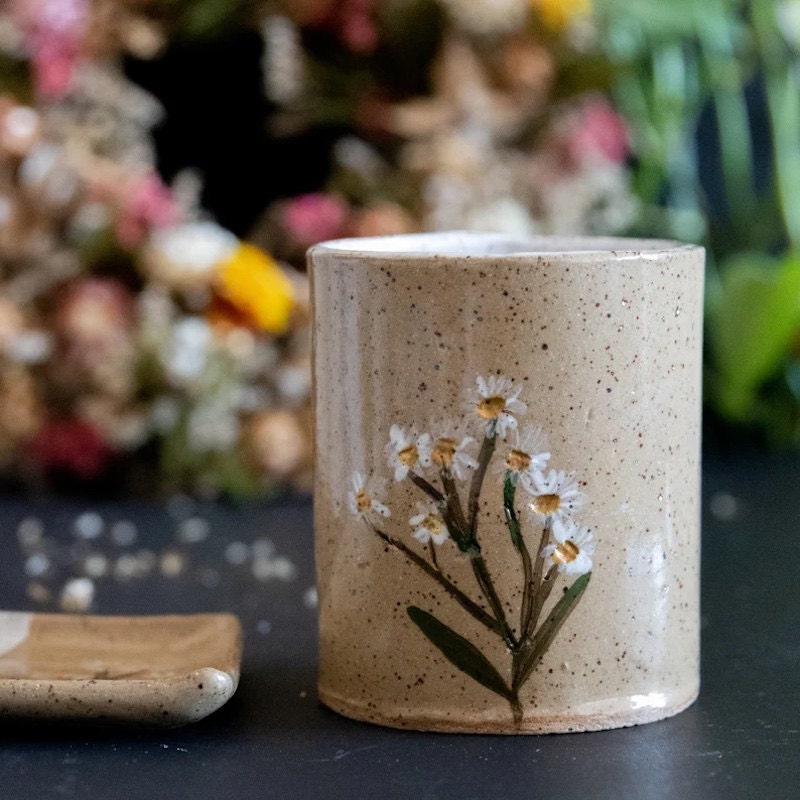 SHOP: Daisy pressed-clay mug from Tara Kothari, from $42
A daisy stands for new beginnings, so it's only fitting that the oversize coffee mug you reach for first thing in the morning features this hopeful bloom. A reminder that you have a brand new day ahead of you, this large coffee mug's design is made by pressing a real flower into the clay, so each design is naturally unique.
Best custom coffee mugs
Never catch someone sipping from your mug again when you grab one of these custom coffee mugs from the talented sellers on Etsy. Add your nickname, a favorite picture, or even your pet's mug to your mug and everyone will know which cup belongs to you.
13. Best personalized coffee tumbler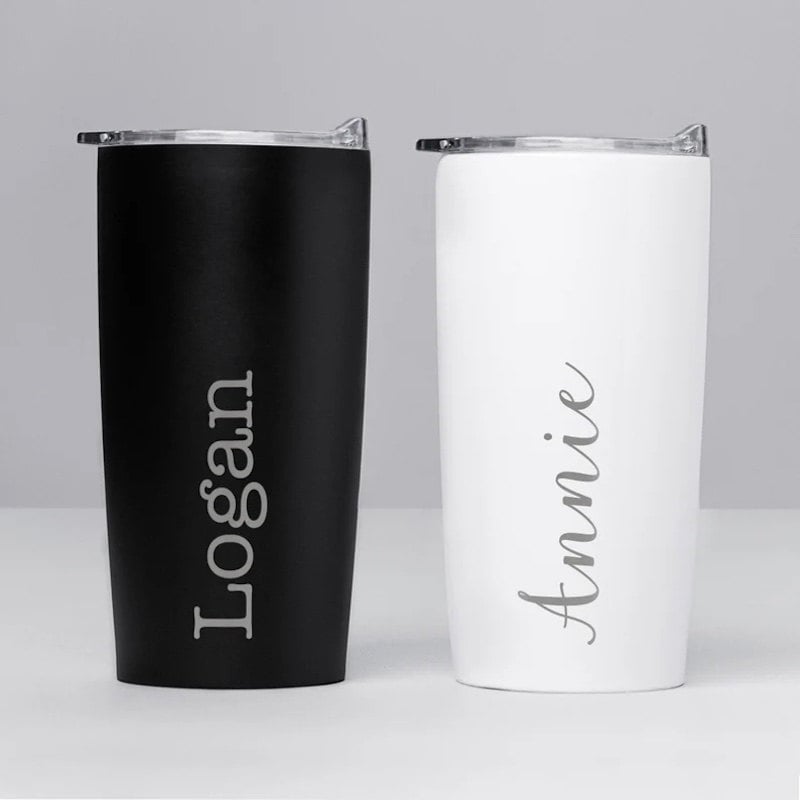 SHOP: Engraved personalized stainless steel coffee mug from Lifetime Creations, $25
This personalized travel mug features your name (or a loved one's!) engraved on its stainless steel surface and a delicious 20 ounces of space for your favorite frothy beverage.
14. Personalized pet portrait mug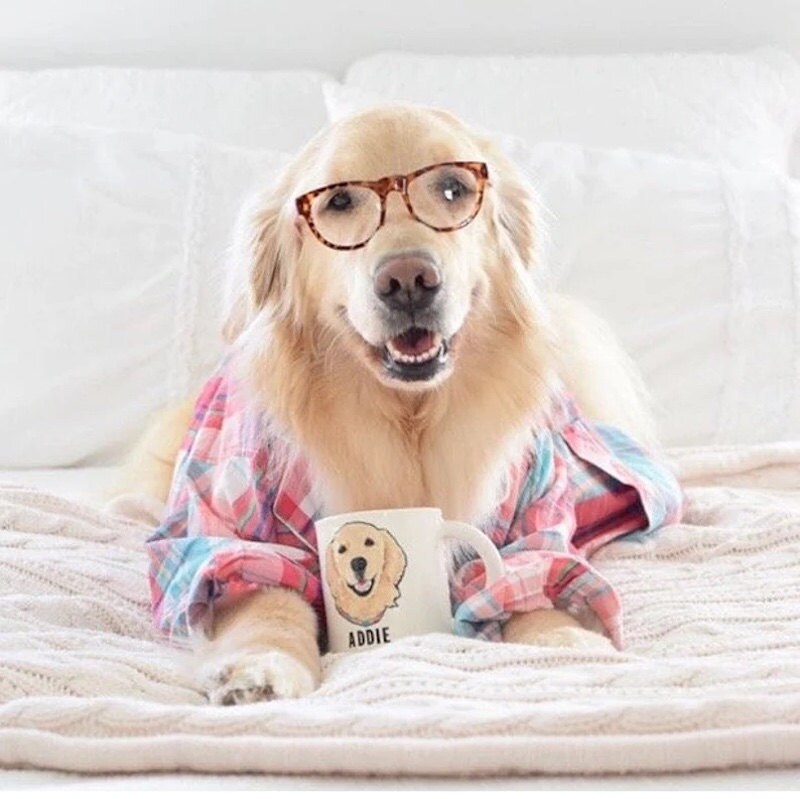 SHOP: Graphic pet portrait mug from Hadley Clay, from $80
If your four-legged friend is an important part of your morning sip session, give them the ultimate place of honor by adding their portrait to your coffee mug. Pick a favorite pet picture, add their name, and you've got a one-of-a-kind coffee mug featuring your faithful companion.
15. A funky zodiac coffee mug for a friend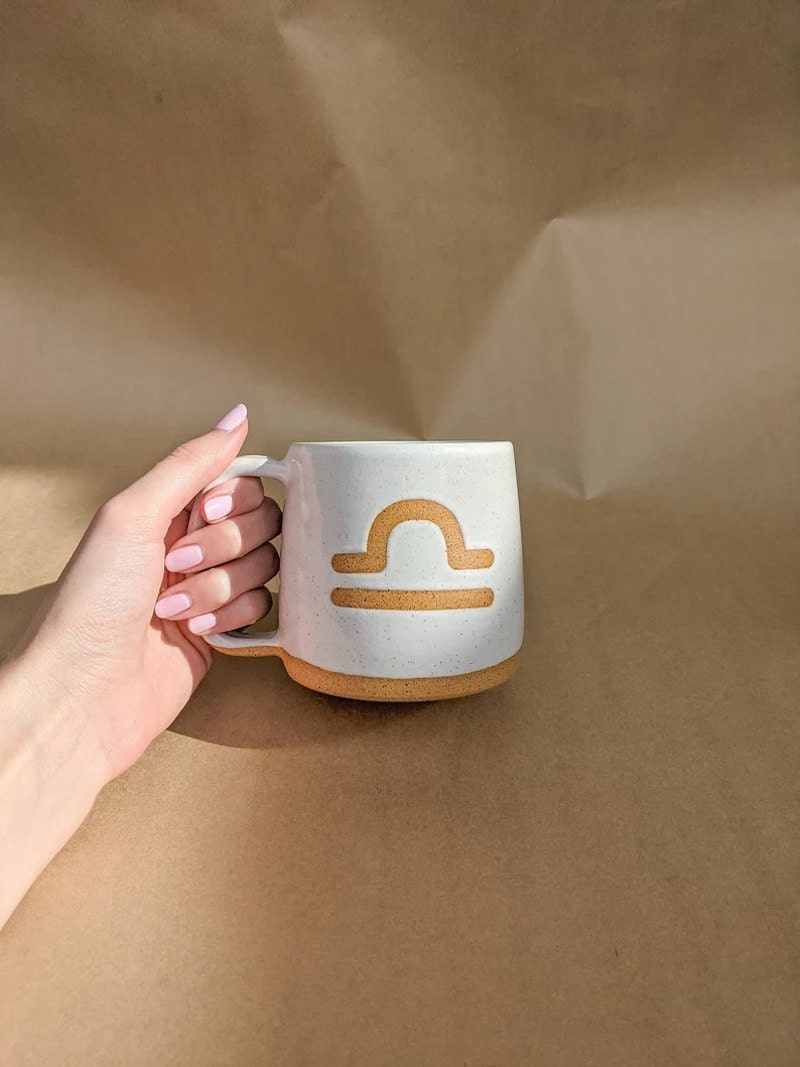 SHOP: Zodiac sign mug from Cold Hands Ceramics, $45
Have a bestie who's always up for a coffee date? This mug's for them! Celebrate that special something they bring to your life with a coffee mug personalized with their zodiac sign.
16. Personalized camping mugs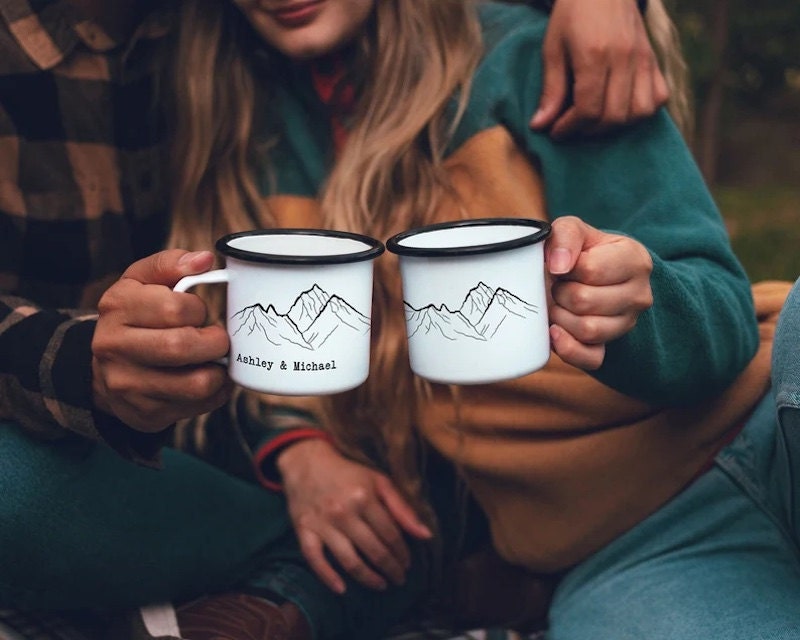 SHOP: Personalized mountain mugs from ODYSEA, from $20
If your loved one adores the outdoors, this personalized coffee mug is a great personalized gift idea. This mug can be personalized with a colored rim and your choice of text—a name, a couple's name, or even a special message.
17. Handmade personalized mug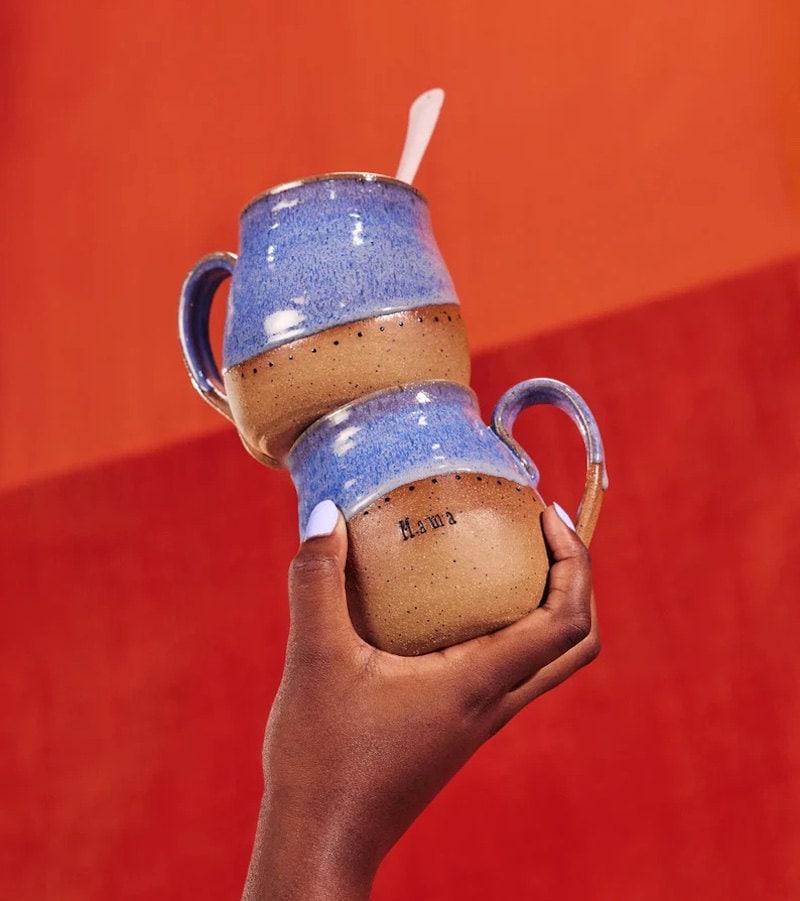 SHOP: Handmade pottery mug with name from Laura Lynn Pottery, $46
Choose a glaze color, pottery color, and add a name for the ultimate personalized experience as you sip your favorite flavored latte.
Best glass coffee mugs
From rich black coffee tones to swirls of steamed milk, the best glass coffee mugs allow you to enjoy the hues of your brew. These picks for the best glass coffee mugs are a unique spin on traditional ceramic mugs—clearly a great choice!
18. Best personalized glass coffee mug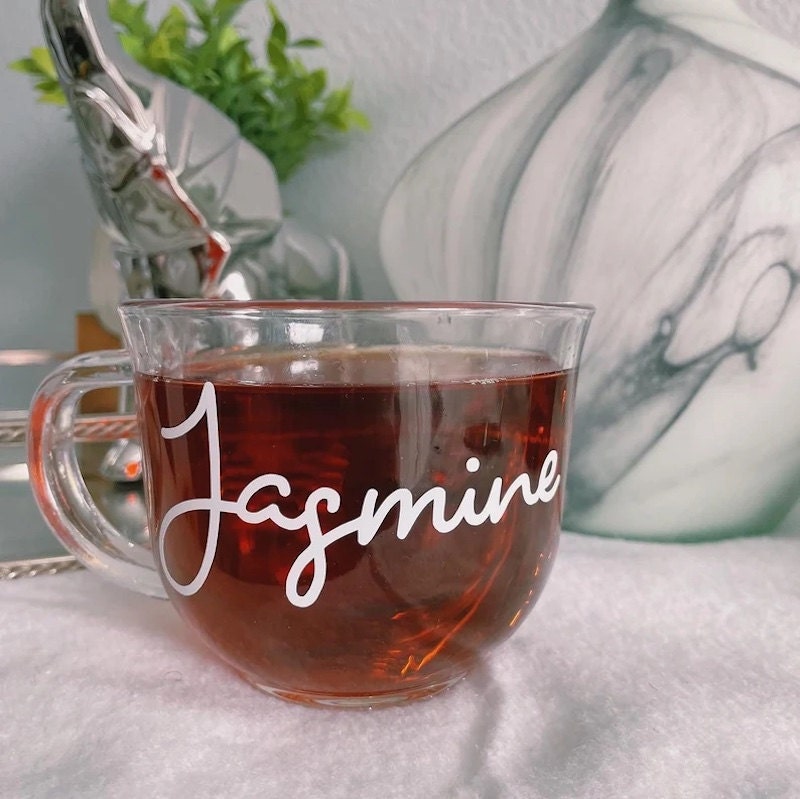 SHOP: Personalized glass name mug from Jasmith Designs, $16
A thoughtful bridesmaid gift or present for Mother's Day, this glass coffee mug is customized with a name or word of your choice.
19. Best glass travel mug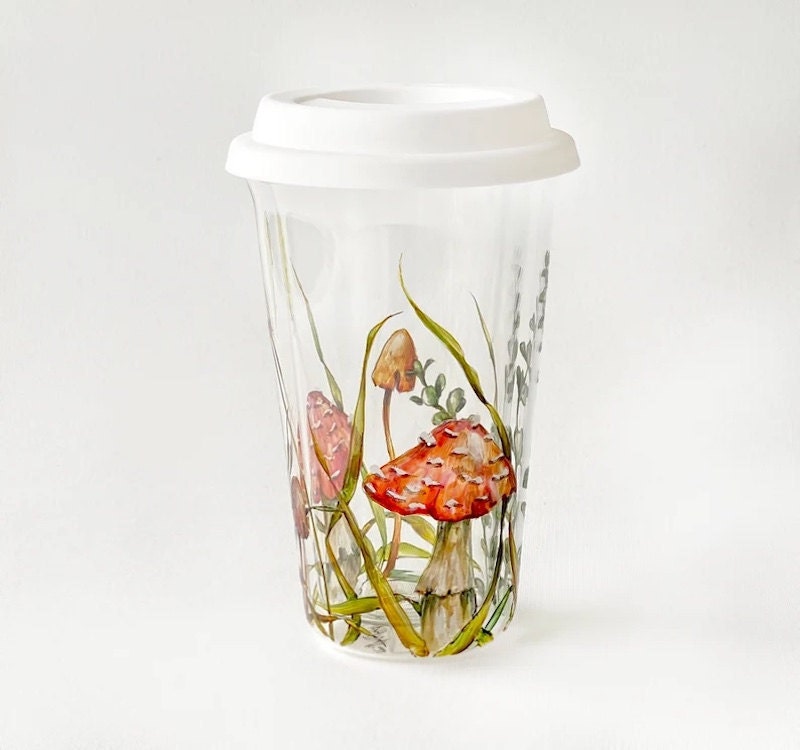 SHOP: Eco-friendly double wall glass travel mug from Yevgenia, $135
A one-of-a-kind cappuccino carryall, this glass travel mug features double-walled construction to keep your drink warm without transferring heat to your hands. The hand-painted mushroom motif is inspired by the artist's love of the woods in the summer.
20. Best glass coffee mug set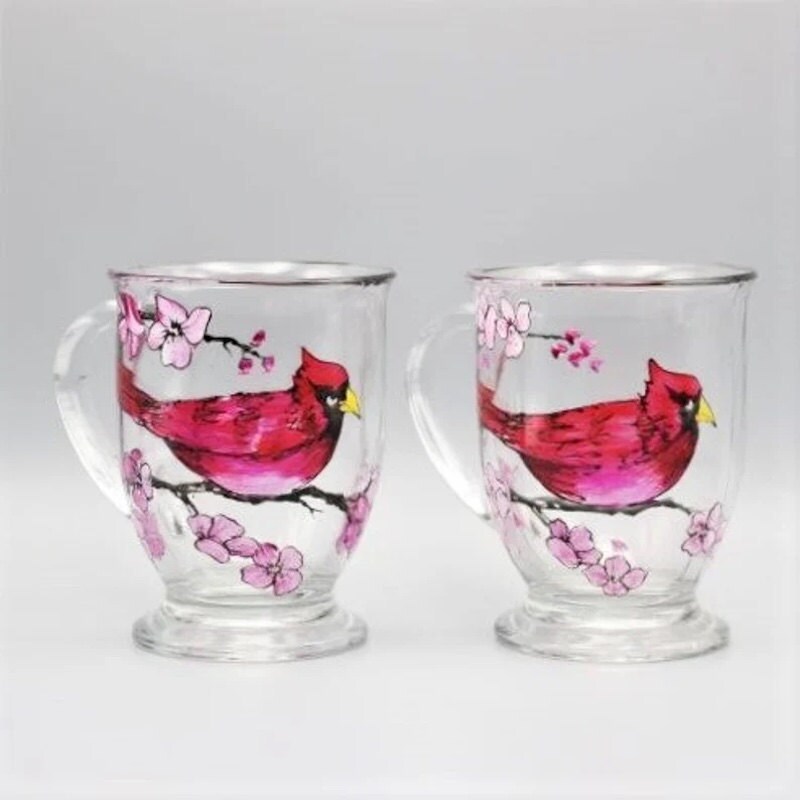 SHOP: Cardinals coffee mug set from Karen's Glass Design, $48
Share a cup of coffee with someone special using this unique glass coffee mug set. Have a favorite bird? Request personalization on these glass coffee mugs and the seller will customize the colors just for you.