Ready to upgrade your coffee table from afterthought to focal point? We've rounded up the best coffee tables to match any decor style.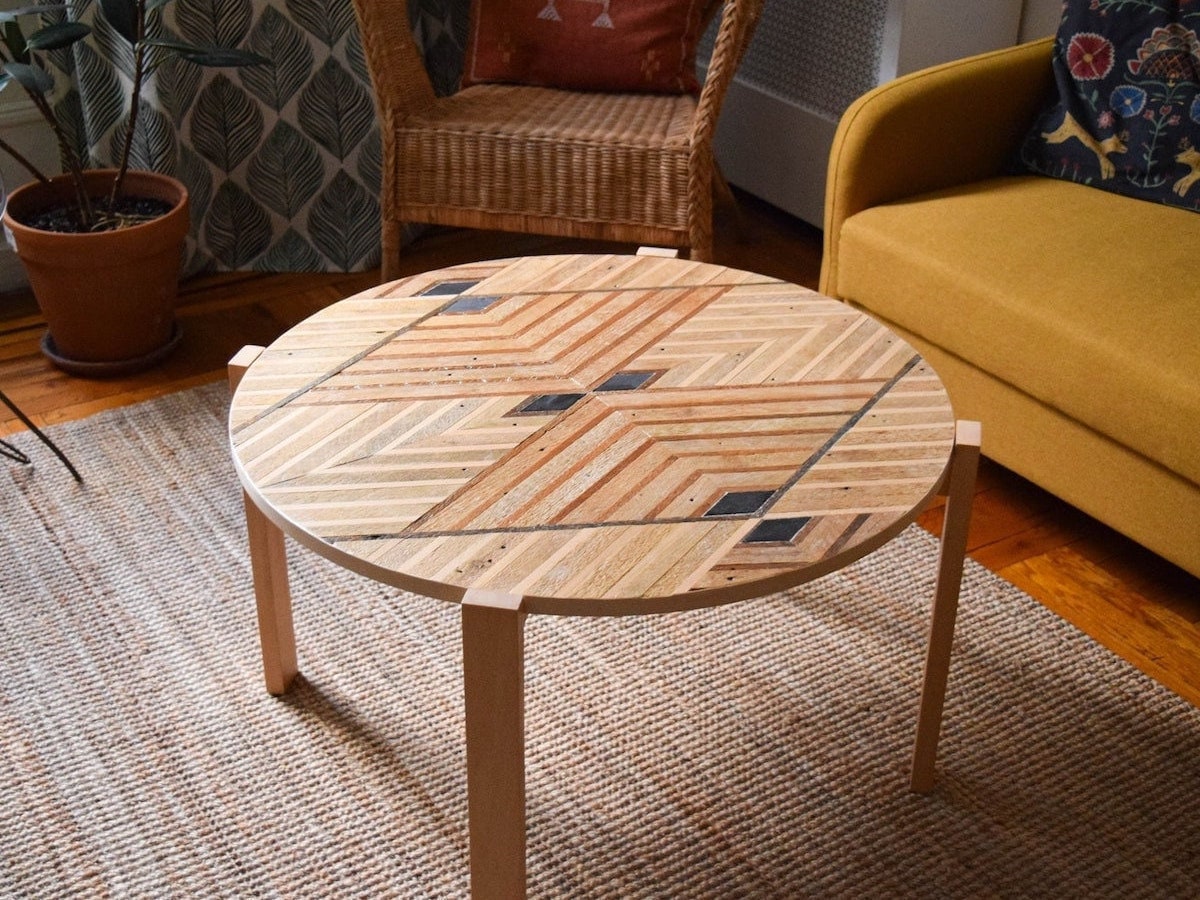 Part decor statement, part functional necessity (where else are you going to rest your heels at the end of a long day?), coffee tables are a hardworking investment piece worth every penny. Trust us: When you find the one that just completes your room, you'll love it for years and years to come.
Not sure where to dive in? You're in luck. From mid-century modern-inspired stunners with built-in storage to flexible wood nesting options that easily adapt to smaller spaces, the talented artisans on Etsy have designed the best coffee tables for every room and style—and we've rounded them up below. Read on to discover the coffee table picks we've got our eyes on right now.
Best round coffee tables
Round coffee tables are a popular pick among interior designers and decor DIYers alike because of their enviable versatility. The lack of pesky corners makes these circular designs a good fit for tighter quarters and a spacious choice to pair with sectionals when access to each cozy couch corner is key.
1. Nesting round coffee tables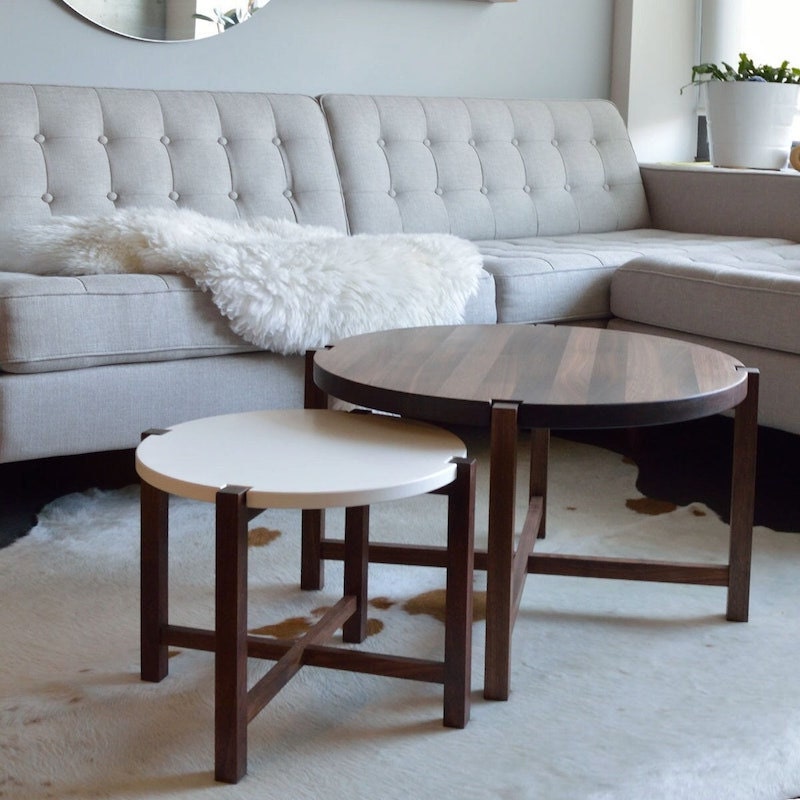 SHOP: Walnut and white lacquer nesting coffee table set from JB+DG, $1,400
These modular tables feature a broad range of material choices for bases and tops and the ability to create dynamic groups of small and large tables to suit any room
2. Round wood coffee table with glass top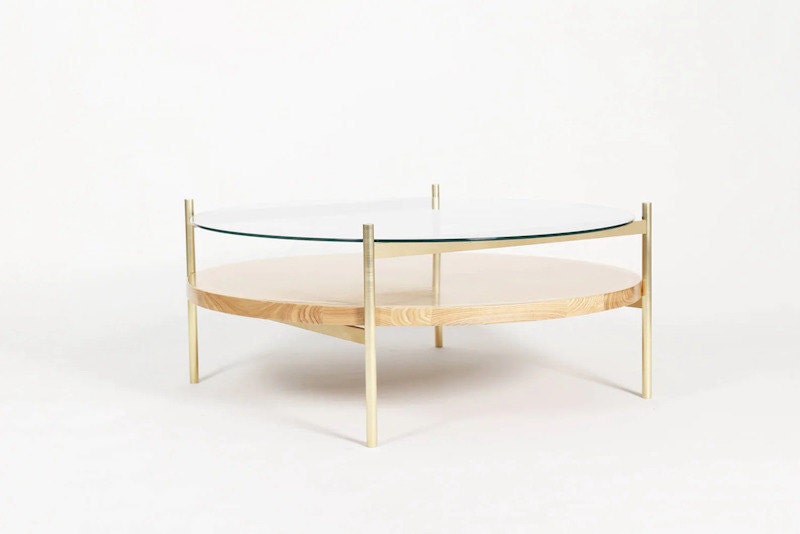 SHOP: Duotone circular coffee table from YIELD, $3,275
This wood, glass, and brass-accented round coffee table serves up some serious mixed material, modern vibes and blends with a variety of decor styles.
3. Floating, "nesting" coffee table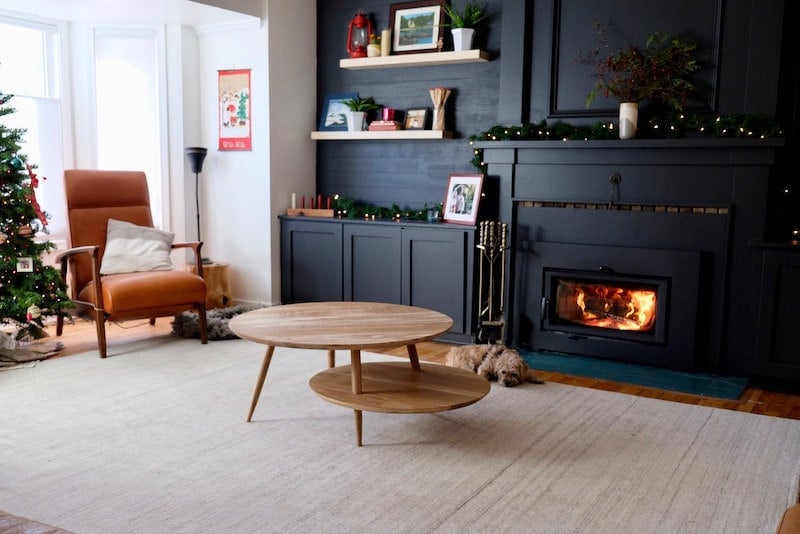 SHOP: Double circle oak coffee table from Beauty Bread Woodshop, $2,200
Warm woods are both timeless and super on-trend in interior design right now, which makes a coffee table like this white oak, floating wonder a solid choice for years to come.
4. Round coffee table set with matching end tables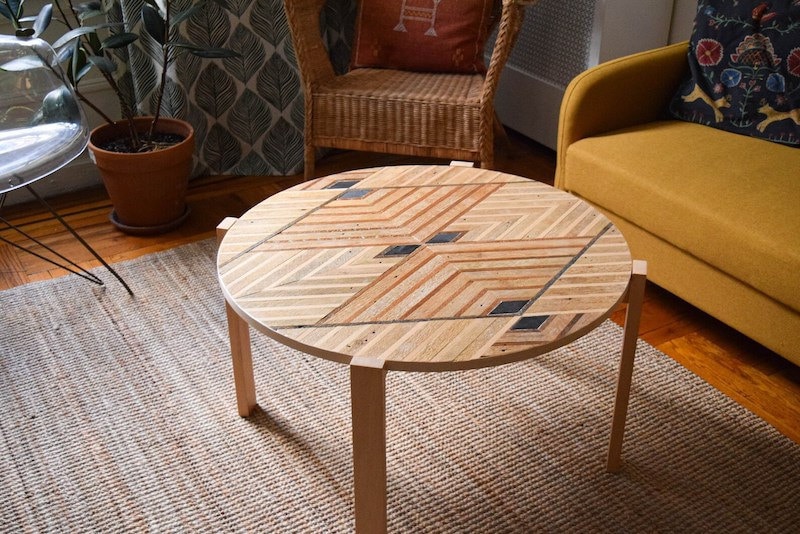 SHOP: 30-inch coffee table with custom reclaimed-lath inlay from Gomez Design Studio, $1,500
The pattern on this conversation-starting round coffee table is made from a mix of wood lath pieces salvaged throughout New York City's five boroughs. Don't miss the matching end tables to complete the look.
5. Mid-century modern round drum coffee table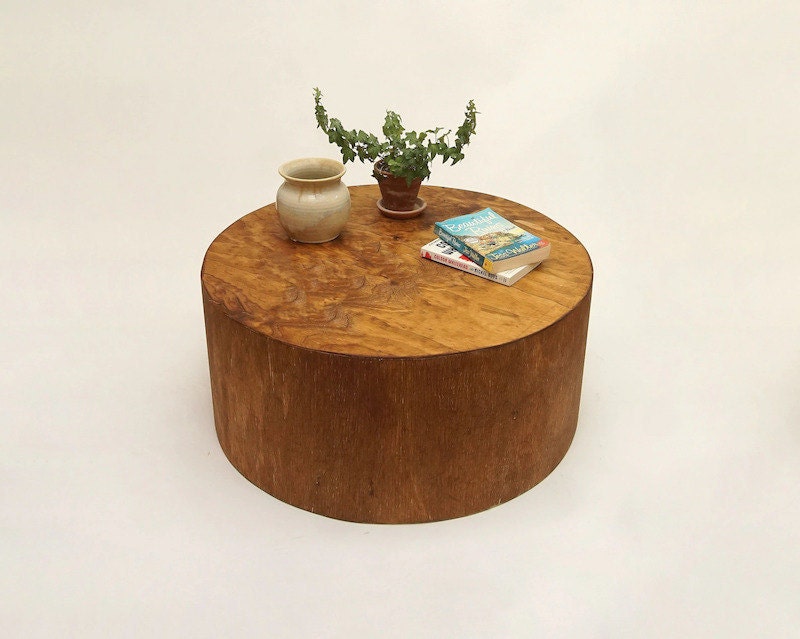 SHOP: Low drum circular round coffee table from The Owl Design, $600
Mid-century modern simplicity gets an earthy upgrade thanks to the natural wood grain in this round drum coffee table that's available in a variety of shades like wood-tone, black, and whitewash.
Best wood coffee tables
With finishes ranging from rough-hewn and rustic to luxuriously lacquered and modern, wood coffee tables are just as at home, sweet home in a cozy farmhouse den as they are a sleek contemporary loft. From minimalist, Scandinavian-inspired designs with clean lines to raw and free-flowing shapes that celebrate the natural beauty of this material, many of these wood coffee tables can be customized by choosing the stain or finish.
6. Rustic wood coffee table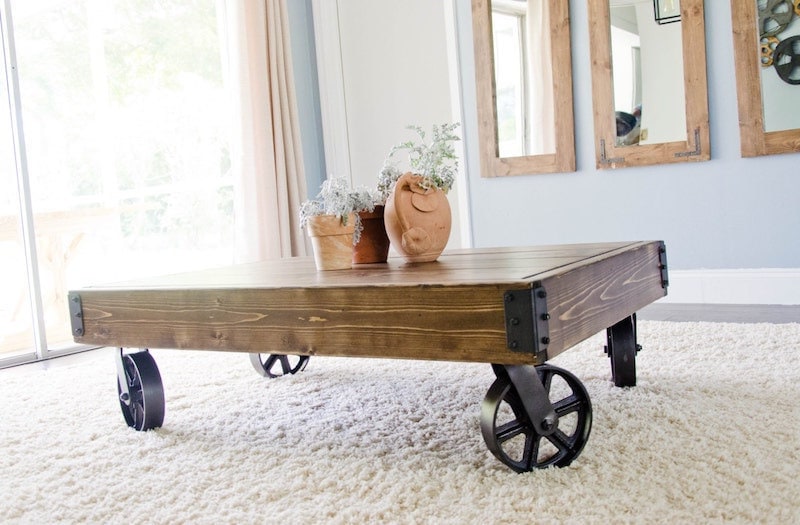 SHOP: Factory cart industrial coffee table from Archer Home Designs, from $975
Made to order, this industrial-inspired wood coffee table features functional factory wheels and can be built in any size you'd like.
7. Cherry wood coffee table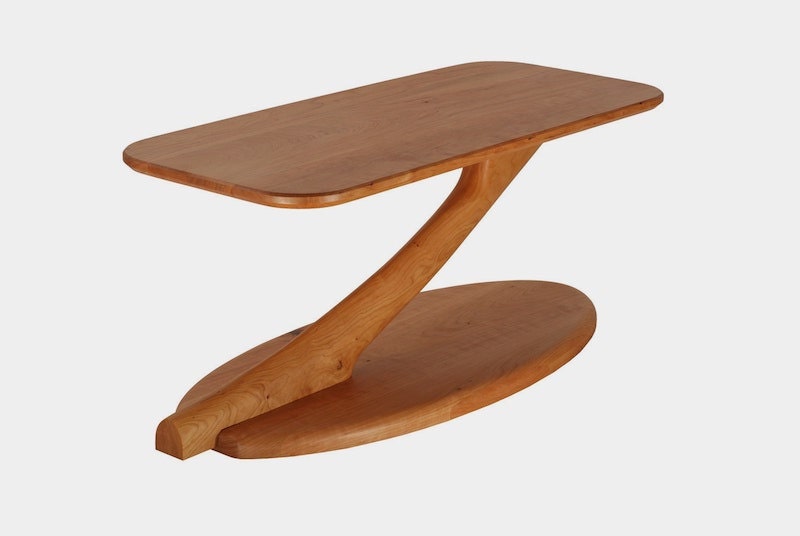 SHOP: Cantilever-style coffee table from T. Y. Fine Furniture, from $1,399
There's a story to tell as you gather around this cantilever-style coffee table: The wood is sustainably sourced from locally grown, naturally fallen logs.
8. Nesting wood coffee tables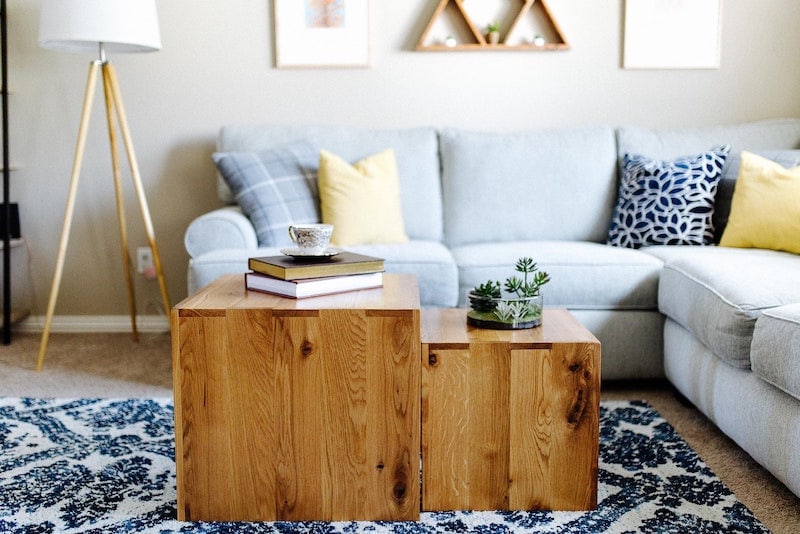 SHOP: Modern square nesting coffee tables from C by M Creative, from $737
A smart choice for small spaces, this set of two square nesting coffee tables easily extends when you need a little more surface area.
9. Cluster coffee tables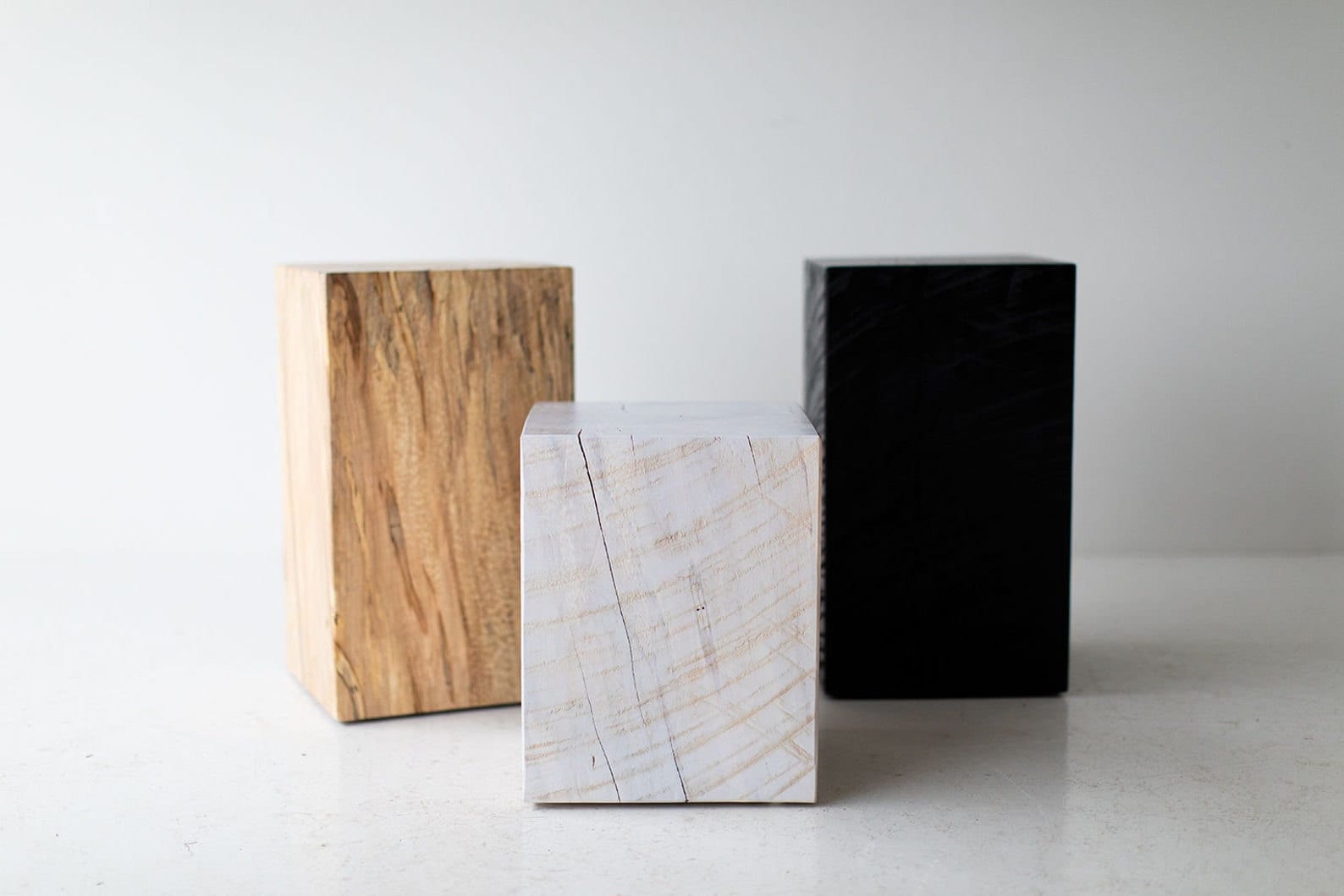 SHOP: Square tree stump table from Bertu Home, from $315
Elegant in their simplicity, these square stump coffee tables can be used individually as side tables or clustered together to create a one-of-a-kind grouping.
10. Modern wood coffee table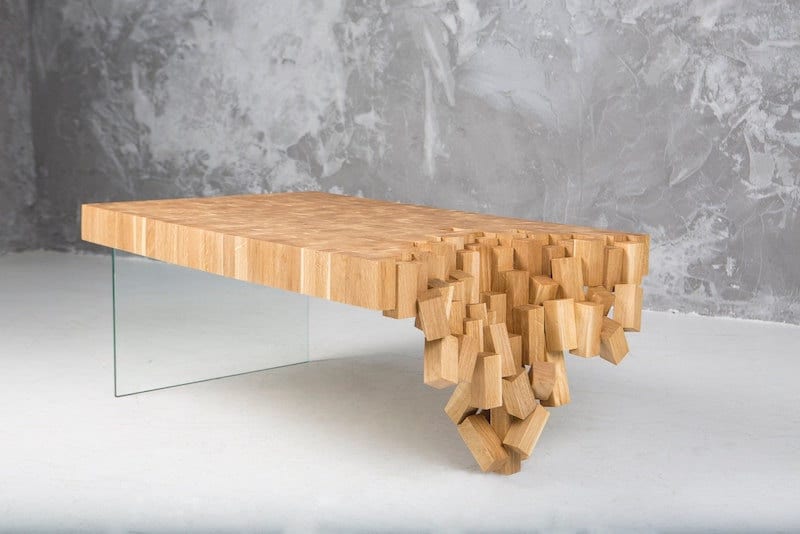 SHOP: Wood and glass coffee table from Of The Wood, $2,380
An artistic take on live edge wood furniture, this modern white oak and glass coffee table is a sculptural statement piece with more than 430 hand-placed pieces. Sleek glass on one end perfectly juxtaposes the geometric tumble of blocks forming a support pillar on the other.
11. Square wood coffee table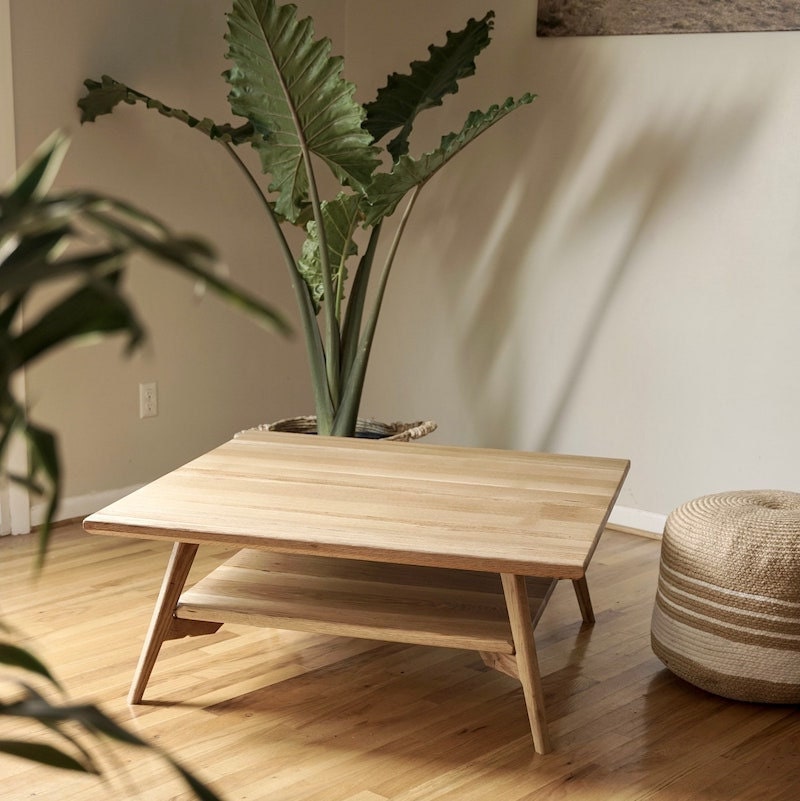 SHOP: Square Scandinavian coffee table with shelf from Crafted Glory, $1,400
A fresh spin on classic round and rectangular coffee tables, the square design of this wood coffee table is inspired by Scandinavian simplicity and offers a sleek storage shelf, too.
Best outdoor coffee tables
As you set up your exterior living space, an outdoor coffee table will make your seating area feel complete. Bonus: It's a great surface to add some outdoor-friendly decor like colorful coasters, quirky ceramic pots, and ambiance-inducing candles.
12. Outdoor stump coffee table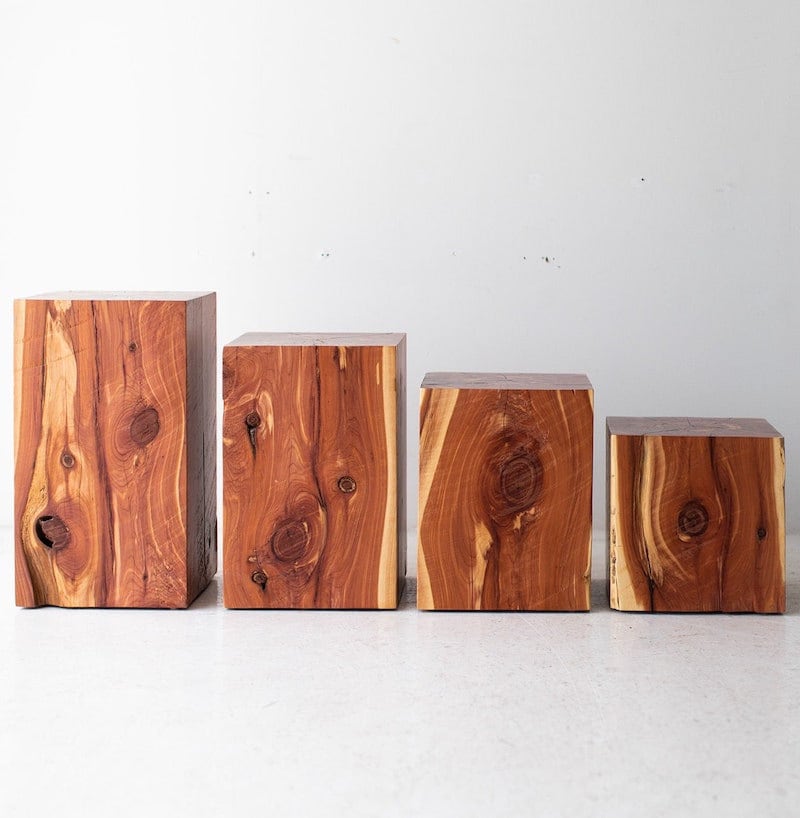 SHOP: Outdoor stump table from Bertu Home, from $350
A natural choice for the great outdoors, these locally sourced red cedar stumps will gradually age over time, developing their own individual character.
13. Textured concrete table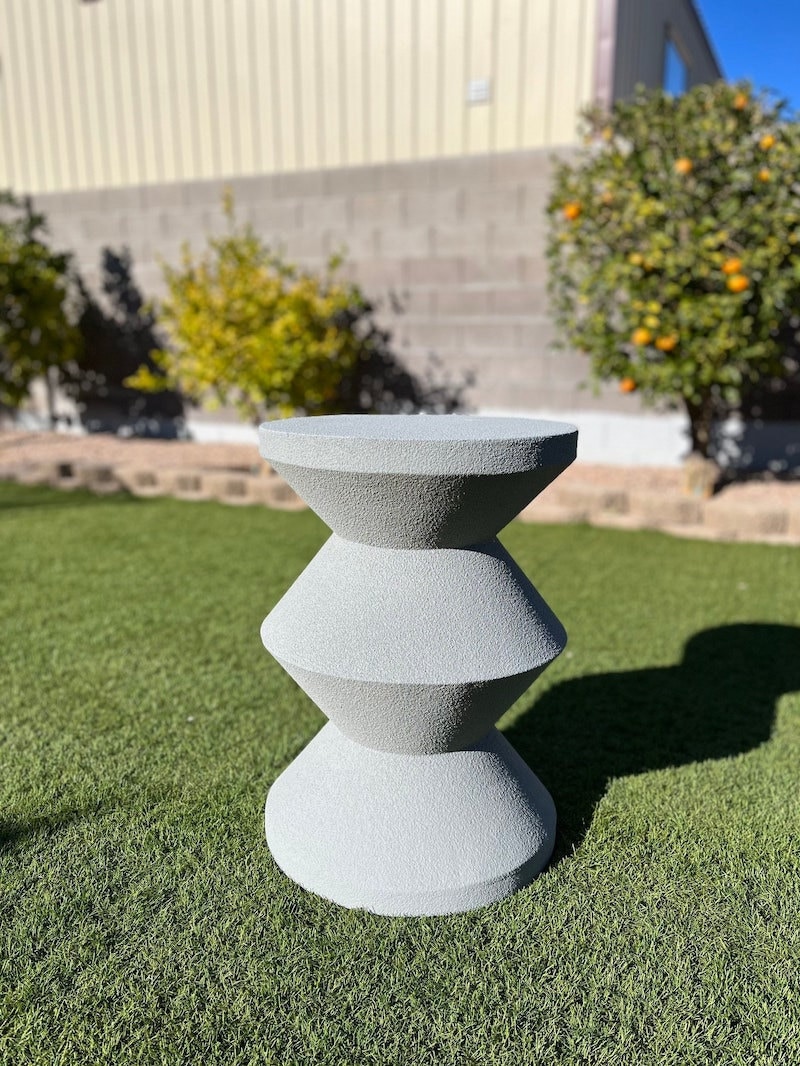 SHOP: Geometrical textured concrete table from Two Sisters Furniture, $144
Don't let the hefty look fool you, this geometric outdoor table is actually made from foam and coated in concrete so it's lightweight yet durable (and perfectly sized for a small patio!).
14. Outdoor coffee table set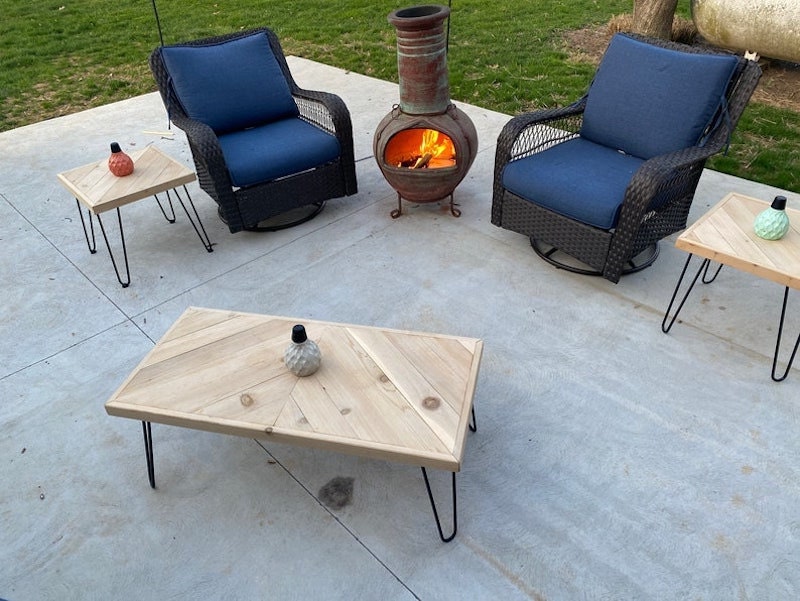 SHOP: 3-piece cedar patio set from Crafted of Light & Lumber, $325
This set of chevron-adorned, cedar outdoor wood tables includes a coffee table and two side tables with hairpin legs.
15. Natural cedar outdoor coffee table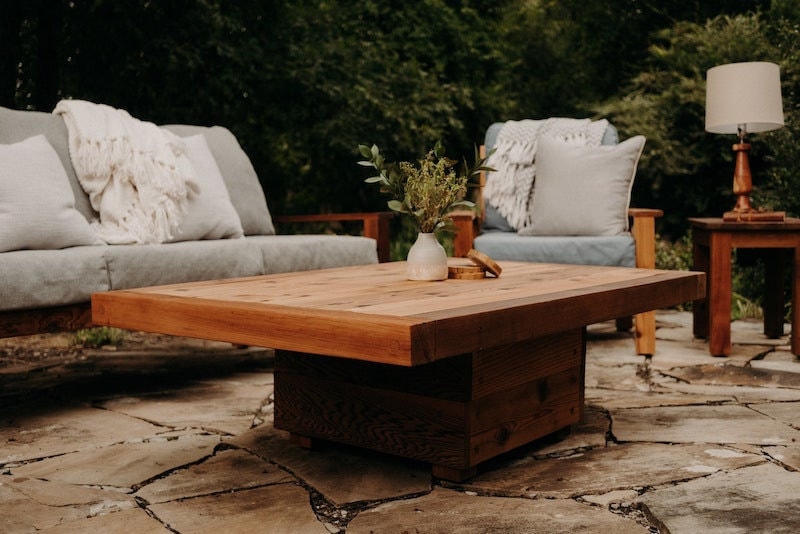 SHOP: Premier collection coffee table from S&O Co., from $499
The western cedar used to handcraft these outdoor patio tables contains natural oils that repel insects and moisture. Available in a range of sizes, each table is also coated with tung oil for additional protection.
Best coffee tables with storage
Who ever said "no" to an extra drawer?! These coffee tables are stacked with storage options—from open shelves perfect for displaying treasures to tuck-it-away drawers to help you keep track of all those less-than-cute but oh-so-necessary items like remotes.
16. Best coffee table with hidden storage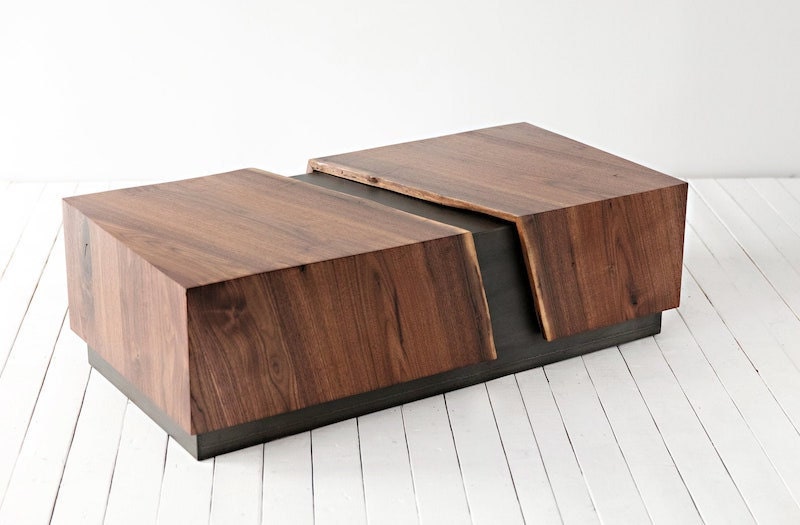 SHOP: Drift coffee table from Bricker and Beam, $3,600
This coffee table drifts open to reveal some serious (hidden!) storage that's made for tucking away bulkier items like blankets and pillows.
17. Industrial sofa table with storage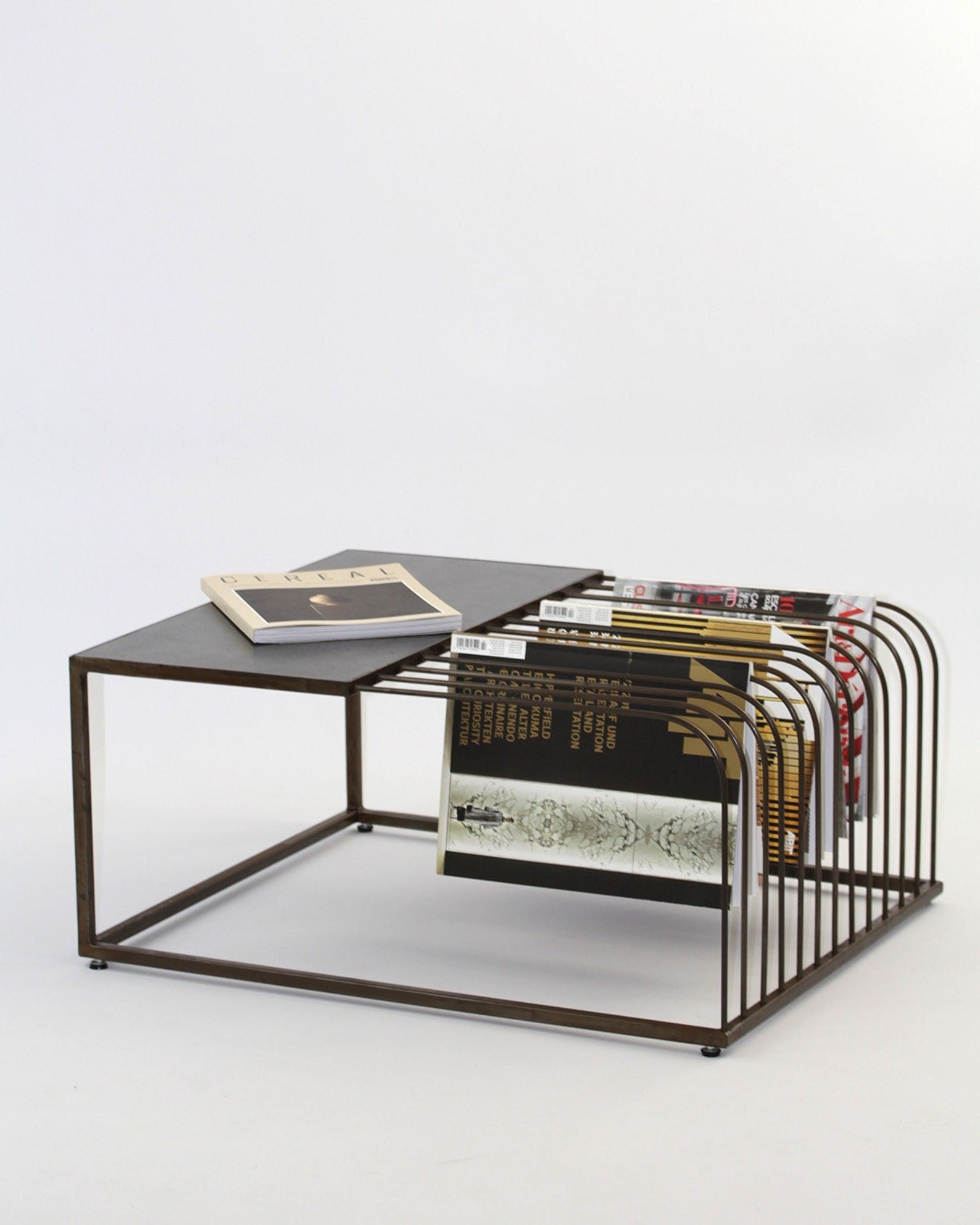 SHOP: Newspaper table from 21neun, $536
Hang your current reading material from this coffee table's steel rungs and keep your favorite stories close at hand.
18. Mid-century modern coffee table with storage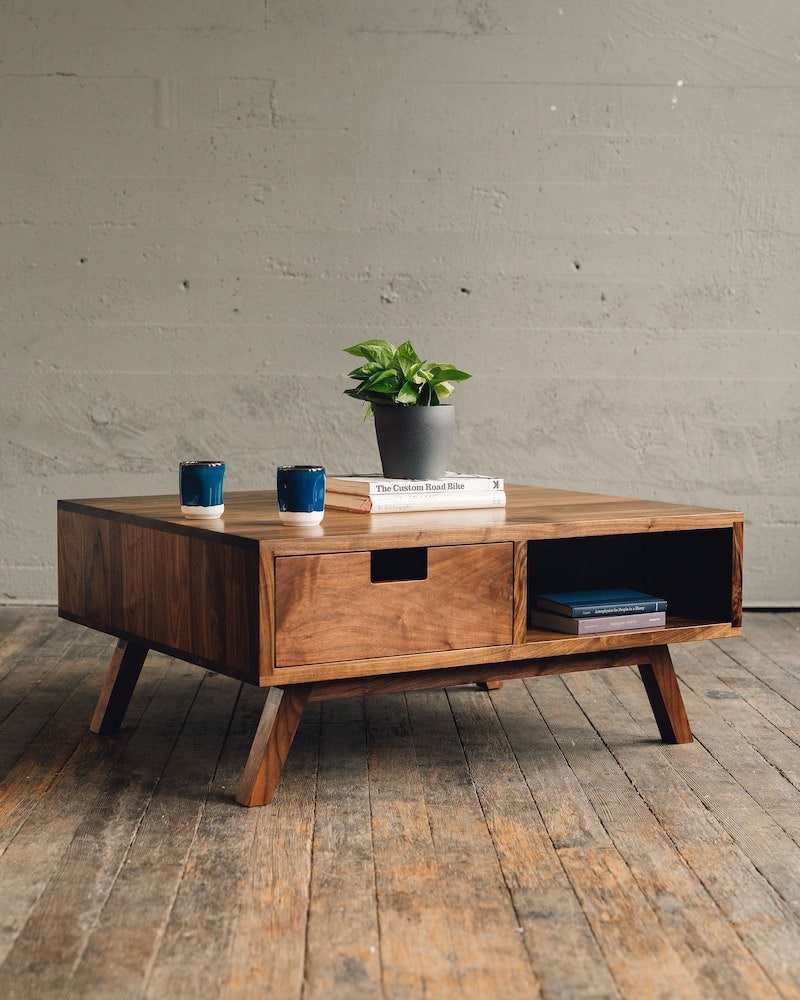 SHOP: Mid-century style wood coffee table with storage from DKL Custom Furniture, $2,000
A practical combination of storage spots in this coffee table allows you to tuck some items away in the drawer while keeping others on full display on the integrated shelf.
19. Minimalist coffee table with storage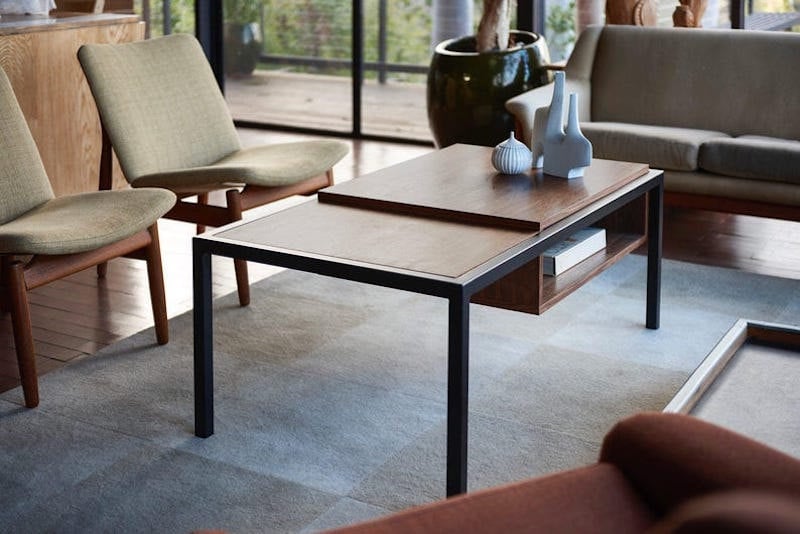 SHOP: McKenzie Coffee Table, from Will Carlson Design, $1,375
The integrated storage cubby in this minimalist coffee table includes a lower shelf area for essentials and creates a raised platform up top for decor pieces.
20. Lift-top coffee table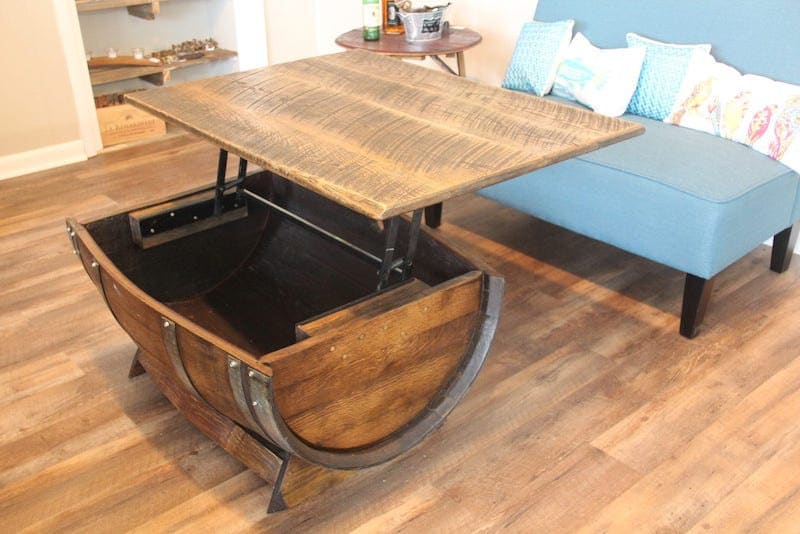 SHOP: Wine barrel coffee table from Barrel Art, from $845
This adjustable coffee table, crafted from a reclaimed wine barrel, features a lift-top that makes playing board games, eating, or working more convenient.
Unique coffee tables
Wondering just how big a statement a unique coffee table can make in your space? Wait 'til you see these showstoppers with their organic shapes, unexpected materials, and interesting inspirations.
21. Raw edge coffee table with epoxy accents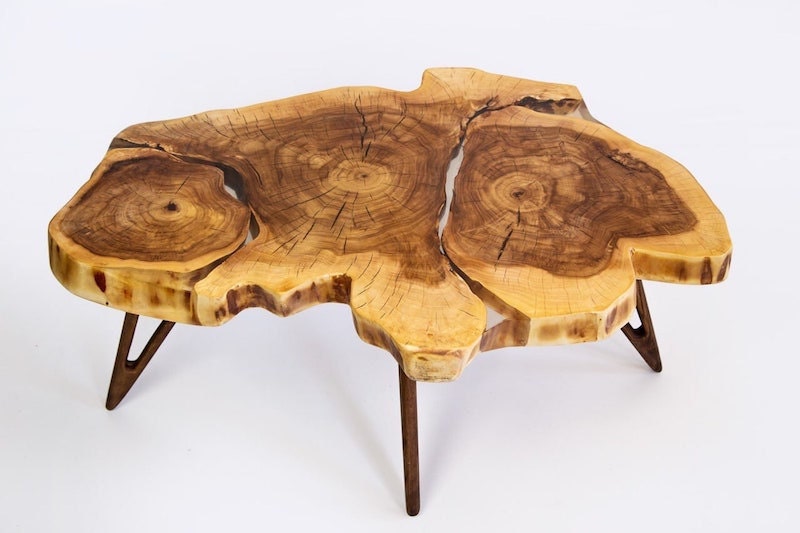 SHOP: Slab coffee table with epoxy from Grodzensky Workshop, $300
Clear epoxy fills the natural gaps in this slab of wood, leaving this very on-trend raw edge coffee table perfectly imperfect in all its organic glory.
22. Faux marble coffee table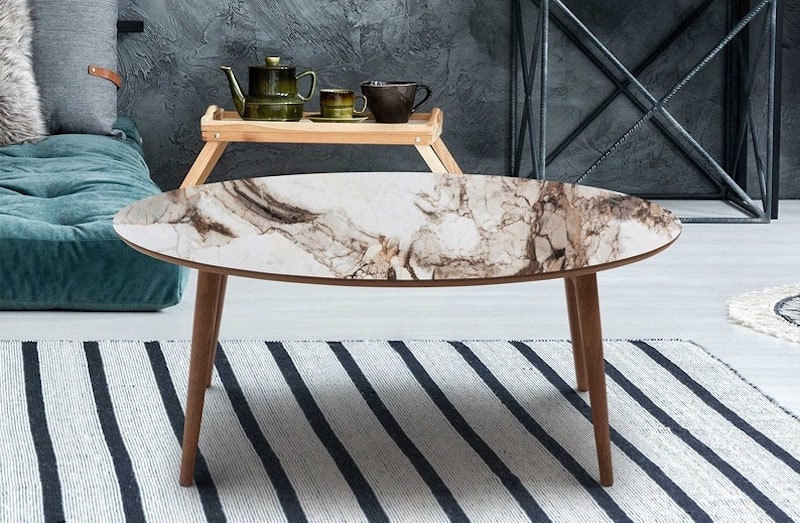 SHOP: Ellips wood coffee table from Miss Aksesuar, $239
At first glance, this coffee table features a stone top. As you look closer, though, you'll see that this pattern is actually burned into the tabletop, creating a one-of-a-kind design that mimics marble.
23. Vintage stone and marble table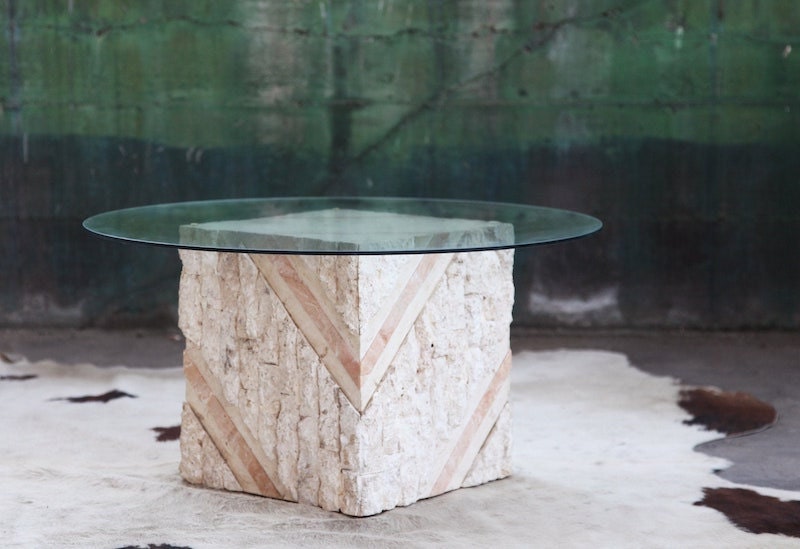 SHOP: Tessellated stone table with inlay from Catch My Drift Vintage, $2,750
Add a one-of-a-kind touch to your living space with this vintage coffee table pick that features marble and stone inlays.
24. Sofa tray table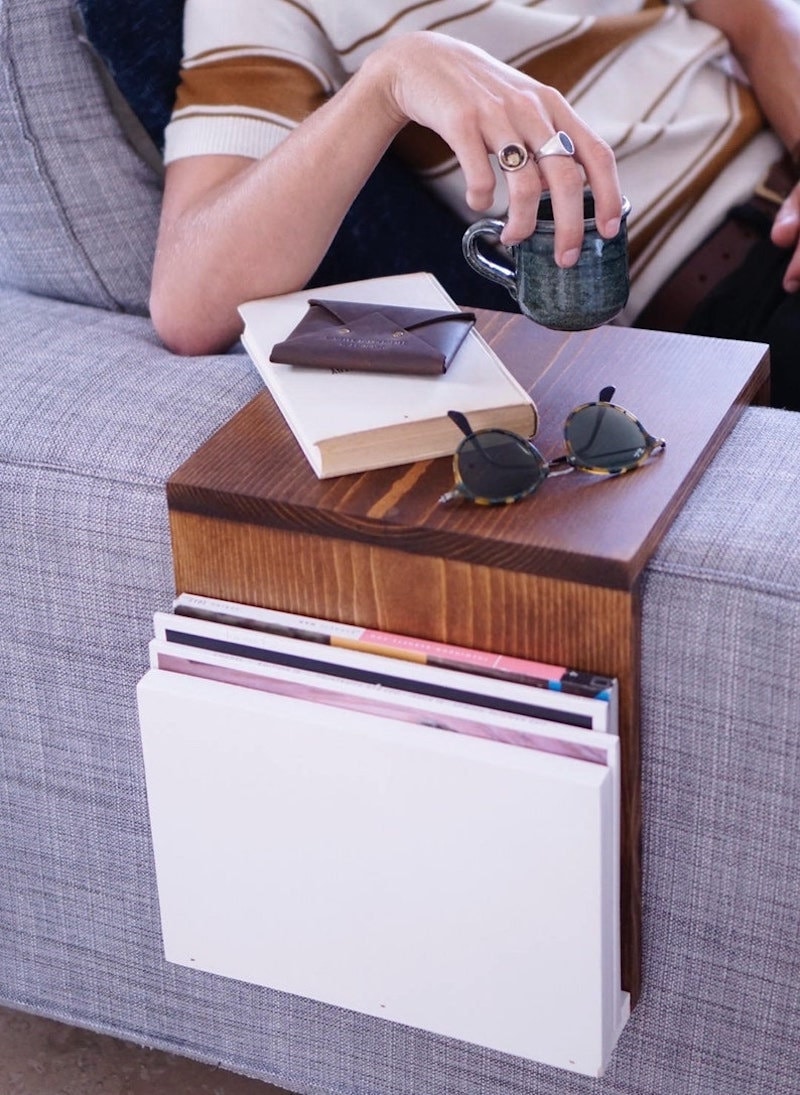 SHOP: Luxury sofa tray table from Bijouxlu & Co., from $195
Say goodbye to balancing your morning cup of coffee on squishy couch pillows, this made-to-order armrest tray table is a much more supportive ally in your caffeine quest.
25. Music-inspired coffee table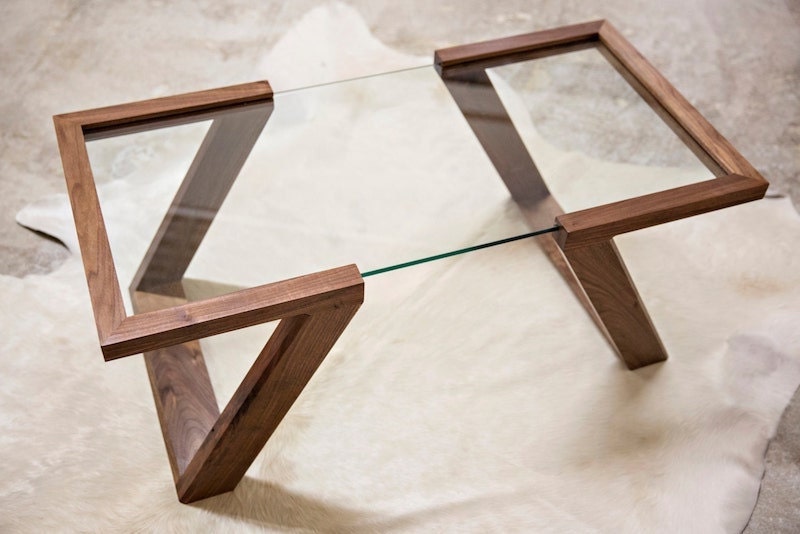 SHOP: The Evans coffee table from Bricker and Beam, from $1,950
Sometimes what makes a coffee table most unique is the backstory behind its design. Inspired by melodic jazz masterpieces, this wood-and-glass coffee table blends modern, clean lines and warm wood tones, making it an effortless addition to any space.
Best Coffee Tables FAQ
What is the best coffee table shape for a sectional sofa?
As you shop for a coffee table to pair with your sectional, measure the open area in front of your sofa. Consider how much of a walkway you'd like to allow around your coffee table. This way, you can find a piece that allows you to access all the great seating your sectional provides. Because of this, round coffee tables or other on-trend designs with curved outlines, not sharp corners, are usually the best coffee table for a sectional sofa.
What's the right coffee table style for a living room?
As you choose a coffee table style for your living room, consider the table's height, overall proportions in the room, how much clearance you need around the table, and which materials work best for your lifestyle. The ideal coffee table height is usually equal to or just lower than your couch cushions. This avoids a table feeling too tall. Next, consider the best length for a coffee table in your room. To guarantee each seat on the couch has easy access to the table, look for a coffee table that's slightly shorter than your sofa. If you're choosing a coffee table for a sectional, remember to leave enough clearance all around the table to avoid blocking access to any parts of the sectional.
Lastly, the fun stuff! It's time to pick a coffee table that complements both the overall design of your room and your lifestyle. Trendy or traditional, a coffee table can be a simple way to bring a new texture, color, material, or style into your living room. If you're not sure which table to choose, consider a minimalist or mid-century modern-inspired coffee table. These styles are flexible and can move with you to a variety of different spaces, and can be easily dressed up and accessorized with colorful coffee table books, unique pottery, and creative decor accents that match the rest of your room.