From farmhouse dining tables to modern shelving, co-create furnishings for every space and budget by working one-on-one with these five-star artisans.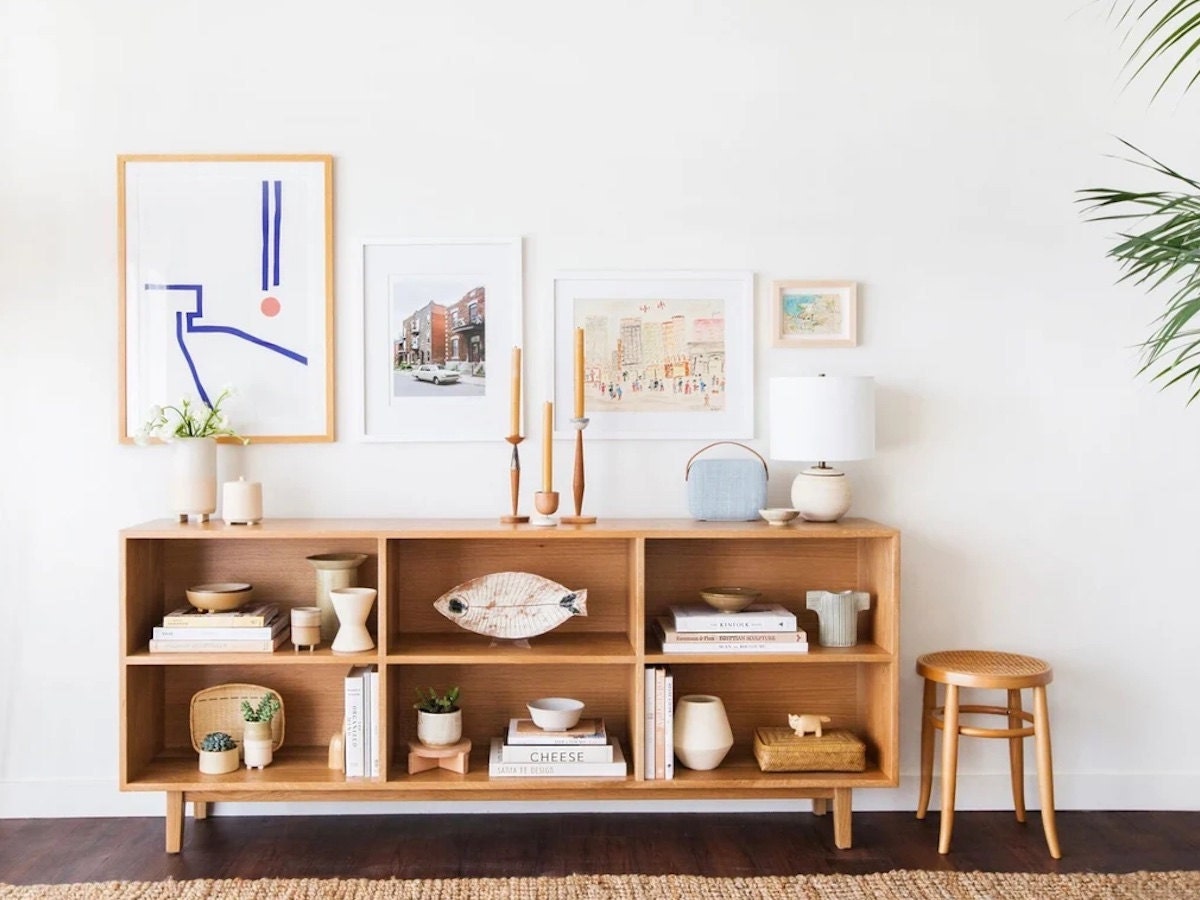 The odd little hallway nook that's begging to be fitted with a table. The kitchen that needs some open shelves to display all your bowls and plates. The corner in your home office that could really use a proper desk. When the superstores don't have what you want and nothing seems to fit your room just right, the good news is there's an Etsy furniture maker who'd happily work with you to co-create a piece specifically suited to your space and budget.
Whether your vision is to have a farmhouse-style dining table for your next big family feast or a storage bench in your hard-to-style entryway, we've rounded up eight customization pros who are here to help you design the perfect personalized piece and bring it to life with their skillful handiwork. Read on to discover why these local artisans are known for their five-star service, and begin building your dream furnishings with easy, one-on-one communication and collaboration at every step. All it takes to get started is an idea and a friendly message hello. Ready to meet them? Let's go!
Minimalist hardwood furniture and storage solutions
Philip Mast & Katlyn Mast | Hedge House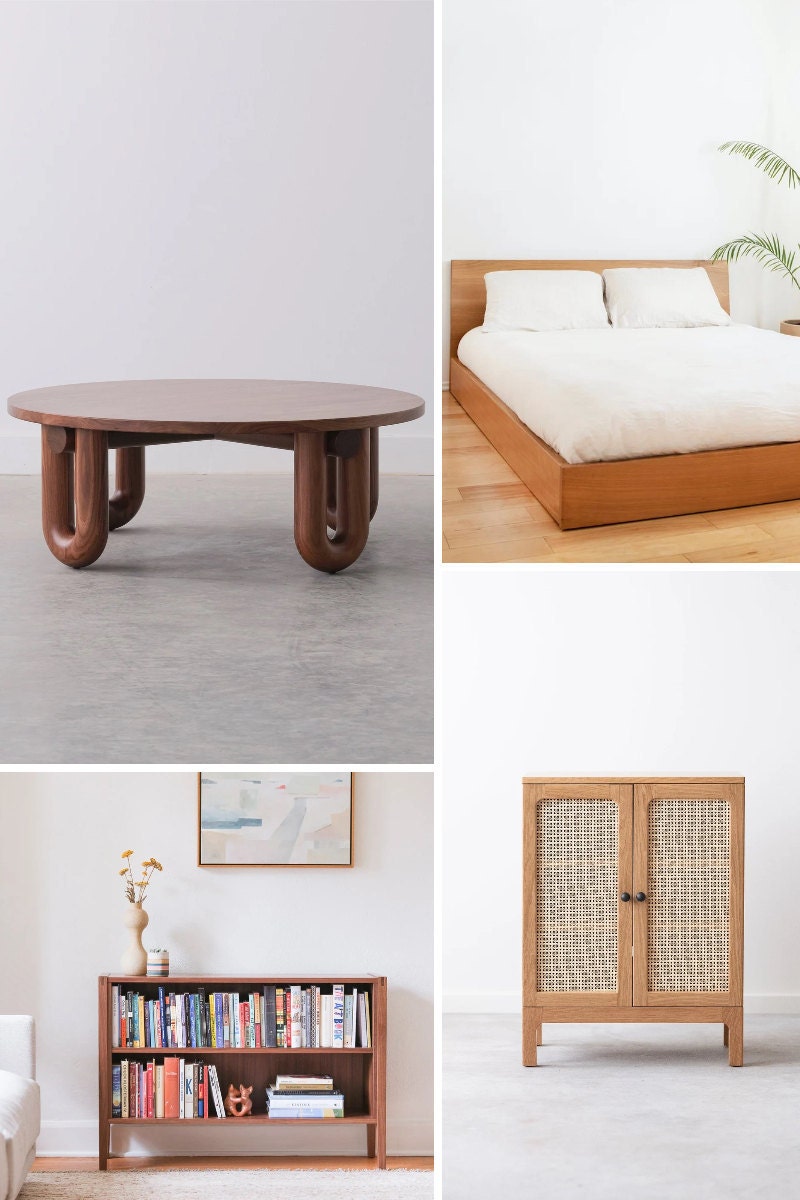 SHOP (clockwise from top left): Rounded coffee table, from $1,999; low-profile wood bed, from $1,899; two-door cane and wood cabinet, from $1,989; wooden bookshelf, from $1,799; all from Hedge House
"Making furniture is fulfilling because it becomes such a special element of people's lives," says Katlyn Mast, one half of the brother-sister team at the helm of Indiana-based minimalist hardwood furniture shop, Hedge House. "They're objects that shape daily routine, and people attach memories to their furniture, which gives our work a sense of purpose." Katlyn and Philip collaborate closely with their loyal cadre of clients on made-to-order designs ranging from curved walnut coffee tables to solid wood bed frames—some of which even end up being added to their permanent product line. "Clients will sometimes suggest a modification to an existing piece, and we'll end up liking their version the best," Katlyn says. Looking for inspiration? The siblings offer this pro tip: "Credenzas, cabinets, dressers, and nightstands are the most fun to customize."
Live edge wood and steel designs
Jeff Libby and Adrienne Wicks | Birdloft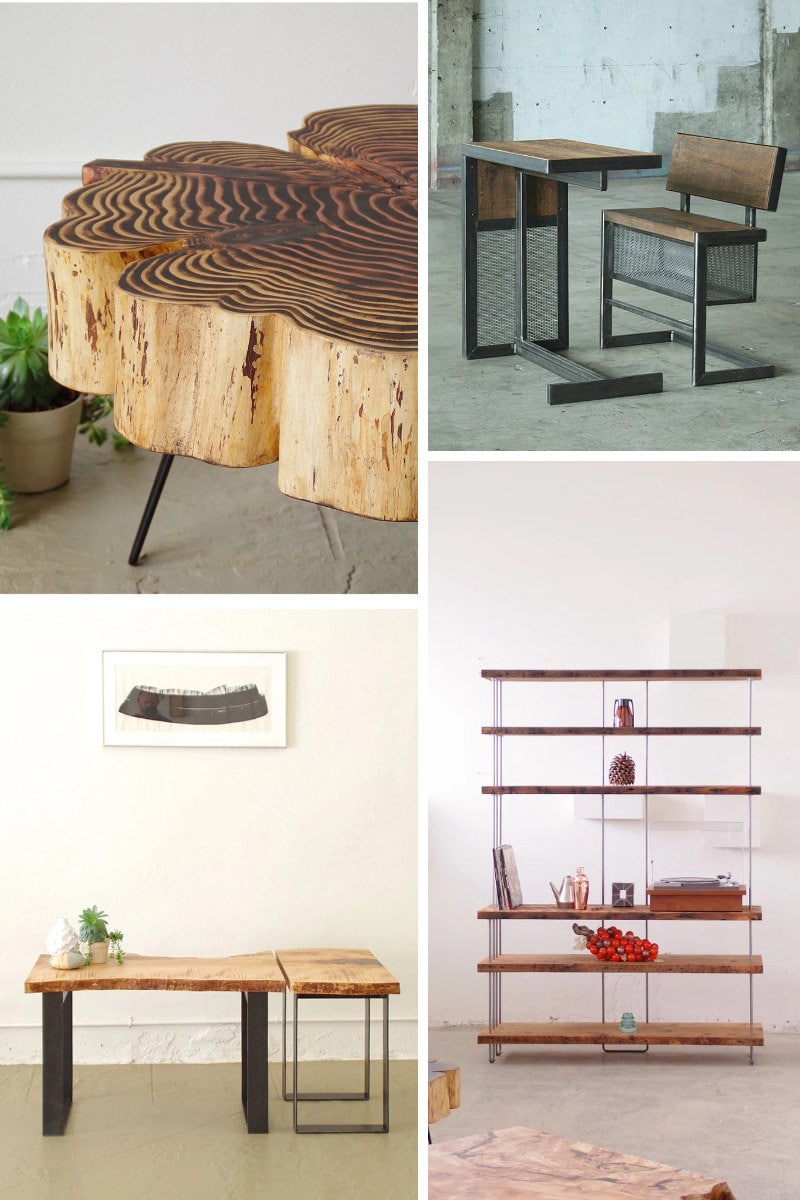 SHOP (clockwise from top left): Live edge coffee table, from $1,100; cantilevered table and bench with storage; $1,900; open-air shelving with hutch, $2,500; live edge two-piece table, from $2,400; all from Birdloft
For Jeff Libby and Adrienne Wicks of Washington-based studio Birdloft, the wood comes first. "We work primarily with reclaimed old-growth wood sourced from within a couple hours drive," Jeff says. Salvaged largely from deconstructed barns and warehouses, each custom piece has its own character and patina from its journey to Jeff and Adrienne's workshop. "Our job," Adrienne explains, "is mostly to reveal what's already there, to bring some clarity to the narrative in the wood."
A typical custom order with Birdloft begins with a conversation about your vision and the space in your home you're looking to fill. After some initial sketches and a few rounds of feedback, the duo builds a custom creation they call "a functional sculpture"—from live-edge burl coffee tables to modern, open air shelving systems. And nothing compares to the magic moment when a finished design comes together. "Suddenly there is a living, breathing quiet thing and the room is new," Jeff says. "Every custom piece is that way. All its own."
Rustic, ultra-customized pieces for living and dining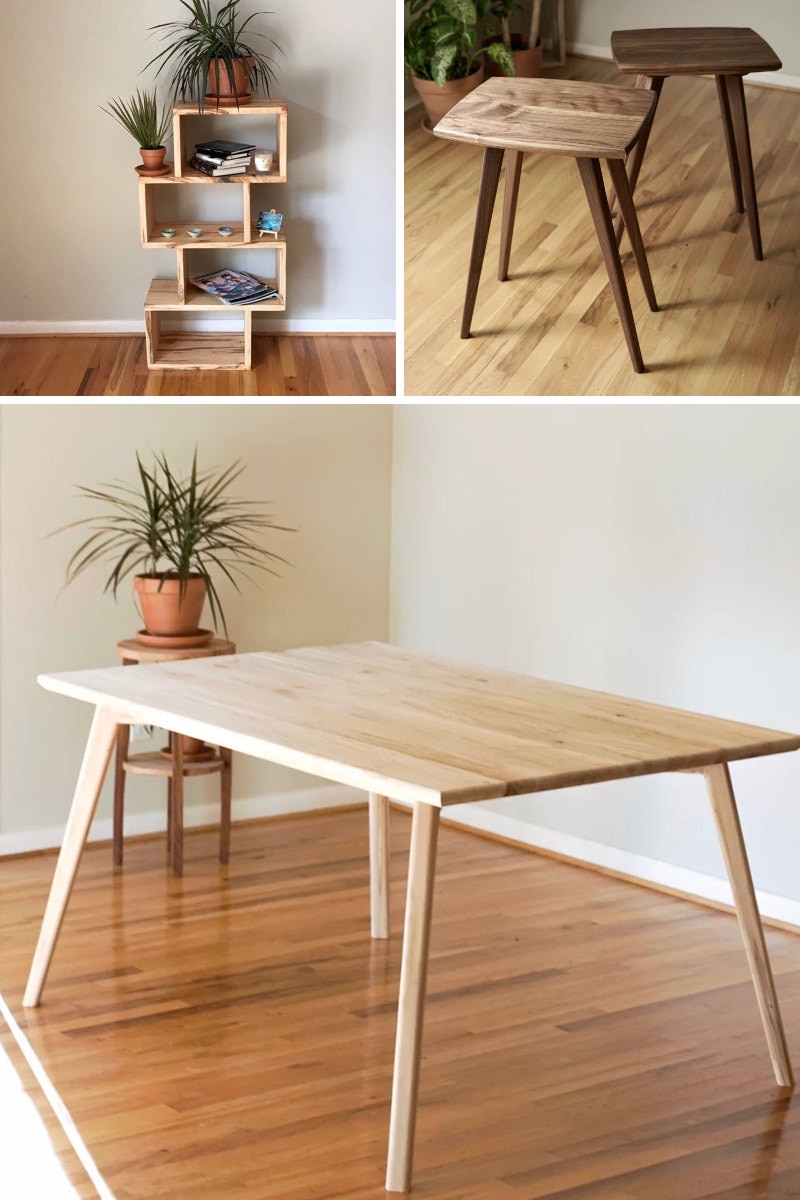 SHOP (clockwise from top left): Asymmetrical bookshelf, from $1,400; modern end tables, from $235 each; rectangular dining table, from $1,700; all from Crafted Glory Design
Kwadwo Som-Pimpong designs with his heart. "Part of me goes out with each finished piece," says the creator behind Crafted Glory Design. "After all, 10 to 20 hours of my life goes into each dining table or coffee table—and after all these years of woodworking, I'll still find myself gazing at a particularly beautiful section of lumber." Whether you're coming to the table with a clearly defined vision or just some inspiration photos, Kwadwo will work with you to imagine the ideal piece to suit your needs, and track down the perfect materials for the job from his North Carolina workshop. Case in point: "One client wanted a live edge walnut coffee table for a very large room," he recalls. "I'd had a gorgeous 84 inch by 40 inch slab of wood sitting in storage for over three years that was just waiting for the perfect project—and this was it!" Bonus: Kwadwo's workshop also offers laser engraving, so you can make your custom creation extra special.
Plush bed frames and headboards for the sweetest of slumbers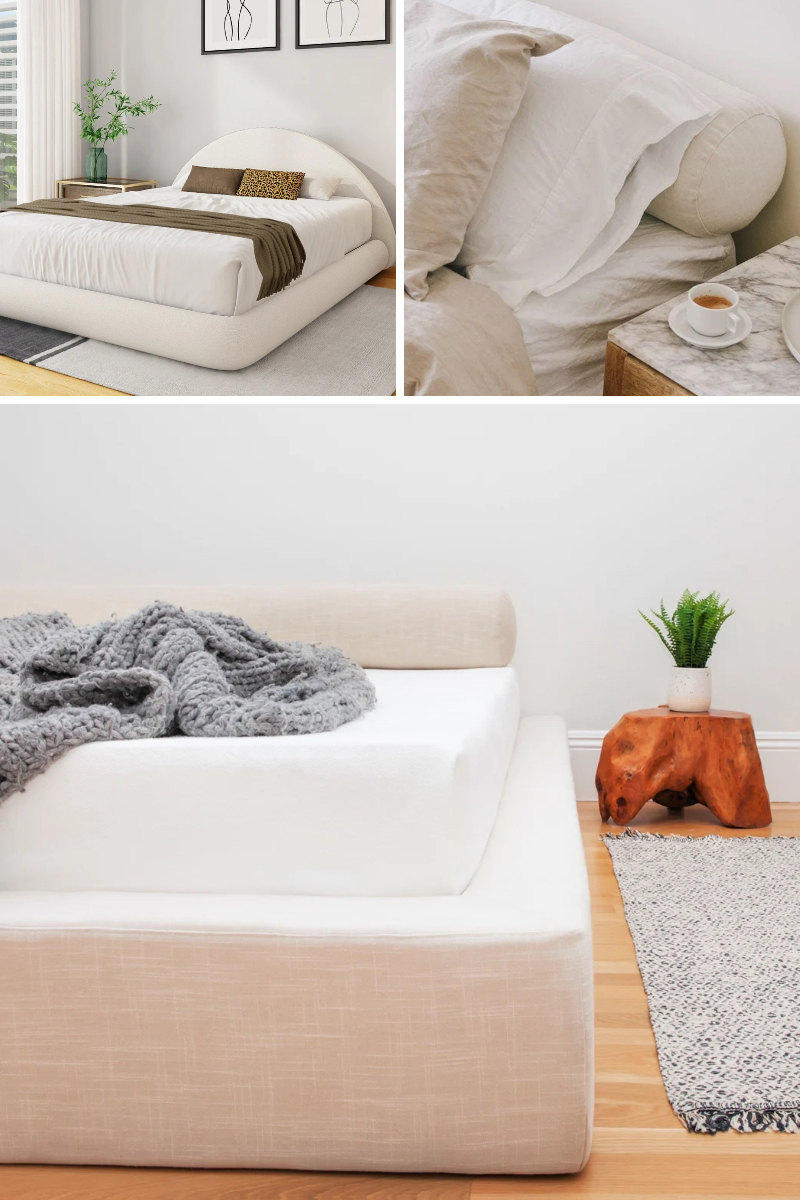 SHOP (clockwise from top left): Cushioned fabric headboard, from $350; round feather bolster pillow, from $190; modern platform bed frame, from $480; all from SoftFrame Designs
Inspired by the modernist style of Italy and Denmark, Heidi Petzold of SoftFrame Designs creates a contemporary line of bed frames, daybeds, bolsters, and more, each custom designed for your personal cozy haven. "Our philosophy is that maintaining a peaceful bedroom plays an important role both in terms of your physical and emotional well-being," says the California-based creative. Over the years, her customers have pushed her to expand the line to new heights. "When we first joined Etsy, we only offered bed frames and bolsters," she says. "One day, a particularly charming customer persuaded us to take the leap and make a mattress cover and it became a bestseller!" As is the case with most custom furniture, measurements are key. "Before placing an order, measure your space, box spring, and mattress," says Heidi. "Then, measure again."
Colorful tables built from reclaimed materials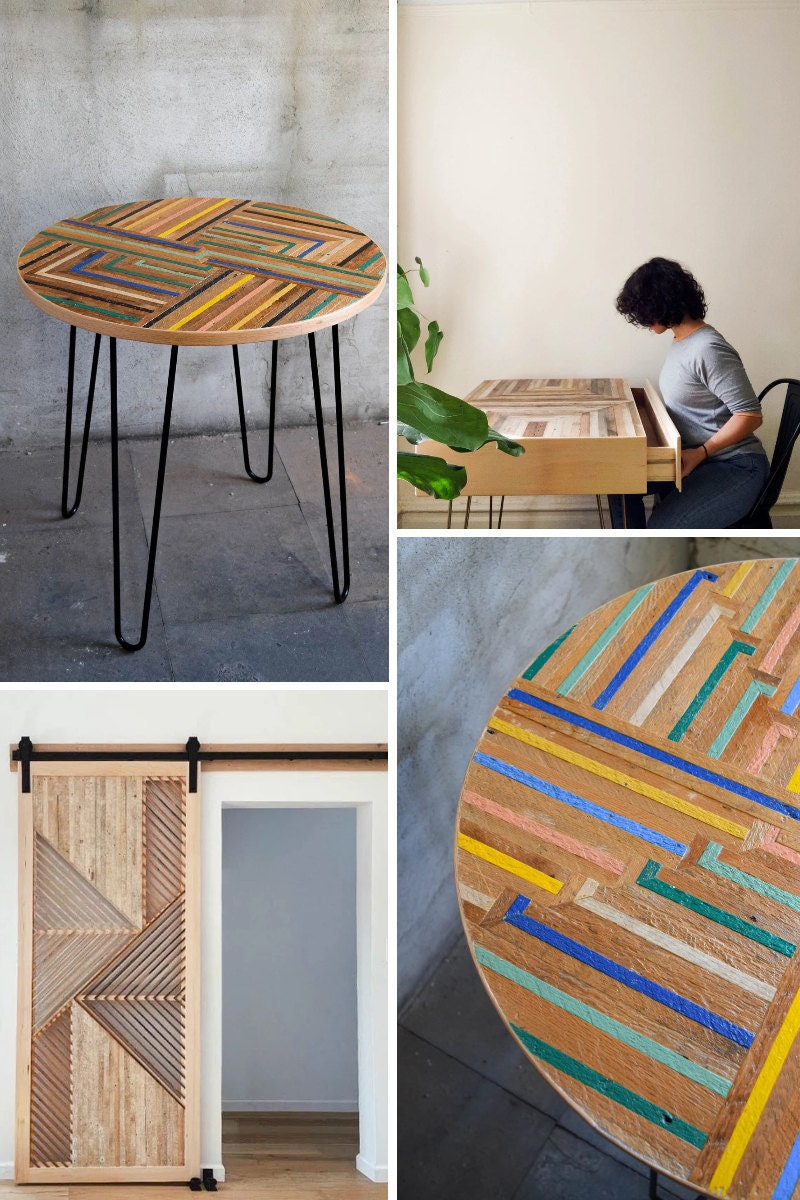 SHOP (clockwise from top left): Round reclaimed lath side table, $800; reclaimed lath desk with drawer, $2,000; reclaimed lath side table with geometric design, $800; sliding barn door with slats, $5,000; all from Gomez Design Studio
A multi-hued lath side table with steel hairpin legs. A sliding barn door with wooden slats that casts stunning shadows in the afternoon light. A reclaimed wooden dining table top with a delicate marble inlay. These are the masterful custom creations of Gomez Design Studio, a New York workshop specializing in distinctive wooden pieces crafted from recycled and discarded materials that feature delightful pops of pigment. "The colors, tones, nail holes, and other 'imperfections' are what make each piece special," says owner and woodworker Tiffany Gomez. "My job is to preserve that natural integrity as much as possible." Tiffany prides herself on working closely with customers to craft made-to-order pieces that reflect her buyers' preferred palettes and patterns. "My work is never duplicated, so every order, even if you place it from a listing, is truly custom and one of a kind," she says.
Modern furniture for music lovers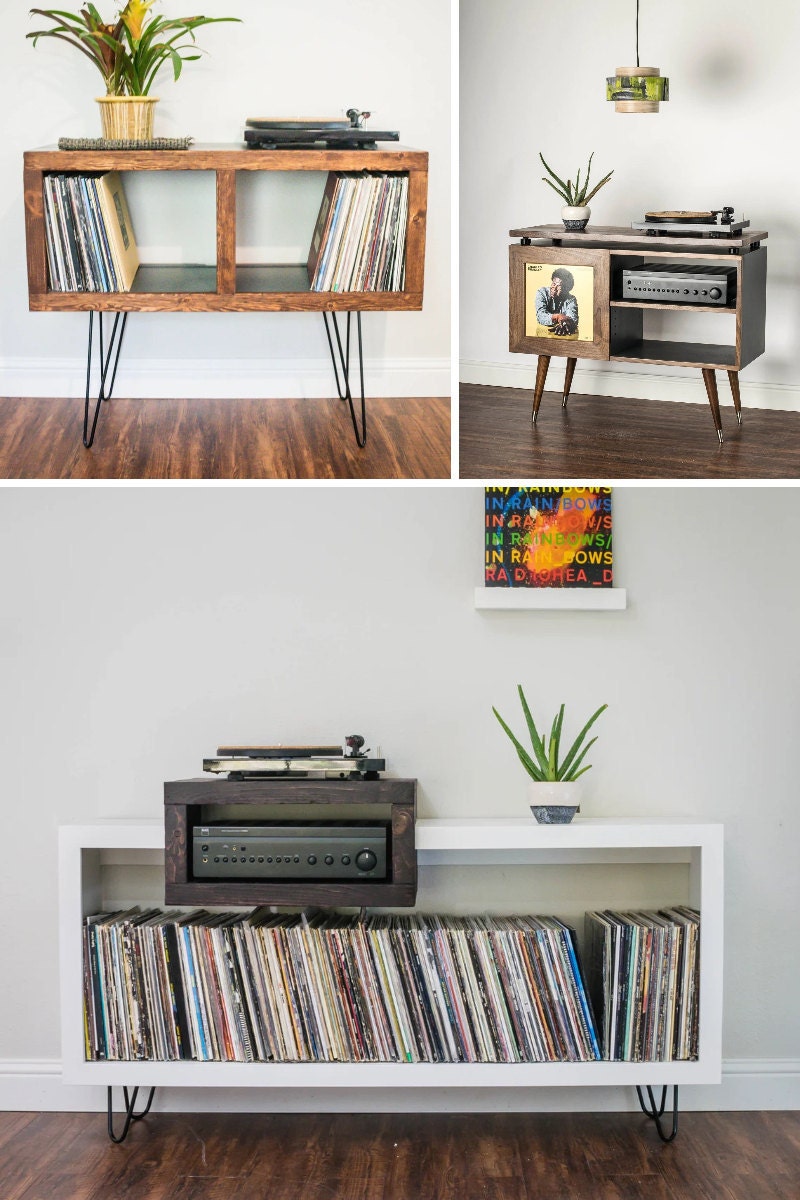 SHOP (clockwise from top left): Mid-century–inspired rustic media console, $675; mid-century–inspired record player stand with storage, $2,699; mid-century–inspired vinyl storage cabinet and record player stand, $1,195; all from Tactile Audio Furniture
Influenced by their deep love of music, Shaun Beall and Angie Zimmerman of Tactile Audio Furniture aim, in their own words, "to design functional furniture that makes your music look as good as it sounds." And judging by their customizable collection of rustic record player stands and mid-century–inspired vinyl storage units, the Colorado-dwelling duo have nailed the category. Perhaps unsurprisingly, the thing that unites all of their buyers is a shared passion for sound. "We get a fair number of clients who have inherited a vinyl collection from a family member or loved one and they want a custom piece of furniture to celebrate and honor that person's memory," Angie says. "There's something inherently magical about music that connects and moves us all."
Farmhouse furniture, handcrafted to last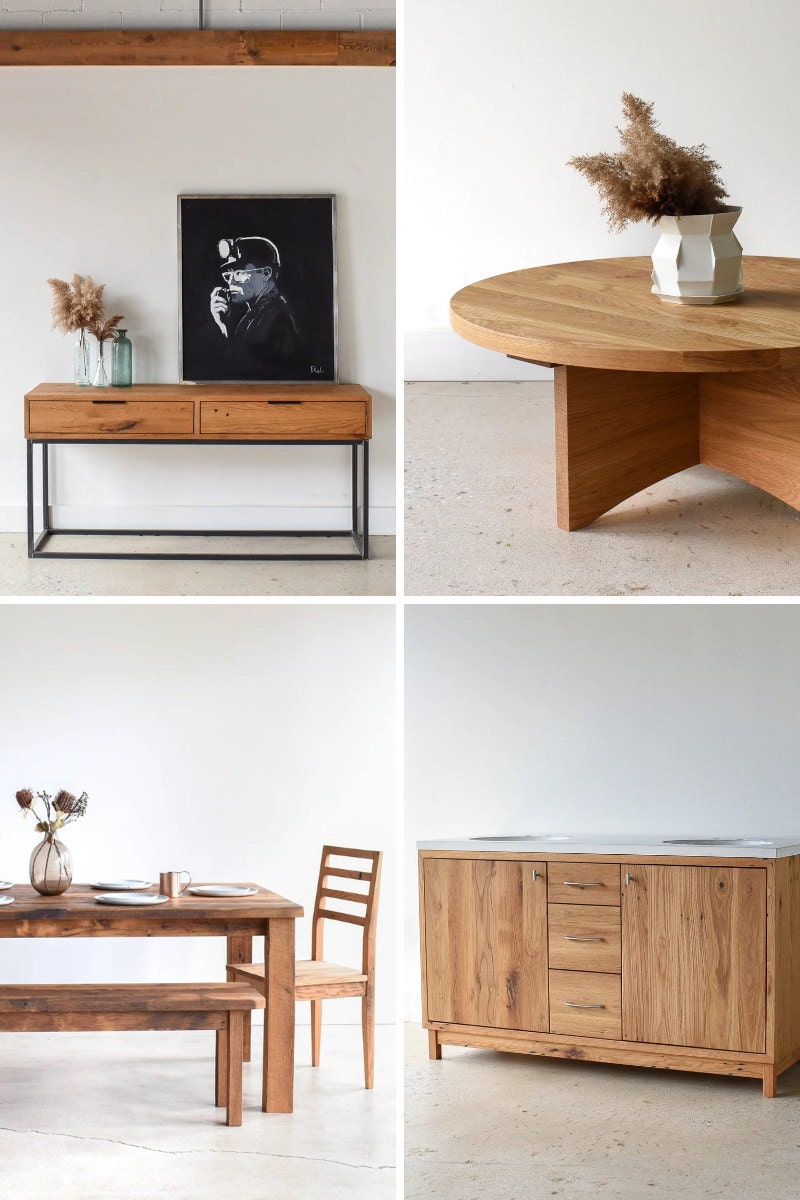 SHOP (clockwise from top left): Console table with storage, from $2,145; sculptural round wood coffee table, from $1,795; reclaimed wood double sink bathroom vanity, from $2,975; reclaimed wood plank farmhouse dining table, from $1,745; all from What WE Make
Each piece of furniture in our homes should be both useful and beautiful, and the sophisticated, reclaimed wood furnishings from family-run Illinois shop What WE Make easily tick both boxes. "Taking something from concept to a functioning piece of furniture never gets old," says co-owner Dan Quinn. "We take a lot of pride in designing pieces that look good and will outlast us." Whether you've got your heart set on an elegant farmhouse table with tapered legs or a bathroom vanity brimming with storage, the team's custom order process starts with collecting as many details about your dream design as possible. Next, they'll create an Etsy listing specifically for you, and share photos of the finished piece before it's shipped to your door. Dan's advice for those ordering custom furniture? "Be patient. It is better to wait for something you love."
Elegant open-air shelving for homes of all sizes
Jay Lee and Caroline Coolidge | Soil & Oak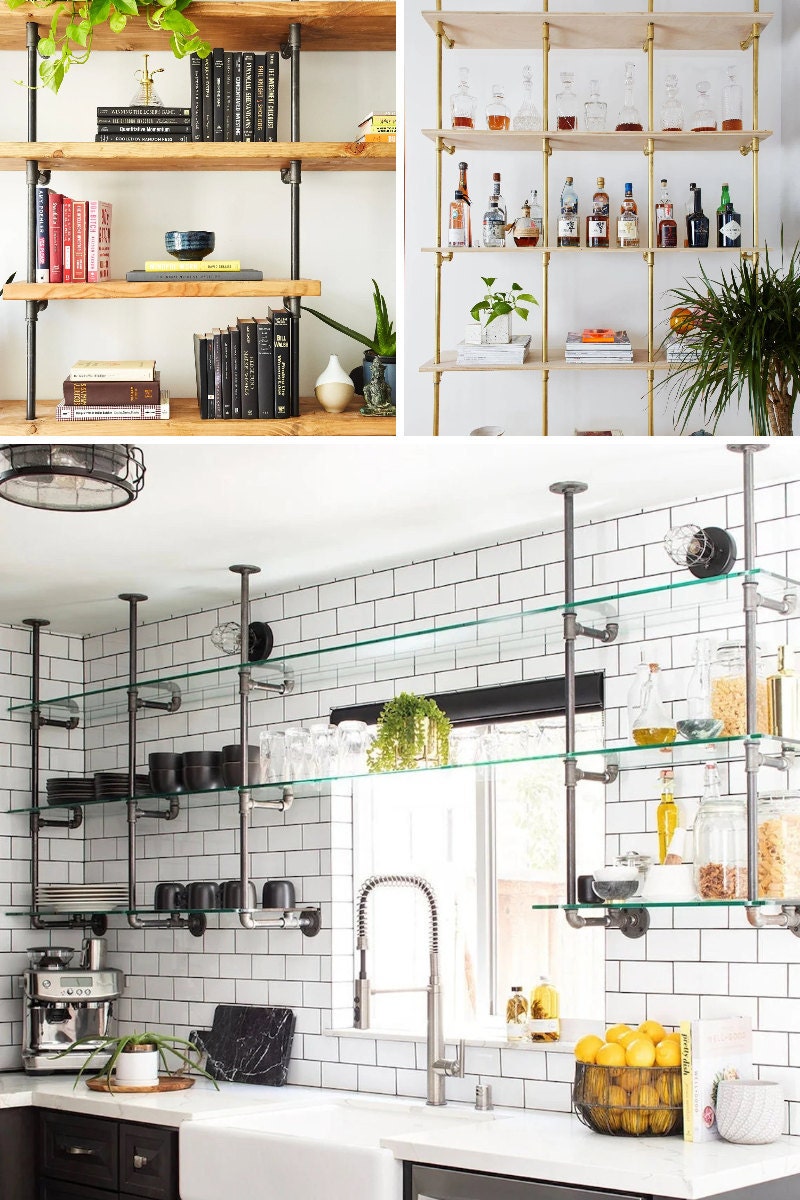 SHOP (clockwise from top left): Black steel pipe shelving unit, $1,100 ; birch plywood shelves with brass-plated rails, $500; French bistro glass and steel shelves, from $350; all from Soil & Oak
"In every single room, there's hidden potential for what a shelf could do, from simple display and storage to a centerpiece," says Jay Lee, one half of the New York team behind innovative shelving shop Soil & Oak. Together, he and his partner Caroline Coolidge have crafted custom shelves for everything from a family restaurant rebuilding after a fire to a bookshelf for a customer looking to display his collection of…trumpet mutes. "After responding, 'What the heck is a trumpet mute?', we had a really fun conversation," Caroline says. "The final unit featured lots of varying shelf heights to account for all the different shapes and sizes." In addition to their stylish and multifunctional line of shelves, the pair also design a range of dreamy butcher block desks—some of which can even be integrated with their shelving. And, their process is so seamless, they frequently move from first contact to final design within just two days.