The best dog collars show off your dog's personality, and these unique, hand-crafted picks are like the treat that keeps on giving.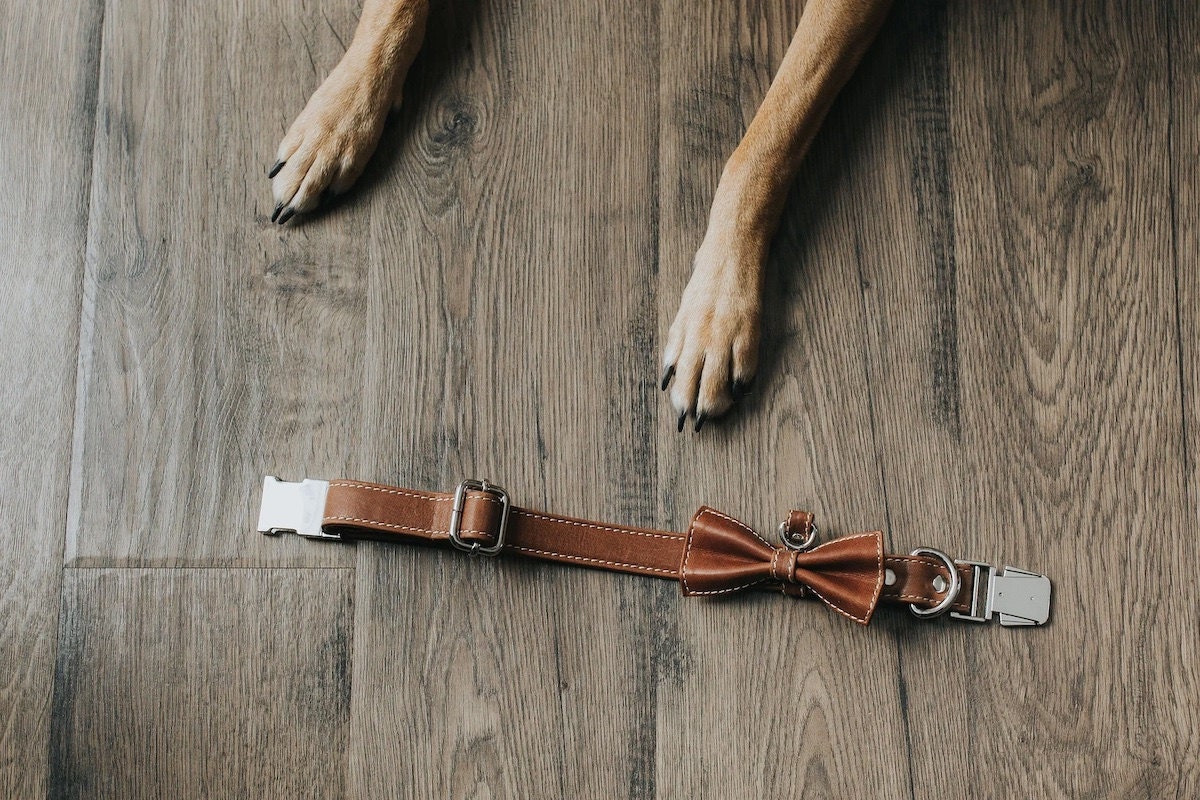 Dogs aren't just pets, but they're a part of your family. And the best leashes and collars aren't just a convenient walk accessory, they can be a serious fashion statement, too. From quick release collars to personalized dog collars to bow tie collars for special occasions, these are the best dog collars for your furry family member.
Best large dog collars
Calling all Great Danes, Pit Bulls, German Shepherds, Clifford, and other would-be giant pups: For larger doggies, you need a collar that's big on comfort and size, like these picks for the best dog collars for large dogs.
1. An earthy dog collar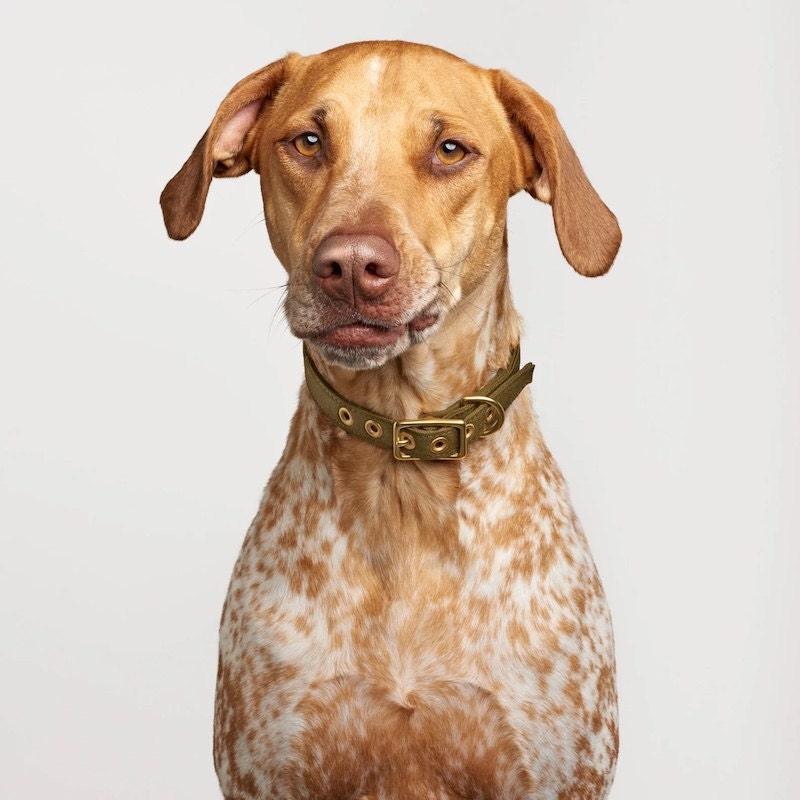 SHOP: Olive and brass dog collar from Animals In Charge, $35
If you get calm beach vibes from this large dog collar, it's not just you: This collar was handmade in a restored surfers shack on the East Coast of Australia using recycled plastic in a classic earthy olive color.
2. A patterned padded dog collar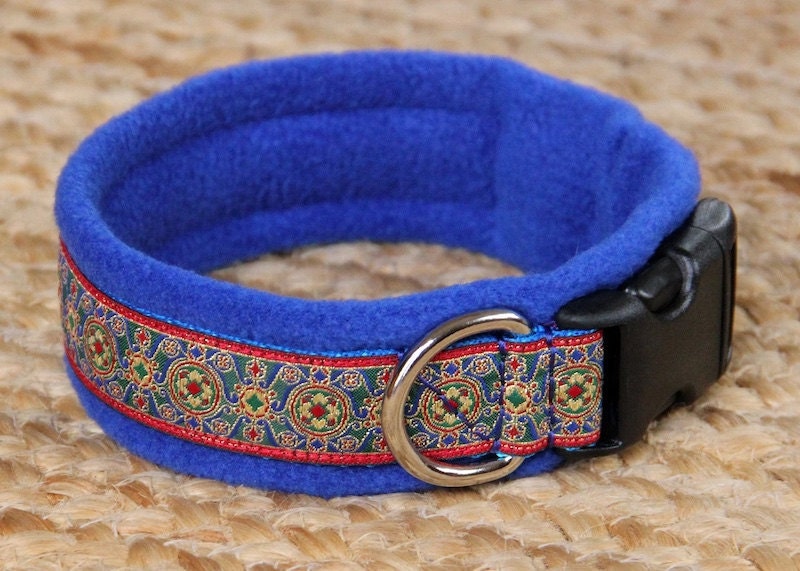 SHOP: Padded, made-to-measure dog collar from Padded Collars, $25
This quick-release collar is padded with fleece for your dog's comfort and has design choices to match your pet's (and your) style. The best part is every collar is made to measure, so you can rest assured that this custom dog collar will fit like a charm.
3. A dotted dog collar sized for your pooch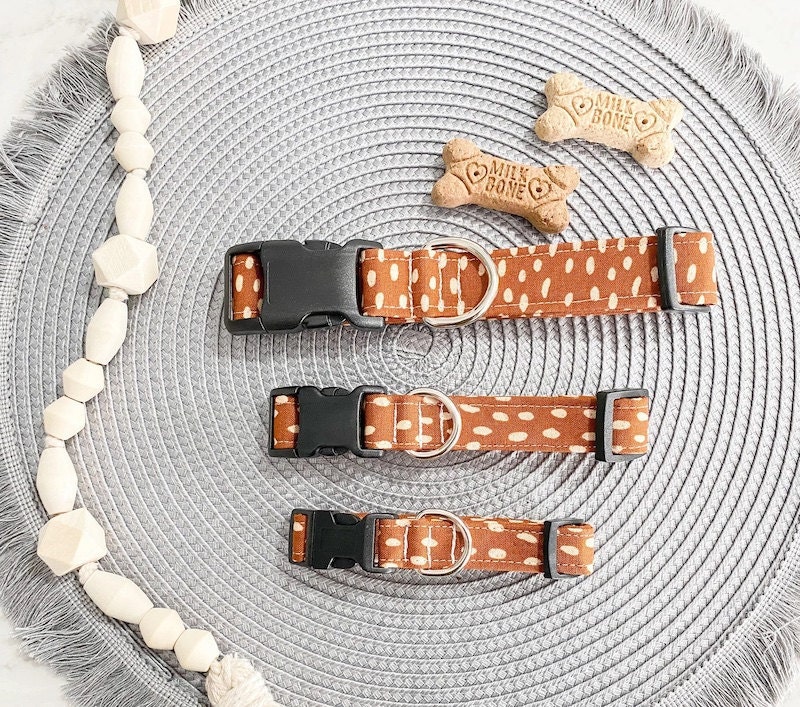 SHOP: Modern polka dotted dog collar from Sew Doggy Boutique, from $16
This dotted pick is the Goldilocks dog collar: Not too showy, not too plain. Heavy duty, but cute. And with sizes up to XL, your pupper will find the large dog collar that fits just right.
Best small dog collars
Small dogs seem to have all the fun: They get to travel around in a handbag, can easily sit in your lap, and they get to wear itty bitty collars to fit their dainty little necks. And somehow, they get to pack all their personality into such a small package. Here are some of the best small dog collars.
4. A small dog collar with a chic design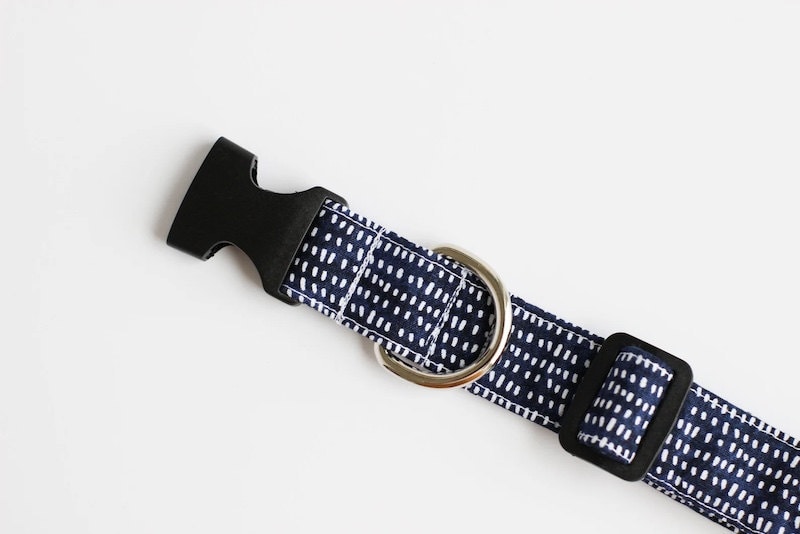 SHOP: Extra small dotted dog collar from Pocky and Pepper, $20
A modern take on the traditional polka dot, this small dog collar has a sophisticated look while still being fun and playful—much like your spunky pooch.
5. A collar for your sugar pie
SHOP: Sorbet striped dog collar from Padded Collars, $14
We know your dog lights up your life and brings scoops of joy to your family, so this sorbet-striped pattern is perfect for a furry friend that's sweeter than sugar.
6. A narrow leather dog collar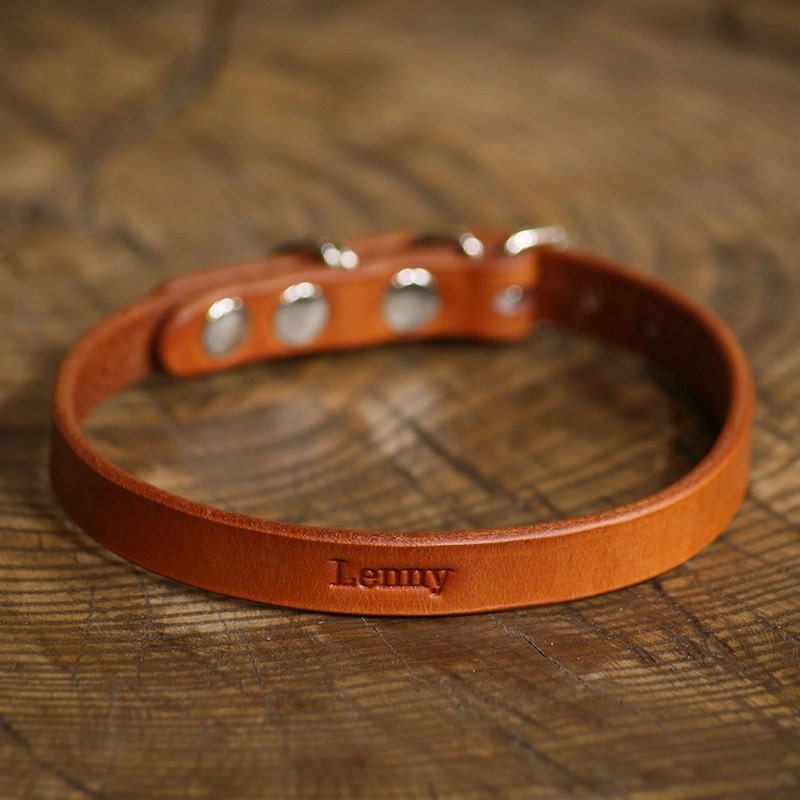 SHOP: Small personalized leather dog collar from Old Country Leather Co., $21
This simple and narrow collar is versatile for any occasion (or doggie play date) you have planned, and it's sized with your tiny and toy dogs in mind. Have your cutie's name embossed into the leather and your pooch will be the talk of the dog park.
Best personalized dog collars
Having a personalized dog collar that is uniquely designed for your dog has a lot of benefits: It's the perfect fit for your dog's size and personality, but the best part is that customized collars can have your dog's name (and maybe even your home address), so wherever they go, folks will know they have a forever home.
7. A custom dog collar with studs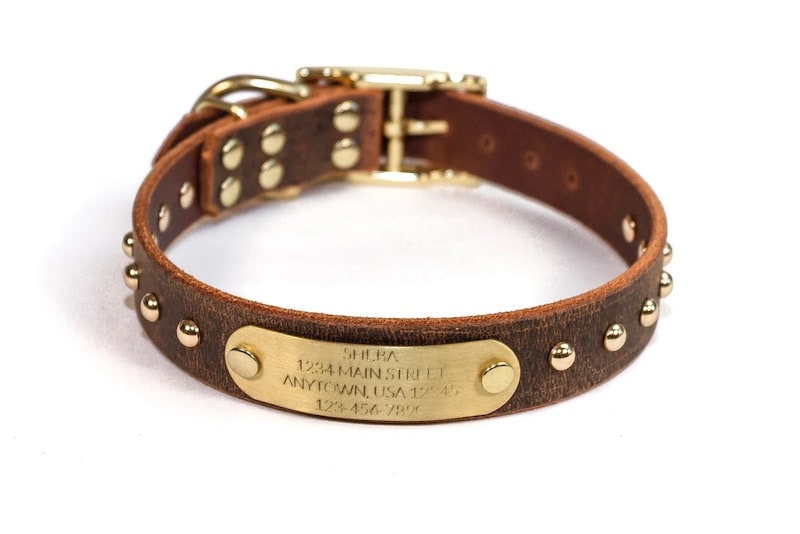 SHOP: Distressed brown leather collar with personalized name plate from Copper Leaf Leather, from $41
If you're worried your canine companion will unexpectedly head on an adventure on their own, they'll be sporting their name, home address, and their human's phone number with this distressed leather custom dog collar adorned with brass studs.
8. A hand-stamped leather collar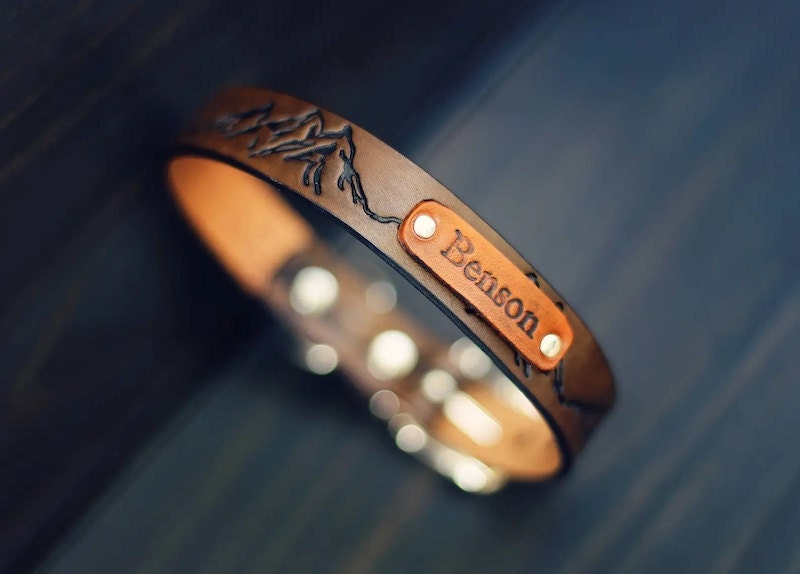 SHOP: Custom leather dog collar from Foytik, $32
Not only does this custom dog collar come with a stamped leather name tag, but it also allows for customization of its embossed design. Hiker pups can sport a mountain range, nautical doggies can show off their anchor collar, and your little sweetie can wear her roses with a floral-stamped collar.
9. A checked and personalized dog collar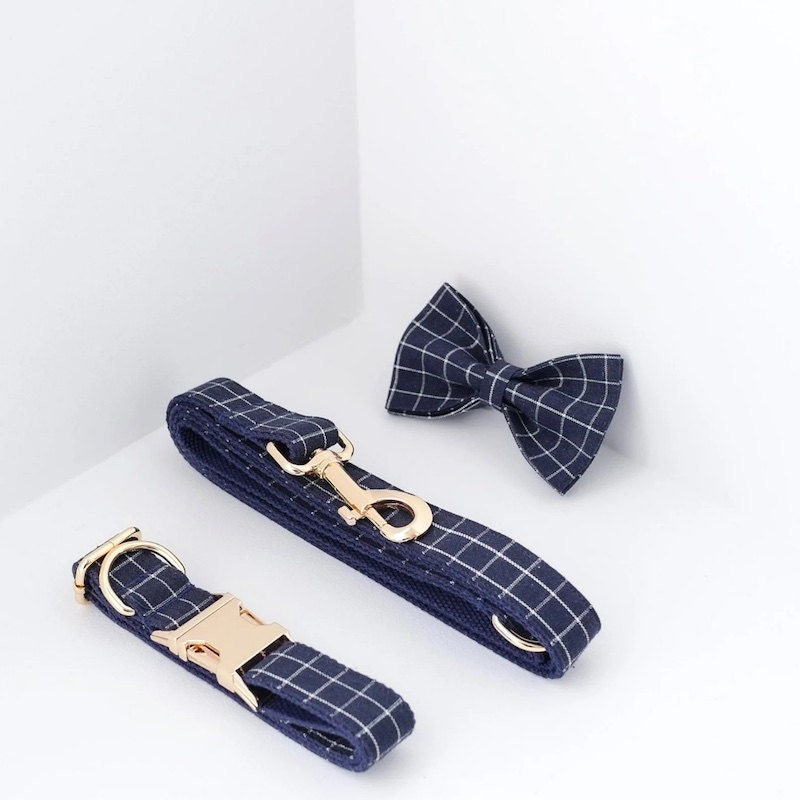 SHOP: Personalized collar with checkered pattern from Bobo collar, from $20
For the pupper that always lays on the charm, this check-patterned collar is a fantastic fit. Add your dog's name and phone number to the buckle—and maybe add a bow tie collar for those extra-fancy doggie dates.
Best leather dog collars
A classic choice for Fido, leather dog collars are durable, have a soft suede texture around the neck, and look sharp, too.
10. A leather bow tie collar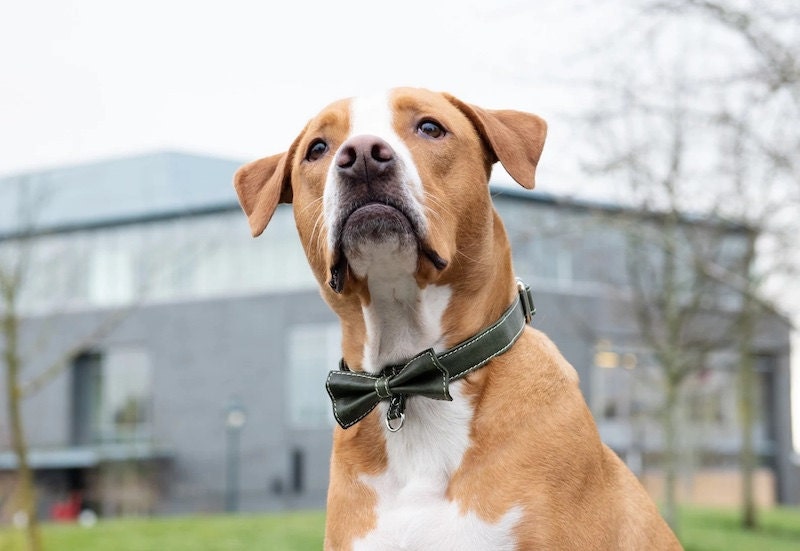 SHOP: Quick release leather bow tie dog collar from The Leather Expert, from $38
Business in the front, party in the back: This ultra-cool leather dog collar comes with the added bonus of being a dog bow tie collar for your distinguished gentleman of a doggo.
11. A stamped and engraved leather collar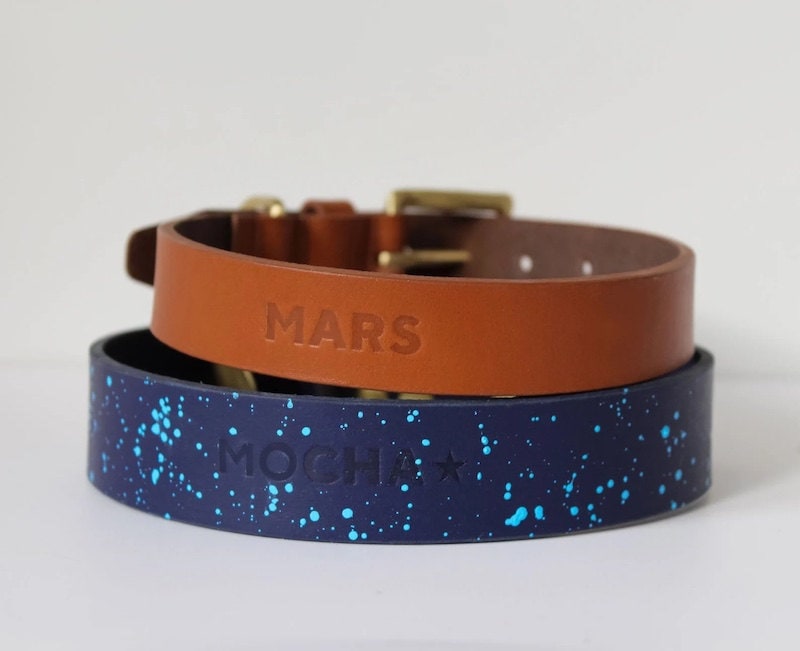 SHOP: Personalized tan leather dog collar from Mars And Mocha, $31
This leather collar is customizable to a T: It is hand-stamped with your dog's name, has multiple leather color styles, and you have the option to add a playful paint splatter pattern in either lilac or blue paint. The possibilities are endless.
Best studded dog collars
For punk-rock fans and edgy aesthetics, studded dog collars make your furry friend look like a toughie—even if they're really a marshmallow softie.
12. A pyramid studded dog collar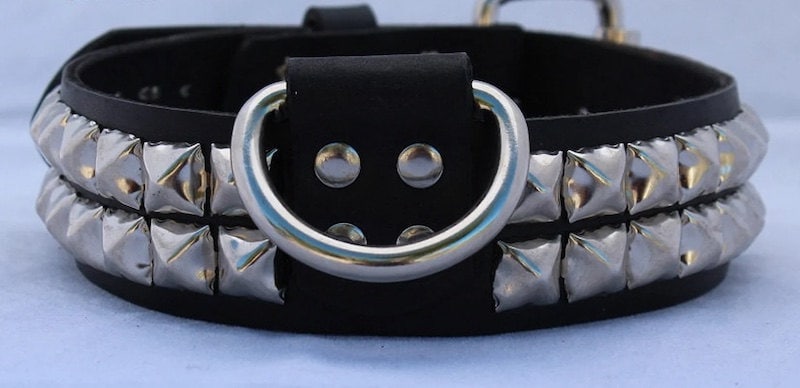 SHOP: Pyramid studded dog collar from Guillen's Leather, from $38
This studded leather collar features chrome pyramid studs and a silver D ring for heavy metal feel. Plus, buyers are raving about the quality of these collars for their pooches—rock on!
13. An understated studded collar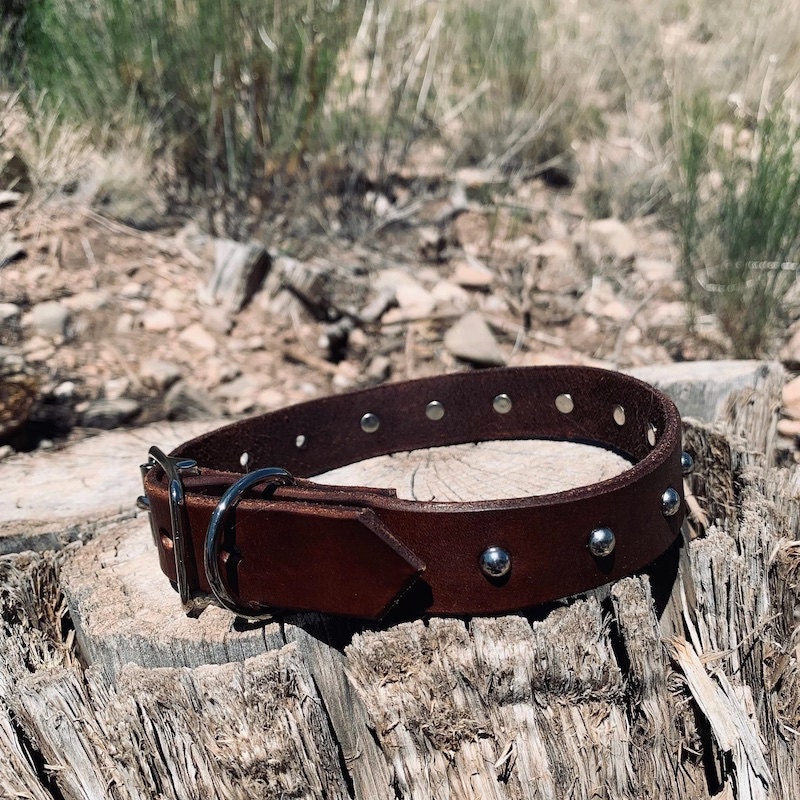 SHOP: Simple studded leather dog collar from The Dark Mark Co., from $20
If you're looking for a more subtle studded collar, try this leather dog collar with a single row of round studs for a pared down look. Choose from bronze or silver studs to match your pup's favorite leash or harness.
Best plaid dog collars
No matter what color scheme or checkered pattern, these plaid dog collars will have your fur baby ready for a picnic, a round of fetch, or a summer romp in the grass.
14. A colorful plaid collar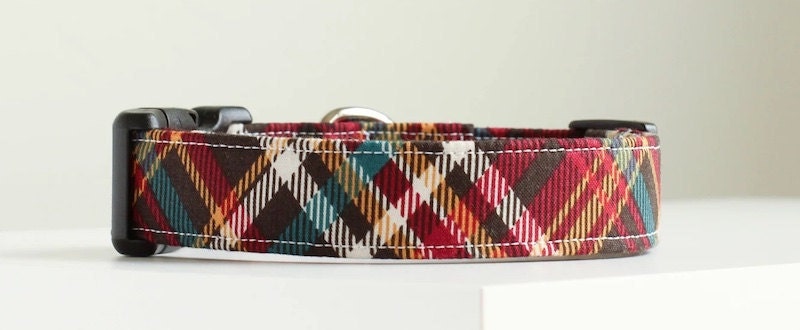 SHOP: Earthy plaid dog collar from Pocky and Pepper, $20
This colorful plaid collar is a mix of earthy hues with tones of brick red, turquoise, and golden mustard. With its beautiful colors, it can be dressed up for a merry and bright holiday season or dressed down for the summer backyard barbecue bash.
15. A lumberjack-inspired collar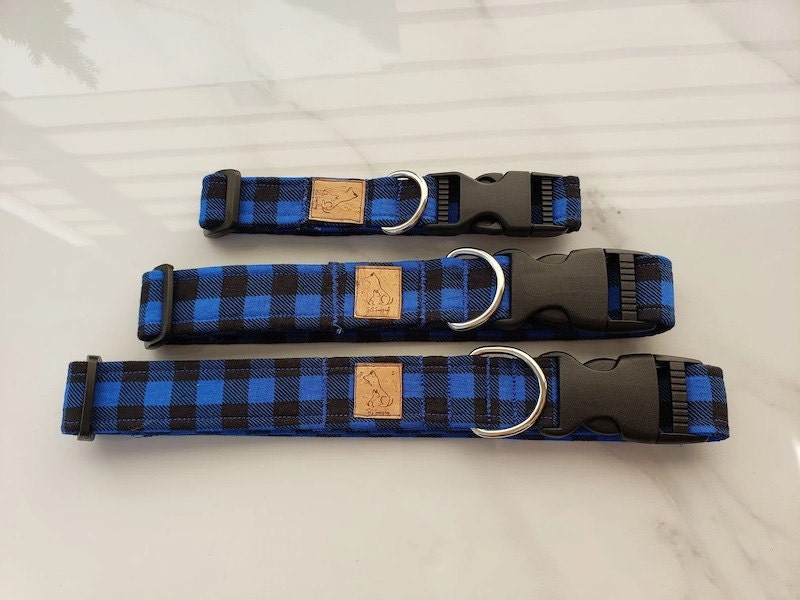 SHOP: Blue buffalo plaid dog collar from SG Supply, from $10
Whether your pooch is large or small, a purebred or a mutt, this buffalo plaid dog collar is a great fit for hiking or snuggling by the fire—and maybe even matching their favorite human's flannel shirts.