Whether you've got a large dog, a chomping chewer, or a high-energy pup who pulls, find the best dog leash that's perfect for your pooch.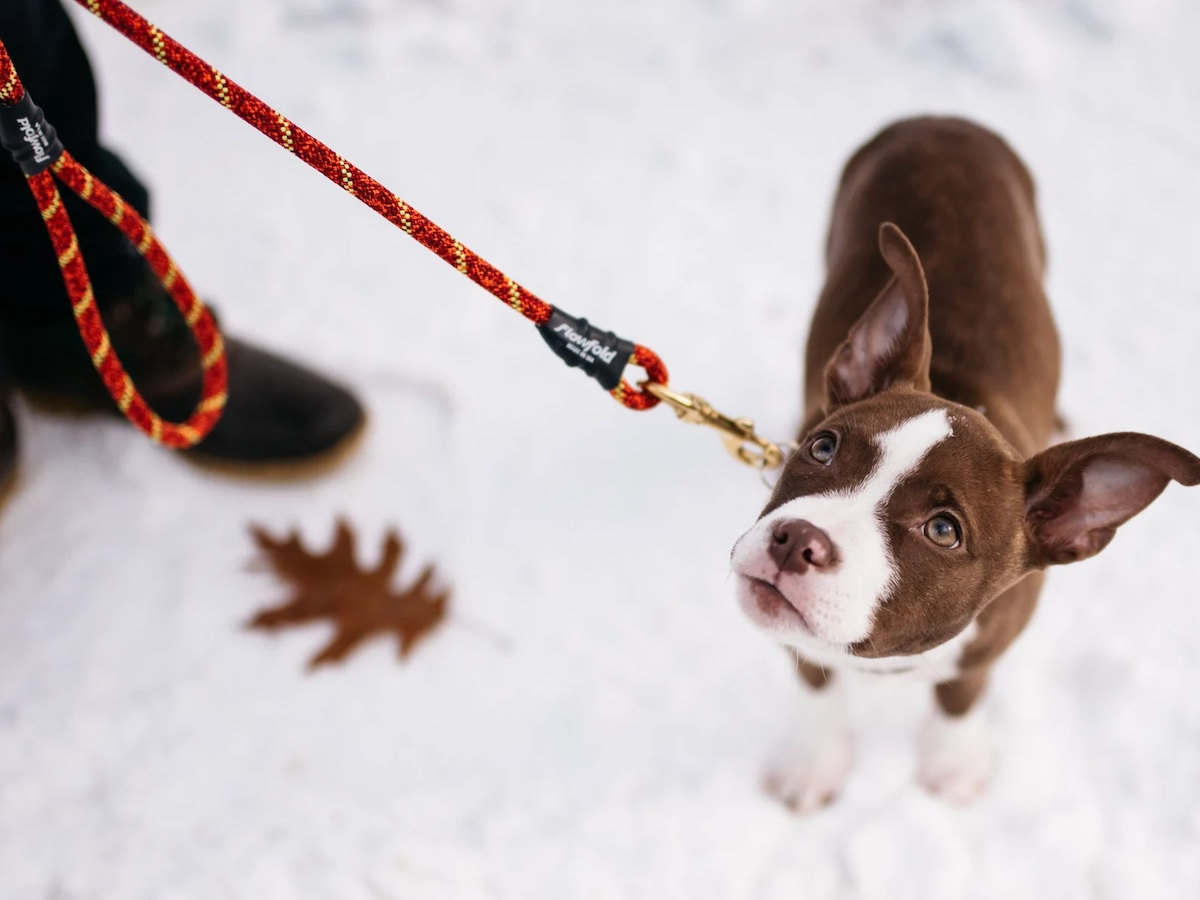 We know you're devoted to your darling dog. You stock up on all the best treats, regularly brush out and wash their fur, pick out all the best dog toys, and regularly take them on walks—rain or shine. In addition to their collars, dog leashes are an accessory you and your pooch use every day, so it's important to find the right one to accompany you on all of the walks, errands, and adventures you have in store.
These are the best dog leashes for your pup's needs, whether it's a chic leather dog leash, a hands-free leash for jogging, or a durable rope dog leash for your pup who likes to pull you along the sidewalk.
Best long dog leashes
While the standard dog leash is between 5 and 6 feet long, a long dog leash is between 8 to about 15 feet long. Best paired with harnesses and dogs that have already been trained with shorter leashes, long leashes give your pooch a little more freedom to roam around on your regular walks to the park or hiking your favorite woodsy trail.
1. The best patterned dog leash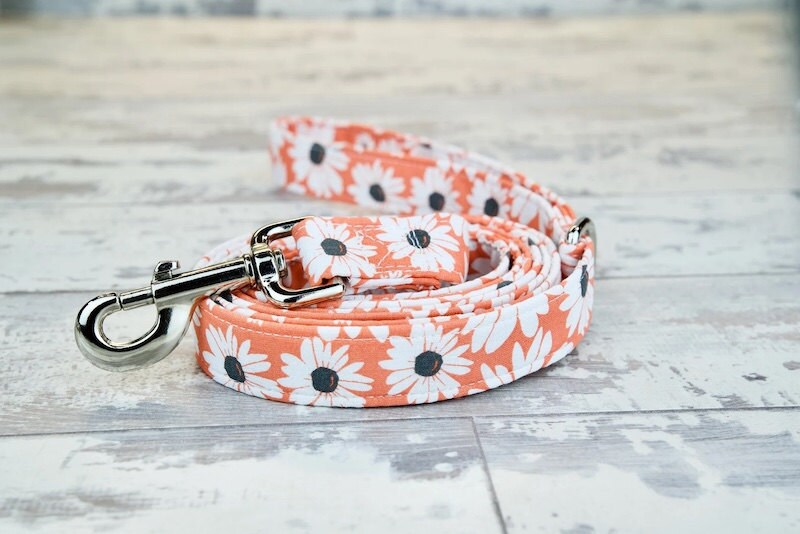 SHOP: Patterned dog leash from Taghouse gifts, from $24
Your pup has a lot of personality, and your dog leash should reflect all that spunk. This patterned long dog leash comes in a variety of styles up to 12 feet long. Love a matching set? Get a dog collar in the same pattern for a color-coordinated walk.
2. The best extra-long dog leash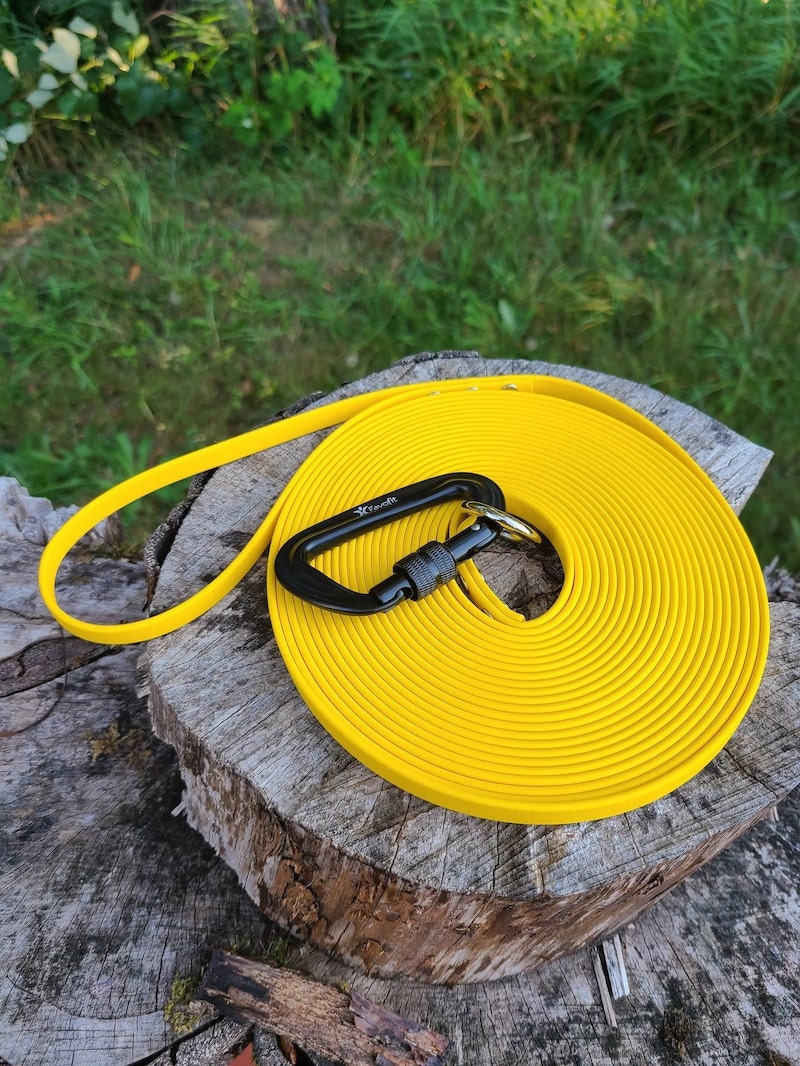 SHOP: Waterproof long dog leash from CSJ Creations, from $20
This long dog leash is waterproof and offers lengths up to 50 feet to give your pooch the ultimate freedom as you hike the trails. While biothane is a strong material, please note that this dog lead is not for chewers. Adjust this pick for the best long dog leash to your pup's needs: You choose the color, the type of metal, and the length to make the perfect style for your poochie.
Best dog leashes for large dogs
Whether your fur baby is a German Shepherd, a Great Dane, or a mutt with big bones and a big heart, having a properly strong and durable dog leash to support your large pup is essential. Try these extra-tough dog leashes for your extra-large dog.
3. The best leash for dogs who pull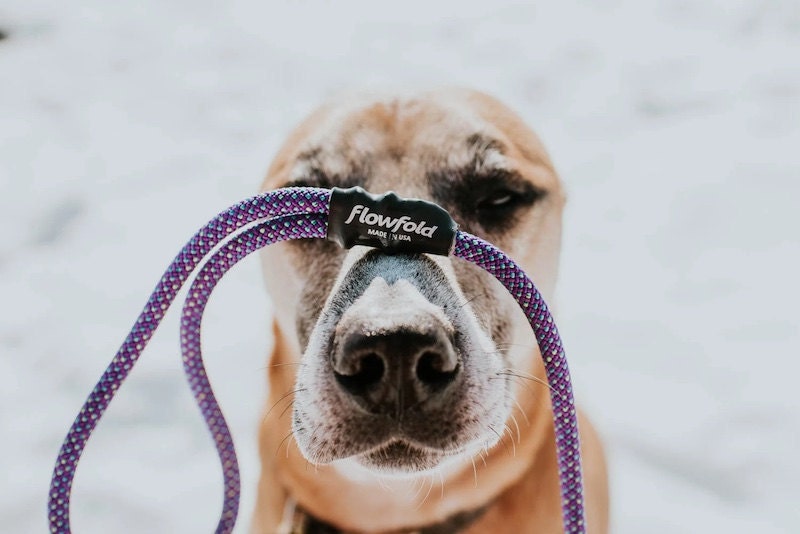 SHOP: Durable large dog leash made from recyclable materials from Flowfold, $25
Have a strong pup that loves to tug? This long dog leash is made from recycled scraps of climbing rope, which has been long-trusted by mountaineers climbing the highest peaks. Buyers love that this leash can handle all the pulls and tugs that their strong, large dogs have in store.
4. The best large dog leash for cities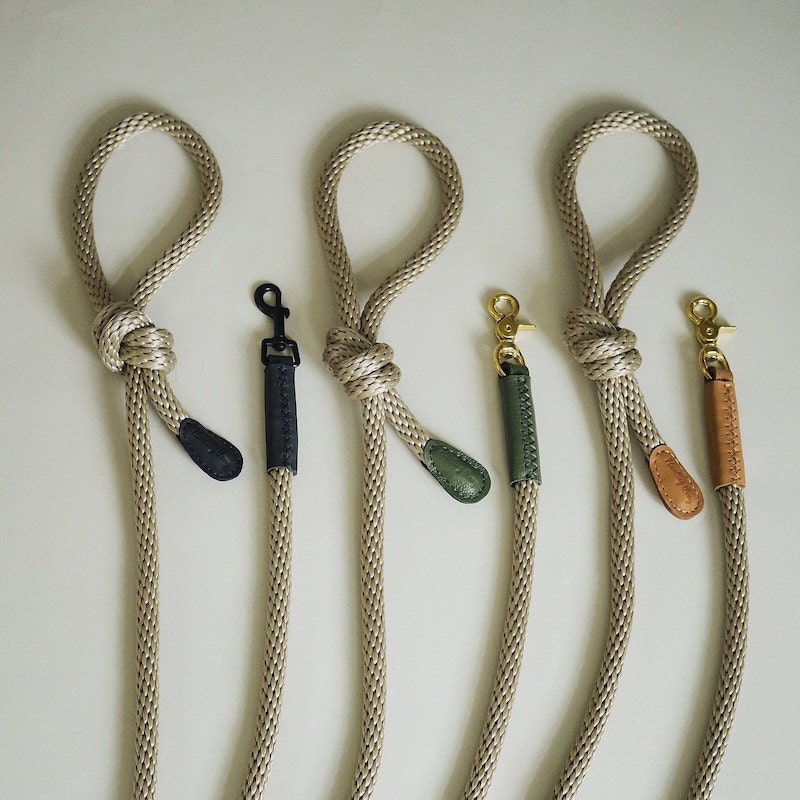 ​​SHOP: Leather and rope dog leash from Hunting Pony, from $59
If you're living in a concrete jungle and taking your large pooch out on the city sidewalk, this rope dog leash is for you. With its elegant but durable look (thanks to multiple leather color options), this leash is both velvety soft and durable, so your giant fur baby can prowl the city streets with you in style.
5. The best heavy-duty dog leash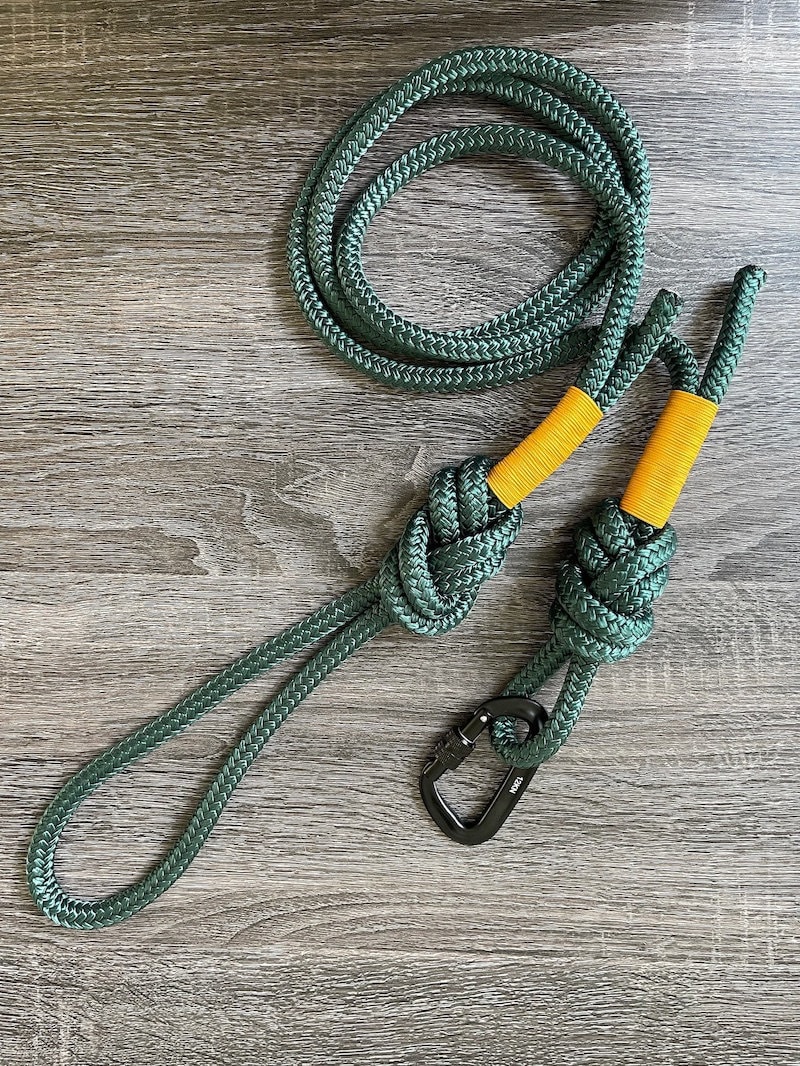 SHOP: Strong rope dog leash with multiple color options from Safe and Hound Co., from $17
This super-strong rope leash is made from double braided nylon, so you can feel extra secure when your big buddy shows you how much muscle he really has. With over 20 color options, you could have the entire color wheel and then some. Choose from vibrant turquoise to olive green to rose gold to make your leash pop.
Best hands-free dog leashes
Similar to long leashes, a well-trained pup with a harness is ideal for a hands-free leash, as you don't want to pull at your dog's collar and neck as they trot ahead of you. Hands-free dog leashes make it easy to take your beloved pooch out on a run or pick up after him without having to negotiate holding a typical dog leash. Just slip it around your waist and clip your pup's harness in and you'll be ready for action.
6. The best crossbody hands-free leash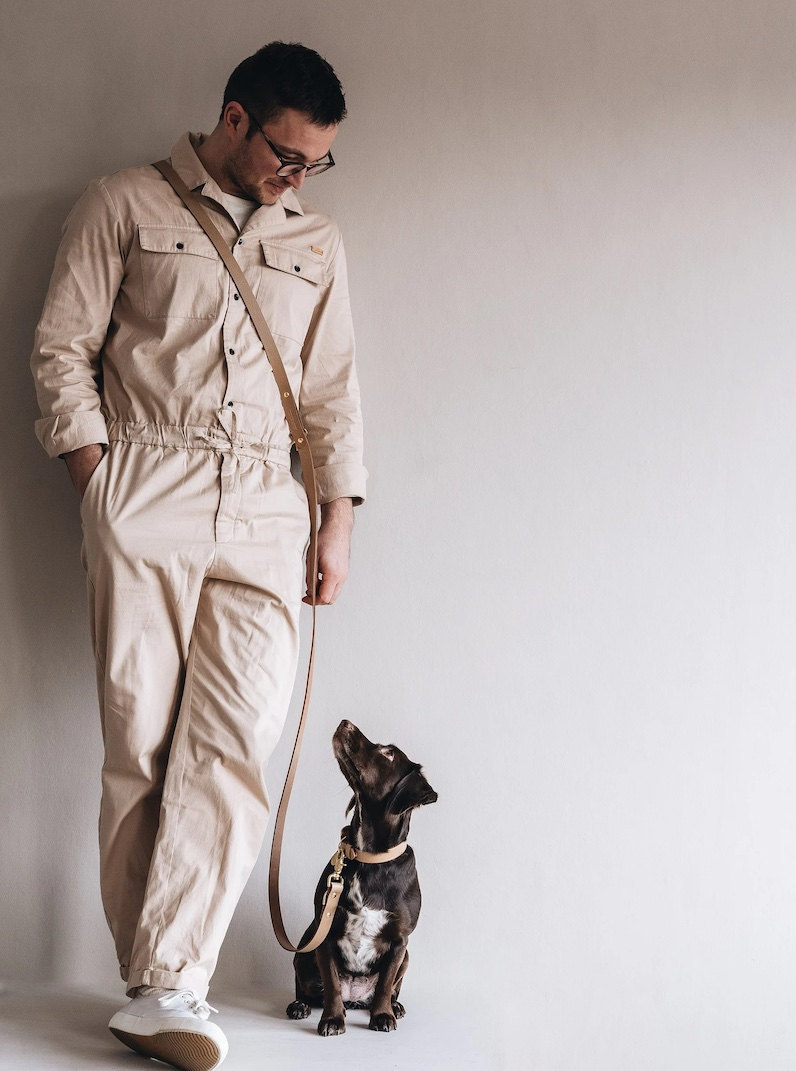 SHOP: Hands-free beige leather dog leash from band&roll, $94
This crossbody leash gives you the liberty to sip your coffee or keep your hands in your pockets on frigid morning walks. And the Italian brass hardware can clip in your roll of doo-doo bags for extra convenience. Looking for something bold and bright? This shop has other colored leather dog leash options, including a deep mustard yellow and forest green.
7. The best multipurpose hands-free dog leash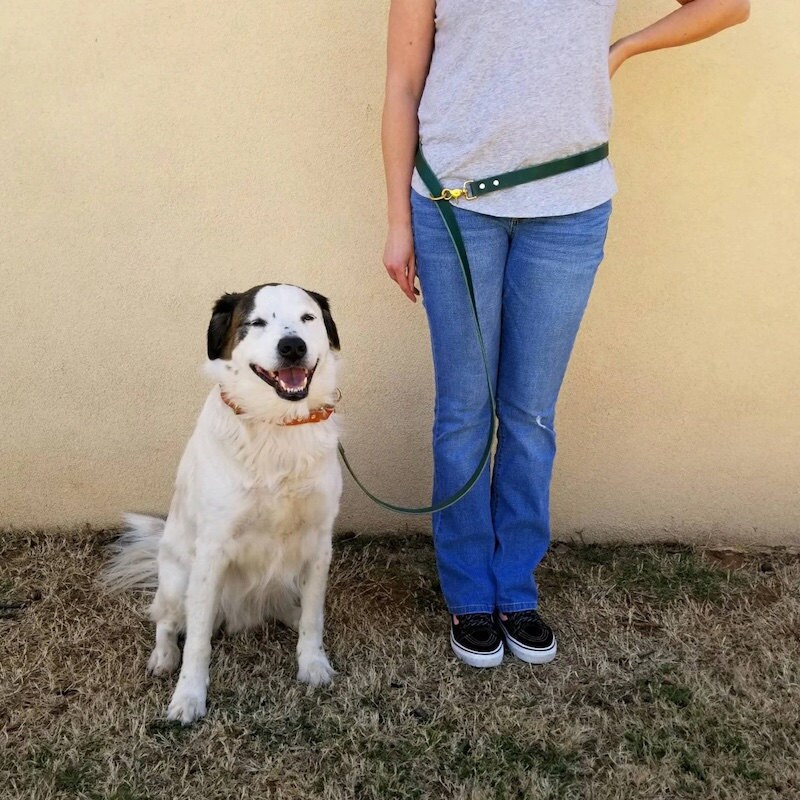 SHOP: Multifunctional hands-free dog leash from Dusty Dogs Workshop, $68
This hand-free dog leash is your Jack Russell Terrier of all trades. It can be worn around the waist, around the shoulder, or placed around a table leg if you're having dinner at a restaurant patio. Have multiple pups? No problem. This leash can also be used as a splitter to walk two dogs. Want personalization? Have your doggie's name stamped into the leather to make this the best dog leash for any occasion.
8. Best hands-free dog leash for training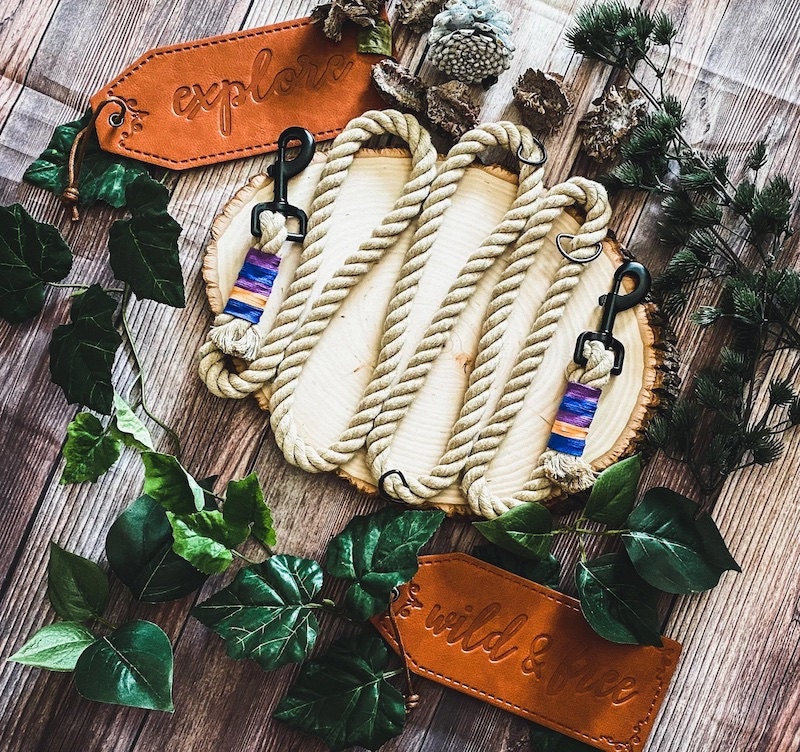 SHOP: Customizable hands-free rope leash from Muddy Paw Co., from $18
This sturdy, adjustable dog leash can fit securely around your waist so you can train your pup with ease. Both ends of the lead are wrapped in oh-so-soft suede, which can add a special pop of color to your pup's walk routine. The best part? You can customize every aspect of this rope leash from the clasp finish, the suede accent's color, and the length up to 10 feet.
9. Best hands-free leash for beginners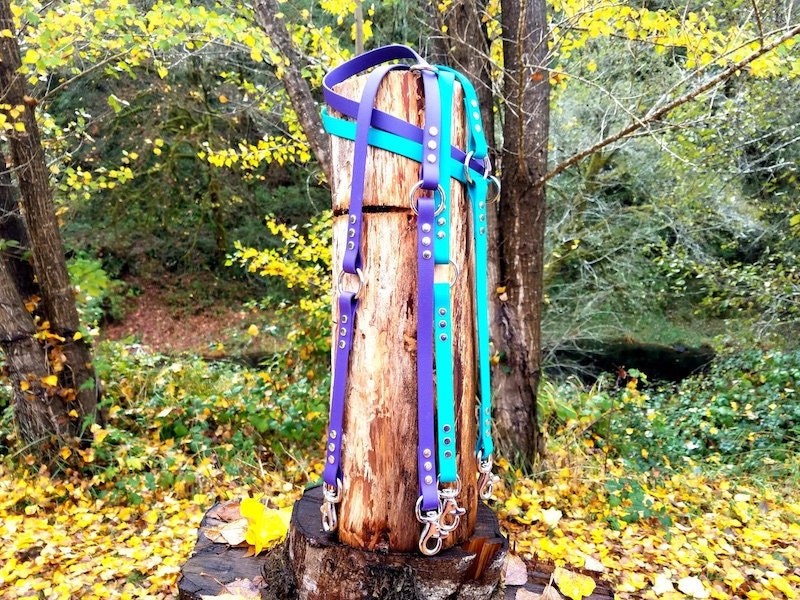 SHOP: Biothane waterproof adjustable hands-free leash from CSJ Creations, from $20
New to using a hands-free dog leash? Buyers adore the helpful how-to guide this seller includes with this adjustable, hands-free leash. Available in a variety of bright, fun colors and metal accents, you'll be hands-free and stylish on your next walk in the park.
Best leather dog leashes
Leather dog leashes are a classic choice, and for good reason: Because leather doesn't typically fray, it's considered a stylish and more durable material alternative to a standard nylon leash. And with these leather dog leash picks with customizable options and beautifully handcrafted designs, you and your pooch will be walking the sidewalk like it's a doggie runway.
10. The best hand-stamped leather dog leash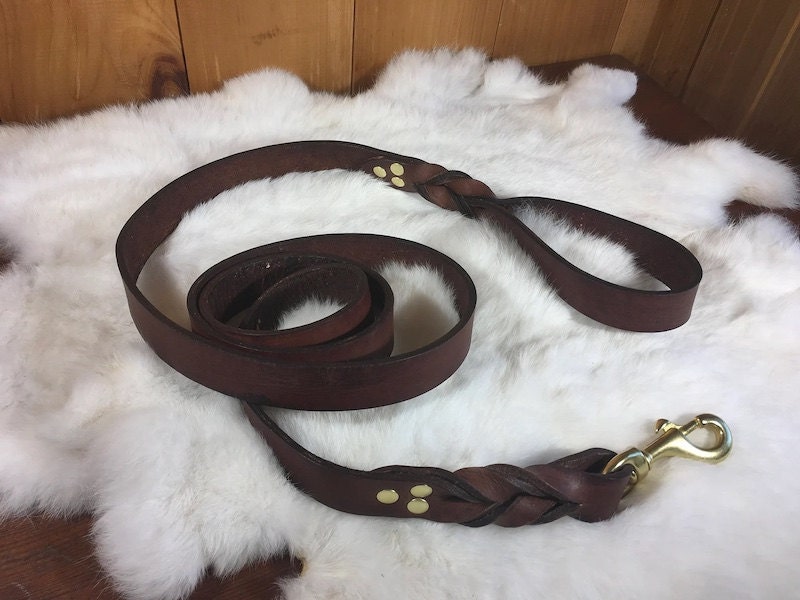 SHOP: Hand-stamped personalized leather dog leash from Frost & Ember Creations, $40
With this leather dog leash, it's all in the details: It boasts braided leather accents on each end of the lead, offers sturdy rivets and hooks made with your choice of bronze, gold, or silver metal, and can be stamped with your pup's name to make it a special, one-of-a-kind leash for your one-of-a-kind dog.
11. The best leather leash and collar set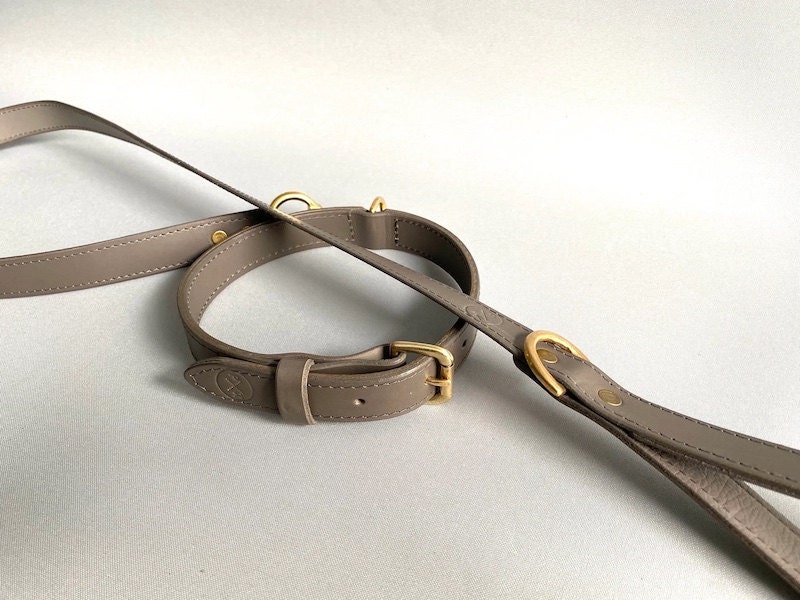 SHOP: Matching leather leash and collar set from Paula Kirkwood, $171
Best suited for medium and large breeds, this hand-dyed leather leash and collar set was handcrafted in a workshop by the sea in Brighton. Buyers rave about the craftsmanship on these leather dog collars and leads, which look chic and sophisticated even with the muddiest pup.
12. The best personalized leather dog leash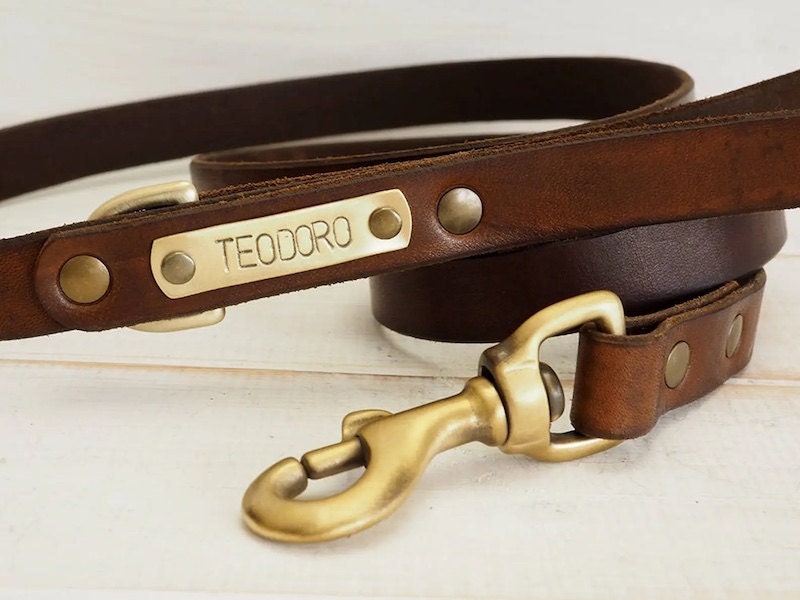 SHOP: Personalized leather dog leash with metal name plate from Vac For Pets, from $26
If you're looking for a perfectly personalized dog leash, look no further than this full grain leather leash with solid brass hardware, and a hand-crafted name plate. Made entirely by hand—from its hand-punched holes to each cut of leather—this leather leash is made to be treasured for a lifetime.
Best rope dog leashes
The best rope dog leashes are durable, flexible, and lightweight. A preferred type of leash for dogs who pull or are on the larger size, rope leashes are strong so when you feel a little tug on your leash line, you won't flinch preparing to hear a sharp snap of your leash breaking.
13. The cutest rope dog leash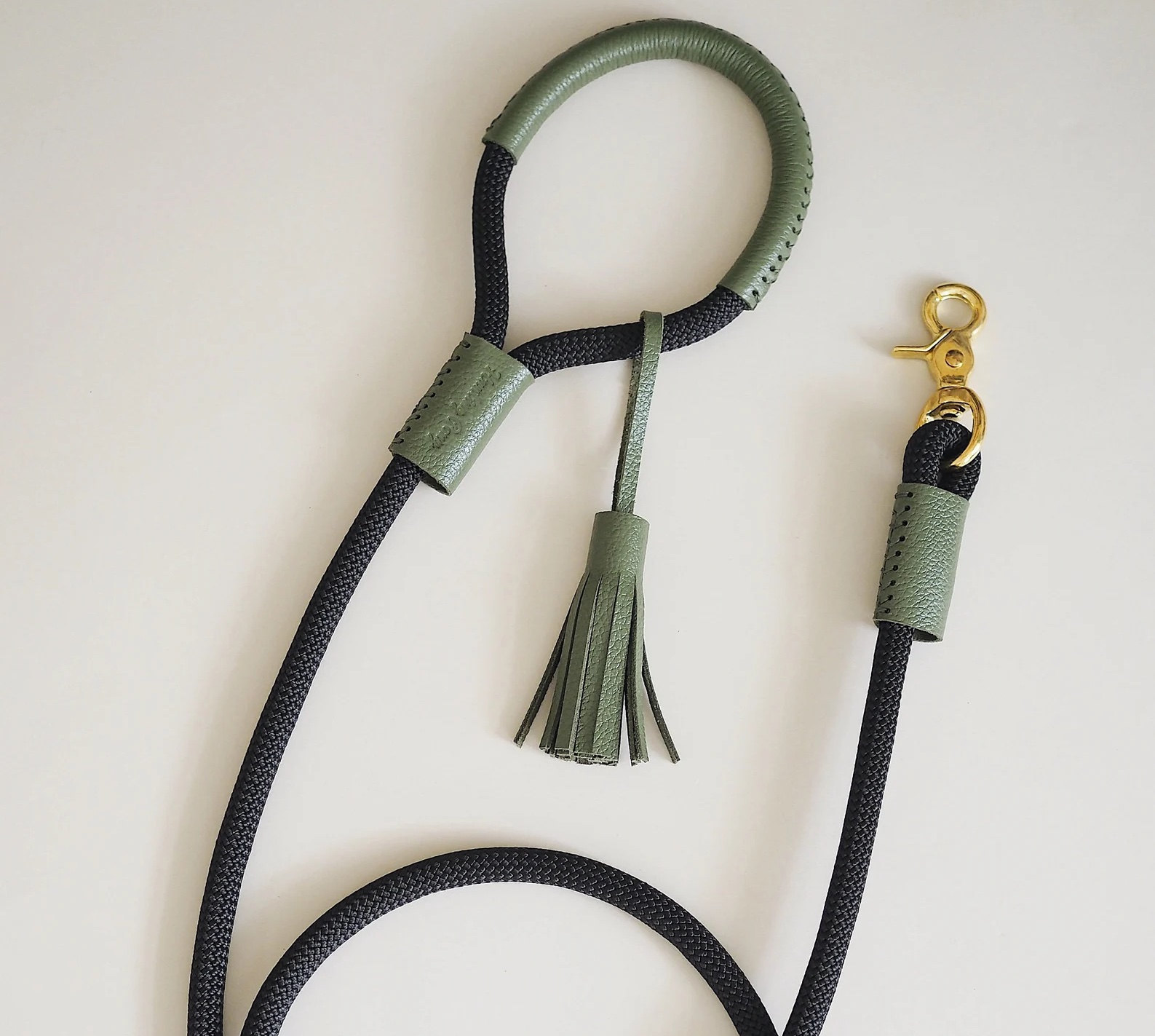 SHOP: Leather and rope dog leash with tassel from Hunting Pony, from $59
Going on walks with your best friend is a joy, and your leash should reflect that joy. This rope leash has the sweetest tassel details and the handles are wrapped in fine leather in the color of your choosing (we personally like the mint green option). Buyers love how beautifully made and comfortable this leash is to hold, making it a cute but powerful pick for your pup.
14. Best paracord rope dog leash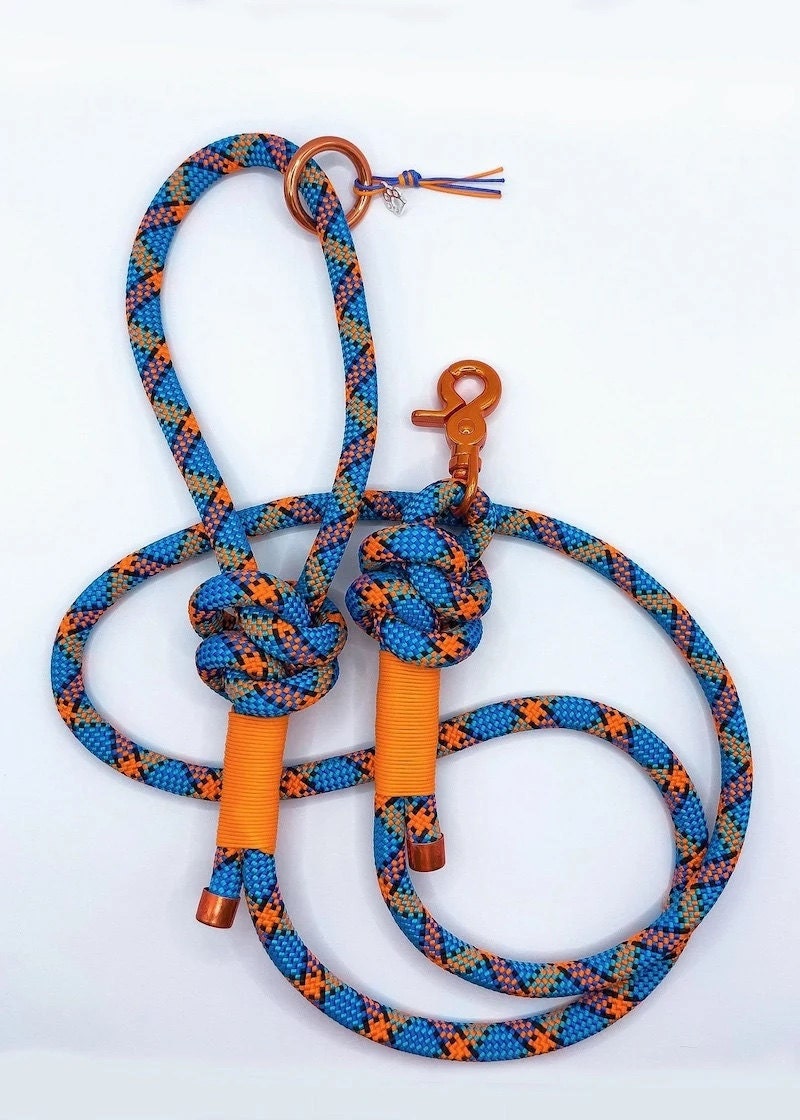 SHOP: Blue and orange paracord dog leash from Jo's Pawesome Shop, $39
This rope dog leash features a color palette inspired by the Rocky Mountains, so your adventure pup will be getting all the compliments on your next hike together. Add a free stamped tag to make this leash personalized, and it will quickly become your favorite doggie accessory.
15. The best boho-chic dog leash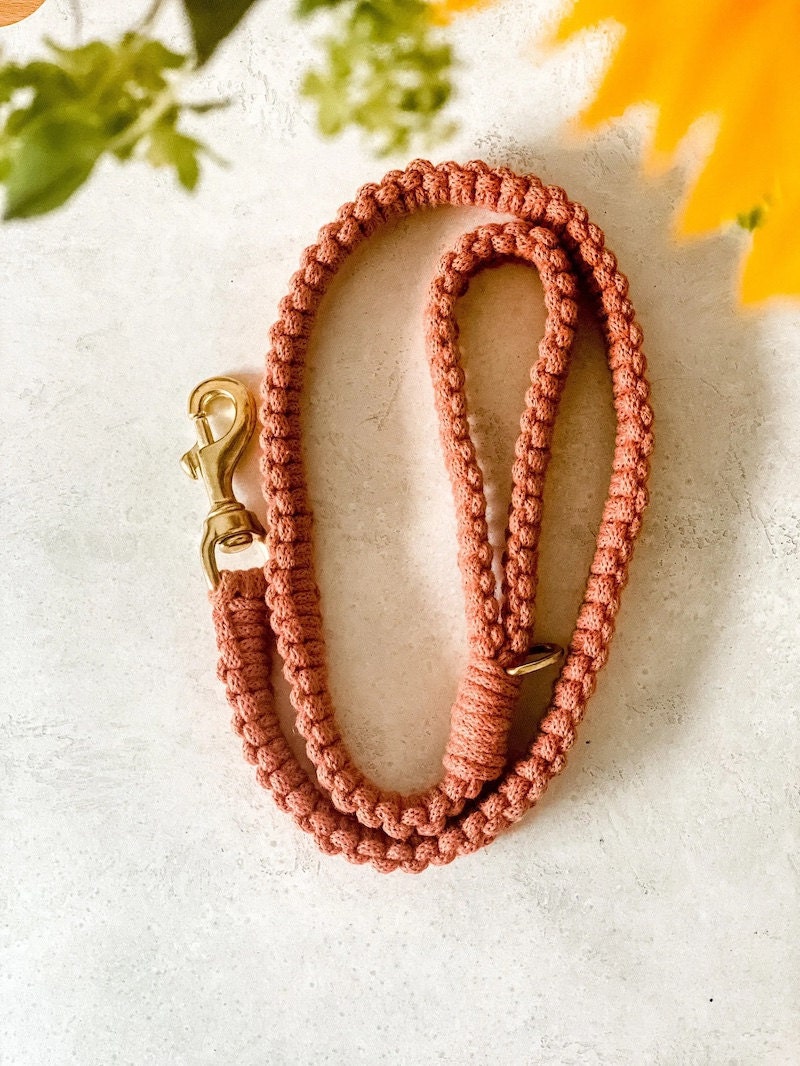 SHOP: Pastel macrame dog lead from RV Home Soon, from $23
Made from sustainable and recycled materials, this macrame dog leash has a gorgeous knotted texture for your small and medium-sized pooches. The pretty pastel colors are a new take on the traditional rope leash. Choose between terra cotta clay tones or sage green hues for the ultimate earthy look.