From beachy summer dresses to chic cocktail dresses and party frocks, shop these picks for the best dresses to update your wardrobe.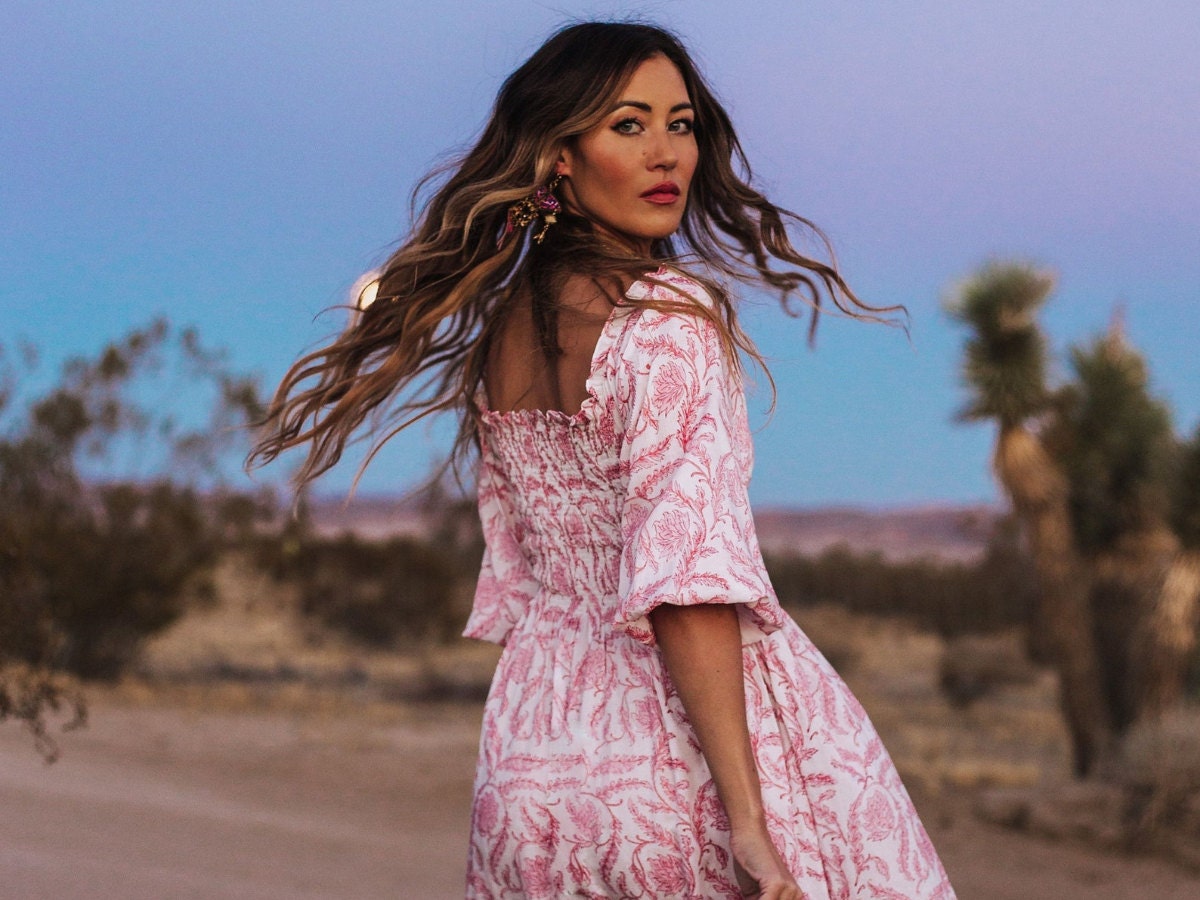 Need a little closet refresh? A cute dress may be the easiest way to put together a stylish look. Just slip it on, and you've got yourself an outfit! Plus, it's easy to dress up or down, depending on the shoes, earrings, or other accessories you choose.
Whether you're looking for some breezy pieces that can travel with you this summer, classic wardrobe staples, or a special dress for cocktails or other events, we've curated a variety of options to fit your budget and personal style. Plus, many of these dresses have inclusive sizing—some can even be custom-made to your measurements for a perfect fit you'll never want to take off.
With everything from colorful printed sundresses, sequin party dresses, cute plus-size styles, and even fun maternity and nursing options, these are the best dresses for any occasion.
Best summer dresses
Your vacation starts now! Whether you're headed to the beach or a barbecue, get ready to enjoy some fun in the sun with these cute travel-ready summer dresses.
1. A flamingo print dress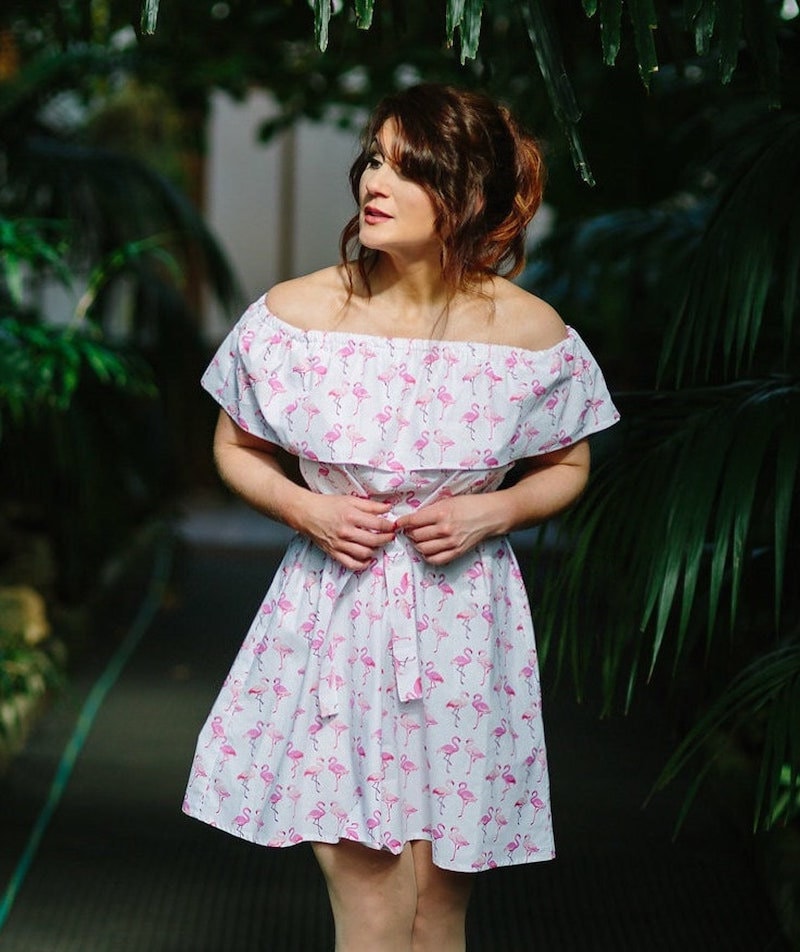 SHOP: Off-the-shoulder flamingo print dress from CottonCandyStore, from $52
Ready, set, flamingo! Whether you're headed to the beach or off to brunch with pals, this cute cotton off-the-shoulder dress with a pink flamingo print will have you feeling the tropical vibes. It comes in a range of sizes: 6–26 in UK sizes, which is the equivalent of 2–22 in US sizes. The seller can also make the dress to your custom measurements.
2. A breezy linen apron dress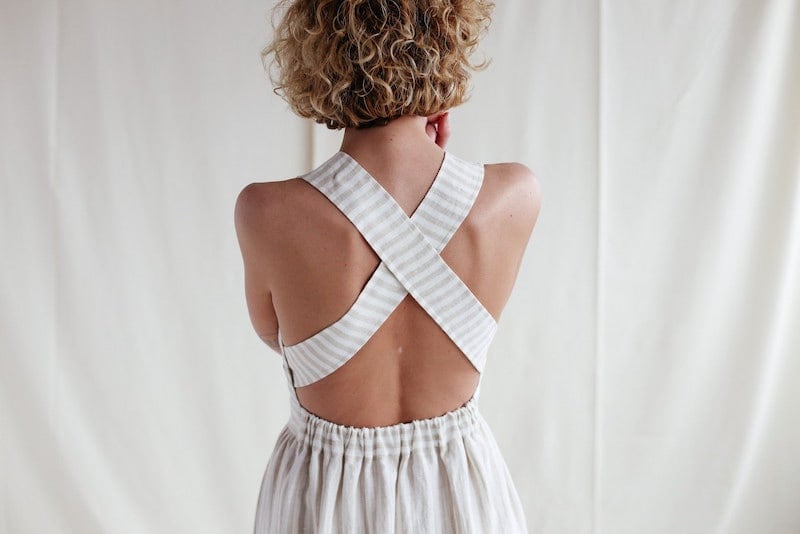 SHOP: Striped linen apron dress from OffOn, $121
Stay cool (and cute!) wherever summer takes you with this lightweight linen apron dress. This travel-ready dress, with criss-cross straps to show off your back, comes in about 50 different color options and in sizes from XXS–XXL.
3. A colorful sundress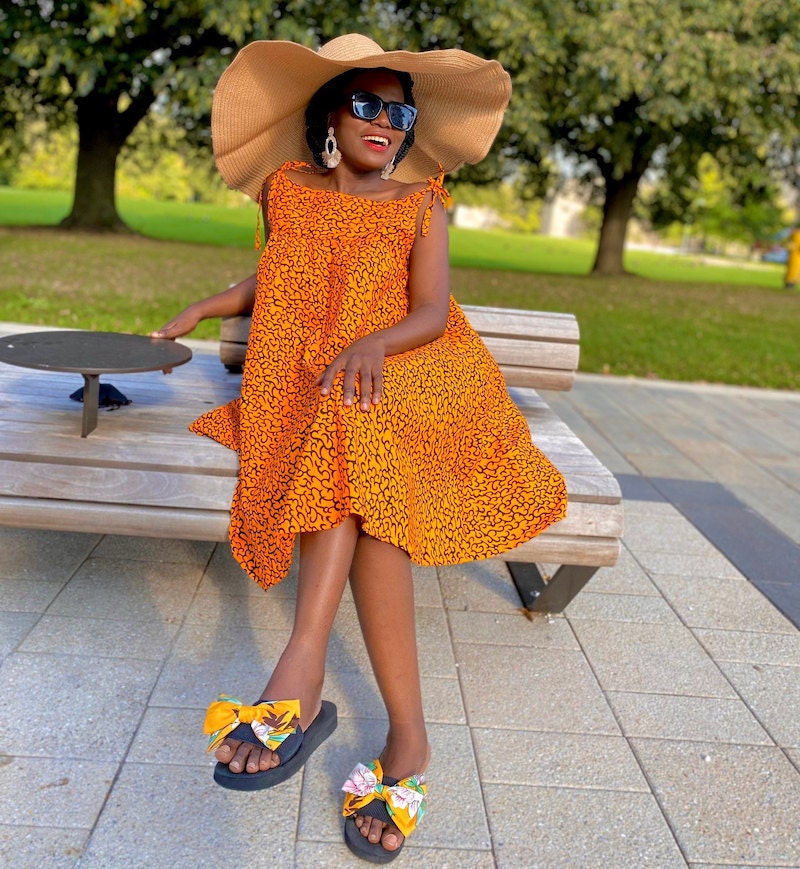 SHOP: African print maxi dress from Kallistyles, $62
Ready to travel? So is this bright, printed sundress. The versatile cotton dress, with cute shoulder ties, can take you from lounging by the pool to drinks on the boardwalk. Plus, it's available in a range of sizes: from 6–18 in UK sizes, or S–XXL.
4. A gingham linen dress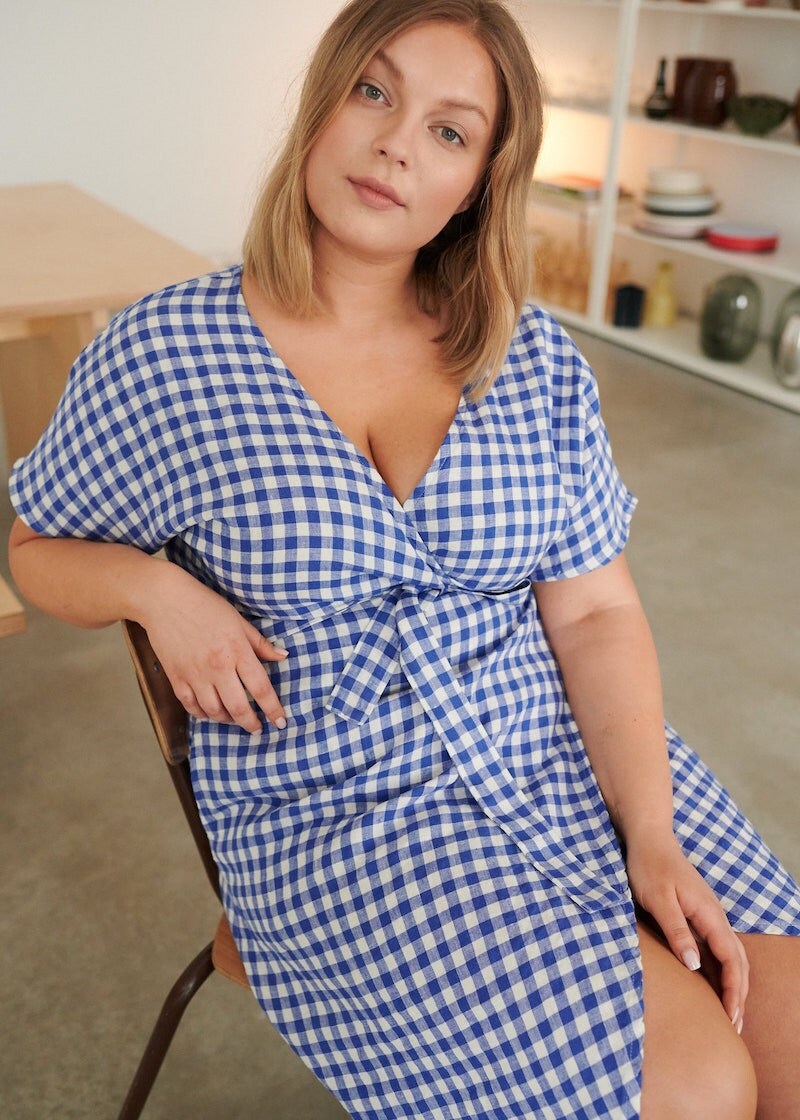 SHOP: Gingham linen wrap dress from Linenfox, $116
Nothing says breezy summer style quite like a linen wrap dress. Whether you're traveling to a warm destination or heading to a summer barbecue, this flattering number will keep you cool. It comes in five different colors—and in sizes XXS–3XL.
5. A printed babydoll dress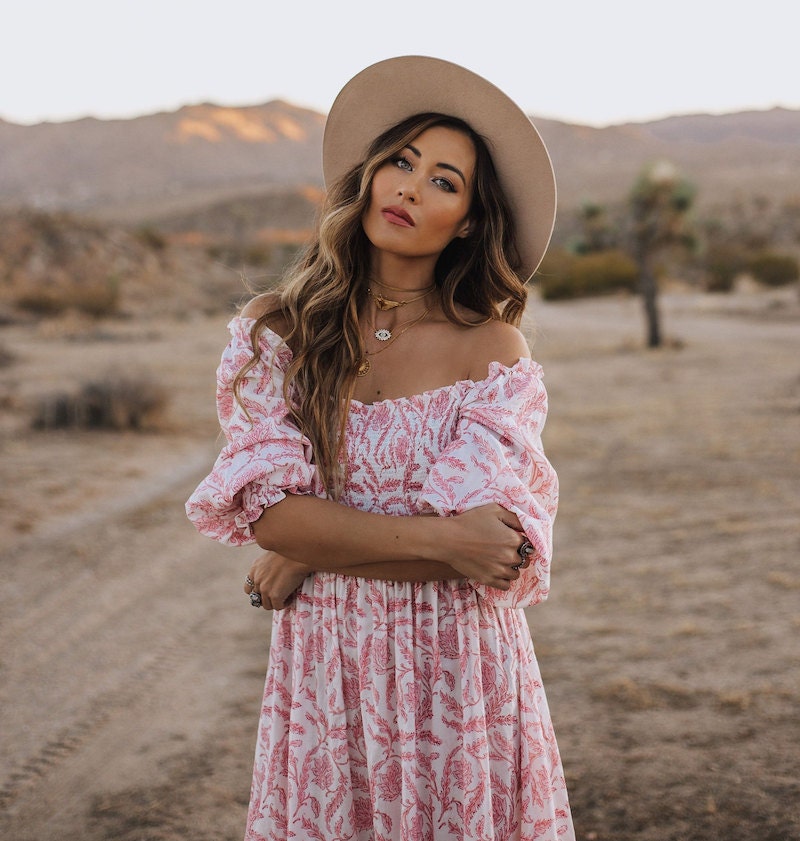 SHOP: Petite printed babydoll dress from ABASK Studio, $65
Hitting the road this summer? Be sure to pack this petite babydoll dress, which easily transitions from day to evening. The off-the-shoulder dress, made of hand-printed modal fabric, comes in sizes S and M.
6. A color-blocked maxi dress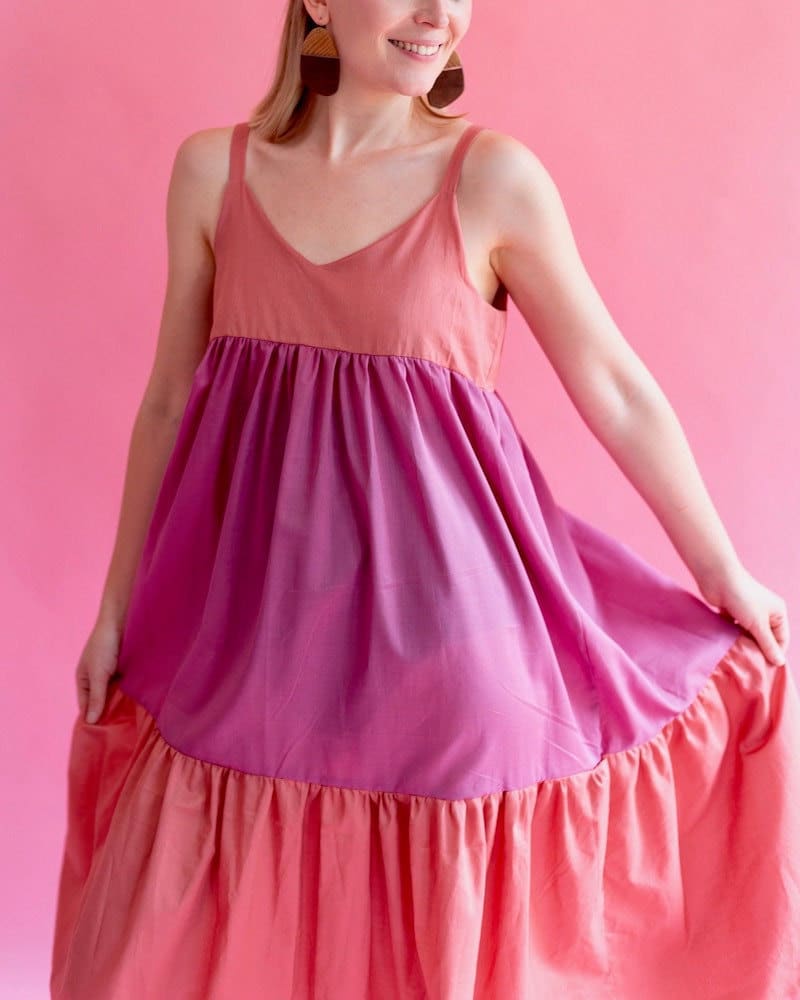 SHOP: Cotton v-neck smock dress from ford & guy, $117
You'll be ready for all kinds of fun in the sun with this cotton maxi dress that features a bright color-blocked design. It's available in UK sizes 6-22 (or about 2–18 in US sizes).
Best plus-size dresses
Whether you're off to a festival or weekend brunch, you'll arrive in style in these cute plus-size dresses.
7. A tie-dyed tunic dress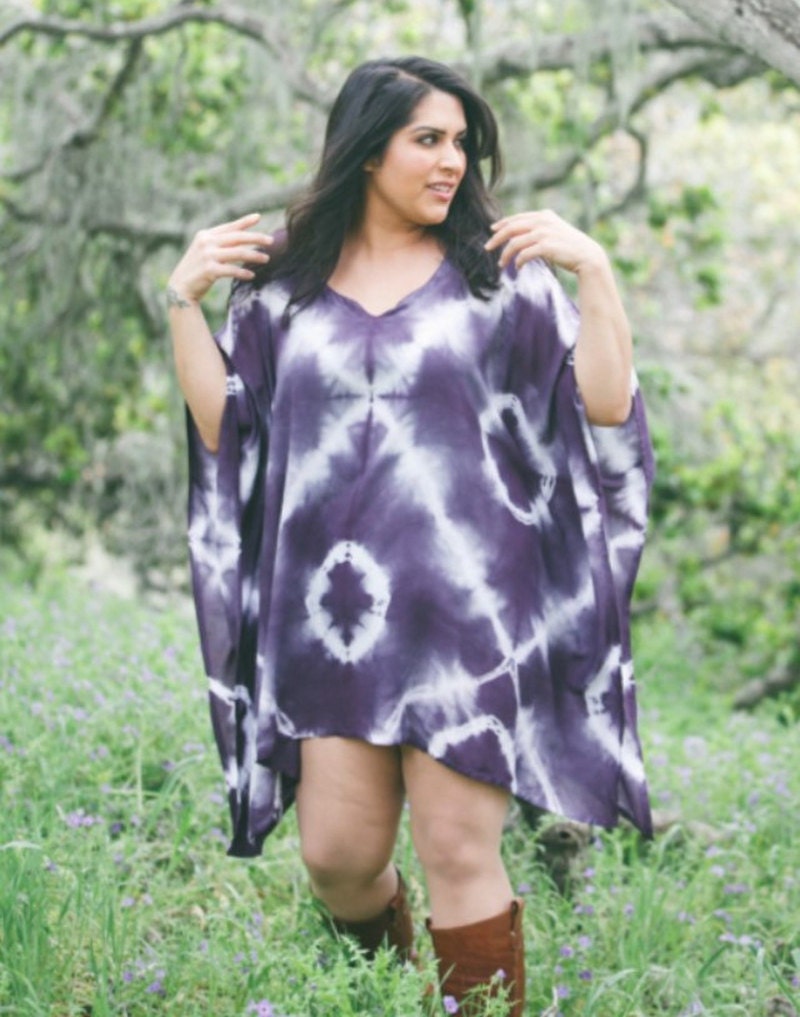 SHOP: Plus-size shibori tunic dress from LeslieRayClothing, $65
Whether you're planning a day at the beach or a summer music festival, rock your boho style in this flowy tunic dress. The rayon dress, tie-dyed in a shibori style, is available in five colors and comes in size XL and XXL.
8. A light linen wrap dress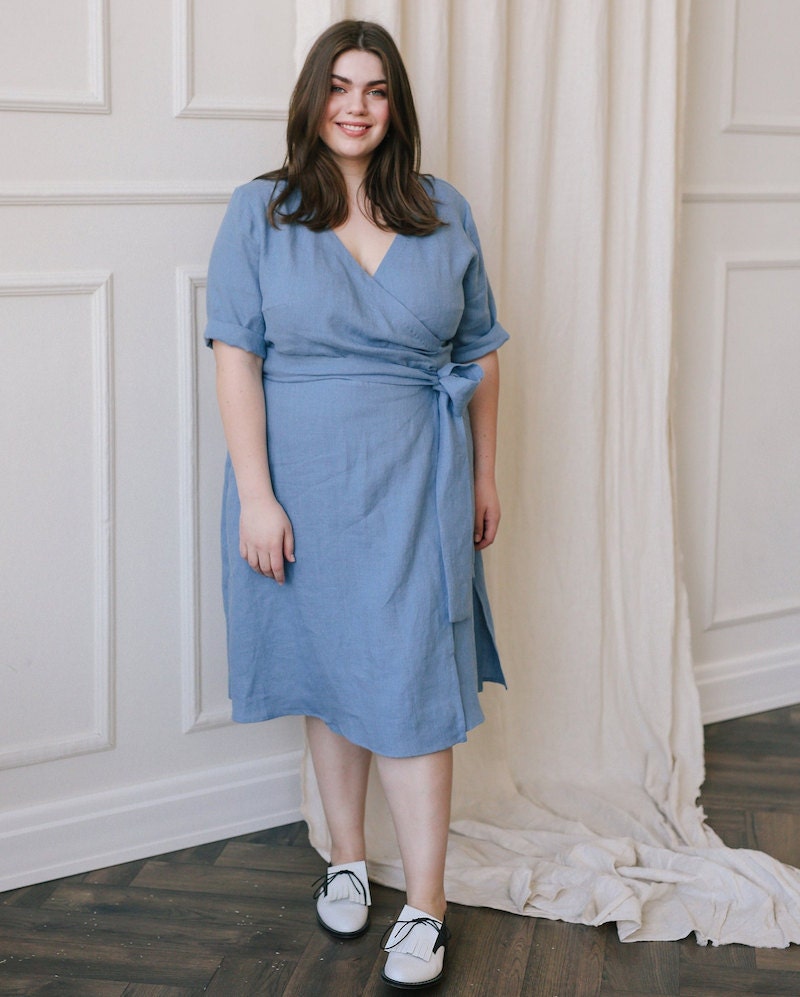 SHOP: Linen front tie wrap dress from Pavietra, $121
This breezy linen wrap dress, which comes in sizes XXS–7XL, is a go-to summer staple, suitable for the office, weekend brunch, or sunset strolls. It comes in a choice of eight different colors. The best part? It has pockets!
9. A comfy maxi dress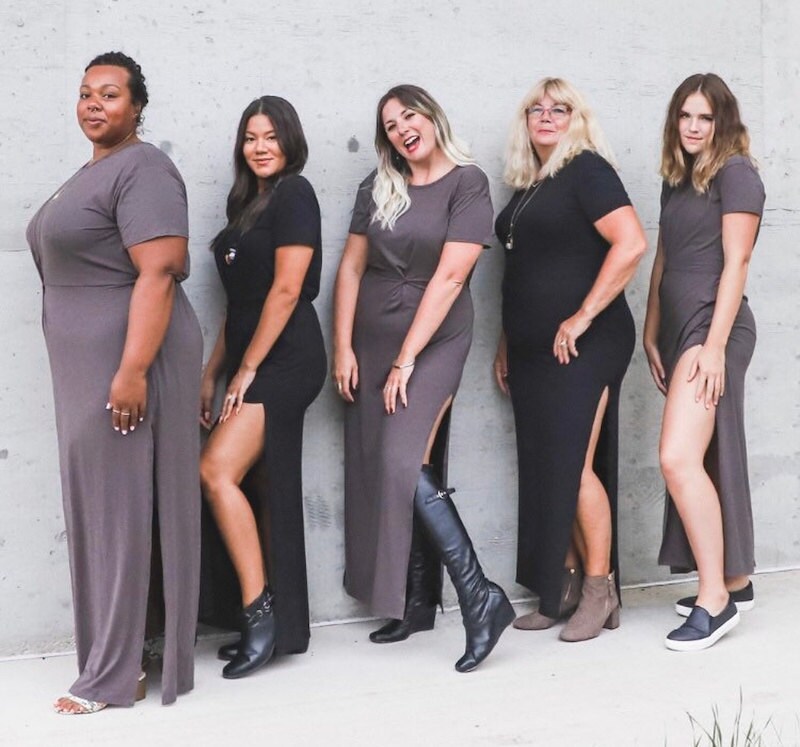 SHOP: Floor-length gray T-shirt dress from Sarah Sue Design Shop, $180
Take your wardrobe from summer to fall with this versatile maxi dress. Made of comfy jersey, the dress features fun side slits and a flattering cinched waist. Available in sizes XS–3XL, the dress pairs just as well with sneakers as it does with boots.
Best cocktail dresses
Whether you're headed to a nice dinner or an event, dressing up is a breeze with these beautiful cocktail dresses.
10. A little black dress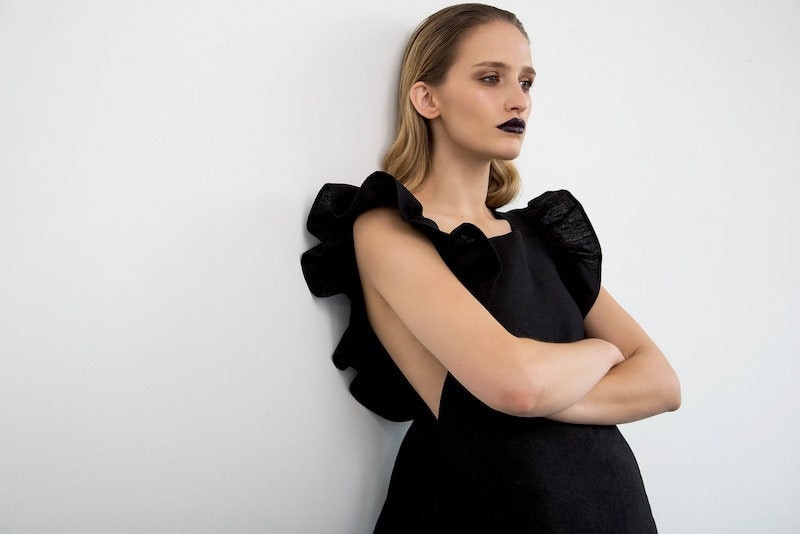 SHOP: Black linen dress from Freya Lillie, $189
You can never go wrong with a little black dress, and this one's got a little added flair. It's a knee-length, apron-style dress featuring adjustable ruffled straps. The dress, which comes in UK sizes 8–16 (or about 4–12 in US sizes), pairs well with heels or some chunky boots.
11. A printed maxi dress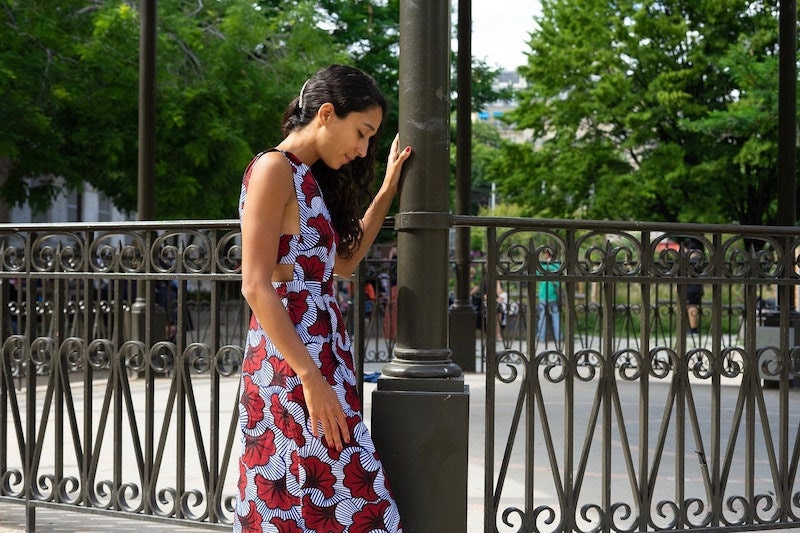 SHOP: Maxi African print dress from Bamanee, $187
Wherever your travels take you, you'll be ready to make an entrance at cocktail hour in this African wax-print maxi dress. The cotton dress, available in sizes S–L, features an open back and fun side cutouts for a dramatic look.
12. A classic shift dress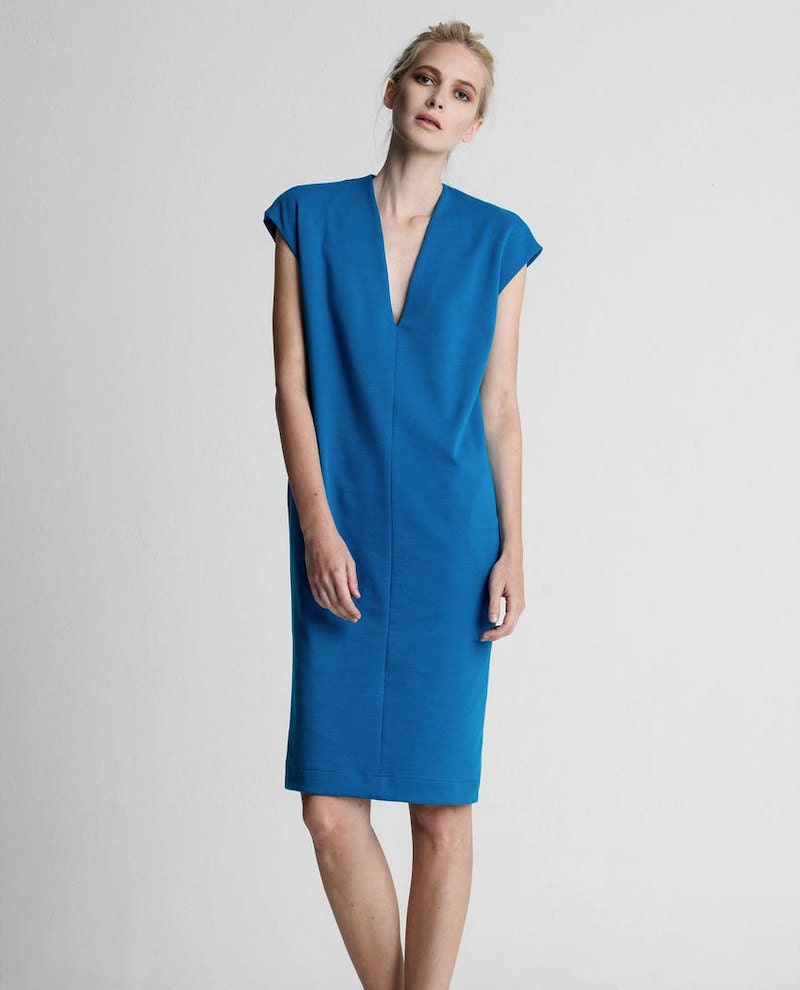 SHOP: Jersey shift dress from The AR Shop, $70
How about a little blue dress? This chic v-neck number with cap sleeves easily takes you from the office to drinks with friends or a nice event. The dress comes in one size—S/M— and is made of stretchy jersey fabric. It's also available in charcoal gray.
Best prom dresses
It's your year! Glam it up with these gorgeous prom dresses that will have you feeling like the belle of the ball.
13. A gold sequin dress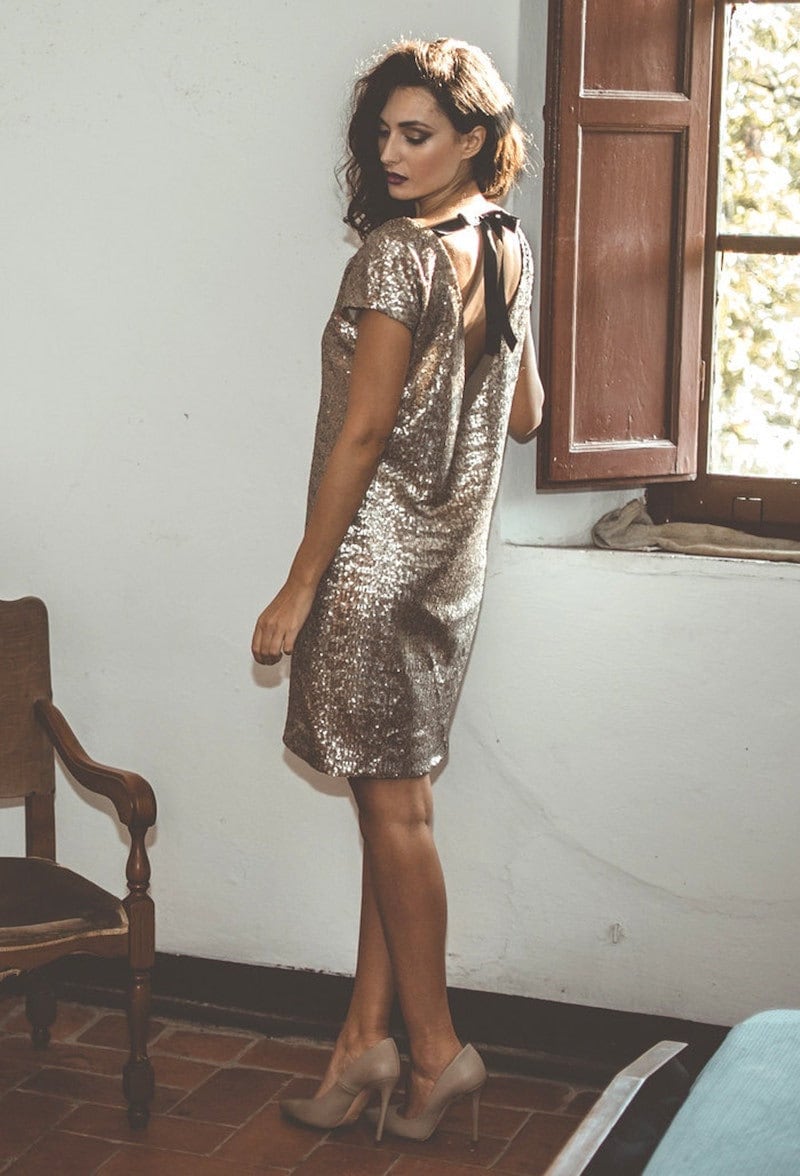 SHOP: Gold sequin party dress from Sara Gambarelli, from $142
We hope you like attention, because this dress is ready to help you sparkle at prom—or any party, really! This knee-length sequin dress features an open back with an adorable bow. Plus, it comes in multiple colors, including gold, bronze, silver, black, and red, as well as custom colors. It comes in European sizes 34–48 (which is equivalent to about sizes 4–18 in the US), but the seller can custom make the dress to your measurements.
14. A floral embroidered dress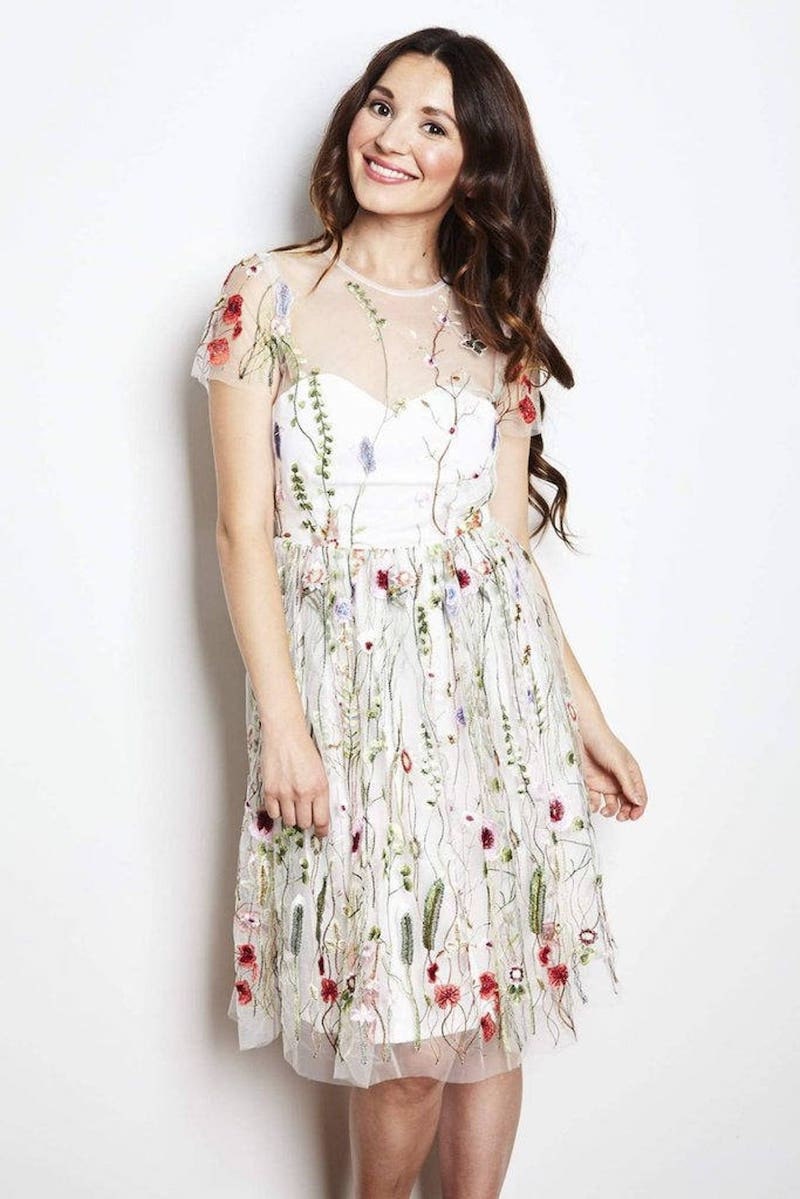 SHOP: Embroidered floral tulle prom dress from Jordan de Ruiter, from $278
Ethereal girl! This stunning party dress, which comes in either white or black, has a sateen bodice topped with delicately embroidered tulle. The pink and blue flowers, leaves, and stems seem to grow organically around the garment, including the sheer back and shoulders. It comes in sizes 2-16, but the seller can make a custom dress to your measurements.
Best maternity dresses
Show off your baby bump in style in these cute maternity dresses and nursing dresses.
15. A maternity kaftan dress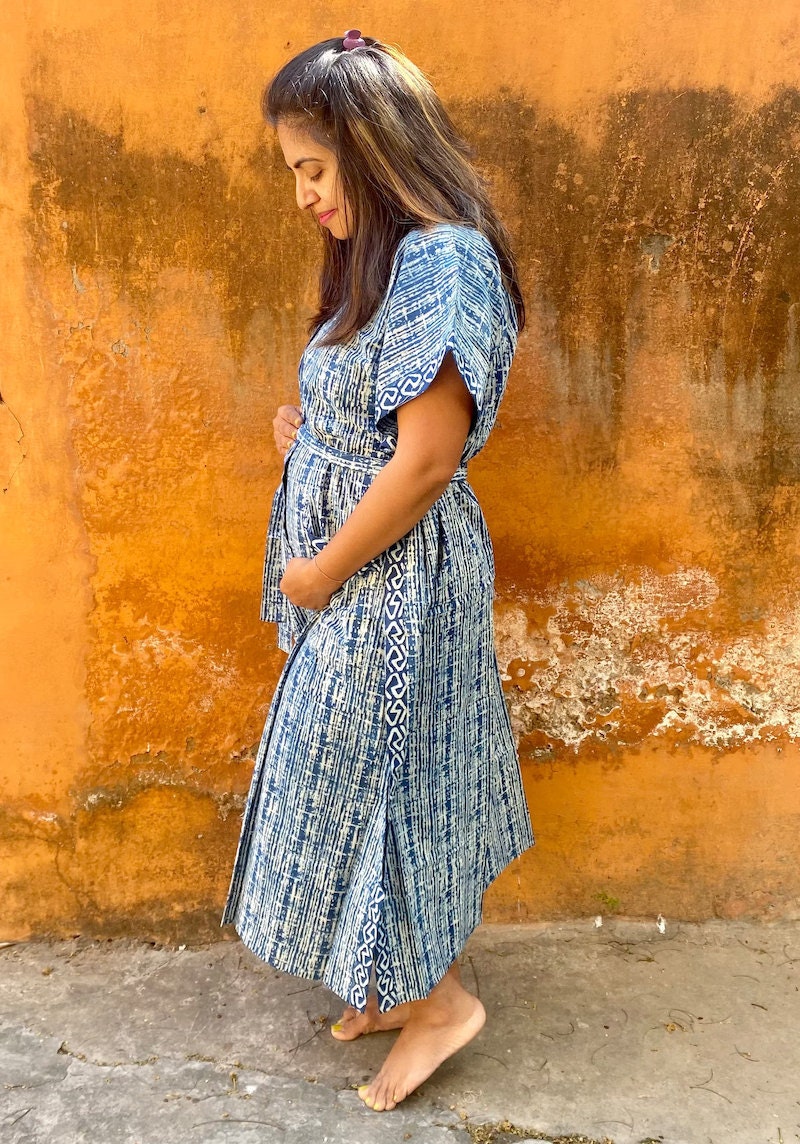 SHOP: Printed maternity nursing gown from mommyrobeclothing, $39
This printed cotton kaftan, which can be ordered in knee-length, mid-calf, and ankle-length styles, is great for the beach, running errands around town, or just hanging around the house. Because it has a fully buttoned front, it works well for nursing—or even as a hospital gown. It comes in sizes to fit XS–5XL.
16. A printed maternity dress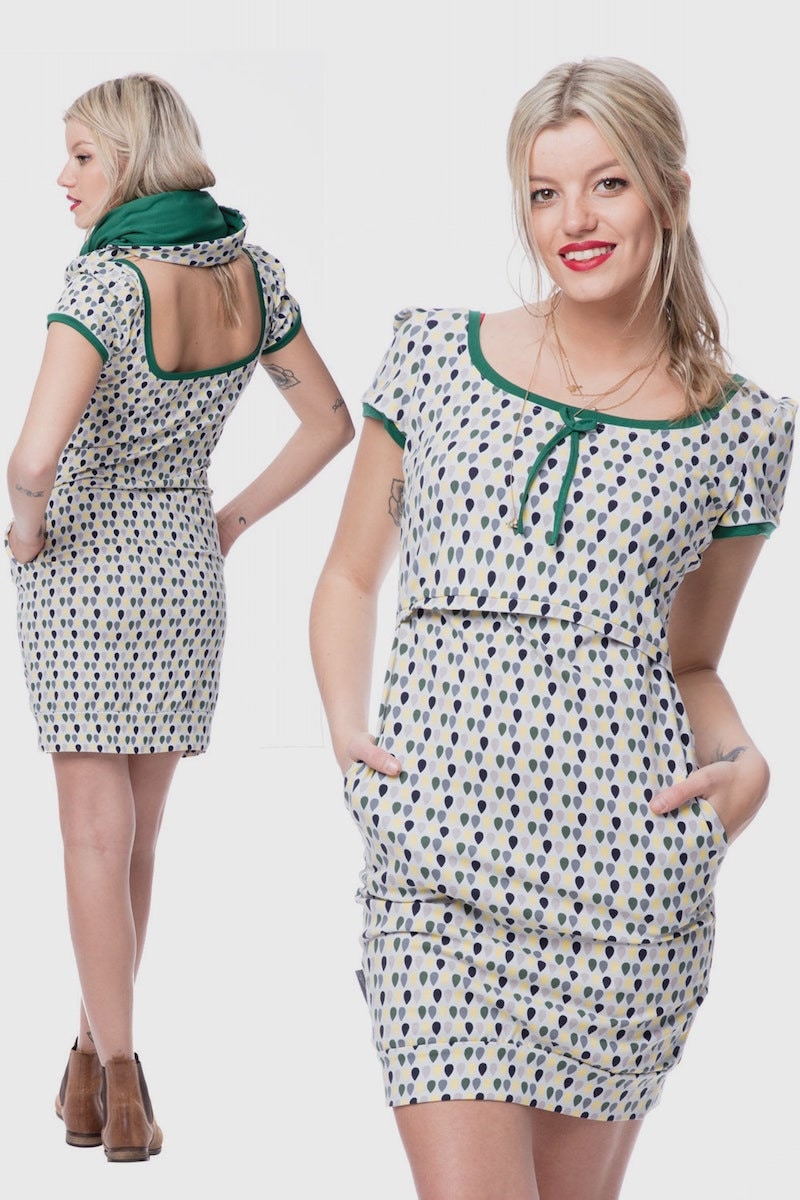 SHOP: Maternity and nursing dress from GoFuture with Love, $122
Baby on the way? This cute maternity dress is made of stretchy cotton and polyester fabric to accommodate your baby bump and has a hidden flap for easy nursing. Plus, the dress, available in sizes 6-14, comes with a matching snood for privacy while feeding your little one.
17. A lace maternity dress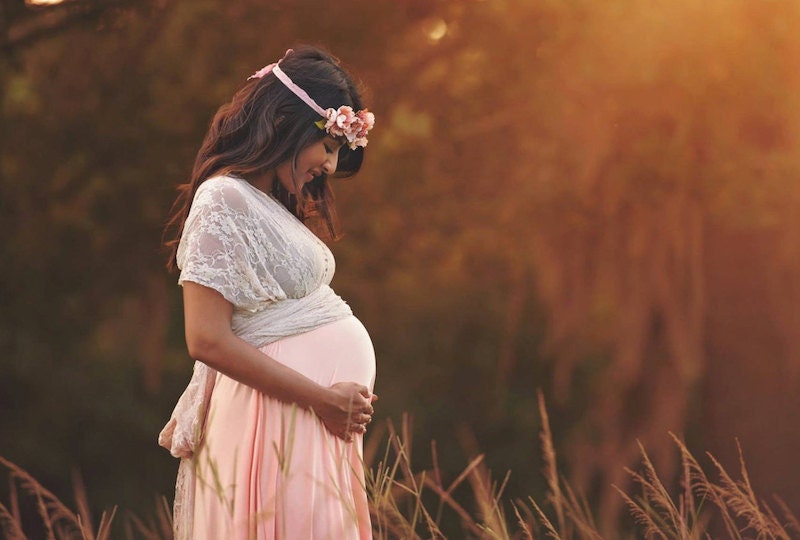 SHOP: Lace maternity wrap dress from Coralie Beatrix, from $165
Dress up your baby bump in this stunning lace and satin wrap dress. The floor-length gown can be made in a wide variety of colors and is perfect for maternity photo shoots to commemorate your new addition to the family.
Best fall dresses
Fall is just around the corner! Get ready with these fall dresses that are sure to become wardrobe staples.
18. A linen maxi dress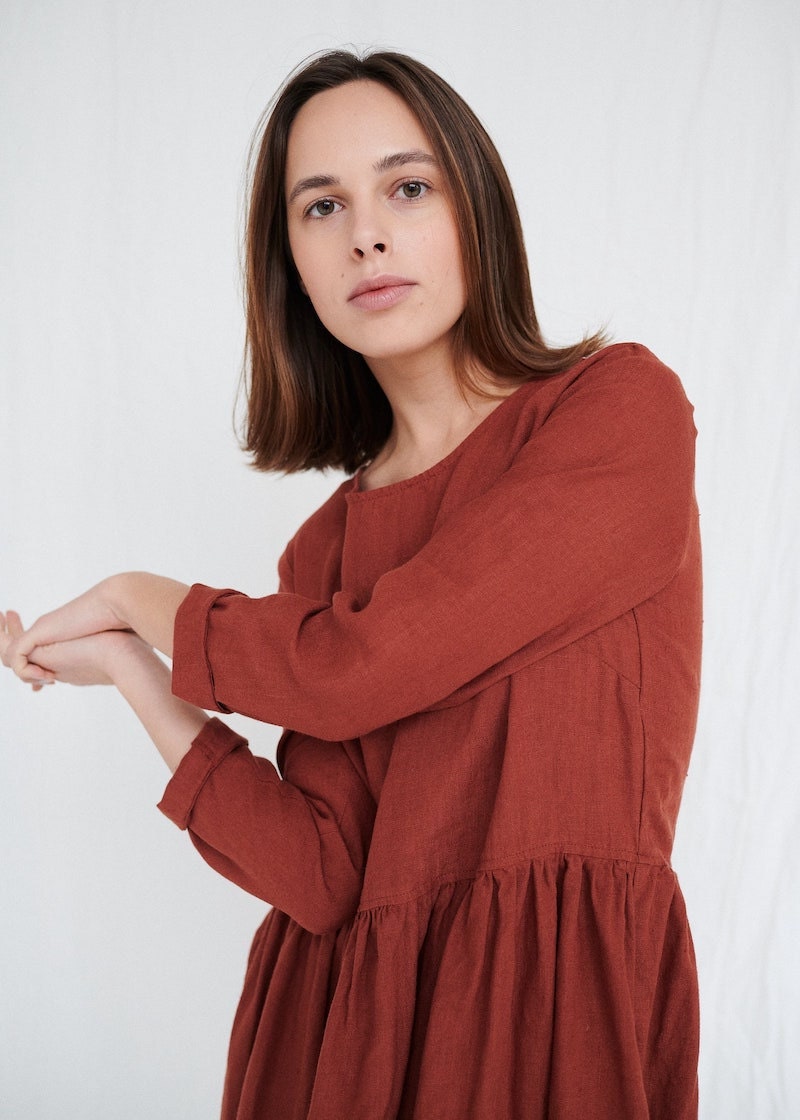 SHOP: Long sleeve linen maxi dress from Linenfox, $96
This lightweight long-sleeve linen dress transitions beautifully from summer to fall. Available in sizes XS–XL, the loose fitting maxi dress comes in a wide variety of colors, including this rich terracotta shade. And—you know we had to say it—it has pockets!
19. An indigo gingham linen dress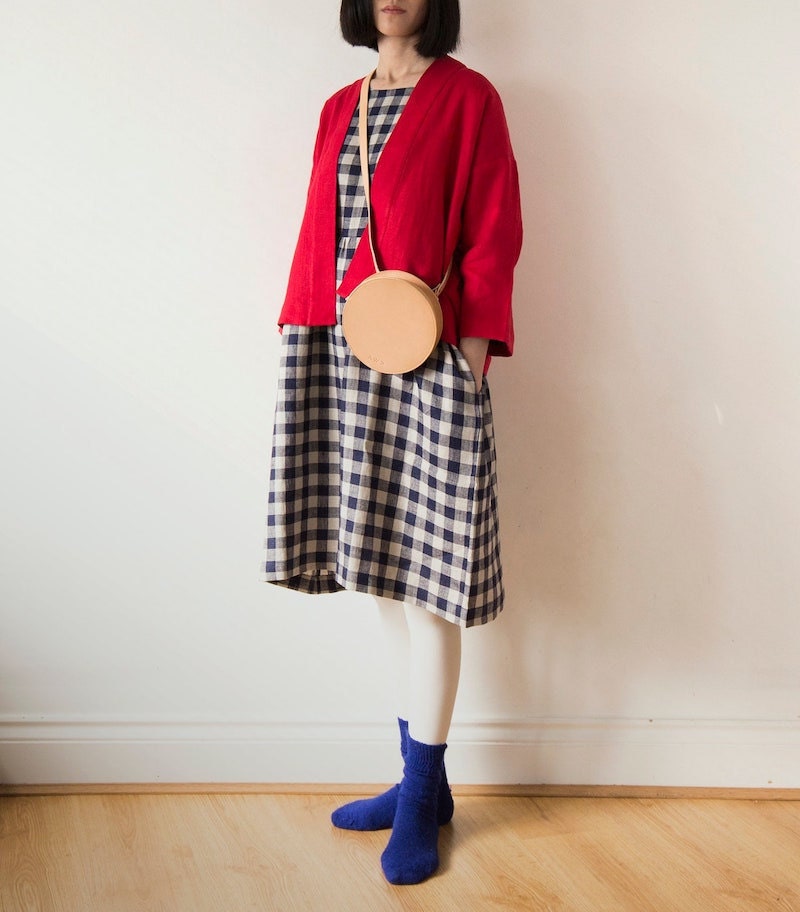 SHOP: Indigo linen smock dress from YaYa & Pony, $130
Cute dress for fall? Check! This checked linen dress features a 3/4 sleeve—and pockets!—and comes in sizes S–XXL. As the weather gets cooler, you can layer it with tights and a bright cardigan.
20. An oversize sweater dress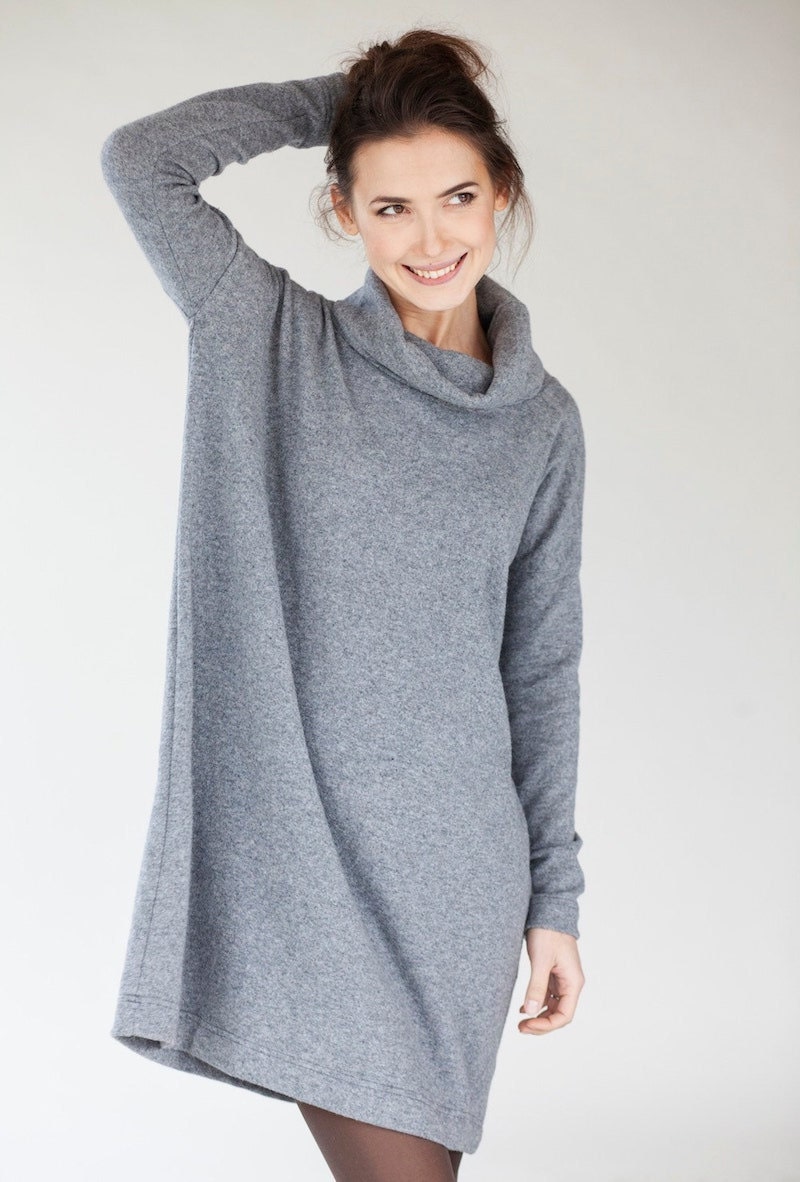 SHOP: Oversize wool sweater dress from LeMuse, $120
When the leaves start to fall, cozy up with this wool blend sweater dress. The dress, which is roomy enough to be maternity wear, comes in sizes XS–XL, and goes great with leggings and a pair of boots.