Shop the best duffels for a weekend away or longer trips, from leather duffels and weekender totes to canvas gym bags.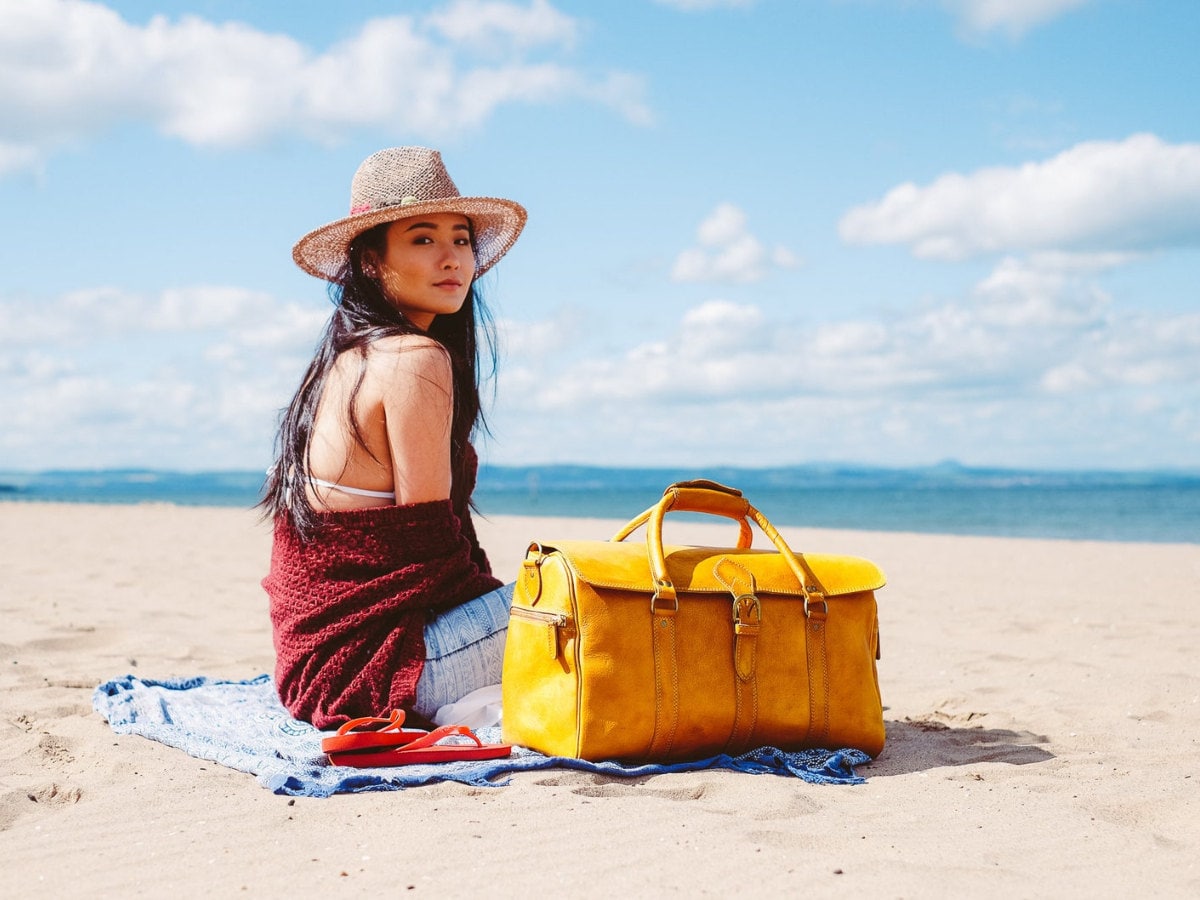 Did someone say "let's get away"? Whether you're looking for an overnight bag for a spontaneous weekend trip or the perfect carry-on to fly with you to your exotic destination, these duffel bags will get the job done while looking great, too.
From waxed canvas weekenders to handcrafted leather duffels, these beautiful bags have just enough room to pack all your sundries for a long weekend, including toiletries, sunglasses, summer dresses, shoes, and other travel accessories. A lot of these duffels can even pull double duty as a gym bag, a beach bag, or a nursing bag. (Prefer a travel backpack? Small shops on Etsy have great picks for those, too—handmade just for you.)
Plus, several of these duffel bags can also be personalized with your name or your initials—so no matter where you travel, you'll always know exactly which bag is yours.
Weekender duffel bags
The best weekender duffel bags are just big enough to hold a few days worth of clothes and easy to pop in the car for your next getaway.
1. A colorful canvas duffel bag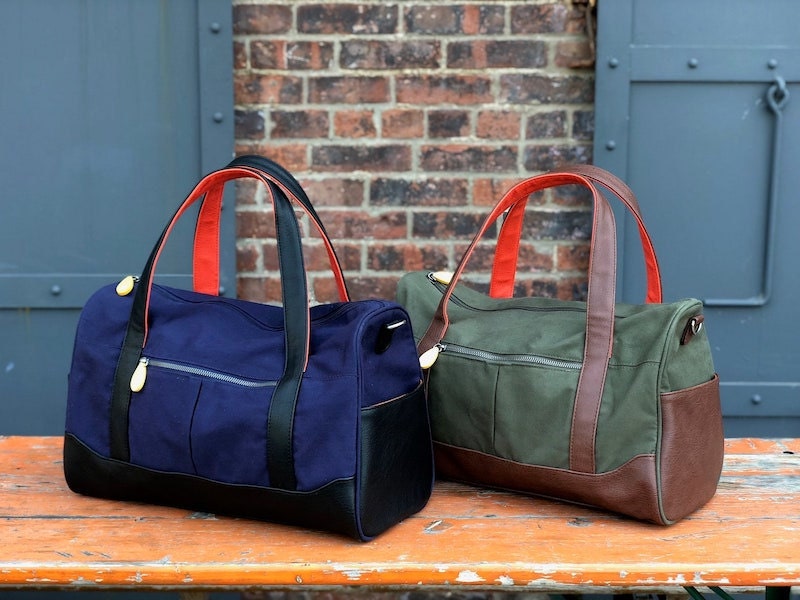 SHOP: Canvas duffel bag from CanopyVerde, $185
Stay organized on your next trip with this eye-catching duffel. The 17-inch-long bag, which comes in either navy or olive green, has seven pockets to hold all your travel essentials. Made of organic cotton canvas with vegan leather trim, the bag has a fun pop of color on the straps and interior as well as wooden feet to help keep your bag looking sharp. Bonus: It also makes a great gym bag!
2. A leather-trimmed duffel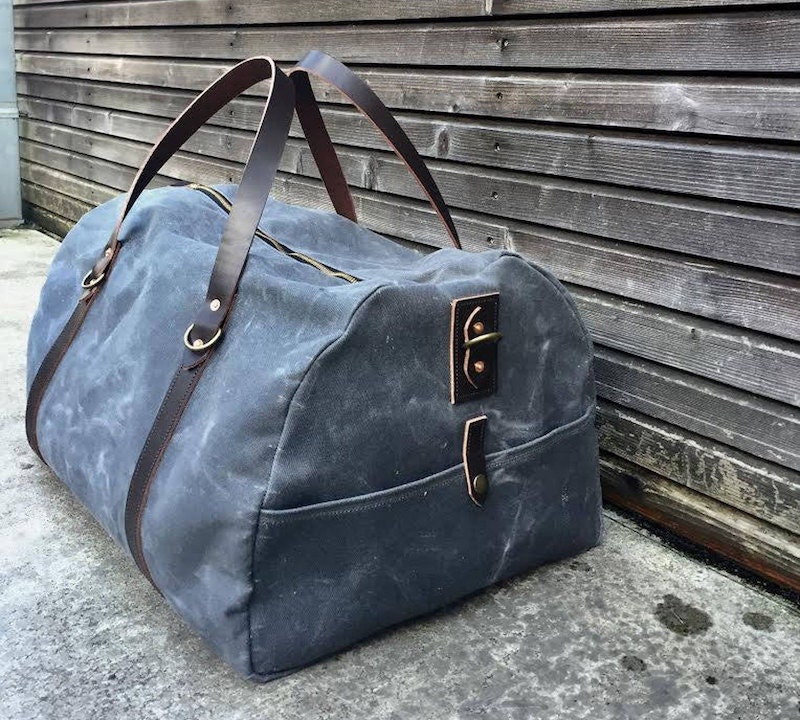 SHOP: Waxed canvas duffel bag with leather trim from Treesizeverse, $332
This roomy charcoal gray bag, which is also available in tan or olive green is designed to hold several outfits, perfect for a three-day weekend. Measuring about 20 inches long, it's made of heavy duty waxed twill fabric and trimmed with vegetable tanned leather. It also comes with a wide leather shoulder strap so you can wear it as a crossbody bag.
Cute duffel bags
Get ready to arrive in style at your next destination with these cute duffel bags.
3. A monogrammed canvas duffel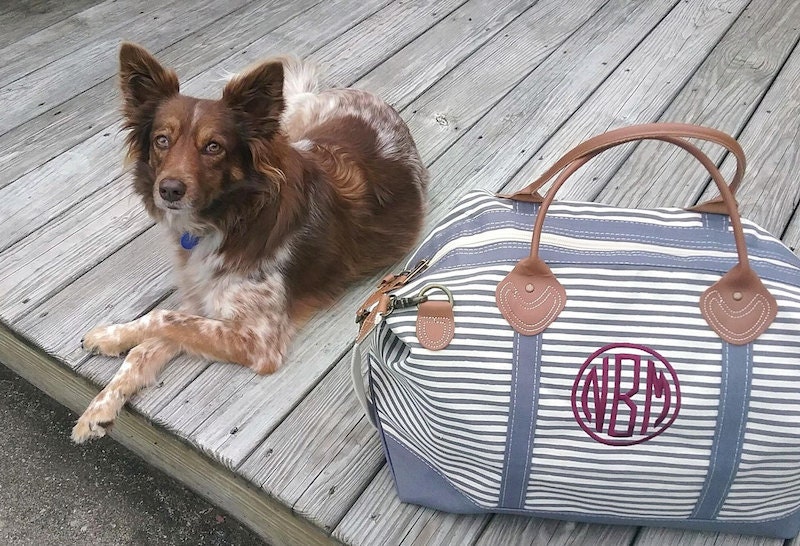 SHOP: Monogrammed canvas bag with leather trim from Pretty Personal Gifts, from $79
Put your own stamp on this adorable weekend duffel. The 28-inch-long canvas duffel bag with leather trim has lots of room for all belongings. Plus, it comes in eight different colors and can be personalized with your name or initials in your choice of several colors and fonts.
4. A pretty patterned duffel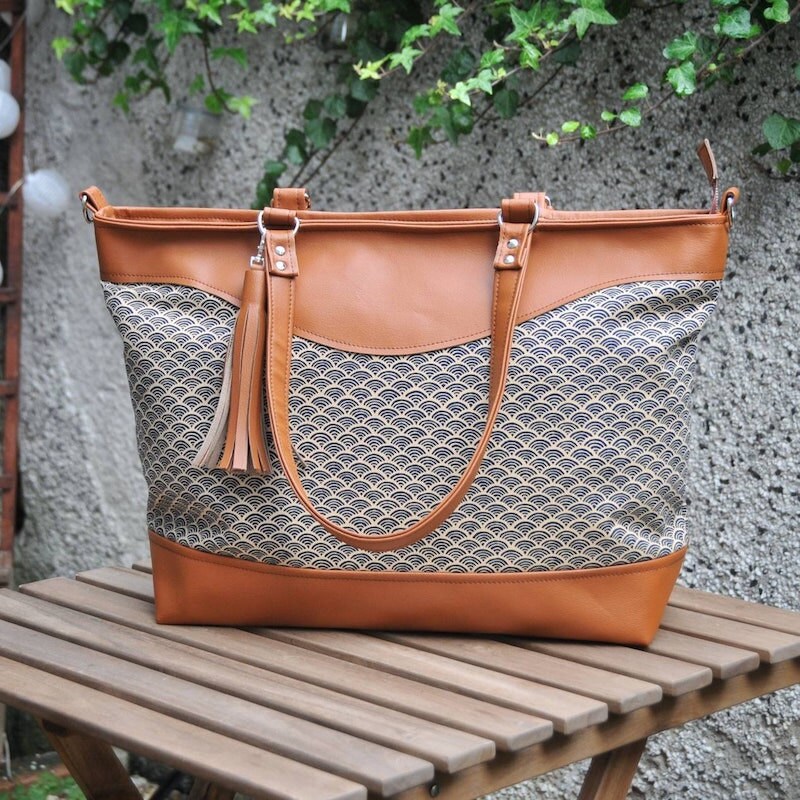 SHOP: Recycled leather-trimmed weekender bag from Lauren Holloway Design, from $180
This chic weekender duffel is fashionable enough for everyday use. The 21-inch-long bag, which is made of cotton fabric with a recycled leather trim and decorative tassel, can even double as a diaper bag. It also comes in a few other fun prints, and you can also add a shoulder strap for easier carrying.
Leather duffel bags
Leather duffel bags are a lot like a fine wine: They tend to get better with age. That's particularly true of bags made of full-grain leather, which burnishes and develops a beautiful patina over time.
5. A supple yellow leather duffel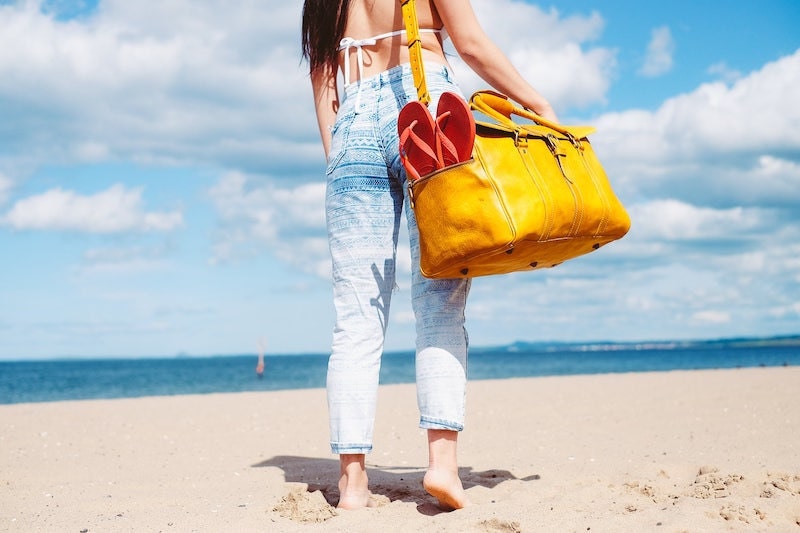 SHOP: Large yellow leather duffel bag from Linden Leather Co., from $667
Buyers rave about the craftsmanship and quality of this 20-inch-long leather duffel, which can be your travel companion for years to come. The bag comes in a sunny safflower yellow as well as plenty of other colors, including black, chestnut, cognac, hot pink, and bright red. Made of full grain vegetable tanned leather, the duffel features an adjustable shoulder strap and metal hardware. You can also get it embossed with your initials, so everyone knows it's yours.
6. A leather carry-on bag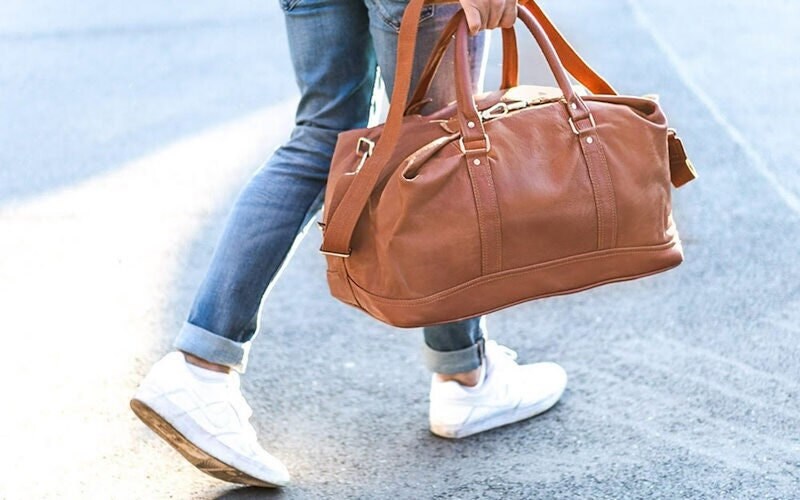 SHOP: Nappa leather travel bag from Jahn-Lederwaren, from $173
Whether you're hitting the road—or just hitting the gym—arrive in style with this leather duffel. The bag, which measures about 18 inches long, is crafted in your choice of brown, cognac, or black Nappa leather and has a padded shoulder strap for easy carrying. Need to tote more stuff? It also comes in a larger, 22-inch-long version.
7. A leather-trimmed carryall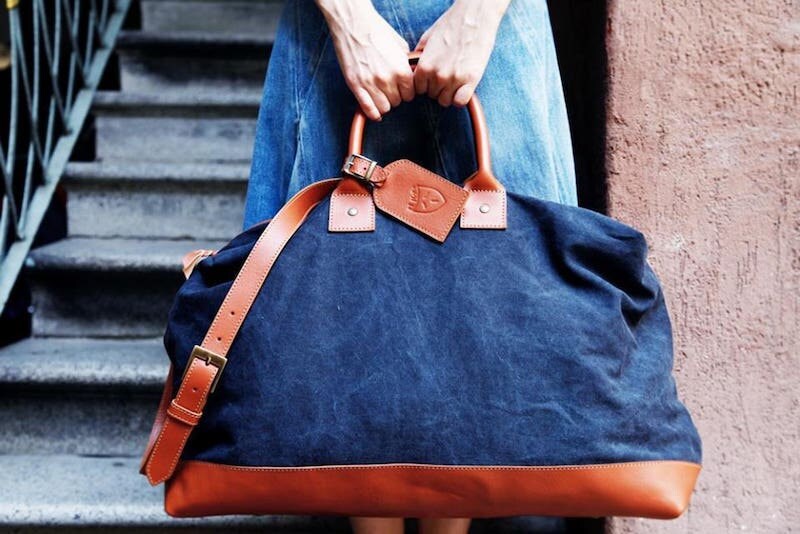 SHOP: Leather-trimmed overnight bag from El Mato, $378
The full-grain cognac leather trim and strap add a luxurious touch to this blue cotton canvas overnight bag. The 22-inch-long bag comes in a few other colors, including brown and dark gray, and you can choose from several options for the liner, including some printed fabrics made from recycled water bottles. It also has a waterproof inner lining to protect your things from the elements—and protect the bag from accidental spills. It can also be monogrammed.
Large duffel bags
Have a hard time packing light? You'd be surprised how much you can fit in these large duffel bags.
8. A watercolor-inspired duffel bag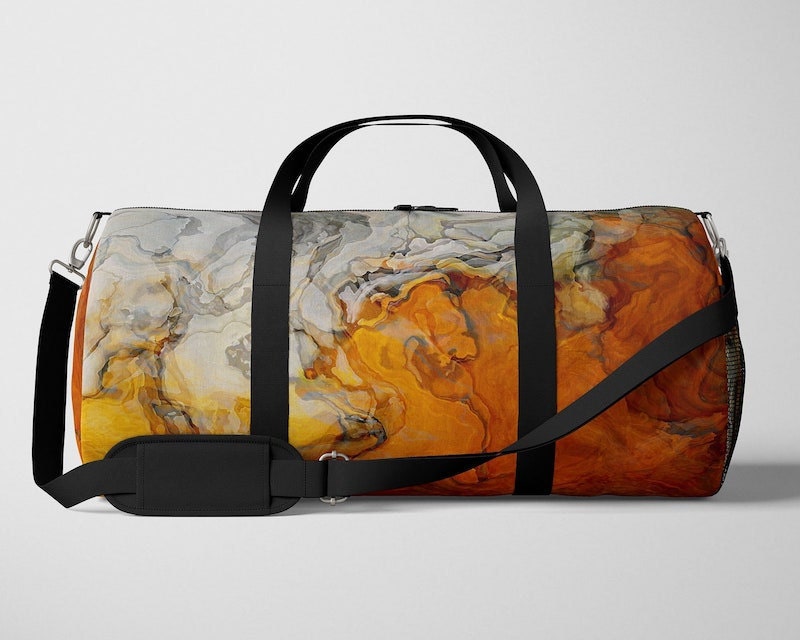 SHOP: Abstract art travel bag with padded strap from Abstract Art Home, from $79
Whether you're headed to the gym or hitting the road, this striking bag stands out from the crowd. The polyester duffel is printed with the artist's swirling gray and orange abstract art. Not your shade? The seller has around 60 other colorful options to choose from as well, from dreamy rainbow pastels to moody greens and blues. The bag is available in two sizes, and the larger size is nearly two-feet long and a foot deep, to hold clothes, shoes, and other travel gear. Plus, it has a padded, adjustable strap for easy carrying.
Carry-on duffel bags
You'll be ready for take-off with these carry-on duffel bags that keep your essentials organized on board—and stow away easily.
9. A colorful carry-on bag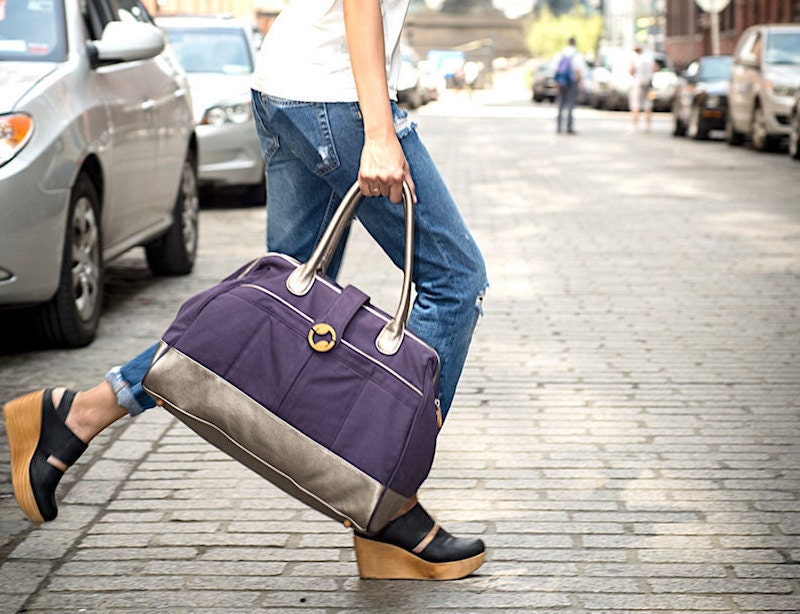 SHOP: Vegan leather-trimmed carry-on bag from CanopyVerde, $229
Get that boarding pass ready! This cute 18-inch bag—made of organic purple cotton canvas with silver vegan leather trim and wood details—has five pockets to organize your belongings. Plus, it's compact enough to fit either under the seat or in the overhead compartment. The duffel, which also comes in white, can even double as a work bag or a laptop bag.
10. An expandable canvas travel bag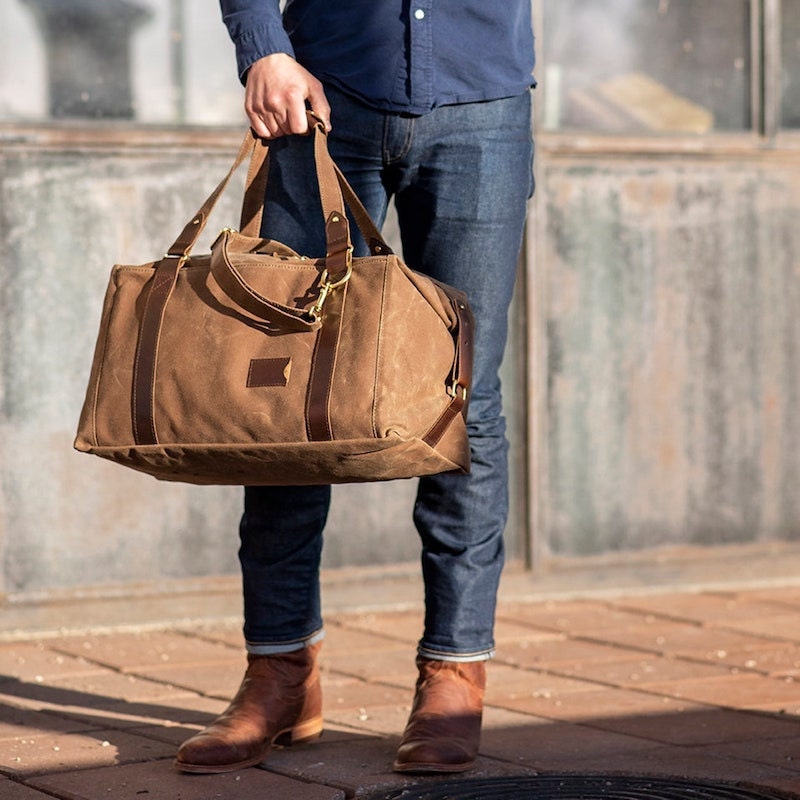 SHOP: Personalized waxed canvas duffle bag from Clark & Taft, $629
This 19-inch-long expandable duffel is roomy enough to hold a few days worth of clothes while still being compact enough to meet carry-on requirements. Made of water-resistant waxed canvas, the bag comes in a choice of earthy olive, slate, or brown shades and is trimmed with Horween Chromexcel leather, a high-end American-made leather known for its suppleness and rich sheen. Plus, it's lined with a water- and tear-resistant packcloth nylon fabric, to keep the inside looking as nice as the outside. It can also be personalized with your name, initials, or even a company logo.