From minimalist studs to colorful hoops to vintage clip-ons, these are the best earrings for any style.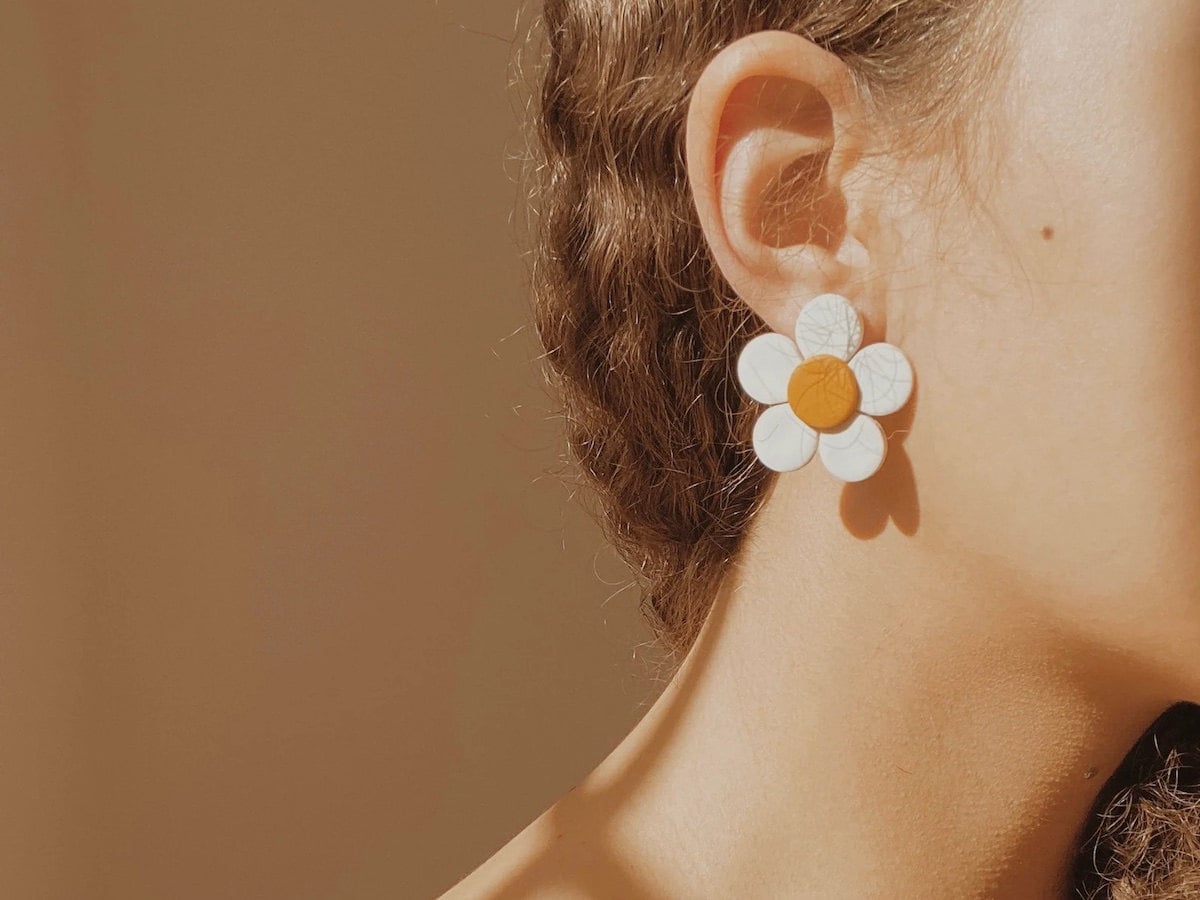 Whether you're heading to a fancy cocktail party or just running out for groceries, a unique pair of earrings can pull a whole look together in a flash and give your outfit that special pop. Choose from understated huggie earrings, edgy cartilage earrings, or gorgeous golden hoop earrings. No matter which style speaks to you, make your next pair of earrings a real statement piece by shopping picks like these carefully crafted handmade and vintage earrings from Etsy sellers.
Best hoop earrings
Hoop earrings are versatile accessories that can be a sophisticated and understated look or a bold pop of color that dangle and dazzle from your ear lobes. Go big with a statement earring or go small and dainty—the possibilities are endless.
1. The best half-hoop earrings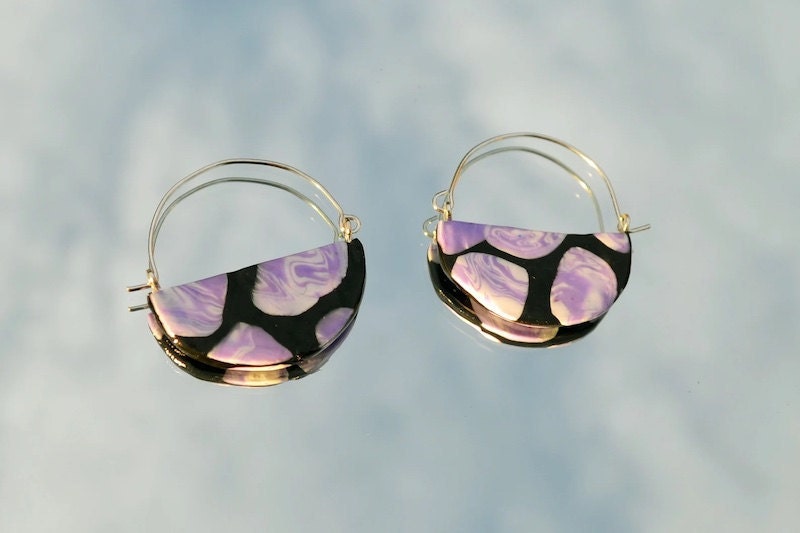 SHOP: Mosaic clay half-hoop earrings from rnadness, $11
Add some color and texture to your earring collection with these polymer clay earrings featuring a marvelous mosaic design. Buyers love that these half-hoop earrings are both lightweight and stylish, and because these earrings are individually made, every single set is truly one-of-a-kind!
2. Best everyday hoop earring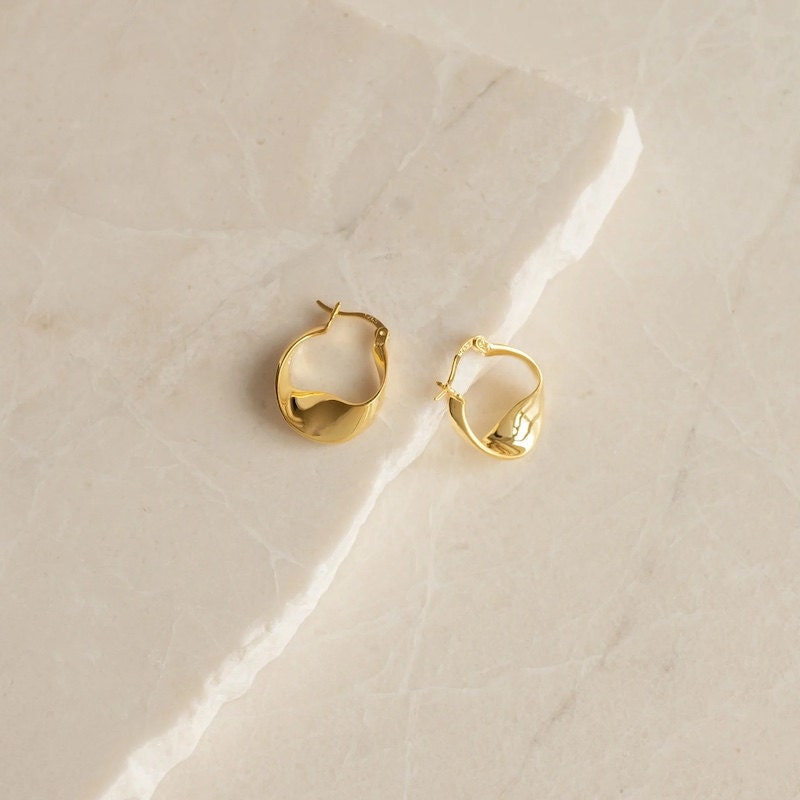 SHOP: Modern twisted gold hoop earrings from Ella Palm, $61
These gorgeous gold earrings are a modern take on a traditional hoop. With their unique twist design, these hoop earrings have enough visual intrigue to be a chic accessory while being just simple enough to be worn regularly.
3. The best lightweight large hoop earrings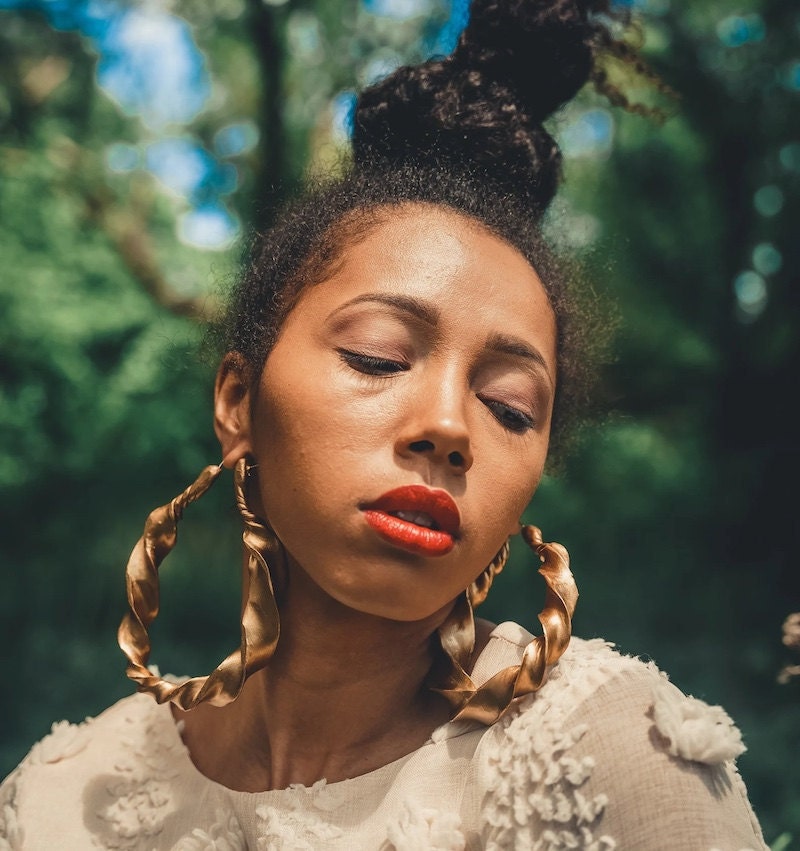 SHOP: Twisted teardrop hoop earrings from It's All Culture Jewelry, $95
Made from polymer clay (so you don't have to worry about the heavy weight of metal on your precious lobes!), these statement earrings are the ultimate show-stopper. The seller notes, "You are meant to be a walking work of art," and these hoop earrings do just that.
4. The best large hoop earrings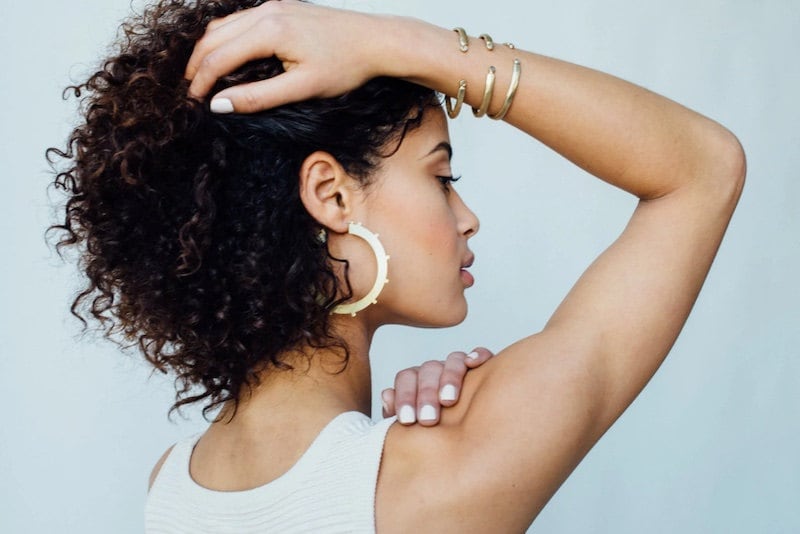 SHOP: Large gold hoop earrings from lumafina, $48
Sometimes, when it comes to earrings, bigger is better. Exhibit A: These beautiful, understated gold hoop earrings. Buyers rave that they regularly get compliments on these extra-large hoop earrings. Pair these with a capsule-closet neutral outfit or a bold-patterned frock for a flirty-but-elevated look.
Best cartilage earrings
Having multiple piercings gives you the opportunity to show off a collection of gorgeous earrings, curated especially by you. Mix cuffs and studs, designed by the small shops on Etsy, for a look that's uniquely you.
5. The best mix-and-match cartilage studs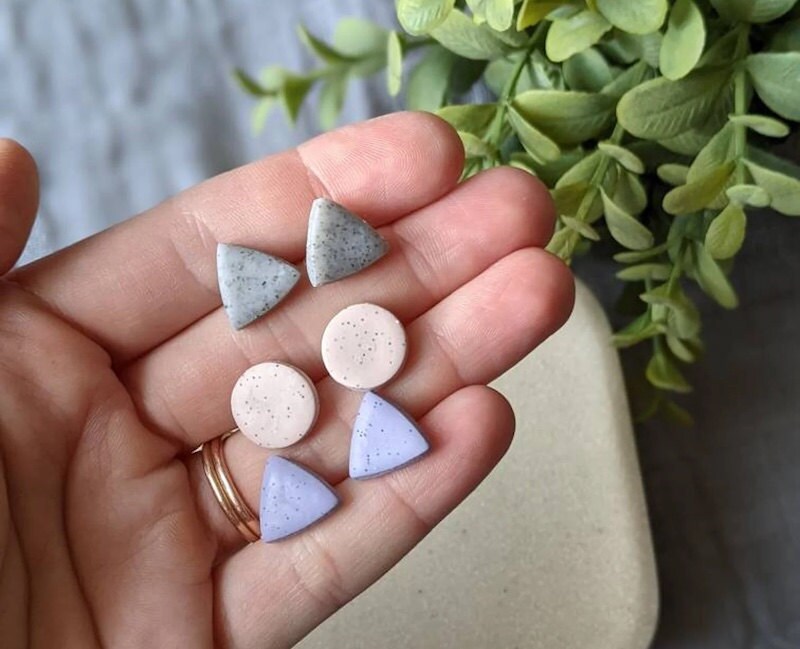 SHOP: Speckled shapes geometric earrings from Handmade By Mojo, $12 for pack of 3
These soft shape earrings were originally designed to be studs on the ear lobe, but we think they would look just as cute adorning your cartilage! The speckled details of these polymer clay earrings add that special something to these stud stunners.
6. The best playful cartilage earring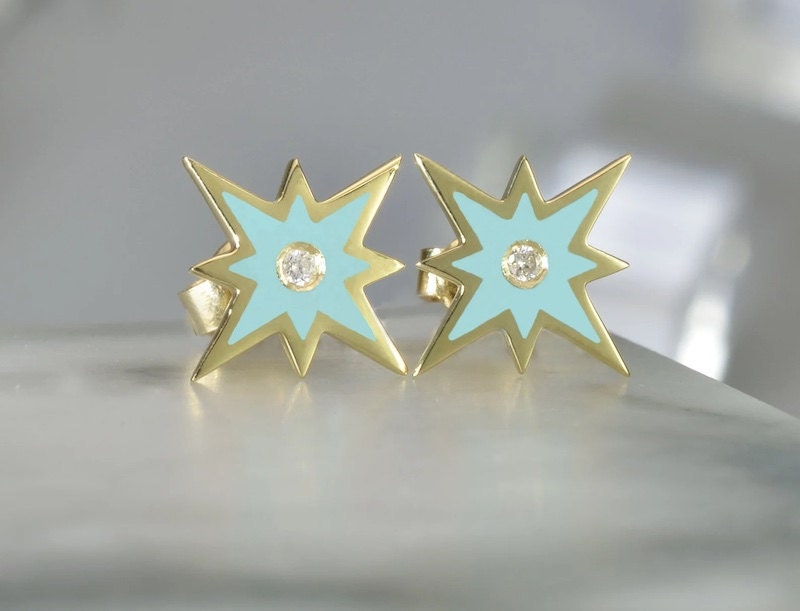 SHOP: Geometric diamond stud earring from Tiorkin Jewelry, $172
BAM! POW! WHAM! These comic book-inspired geometric studs pack a playful punch. Offered in a variety of colors and featuring a real diamond gem in the center, these funky picks add some whimsy to any look.
7. The best cartilage ear cuff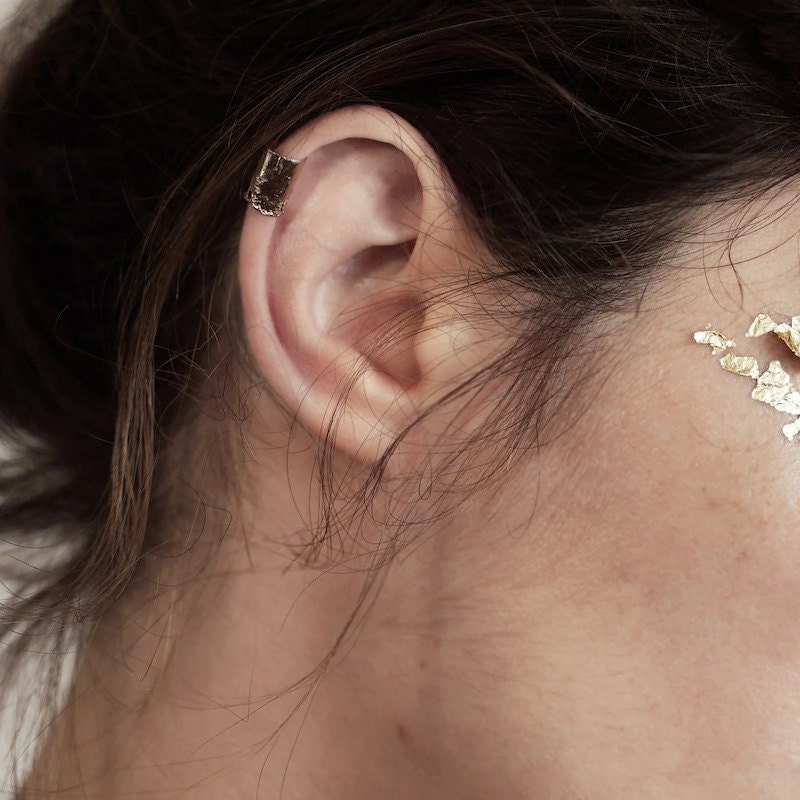 SHOP: Gold-plated ear cuff from Haiku Atelier, $32
This gold-plated ear cuff is both edgy and elegant, and is made using a traditional metalsmithing process that gives it an organic, worn-in texture. The best part? This clip-on cartilage earring slides right onto your ear, so you don't even need to have your cartilage pierced to enjoy this ear cuff!
Best clip-on earrings
Don't have your ears pierced or looking to expand your vintage earring collection? Look no further than these picks for the best clip-on earrings.
8. The best chunky clip-on earrings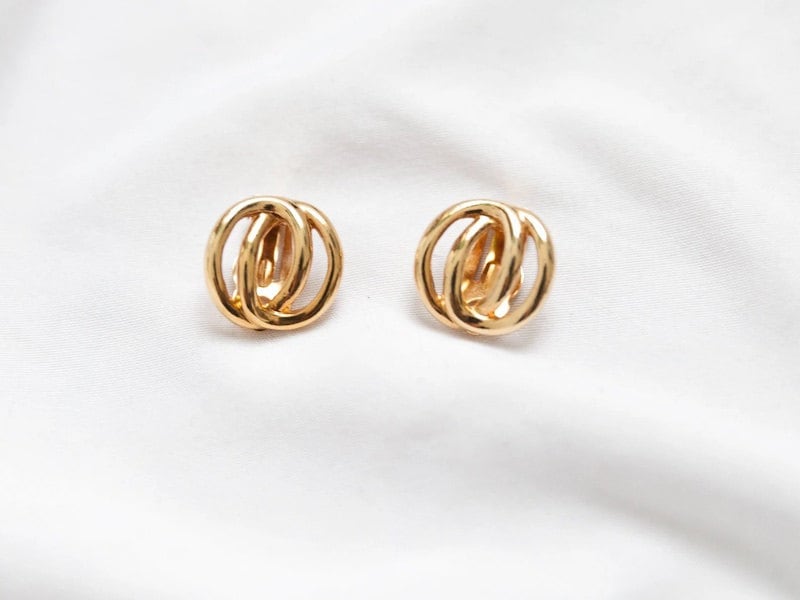 SHOP: Vintage round gold clip-on earrings from Inherit Shop Vintage, $18
These minimalist vintage earrings feature a simple circular knot design about 1 inch in diameter, making them the perfect accessory for when you're running late to a date or event where you want to dress to impress. Just clip them on, grab your bag, and you're out the door!
9. The best statement clip-on earrings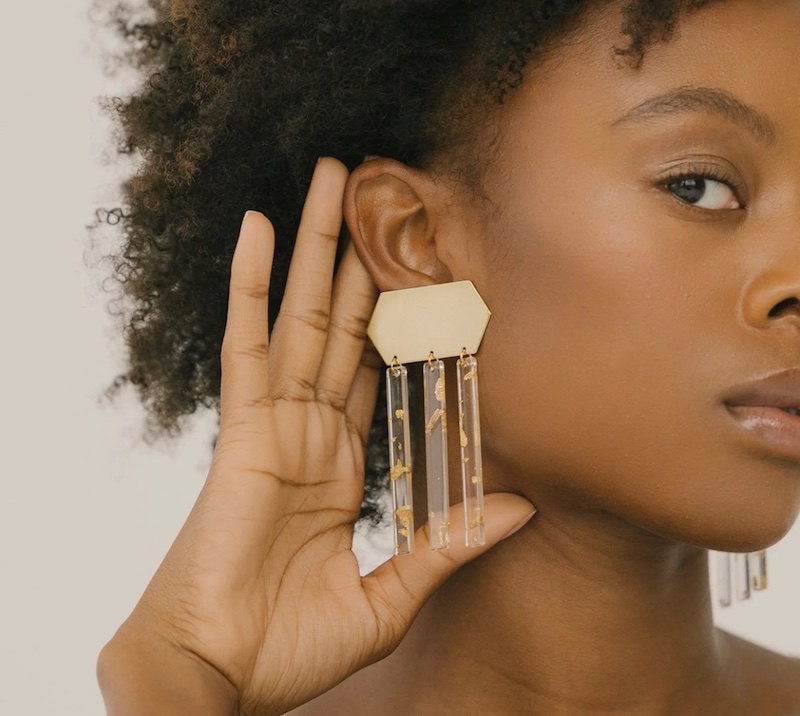 SHOP: Neutral clip-on earrings with gold leaf detailing from Alchemy Jewelry, $37
Go regal and bold with these clip-on statement earrings. With their goes-with-anything neutral creamy palette with gold leaf details inspired by autumn leaves, you can make any outfit an ornate, royal affair.
10. The best hoop clip-on earrings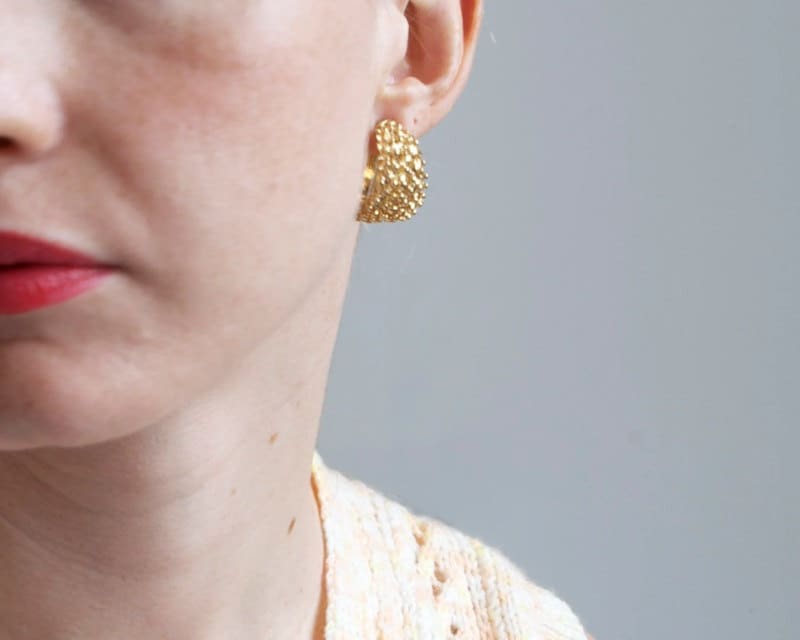 SHOP: Textured gold-tone hoop clip-on earrings from EELT, $36
These textured gold clip-on earrings with a chic half-hoop look are just like your grandma used to wear: Stunning, simple, and sophisticated enough to elevate even a backyard barbecue family reunion.
Best mens earrings
These unique and stylish earrings are the added accent for any gender.
11. The best dangle earring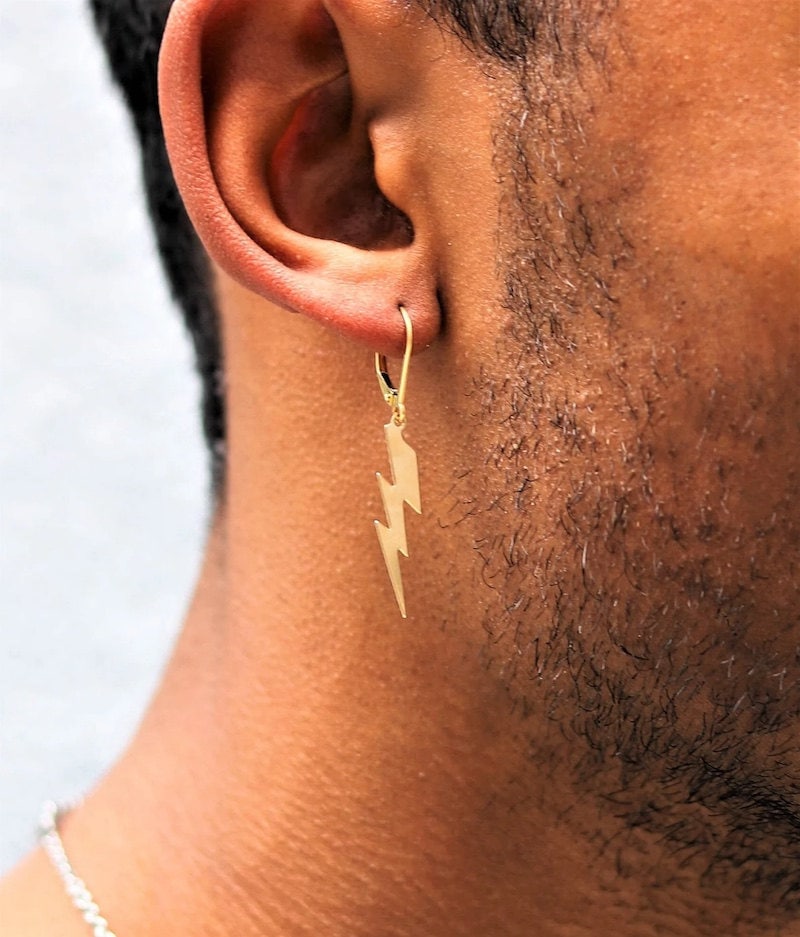 SHOP: Gold-filled lightning bolt earrings from Le Silve Stone, from $50
Storms are a-brewing! Electrify your friends with this gold-filled earring shaped like a lightning bolt that dangles at your ear just-so. Select a pair to share with your partner or bestie so you can each have a single accent earring that will be met with thunderous applause.
12. The best hoop earring for men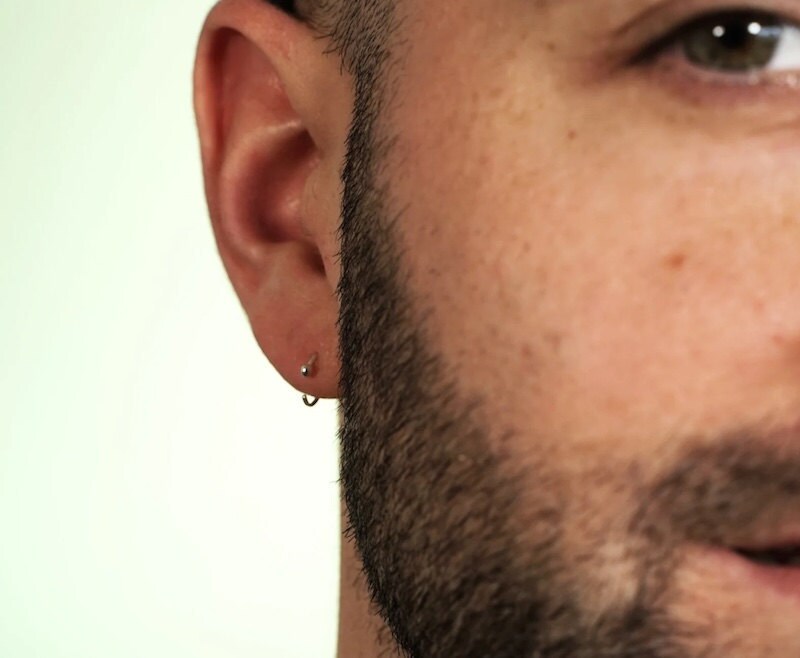 SHOP: Silver-plated brass hoop earring for men from Haiku Atelier, $24
The classic hoop earring with a metal ball is a tried-and-true style for a reason: It goes with everything and adds an understated accent to your daily look. Made from nickel-free brass, this tiny silver earring is your new go-to.
13. The best diamond stud earring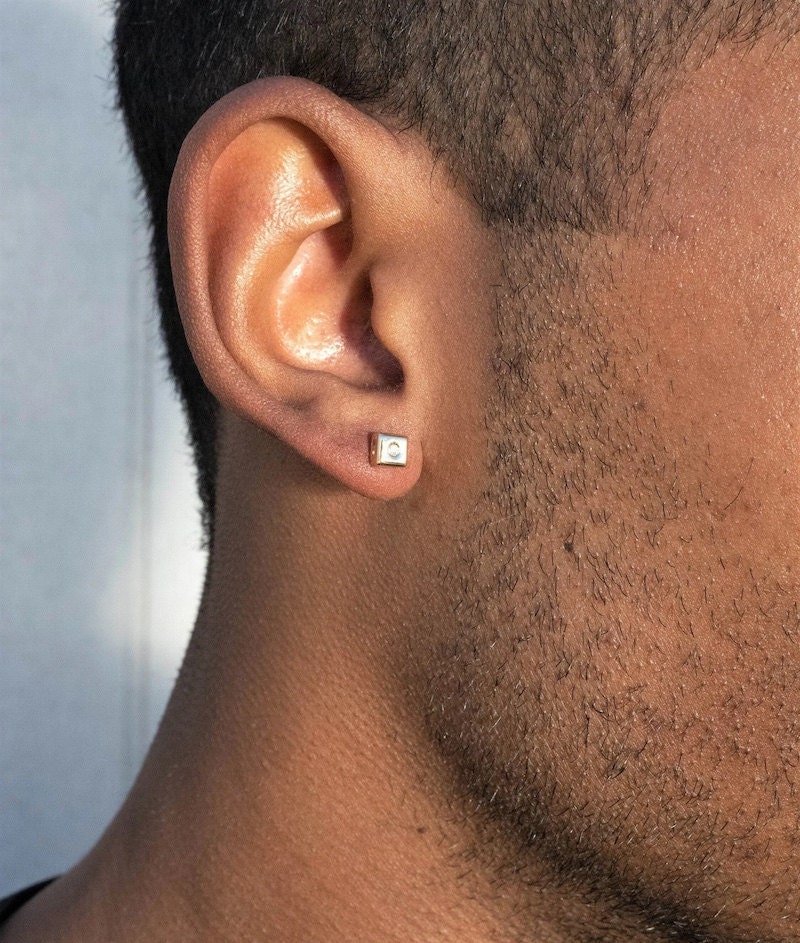 SHOP: 14K gold stud earring with diamond from Le Silve Stone, from $178
Sometimes you need a little sparkle in your accessorizing, and this stud earring with a small, delicate diamond in the center of its gold cube-shaped base is the answer. Choose from white gold or yellow gold metal to match your style.
Best stud earrings
From simple posts to dangling stud earrings, these lightweight earrings are easy on the ears and the eyes.
14. The best personalized stud earrings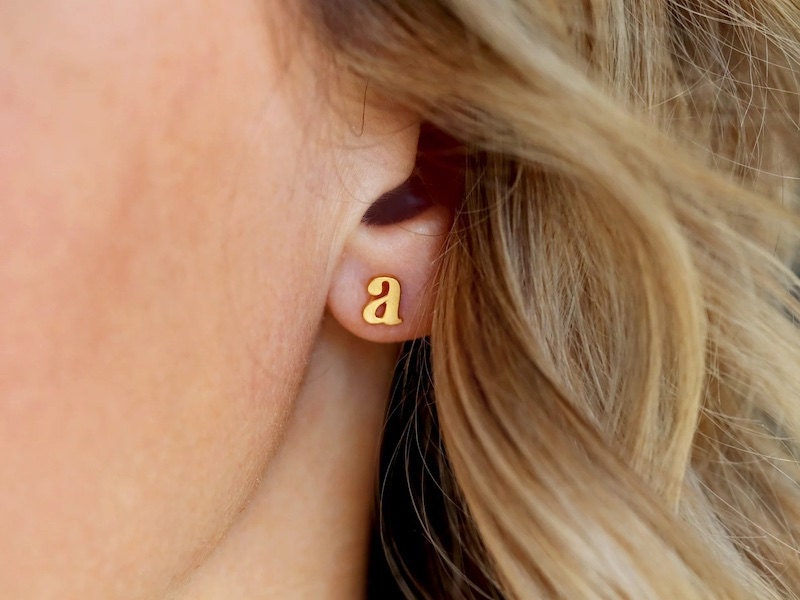 SHOP: Personalized initial stud earrings from Tom Design, $16
Make your studs truly yours with these personalized initial earrings. Mix and match letters for each ear in a classic lowercase style. These initial earrings make an excellent gift for her, but beware! You may want to also purchase a pair for yourself!
15. The best colorful stud earring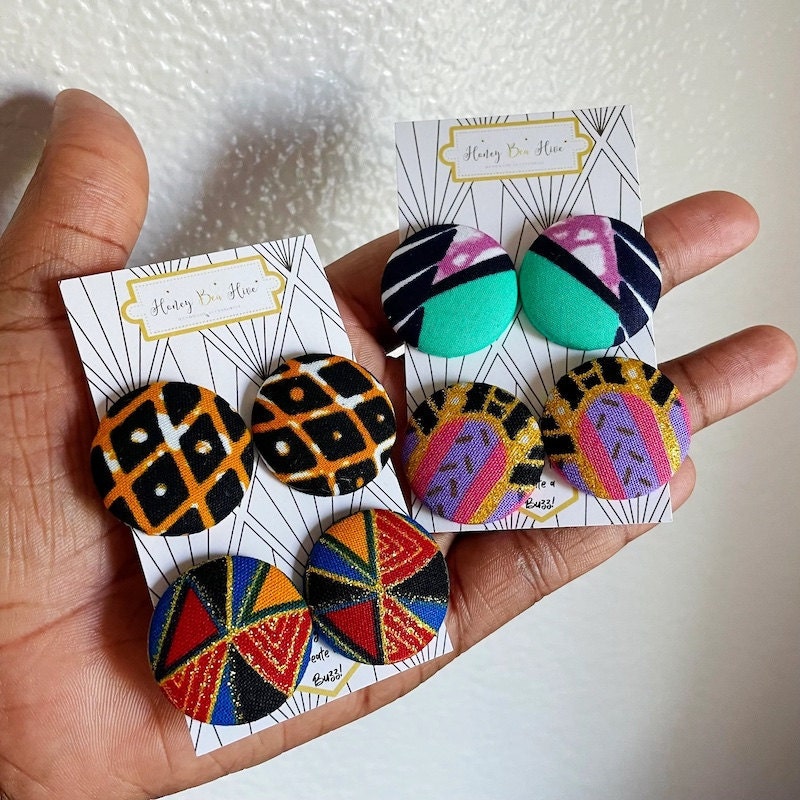 SHOP: Colorful stud earring grab bag from Honey Bea Hive, $35 for four pairs
Mystery awaits: This grab bag features four pairs of these colorful, large stud earrings adorned with different prints of this beautiful Ankara fabric. No piercing? No problem. These earrings are offered in a stud or clip-on style.
16. The best simple stud earring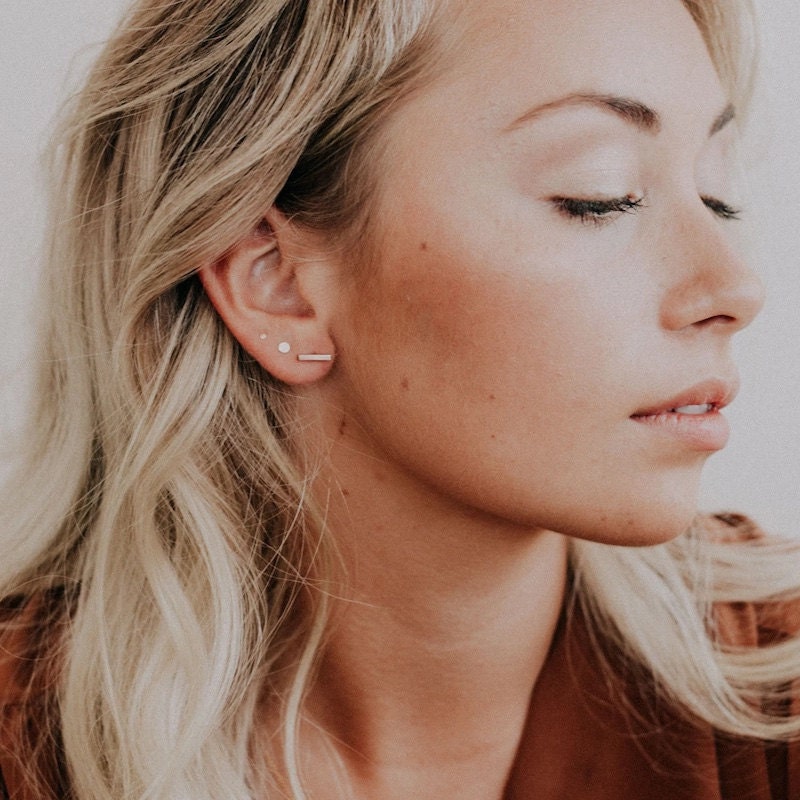 SHOP: Tiny gold bar studs from Favor Jewelry, $48
Raise the bar with these simple earrings. Whether you choose the gold filled option or sterling silver earrings, these bar earrings will elevate your everyday jewelry collection. We love these especially on a second piercing to create a curated collection that plays nice with other earrings on your lobe, or as a single stud for a minimalist look.
17. Best zodiac stud earring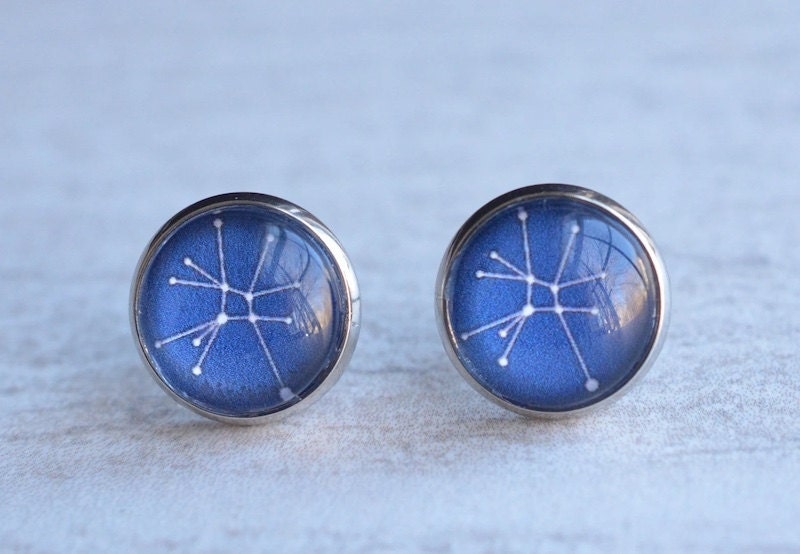 SHOP: Constellation zodiac stud earring from Post Queen, from $12
If you're committed to checking everyone's birth chart, these celestial constellation studs are for you. Choose from any zodiac sign to match your sun (or moon or rising) sign and a blue or black backing for earrings that you were born for—literally.
18. The best stud earrings for teens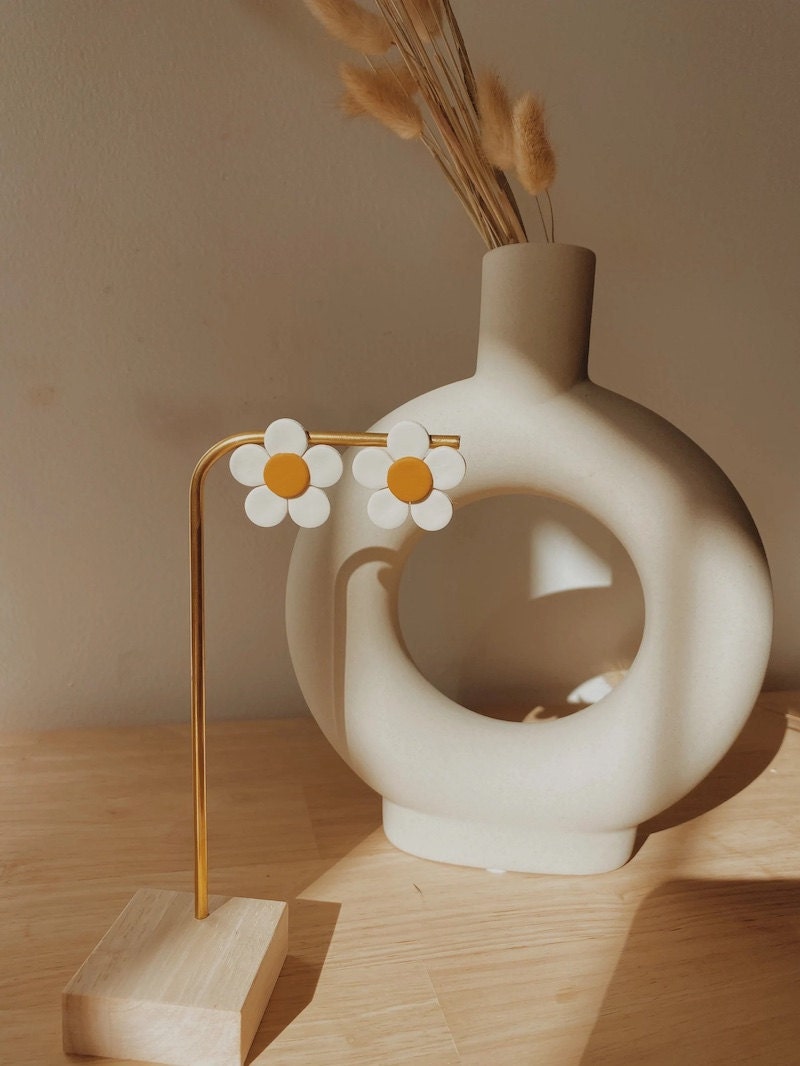 SHOP: Daisy polymer clay stud earrings from Pepper and Pink Co, $25
Brighten up everyone's day with these darling daisy earrings. Buyers love the '70s-inspired design and floral shape of these studs and regularly get compliments on these flower-powered earrings.
Best huggie earrings
Named for the way they "hug" close to your ear lobe, huggie earrings can be a more seamless and understated alternative to your traditional hoop earring. They're typically thicker, more minimalist earrings, which makes them the perfect modern earring for your daily life.
19. The best edgy huggie earrings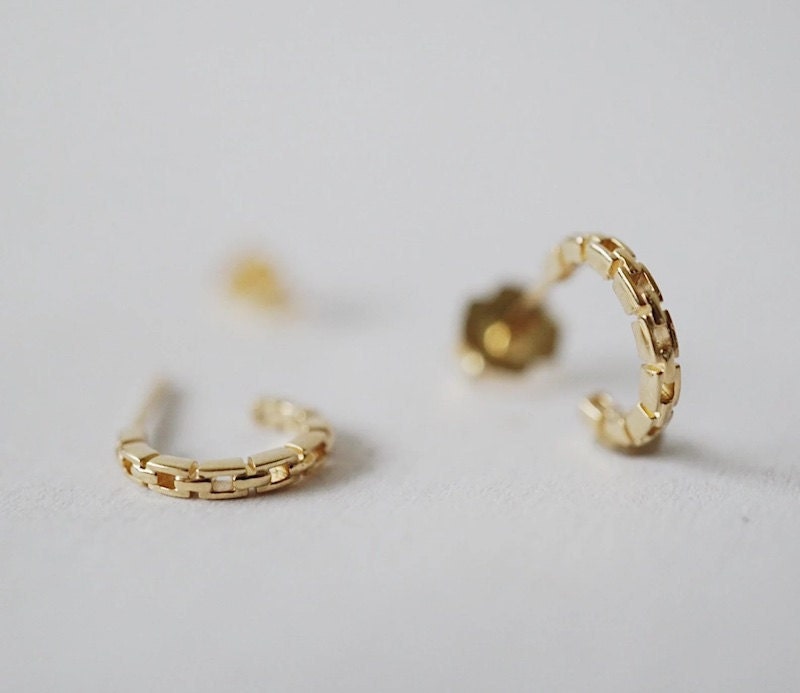 SHOP: Chain-link huggie earrings from Foe & Dear, $290
A little bit punk, a little bit preppy, these made-to-order huggie earrings are a versatile pick for everyday. Choose from yellow gold huggies or sterling silver earrings to match your personal aesthetic—whether it's studded leather, prep school glam, or capsule-closet chic.
20. The best sparkly huggie earrings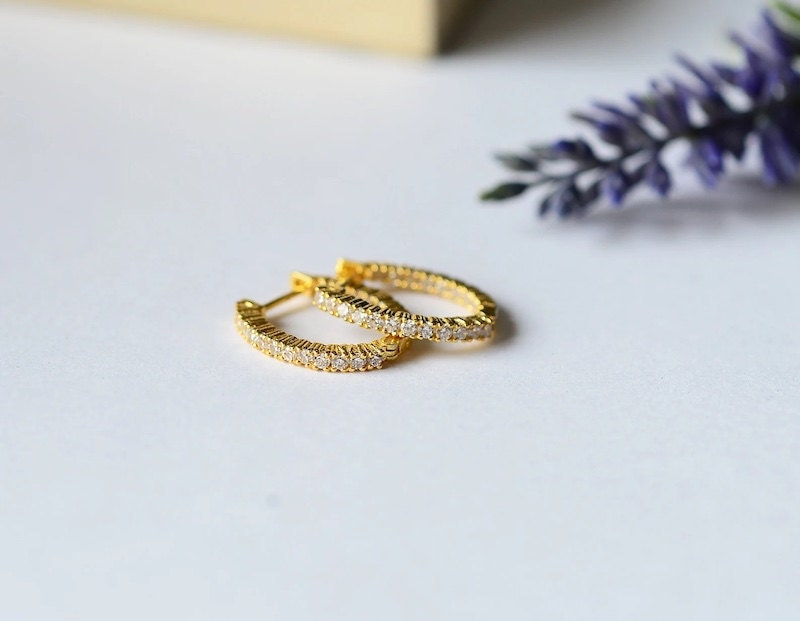 SHOP: Gold huggie earrings with cubic zircon accents from Minimal Marvels, $45
Sometimes small stars shine the brightest, and these intricate little huggie earrings catch all the light with their sparkly gem details along a yellow gold base, making you twinkle like a diamond in the sky.
Best earrings for her
Whether you're gifting a beloved bestie or treating yourself to a new pair, these unique earrings are show-stoppers for any occasion.
21. The best earring for the earthy fashionistas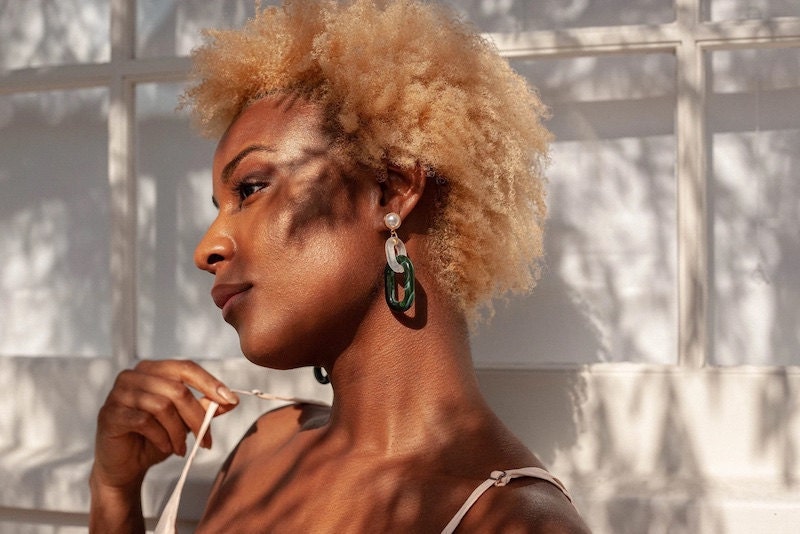 SHOP: Pearl and emerald link earrings from Vintage Royalty, $51
Behold: Your new favorite go-to earring. Its pearl stud and colored lucite links bring both elegance and edge into a perfect pair. Choose from earthy emerald or soft peach hues—either way, these earrings make a statement.
22. The best minimalist earring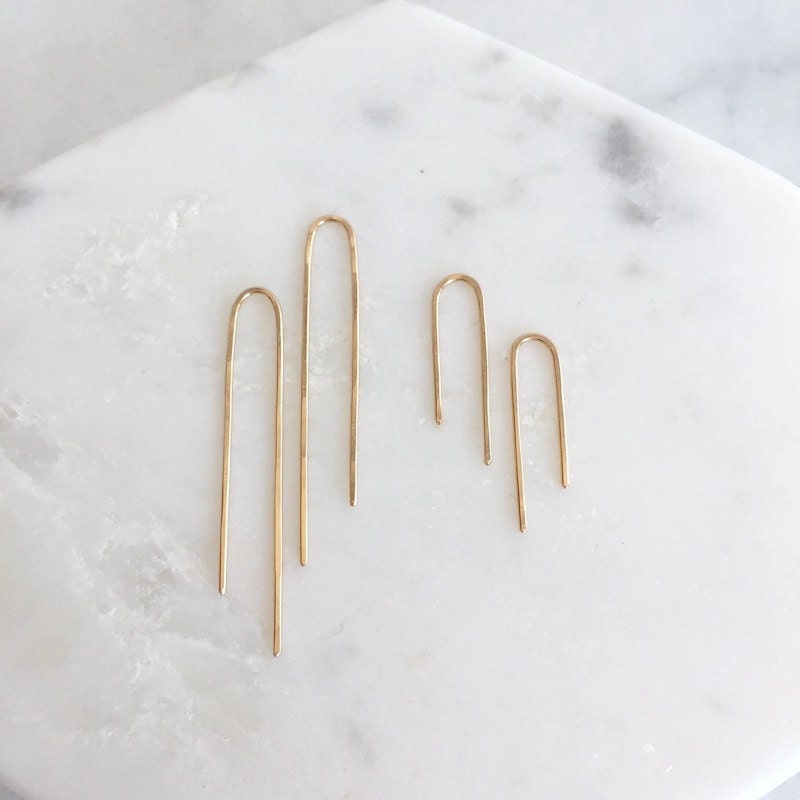 SHOP: Solid gold waterfall earrings from Hartmann Jewelry Works, from $70
Inspired by the dramatic lines of Art Deco architecture, these lightweight gold arc earrings add a delicate touch to your jewelry box. Comfortable enough to wear every day, these sleek, beautifully crafted gold earrings will delight even the toughest critics.
23. The best earrings for forest dwellers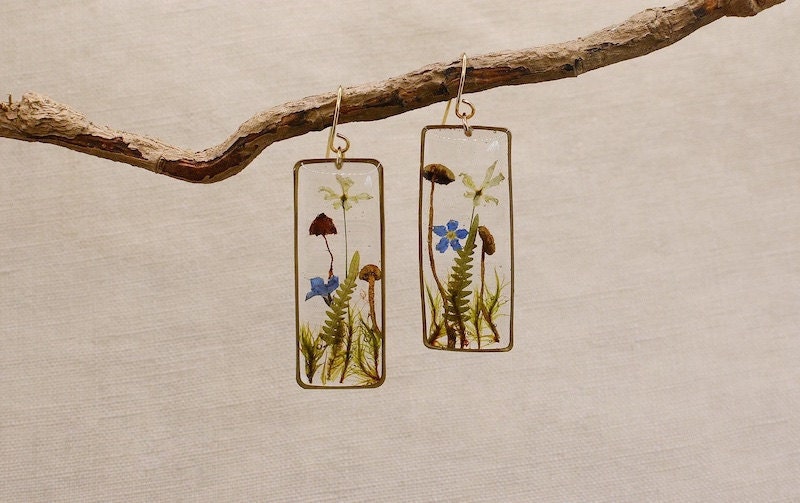 SHOP: Pressed mushroom and moss terrarium earrings from Woodstock & Fern, $52
For the woman who might secretly be a woodland fairy making her home on top of toadstools and mossy green forest floors, these delicately pressed woodsy scenes are the perfect fit. Featuring the tiniest pressed mushroom, fern frond, moss, and flowers, these charming earrings are ready-made for her next earthy adventure.
24. The best earrings for the modern mermaid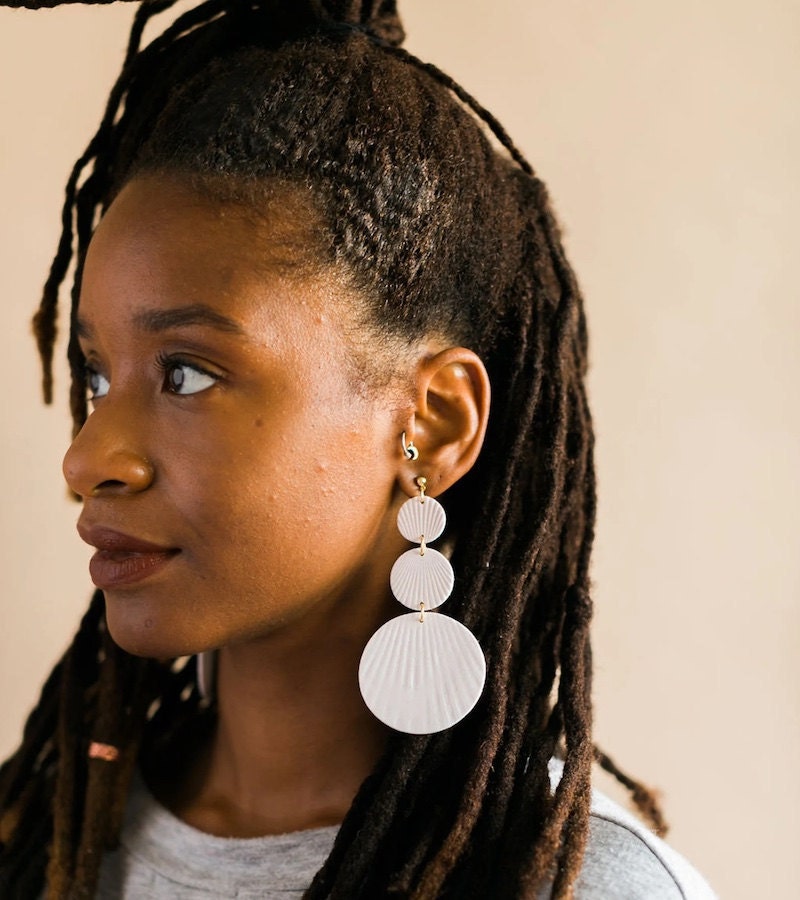 SHOP: Polymer clay statement earrings from Studio Nena, $30
Don't let your eyes fool you: These geometric statement earrings aren't perfectly round sea shells—they're artfully crafted polymer clay! If she needs some memento of the sea near her at all times, these large, durable earrings will make her feel the ocean breeze wherever she goes.
25. The best neutral earrings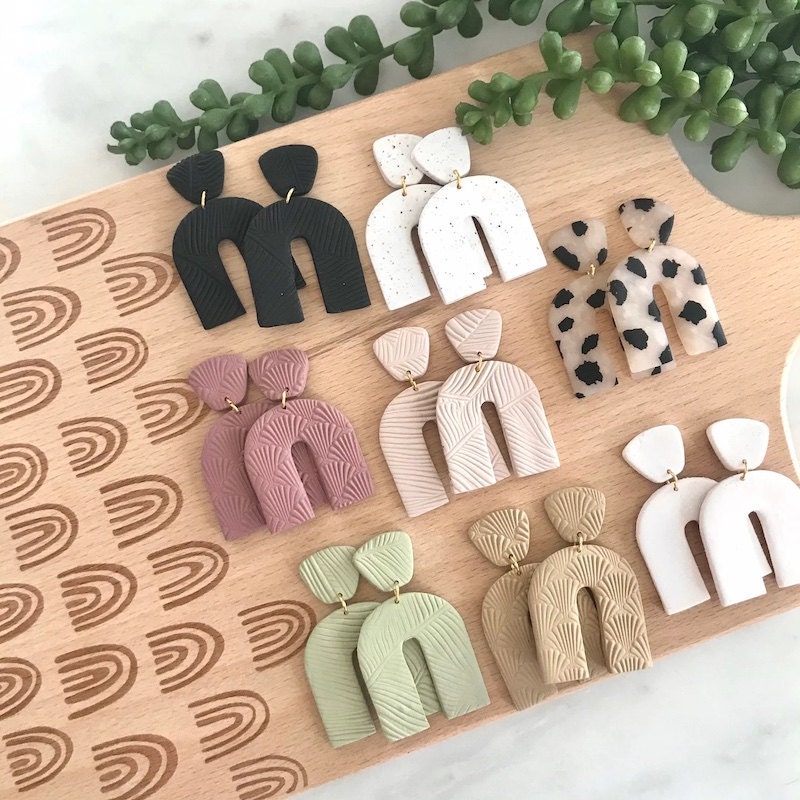 SHOP: Colorful and abstract polymer clay earrings from Rustic Sugar Co., $15
For a fun and funky abstract shaped earring set, these clay earrings are oh-so-cute and add a playful element to any look. These neutral, sometimes textured earrings come in multiple color possibilities, so pick your fave hue (or two!) and let the compliments on these adorable accessories come pouring in.