Celebrate the lovebirds with these sweet and sentimental engagement gifts created especially for them.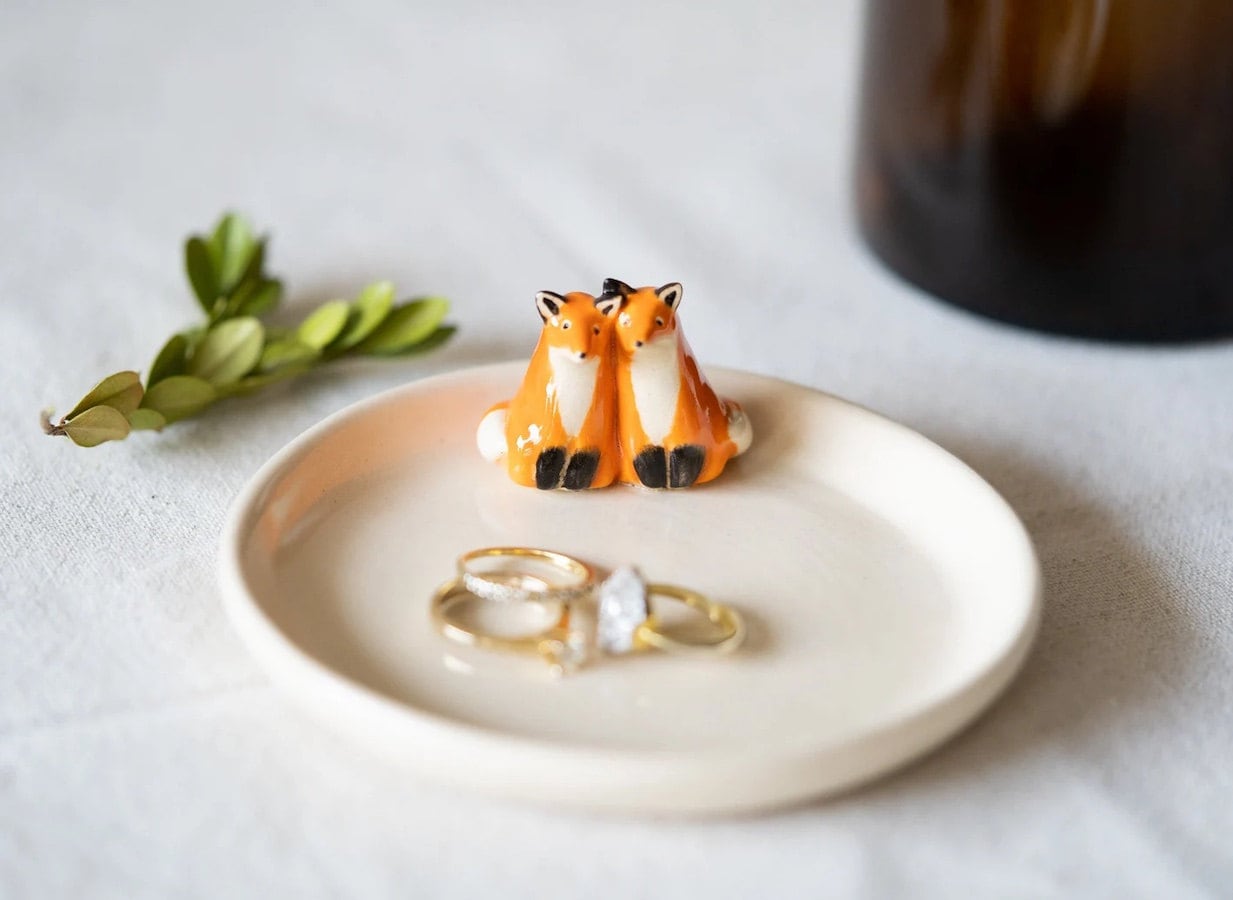 Now that the question (and hopefully the champagne!) has been popped, it's time to celebrate! From personalized presents to practical picks, these meaningful engagement gifts are the perfect way to keep all those happy vibes going. And here's even more reason to raise a glass—lots of these swoon-worthy gifts are under $30, and each and every pick is super special because it's lovingly crafted by a small shop.
Whether you're after an ultra-unique find for a cute and quirky couple, an elegant pick made especially for the bride, or an heirloom-worthy creation that's sure to hold a place of honor in the love-struck couple's forever home, these are the best engagement gift ideas to recognize this momentous occasion.
Unique engagement gift ideas
Flowers and a card are always foolproof and fab, but for something a little more unexpected, take a look at these unique engagement gift ideas—they're perfect even for the most particular of couples.
1. "A Date A Day" calendar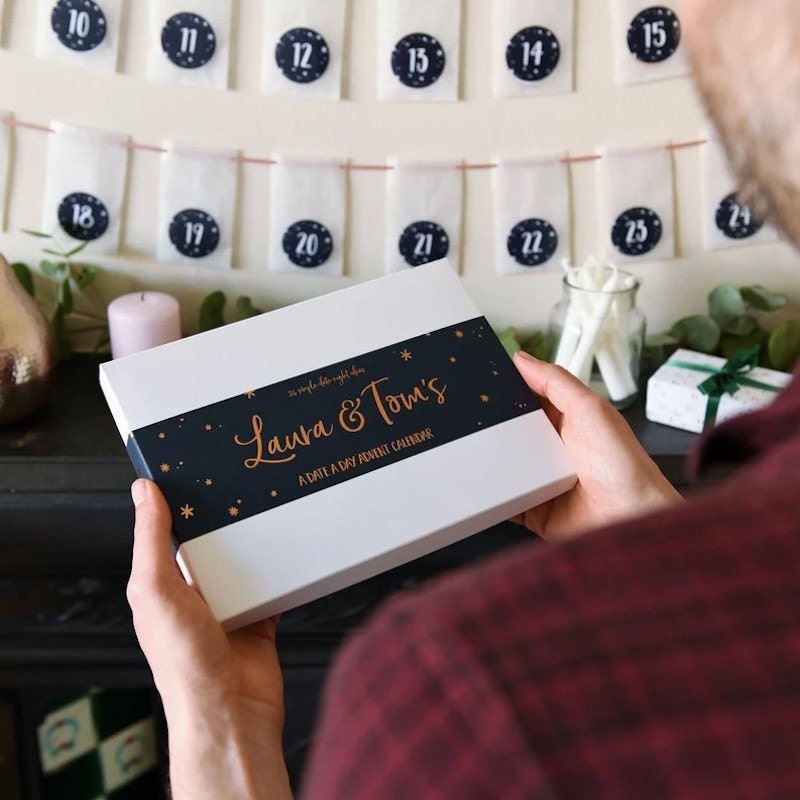 SHOP: Personalized couples advent calendar from Clara and Macy, from $34
A countdown calendar with a twist, this personalized option from Clara and Macy—a small shop in Altrincham, England—can provide the newly engaged couple with romantic date ideas to enjoy throughout their engagement. They can revisit the calendar time and time again when things get busy and they need some reconnecting (like wedding planning season!) and even reuse it for the countdown to the wedding.
2. Custom paper-cut artwork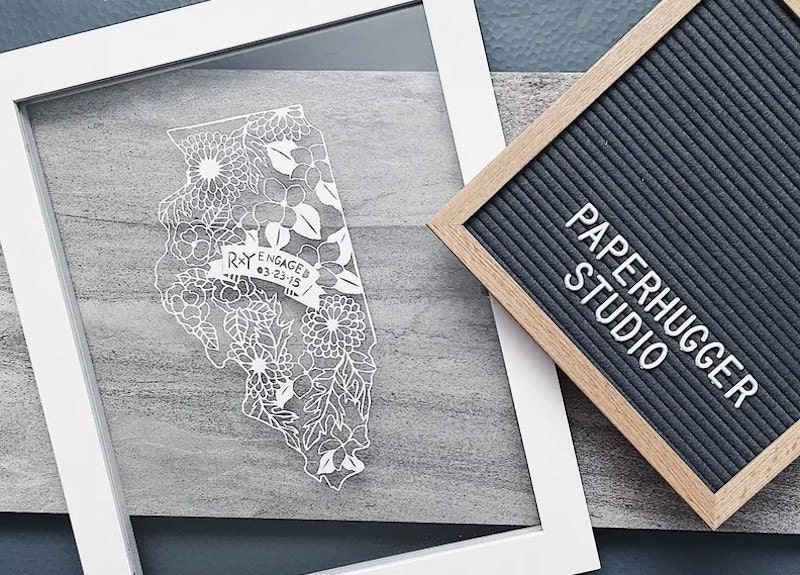 SHOP: Custom papercut map from PaperhuggerStudio, $110
Tremendously original and a real eye-grabber, these customized paper-cut maps make a thoughtful engagement gift that the happy couple can frame and treasure forever. Each piece is delicately cut in the shape of a state—perhaps where the couple live currently or where they first met—with floral designs throughout. This personalized engagement gift also features their initials and engagement date.
3. Personalized embroidery art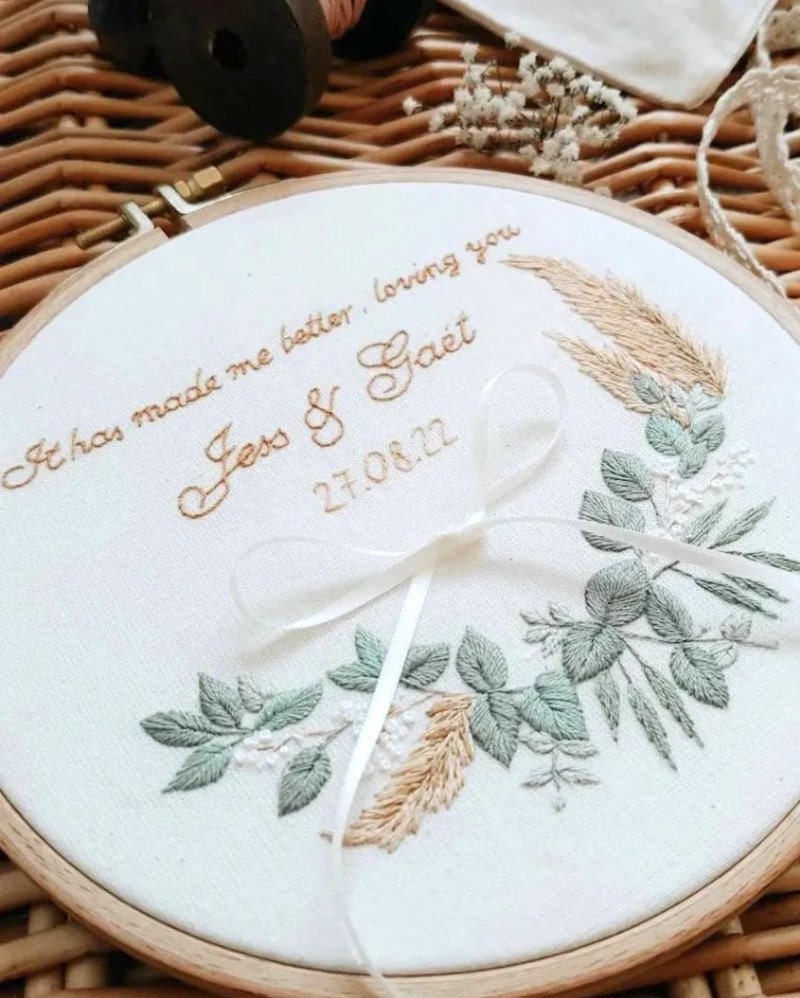 SHOP: Personalized embroidered wedding ring holder from Olga Uhry Designs, from $89
This personalized embroidered ring holder makes an extra-special engagement gift that the couple can keep and display in their home to remember this noteworthy day forever. The artwork is delicately adorned with hand-stitched eucalyptus and pampas detailing, along with the couple's names and engagement date. It comes on a wooden ring, with two satin ribbons to hold the engagement rings in place for a portrait or as a ring bearer pillow on the big day.
4. Fox ring dish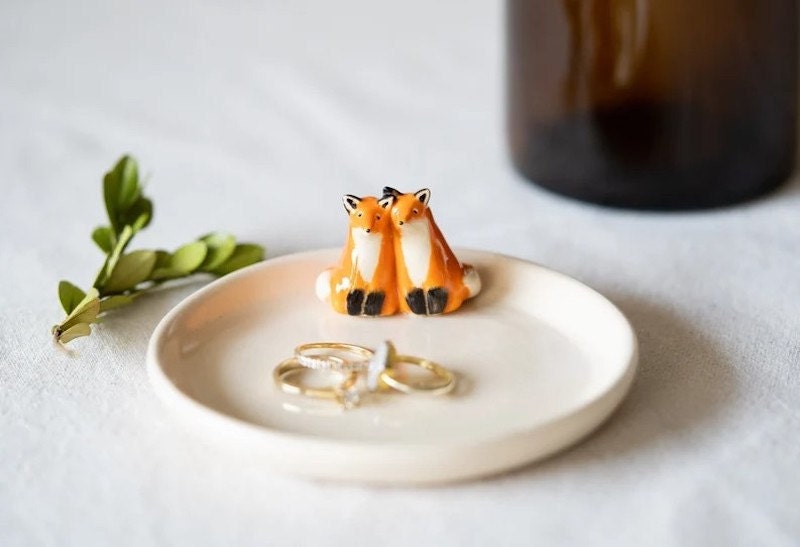 SHOP: Handmade ceramic ring dish from Vanilya Ceramics, $63
This thoughtful and practical gift provides a quaint place for the happy couple to begin storing their rings, beginning with the engagement ring and then the wedding bands once they join the collection. Handmade from white earthenware clay and coated with non-toxic glossy glaze, buyer reviews call this the "perfect gift" and a "cute catch-all dish."
Best engagement gifts for best friends
Only the very best engagement gift will do for your very best friends! Before you shop for a wedding gift for friends, pick one of these unique and thoughtful engagement gifts to kick off your celebrations.
5. Digital couples portrait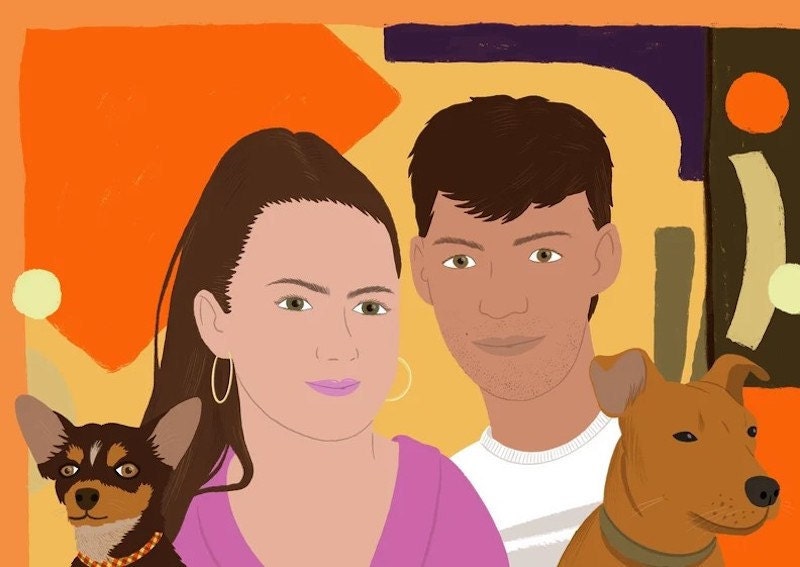 SHOP: Digital custom portrait from Shapes and Faces, from $100
These colorful illustrated digital prints can depict the affianced couple, along with any beloved pets they may have, on an abstract background. Your image will arrive in your inbox after you purchase so you can print them off, ready for gifting.
6. Couples fingerprint rings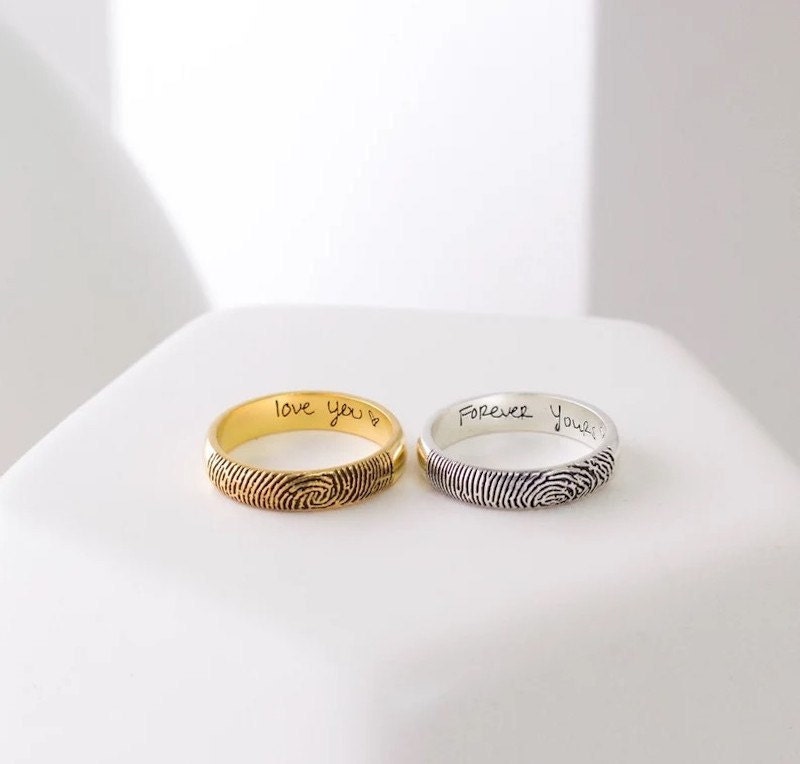 SHOP: Set of 2 fingerprint rings from Caitlyn Minimalist, $43
The confused looks on your friends' faces when you ask for their fingerprints will turn to delight once they finally get to see these gorgeous half-round fingerprint rings. This sentimental gifts comes with a set of two rings, with a choice of either gold, rose gold, silver, or white gold, and the option to add a personalized engraving on the inside.
7. Yin yang bowl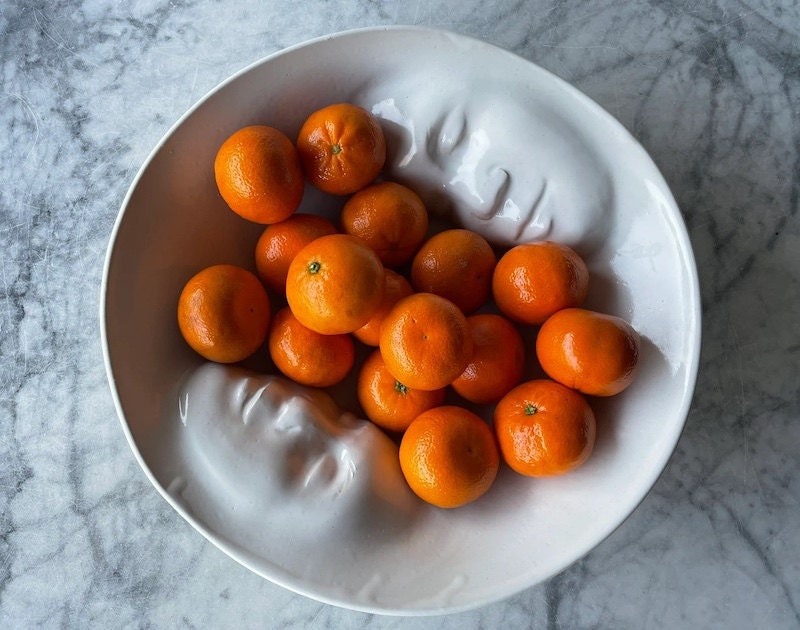 SHOP: Yin yang lovers bowl from Adrien Art, $185
Not your average fruit bowl or centerpiece, this one-of-a-kind, made-to-order bowl is designed for soulmates who are the yin to the other's yang. Happy buyers feel that the "photo doesn't do it justice," and that it's "so stunning in person." They also mention that it "looks great in profile as well as from above."
8. Personalized duo bracelets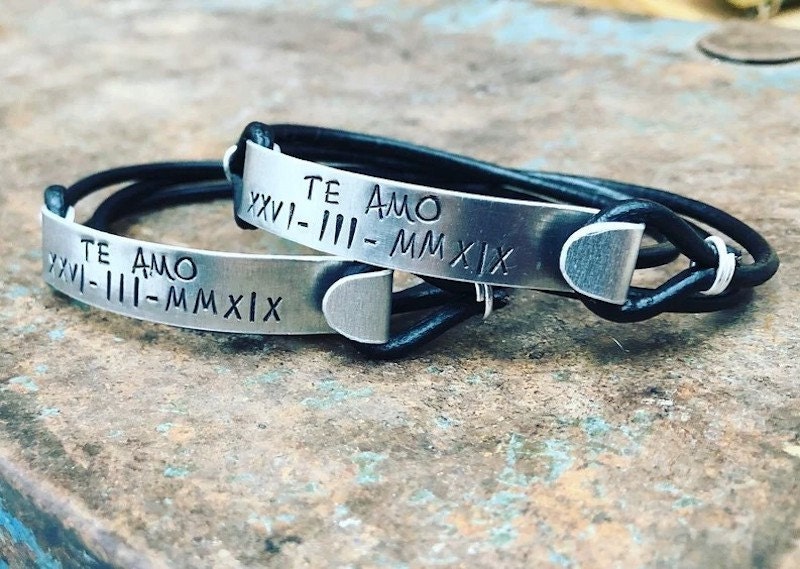 SHOP: Personalized bracelets for couples from Dada Léla, $44
Made in Paris, France, these personalized couples bracelets are crafted from alloy metal and leather, and can be personalized with a name, date, or a message of your choosing. Two handmade bracelets are included in the set, which makes them a wonderful engagement gift for under $50.
9. Couples portrait stamp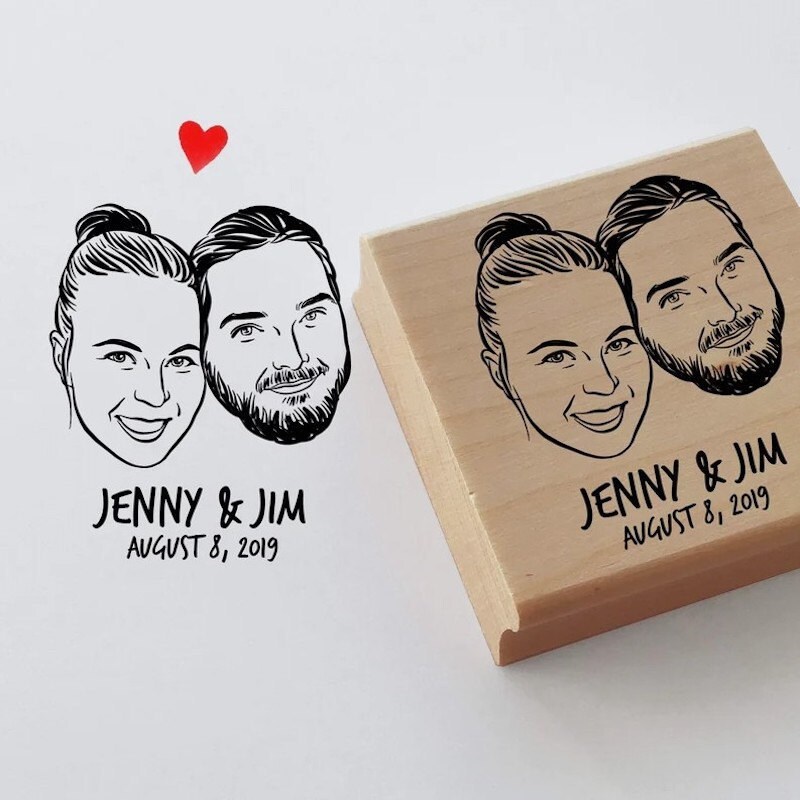 SHOP: Personalized portrait stamp from Lili Mandrill, $112
Your besties will absolutely adore this personalized portrait stamp—not only is it self-inking and ready to go straight out of the box, it can be used to add an extra-personal touch to their save the date cards once planning is underway.
10. Personalized keychains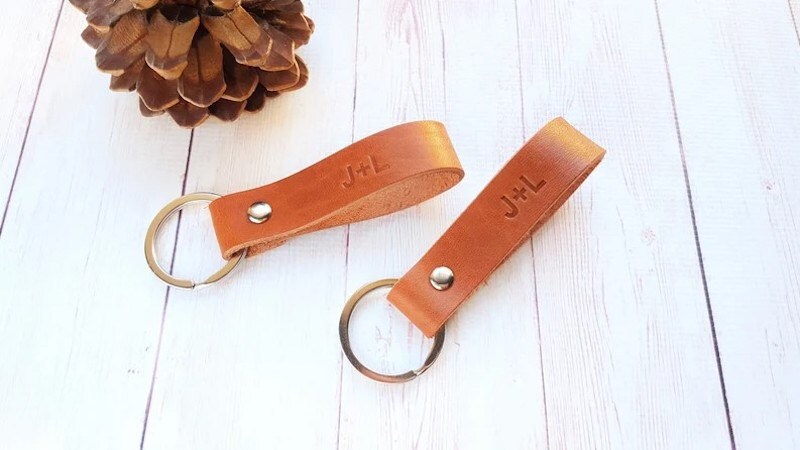 SHOP: Personalized leather couple keychains from Vantler Leather, $38
This set of two personalized leather keychains is a practical engagement gift the couple can use every day (and think of you while they do). They're available in five different leather colors and can be engraved with up to eight characters. Buyers are "in love" with them, and say they are "stunning" and the "perfect couple items."
Best engagement gifts under $50
Just because you're on a budget, that doesn't mean you can't find a special engagement gift that is thoughtful and practical. Have a look at these stellar picks that are all under $50.
11. Keepsake box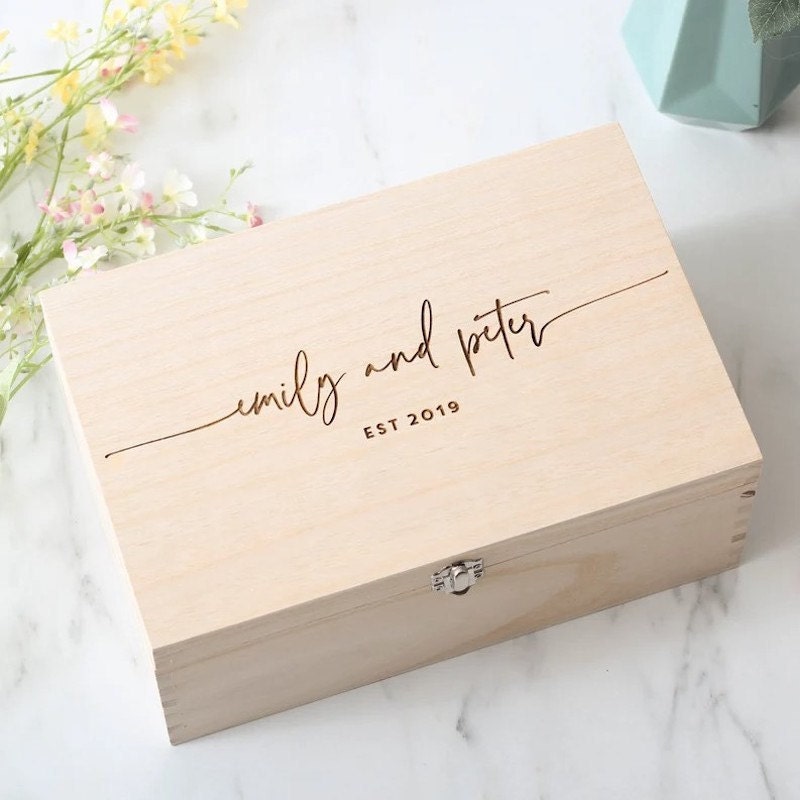 SHOP: Personalized wedding gift keepsake box from That's Nice That, from $36
Wedding planning and exchanging vows inevitably results in lots of little keepsakes the happy couple will want to hold onto. This personalized wooden box gives the engaged pair the perfect place to store all the memorabilia of their special day.
12. Personalized wedding forks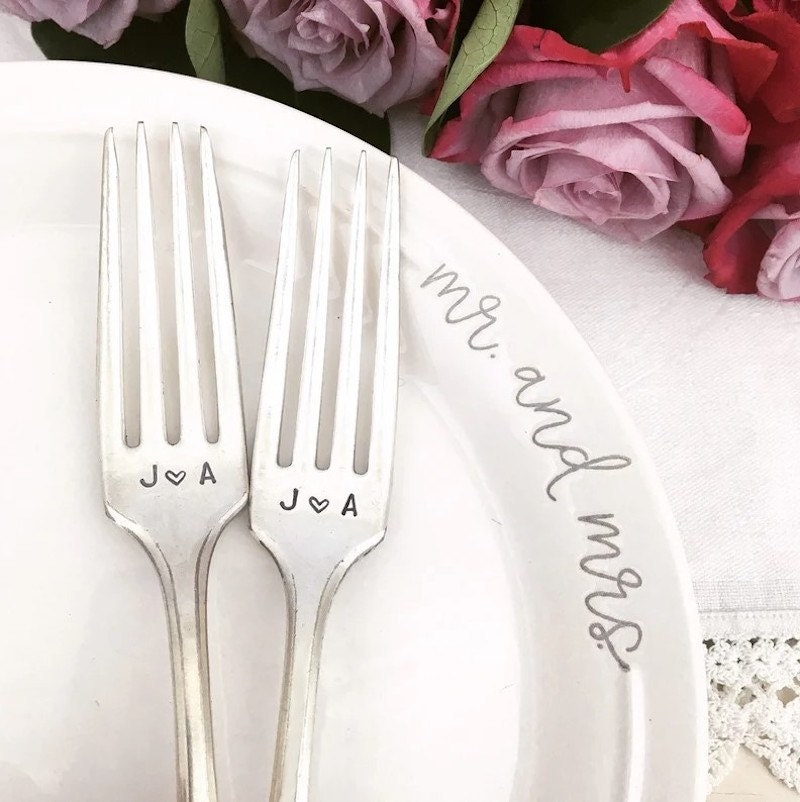 SHOP: Personalized wedding forks from Prose & Polish, $28
Beautiful, original, and practical, these handmade personalized forks are made from upcycled and repurposed vintage silverplate that is stamped by hand. Thrilled shoppers praised the seller's quick turnaround, and one buyer wrote that they are "a memorable keepsake we will cherish forever." This set of flatware impressively costs under $30 and can also be used at the couple's upcoming nuptials!
13. Initials pillow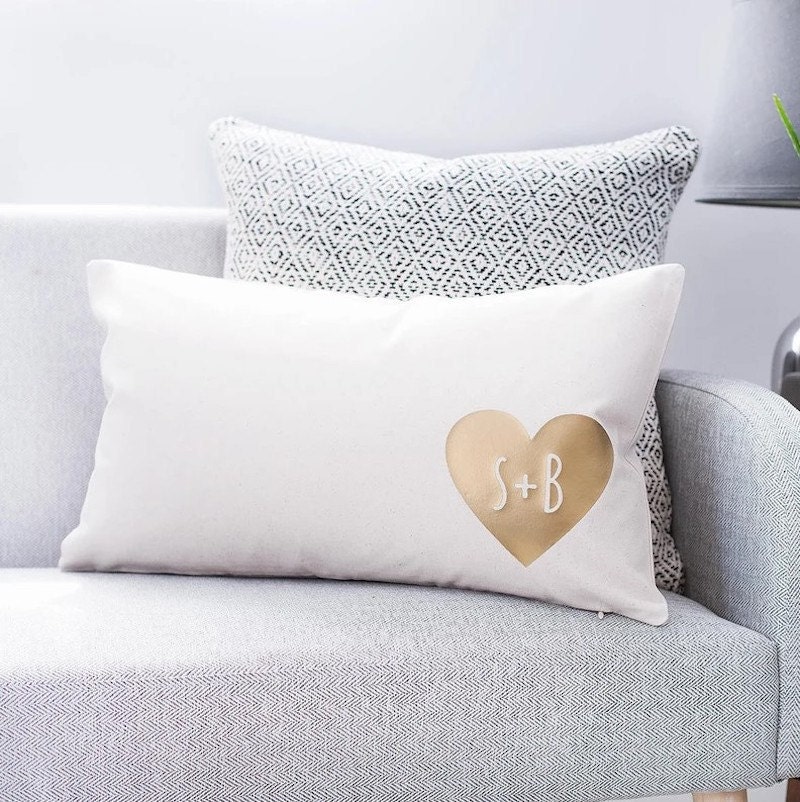 SHOP: Personalized couples heart cushion from Clouds and Currents, from $24
Another thoughtful option with a small price tag, this personalized cushion is made from cotton and is available in either a square or rectangle shape. You can also choose to have it filled and ready for the couple's couch or bed, with either polycotton polyester, or a plush 100% duck feather filling for just a few dollars more.
14. Best engagement gift under $25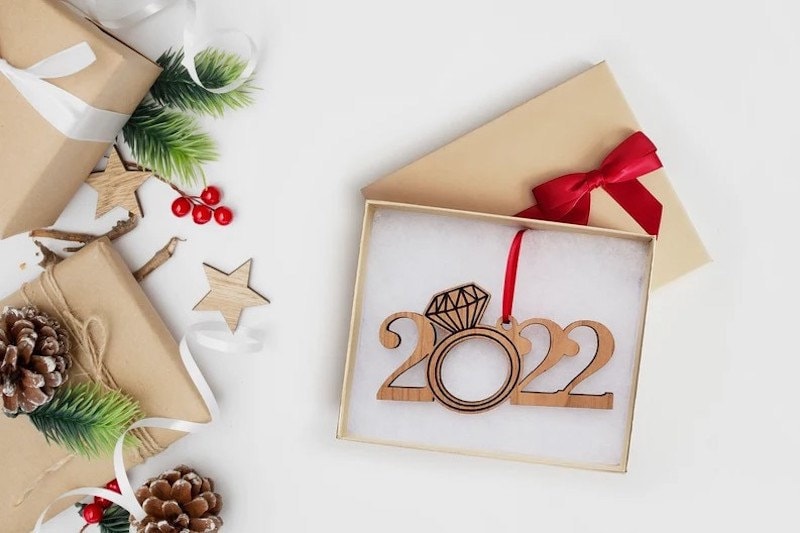 SHOP: Engagement ornament our first Christmas from RedBerry Home Decor, $15
This engagement gift is guaranteed to make an appearance in the couple's home on a yearly basis as they decorate their tree. Available in either maple or cherry wood, the sweet design includes the year the couple got engaged along with an engagement ring and can double as a gift tag on an additional engagement gift, too.
Best last-minute engagement gifts
Running a little behind on your to-do list? No worries! The sellers behind these small shops offer their items as "ready to ship" within a few days which means these last-minute engagement gifts can arrive in the nick of time. Just remember, actual shipping and delivery times can vary.
15. Personalized wooden cutting board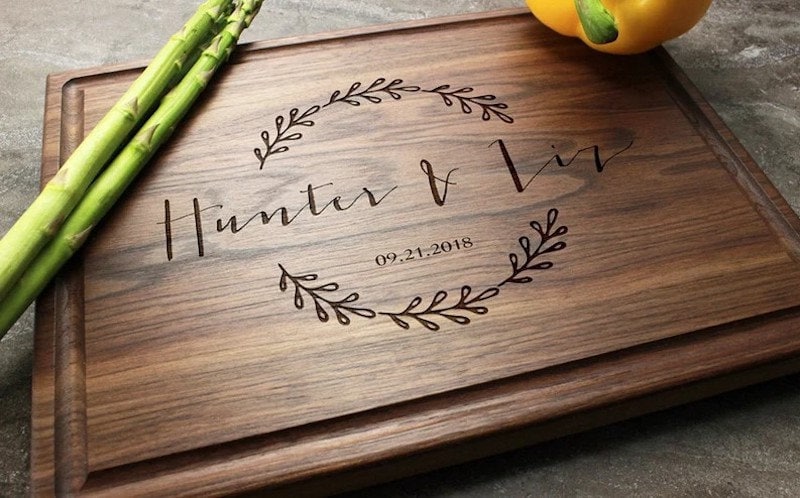 SHOP: Engraved cutting board with wreath and name design from Walnut Artisan Gallery, from $39
A wooden cutting board is one of those items that gets a lot of use, so why not gift your friends with a personalized option with their names and engagement date? This handy and reasonably priced item can also be used as a charcuterie board or grazing tray for those special evenings in with friends—guaranteeing you an invite!
16. Personalized love padlock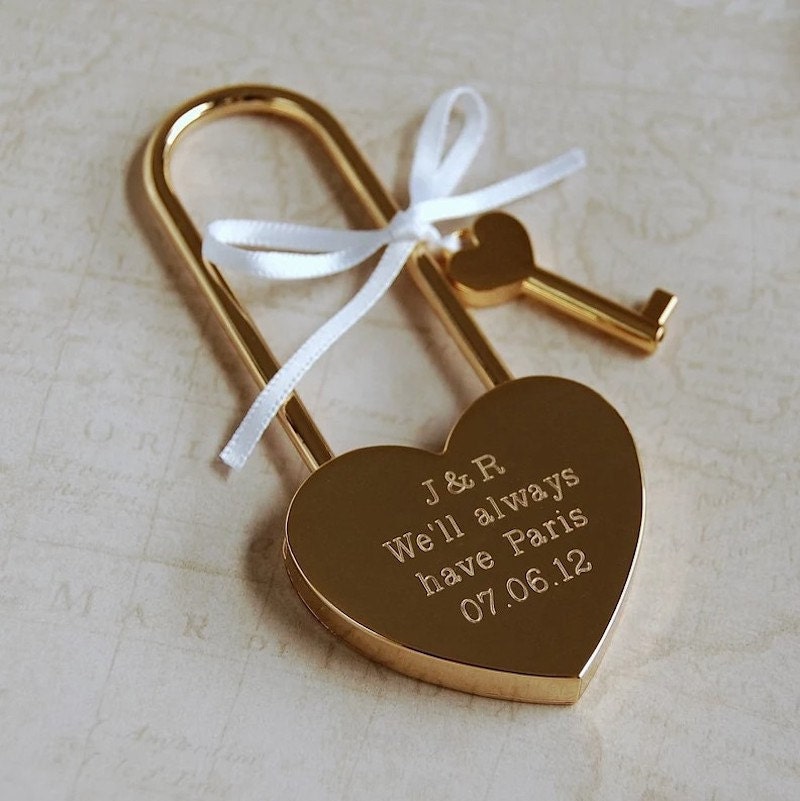 SHOP: Personalized engagement love padlock from Carriage Trade Company, $27
Whether they want to keep it forever, or attach it to a notorious love lock bridge on their travels (might we suggest the Pont des Artes in Paris, the Napa Valley Wine Train Love Lock Bridge in California, or the Niagara Falls Love Locks Bridge?), this padlock is a romantic (and highly affordable) gesture that anyone in love is sure to appreciate.
17. Personalized planter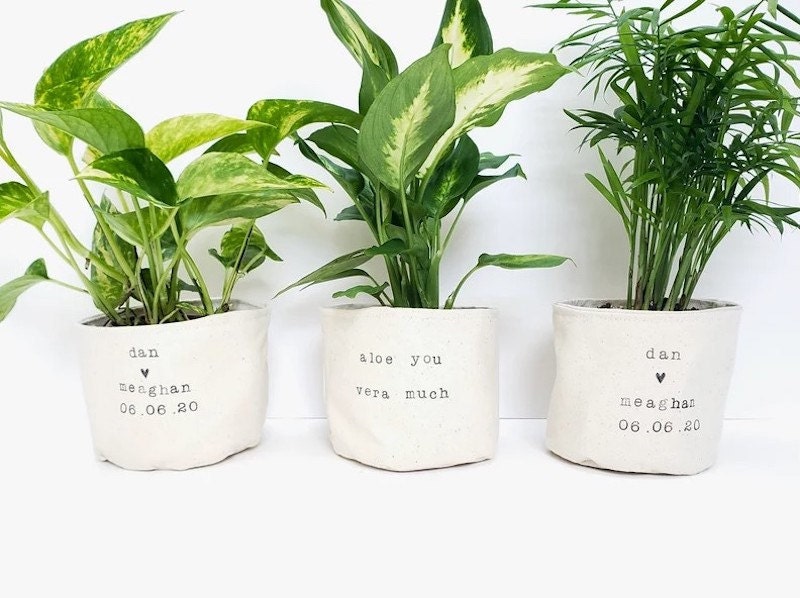 SHOP: Unique wedding gift for couple from Leaf and Root Co, from $25
If one or both halves of the newly engaged couple has a green thumb, a gift for plant lovers—like this handmade personalized indoor canvas planter—is only fitting. It's available in either 4-inch or 6-inch heights, and buyers say that "the quality is great," it's "super adorable and customizable," and is "such a good gift idea."
Best engagement gift for the bride
Got the groom's gift sorted and on the hunt for something special made just for her? This is the best engagement gift for the bride.
18. Ceramic ring holder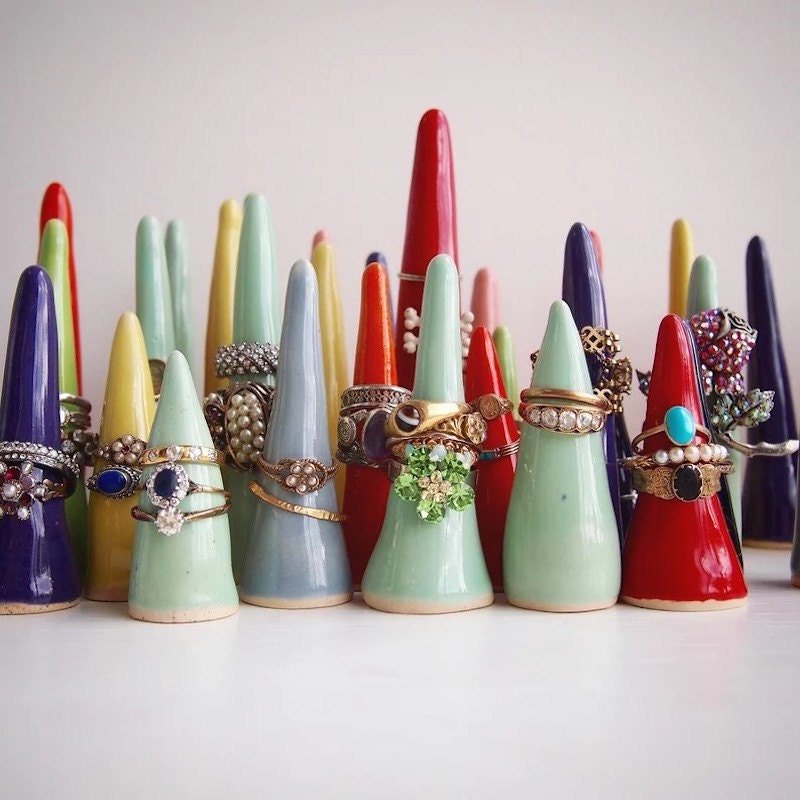 SHOP: Ceramic glossy rainbow ring cones from Kabinshop, from $17
The bride-to-be will love this glossy ceramic ring holder as a spot to display her new favorite accessory. It's available in nine colorways, and three heights, and has an asymmetric style that gives off art deco vibes. For now, it will hold the engagement ring… wedding and eternity rings incoming!
How do we pick the best engagement gifts?
As Etsy Journal editors and contributors research and curate shopping guides for some of the best-loved items on Etsy, we thoughtfully consider the creativity, customization, and craftsmanship that go into each product. We also consider buyer reviews, item ratings, and customer service, and tap the expertise of our in-house merchandising and trends experts to uncover high-quality finds for every budget. You can find more information about each item in the seller's listing details and can take a look at their individual shop policies and reviews, too.